This Crock Pot Refried Beans recipe is the most flavor-packed, delicious, EASY way to make homemade refried beans! With just a handful of ingredients, you can let the slow cooker turn dried pinto beans into the most velvety, creamy, rich, and delicious refried beans! This recipe is low in fat, high in fiber, and the perfect compliment to your favorite Mexican inspired recipes.
Refried Beans – The EASY Way!
Growing up in Texas, I had more than my fair share of refried beans over the years. They are absolutely a staple in the Tex-mex cuisine and can be anything from a side dish, to the feature filling in a hearty main dish. It'd be great as a side dish next to these ground turkey enchiladas!
We never made them at home growing up, beans were something we got at a Mexican restaurant, or out of a can. While I can't argue the convenience of either of these, in the past few years, I have learned how incredibly EASY and TASTY it is to make Mexican refried beans at home! It all started with my staple Crock Pot Black Beans recipe, and now I have another to share that is just, if not more, creamy and delicious than the restaurant refried beans!
With just a crock pot and a few ingredients, you can make Mexican style refried beans that can outshine any. The great thing about making beans from scratch is that you can cook in all the delicious Mexican flavors! Not only are these extra flavorful, but they are also significantly more healthy than the restaurant variety.
What I LOVE about this recipe:
Dump and go– The slow cooker does all the work!
Not time sensitive– Unlike meat, you won't over cook the beans! The longer they cook, the more flavor the refried beans have!
So.Much.Flavor! Cooking dried beans allows all the flavor from the broth and spices to soak in so you get a very rich tasting refried beans without all the fat they normally have!
Feeds a crowd- This makes a big batch you can use to feed a crowd, or freeze to have on hand convenient for later.
Packs a nutritional punch– Low in fat and sugar, high in fiber and protein, these are filling, delicious, AND you can feel good about eating them (… or feeding them to your kids!)
Extra kid friendly! Kids tend to really enjoy beans and it is a great way to fill them up with some good for you stuff their little bodies need.
What are Refried Beans?
Refried beans are a traditional Mexican dish made of cooked and mashed pinto beans. Despite the fact that we call them refried beans in English, they are not fried twice. The name comes from the spanish name "Frijoles Refritos" which actually means "well fried beans."
You will find refried beans as a staple side dish in both Mexican and Tex-Mex cuisine.
Recipe Notes
This simple Mexican style refried beans recipe is as simple as promised! Just slow cooker and a few ingredients for a family friendly meal.
In this section I am going to go through a few tips and tricks I use when making this recipe to get the absolute best and most delicious results.
Make sure to scroll to the bottom for the FULL recipe card.
Ingredients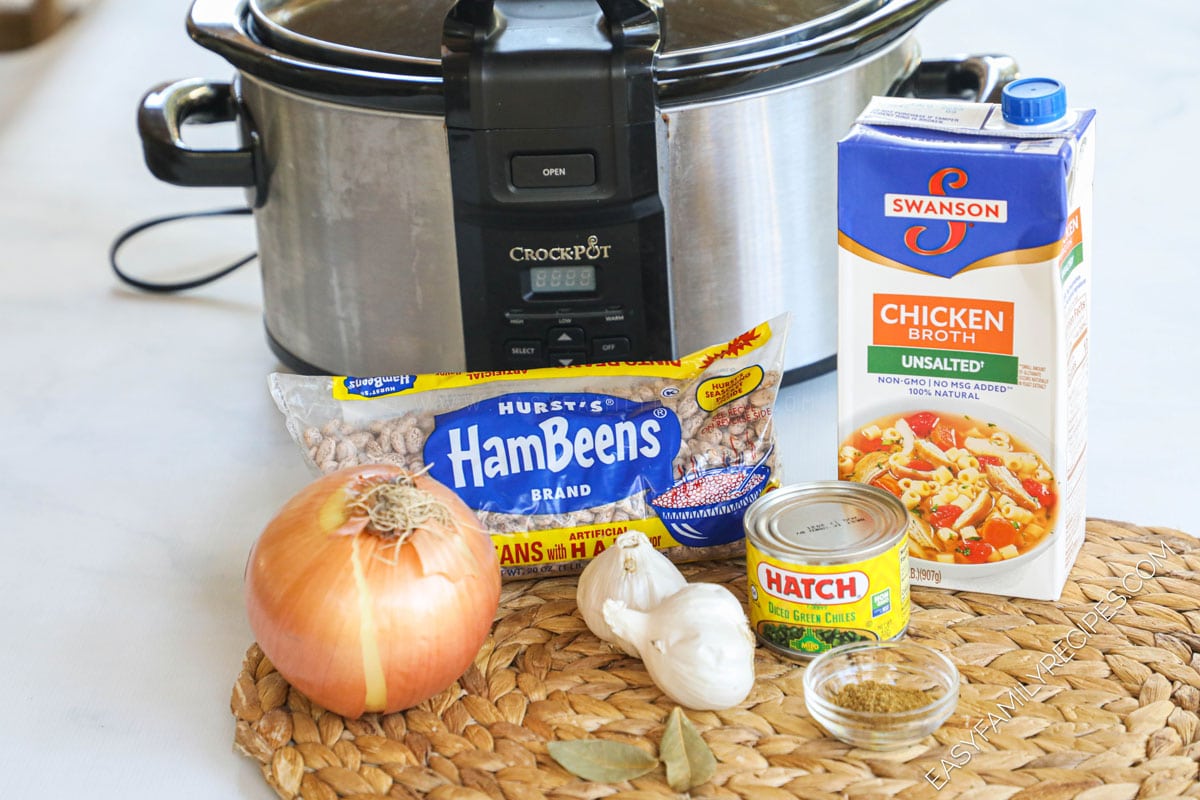 Dried pinto beans– It is amazing one tiny little 1 pound bag of dried pinto beans can turn into such a feast!

Chicken broth or Vegetable broth if vegetarian– You can use either chicken broth or vegetable broth to make these refried beans. I prefer the chicken broth for a more authentic flavor, but vegetable broth is a delicious option for keeping the dish vegetarian. Using a high quality broth is important because both provide extra flavor to the beans as they cook and absorb the liquid.

Diced green chiles– These add so much depth of flavor to the beans without adding any spice. They are mild and you won't taste them once the beans are blended, but it elevates the over all dish and gives it that little something that tastes special.

Onion- These will add a sweetness to balance the earthiness of the pinto beans. You can use most varieties of onion. Yellow, white, or sweet will all work well. You can roughly dice them because they will become soft and blend right in after cooking so no need to be meticulous in your chopping.

Spices- A blend of garlic, ground cumin, bay leaves, and salt season these refried beans.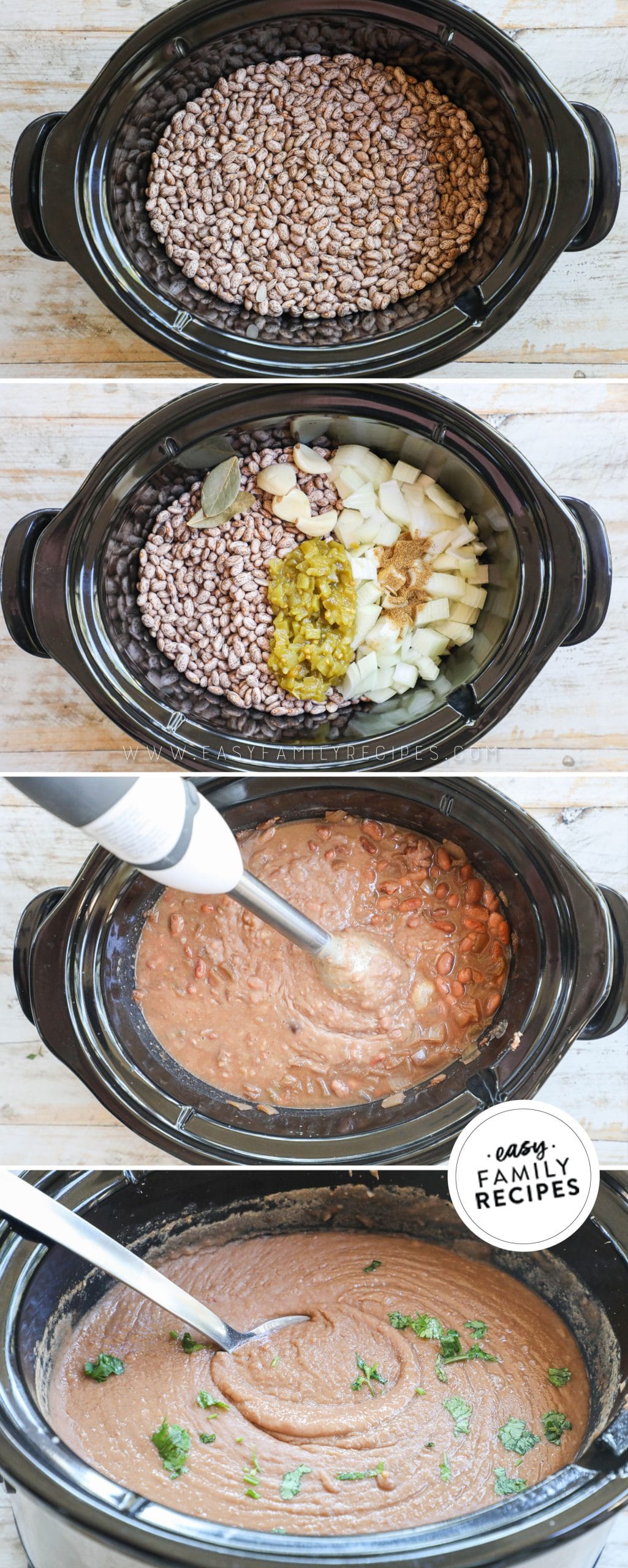 Recipe Tips
No need to soak! The beauty of using the crock pot for this recipe is that it saves time and steps. You do want to rinse the beans and sort any out that aren't good, but that is usually minimal. There is no need to do any additional soaking.

Don't open the lid. It is so tempting to open it up, stir the beans around and get that heavenly waft of the scent of beans cooking, but RESIST! Every time you open the lid, it will slow down the cooking process. Leaving the lid on will produce more tender beans, more quickly.

Save the salt for last – It is noted in the directions to add the the salt to season after cooking, but it is worth noting that there is an important reason for this. If you add the adding salt or acidic products at the beginning of the cooking process it can hinder the beans form becoming soft which can ultimately make the dish take significantly longer to cook.

How to season refried beans – The special seasoning mix of ground cumin, dried oregano, bay leaves provide a great punch of flavor to these beans. At the end of cooking you will want to add salt to taste. The beans will also take on flavor from cooking the broth, onion, and garlic.

How long to cook refried beans– The pinto beans will become tender after cooking in liquid in the slow cooker for 5-6 hours on high. The beans can cook longer and the flavor will continue to develop, but they will need to cook at least 5-6 hours to be soft enough to blend well.

How to Blend the Beans- I prefer to use an immersion blender because it is quick, easy, and relatively mess free to get the Mexican refried beans super smooth and creamy. If you don't have one, you can use a blender or food processor, but be VERY careful transferring the hot beans. You can also mash them by hand with a potato masher, but it is hard to get them as smooth as you will be able to with a blender.
Recipe Variations
If you love this recipe as much as we do and want some quick ways to change it up for variety, these little tips will do the trick!
Refried Black Beans– Make this recipe as directed using dried black beans instead of refried beans.
Cheesy Refried Beans– Once the beans have been blended add 8 oz of shredded cheddar cheese, and 4 oz softened cream cheese into the beans and stir until combined.
Refried Bean Dip– combine beans with 1 cup sour cream and 3 tbsp taco seasoning. You can also top with taco meat and shredded cheese if you want a loaded bean dip.
Dietary Considerations
If you have special dietary needs, this recipe meets some and can be easily modified to comply with others.
As always, check all store bought ingredients for compliance on specific dietary needs. The notes below are a general guide.
Gluten free: This recipe is naturally gluten free. Please verify the broth that you use is gluten free.
Dairy free: These Mexican Refried Beans are naturally dairy free.
Nut free: This recipe is naturally nut free.
Egg free: This recipe is naturally egg free.
Macros: The approximate macro calculation for this recipe is- P: 7g C: 20g F: 1g
Calories: There are approx 110 calories per serving in this Mexican crockpot refried beans recipe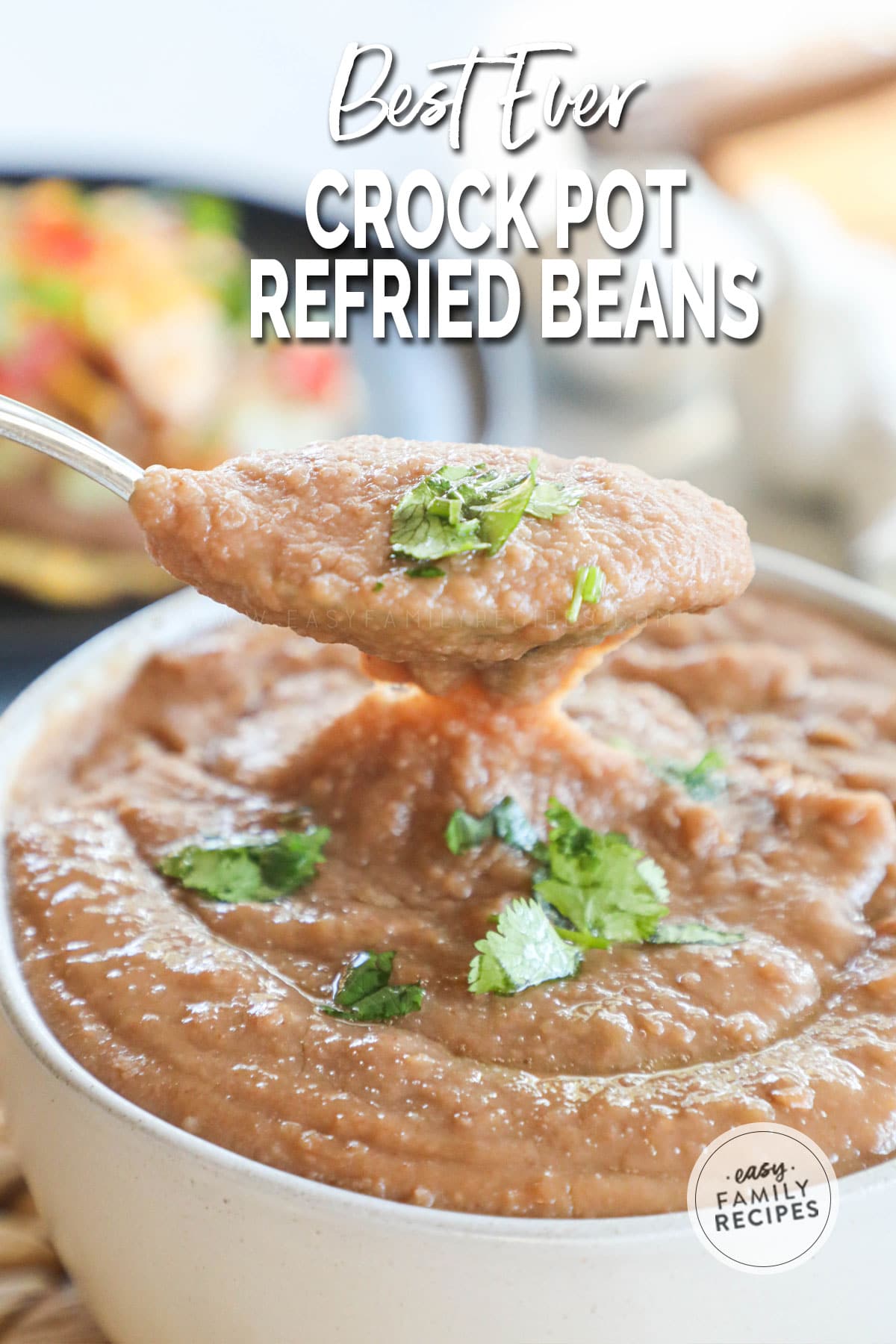 Freezer Meal Instructions
Refried Beans freeze really well. This recipe makes a large portion so I like to split the beans up into some for now, and some to freeze for later.
Allow beans to cool to room temperature.
Portion the beans into freezer bags or freezer friendly containers.
Freeze.
When ready to eat, reheat in the microwave, or on the stovetop.
For the best flavor, this meal can be frozen for up to 6 months.
What to Eat with Refried Beans
Since this is a classic Mexican dish, it will pair well with many of your favorite Mexican main and side dishes. Refried beans are a traditional side dish to many Mexican dishes, and can also be used as a filling for a main dish.
Main Dish Fillings
Enchiladas! Try my super popular Ground Beef Enchiladas
Bean and cheese burritos
Bean Tostadas
Nachos – either bean and cheese or a bean base with chicken or beef and cheese
Taco casserole – 7 layers of goodness!
Quesadillas – either bean and cheese or a bean base with chicken or beef and cheese
Fajitas- Serve this as a traditional side to chicken fajitas or steak fajitas
Side Dish Ideas
You can choose one or add a few sides to make a wholesome, well rounded dinner.
What to do with Leftover Refried Beans
If you have leftovers after making Mexican Crock Pot Refried beans, then it is your lucky day! They save and reheat well, and can make the start of another delicious dish.
To save leftovers, separate into meal sized portions and then place in an airtight container and store:
in the refrigerator for 4-5 days
in the freezer up to a month
Leftover Recipes
Here are a few ways to repurpose those leftovers and give them a delicious makeover!
Loaded Tostadas– Spread refried beans over a tostada shell. Top with cheese and bake for 5-8 minutes or until cheese is melted. Top with shredded lettuce, pico de gallo, sour cream, and guacamole.
Smothered Bean Burritos– Spread a generous amount of beans and shredded cheese in a large tortilla. Roll the burrito up and top with red enchilada sauce and more shredded cheese. Bake for 8-12 minutes or until the cheese is melted and the burrito is heated through.
Double Crunch Taco– Spread refried beans on the flour tortilla. Place the flour tortilla around a crunchy taco shell. Fill the taco shell with meat, lettuce, tomato, and cheese.
More Easy Mexican Inspired Recipes
If you enjoyed this recipe, I really hope you will take a moment to grab a few more easy recipes for another busy night!
You can check out all of my ||||| recipes here, or see a few of our readers favorite recipes below.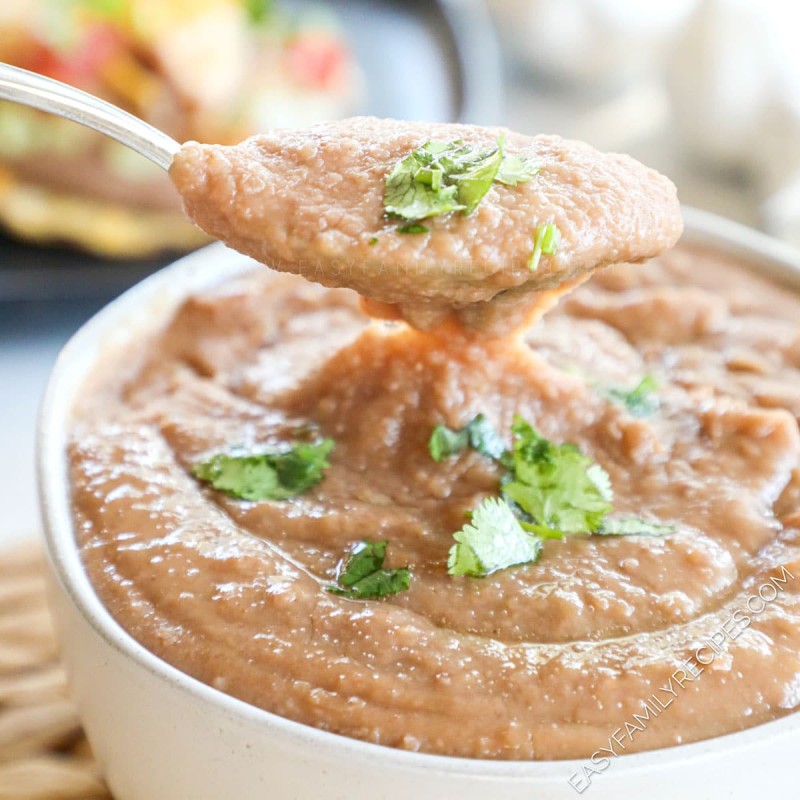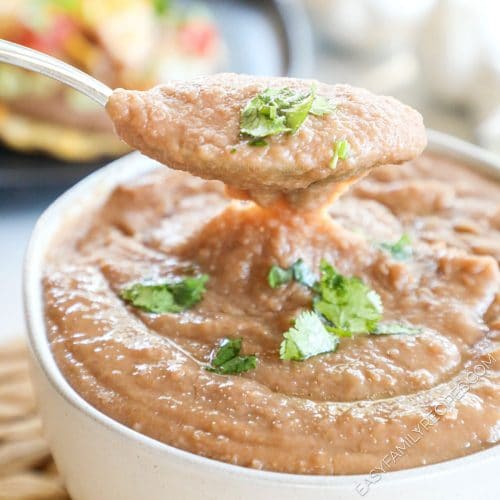 Mexican Style Crock Pot Refried Beans
These refried beans are velvety, ultra creamy, and packed with flavor. You won't believe how EASY they are to make! Just dump and go, and let the slow cooker do the work!
Ingredients
16

oz

dried pinto beans

6

cups

chicken broth

,

(about 48 oz) or vegetable broth if vegetarian

4

oz

diced green chiles

,

(1 can)

1

onion

,

roughly diced

8

cloves

garlic

,

minced

2

tsp

ground cumin

2

bay leaves

salt

,

to taste
Instructions
Rinse and sort the beans and sort any debris out. Then place the pinto beans in the bottom of the crock pot.

Add the broth, green chiles, onion, garlic, cumin, and bay leaves.

Cook on high for 5-6 hours.

Once the beans are tender, remove the bay leaves and strain 2 cups of liquid out of the beans. Use an immersion blender to blend, adding removed liquid until smooth and creamy.

Note: Depending on the beans, cook time, and your personal preference, you may add all of the liquid back in (I did here,) some, or none of the liquid. If your beans are super absorbent and there isn't two cups, of liquid to remove, you can just blend them as is. If you need to thin them out more, add extra chicken broth as needed, however it is unlikely you will need more.

Season with salt to taste.
Recipe Notes
These beans can be cooked longer than 6 hours. As they cook the flavor will continue to develop, but they will be soft and flavorful enough to process at the 5-6 hour mark.
Substitutions — Refried Black Beans – Make this recipe as directed using dried black beans instead of refried beans. 
How to Store — To save leftovers, separate into meal sized portions and then place in an airtight container and store:
in the refrigerator for 4-5 days
in the freezer up to a month
How to Freeze — This

recipe freezes well. It can be frozen before or after cooking. See how to freeze section in original post for full instructions. 
How to Reheat — When ready to eat, reheat in the microwave, or on the stovetop.
Nutrition Information
Serving:
0.5
cup
,
Calories:
110
kcal
(6%)
,
Carbohydrates:
20
g
(7%)
,
Protein:
7
g
(14%)
,
Fat:
1
g
(2%)
,
Saturated Fat:
1
g
(6%)
,
Sodium:
355
mg
(15%)
,
Potassium:
494
mg
(14%)
,
Fiber:
5
g
(21%)
,
Sugar:
1
g
(1%)
,
Vitamin A:
15
IU
,
Vitamin C:
11
mg
(13%)
,
Calcium:
47
mg
(5%)
,
Iron:
2
mg
(11%)