This MANGO AVOCADO SALSA is fresh, flavor packed, and absolutely delicious! The special method we use gives it the perfect texture and keeps it fresh for longer! It makes a great snack, or pair it with fish, chicken or even tacos!
Mango Salsa – The EASY Way!
Mango Avocado Salsa may seem gourmet, but it is almost too easy to make using just a handful of ingredients and a few minutes of time at the cutting board. There's no cooking required!
Things that make this salsa even easier and tastier are ripe (but not overly ripe) mangos and avocados. They are easy to cut and at the peak of their flavor.
While Mango Avocado Salsa may not be traditional, once you taste it, you may agree that it is something really special. We keep this recipe on repeat all summer long! You can't beat the fresh savory combo and how light and wholesome it is!
How to Serve Mango Avocado Salsa
Mango Avocado Salsa is one of those unique recipes that can be an appetizer or a key ingredient in a luscious main dish!
Mango Salsa as a Dip
It fits the bill for a light and heathy appetizer accompanied with some dippers. Here are a few of our favorites:
Chips
Bell peppers slices
Plantain chips
Cucumber or zucchini slices
Pretzels
Crackers
Mango Avocado Salsa can take a regular old meal and make it something really special. There are meat, fish, and even vegetarian options. Here are a few pairings we love:
Mango Salsa with a Main Dish
Grilled chicken – one of our favorites (pictured below)
Fish– Most any fish will pair well including tilapia, white fish, halibut, and nothing is better than mango salsa salmon!
Shrimp
Black beans and cilantro lime rice – serve it in a bowl topped with this mango salsa for a ridiculously delicious meatless meal.
Pork– especially BBQ pork!
Fish tacos– these really take the flavor up a notch!
You can choose one or add a few sides to make a wholesome, well rounded dinner.
Easy Family Recipe Tips
This Mango Avocado Salsa recipe is as simple as promised! Just a few ingredient + a few minutes for a fresh wholesome dish.
In this section I am going to go through a few tips and tricks I use when making this recipe to get the absolute best and most delicious results.
Make sure to scroll to the bottom for the FULL recipe card.
Ingredients
Mangos– Pick mangos that have a slight give when squeezed. The skin should have some yellow or orange, but can have some green remaining as well. If the mangos are not rippe, you can let them ripen on the counter, or submerge them in uncooked rice to speed up the ripening process.
Avocado– Avocados should also be firm with a slight give. They will be a deep green color and if you remove the stem it should be a bright fresh green with no signs of mold or darkening.
Red bell pepper– I really like the flavor, color, and texture of red bell pepper for the salsa making it the perfect pick. If you are in a pinch, you can use an orange or yellow pepper instead, but I don't recommend green.
Red onion
Cilantro– This really makes the salsa come together. I am a cilantro lover, so I frequently use more than the recipe calls for to get a little extra flavor!
Jalapeño pepper– This is optional. If you want no heat you can completely leave it out. If you like just a touch of spice, then I recommend adding it with the seeds and ribs removed. If you like a lot of heat, you can leave the seeds and ribs in, or add more jalapeño!
Lime juice– use FRESH! It makes a huge difference!
Vegetable oil– This is the SECRET ingredient! It will coat the mango and avocado do two very important things!

It fuses the flavors together and carries them throughout the salsa.
Since it coats the fruit, it preserves them and keeps the salsa fresh without browning for much longer!

Salt– You only need a touch of salt. Don't over do it!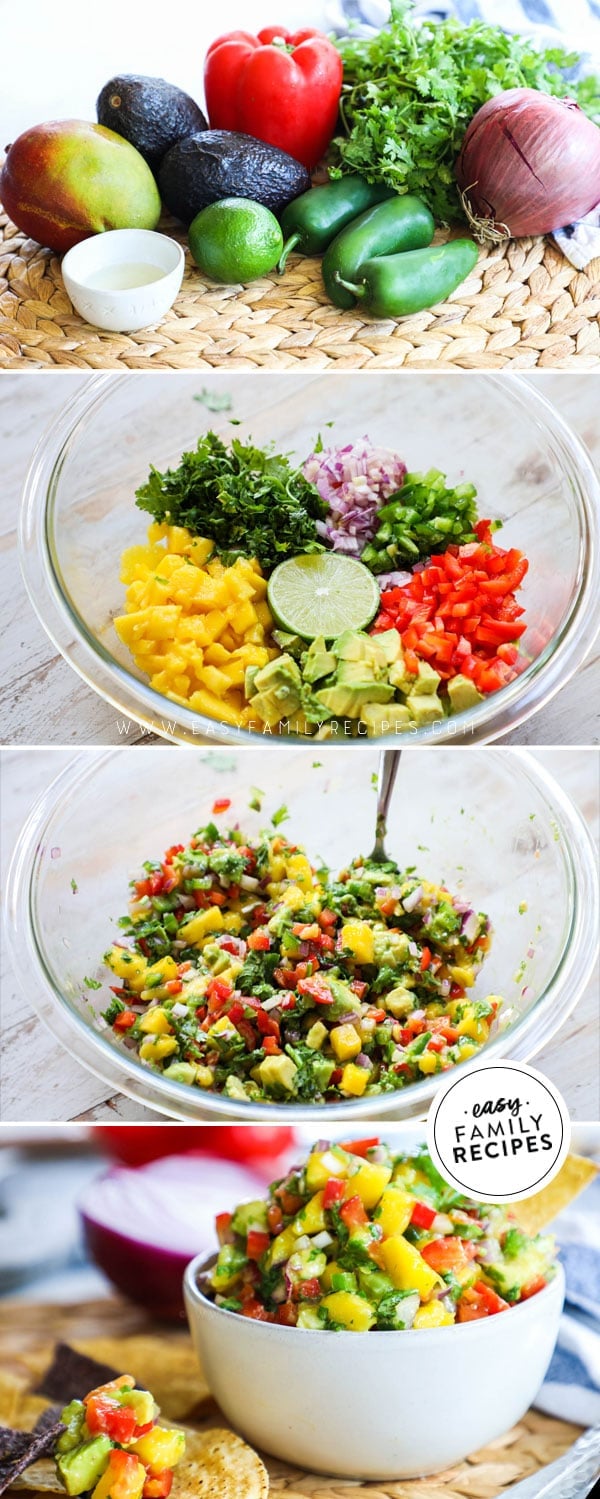 Recipe Tips
Finely dice– I think this salsa is at its absolute best when you finely dice everything. That allows you to get every flavor and texture evenly in every bite! But if you are a little out of practice with your knife skills, at least try to get the onion, bell pepper, and jalapeño finely diced and the rest will work itself out!
Pick perfect fruit– I gave tips on choosing your mango and avocado above you can use to help you get perfect fruit. When the fruit is ripe but not overripe it will give you a really magical taste. It also makes it easier to dice the fruit without everything getting mushy.
Fresh is best– Make sure to use fresh fruit, herbs and lime juice whenever possible. Frozen fruit will work taste-wise, but can have a more mushy texture. You can also use precut fruit to save some time, just try to avoid any that have preservatives on them as it can alter the taste.
Let it chill– This salsa is delicious as soon as it is mixed, but if you have half an hour, it will give the flavors time to infuse and combine.
Recipe Short Cuts
If you need to make this recipe, but are extra short on time, here are a few ideas that can help make this recipe even faster!
Use pre-cut fruit– You can buy pre-cut mango in many supermarkets. Even if it isn't diced, it will give you a head start.
Use pre-cut veggies– Both onions and bell pepper are frequently available pre-cut.
Prep fruit and veggies before mixing– You can chop all of the fruit and veggies (except the avocado) ahead of time, and just mix a bit before you are ready to serve.
Recipe Variations
If you love this recipe as much as we do and want some quick ways to change it up for variety, these little tips will do the trick!
In each recipe below, you can leave the avocado in or omit it for a different flavor.
Pineapple Mango Salsa– In place of one mango, add 1 cup diced pineapple.
Mango Habanero Salsa– In place of jalapeño, add 1 habanero pepper that has been seeded and finely diced.
Peach Mango Salsa– In place of one mango, add 1 cup (about 1 large) peach that has been peeled, pitted, and diced.
Dietary Considerations
If you have special dietary needs, this recipe meets many and can be easily modified to comply with others. 
As always, check all store bought ingredients for compliance on specific dietary needs. The notes below are a general guide.
Gluten free: This recipe is naturally gluten free.
Dairy free: Avocado Mango Salsa is naturally dairy free.
Nut free: This recipe is naturally nut free
Egg free: Avocado Mango Salsa is naturally egg free
Low carb/Keto: This recipe is low carb at only 7g net carbs per serving.
Macros: The approximate macro calculation for this recipe is- P: 1g C: 9g F: 2g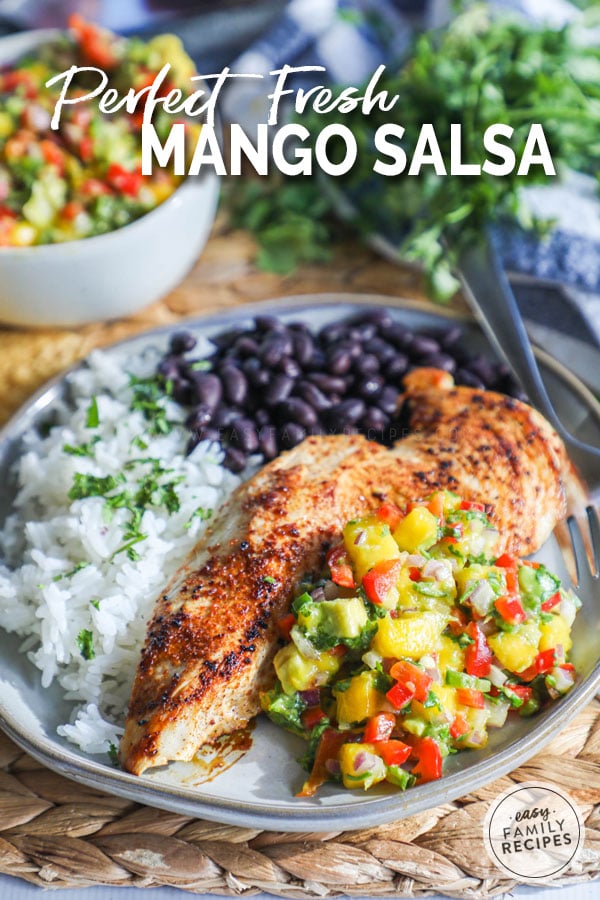 More Easy Dip Recipes
If you enjoyed this recipe, I really hope you will take a moment to grab a few more easy recipes for another busy night!
You can check out all of my Easy Appetizer recipes here, or see a few of our readers favorite recipes below.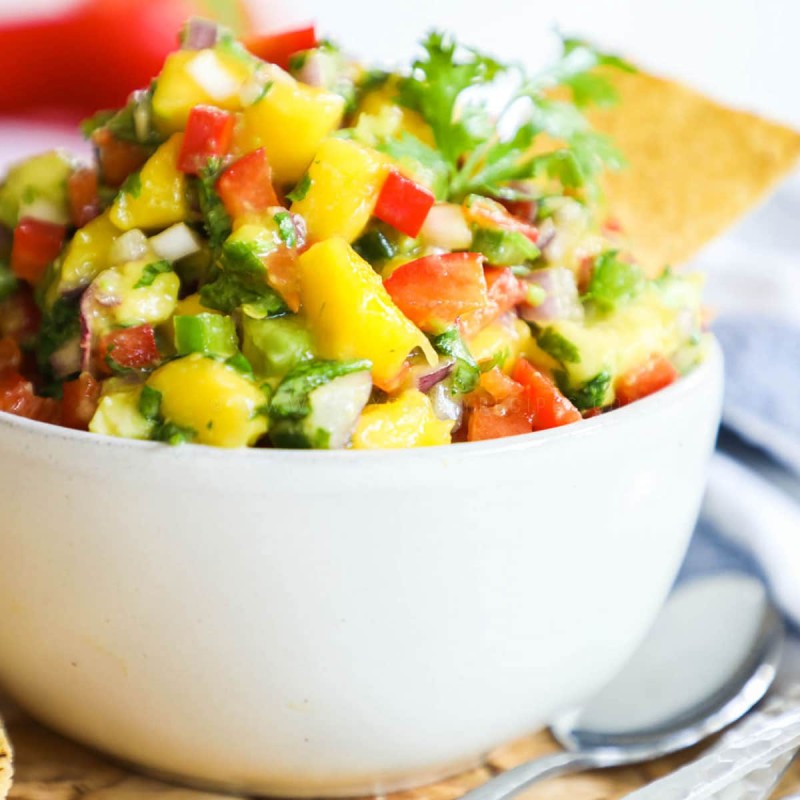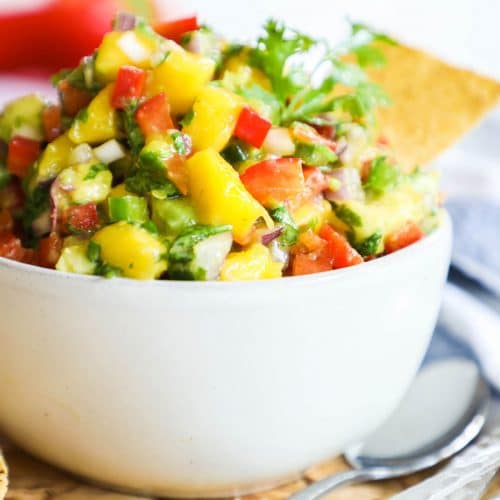 Mango Avocado Salsa
This Mango Avocado Salsa is the perfect blend of sweet and savoy. Perfect as a dip with chips, or serve it as part of a main dish with chicken, fish, pork, or fish tacos.
Ingredients
2

mangos

1

avocado

,

large

1

red bell pepper

1/4

cup

red onion

1/4

cup

cilantro

,

(or more to taste)

1

jalapeño pepper

,

seeds and ribs removed (optional)

1

tbsp

lime juice

,

(about 1/2 lime)

1

tbsp

vegetable oil

1/8

tsp

salt
Instructions
Finely dice the mango and avocado. Finely dice the red bell pepper, red onion, cilantro and jalapeño pepper.

If you don't want jalapeño you can omit it, or if you want the salsa to be more spicy, you can leave the ribs and seeds in.

Combine all ingredients in a medium bowl and stir until combined.

Chill for 30 minutes, then serve with chips, or on top of chicken or fish.
Nutrition Information
Calories:
75
kcal
(4%)
,
Carbohydrates:
9
g
(3%)
,
Protein:
1
g
(2%)
,
Fat:
5
g
(8%)
,
Saturated Fat:
2
g
(13%)
,
Sodium:
32
mg
(1%)
,
Potassium:
198
mg
(6%)
,
Fiber:
2
g
(8%)
,
Sugar:
7
g
(8%)
,
Vitamin A:
892
IU
(18%)
,
Vitamin C:
35
mg
(42%)
,
Calcium:
7
mg
(1%)
,
Iron:
1
mg
(6%)