The BEST "Baked" Potatoes, aren't really baked! The most fluffy, tender, incredibly delicious baked potatoes are made in the Instant Pot! Not only is the taste and texture amazing, but they cook in a fraction of the time. These Instant Pot Baked Potatoes are perfect for making loaded baked potatoes, or using to make hashbrowns, fried potatoes, or other potato dishes.
Instant Pot Baked Potatoes – The EASY Way!
My family loves potatoes (just take a look at my long list of family favorite potato recipes here). We love them mashed, baked, sliced, like fries, and topped with more yummy things! Baked potatoes are a staple, and my secret weapon for making the best baked potatoes is skipping the oven, and making them in the pressure cooker!
Baked potatoes in an instant pot are seriously the best. The potatoes cook in less than 30 minutes and they are so moist and tender that you barely need to add butter, maybe just a little salt. So today I am sharing my method to show you how to make baked potatoes in an instant pot!
What to Serve with Baked Potatoes
An instant pot baked potato goes with everything and there are so many things that are delicious on them! To help narrow it down though, I have listed some options to serve with them and some ideas for toppings.
Main Dish Ideas
Side Dish Ideas
Broccoli Cauliflower Salad – This is a cold salad that can be made in advance. The flavors go great with chicken and the cold salad is wonderful alongside a warm baking dish.
Perfect Roasted Veggies – There is something about veggies with a creamy casserole. And these are great because they are super simple and ready on one pan making them the perfect easy accompaniment to this loaded chicken potato casserole.
Picnic Pasta Salad – This is a classic pasta salad that is great for making in big batches. It holds up well in the fridge making it perfect for enjoying through the week.
Topping Ideas
You can choose one or add a few sides to make a wholesome, well-rounded dinner.
Recipe Notes
This baked potato instant pot recipe is as simple as promised! Just 30 minutes and no effort for fluffy baked potatoes.
In this section I am going to go through a few tips and tricks I use when making this recipe to get the absolute best and most delicious results.
Make sure to scroll to the bottom for the FULL recipe card and how to bake potatoes in an instant pot.
Ingredients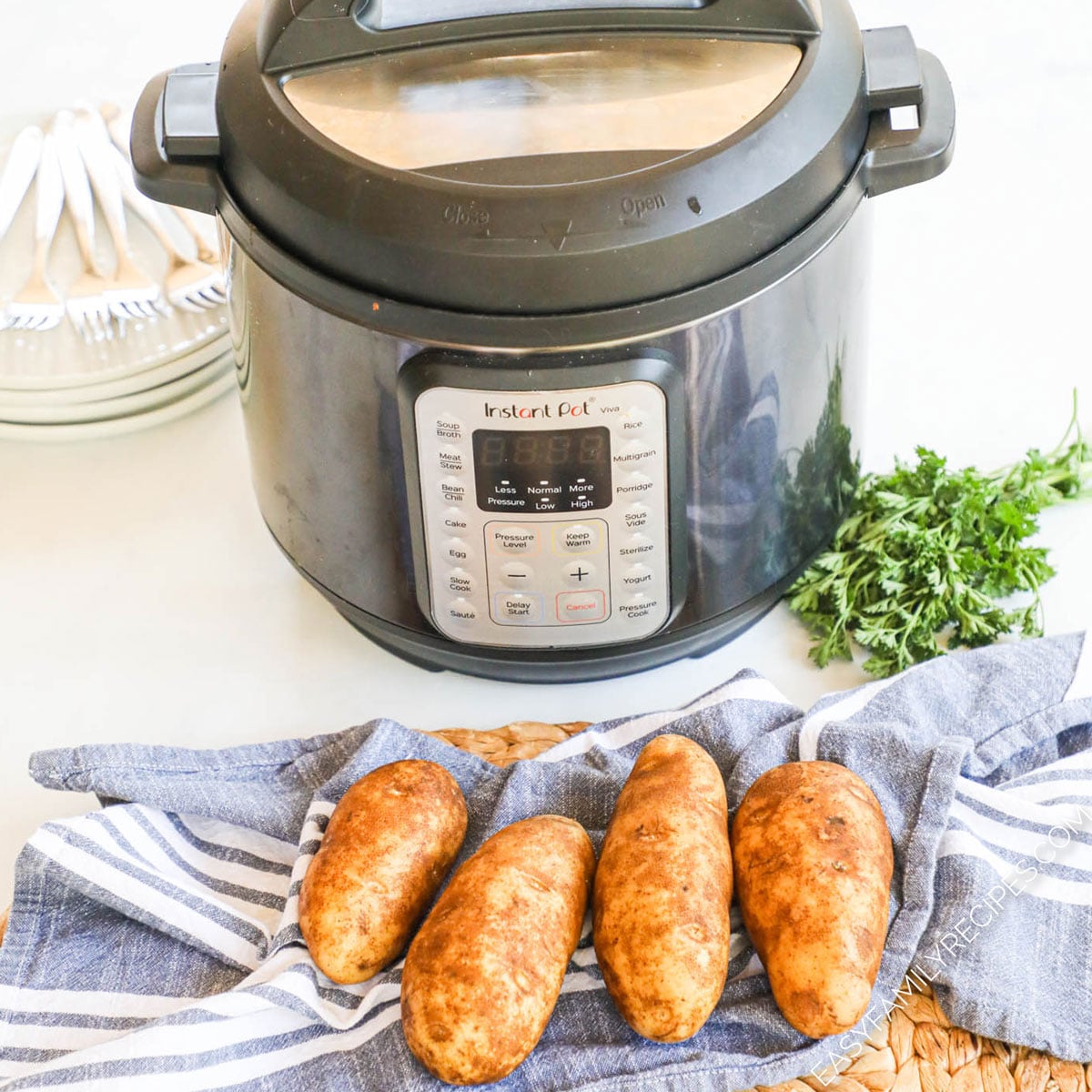 Russet Potatoes – Any size potato will work, just be sure to adjust the cooking time depending on how large or small the potato is. Idaho potatoes also work great!
Butter, Salt, and Pepper – As I said, these really don't need any butter added to them, but feel free to add as much or little as you like, along with some salt and pepper to taste.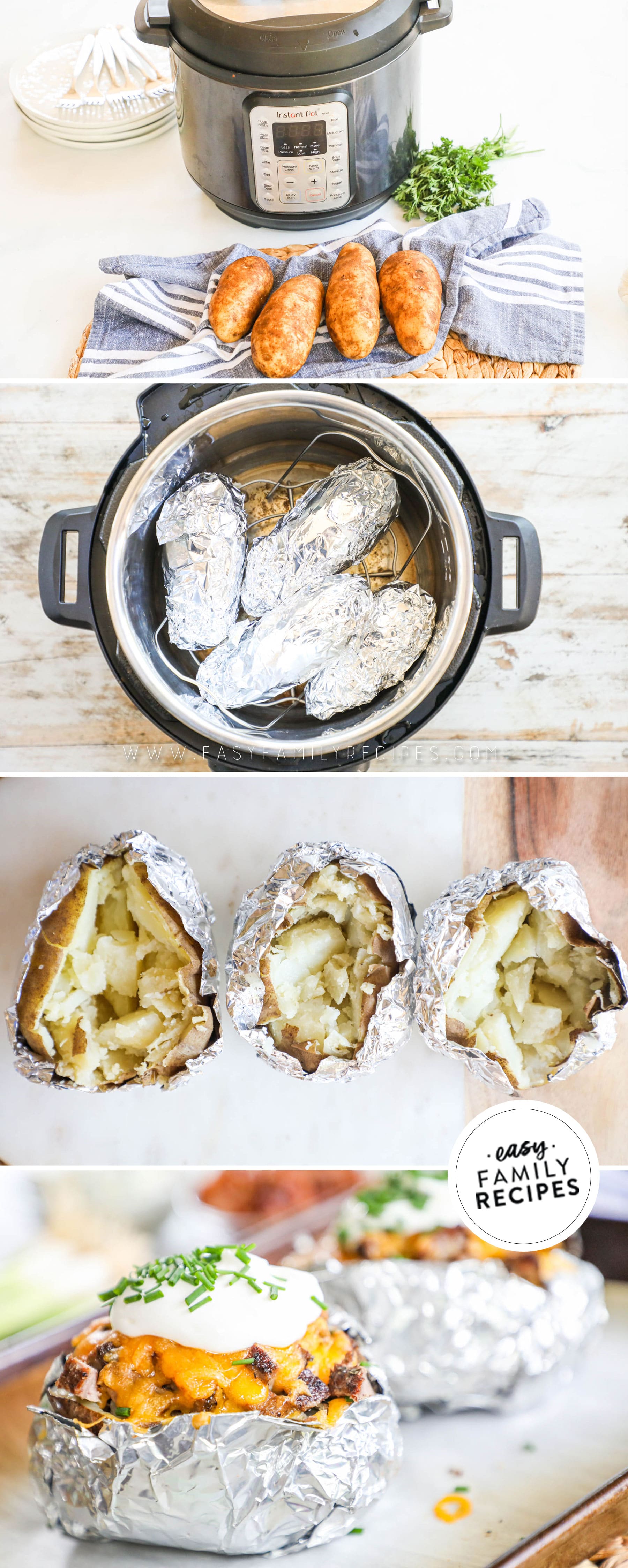 Recipe Tips
Wrap in foil – To prevent the skins on these baked potatoes in the instant pot from cracking and peeling off, I always wrap my potatoes in foil before cooking. I do not coat them in butter or seasoning, I simply wrap them in foil, drop, and go -easy!

For crispy skins – If you want that classic crispy potato skin, I recommend involving the oven. Because a pressure cooker cooks by building pressure with steam, it is the opposite type of environment that creates crispy skins. To achieve this on a baked potato in instant pot, simply cook as directed and then unwrap the potatoes, brush with butter or oil, and then bake for 5 minutes or until crisp.

Cook times vary – Instant Pots, by nature, have a lot of variables that can determine cook time. The altitude, the size of the pot, how full the pot is, and the size of the potatoes can all affect the cooking time of baked potatoes in an Instant Pot. A general rule of thumb for how long to cook a baked potato in the instant pot is it takes 20 – 30 minutes. If you are unsure if the potatoes are done, release the pressure manually from the pot and check if they are fork-tender. If they are not, then they are not done. Simply replace the lid and continue to let them cook, checking every minute to two minutes.

Make sure you have enough liquid – In order for an Instant Pot to build pressure you need at least 1/2 of a cup of liquid. So while you may wonder how to bake potatoes in an instant pot, we are actually steaming them. For this recipe, you want at least that much, but not so much that the water is touching the potatoes (on the raised trivet). This can be an estimated half cup as well, no real need for accuracy here other than to make sure you have enough water in the pot.
Recipe Variations
If you love this recipe as much as we do and want some quick ways to change it up for variety, these little tips will do the trick!
Baked Sweet Potatoes– Baked sweet potato instant pot is another great use of this kitchen gadget! Simply follow the recipe below but use sweet potatoes instead of russet potatoes for an instant pot baked sweet potato.

Instant Pot Double Baked Potato– For instant pot twice baked potatoes, make them as directed then remove the insides from the potatoes. Mash them up with butter, sour cream, seasonings, or whatever your heart desires. Put this filling back into the potato skin shell and bake (without the foil) at 350 degrees for 5 – 10 minutes until the skin is crispy and the cheese is melted.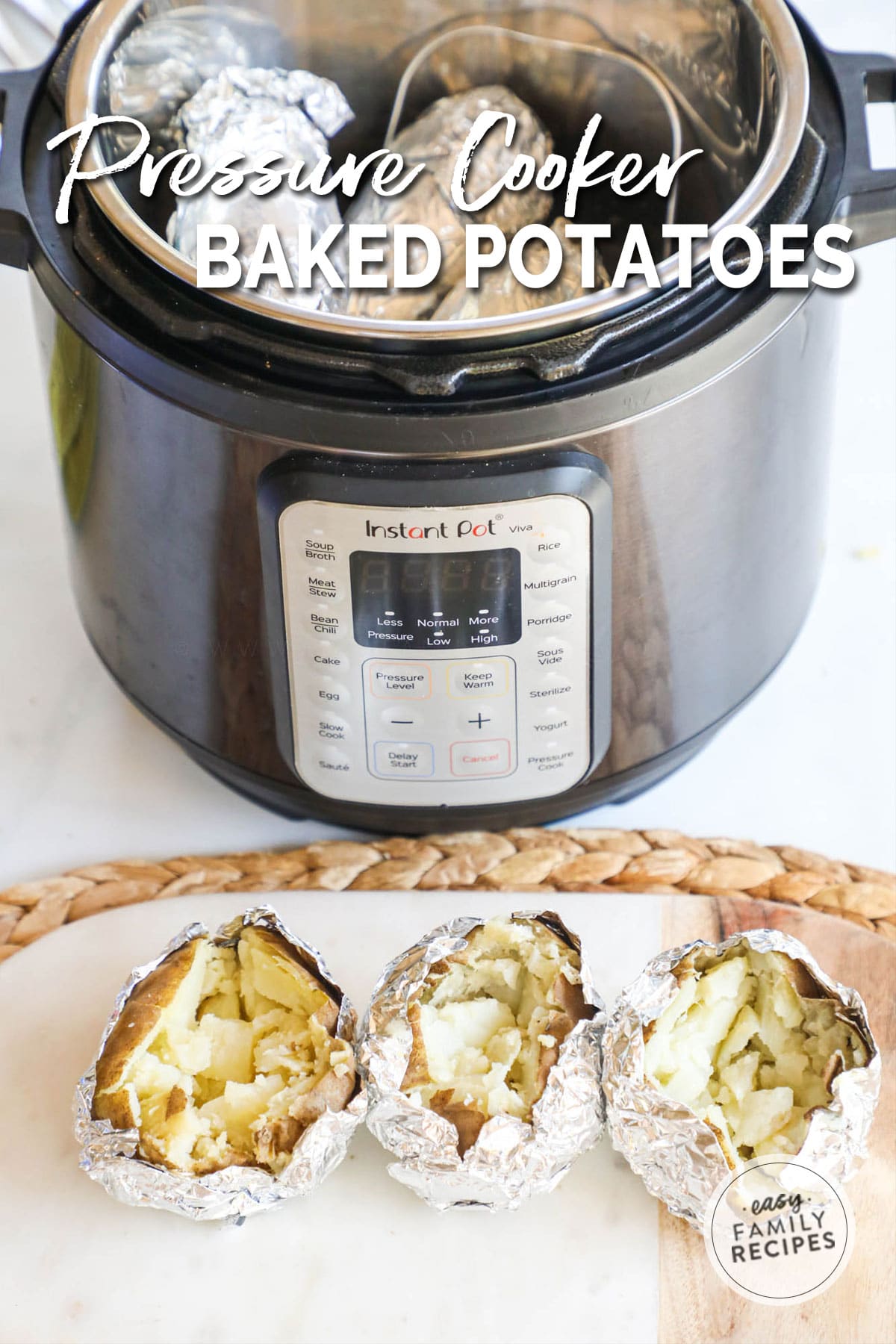 Baked Potato Leftovers
If you have leftovers after making Instant Pot Baked Potatoes, then it is your lucky day! They save and reheat well, and can be the start of another delicious dish.
To save leftovers, separate them into meal-sized portions and then place them in an airtight container and store:
in the refrigerator for 3-4 days
in the freezer for up to a month
Leftover Recipes
Here are a few ways to repurpose those leftovers and give them a delicious makeover!
Baked Potato Soup – Another great pressure cooker recipe! It comes together super quickly and you've already done half the work!
Twice Baked Potato Recipe – When you are ready to enjoy the leftover potatoes, remove the filling from the potato skin. Mash it up with butter, sour cream, seasonings, or whatever your heart desires. Put this filling back into the potato skin shell and bake (without foil) at 350 degrees for 15-20 minutes until the skin is crispy, the potato is heated through, and the cheese is melted.
Baked Potato Casserole – This is one of my family's favorites and I love it because of how quick and simple it is to make. With these potatoes already made, this casserole will be on the table in 20 minutes.
Loaded Baked Potato Salad – For this salad, use these baked potatoes to speed up the process. Plus, if you have any leftover toppings, they can go in this salad too. Just through everything in a bowl and have dinner ready!
More Potato Recipes
If you enjoyed this recipe, I really hope you will take a moment to grab a few more easy recipes for another busy night!
You can check out all of my favorite potato-loving recipes here, or see a few of our reader's favorite recipes below.
Hungry for more family-friendly recipes? Sign up for my free recipe club to get new family-friendly recipes in your inbox each week! Find me sharing daily meal-time inspiration on Pinterest, Instagram, and TikTok.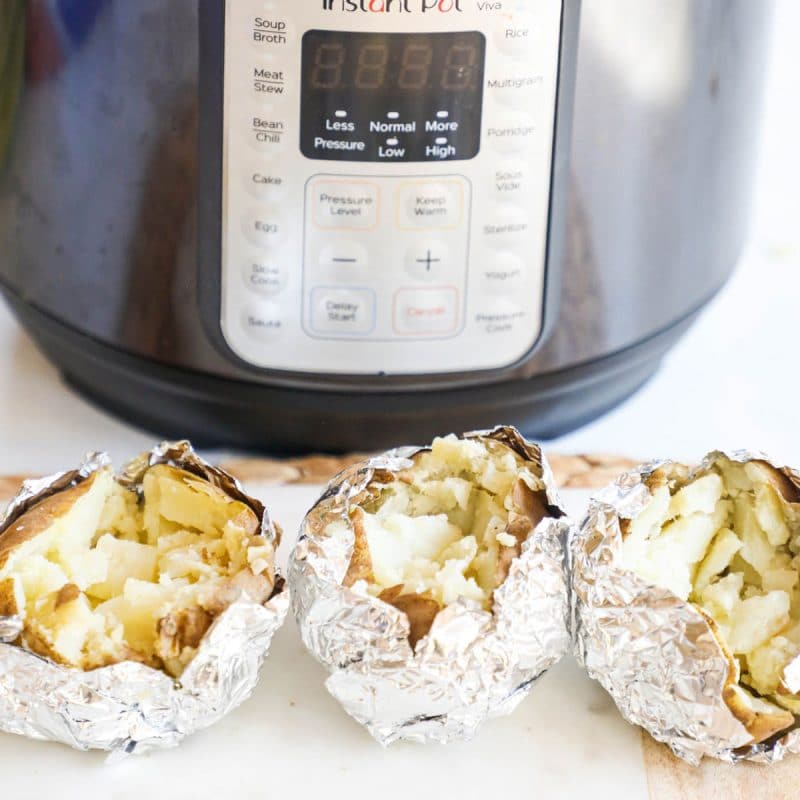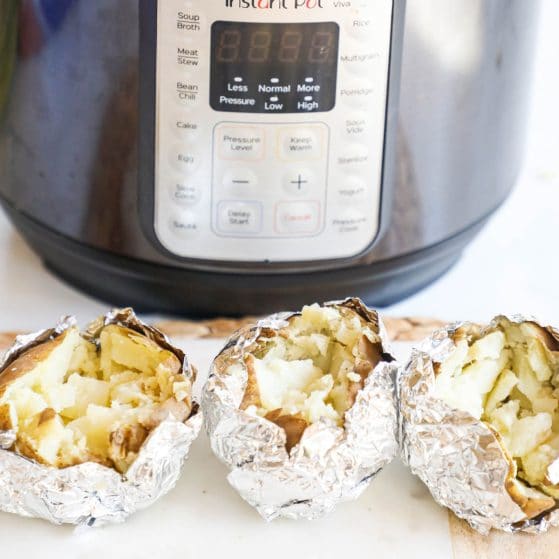 Instant Pot Baked Potatoes
These Instant Pot Baked Potatoes make the most tender, delicious "baked" potatoes! Load them up with your choice of toppings or use them to make appetizers, side dishes, or soups. The Instant pot makes delicious baked potatoes in a fraction of the time!
Prep Time: 5 minutes
Cook Time: 25 minutes
Total Time: 30 minutes
Serves:4 servings
Hover over "serves" value to reveal recipe scaler
Ingredients
4 medium russet potatoes or similar baking potatoes
optional
1 tbsp butter
salt and pepper to taste
Instructions
Wash each potato, scrubbing gently to remove any dirt from the skin.

Wrap each potato in aluminum foil and place on a rack inside pressure cooker. Potatoes can sit side by side or be stacked to best fit.

Add 1.5 cups of water to the bottom of the pot.

Cook on high pressure for 20-30 minutes, or until potatoes are tender. The cook time will vary with the size and thickness of the potatoes. I generally use 25 minutes for a medium potato.

Quick release the pressure, and use a fork to test tenderness and if done, use tongs to remove the potatoes from the pressure cooker.
Optional
If you want a crispy skin on your potato, remove the foil from the potato and rub butter on the skin. Season with salt and pepper and place on a baking sheet.

Bake at 425˚F for 8-12 minutes or until the skin reaches the desired crispiness.
Recipe Notes:
*Cook time can vary based on the size and thickness of the potatoes, as well as, your altitude. In general, the thicker the potato, or higher in altitude you are, the longer you will need to cook the potato to get it tender. * You can cook more than 4 potatoes at a time if desired. The pressure cooker can be stacked with potatoes to the fill line. If you have more potatoes, you may need to add extra cook time.
Nutrition Information:
Serving: 1potatoCalories: 193kcal (10%)Carbohydrates: 38g (13%)Protein: 5g (10%)Fat: 3g (5%)Saturated Fat: 2g (13%)Polyunsaturated Fat: 1gMonounsaturated Fat: 1gTrans Fat: 1gCholesterol: 8mg (3%)Sodium: 33mg (1%)Potassium: 889mg (25%)Fiber: 3g (13%)Sugar: 1g (1%)Vitamin A: 90IU (2%)Vitamin C: 12mg (15%)Calcium: 29mg (3%)Iron: 2mg (11%)
(Nutrition information provided is an estimate and will vary based on cooking methods and brands of ingredients used.)