Learn to make the best, most tender, juicy, steak at home with this Garlic Herb Steak recipe. With this simple method you can make any cut of steak that will always be perfectly cooked, loaded with flavor, and taste delicious!
Garlic Herb Steak – The EASY Way!
A restaurant quality steak can be surprisingly easy to make with a few simple rules of thumb! I am going to show you my go to method for how to cook a steak in a pan and have it turn out just like one you order at your favorite steakhouse!,
This garlic herb butter for steak makes this recipe so delicious yet keeps it so simple. All you need is a heavy skillet- I prefer cast iron, but a heavy evenly heated skillet will work, butter, garlic, a few seasonings, and your favorite steak.
In less than 15 minutes you will have a beautiful steak with garlic herb butter on the table that is perfect for a weeknight quick dinner, date night, or a fancy dinner with the kids at home. No matter how you choose to enjoy this meal, I am sure it will become a staple recipe in your house, just like it has in ours!
Why I LOVE this recipe!
Straight forward – this recipe really only involves two steps, make the garlic butter and cook the steak. Super easy and super straightforward!
Customizable – While I use a strip steak, you could use any cut of steak you can find or have on hand. This method will work great for all types of steak!
Quick yet fancy – Who said a fancy meal needs to take forever? This meal will feel very extravagant but it only takes 15 minutes!
What to Serve with Garlic Herb Steak
Since this dish is such a classic dish with American steakhouse flavors, it will pair well with many of your favorite steakhouse side dishes. There are both classic options and some healthy options to keep it light.
Since this steak cooks so quickly, the side dishes need to also cook quickly or be able to be made in advance. All of the dishes below meet one of those criterias!
Side Dish Ideas
You can choose one or add a few sides to make a wholesome, well-rounded dinner to go with your garlic and herb steak.
Recipe Notes
This garlic butter steak recipe is as simple as promised! Just 15 minutes for a family-friendly meal.
In this section I am going to go through a few tips and tricks I use when making this recipe to get the absolute best and most delicious results.
Make sure to scroll to the bottom for the FULL recipe card for how to cook a steak in garlic butter.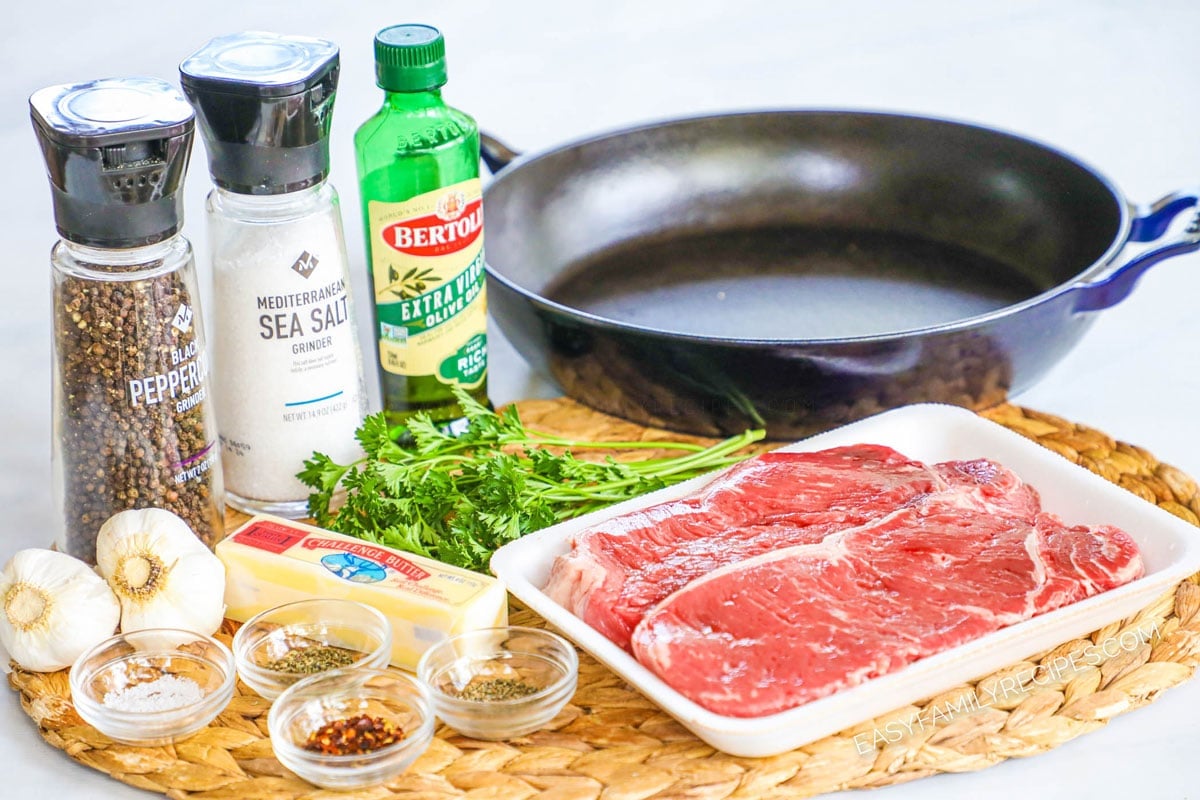 Ingredients + Substitutions
Steak Ingredients
Strip Steak – I used strip steak in the photos here, but it really is personal preference and availability. Feel free to use whatever cut you have, such as ribeye, skirt steak, or tenderloin. I generally buy whatever cut is on sale that week and find that this recipe works exceptionally well on all of them!

Salt & Pepper – The general rule of thumb is to use 1 teaspoon of salt per pound of meat- so 2 pounds of meat would be 2 teaspoons of salt or half a pound of meat is half a teaspoon of salt. (more on that below!)

Olive Oil – This helps to sear the steak to create the flavor-packed crust on the steak.
Garlic Herb Butter for Steak Ingredients
Butter – This gives more dimension and complexity to how the flavor develops on the outside of the steak.
Herbs – For the butter, I packed it with parsley for a slightly peppery note, basil for some sweetness, and thyme for earthiness. I recommend using fresh parsley for maximum flavor, but the basil and thyme can be dried.
Garlic – it wouldn't be garlic butter without the garlic! Feel free to use minced or finely dice a garlic clove.
Red Pepper Flakes – for a little kick!
Salt & Pepper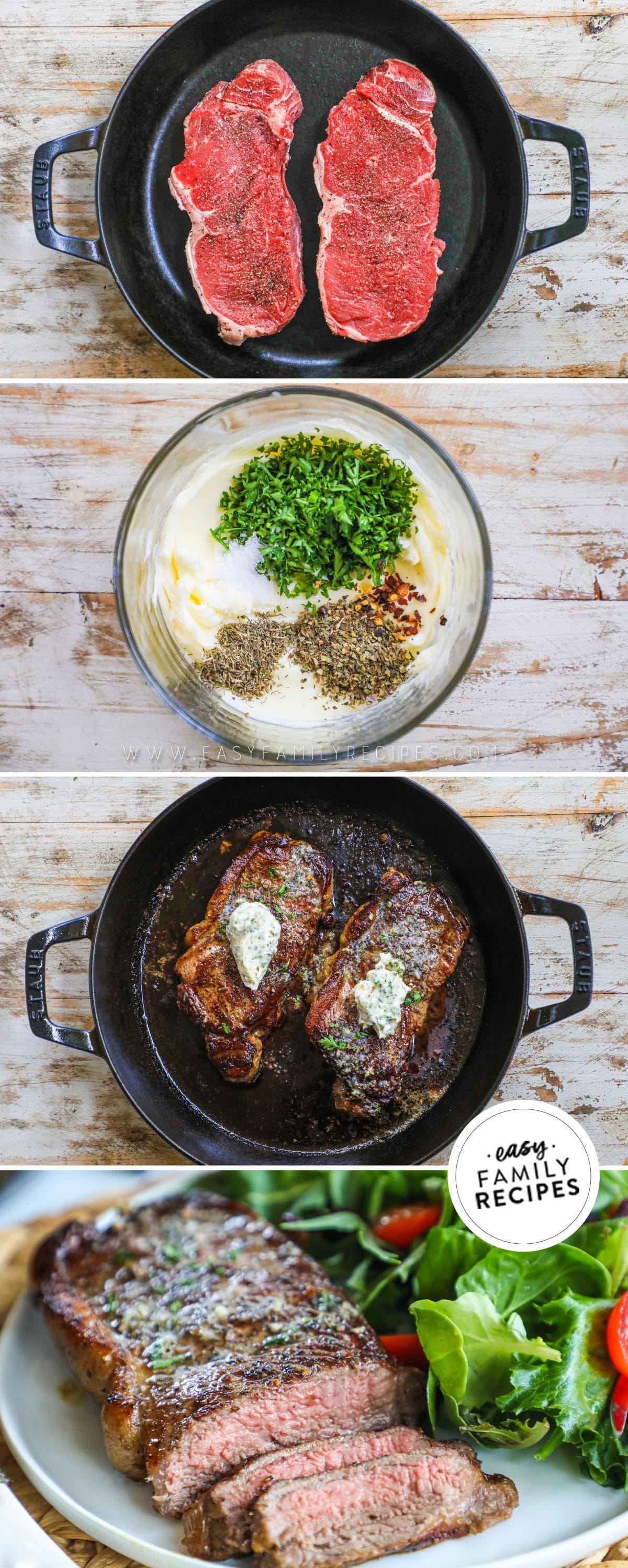 Recipe Tips
Use softened butter – Ok, this is a BIG tip! For how to make the garlic butter for steak, you need to use softened butter. This allows the herbs to be fully incorporated into the butter and evenly distribute the flavors throughout the steak. You can leave the butter on the counter to soften or if you are in a time pinch, microwave it just a few seconds at a time until it is soft.

More butter is better – this butter is absolutely delicious and works well on many things besides just the steak! So, I recommend making double the garlic herb butter for steaks and using the additional butter on bread or potatoes.

Make sure the pan is hot – before even adding the steak, wait for the skillet to become hot. The steak should sizzle or "cheer" when you place it on the pan.

Leave it be – The key to amazing garlic and herb steak is to leave the steak be for 4 whole minutes on a hot skillet before touching it at all. This allows caramelization to occur. If you try to flip the steak or lift it to check it, there will be no time for the steak to sear.

Cover – After the garlic herb butter steak has been seared on both sides, cover the pan and let the steak continue to cook for 3 – 5 minutes. This allows you to have the classic sear on both sides of the garlic and herb butter steak but still cooks the steak through without burning the exterior.

Time will vary – To get the most tender, perfectly cooked steak, the key is in cooking it JUST until it is done. I HIGHLY recommend using a meat thermometer to monitor the temperature of the steak. Below is a quick reference for each cook on the steak.

Medium rare – about 3 minutes to 130 – 140 degrees internal temperature
Medium – about 4 minutes to 140 – 150 degrees internal temperature
Well done – about 5 minutes to 160 degrees internal temperature


Let it rest – the garlic butter steak needs to sit for 5 full minutes (I know, very hard to do!) for the flavors to melt into the steak, and the juices reincorporate into the meat for maximum deliciousness!

Picking the best steak – check out my cast iron steak post for tons of tips for picking out the best steak!
Recipe Short Cuts
If you need to make this recipe but are extra short on time, here are a few ideas that can help make this recipe even faster!
Make butter in advance– this butter can be made up to 1 week in advance!
Prepare side dishes– This garlic herb butter steak is so insanely fast so it is a bit hard to make it any faster, but you can prepare any side dishes in advance. This way dinner really is on the table in 15 minutes!
Recipe Variations
If you love this recipe as much as we do and want some quick ways to change it up for variety, these little tips will do the trick!
Rosemary Garlic Butter Steak– To make this pan-seared steak with garlic and rosemary, simply swap out the basil and thyme with dried rosemary in the butter!
Garlic Butter Steak Bites– These are so yummy! To make these bites, cut the steak into 1″ by 1″ squares and cook as directed by this recipe. Perfect for little hands and as an appetizer.
Lemon Garlic Steak– Another favorite in our house! For this recipe, simply add the zest from one lemon to the compound butter. You can also add the juice of one lemon to the steak when the olive oil is added to the pan.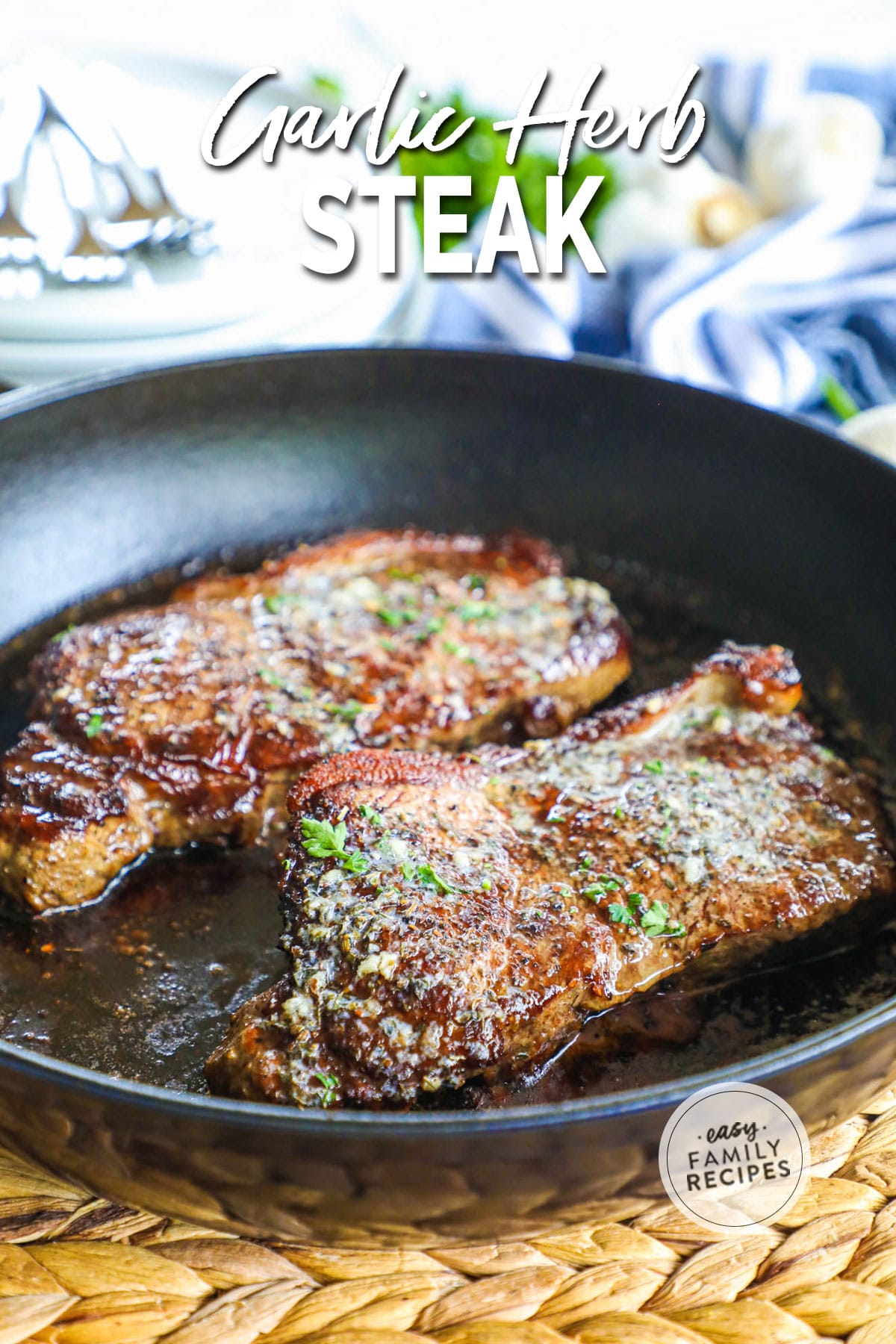 Garlic and Herb Butter Steak Leftovers
If you have leftovers after making span-seared steak with garlic butter, then it is your lucky day! This saves and reheats well, and can make the start of another delicious dish.
To save leftovers of steak with garlic butter, separate into meal-sized portions and then place in an airtight container and store:
in the refrigerator for 3-4 days
in the freezer up to a month
Leftover Recipes
Here are a few ways to repurpose those leftovers and give them a delicious makeover!
Steak Sandwich– For a sandwich, thinly slice the steak when you want to enjoy the sandwich. Don't slice the steak until ready to eat to keep the juice trapped inside the steak. Then lay the steak on top of the bread with cheese of choice and any other toppings you love. My favorite is a little arugula, provolone cheese, red onion, and mustard. You can also sear the sandwich (like a grilled cheese) for an extra tasty steak sandwich!
Loaded Steak Baked Potatoes– Chop the steak into bite sized pieces and reheat. Top cooked baked potatoes with a dollop of garlic butter, steak, and cheese. Bake for 10 minutes or until the cheese is melted. Remove from oven and top with sour cream and chives.
Loaded Steak Salad– Add thinly sliced steak to a bowl of chopped romaine lettuce. Top with your choice of cherry tomato, cucumber, blue cheese or cheddar cheese, thinly sliced onion, and diced hard boiled egg. Add croutons, or french fried onions for crunch. Drizzle with homemade ranch dressing or blue cheese dressing.
More Easy Steak Recipes
If you enjoyed this recipe, I really hope you will take a moment to grab a few more easy recipes for another busy night!
You can check out all of my Easy dinner recipes here, or see a few of our reader's favorite recipes below.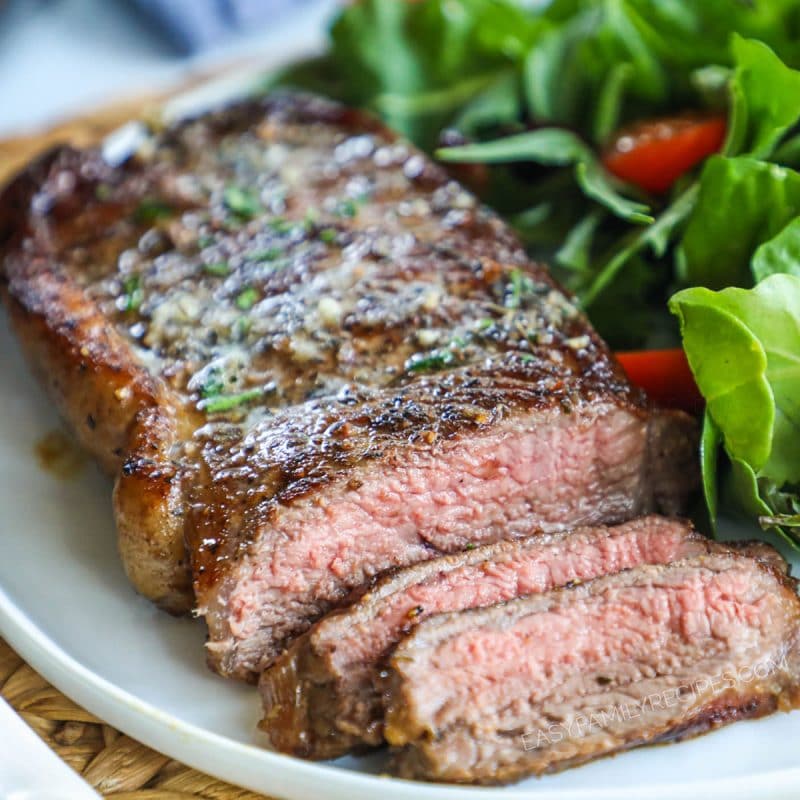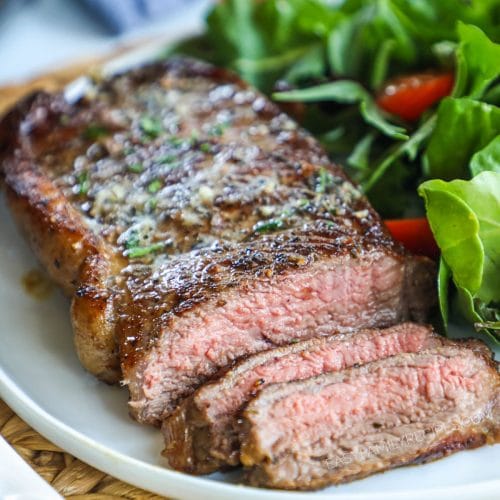 Garlic Herb Steaks
This Garlic Herb Steak is the most juicy and delicious steak that is so easy to make at home. It is perfect for special occasions or random week nights.
Ingredients
2

strip steaks

1

tsp

salt

1

tsp

pepper

1

tbsp

olive oil
For the garlic butter topping
1/4

cup

butter

2

tbsp

fresh parsley

,

finely chopped

1/2

tsp

dried basil

1/4

tsp

dried thyme

1/4

tsp

kosher salt

1

clove

garlic

,

pressed

1

pinch

red pepper flakes
Instructions
Generously season the steaks with salt and pepper on each side.

Heat the oil in a large heavy covered skillet over medium high heat.

Once hot add the steaks in and cook on the first side for 4 minutes without moving. Flip and cook on the other side for 2 minutes with out moving. Then reduce heat to low, cover, and cook 3-5 more minutes, or, to desired doneness.

Remove the lid, and spread half the butter on each steak allowing it to coat the top and run down the sides.

Remove steaks from the pan and let rest for 5 minutes to lock in the juices, then serve warm. Enjoy!
Recipe Notes
To keep this recipe lighter, you can use half the amount of garlic butter to still get the garlicky flavor but save on calories and fat. 
Nutrition Information
Calories:
779
kcal
(39%)
,
Carbohydrates:
2
g
(1%)
,
Protein:
47
g
(94%)
,
Fat:
64
g
(98%)
,
Saturated Fat:
29
g
(181%)
,
Polyunsaturated Fat:
3
g
,
Monounsaturated Fat:
26
g
,
Trans Fat:
1
g
,
Cholesterol:
242
mg
(81%)
,
Sodium:
1757
mg
(76%)
,
Potassium:
765
mg
(22%)
,
Fiber:
1
g
(4%)
,
Sugar:
1
g
(1%)
,
Vitamin A:
1073
IU
(21%)
,
Vitamin C:
6
mg
(7%)
,
Calcium:
81
mg
(8%)
,
Iron:
4
mg
(22%)