I absolutely love these Easy Greek chicken bites.  They are completely delicious and full of flavor.  They hit the mark with tender chicken coated in flavorful greek spices and perfect cooked in a hot skillet!  The best part though is that this Greek Chicken is tasty enough for adults to love, but also familiar enough for kids and picky eaters to enjoy.  You could even trick your kids into thinking these are just chicken nuggets.  You can serve them by themselves at the main dish or use them as filling for your favorite greek foods like pits, gyros, or salads. Make sure to check out all of my recipe ideas for this Greek Style Chicken at the bottom of this post.
Greek Chicken Recipe
This bites are perfect for a busy night. You will most likely have everything on hand for them. They are perfect to make a wholesome meal that everyone is going to love.
The key to this Greek Chicken is the Greek Seasoning. I absolutely LOVE this homemade Greek seasoning, which is gluten free and dairy free. I pretty much make up a large batch a few times a year and always keep this on hand. If you prefer to buy it premade, I also really like the Cavender's Greek Seasoning that you can get at most grocery stores.
I love quick and easy meals that taste delicious as well. It's hard being a busy working mom and running a household at the same time. I also love this meal because it is a great option if your are meal prepping for the week. You'll never want plain chicken again.
How to serve this Greek Style Chicken
This easy greek chicken goes great with really any side you desire whether it is vegetables, a side salad or rice. I will list some of my favorite serving suggestions below, but feel free to serve these with confidence however you want. And if you have a really great suggestion, make sure to leave me a comment so that I can try it out too!
Greek Chicken serving ideas
Potatoes- Mashed Potatoes, our favorite Smashed Potatoes, or if you are short on time, throw some frozen french fries in the oven then top them with feta and parsley for a greek flair
Rice or other grains- we really like quinoa, and cous cous also.
Pita bread or naan- serve it toasted with hummus or tzatziki to dip or you can toast it with garlic butter for more flavor
Cucumber Tomato Salad
Low Carb serving ideas
Greek Salad- You can serve the Greek Chicken as a side salad or right on top to make it an entree salad. You can try my loaded greek salad here. You will love it!
Cauliflower Rice- Prepare it in a skillet
Spaghetti Squash- add some feta and diced tomatoes to the squash and it makes a perfect side for this
Sauteed Spinach- This is my go-to easy side dish for any meal and it goes especially well with this Greek Chicken
Zoodles- Spiralized zucchini noodles sautéed
How to make Greek Chicken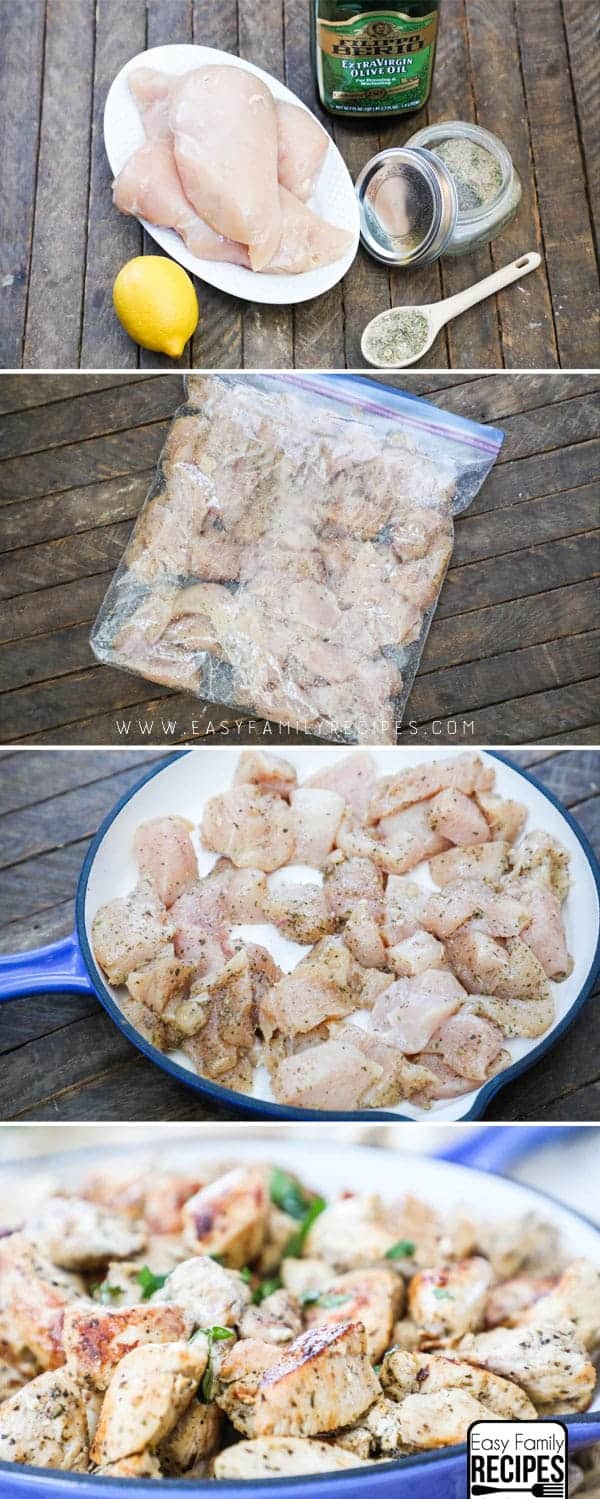 This Greek Chicken Recipe only has 3 basic steps, which makes it super simple and on the table fast for dinner!
First, prep the chicken by trimming it and cutting it into chunks. If you would like to use homemade greek seasoning, prepare it now.
Next, marinade the chicken by combining it in a dish or bag, with the oil, lemon juice and seasonings.
Finally, heat oil in a skillet and cook on each side until the chicken is cooked through.
Find the FULL RECIPE at the bottom of this post, or read below for some frequently asked questions, tips and tricks, on this recipe.
Greek Chicken Marinade
For this greek chicken marinade I use oil, lemon, and greek seasonings. This is a simple marinade that results in tons of flavor. The second option you can choose would be plain greek yogurt, greek seasoning and lemon. The last option to marinade your chicken would be with your favorite greek dressing.
One thing I love about this recipe is you don't need to marinate the chicken for long to get the flavors to pop. I forget 99% of the time to marinate my chicken before hand. Life gets in the way and then you find yourself staring at the fridge figuring out what to make for dinner. This only needs to marinate for 15 minutes, throw it in a skillet and your good to go. This recipe is quick, easy and full of flavor.
What Greek Seasoning do you use in this recipe?
A: I will use either my Homemade Greek Seasoning or Cavenders Greek Seasoning. You can find the Cavenders in a yellow shaker bottle in the spice section of most grocery stores. As long as you use gluten free seasonings this recipe is gluten free (my homemade Greek Seasoning is gluten free). Always make sure to verify that the specific ingredients you buy are gluten free by checking the labels.
Could I bake the greek style chicken instead?
Yes you could but you will not get the crisp brown color to the outside. Sometimes cooking the chicken in a pan gives it distinct flavor, crusts the outside, and get it nice and juicy. If you are looking for a baked greek chicken chicken out this recipe!
What to do with greek chicken leftovers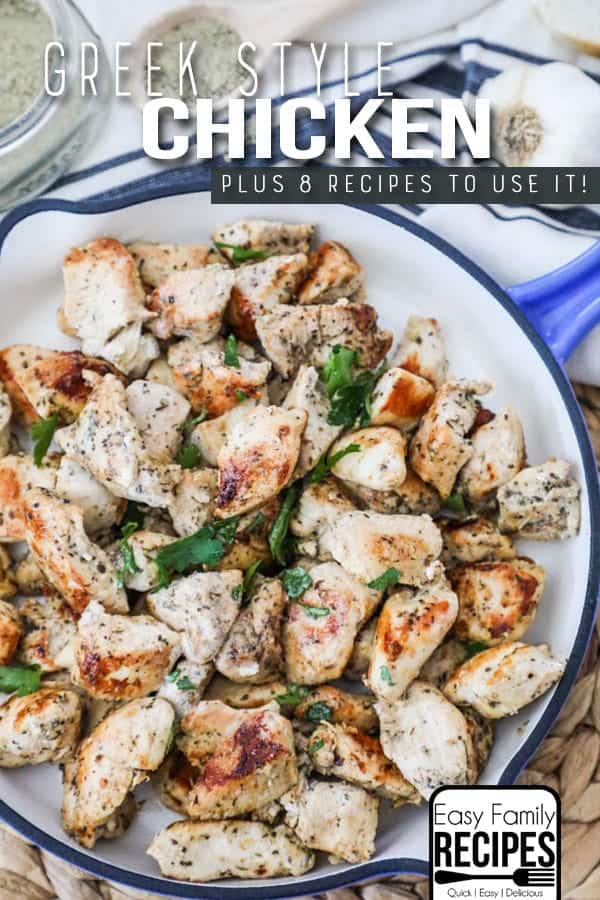 Leftover recipe ideas for greek chicken
Here are some ideas on other meals you can put together quickly with these greek chicken bites:
Greek Chicken Pita Pockets– stuff the pitas with lettuce, tomato, cucumber, and drizzle with greek dressing
Greek Chicken Wraps– Grab some flatbread at the store and stuff it full of hummus, tzatziki, tabbouleh, pepperoncinis, chicken, feta, spinach and more! Try my homage tzatziki sauce.
Greek Chicken Gyros– My kids call these Greek tacos because we use pita to wrap up the chicken and any other fixings they want. We think this is fun because everyone can customize their own.
Greek Style Chicken Salad– You can use this green greek salad recipe or chop up the chicken and use it in this creamy chicken salad
Greek Chicken Grain Bowls– If the gyro was the greek taco, this is the Greek style burrito bowl. We love to do this buffet style with chicken, tomatoes, feta, cucumbers, carrots, spinach, lettuce, olives, peppers, onions, chickpeas, artichokes etc. You can use rice, but our favorite is a quinoa base then add on whatever toppings you want and drizzle with greek dressing. Toss it with a fork and dig in!
Greek Chicken Nachos– Layer pita chips with tzatziki, hummus, tomatoes, cucumbers, and chicken then sprinkle it all with feta cheese. This is a great warm weather dinner that has my family cleaning their plates!
Greek Chicken Pizza– Top your pizza crust with sauce, chicken, feta, olives, pepperoncinis, spinach, and tomato.
Greek Style Chicken Meal Prep– Add the greek chicken bites with different side options throughout the week like steamed broccoli, roasted cauliflower, greek salad, cucumber and tomato salad, rice, quinoa etc for a meal prep that is anything but boring!
Here are few more recipe ideas if your are looking for a greek flair in your dinners:
How to store Greek Chicken
Once the chicken has cooled, place in an airtight container for 3-4 days in the refrigerator. I like to portion mine out for the week if I am meal prepping.
How to freeze Greek Chicken
You can freeze this chicken for up to one month in an air tight container. When freezing I like to portion out the chicken into smaller quantities so I can get just what I need for each meal without having to thaw the entire batch.
---
I hope you enjoy these delicious greek bites as much as we do. They are a family favorite for sure!
If you do get a chance to try it, I would love it if you let me know! You can leave me a comment below, or if you post a picture on Instagram, make sure to tag me @easyfamilyrecipesso that I can see what you are cooking up! It makes my day to see others enjoying the recipes that I share!
Oh and before you go!… If you need a regular rotation of recipe inspiration like me, make sure to sign up to get our emails! I send out my new favorites, the recipes my family has been devouring, and some of the best tried and true recipes. It is easy and free of course! You can click here to sign up now!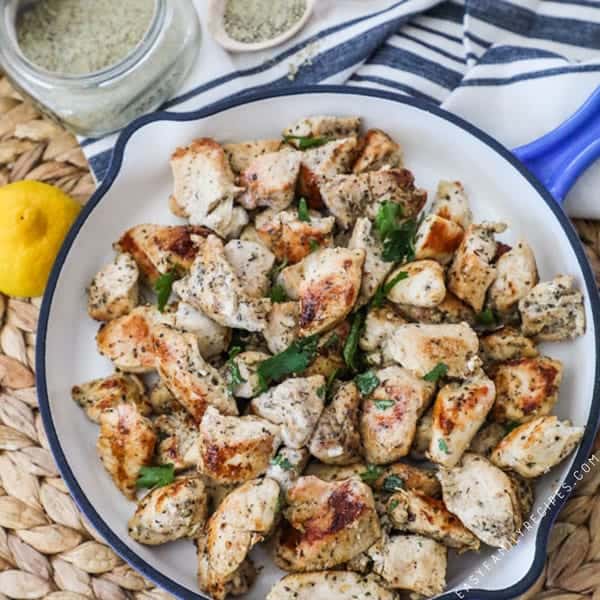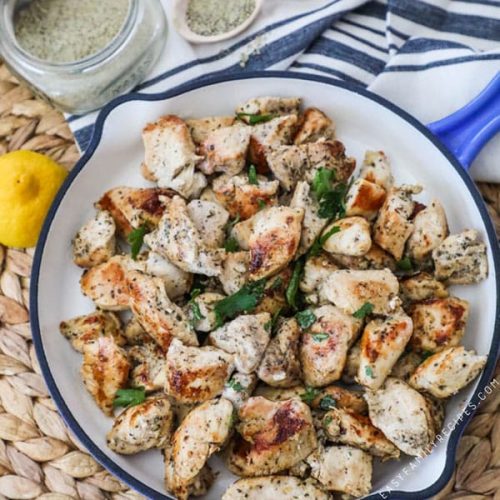 Easy Greek Chicken
These Greek Chicken Bites are a wholesome and delicious way to prepare a chicken dinner super quick. They are loaded with flavor and taste great on their own, or in pitas, wraps, gyros or your favorite greek dish.
Ingredients
2

lbs

boneless

,

skinless chicken breast

2

tbsp

greek seasoning

1

tbsp

fresh lemon juice

2

tbsp

olive oil
Instructions
Cut the chicken breast into 1-2″ chunks. Place them in an airtight container and add the greek seasoning, lemon juice, and 1 tbsp of olive oil.  Mix to evenly coat chicken and let rest in the refrigerator for 15 minutes.

Heat the remaining oil in a large skillet over high heat.  Add the chicken spreading in a single layer.  Let it cook without stirring for 3-5 minutes or until it gets a nice brown sear on the side touching the pan. Flip the chicken over and cook an additional 2-4 minutes or until the chicken is cooked through (165˚F internal temp.)

Serve hot and enjoy!
Recipe Notes
You can use chicken tenderloins or other cuts of chicken in lieu of full chicken breasts however, cooking time may change.
Leftovers can be stored in an airtight container for 3-4 days in the refrigerator or in the freezer for up to a month.
Dietary Considerations:
This recipe is naturally gluten free, low carb, and friendly for low carb and keto diets.
Nutrition facts provided based on my best estimation for the recipe and may not be accurate depending on what brands you use or modifications you make to the recipe.  I recommend using a nutrition calculator with the exact brands and measurements you use for the most accurate calculation.
©2018 Easy Family Recipes- Recipe found at: https://easyfamilyrecipes.com/easy-greek-chicken/
For more great easy dinner inspiration, sign up for our emails here!
Nutrition Information
Serving:
8
oz
,
Calories:
280
kcal
(14%)
,
Carbohydrates:
0
g
,
Protein:
44
g
(88%)
,
Fat:
13
g
(20%)
,
Saturated Fat:
2
g
(13%)
,
Polyunsaturated Fat:
6
g
,
Monounsaturated Fat:
0
g
,
Trans Fat:
0
g
,
Cholesterol:
110
mg
(37%)
,
Sodium:
406
mg
(18%)
,
Potassium:
0
mg
,
Fiber:
0
g
,
Sugar:
0
g
,
Vitamin A:
0
IU
,
Vitamin C:
0
mg
,
Calcium:
0
mg
,
Iron:
0
mg