This Creamy Greek Chicken recipe is packed with flavor and perfect for eating alone, or stuffing into all of your greek favorites like chicken pitas, greek salads, gyros, and more!  It has just a handful of ingredients and can be made quick and easy using your crock pot.  This greek chicken gets it's signature flavor from the combination of the greek seasonings and fresh lemon juice.  The creaminess is the bonus that makes it just a hint rich and brings all of the flavors together. As a bonus, this recipe is not only delicious, but also gluten free and perfect for low carb diets!
Creamy Greek Chicken Recipe
My love affair with Greek food started in the food court of our local mall when I was about 13 years old.
The power of being dropped off at the mall with friends and have the ability to pick whatever I wanted from the whole food court was almost more than my 13 year old self could handle.  Somehow I passed up the pizza and my beloved Chick-fil-a and landed at a Greek restaurant.  That was the first time I tasted Greek food, and I still remember the Greek Chicken salad and pita that I got and split with my friend.
We would repeat that meal roughly 200 times over the next 8 years, and quite a few more than 8 years later I am still in love with Greek food, but have moved from the food court to making it at home.
This Greek Chicken recipe is awesome because not only does it give you the great greek flavors, but it is made with only 4 main ingredients and using a slow cooker, so even if you are short on time you can whip a batch of this chicken up and have it cooking away in the slow cooker in no time.
If you need more easy recipes, make sure to check out my other crock pot recipes here, or my baked chicken recipes here!
How to serve Creamy Greek Chicken
One of the best thing about greek food is that one, it is just plain delicious.  Everything.  All the time.  But two, that there are so many great varieties that you can make with using the same meat.  This Creamy Greek Chicken is no exception. You can have it served simply as the main dish, or use it to make your favorite greek dish.  Here are a few ideas on how to serve it as a main dish:
Over rice, quinoa or other grains
With a side of garlic smashed potatoes
With grilled pita bread (especially when you put a little butter and garlic on it!)
Low carb serving ideas:
Over sautéed spinach (this is my favorite way and you can see it pictured!)
Over cauliflower rice
With a side of veggies like these garlic green beans or roasted asparagus
With a greek side salad
You can serve it with one of these options, or mix and match and pick a few!  If you have a favorite serving idea that I missed, please leave me a note in the comments so I can give it a try too!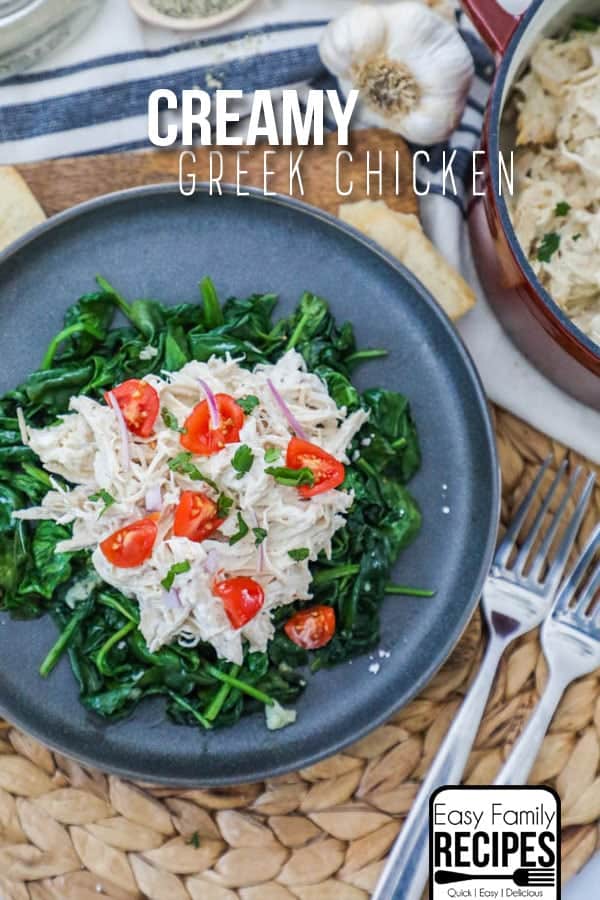 How to make Creamy Greek Chicken
This recipe only has a handful of ingredients so it is definitely quick and easy.  I am going to walk through a few tricks and answer some questions here for you in case there are any that pop up while you are cooking.  If you have any others just make sure to leave them for me in the comments.  The full, printable recipe card is at the bottom of this post!
Creamy Greek Chicken Ingredients
2 lbs boneless, skinless chicken breast– This will be about 3-4 average sized chicken breasts.  I just trim off any fat or gristle to get them prepped up.
1/4 cup fresh lemon juice- This is roughly the juice from one large lemon. You don't have to be super exact if you are just a little over or under with one lemon.  Using fresh juice will make a big difference though so I do recommend it.
1 tbsp greek seasoning- When I make this I generally use my homemade greek seasoning.  It is delicious, and also has the benefit of being gluten free, dairy free, and low carb friendly.  If you prefer the ease of buying it premade, I recommend Cavenders Greek Seasoning.  It is really tasty and will give you a great result too.
8 oz cream cheese, softened- I use original Philadelphia, but you can also sub low fat, or neufchatel cheese here.  Avoid fat free cream cheese since it doesn't melt the same so it won't give you that smooth creamy end result you are looking for.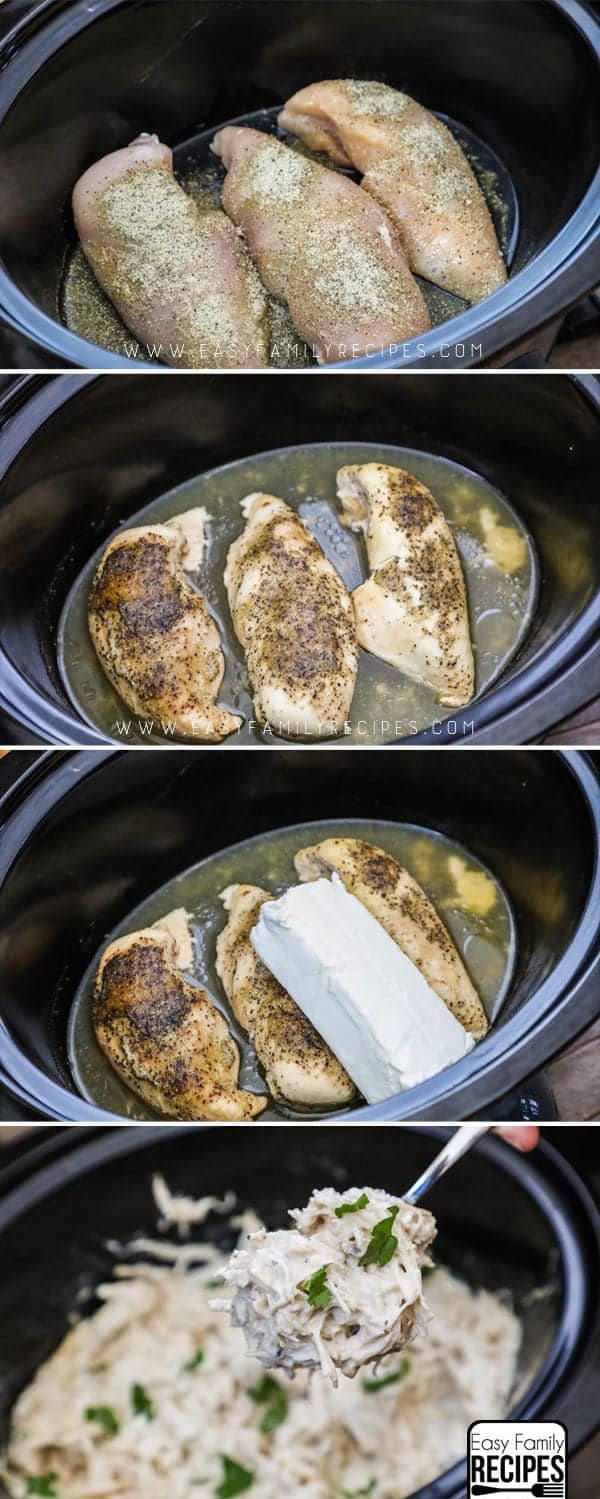 Greek Chicken Recipe FAQ's
Q: Can I freeze this Creamy Greek Chicken recipe?
A:  Yes! You can freeze this recipe either before or after cooking.
To freeze before cooking place the chicken breast, lemon juice and seasoning in a freezer bag and. freeze leaving the cream cheese separate.
To freeze after cooking, place the finished chicken in air tight containers in meal sized portions and freeze for up to 1 month.
Q: Can I cook this for longer than 2.5 hours or on low?
A:  Chicken tastes best in the crock pot when cooked for around 2-3 hours on high or 3-4 hours on low.  You can continue to cook the chicken without burning it, however the texture will be altered and in my opinion, it is not nearly as good as if you can prepare it for the suggested time.
Q: Can I use this recipe for meal prep?
A: Yes!  This makes a great meal prep menu.  You can pair the prepared greek chicken with cucumber tomato salad, pita bread, roasted vegetables, or grains.
Q: Is this Greek Chicken Gluten Free?
A: Yes when you use the homemade greek seasoning it is!
Q: Is this Creamy Greek Chicken low carb?
A: Yes it has only approximately 2 grams of carbs per serving.  This is calculated only for the greek chicken, so you will need to add in any additional nutrition info for what you choose to serve it with.
Q: Can I double or triple this recipe?
A: Yes you absolutely can!  You may need to increase the cooking time depending on how full your crock pot is.
What to do with the leftover Greek Chicken
This Creamy Greek Chicken is so good that there is a pretty decent chance you won't have any leftovers, but let's hope you do since the things you can make with the extras are every bit as good if not better than the first meal with this greek chicken!  Here are a few of my favorite ideas on how to use the leftovers:
Greek Chicken Pitas- pile it inside pita bread with lettuce, tomato, onion and tzatziki
Greek Chicken salad- Put the chicken on a bed of lettuce with tomato wedges, peperonchinis, feta cheese, kalamata olives, etc.  You can even use this loaded greek salad recipe.
Greek Chicken wraps- Use flatbread and layer hummus, tzatziki, greek chicken, lettuce, tomato, onions, peppers, cucumbers and feta, then roll it up and eat!
Greek Chicken grain bowl- Use your favorite toppings, along with this greek chicken and a scoop of tzatziki to make a killer dinner bowl.
Greek Chicken quesadillas- Layer this greek chicken with a little feta and fresh spinach between two tortillas and grill it up!
Greek Chicken gyros- Make a traditional gyro with pita bread and all the fixings!
Hopefully this will have you just in love with this simple Creamy Greek Chicken as I am!
If you do get a chance to try it, I would love it if you let me know!  You can leave me a comment below, or if you post a picture on Instagram, make sure to tag me @easyfamilyrecipes so that I can see what you are cooking up! It makes my day to see others enjoying the recipes that I share!
Oh and before you go!… If you need a regular rotation of recipe inspiration like me, make sure to sign up to get our emails!  I send out my new favorites, the recipes my family has been devouring, and some of the best tried and true recipes.  It is easy and free of course!  You can click here to sign up or on the button below.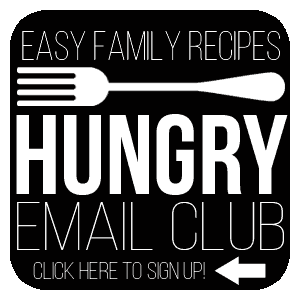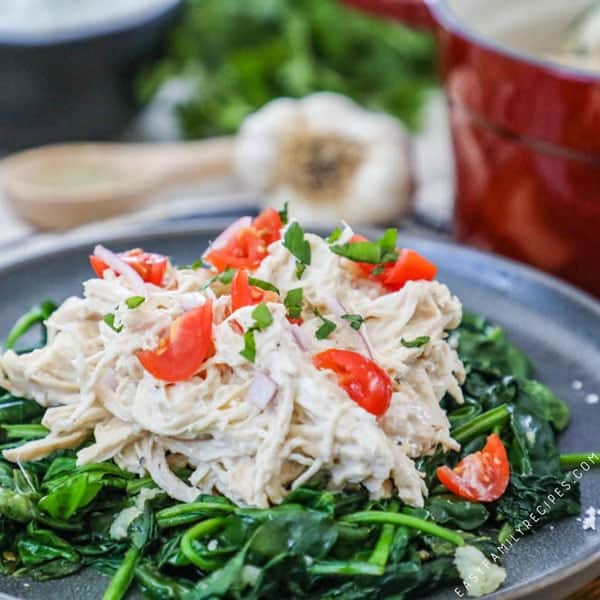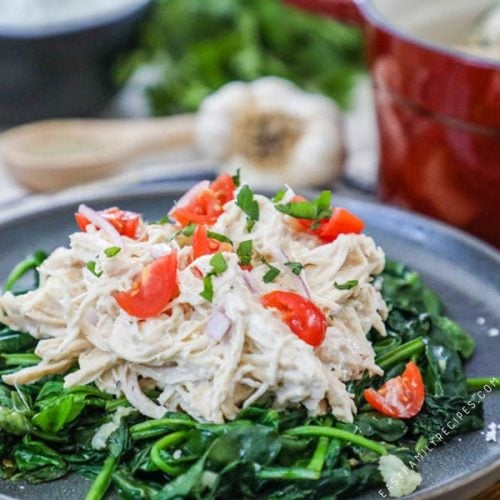 Creamy Greek Chicken
This Creamy Greek Chicken recipe is perfect for eating alone, or stuffing into your greek favorites like pitas, salads, gyros, and more! This recipe is filled with flavor and made quick and easy using just a few ingredients and a crock pot!
Ingredients
2

lbs

boneless

,

skinless chicken breast

1/4

cup

fresh lemon juice

1

tbsp

greek seasoning,

see notes

8

oz

cream cheese

,

softened
Instructions
Pour the lemon juice in the slow cooker. Lay the chicken breast flat in the bottom of crock pot. Sprinkle the seasoning over the top of the chicken and cover.

Cook on high for 2.5 hours or until the chicken is cooked through (165˚F internal temp.)

Use 2 forks to shred the chicken, then mix in the cream cheese until combined.

Garnish with parsley, if desired, and serve on spinach, or in any of your favorite Greek dishes.  Enjoy!
Recipe Notes
Greek seasoning- You can use homemade Greek seasoning (I usually use this homemade Greek Seasoning recipe,) or store bought (I like Cavenders.) I usually use homemade, but either give a great result. If you are gluten free or low carb, you will want to use the homemade version.
Leftovers can be stored:

In the refrigerator for 3-4 days
In the freezer for up to a month
Dietary Considerations
This recipe is naturally gluten free and low carb. Make sure that you use homemade greek seasoning to meet these needs.
Nutrition facts provided based on my best estimation for the recipe and may not be accurate depending on what brands you use or modifications you make to the recipe.  I recommend using a nutrition calculator with the exact brands and measurements you use for the most accurate calculation.
©2018 Easy Family Recipes- Recipe found at: https://www.easyfamilyrecipes.com/creamy-greek-chicken/
For more great easy dinner inspiration, sign up for our emails here!
Nutrition Information
Calories:
211
kcal
(11%)
,
Carbohydrates:
2
g
(1%)
,
Protein:
24
g
(48%)
,
Fat:
13
g
(20%)
,
Saturated Fat:
6
g
(38%)
,
Polyunsaturated Fat:
4
g
,
Monounsaturated Fat:
0
g
,
Trans Fat:
0
g
,
Cholesterol:
87
mg
(29%)
,
Sodium:
697
mg
(30%)
,
Potassium:
0
mg
,
Fiber:
0
g
,
Sugar:
1
g
(1%)
,
Vitamin A:
0
IU
,
Vitamin C:
0
mg
,
Calcium:
0
mg
,
Iron:
0
mg