These Classic Chicken Fajita Nachos are absolutely loaded with tender fajita chicken, bell peppers, onions, lots of melty cheese and topped with pico, guac and sour cream! This crowd pleasing easy recipe makes a fantastic appetizer for a crowd, and can serve as a protein and veggie packed dinner – a family favorite in our house!
Sheet Pan Nachos – The EASY Way!
Nachos may be based in corn chips and cheese, but I am here to tell you, there is also a heck of a lot of lean protein and veggies packed in there too! And I'll tell you one truth, my kids will eat almost anything if I make it in nacho form!
We generally make this easy Chicken Fajita Nachos recipe when we have leftovers from having chicken fajitas earlier in the week. It is a great way to remake and stretch the leftovers and get dinner on the table super fast with minimal effort (read it doesn't get any easier than this.) Of course, the real win is a super delicious meal, that has every single person in the family cleaning their plate.
The other place these nachos really shine is as an appetizer for a crowd. They aren't a froufrou for a high society gathering, but if you have a bunch of folks that need to munch, these always hit the spot! Perfect for hungry teenagers, watching football, or a friendly get together- these Chicken Fajita Nachos are pretty much always the star of the show when I set them out on the counter!
What I love about this recipe:
FAST – This recipe is under 30 minutes making it from scratch. If you make it from leftovers you can have it ready in less than 15!!
Easy– With minimal ingredients and very little cooking time, these nachos couldn't be easier!
Universally loved! There may not be another recipe as widely loved as nachos! From picky kids, to grown adults, you will rarely find someone who passes on these.
Easy prep//Easy clean up– With just a few dishes used, these are not only fast to make but easy to clean up. Make clean up even faster by lining the pan with foil
Stretches leftovers– If you have some leftover chicken fajitas, but not enough to feed everyone again, you can stretch those leftovers into another meal by using them to make nachos! You need far less meat when it is incorporated into a new dish than when it is the main part of the dinner.
Recipe Notes
This Chicken Fajita Nachos recipe is as simple as promised! Just a few steps for the crowd pleasing recipe.
In this section I am going to go through a few tips and tricks I use when making this recipe to get the absolute best and most delicious results.
Make sure to scroll to the bottom for the FULL recipe card.
Ingredients + Substitutions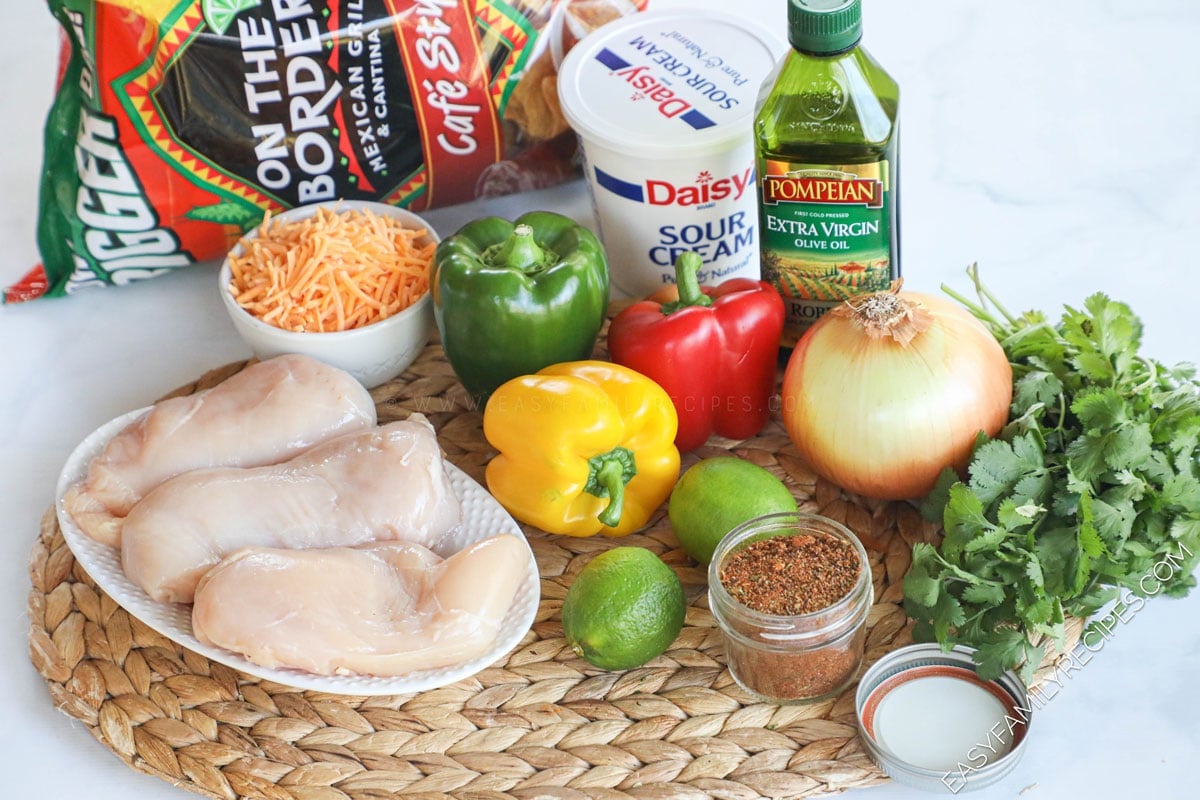 Tortilla chips- You can use your favorite variety. I prefer to use the thicker yellow corn tortilla chips because they tend to be more hearty and can hold the weight of the toppings loaded up on top without getting soggy.

Chicken Fajitas– My favorite way to make these nachos is when leftover chicken fajitas! In case you don't have leftovers, but do have a major nacho craving, I include a recipe for quick skillet chicken fajitas in the recipe card. You can also make baked chicken fajitas if you prefer that method.

Cheddar cheese– I love cheddar cheese for my nachos. To me is the the ultimate pairing for the yellow corn chips and smokey fajita flavor, but you can also substitute Mexican blend, or monterey jack cheese if you prefer. Alternatively, you can use queso in place of shredded cheese. See the method for this in the variation section below.

Pico de gallo– My preferred salsa for nachos, it is super fresh, and quick and easy to make! Feel free to substitute any of your favorite salsas to top the nachos.

Sour cream– Use regular, light, or fat free! You can even use greek yogurt if you want.

Guacamole– There is no substitution for fresh made guac! A classic guacamole is a staple for chicken fajita nachos.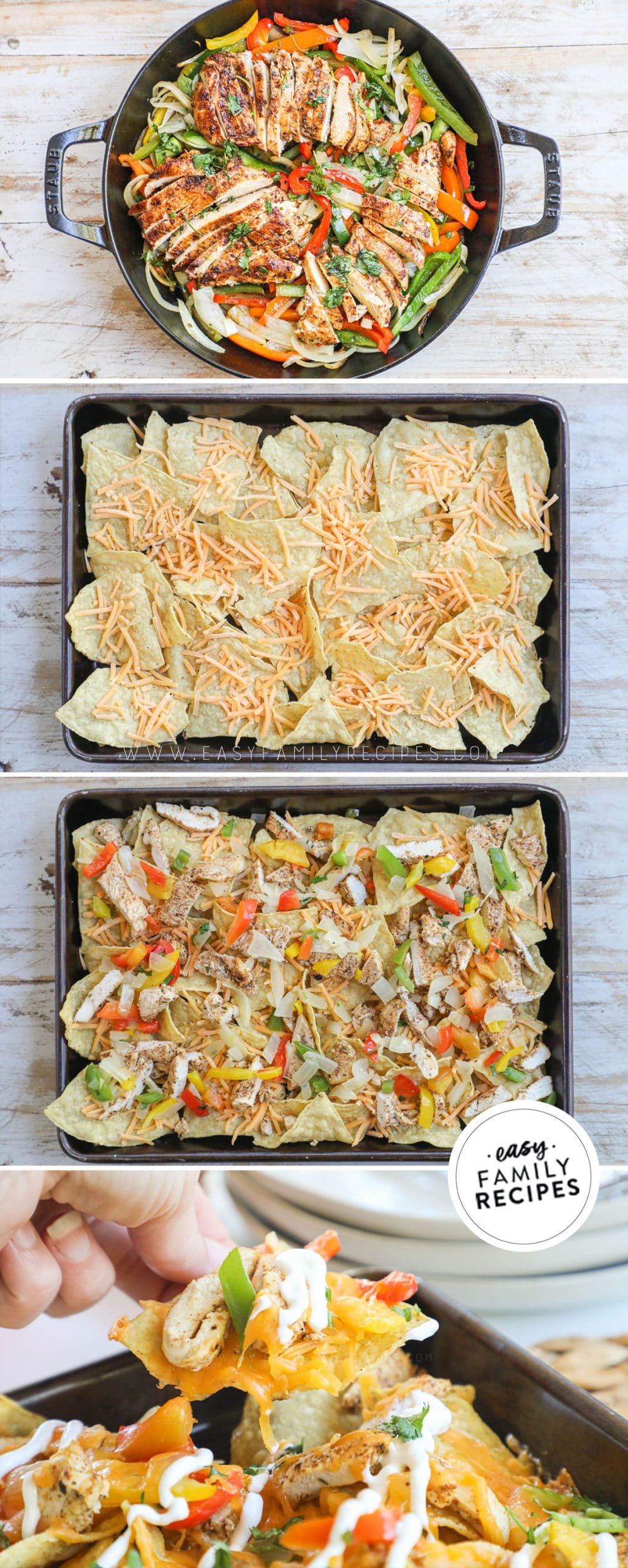 Recipe Tips
Use a sturdy chip– Thin restaurant style chips are delicious, but they don't make the best nachos since they can easily become soggy. I like to pick a thicker style chip. My preferred brand is the On the Border Cantina style chip, but there are many brands that make a great hearty corn chip.

Two layers of cheese– One of my little secrets to making the best nachos is to layer the cheese under the toppings and also on top. This gives them that extra cheesy vibe since the cheese is able to sink down into the chips, as well as top the nachos. It is the same amount of cheese, just distributed throughout the dish instead of all on top.

Bake at a high temp on a low rack– The high heat will allow the Chicken Fajita Nachos to heat through quickly. If you cook slowly, the topping start to release their natural juices and can make the chips soggy. Keeping it on a lower oven rack is key because keeps the bottom crispy, while allowing the top to not brown to quickly.
Recipe Short Cuts
If you need to make this recipe, but are extra short on time, here are a few ideas that can help make this recipe even faster!
Prepare the fajitas ahead of time– Wether you are using leftover chicken chicken fajitas, or making them new, they can be prepared up to 3 days in advance and stored in the fridge.
Prep the toppings– Any salsa, guac, sour cream, etc can be prepped and ready to go for serving, freeing you up to make the dinner extra quick and just pop the toppings out when ready to serve.
Line the pan– To make clean up even more quick and easy, line the pan with foil before cooking.
Recipe Variations
If you love this recipe as much as we do and want some quick ways to change it up for variety, these little tips will do the trick!
Chicken Fajita Nachos with queso– You can make these chicken fajita nachos with queso instead of shredded cheese, or you can use a combination of both. To make chicken fajita nachos with queso, I recommend, assembling the nachos with no cheese and baking in the oven. I like to heat the queso separately in the microwave or stove top, and then drizzling it over the top once it comes out of the oven. This allows the nachos to heat completely through and avoids them getting soggy.

Slow Cooker Chicken Fajita Nachos– To make this slow cooker style, place the chicken breast, bell peppers, and onions in a slow cooker and cook on low for 3.5-4 hours. Shred the chicken and remove the chicken, onions and peppers from the juices. Assemble the nachos and bake as directed in the recipe.

Loaded Chicken Fajita Nachos– Make the Chicken Fajita Nachos as directed. Once done load the top up with shredded lettuce, pico de gallo, sour cream, guacamole, and jalapeños. Add any additional toppings you desire.

Low Carb Chicken Fajita Nachos– Slice mini sweet peppers in half and remove the seeds. Place these on the baking sheet in place of the chips and top and continue with the recipe as directed. Depending on the size of the peppers, you may need to bake these a minute or two longer.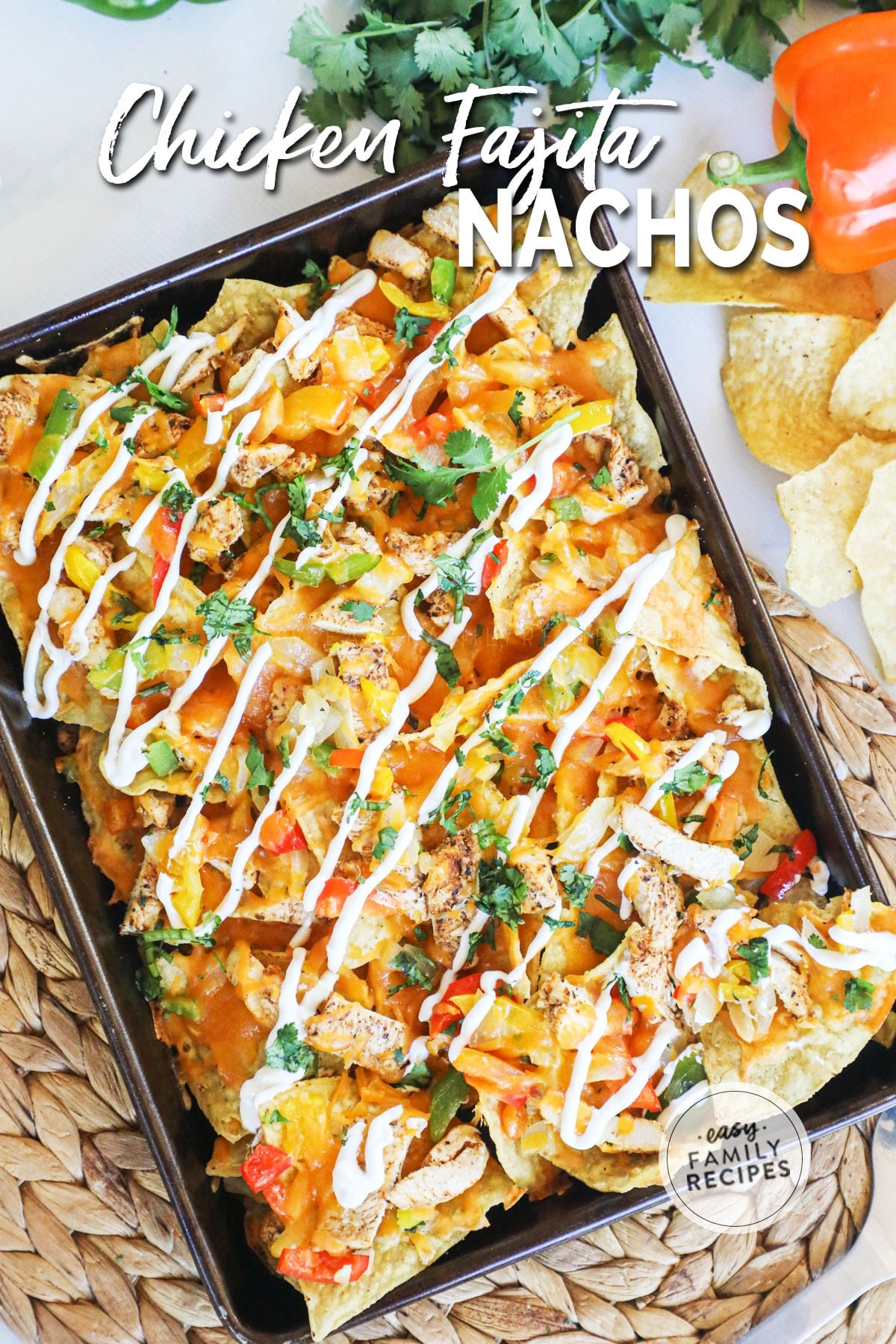 What to Serve with Chicken Fajita Nachos
One of the things I love most about Chicken Fajita Nachos is that everything is all right there on one sheet pan! The protein, the veggies, dairy, etc- It is a one pan wonder! That said, once we make them, we love to load them up with an assortment of toppings to make them even better.
We love to offer an assortment of options and let everyone top their plate however they like! Our favorite toppings are listed below
Topping Ideas
Sour cream
Pico de gallo
Guacamole
Shredded lettuce
Salsa
Jalapeno Ranch (a big time family favorite!!)
Sliced jalapeños
You can choose one or add a few sides to make a wholesome, well rounded dinner.
More Easy Recipes
If you enjoyed this recipe, I really hope you will take a moment to grab a few more easy recipes for another busy night!
You can check out all of my Easy recipes here, or see a few of our readers favorite recipes below.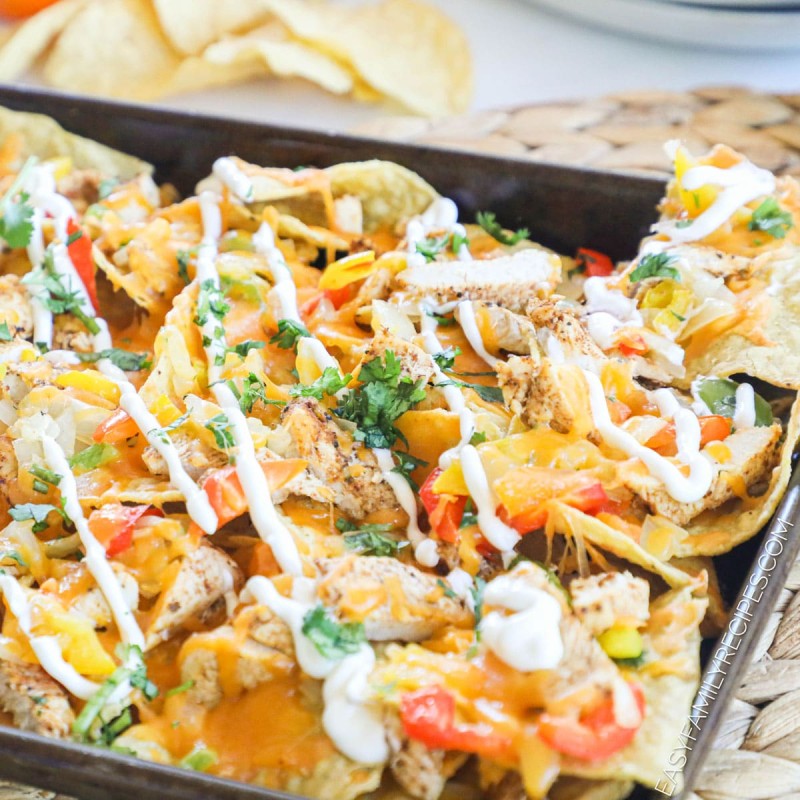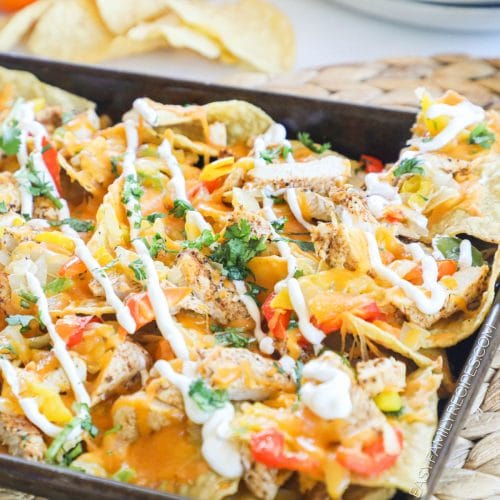 Chicken Fajita Nachos
These Chicken Fajitas are tender, juicy, and packed with flavor. They are made in just minutes in a hot skillet. The Chicken Fajitas, peppers, and onions can be eaten in tortillas, on a salad, or with rice and beans.
Ingredients
For the Fajitas
1

lb

Chicken breast

,

(thin or cut in half horizontally to be thin)

1

tbsp

fajita seasoning

1

tbsp

vegetable oil

,

divided

1/2

lime

,

juiced

1/2

green bell pepper

,

chopped

1/2

red bell pepper

,

chopped

1/2

sweet yellow onion

,

chopped
For the Nachos
12-14

oz

tortilla chips

8

oz

shredded cheddar cheese

,

or more to taste

1/3

cup

pico de gallo

1/4

cup

sour cream

1/4

cup

guacamole
Instructions
Combine the chicken with the fajita seasoning the lime juice and half of the oil, and place in a zip top bag or container to marinate while finishing prep.

Cut the peppers and onions into thin strips.

Heat the remaining 1 tbsp oil over high heat in a large skillet. Once hot, carefully place the peppers and onions in the skillet, cooking for 3-4 minutes, stirring occasionally. Remove the peppers and set aside.

Then place the chicken in a single layer in the hot skillet. Let cook (without stirring) for 2-3 minutes. Then flip the meat to the other side and cook for 1 minute. Then reduce heat to low, cover, and cook for 3-5 additional minutes or until cooked through (165˚F internal temperature)

Remove from skillet and dice.

Assemble the nachos by spreading the tortilla chips in a shallow layer over a large baking sheet.

Add the toppings evenly over top of the chips, starting with half of the cheese, then the chicken, peppers and onions, and finishing with the rest of the cheese.

Bake at 425˚F on a lower oven rack for 8-12 minutes or until the cheese is melted and the edges are starting to brown.

Top the cooked Fajita Chicken Nachos with your choice of pico de gallo, a drizzle of sour cream, and guacamole.
Recipe Notes
Substitutions:
This recipe can be made with any leftover fajitas, or can be prepared with sheet pan fajitas instead of skillet fajitas.
Cheddar Cheese — I love cheddar cheese for my nachos, but you can also substitute Mexican blend, or monterey jack cheese if you prefer. Alternatively, you can use queso in place of shredded cheese. 
Sour cream — Use regular, light, or fat free! You can even use greek yogurt if you want.
Nutrition Information
Serving:
8
oz
,
Calories:
593
kcal
(30%)
,
Carbohydrates:
45
g
(15%)
,
Protein:
31
g
(62%)
,
Fat:
34
g
(52%)
,
Saturated Fat:
13
g
(81%)
,
Polyunsaturated Fat:
7
g
,
Monounsaturated Fat:
10
g
,
Trans Fat:
1
g
,
Cholesterol:
93
mg
(31%)
,
Sodium:
695
mg
(30%)
,
Potassium:
579
mg
(17%)
,
Fiber:
5
g
(21%)
,
Sugar:
5
g
(6%)
,
Vitamin A:
927
IU
(19%)
,
Vitamin C:
27
mg
(33%)
,
Calcium:
396
mg
(40%)
,
Iron:
2
mg
(11%)