The secret is out! This Corn Salsa recipe was shared by the Official Chipotle account on TikTok. Here is the recipe they gave us, plus some expert tips from Chipotle employees to get it just like your favorite Roasted Chili Corn Salsa in the restaurant!
Corn Salsa – Chipotle's Official Recipe!
TikTok is great for hours of entertainment, but I start to get really excited when my favorite restaurants use it to share their signature recipes!
Over the 2020 quarantine, the official Chipotle TikTok account shared several of their famous recipes including the medium Roasted Chili Corn Salsa.
You can see the TikTok corn salsa video here. As you can see, they gave us the ingredients, but weren't super specific on the quantities or ingredient details.
I have done some sleuth work and grabbing intel from some employees and taken what they have said, combined with what Chipotle gave us and came up with a recipe that tastes just like the restaurant!
Now I know that nothing will replace going to get take out at Chipotle, but this is great for when you want to make a big batch for watching football, or need something EXTRA delicious to serve with your crockpot tacos or burrito bowls.
** Follow my Easy Family Recipes TikTok for more great recipes!
Recipe Notes
The recipe that Chipotle shared was surprisingly quick and easy. The name – Roasted Chili Corn Salsa, makes it sound complex, but it really is very quick to put together. This makes sense since they are making huge batches each day fresh in each busy restaurant!
In this section I am going to go through how we came up with this recipe. Both the TikTok recipe and the notes we got from the website and employees all come into play.
If you want to analyze all the data yourself, it is here… or if you just want to grab the recipe, grab the printable recipe card at the bottom of this post.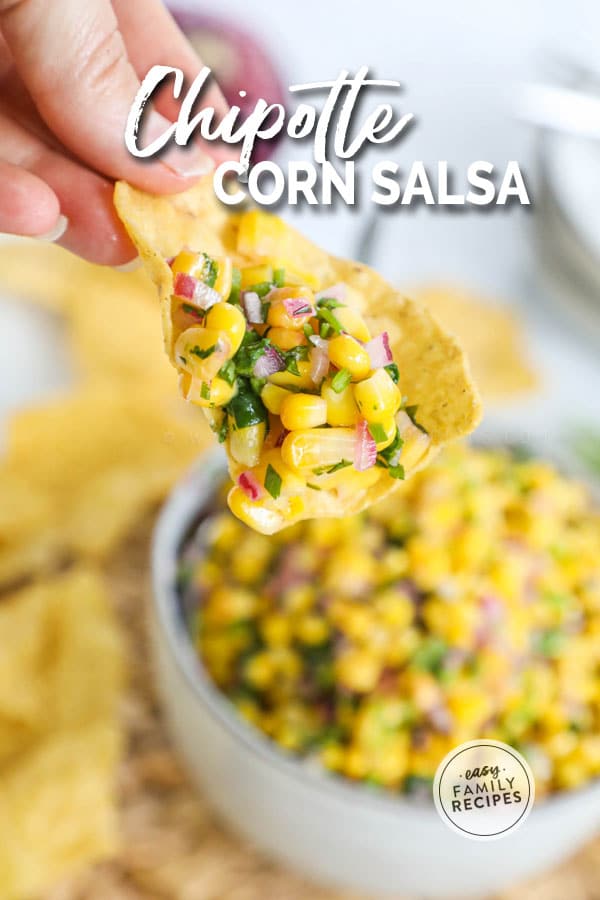 Ingredients
White corn
The video just says corn, however the website details white corn which is sweeter. I have experimented quite a bit and do prefer the taste of white corn, and think it is closer to the restaurant. However, if you can only get yellow corn, it will work too and still taste absolutely delicious.
I also have it on good authority that Chipotle uses frozen corn. In my opinion, this is great because it makes prep super simple. If you prefer fresh corn you can cook corn on the cob per your preferred method, then cut the corn from the cob and use that instead.
Cilantro
Although the recipe calls for a reletively small amount, fresh cilantro is a key ingredient. It provides the only herb/spice in the mixture.
If you are a cilantro lover like me, you can add more if you wish.
If you don't like cilantro, you can reduce the amount, or leave it out all together, but it will taste different than the Chipotle corn salsa.
Red onion
There is no doubt that Chipotle uses red onion. However if you don't have any on hand, you can still get good results with yellow or white onion.
Jalapeño
This was a trickier ingredient. In the TikTok video they clearly state that they are using jalapeno. However the Chipotle website states that they use roasted poblano pepper.
The ingredient clearly looks like raw jalapeno. When eating the Roasted Chili Corn Salsa in the restaurant, that is also what it tastes like to me. Also other Chipotle employees have referenced it as jalapeno. The ingredients for the salsa on the website have both listed.
It is very obvious in the video that they are using jalapeno. They do not show or mention poblano peppers, however there are some darker spots in the corn that could be these peppers.
I tried both, and found that there was very little taste difference, so my preference was jalapeno. It is just more easily accessible and there isn't much difference. So go with jalapeno, or use both jalapeño and poblano peppers. Both will give you great- and very similar results. For the sake of less work, less dishes, and less time, we left them raw and had great results.
I don't think there is much difference in taste with or without the roasted poblanos, but I do include a option for that in the notes of the recipe card.
Lime and Lemon juice
The TikTok recipe tells us that lime juice is a key ingredient for the recipe. It is poured out of a container clearly filled with juice. However both the website and employees verify that this is a combination of lime juice and lemon juice.
We went with both and this really brought the flavor really close to what you taste in the store.
Salt
This brings all the flavors together. Salt helps to merry everything, but be careful not to over salt or you will taste it.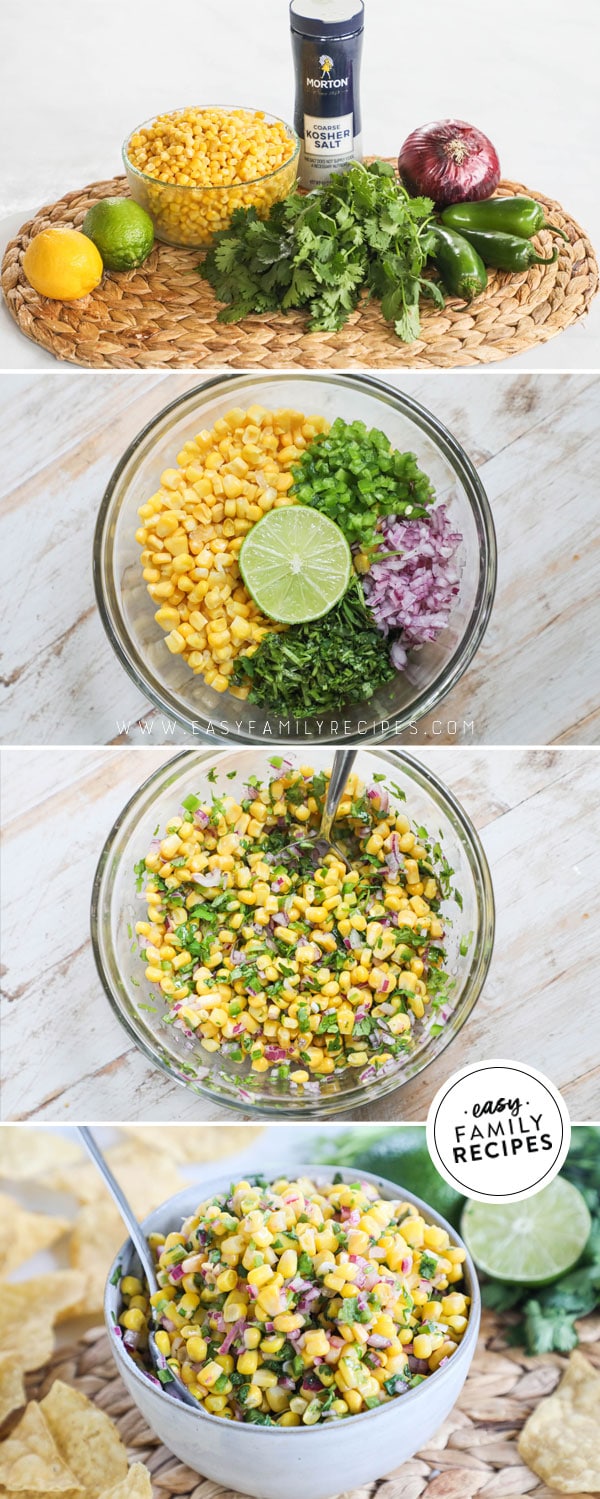 Recipe Tips
Finely Chop– To get really close to the texture that the Chipotle corn salsa has, you will want to chop the ingredients as finely as you can. The smaller you get the onion, cilantro, and peppers, the more the flavor will combine in each bite.
Combine the lemon lime juice with the onions, jalapeno, and cilantro first. This will help to take some of the bite from the onions and peppers and pull the flavors out of all of the ingredients to marry them. You can clearly see this is the process used to make the corn salsa at Chipotle.
Let sit- This salsa is best after it has sat for at least 30 minutes to give the flavor a chance to develop.
What to Serve with Corn Salsa
We all know the fresh delicious flavors that this Chipotle's corn salsa delivers! It pairs well with everything from Chipotle classics like burritos, bowls, salads, and tacos to family favorites like grilled chicken, beef, pork and fish.
Here are some favorites that you can elevate by serving with this salsa!
Side Dish Ideas
You can choose to pile this on as a topping, or use it as a side dish. It really will take the flavor of almost any protein up and really make a meal special!
Even better- pair it with my tableside style guacamole and fresh pico de gallo for an over the top delicious meal.
Dietary Considerations
If you have special dietary needs, this recipe meets many!
As always, check all store bought ingredients for compliance on specific dietary needs. The notes below are meant to be a general guide.
Gluten free: This recipe is naturally gluten free.
Dairy free: Corn salsa is naturally dairy free.
Nut free: This recipe is naturally nut free
Egg free: This corn salsa recipe is naturally egg free
Macros: The approximate macro calculation for this recipe is- P: 1g C: 9g F: 1g
More Salsa Recipes
If you enjoyed this recipe, I really hope you will take a moment to grab a few more easy recipes for another busy night!
You can check out all of my EASY recipes here, or see a few of our readers favorite Salsa recipes below.
Hungry for more family-friendly recipes? Sign up for my free recipe club to get new family-friendly recipes in your inbox each week! Find me sharing daily meal-time inspiration on Pinterest, Instagram, and TikTok.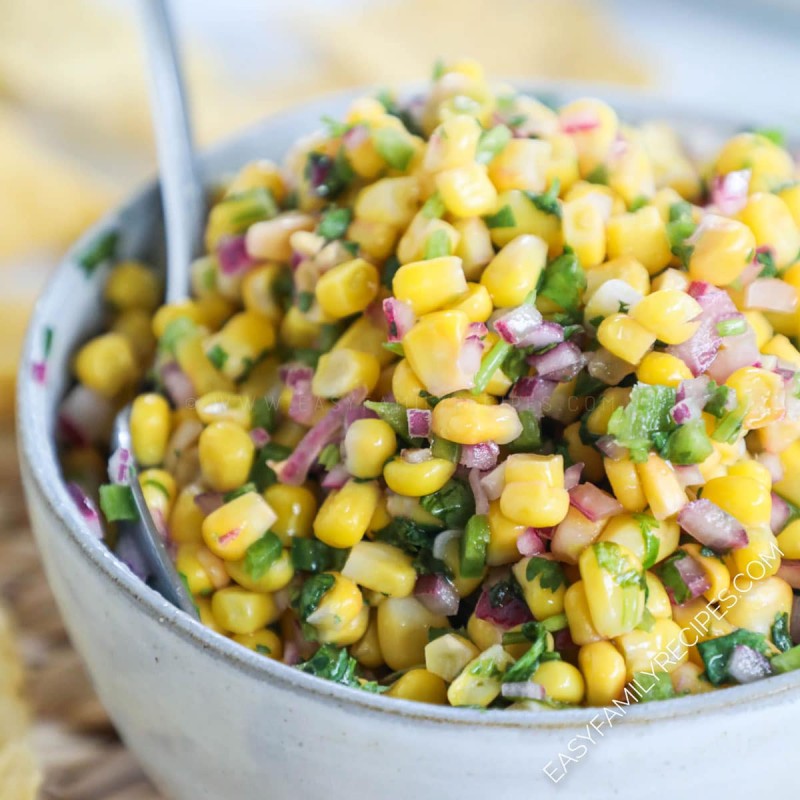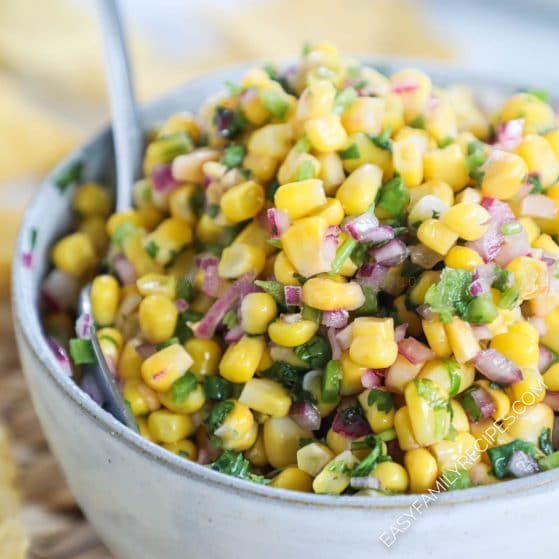 Chipotle Corn Salsa
This recipe was shared on the Official Chipotle TikTok account. We tested and adjusted so that it tasted just like the Roasted Chili Corn Salsa from Chipotle restaurants! Perfect as a dip for chips, or add it to burritos, salads, tacos, quesadillas and more.
Prep Time: 10 minutes
Total Time: 10 minutes
Serves:8 servings
Hover over "serves" value to reveal recipe scaler
Ingredients
2 cups frozen white corn thawed
1/4 cup cilantro finely chopped
1/4 cup red onion finely chopped
2 tbsp fresh jalapeño finely diced
1 tbsp lime juice
1 tbsp lemon juice
1/2 tsp salt
Instructions
Combine the cilantro, onion, jalapeno, lemon and lime juice and mix well.

In a large bowl add the corn and salt, then add the onion mixture. Mix all ingredients together.

Chill for 30 minutes.
Recipe Notes:
Roasted Chili Corn Salsa with Poblanos
Using a gas stove, turn the flame to high. Place one large (or two small) poblano peppers directly in or over the flame with tongs, rotating until the skin is charred and blistered and a blackened color in most areas. If you do not have a gas stove, you can also use a gas grill for 3 to 5 minutes.

Place the peppers a bowl and cover tightly with plastic wrap. Let sit until the skin starts to loosen and the peppers are cool enough to handle, about 10 minutes.

Use gloves or a kitchen towel, carefully rub the blackened skin so that it loosens and comes off then discard the skin. Lay the pepper flat. Cut out stem, seeds and ribs, then finely chop.

Add the chopped roasted pepper to the corn mixture and continue with recipe as directed.
Roasted Chili Corn Salsa with Fresh Corn
Cook 3-4 ears of corn in a pot of boiling water, or per your preferred method.
Cool in an ice bath or the refrigerator. Once cool, cut the corn from the cob and use 2 cups of kernels to make this recipe.
Big Batch Chipotle Corn Salsa
If you need to feed a crowd, use this to make double the amount (roughly 5-6 cups)
4 cups white corn
1/4 cup diced jalapeño
1/2 cup diced cilantro
1/2 cup diced red onion
1 tsp Salt
2 tablespoons lime Juice
2 tablespoons lemon juice
Nutrition Information:
Serving: 0.25cupCalories: 40kcal (2%)Carbohydrates: 9g (3%)Protein: 1g (2%)Fat: 1g (2%)Saturated Fat: 1g (6%)Sodium: 147mg (6%)Potassium: 104mg (3%)Fiber: 1g (4%)Sugar: 3g (3%)Vitamin A: 34IU (1%)Vitamin C: 4mg (5%)Iron: 1mg (6%)
(Nutrition information provided is an estimate and will vary based on cooking methods and brands of ingredients used.)