There are few meals as tasty as this Chicken with Mushroom Cream Sauce. Tender chicken breast is seasoned and cooked with a ultra creamy sauce made with sautéed mushrooms and parmesan cheese. It can be made from start to finish in as little as 20 minutes and is absolutely loaded with delicious comforting flavor.
Mushroom Chicken – The EASY Way!
I always feel like dishes that have a cream sauce seem fancy, and honestly a little bit intimidating.
This recipe will change that!
Although, it does have a "fancy" feel, it could not be easier to make. When I say easy, I mean easy!
You can make this in as little as 20 minutes using just one skillet! I'd wager to guess almost every ingredient in this recipe can already be found in your fridge or pantry as well.
The combination of super fast, easy, and only a little clean up make this recipe good. But what kicks it up to the EPIC level is the taste!
Super creamy and comforting, with the flavors of sautéed mushrooms and parmesan cheese enveloping the tender chicken breasts, this dish definitely gets 5 stars from mushroom lovers, and may have even converted a kid or two at our house who thought they didn't like them!
This recipe is THE BEST Creamy Mushroom Chicken made in a skillet. If you are looking for an oven recipe, make sure to hop over to this Baked Creamy Mushroom Chicken (also a one dish wonder!)
What to Serve with Creamy Mushroom Chicken
Since this dish has a rich cream sauce, it will pair well with many of your favorite light and wholesome side dishes.
I like to try to pair it with a veggie or green or two and some bread, potatoes, or something similar to help me get every last drop of that delicious sauce!
Side Dish Ideas
You can choose one or add a few sides to make a wholesome, well rounded dinner.
Recipe Notes
This Chicken with Mushroom Cream Sauce recipe is as simple as promised! Just 20 minutes and ONE skillet for a family friendly meal.
In this section I am going to go through a few tips and tricks I use when making this recipe to get the absolute best and most delicious results.
Make sure to scroll to the bottom for the FULL recipe card.
Ingredients
For the Chicken
Chicken Breasts
flour
garlic powder
salt & pepper
olive oil
These ingredients make a flavorful mix that we will dredge the chicken in then pan fry it. Coating it with the flour mixture will give the chicken a super light breading that adds to the texture of the dish.
For the Sauce
butter
mushrooms
garlic
salt
heavy cream
parmesan cheese
The sauce comes together quickly. The heavy cream gives it a rich and creamy element that can't be duplicated easily with milk or half and half. Since the mushroom gravy is boiled to reduce the sauce, you need a higher fat content so it doesn't separate or curdle.
All of that to say that I don't recommend substituting the cream in this recipe for a lighter option.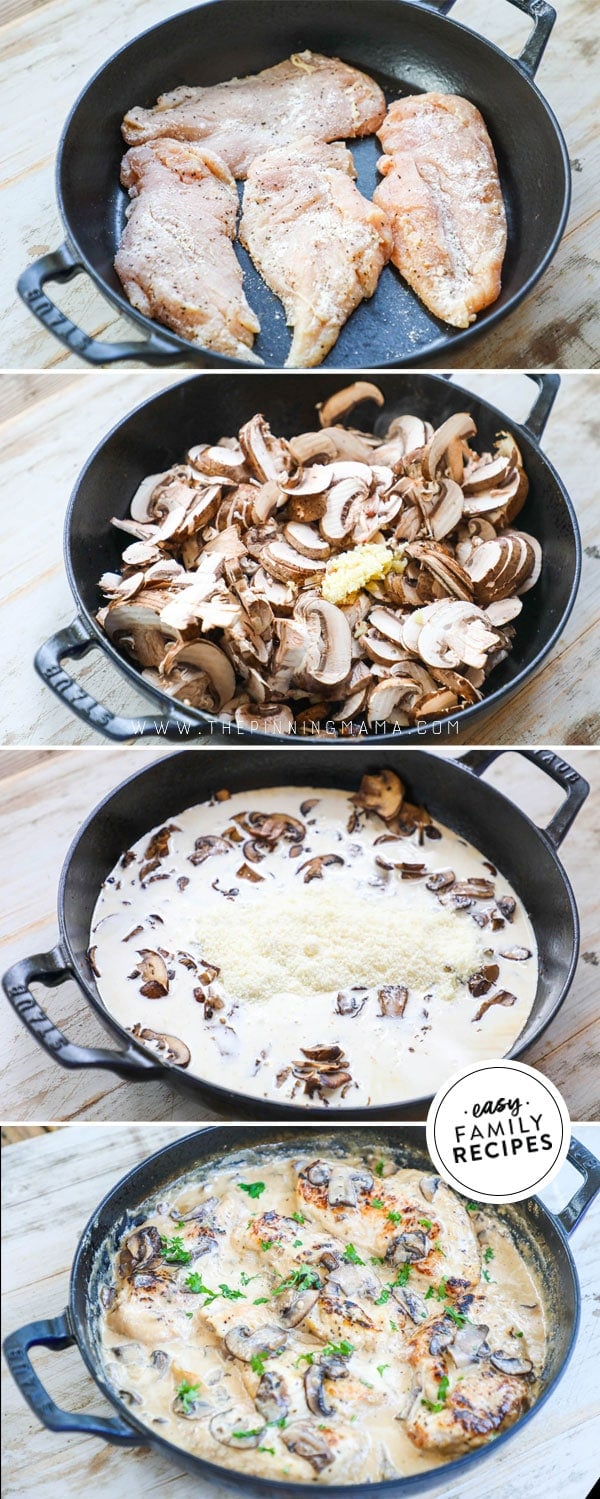 Easy Family Recipes Tips
Prep the recipe– I highly recommend prepping and measuring everything for the recipe before you start cooking. Since the recipe only takes 20 minutes total, there is very little downtime to chop or prep while cooking. If everything is ready to go, it will make this recipe come out much better and faster!

Use thin chicken– I can't overstate the importance of this. Because we are completely cooking this dish in a skillet and not finishing it in the oven, the chicken needs to be thin to cook all the way through. You can get thin chicken breasts in one of a few ways:

Cut the chicken breast horizontally so that you have 2 half the thickness
Pound the chicken with a meat mallet
Buy precut thin chicken breast at the store


Start with a hot pan– By heating the pan and oil before you start cooking the chicken it will allow the chicken to get a really nice sear on the outside. This both locks in the juices and add a layer of caramelization on the outside of the meat that is packed with flavor.

Watch the heat– Since both the heat provided by different stove tops, as well as how different types of pans distribute the heat can be so different, the level of heat you cook at may differ from mine. I make my recommendations for cooking as it works best for me, and use medium high heat to sear the chicken and get it cooked well. If your stove runs hotter you may need to cook it over medium or if your stove runs cooler, it may need to go up to high.
Recipe Variations
If you love this recipe as much as we do and want some quick ways to change it up for variety, these little tips will do the trick!
Spinach Mushroom Chicken– Begin the recipe as directed. Once Mushrooms are done sautéing, add about 4 ounces of chopped fresh spinach. Stir until it starts to wilt then continue to make the sauce as directed.
Creamy Mushroom Chicken Pasta– Make recipe as directed through making the sauce. Before adding the chicken back in, toss sauce with 8-12 oz of pasta, prepared to al dente per package instructions, then continue with the recipe adding the chicken on top. I like to chop the chicken and add it in when it is combined with pasta but it can be served either way.
Creamy Mushroom Chicken Piccata– Begin the recipe as directed. In the last minute of sautéing, add 1 jar of capers that have been drained, then continue with the recipe. Once the mushroom sauce is made, stir in the juice of 1/2 lemon. and then add the chicken back in.
Dietary Considerations
If you have special dietary needs, this recipe can be easily modified to comply with several requirements.
As always, check all store bought ingredients for compliance on specific dietary needs. The notes below are a general guide.
Gluten free: This recipe can be made gluten free by omitting the flour from the recipe. Instead of using flour, just coat the chicken in spices and continue with recipe as directed. Please note that some mushrooms are grown on wheat products which could cause issues with gluten sensitivities.
Nut free: This recipe is naturally nut free
Egg free: This recipe is naturally egg free
Low carb/Keto: This recipe is low carb at only 7g net carbs. The carbs can be further lowered by omitting the flour as detailed in the gluten free section above.
Macros: The approximate macro calculation for this recipe is- P: 39g C: 8g F: 40g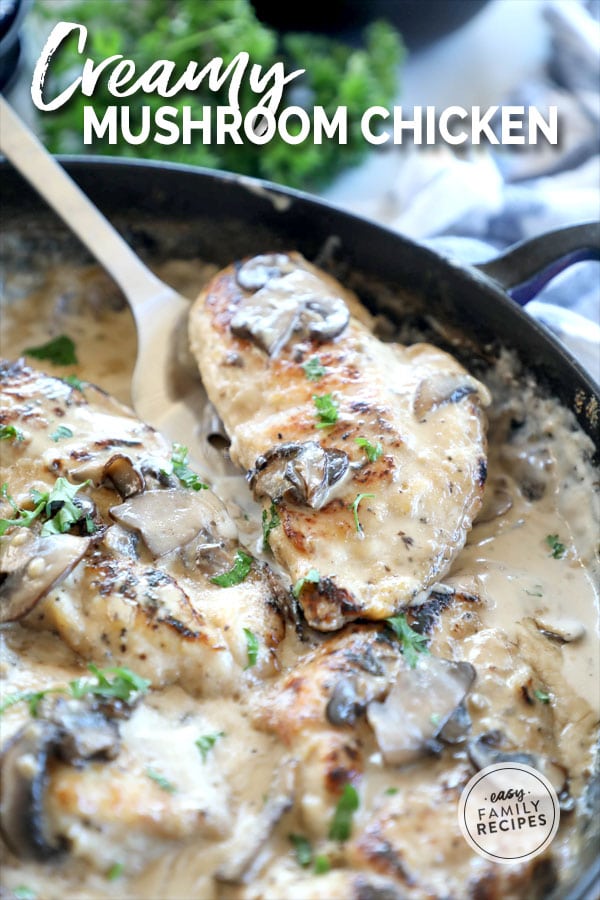 Chicken with Mushroom Cream Sauce Leftovers
If you have leftovers after making this recipe, they can be packed up for another day.
To save leftovers, separate into meal sized portions and then place in an airtight container and store:
in the refrigerator for 3-4 days
in the freezer up to a month
Reheat with care. Reheating at high temperatures can cause the cream sauce to breakdown and separate. I recommend reheating slowly and stirring frequently.
More EASY Chicken Recipes
If you enjoyed this recipe, I really hope you will take a moment to grab a few more easy recipes for another busy night!
You can check out all of my EASY Chicken recipes here, or see a few of our readers favorite recipes below.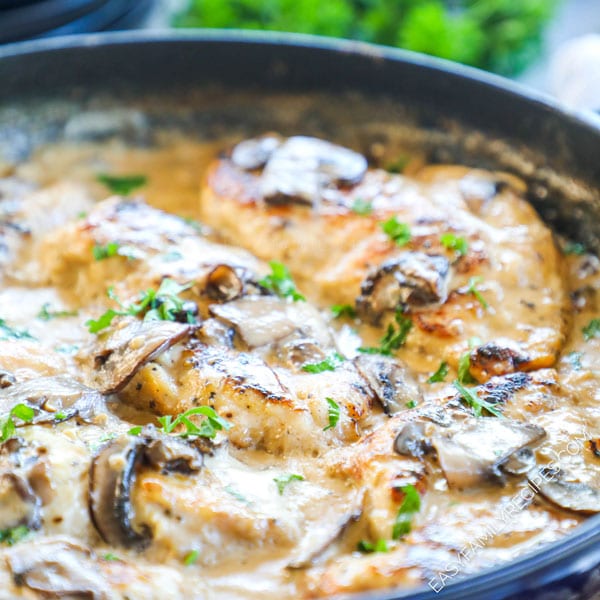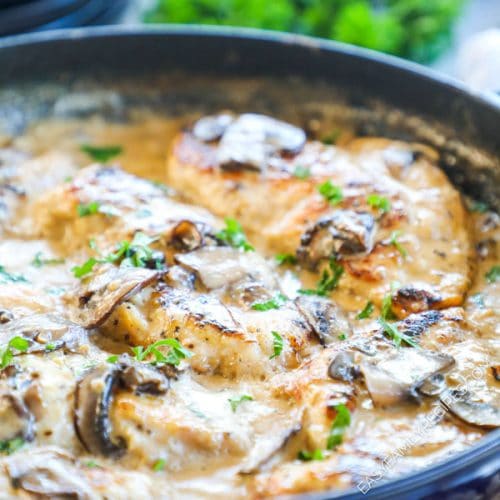 Chicken with Mushroom Cream Sauce
This Chicken with Mushroom Cream Sauce combines tender chicken breasts with a creamy garlic parmesan mushroom sauce for a rich, flavor filled dinner that so good it is hard to believe it is made in just 20 minutes!
Ingredients
For the Chicken
2

lbs

boneless, skinless chicken breast

,

cut or pounded to thin cutlets

2

tbsp

flour

1/2

tsp

garlic powder

1/2

tsp

salt

1/2

tsp

pepper

1

tbsp

olive oil
For the Sauce
1

tbsp

butter

1

lb

mushrooms

,

sliced

3

cloves

garlic

,

pressed

1/2

tsp

salt

2

cups

heavy cream

1/2

cup

parmesan cheese

,

grated
Instructions
Mix the flour, garlic powder, 1/2 tsp salt, and pepper together. Lightly coat each side of the chicken cutlets with the mixture.

Heat oil in a large skillet over medium high heat. Once the oil is hot, add the chicken breasts to the pan in a single layer and cook 3-4 minutes per side.

Remove the chicken from the skillet and set aside. Melt butter in the skillet then add the mushrooms, garlic, and additional 1/2 tsp of salt. Cook over medium high heat stirring occasionally until the mushrooms have reduced in size and any liquid released has cooked off, about 4-6 minutes.

Add the cream and parmesan cheese to the skillet and stir to combine. Bring to a rapid boil for 2 minutes stirring regularly, then reduce the heat to low.

Place the chicken breasts back in the the creamy mushroom sauce and let it simmer for 3-5 minutes or until the sauce has thickened.
Nutrition Information
Calories:
545
kcal
(27%)
,
Carbohydrates:
8
g
(3%)
,
Protein:
39
g
(78%)
,
Fat:
40
g
(62%)
,
Saturated Fat:
22
g
(138%)
,
Cholesterol:
216
mg
(72%)
,
Sodium:
748
mg
(33%)
,
Potassium:
873
mg
(25%)
,
Fiber:
1
g
(4%)
,
Sugar:
2
g
(2%)
,
Vitamin A:
1335
IU
(27%)
,
Vitamin C:
4
mg
(5%)
,
Calcium:
163
mg
(16%)
,
Iron:
1
mg
(6%)