Chicken Florentine Casserole is super a super creamy, delicious, and FAST dinner packed with tender chicken, wholesome spinach, and rich cheese all baked to perfection in a creamy sauce. Since this casserole is made with shredded chicken, it can go from the fridge to the oven in just minutes with minimal time spent on prep. That is a DINNER WINNER!
Chicken Florentine- The EASY Way!
Traditional Chicken Florentine serves browned chicken breasts in a creamy sauce over sautéed spinach. While this is of course delicious, it is just as tasty, and even easier when made as a casserole!
Chicken Florentine Casserole takes all the flavors of the traditional dish- tender chicken, the rich and creamy sauce and of course lots of wholesome spinach and combines it in a casserole dish for a family friendly, super easy dinner.
What to Serve with Chicken Florentine
This casserole goes well with many of the same things you would traditionally serve chicken florentine with.
This casserole is hearty with a creamy sauce so it can be paired with just one side for a filling meal, or grab 2-3 sides to really stretch the dish.
Side Dish Ideas
Side Salad- top it with balsamic vinaigrette or Italian dressing
Mashed potatoes– This recipe is extra creamy and delicious!
Pasta- Toss it with a little olive oil, garlic, and parmesan
Easy Roasted Veggies– This recipe is a family favorite
Baked Asparagus– Quick and easy!
BEST Garlic Bread– Perfect for getting every last drop of sauce!
Rice- Use a long grain white rice, wild rice mix, brown rice, or even quinoa!
Since this dish does not include any starch in the casserole, I like to grab something like mashed potatoes, rice or garlic bread. Then if I want a little extra, add another veggie to the mix.
Recipe Notes
This recipe is a super simple one dish casserole. Just mix and bake for the most part. With that said, I will share a few tips and tricks to help you get the best and most delicious results from the recipe below.
Make sure to find the FULL printable recipe card at the bottom of this post. If you have additional questions, feel free to leave them in the comments section below.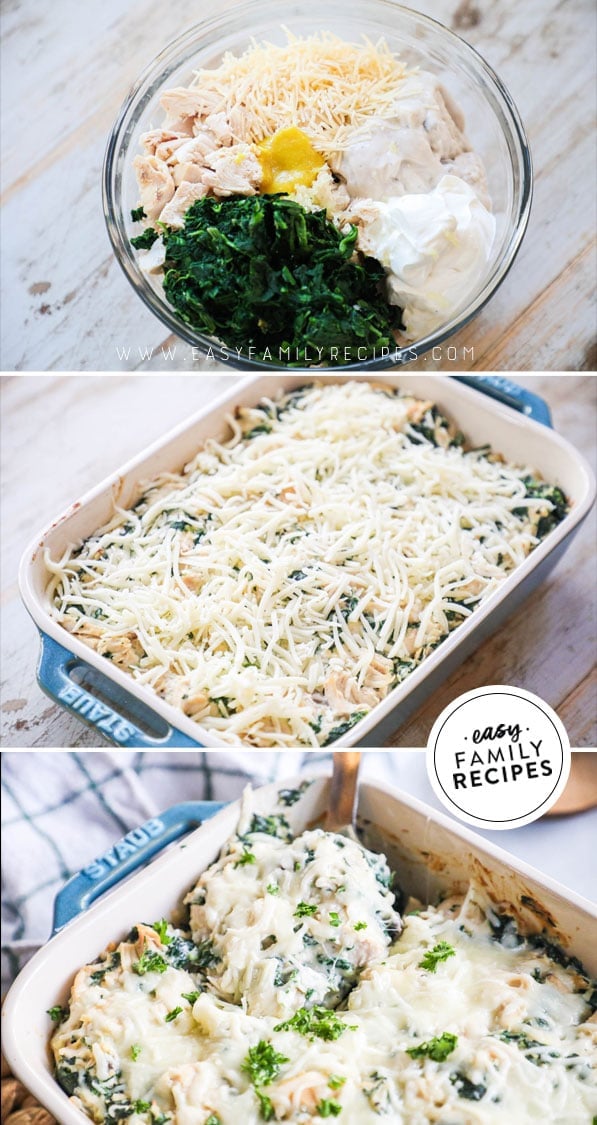 Ingredients + Substitutions
Shredded chicken– I love using rotisserie chicken in this recipe. It is tender and makes the dish super flavorful. You can use chicken that has been baked or boiled and shredded as well.

Substitution: In a pinch canned chicken will also work for this recipe.

Chopped Spinach– I use frozen for ease in this recipe. Make sure to get chopped so that you have smaller pieces and don't have to worry about extra chopping. If no chopped is available, you can thaw and drain the spinach then just chop it yourself.

Substitution: Fresh spinach can be used also, but it will need to be sautéed first to wilt it and remove the liquid.

Cream of Mushroom Soup– I use canned condensed cream of mushroom, however, you can also use a homemade condensed cream of mushroom for the recipe.

Substitution: If you aren't a mushroom lover, or just want to switch it up, try using condensed cream of chicken soup instead. It is absolutely delicious!

Sour cream– You can use regular or light with good results
Milk
Parmesan– Shredded, not grated for the best results
Garlic- I recommend fresh, but you can use jarred if needed.
Chicken bullion– My preferred brand is Better Than Bullion, but you can use granules as well.
Mozzarella
Tips and Tricks
This recipe has 3 basic steps:
Mix it up
Bake to perfection
Add extra cheese
There are just a few notes here to make it super simple, with easy clean up and the best flavor.
Tip 1: First, it is VERY important to squeeze the moisture from the spinach. Spinach contains a lot of water. If you do not wring it out, the casserole could end up very watery instead of nice and creamy.
Tip 2: To cut down on dishes, you can actually mix the casserole up in the casserole dish if you are careful. Just pour the ingredients in and very carefully mix until everything is combined. Then smooth it out to bake.
Tip 3: Add the mozzarella cheese at the end. This is a little bit of extra work on our part, but it allows the cheese to stay super melty and creamy rather than baking into more of a crust. If you prefer crispy cheese, you can add it at the beginning and allow it to bake with the casserole the entire time.
Tip 4: Bake until bubbly- This casserole generally takes 25-35 minutes to cook. Since the chicken is precooked, the purpose of baking is to bring the flavors together and meld them into a delicious casserole. You will know it is done when the casserole starts to bubble around the edges.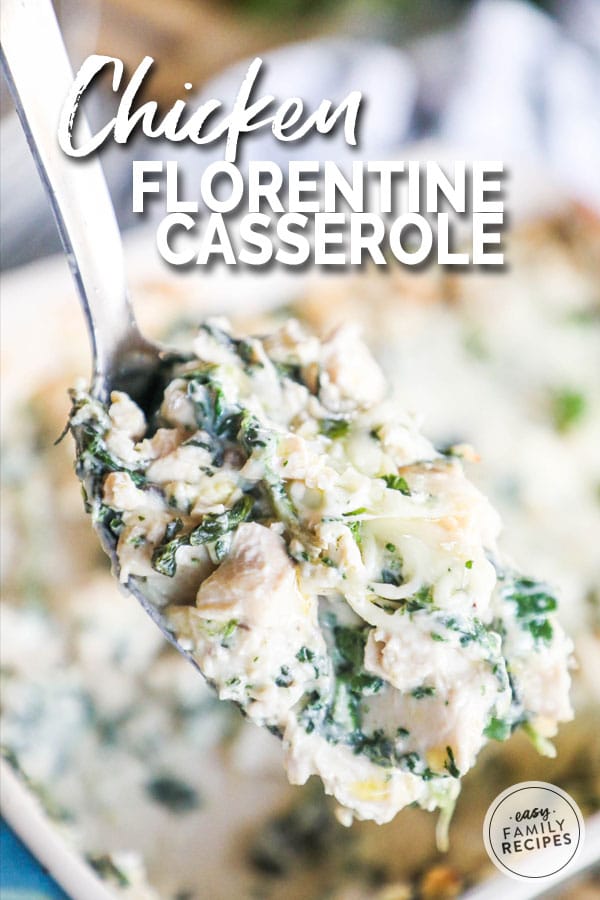 Freezer Meal Instructions
This recipe freezes well both before and after cooking. The Chicken Florentine Casserole can be prepared and frozen for up to 3 months before cooking, for the best taste.
To make this into a freezer meal, follow the instructions below.
Squeeze the liquid from the spinach then combine with the chicken, spinach, cream of mushroom soup, sour cream, milk, parmesan cheese, garlic, and chicken bullion and mix well.
Place in a zip top bag, spread it flat, and squeeze the air from it or casserole dish wrapped in foil and plastic wrap.
Freeze.
When ready to make, thaw casserole in the refrigerator for 24-48 hours. Then spread in casserole dish if not already in one.
Bake as directed, adding mozzarella cheese at the end. The casserole may take an extra 5-10 minutes to bake when cooking cold from the refrigerator.
Chicken Florentine Casserole Leftovers
Leftovers of this dish save and reheat well for lunches and dinners through out the week.
To save the leftovers allow the dish to come close to room temperature then divide it into meal sized portions and package in containers. Place in the:
Refrigerator for 3-4 days
Freezer for up to a month
Leftover Recipes
You can make many new and exciting meals from the leftovers of the Chicken Florentine Casserole. These are a few of my suggestions, but the sky is the limit on ways to be creative with this recipe!
Chicken Florentine Pizza– Heat and mix leftover casserole.On a prepared pizza crust spread a thin layer of olive oil and freshly crushed garlic. Spread the leftover chicken florentine over the crust as evenly as possible, chopping into smaller bits if necessary. Cover with mozzarella cheese. Optional: top with thinly sliced red onions and quartered cherry tomatoes. Bake as directed.
Chicken Florentine Sandwich– Slice french bread. On the outside of each slice, lightly butter and sprinkle with garlic salt. Place a scoop of the chicken florentine casserole between the slices and extra mozzarella if desired. Grill over medium heat on each side until golden brown and the chicken florentine is warm and gooey.
Chicken Florentine Stuffed Zucchini Boats– Cut the ends off of one or more zucchini squash. Cut in half lengthwise and then use a spoon to hollow out each side. Fill each side with scoops of the casserole and a sprinkle of mozzarella. Bake at 400˚F on a cookie sheet for 20-25 minutes or until the zucchini is tender.
Chicken Florentine Pasta– Prepare pasta as directed. Prepare this easy alfredo sauce recipe, then mix the leftover chicken florentine casserole into it and heat and stir until heated through. Toss the pasta into the chicken florentine sauce and serve hot!
More EASY Casserole Recipes
If you loved this recipe as much as we do, I hope you will stick around and check out a few more of our recipes. We have tons of family friendly meals that are as easy as they are delicious.
Find all of our casserole recipes here, or see a few of our most popular recipes below.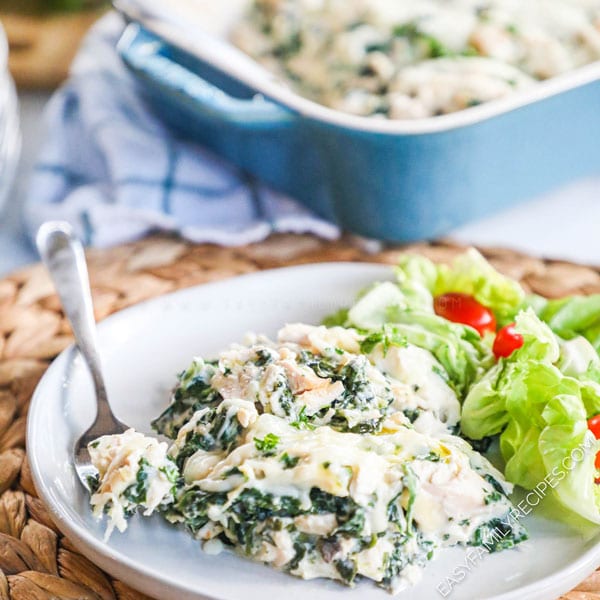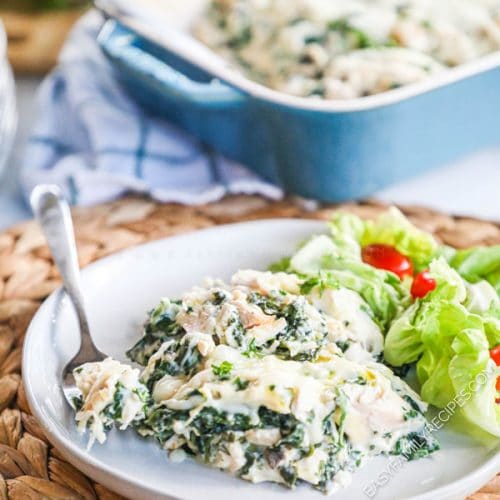 Chicken Florentine Casserole
This creamy Chicken Florentine Casserole is filled with tender chicken and wholesome spinach all nestled in a rich and creamy sauce. Topped with cheese and baked to perfection, this has all the flavor of traditional Chicken Florentine, but is much easier to make!
Ingredients
4

cups

shredded chicken

12

oz

frozen chopped spinach

,

thawed

10.5

oz

cream of mushroom soup

,

(1 can) *See note

1/2

cup

sour cream

1/4

cup

milk

1/2

cup

parmesan cheese

,

shredded

4

cloves

garlic

,

pressed

1

tsp

chicken bullion

1/2

cup

mozzarella
Instructions
Squeeze all water possible out of the spinach.

Mix chicken, spinach, cream of mushroom soup,sour cream, milk, parmesan cheese, garlic, and chicken bullion together until combined.

Spread evenly in a medium casserole dish.

Bake covered at 375˚F for 30 minutes. Uncover, then add mozzarella cheese and bake an additional 5-10 minutes or until the cheese melts.

Garnish with parsley if desired and serve warm. Enjoy!
Recipe Notes
*You can also use cream of chicken soup in place of cream of mushroom in this recipe if you prefer.
Nutrition Information
Calories:
309
kcal
(15%)
,
Carbohydrates:
7
g
(2%)
,
Protein:
34
g
(68%)
,
Fat:
16
g
(25%)
,
Saturated Fat:
7
g
(44%)
,
Cholesterol:
96
mg
(32%)
,
Sodium:
756
mg
(33%)
,
Potassium:
536
mg
(15%)
,
Fiber:
2
g
(8%)
,
Sugar:
2
g
(2%)
,
Vitamin A:
6944
IU
(139%)
,
Vitamin C:
4
mg
(5%)
,
Calcium:
269
mg
(27%)
,
Iron:
3
mg
(17%)