Tacos have never been so DELICIOUS! These BBQ Brisket Tacos are quick and easy to make and loaded with amazing flavor. A kid favorite, and one the adults will love too, these beef brisket tacos are a winning weeknight meal. In as little as 15 minutes you can have these tacos on the table and ready to eat!
Brisket Tacos – The EASY Way!
Beef brisket is a gift! It is a cut of beef so tender and packed with flavor that it is delicious almost any way you prepare it, but this is one of our family's all time favorite recipes.
These BBQ Brisket tacos are so quick and easy because we generally make them with leftovers from our slow cooker BBQ Brisket. I highly recommend using the crock pot to make up a big batch of brisket, because it is just SO GOOD and SO EASY, but there are several other options you can find below in the ingredients section.
My kids love these and ask for them repeatedly, and I love it, because they are one of the quickest dinners I make- It really can be on the table in less than 15 minutes!
What I LOVE about this recipe:
Made with leftovers– This makes the leftovers exciting again, makes dinner super fast and easy, and reduces food waste. If you don't have leftovers there are several options for making these tacos still – don't worry!

Extra kid friendly – Tacos are generally a win with kids anyway, but when they can customize the toppings to their preferences it makes it even more kid friendly.

Grown up taste buds approve– For a kid approved dinner, this sure does taste gourmet! There is no sacrificing here- these tacos maintain some complex and interesting flavors that the adults will appreciate too!

Makes as much as you need– You can easily make 2 tacos or 10 tacos. This recipe takes roughly the same quick timeline no matter how many you need.

Fast and Use what's on hand– We have covered that this recipe is fast, and delicious, but what makes it extra awesome is that you can be totally flexible with what you have on hand and make it work. You can sub lettuce for cilantro, salsa for pico, use a different cheese, add, leave out, etc. I give my guidance on how I make these tacos, but they are good with almost anything on them (or even plain!!)
Sides to Serve with Brisket Tacos
These tacos are delicious and can be served with a number of different side dish options to help stretch the meal even farther.
Side Dish Ideas
You can choose one or add a few sides to make a wholesome, well rounded dinner.
Recipe Notes
This Slow Cooker Brisket Taco recipe is as simple as promised! Just a few minutes plus a few ingredients for a family friendly meal.
In this section I am going to go through a few tips and tricks I use when making this recipe to get the absolute best and most delicious results.
Make sure to scroll to the bottom for the FULL recipe card.
Ingredients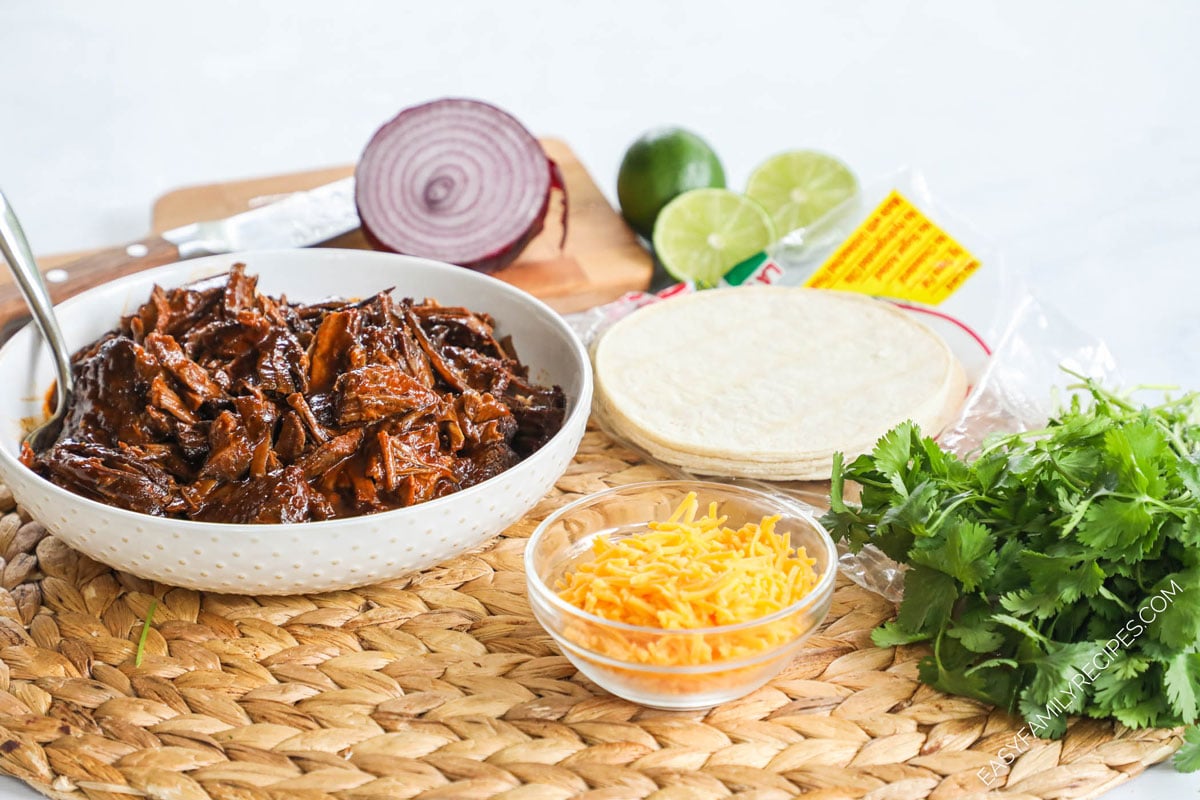 Brisket – I use leftover brisket from our easy Crock Pot BBQ Brisket recipe. You can use any leftover beef brisket you may have on hand. See section below on other options for brisket if you don't have leftovers.

The slow cooker brisket I use is already mixed with BBQ sauce. If your brisket isn't sauced,I recommend mixing it with 1/4 cup of your favorite BBQ sauce before adding to the tacos.

Corn tortillas- I love corn tortillas for shredded brisket tacos because the flavor of corn pairs so well with the beef brisket and BBQ flavor. If you prefer, you can substitute flour tortillas.

Oil– You just need a small bit of oil to heat the tortillas and help bring them to the soft flexible, state that they are most delicious in. If you have an oil sprayer, or non-propellant spray oil, it works well here. If not, you can just drip a few drops of oil in the skillet as needed for each tortilla.
Brisket Taco Toppings
Fresh cilantro– You can use the leaves and stems as they both carry the flavor of cilantro. If you don't prefer the taste of cilantro, you can use shredded or romaine lettuce instead.

Cheese – Generally, I use shredded cheddar cheese, although, you can substitute Mexican blend, monterey, or colby jack as well and it is just as delicious.

Pico de gallo– You cna pick this fresh salsa up in the produce section of most grocery stores, or quickly and easily make pico de gallo from scratch which is what I usually do!

Corn salsa– Usually I use either pico de gallo or corn salsa in these tacos. Both are wonderful and delicious! If I have time, I offer both as options and let each person build their own taco.

Sour cream– You can use traditional sour cream, Mexican crema, or thin traditional sour cream with some lime juice for a more tangy topping.

Lime wedges– These are great served on the side of the brisket tacos, and can be squeezed over the top right before eating.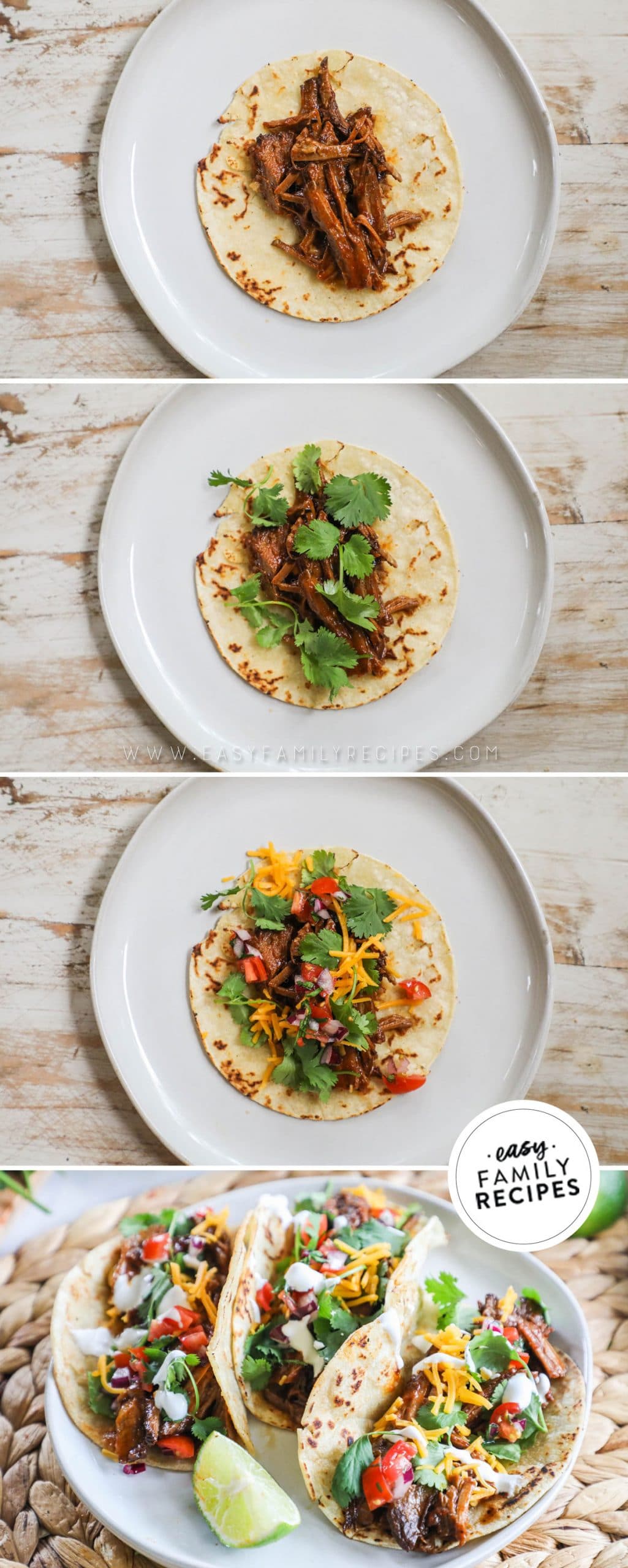 Brisket Options
These Brisket Tacos are super flexible and designed to be an easy stress free dinner! Most often I make them with leftover Slow Cooker Brisket.
There are several other options, if you don't have leftovers or prefer something else:
Local Restaurant– Grab a couple of pounds of smoked brisket to-go at a local BBQ restaurant.
Grocery Deli Counter– In many areas, especially throughout the south and west, grocery stores will have brisket in their hot counter.
Prepackaged– You can also find brisket sold prepackaged in the refrigerated prepared section. I have bought Sadler's Smokehouse brand near the deli meats.
Recipe Tips
Toast the tortillas– If you are using corn tortillas, this is a must! It will make then tortillas, soft, pliable and so delicious! Just add a little oil to the pan and heat them for a minute or two per side. You will know they are ready when they develop golden brown spots. We don't want them crispy… just heated through!

Sauce the meat– Since I generally use our slow cooker brisket, it is already mixed with BBQ sauce. I love the addition of the BBQ sauce flavor on the tacos. If your Brisket doesn't have sauce already on it, you can mix it with about 1/4 cup of your favorite BBQ sauce, or drizzle BBQ sauce over the top of the tacos.

Heat the meat– If you are using leftover meat, you will most likely need to heat it before starting the tacos. You can heat it up any way that is quick and easy for you. The microwave in a microwave safe dish, in a small sauce pan on the stovetop, or wrapped in foil in the oven are all great ways to reheat your meat.

Make a taco bar! Let everyone get in on the fun (and save yourself some work in the process!) by setting up the toppings and letting everyone top their own tacos to their preference.
Recipe Short Cuts
If you need to make this recipe, but are extra short on time, here are a few ideas that can help make this recipe even faster!
Use leftovers– If I haven't said it enough already, leftovers are your friend! It makes this amazingly delicious Brisket Taco dinner take mere minutes to come together!

Prep the toppings ahead of time– Most of these toppings can be prepped in advance in the morning, or even the night before so that they are ready at go time!
Recipe Variations
If you love this recipe as much as we do and want some quick ways to change it up for variety, these little tips will do the trick!
Brisket Taco Salad– If you want to keep it a little lighter, I love making the same base on a salad! Use chopped romaine, or other hearty lettuce, and top with BBQ Brisket, cilantro, pico de gallo, cheese, and sour cream. Drizzle with additional BBQ sauce and my jalapeno ranch dressing for an extra delicious treat!

Breakfast Brisket Tacos– Tacos for breakfast? Yes please! To make these shredded brisket tacos, breakfast style, toast the tortillas as directed. Add brisket, scrambled eggs, then top with toppings as desired. You can also mix the brisket in the eggs as you scramble them if you want the flavors really combined!

Bacon Brisket Tacos– To give these Brisket tacos an extra flavor kick, crumble crispy bacon over them at the end. So good!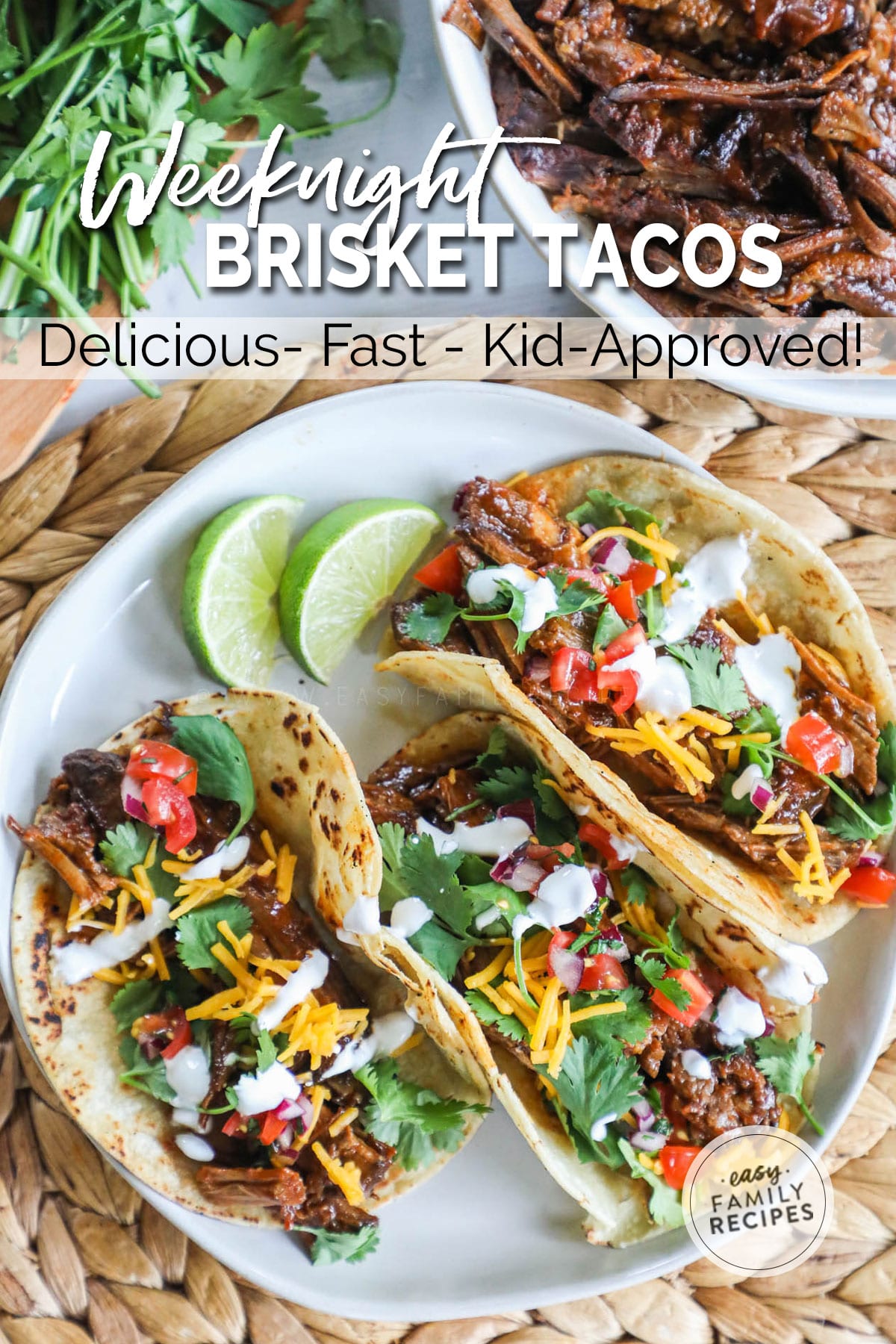 More Easy Dinner Recipes
If you enjoyed this recipe, I really hope you will take a moment to grab a few more easy recipes for another busy night!
You can check out all of my Easy Dinner recipes here, or see a few of our readers favorite recipes below.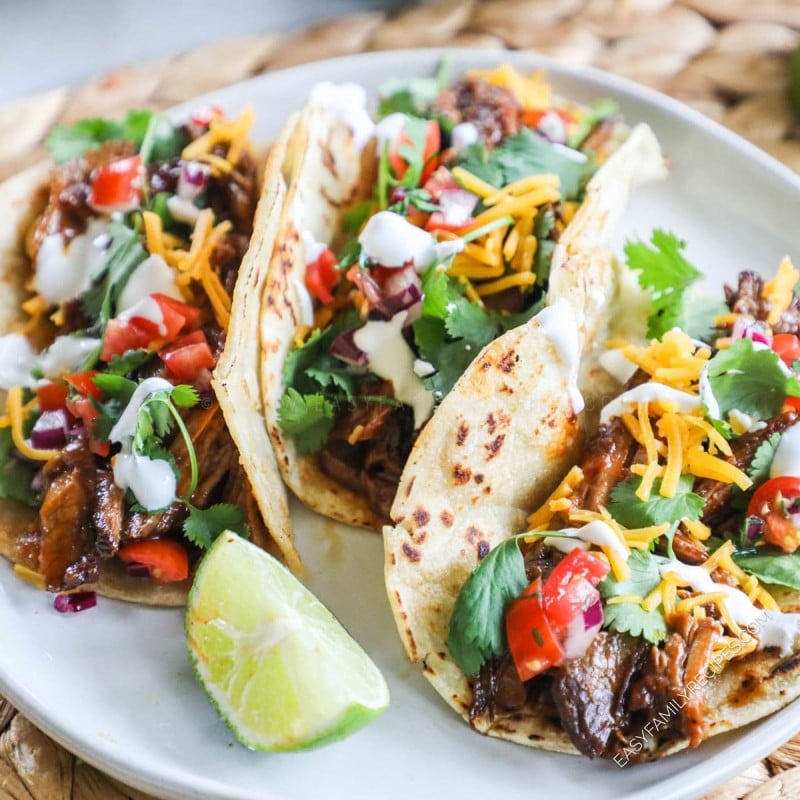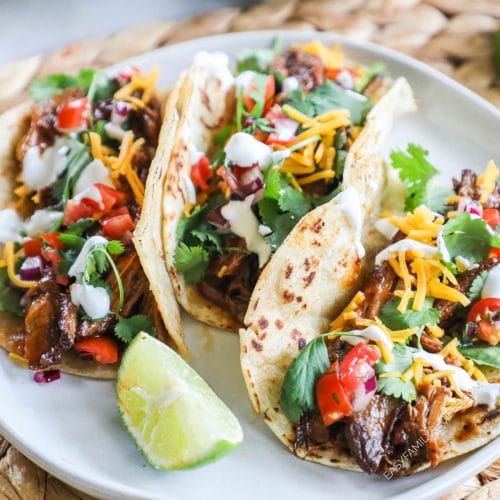 BBQ Brisket Tacos
These easy shredded brisket tacos are one of the fasted and most delicious dinners we make! Made with leftover BBQ brisket and an array of toppings these come together fast and are a favorite of both the kids and grown ups!
Ingredients
2

cups

BBQ Brisket,

See notes

8

corn tortillas

1

teaspoon

vegetable oil
Brisket Taco Toppings
1/2

cup

fresh cilantro

1/4

cup

shredded cheddar cheese

,

substitute Mexican blend or colby jack

1/4

cup

pico de gallo

1/4

cup

corn salsa

1/4

cup

sour cream

8

fresh lime wedges
Instructions
1. Heat the brisket in the microwave, stove top, or oven until warmed.

Heat a few drops of oil in a skillet over medium high heat. Once hot, add a tortilla and cook about 1 min per side, until it is lightly browned on each side. Repeat with remaining tortillas, adding a few more drops of oil as needed.

Tip- Spray oil works well here!

To assemble the tacos, lay the tortillas flat. Add about 1/4 cup of meat to each tortilla then top with your choice of toppings.

My method is adding the toppings in this order: BBQ brisket, cilantro, cheese, pico de gallo OR corn salsa, sour cream, squeeze of lime juice.

Serve warm! Optional- Serve additional sauce/juices from brisket for dipping the tacos in !
Recipe Notes
This recipe is perfect for using leftover brisket!
If you need to make the brisket from scratch, find my Slow Cooker BBQ Brisket recipe here!
The brisket recipe we use already has the brisket basted in BBQ sauce. If your BBQ brisket is smoked or doesn't have sauce already on it, I would recommend adding about 1/4 cup of your favorite BBQ sauce to the meat before heating it and adding to the tacos.
Other places to get BBQ Brisket for the tacos: your local BBQ restaurant, your grocery store hot counter, sold prepackaged in the refrigerated prepared section (ex Sadler's Smokehouse brand.)
Nutrition Information
Serving:
2
tacos
,
Calories:
389
kcal
(19%)
,
Carbohydrates:
32
g
(11%)
,
Protein:
30
g
(60%)
,
Fat:
17
g
(26%)
,
Saturated Fat:
7
g
(44%)
,
Polyunsaturated Fat:
1
g
,
Monounsaturated Fat:
6
g
,
Cholesterol:
88
mg
(29%)
,
Sodium:
274
mg
(12%)
,
Potassium:
582
mg
(17%)
,
Fiber:
5
g
(21%)
,
Sugar:
3
g
(3%)
,
Vitamin A:
406
IU
(8%)
,
Vitamin C:
12
mg
(15%)
,
Calcium:
128
mg
(13%)
,
Iron:
3
mg
(17%)