This Homemade Barbacoa Seasoning blend is the PERFECT combination of flavors for that authentic barbacoa flavor. The key ingredient is small but makes all the difference! This DIY seasoning mix makes perfect beef barbacoa for tacos, burritos, quesadillas, bowls and more! You can even use it to season other meats like chicken, pork, and ground turkey as well. Make this barbacoa seasoning recipe from scratch in as little as 5 minutes to start an easy homemade meal!
Homemade Barbacoa Seasoning – The EASY Way!
Homemade seasoning mixes can add a TON of flavor to food, with just a tiny bit of time and effort.
This Barbacoa Seasoning mix is no exception! Once you try it you will realize it really is the BEST barbacoa seasoning out there. Totally worth the the 5 minutes of time it takes to make it from scratch.
The great thing about homemade seasoning is that it only takes a few minutes to make, generally uses common spices already in your cabinet, and then you can pop it in an airtight container and it will stay good for UP TO A YEAR!
You can easily make a single batch of this barbacoa seasoning, or if you enjoy it as much as me, you can make a double or triple batch in the same amount of time so you can always have it on hand.
What is Barbacoa
Barbacoa isn't just the name for shredded beef, it's actually the Spanish word for barbecue and refers to the tradition of slow-roasting meat in an outdoor fire pit. It can be beef, pork, lamb, or even goat! Today, barbacoa is most closely associated with seasoned tender shredded beef served in Mexican cuisine.
How to use Barbacoa Seasoning
Barbacoa seasoning mix carries the flavor of authentic barbacoa throughout the protein you use it on. Traditional barbacoa is made with a beef roast. You can see our Crock Pot Beef Barbacoa recipe here. This seasoning mix is perfect for making barbacoa any way you choose to prepare it.
To use barbacoa seasoning as a dry rub:
Rub all sides of meat with the seasoning mix. Cook as desired.
To use barbacoa seasoning as a marinade:
Combine 1 tbsp seasoning per pound of meat with 1 tbsp oil and 1/2 cup apple cider or juice.
Meats to use barbacoa seasoning mix with
Although beef roast is the most traditional cut of meat to make barbacoa out of, this seasoning mix will flavor all sorts of meats deliciously. Try using it on:
Chicken breast
Chicken thighs
Chicken Tenderloins
Whole Chicken
Pork roast
Ground Beef
Ground Turkey
Pork Chops
What to make with Barbacoa
You can eat beef barbacoa simply over rice, or use the meat to make some of our favorite meal ideas:
Barbacoa Bowl – With all the good stuff!
Barbacoa Nachos- perfect for weekends and game day
Recipe Notes
This Barbacoa Seasoning Mix recipe is as simple as promised! Just mix together some key spices and seasonings and you have the signature Mexican barbacoa flavors.
In this section I am going to go through a few tips and tricks I use when making this recipe to get the absolute best and most delicious results.
Make sure to scroll to the bottom for the FULL recipe card.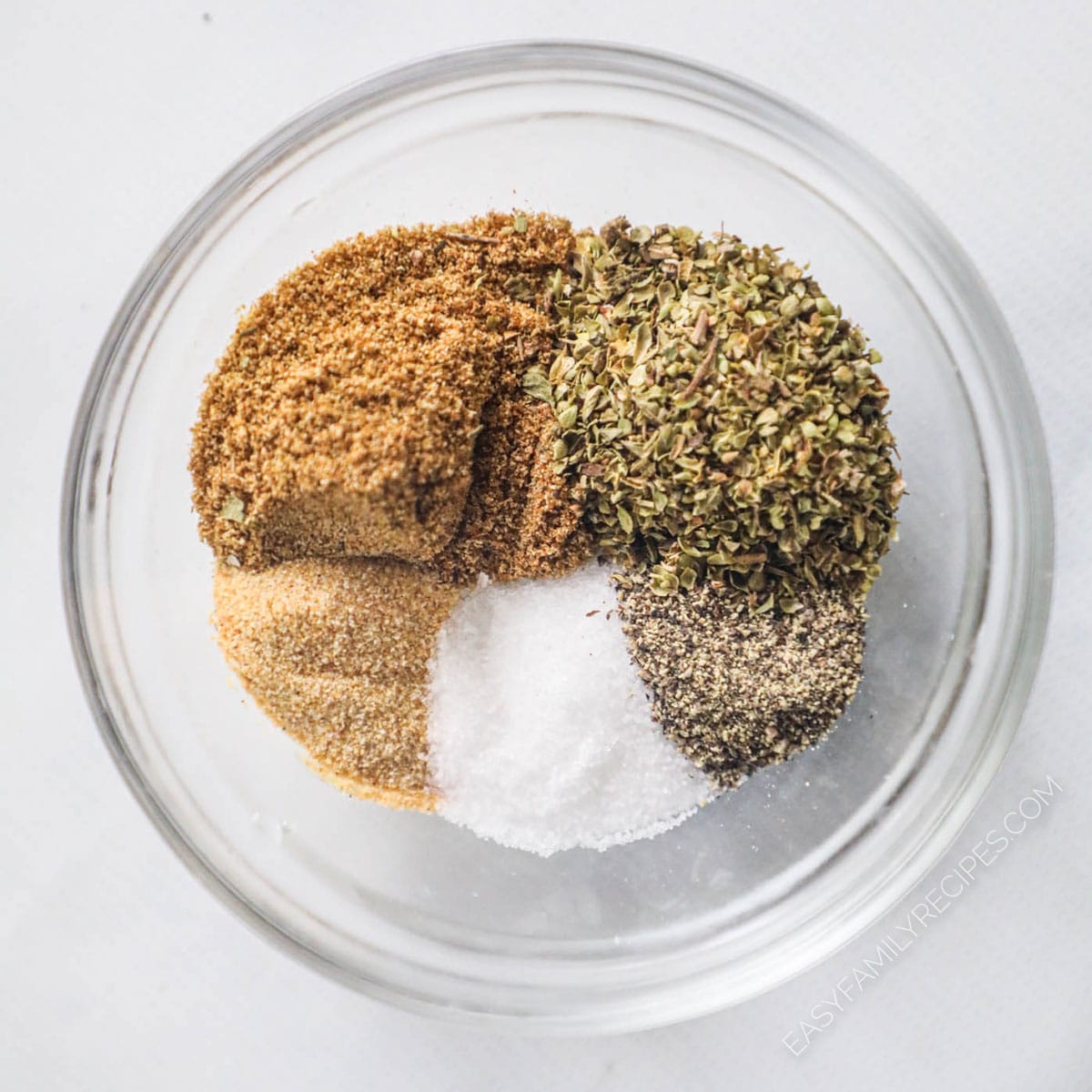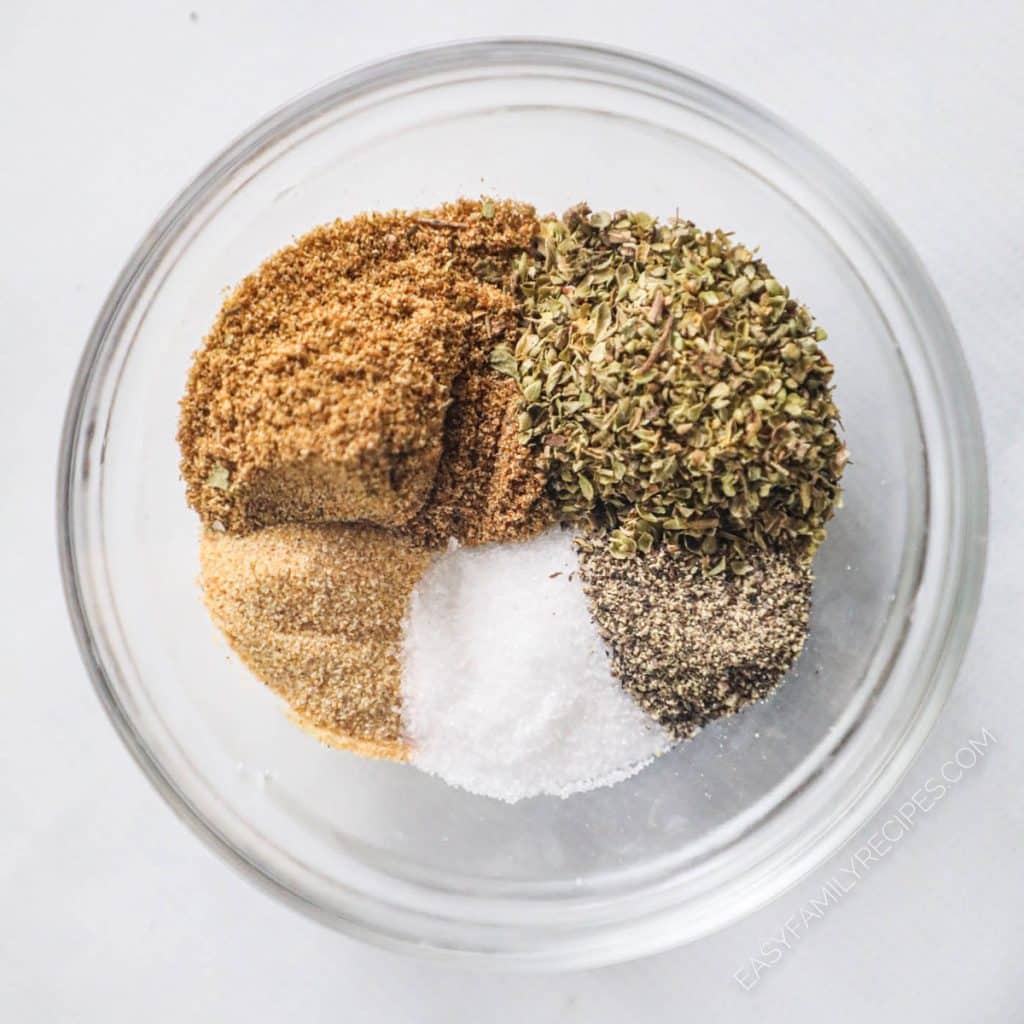 Ingredients
All spices and seasonings in this blend are dried. If you only have fresh on hand, I would recommend either drying them to be used in this seasoning blend, or grabbing the dried version the next time you are at the store. Fresh spices do not work well for this recipe.
Cumin
Dried oregano
Dried onion flakes
Ground black pepper
Garlic powder
Salt
One of the best parts is that this seasoning mix is made from commonly found spices and there shouldn't be anything you have to hunt down. You may even have every single one already in your spice cabinet!
Recipe Tips
Key Ingredients! The chipotle chile powder has a unique flavor that lends a more authentic flavor to the carnitas recipe than a standard chili powder. If you are in a pinch you can use regular chili powder, which is good, but you will get a slightly different flavor.

Mix to combine– There is no special magic here. To make this, you just dump it all together and mix it up. To make it even easier, you can use a mason jar or other container and dump, then shake. Then all you get messy is a couple of measuring spoons!

Store in an airtight container in a cool dry place. When stored like this the Carnitas Seasoning Mix should

stay fresh for up to a year

. Some also recommend putting it in the freezer to further extend the life but I have never found that necessary. I run out long before it would ever go bad.

Double, triple, or more! This recipe can easily be scaled up to make a big batch of Carnitas Seasoning. This will allow you to keep it on hand for longer periods of time, especially when you start throwing it in everything as your "secret ingredient" like I do!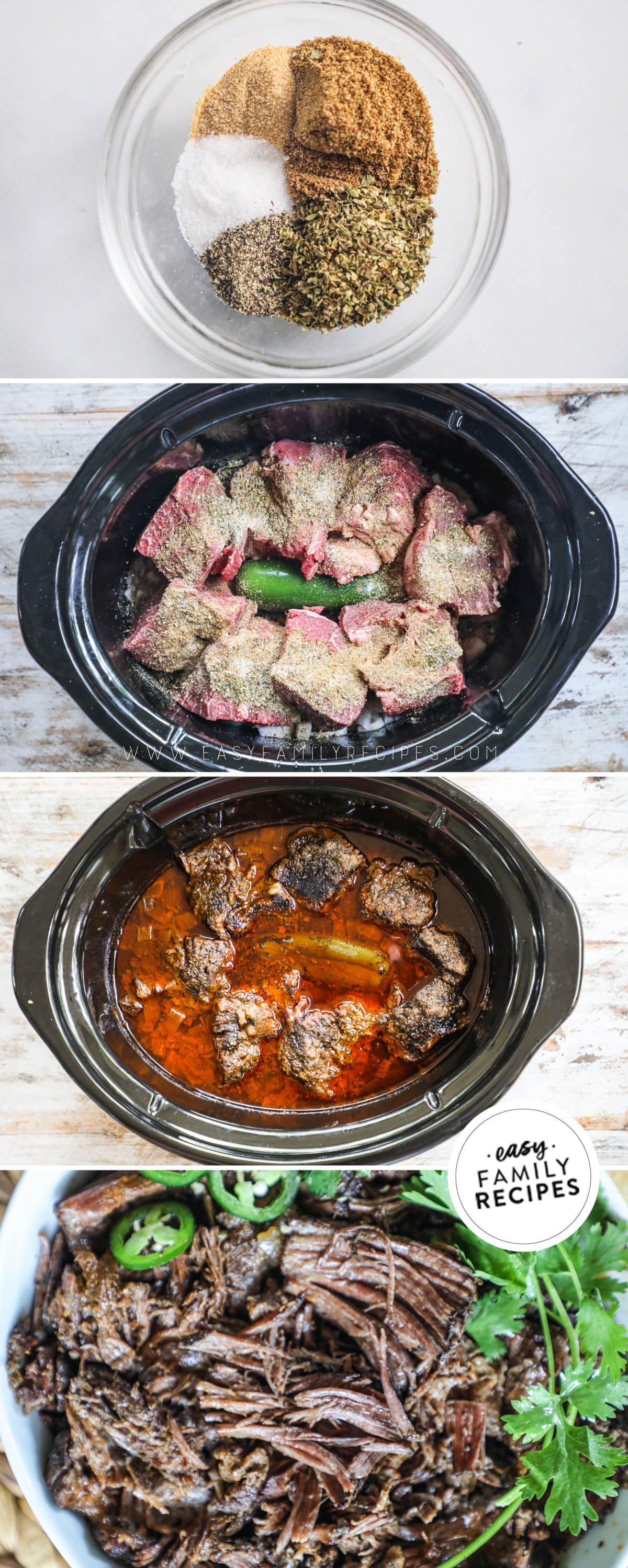 Dietary Considerations
One of the best parts about this recipe is that not only is is AMAZINGLY DELICIOUS, but it is also very healthy! It naturally meets many dietary needs.
As always, check all store bought ingredients for compliance on specific dietary needs. The notes below are a general guide.
Gluten free: This recipe is naturally gluten free.
Dairy free: Barbacoa Seasoning Blend is naturally dairy free
Nut free: This recipe is naturally nut free
Egg free: This Barbacoa Seasoning recipe is naturally egg free
Low carb/Keto: This recipe is low carb at 0g net carbs per serving.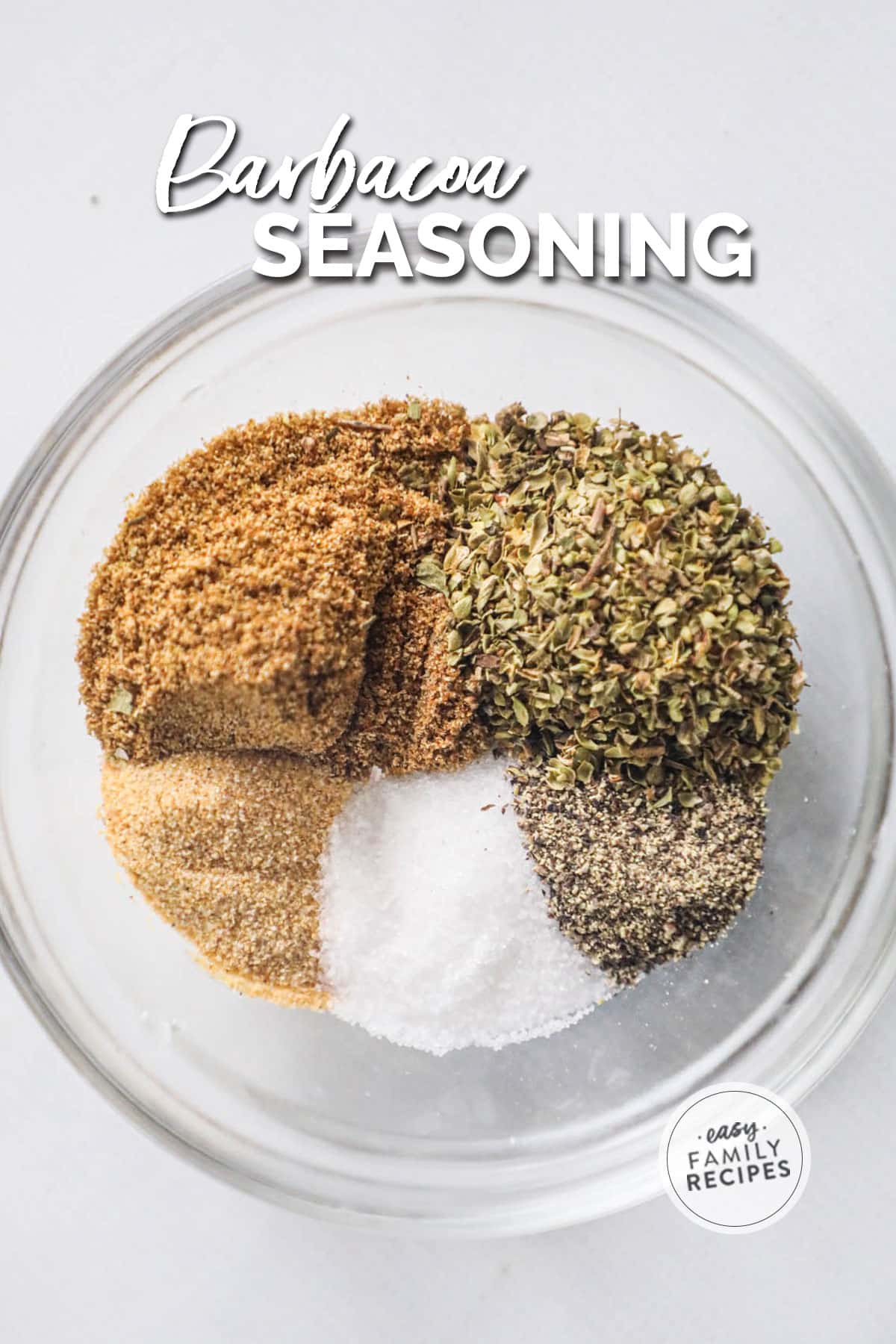 More Homemade Seasoning Mix Recipes
If you enjoyed this recipe, I really hope you will take a moment to grab a few more easy recipes for another busy night!
You can check out all of my Easy recipes here, or see a few of our readers favorite seasoning mixes recipes below.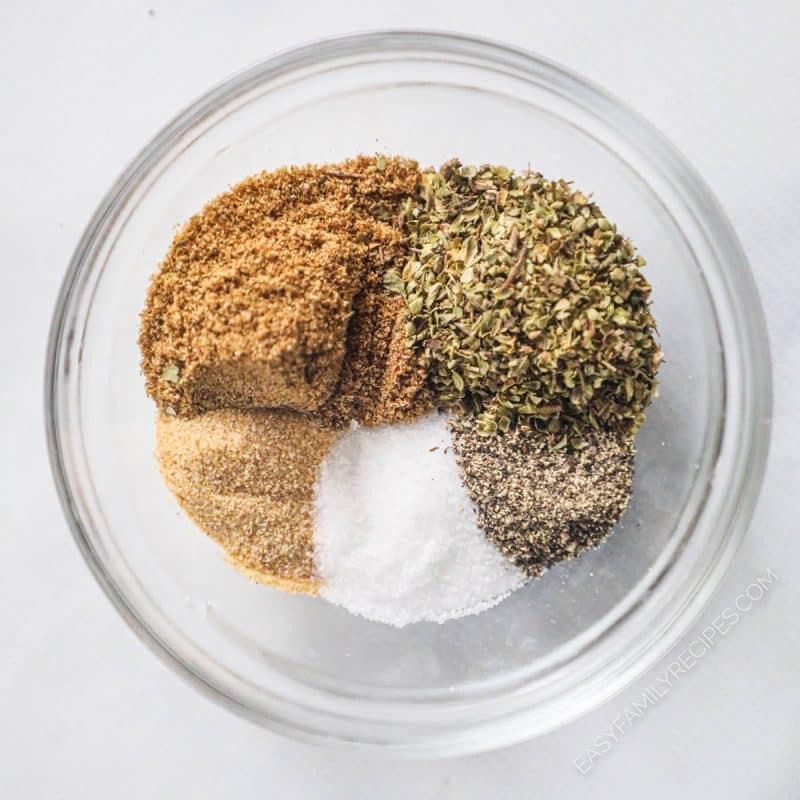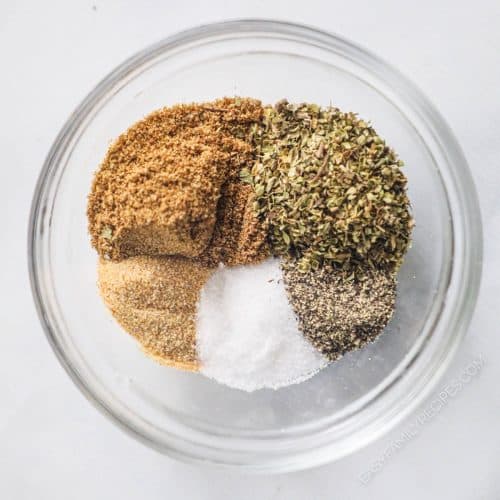 Barbacoa Seasoning
This Barbacoa Seasoning Mix takes only 5 minutes to make and makes the BEST beef barbacoa. Packed with flavor, you just need 7 simple ingredients for this recipe.
Ingredients
3

tablespoons

cumin

3

tablespoons

dried oregano

2

tablespoons

dried onion flakes

1

tablespoon

chipotle chili powder

1

tablespoon

ground black pepper

1

tablespoon

garlic powder

2

teaspoons

salt
Instructions
Make the dry rub by combining all of the ingredients and mixing to combine.

Store in an airtight container in a cool dry place. Seasoning mix can last up to a year when properly stored.
Recipe Notes
Yield:
11 tablespoons, use 1 tablespoon per pound of meat.
To use barbacoa seasoning as a dry rub:
Rub all sides of meat with the seasoning mix. Cook as desired.
To use barbacoa seasoning as a marinade:
Combine 1 tbsp seasoning per pound of meat with 1 tbsp oil and 1/2 cup apple juice.
Nutrition Information
Serving:
0.25
tablespoon
,
Calories:
4
kcal
,
Carbohydrates:
1
g
,
Protein:
0.2
g
,
Fat:
0.1
g
,
Saturated Fat:
0.01
g
,
Polyunsaturated Fat:
0.02
g
,
Monounsaturated Fat:
0.1
g
,
Sodium:
107
mg
(5%)
,
Potassium:
19
mg
(1%)
,
Fiber:
0.3
g
(1%)
,
Sugar:
0.1
g
,
Vitamin A:
12
IU
,
Vitamin C:
0.2
mg
,
Calcium:
11
mg
(1%)
,
Iron:
0.4
mg
(2%)