This Baked Greek Chicken is LOADED with all the best Greek inspired flavors. Tender chicken is seasoned and nestled on top of spinach then smothered with tomatoes, red onion, pepperoncini peppers, kalamata olives, feta cheese, and topped off with lemon juice. These bake perfectly together for a PERFECT one dish dinner.
Weeknight Greek Style Chicken
This Loaded Baked Greek Chicken is 100% flavor packed!
It is hard to believe that this is a quick prep, 10 minutes from the fridge to the oven kind of dinner.
Baked Greek Chicken is perfect for those nights where you have a list a mile long of things that need to be done.
You can have this prepped and baking in as little as 10 minutes and then it can cook while you knock out homework with the kids, chores, work or workouts. Whatever it is that needs to get done and checked off the list!
I'm telling you! This one is a knock it out of the ball park kind of meal!
If you need to get the cooking done while you are out of the house, try my Crock Pot Greek Chicken– So good!
What to Serve with Baked Greek Chicken
One of the things I love most about this one dish meal is that the protein and veggies all cook right together so that if you really are short on time, you don't even need to serve anything else with this.
If you do want to round out the meal or make it heartier, you can some of these favorite side dishes:
Greek Inspired Sides
Pick one side dish, or serve it with a few to make the meal stretch even further.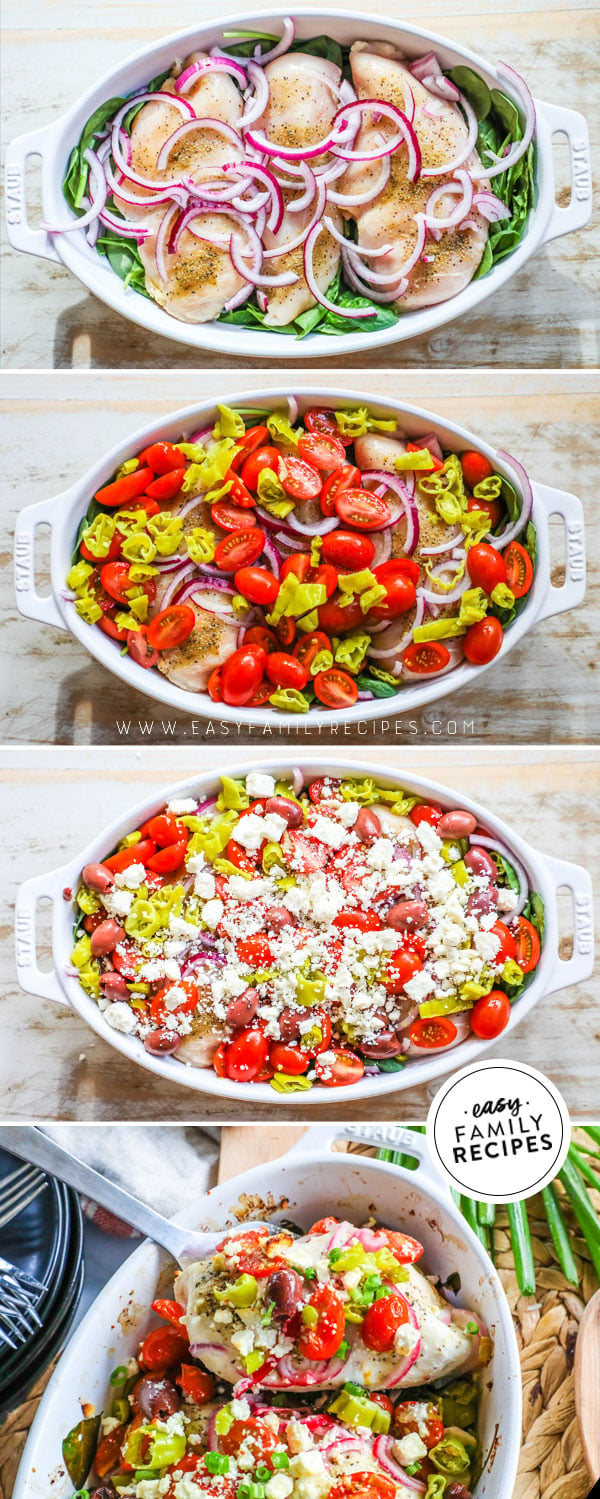 My Tips for Making the BEST Baked Greek Chicken
Even though this recipe is super simple, there are a few tips and tricks that will help you get the absolute BEST results from this dish.
Follow along below and I will hopefully answer any questions that may come up while cooking. You can find the FULL recipe card at the bottom of this post.
The Ingredients
Chicken– Try to use thin chicken breasts, or if you have normal to large sized chicken breast, I recommend cutting it in half horizontally so that it is half the thickness. This helps the dish cook more quickly and evenly, keeping the chicken tender.
Greek Seasoning– You can use homemade Greek Seasoning or store bought greek seasoning.

Homemade – Use this recipe if you need to ensure you are gluten free or have other special dietary restrictions. It is easy to make and can last for up to a year in your pantry!
Store bought- I like Cavender's seasoning. It is in a yellow shaker and can be found in the seasoning section at most major grocery chains.

Spinach– I highly recommend using fresh spinach over frozen for this dish. 4 oz will seem like a lot but it will cook down to a fraction of it's size when fresh.
Pepperoncini Peppers– If you aren't familiar with these, they are yellow peppers, also sometimes called banana peppers. You can usually find them near the olives in a jar. There are sometimes varying levels of spice so get mild or hot depending on preference.
Lemon- You will only use the juice from the lemon, so squeeze the juice and you can discard the rest.
How Long to Bake Greek Chicken
The cooking time can vary for this dish based on a variety of factors such as:
The size and thickness of the chicken breast- Cut thicker chicken breasts in half as recommended in the section above!
The size of baking dish used
The climate and altitude of where you live
The size and power source of the oven
With that said, this dish should take between 35-45 minutes to bake in most ovens.
The chicken will be perfectly cooked when it reaches 165˚F internal temperature.
You can measure this using a meat thermometer to measure this. If you don't have one, I highly recommend it. They are usually very affordable and you can get them at Target, Walmart, Amazon, or most any store that carries small appliances.
Substitutions
The great thing about this recipe is that it is very forgiving and can be customized for the tastes of your family!
I don't love olives so I frequently leave those out when we make it. If you have other veggies you love, or need to use up in the fridge, you can throw those in too!
There are a few other common substitutions that work well in this recipe:
Meat– You can use different cuts of chicken based on your preferences. Chicken thighs and tenderloins both make great options. Just make sure to stick with boneless and skinless cuts.
Cheese– I use traditional crumbled feta to make this dish. You can substitute low fat, or fat free feta in this recipe with great results. You can also omit the cheese all together to make this recipe dairy free.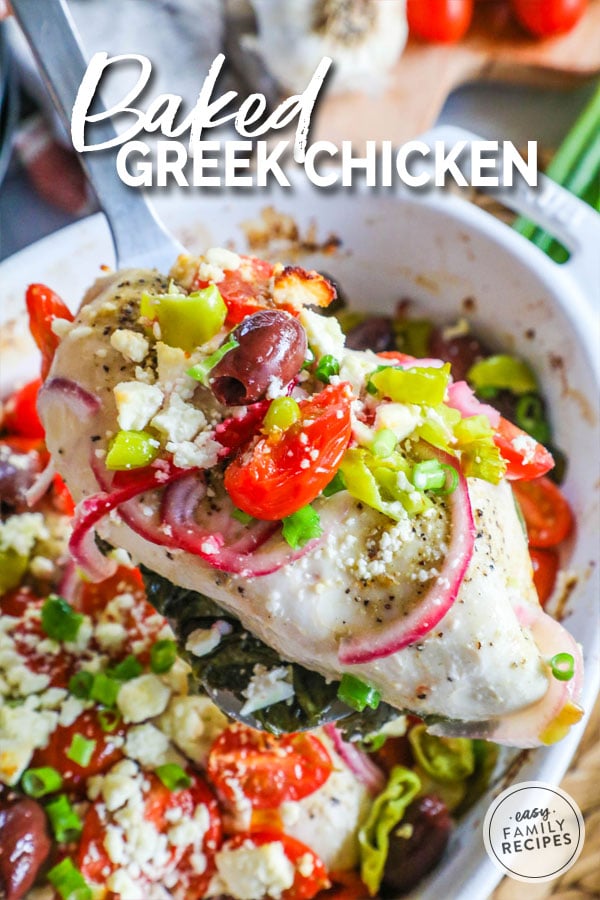 Freezing Instructions
Loaded Baked Greek Chicken can make a pretty great freezer meal. If you are looking to save time, or prep ahead, this is a great option.
You can freeze this dish before or after cooking.
Freezing Before Cooking
Combine the chicken, greek seasoning, cherry tomatoes, red onion, olives, pepperoncini peppers, garlic, feta cheese and lemon juice in a freezer friendly container or zip top bag.

I don't recommend adding the spinach in this step, but waiting and adding it to the dish fresh for best results.

Freeze up to 6 months.
When ready to make, thaw completely in the refrigerator.
Then place the spinach in the bottom of a baking dish, layer the chicken, spices, and toppings on top.
Bake as directed.
Freezing After Cooking
Prepare recipe as directed and let cool.
Divide into meal sized portions and package in an airtight container or zip top bag.
Freeze.
Baked Greek Chicken Leftovers
To store the Loaded Baked Greek Chicken :
Place in meal sized containers
Store in the fridge for 3-4 days.
Store in the freezer for up to a month.
Leftover Recipes
Here are a few ways you can make over the leftovers of this delicious dish and have a completely new meal for later in the week, or month if you freeze.
Greek Chicken Nachos– Layer pita chips with hummus and tzatziki then chop up the leftovers into small bites. Sprinkle them over the chips and top with additional feta.
Greek Chicken Power Bowl– Make your favorite grain (we like quinoa) then combine the grains with chopped leftover loaded greek chicken and drizzle with olive oil and red wine vinegar. Add extra veggies like arugula or chopped cucumber if desired.
Greek Pizza– Spread pesto over a prepared pizza crust. Sprinkle with mozzarella cheese. Then chop the leftovers and add it to the top. Bake as directed.
Greek Chicken Wrap– Make a wrap like this recipe, except use the chopped Loaded Baked Greek Chicken as the chicken and toppings.
Greek Chicken Quesadilla– This mash up may sound a little crazy but it is also crazy delicious! Spread a thin layer of pesto on a tortilla. Chop the leftovers and spoon them on top of the pesto. Add additional cheese if desired. Fold over and grill quesadilla on a hot buttered skillet.
Baked Greek Chicken Meal Prep
Since this meal reheats so well, it also makes a great dish for meal prep. You can prepare one recipe, or double it if needed for quantity.
Pair the Baked Greek Chicken with one of the options below in a meal prep container for a quick portioned meal.
Roasted Potatoes
Greek Spinach Rice (Spanakorizo)
Hummus and veggies
Pita bread
Cold veggies – sliced cucumbers, tomatoes, celery, carrots
Prepare one, or make a few to rotate in the meals throughout the week.
More Easy One Dish Meals
If you enjoyed how simple and delicious this dinner was, we hope that you will add more of our one dish meals to your meal plan soon!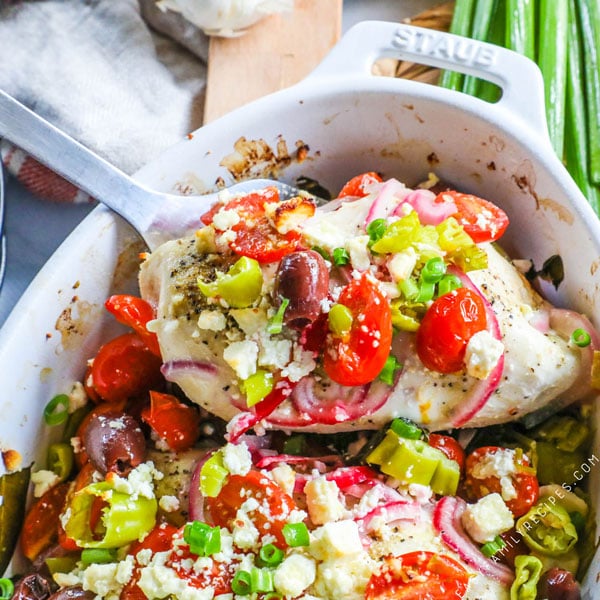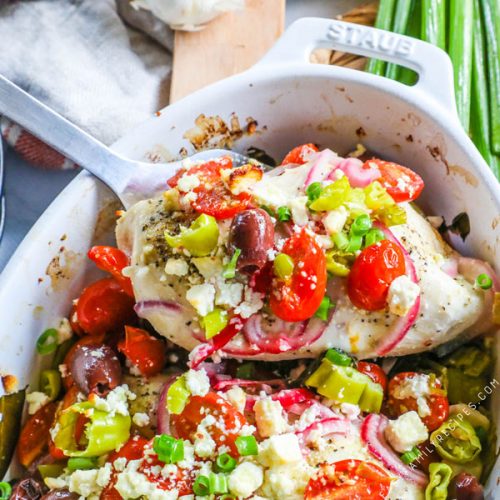 Greek Chicken Bake
This Greek Chicken Bake is as tasty as it is beautiful. It is loaded with the best Greek flavors and it takes only 10 minutes of prep and one dish to get this delicious dinner in the oven.
Ingredients
2

lbs

chicken breast

,

boneless, skinless

2

tsp

greek seasoning,

(homemade or Cavender's)

4

oz

fresh spinach

3

garlic cloves

,

pressed

1

pint

cherry tomatoes

,

halved

1/2

cup

kalamata olives

1/2

red onion

,

thinly sliced

1/4

cup

Pepperoncini peppers

,

sliced

1/3

cup

feta cheese

,

crumbled

1

lemon

,

juiced
Instructions
Lay the spinach at the bottom of a large casserole dish. Place the chicken breasts in a single layer over the spinach and top evenly with greek seasoning.

Layer the cherry tomatoes, red onion, olives, pepperoncini peppers, garlic, and feta cheese over the chicken breast. Then pour lemon juice over the top.

Bake at 350˚F for 35-45 minutes or until the chicken is cooked through. (165˚F internal temp) Remove from the oven and serve warm. Enjoy!
Nutrition Information
Serving:
8
oz chicken plus toppings
,
Calories:
371
kcal
(19%)
,
Carbohydrates:
14
g
(5%)
,
Protein:
53
g
(106%)
,
Fat:
12
g
(18%)
,
Saturated Fat:
4
g
(25%)
,
Cholesterol:
156
mg
(52%)
,
Sodium:
928
mg
(40%)
,
Potassium:
1341
mg
(38%)
,
Fiber:
3
g
(13%)
,
Sugar:
5
g
(6%)
,
Vitamin A:
3450
IU
(69%)
,
Vitamin C:
60.1
mg
(73%)
,
Calcium:
137
mg
(14%)
,
Iron:
2.7
mg
(15%)