Quick and easy, let's make those delicious layers into a hearty dinner your family will LOVE! This 7 LAYER TACO CASSEROLE is simple to make with everyday ingredients, but packed with flavors that will make this dish a family favorite!
This post is sponsored by Tostitos. All thoughts, opinions, and recipes are cooked up right here at Easy Family Recipes.
Taco Casserole – The EASY Way!
There is nothing better than a meal that the whole family can agree is delicious! This 7 Layer Taco Casserole is not only a crowd pleaser, but also super simple to make and perfect for a busy weeknight!
You will find 7 luscious layers in this Taco Casserole:
Beans
Taco meat
Cheese
Crispy tortilla chips
Lettuce
Tomato
Sour cream
You take these simple everyday ingredients like ground beef, salsa and cheese, and combine them in a way that will have you saying, "WOW! That was delicious!"
That is winning dinner my friends!
What makes this Taco Casserole recipe so great?
Everything bakes together in one big casserole dish
Combines protein and veggies for 7 delicious layers making up a hearty, filling dinner
Prep takes as little as 10 minutes!
Crowd pleaser with Mexican flavors that everyone loves
No crazy ingredients, only simple ingredients combined in delicious ways!
I could keep going, but the point is that this meal is EASY + HEARTY + DELICIOUS! I hope you will agree that it is a keeper.
What to Serve with Taco Casserole
This dinner is very hearty with beans, meat, cheese, and veggies all in one dish. You can serve it as is and have a great meal. If you want to add a little something to round out the meal, or stretch and make it go farther a side or two is perfect.
Since this dish has the classic flavors of Mexican food, it will pair well with many of your favorite Mexican side dishes. There are both classic options and some healthy options to keep it light.
Side Dish Ideas
You can choose one or add a few sides to make a wholesome, well rounded dinner.
Recipe Notes
This 7 Layer Taco Casserole recipe is as simple as promised! Less than 10 ingredients and less than 30 minutes for a family friendly meal.
In this section I am going to go through a few tips and tricks I use when making this recipe to get the absolute best and most delicious results.
Make sure to scroll to the bottom for the FULL recipe card.
Ingredients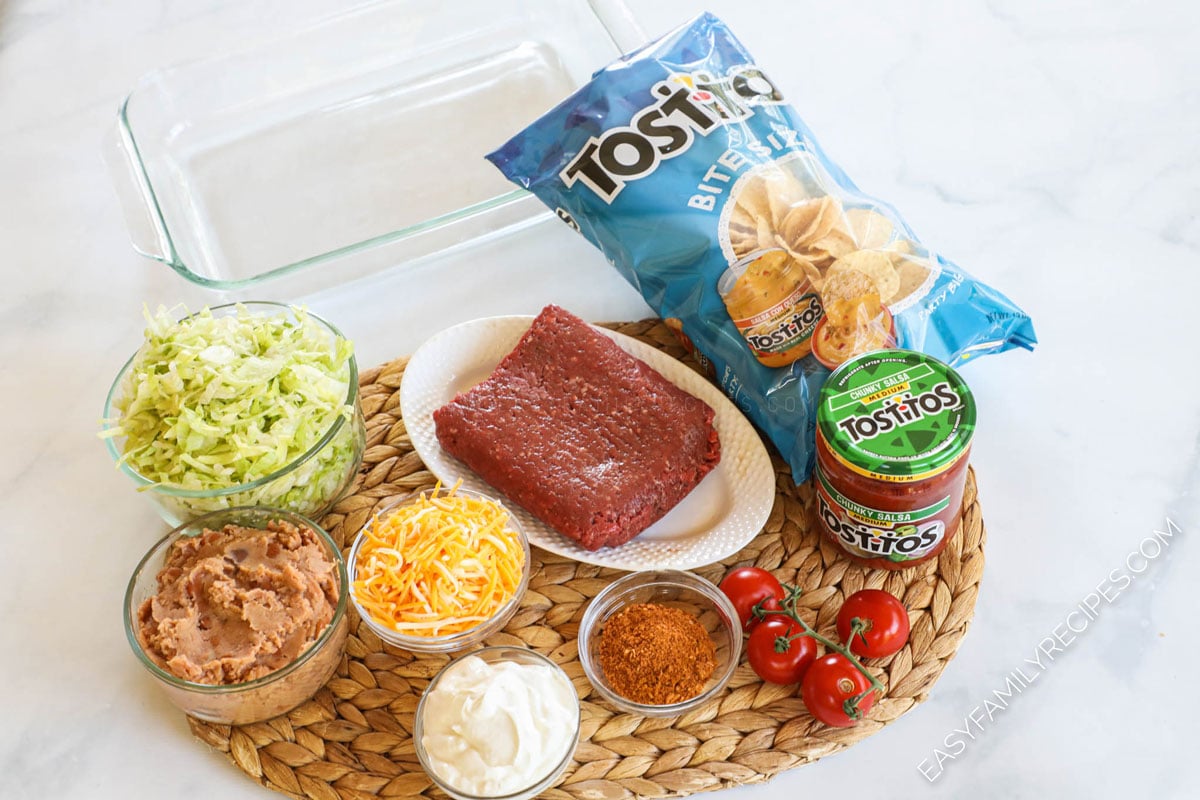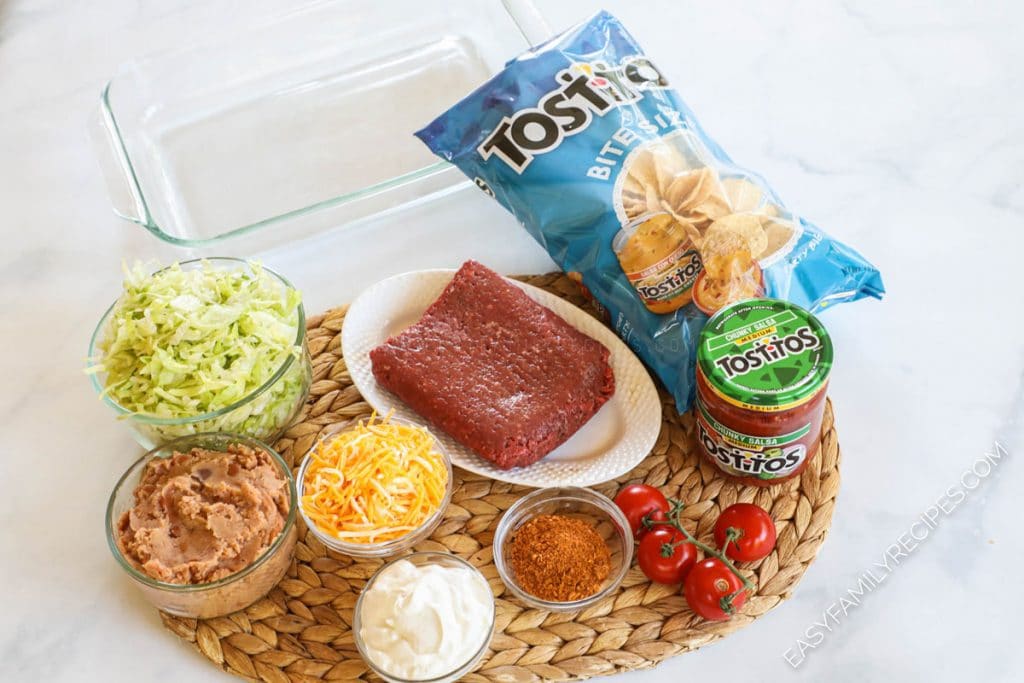 Ground beef– any will work, but I prefer the most lean.
Taco seasoning– I like to make my own homemade taco seasoning. It is quick, easy, and ABSOLUTELY delicious! If you are in a pinch, you can use store bought too.
TOSTITOS® Medium Chunky Salsa – Using Tostitos Salsa in the taco meat is the secret sauce in this recipe! It makes the meat unbelievably flavorful, adds onion, pepper, of course tomato and lots of hearty veggies, and does it all with the ease of opening a jar!
Refried beans– This produces the foundation of the casserole. The meat will bake into the beans a bit creating a hearty base layer. I generally use traditional canned refried beans, but you can use any variety, or even homemade if you like.
Mexican blend cheese- The cheesy layer is my favorite part! Since the chips are piled on top and melted right into the cheese, it kind of creates a nacho effect in this casserole, which is a huge hit all around. The cheese can be Mexican blend, cheddar, monterey jack, or even pepper jack.
TOSTITOS® Bite Size Rounds Tortilla chips–– These chips are my favorite choice for this casserole because they lay flat and are bite sized which makes serving and eating easy! You can see in the photo that they fit perfectly in a 9×13 dish. The chip layer gets super crunchy and delicious baking in the oven into the melty cheese.
Shredded lettuce– You can use pre-packaged or just chop some up fresh.
Tomato– you can use any variety!
Sour cream– traditional sour cream, light sour cream, or even fat free will work in this recipe.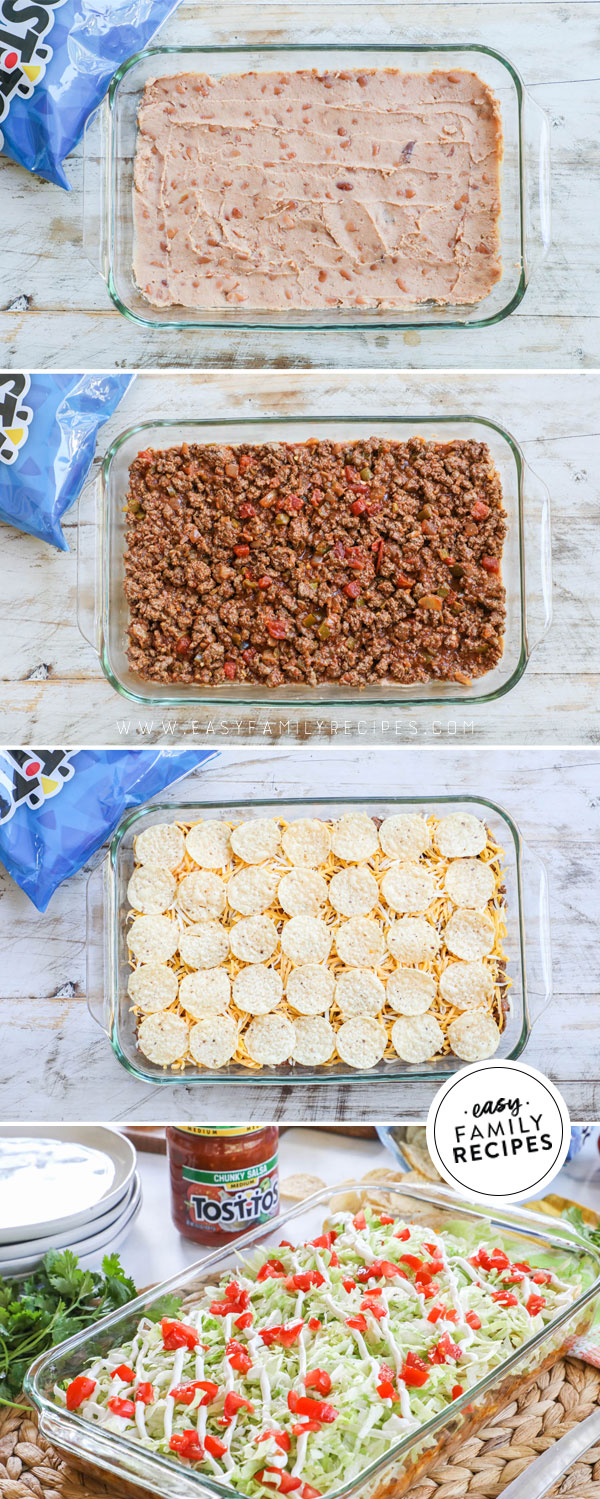 Recipe Tips
Use a large dish! This Taco Casserole is layered so using a large dish lets us pile on all 7 layers without fear of toppling over the top. You can use a slightly smaller casserole dish and get thicker layers but it will go right up to the very top.
Simmer Slow– To get a nice thick and hearty meat layer, make sure to add the salsa and seasonings to the beef and let it simmer to thicken. It shouldn't take long, especially since the pan will already be hot, but a few minutes simmering will make all the difference!
Put the layers in order– The magic happens when the meat bakes into the beans, the chips melt into the cheese and the lettuce and tomato stay fresh and crisp. The order of the layers plays a big part in how delicious this meal turns out!
Recipe Short Cuts
If you need to make this recipe, but are extra short on time, here are a few ideas that can help make this recipe even faster!
Prepare the meat ahead of time– the taco meat mixture can be prepared up to 48 hours in advance. If you are cooking from cold, the Taco Casserole may need to bake longer in the oven.
Use pre cut toppings– Both lettuce and tomato can be pre cut up to 24 hours in advance – OR – bought pre cut at the grocery store.
Assemble the base ahead of time– To make this Taco Casserole even faster, you can assemble the base of the meal in advance. The beans, taco meat, and cheese can be layered and stored in the refrigerator for up to 24 hours. When you are ready to cook, add the chips on and bake. It will likely take 5-10 minutes longer to heat through since it is coming straight out of the refrigerator.
Recipe Variations
If you love this recipe as much as we do and want some quick ways to change it up for variety, these little tips will do the trick!
Double Meat– You can make the Taco Casserole extra hearty by doubling the meat and beans in the recipe.
Extra Spicy– This recipe can be made extra spicy by adding 1/4-1/2 tsp of cayenne pepper in with the taco seasoning. Then add diced jalapeños to the top of the dish.
Loaded with toppings– If 7 layers isn't nearly enough, add more toppings to really load up this Taco Casserole. Other topping options include: guacamole, pico de gallo, corn salsa, extra crushed tortilla chips, cilantro, jalapeño ranch, and more!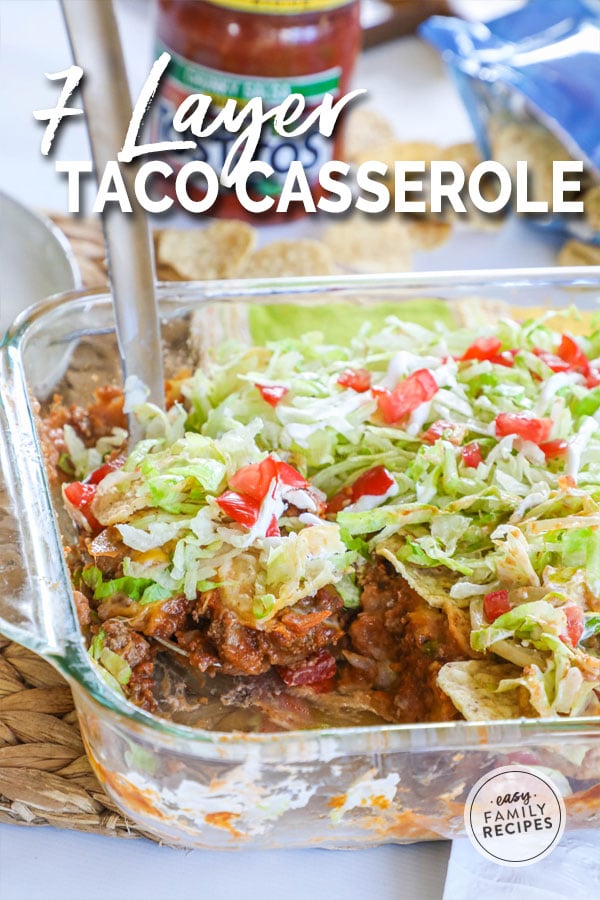 Freezer Meal Instructions
This Taco Casserole can be prepared as a partial freezer meal. The base can be frozen and the fresh ingredients can be added when cooked. To prepare as a freezer meal:
In a large skillet, brown the ground beef over medium high heat until no longer pink. Drain any fat or excess liquid. Add taco seasoning and salsa and simmer for about 5 minutes, or until it starts to thicken.
Spread refried beans in the bottom of a 9×13 casserole dish. Top with taco meat and cheese.
Wrap tightly and freeze.
When ready to cook, thaw for 24-48 hours in the refrigerator.
Add chips to the top of the casserole and bake as directed. You may need a couple extra minutes in the oven if baking straight from the fridge.
Once done baking continue with recipe as directed.
7 Layer Taco Casserole Leftovers
If you have leftovers after making Taco Casserole, then they can be saved! They save and reheat well, and can make a quick lunch or dinner another day.
To save leftovers, I prefer to remove the lettuce and tomato before saving because they do no reheat well. If you know you will have leftovers, you can only place the fresh toppings on part of the casserole, or allow each person to put the toppings on the casserole on their plate.
I leave the chips on. They also lose their crispiness, but still add a lot of flavor to the dish. My kids may even like them better stirred in the next day!
Then, the casserole can be separated into meal sized portions and then place in an airtight container and store:
in the refrigerator for 3-4 days
in the freezer up to a month
More Easy Casserole Recipes
If you enjoyed this recipe, I really hope you will take a moment to grab a few more easy recipes for another busy night!
You can check out all of my Easy Casserole recipes here, or see a few of our readers favorite recipes below.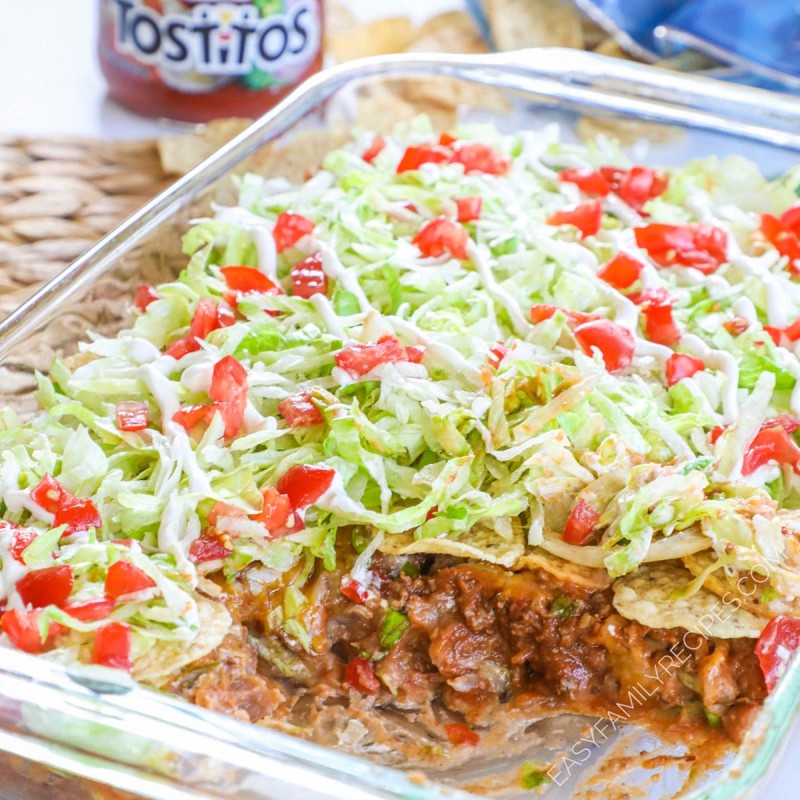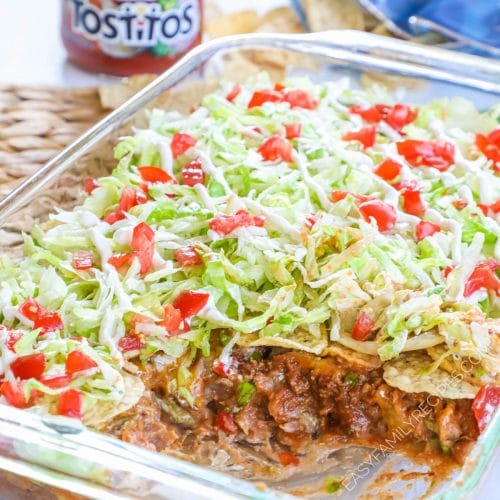 7 Layer Taco Casserole Recipe
Forget the dip, let's bring those delicious layers to a dinner that is equally hearty and delicious. 7 LAYER TACO CASSEROLE is super easy to make but, but packs in the flavor. This crowd-pleasing meal is one that kids and adults can agree on!
Ingredients
1.5

lb

ground Beef

3

tbsp

taco seasoning

1.5

cups

Salsa

1

can

refried beans

,

(16 oz)

6

oz

Mexican blend cheese

,

shredded

35

Tostitos Bite Sized Round Chips

8

oz

iceberg lettuce

,

shredded

1/4

cup

diced tomato

1/4

cup

sour cream
Instructions
In a large skillet, brown the ground beef over medium high heat until no longer pink. Drain any fat or excess liquid. Add taco seasoning and salsa and simmer for about 5 minutes, or until it starts to thicken.

Spread refried beans in the bottom of a 9×13 casserole dish. Top with taco meat and cheese. Then place a single layer of Tostitos Bite Sizes Round Chips over the cheese.

Bake at 400˚F for 15-20 min, or until the cheese is melted, the chips are extra crispy and the casserole is heated through.

Top with shredded lettuce, tomatoes and sour cream to finish it off. Serve immediately. Enjoy!
Nutrition Information
Calories:
550
kcal
(28%)
,
Carbohydrates:
23
g
(8%)
,
Protein:
31
g
(62%)
,
Fat:
37
g
(57%)
,
Saturated Fat:
15
g
(94%)
,
Cholesterol:
112
mg
(37%)
,
Sodium:
1164
mg
(51%)
,
Potassium:
639
mg
(18%)
,
Fiber:
5
g
(21%)
,
Sugar:
6
g
(7%)
,
Vitamin A:
919
IU
(18%)
,
Vitamin C:
4
mg
(5%)
,
Calcium:
291
mg
(29%)
,
Iron:
4
mg
(22%)