This might just be the perfect lunch!  This Sun Dried Tomato Wrap recipe are the perfect combination of of creamy sun dried tomato spread, wholesome turkey and fresh spinach all rolled up into a bite sized wrap.  They are perfect for taking to work or for an on the go lunch, and since they are bite sized, you can also serve them as a beautiful and tasty to pass up! These Sun Dried Tomato wraps are the perfect addition to a healthy lunch, or a great way to add a more healthy option to an appetizer spread for brunch, a party, or the big game.
Sun Dried Tomato Wrap
There is just something about the combination of foods in these Sun Dried Tomato wraps that makes them kind of addicting. Maybe it is the creamy sun dried tomato spread, or the way it combines with the turkey and the slight crispness of the fresh spinach, but when it is all rolled up into a wrap it becomes extra delicious and I just can't stop eating them!
I have been making this sun dried tomato spread for over 10 years, but for some reason it never really occurred to me to put it in a wrap like this until now. I should probably be fired as chief lunch maker or something because it seems so obvious, but since no one else in the house wants the opening, I will just keep chugging away and try not to let things this tasty pass me by again.
We have a little party we are going to for the biggest football game of the season, and so I started thinking about what to make. I had just whipped up a batch of my sun dried tomato spread to add to a cheese board I am making for a girl's night this week, and so it just kind of sparked this idea. I whipped up a couple of wraps really quickly and I knew it was a keeper!
Now those wraps are long gone, but this recipe for Sun Dried Tomato Wraps is going to stick around for a long time. It really makes a perfect quick lunch, and a healthier option for bringing to a party. I will take all my spinach and artichoke dip appetizers too, but this recipe can give that spread a little variety.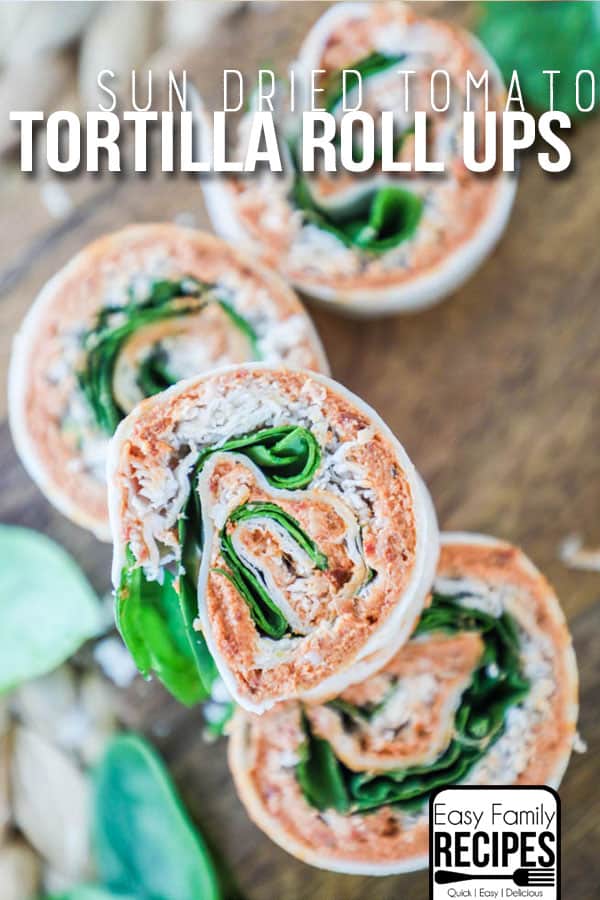 Are Sun Dried Tomato Wraps Healthy?
One of the biggest reasons I fell in love with these wraps are that they taste really great, and are also a lighter option that offers a choice packed with wholesome low fat turkey breast and fresh, nutrient dense, low calorie spinach. The sun dried tomato spread packs a huge punch giving the wrap tons of flavor, and it all comes together in the perfect marriage of flavors. Many of the ingredients in these wraps are part of a healthy diet. However, if you have detailed questions about diet it is always smart to consult your physician or a dietitian.
How to make Sun Dried Tomato Wraps
I will walk you through this recipe here with my notes, tips, and tricks for it. I hope to answer most of your questions about the recipe in this section. If you don't find an answer though, don't hesitate to leave me a comment below. If you want the quick version of the recipe, feel free to scroll down to the full recipe card at the bottom of this post.
Ingredients
Tortillas- You can use regular tortillas in any size for these wraps, the size and quantity I specify are to give you an idea on how I make these. If you prefer a different brand, or size you can certainly go for it! These will work with most sizes of tortillas and the flavors would go well with different flavors of wraps if you would like to try it with spinach, whole wheat or something else. If you find a great combo let me know in the comments
Sun Dried Tomato Spread– This is really the key to the flavor in the Sun Dried Tomato Wraps. You can whip up a batch of this (it is only 3 ingredients and super easy to make) and use it on wraps, as a spread on sandwiches, as a dip, or even just right on top of grilled meat. It is a great thing to keep in the fridge as a condiment and since the flavor is so bold you can use a little and get a ton of flavor.
Turkey Breast– I use Boar's Head Oven Gold and get it shaved. It is really a preference thing so if you have another type you like you can use it instead. I think Boar's Head is the best quality and taste. You can also substitute other meats if you prefer chicken or if you want to make a vegetarian dish, the meat can be totally left out as well and it will still be really tasty.
Fresh Spinach– This really bulks up the wrap and gives adds tons of nutrients and bulks it up to make the wrap feel nice and substantial.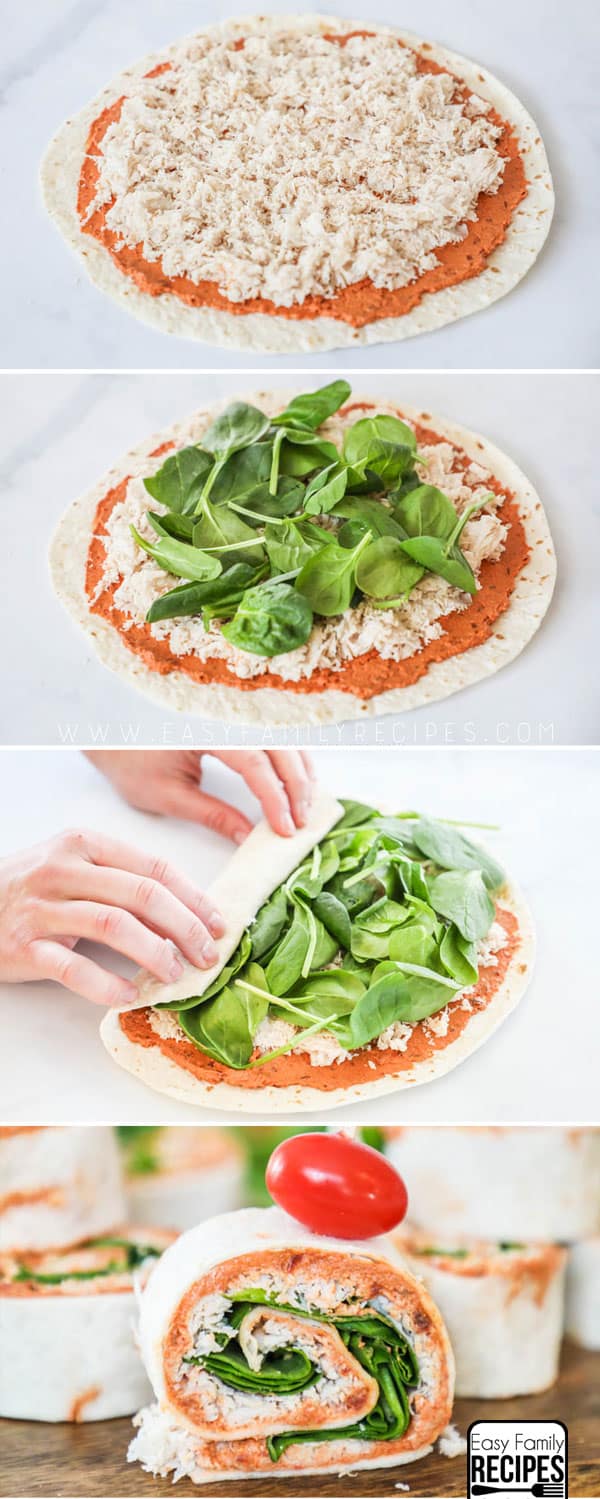 To make the sun dried tomato wraps, really you just assemble and go. A nice thick layer of the sun dried tomato spread gives it something to hold the shape, the turkey adds protein and the spinach brings it together with an extra healthy boost. The trick to making your Sun Dried Tomato Wrap just as pretty as the picture is:
Spreading the layers evenly over the whole wrap
Getting a nice tight roll
Chilling before cutting- this helps everything to firm up a little so it holds it's shape better
Using a serrated knife to cut- this allows you to use a sawing motion that will slice without squishing the wrap
If you prefer you can also just roll the sun dried tomato wrap up and eat it whole, or cut in half, I just think it is too pretty, and that everything tastes better bite sized so this is how I serve it.
I really hope that you enjoy this Sun Dried Tomato Wrap as much as we did! If you get a chance to try it, I would love to hear! Drop me a comment below with your thoughts and let me know what you made it for. Or if you share a picture on social media, make sure and tag me @easyfamilyrecipes. Nothing makes me happier than knowing others are enjoying the recipes I create.
Oh and before you go… If you are like me and need a regular dose of inspiration when it comes to cooking and planning what's for dinner, I would love it if you joined me in my Hungry Email Club! It is free to sign up and I send out emails with what I am cooking up currently and other popular recipes that I have on my to make list. To sign up just click here, or on the button below. Happy Eating!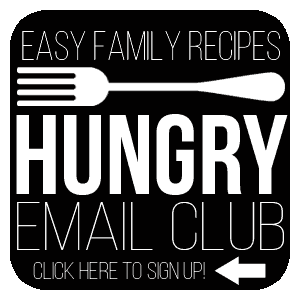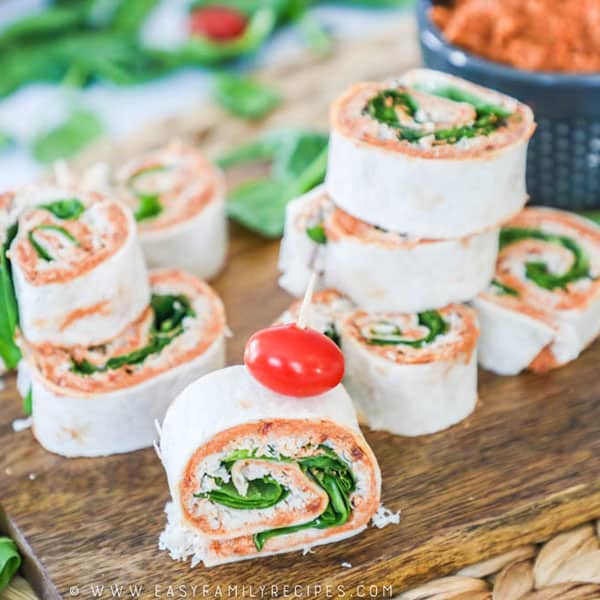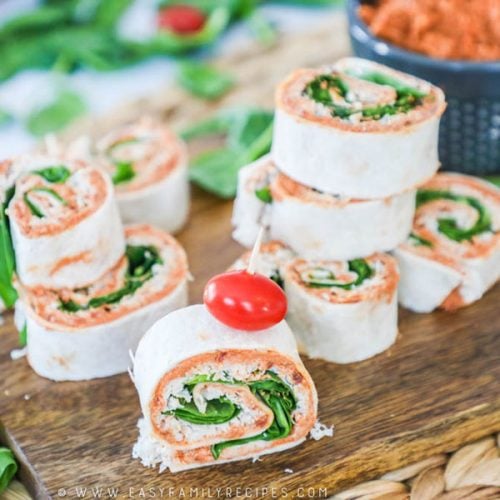 Sun Dried Tomato Wraps
These Sun Dried Tomato wraps are perfect for lunch, brunch, or a wholesome addition for an appetizer spread at a party.  They are filled with sun dried tomato spread, turkey and spinach and once they are rolled they are not only seriously delicious, but beautiful too!
Ingredients
4 12

" wrap style tortillas

1/2

cup

Sun Dried Tomato Spread

8

oz

Boar's Head Oven Roasted Turkey Breast

,

shaved

4

cups

fresh spinach
Instructions
Spread each tortilla with about 2 tbsp of the sun dried tomato spread. Then spread 2 oz of the turkey breast over the spread and top with about 1 cup of fresh spinach.

Starting at one end, tightly roll the tortilla up completely.  Chill for 30 minutes.

Cut the ends off of each side of the wrap so that the ends are even, if desired, then cut the remaining portion into 8 slices.
Recipe Notes
Leftovers can be stored in the refrigerator in an air tight container or zip lock bag for up to 3 days.  The wraps are best when fresh, but can be made ahead of time and stored although the tortillas will take in a small amount of moisture.
Dietary Considerations:
This recipe can be altered to be vegetarian by leaving out the turkey.  In place of it you can add additional veggies like carrot sticks, thin cucumber slices, or diced celery.
Nutrition facts provided based on my best estimation for the recipe and may not be accurate depending on what brands you use or modifications you make to the recipe.  I recommend using a nutrition calculator with the exact brands and measurements you use for the most accurate calculation.
©2018 Easy Family Recipes- Recipe found at: https://www.easyfamilyrecipes.com/sun-dried-tomato-wraps/
Nutrition Information
Serving:
1
wrap (about 8 pieces)
,
Calories:
327
kcal
(16%)
,
Carbohydrates:
43
g
(14%)
,
Protein:
19
g
(38%)
,
Fat:
9
g
(14%)
,
Saturated Fat:
2
g
(13%)
,
Polyunsaturated Fat:
3
g
,
Monounsaturated Fat:
0
g
,
Trans Fat:
0
g
,
Cholesterol:
20
mg
(7%)
,
Sodium:
1094
mg
(48%)
,
Potassium:
0
mg
,
Fiber:
3
g
(13%)
,
Sugar:
7
g
(8%)
,
Vitamin A:
0
IU
,
Vitamin C:
0
mg
,
Calcium:
0
mg
,
Iron:
0
mg