Pineapple Jalapeño Salsa is the coveted combo of FRESH + HEALTHY + EASY! Be warned though, it is so good, it might be hard to stop eating it. It makes the perfect appetizer or dip when served with chips. And it is maybe even MORE delicious served as an entree with chicken, pork, fish or tacos.
Pineapple Jalapeño Salsa – The EASY Way!
There are a few things I really love about this Pineapple Jalapeño Salsa recipe:
It is SO EASY to make! All you need is a few ingredients, along with a cutting board, knife and bowl and you are good to go! No cooking or fancy stuff required!
You can make it ahead. This can be made in advance so you have something easy to pop out in a moment's notice to snack on or take your dinner up a notch.
The flavor is SPOT ON. A little sweet from the pineapple mixed with savory from the peppers, onion and cilantro create the perfect balance where your mouth just wants to dance with each bite you take.
Being born and raised in Texas, I love salsa. Whether you want traditional salsa, mango avocado salsa, or this pineapple variety, salsa fits the bill for a healthy snack and adds tons of flavor when you use it as part of your main dish.
It doesn't get much easier or more delicious in my opinion!
What to Serve with Pineapple Jalapeño Salsa
This dish has delicious sweet and savory flavors, and can be an appetizer or will pair well with many of your favorite main dishes.
You can take a look at the list below for ideas on both ways to serve it.
Appetizer Ideas
Serve with chips
Serve over cream cheese with crackers
Serve with veggie chips (bell peppers, cucumber slices etc)
Main Dish Ideas
You can choose one or add a few sides to make a wholesome, well rounded dinner.
Recipe Notes
This Pineapple Jalapeño Salsa recipe is as simple as promised! Just a few everyday ingredients to make this fresh, delicious salsa.
In this section I am going to go through a few tips and tricks I use when making this recipe to get the absolute best and most delicious results.
Make sure to scroll to the bottom for the FULL recipe card.
Ingredients
Fresh pineapple – I recommend using a nice fresh pineapple – see the section below on how to pick out a good pineapple! If you are in a pinch you can use canned pineapple rings or chunks that have been drained well and diced.
Red bell pepper– I love red most for the color and flavor, but orange or yellow will work too.
Green bell pepper
Jalapeño pepper– Jalapeño pepper is traditional for this dip, however, you can use other flavors of peppers such as serrano or habanero if you prefer with great results.
Red onion
Cilantro– the recipe calls for 1/4 cup, but if you are a cilantro lover like me, feel free to add up to double the amount! I just like to make sure it is really finely chopped to keep it flavoring the dish and not get overpowering bites.
Lime juice– FRESH is best!
Salt– just a little goes a long way. This will help the flavors develop and marry in the salsa.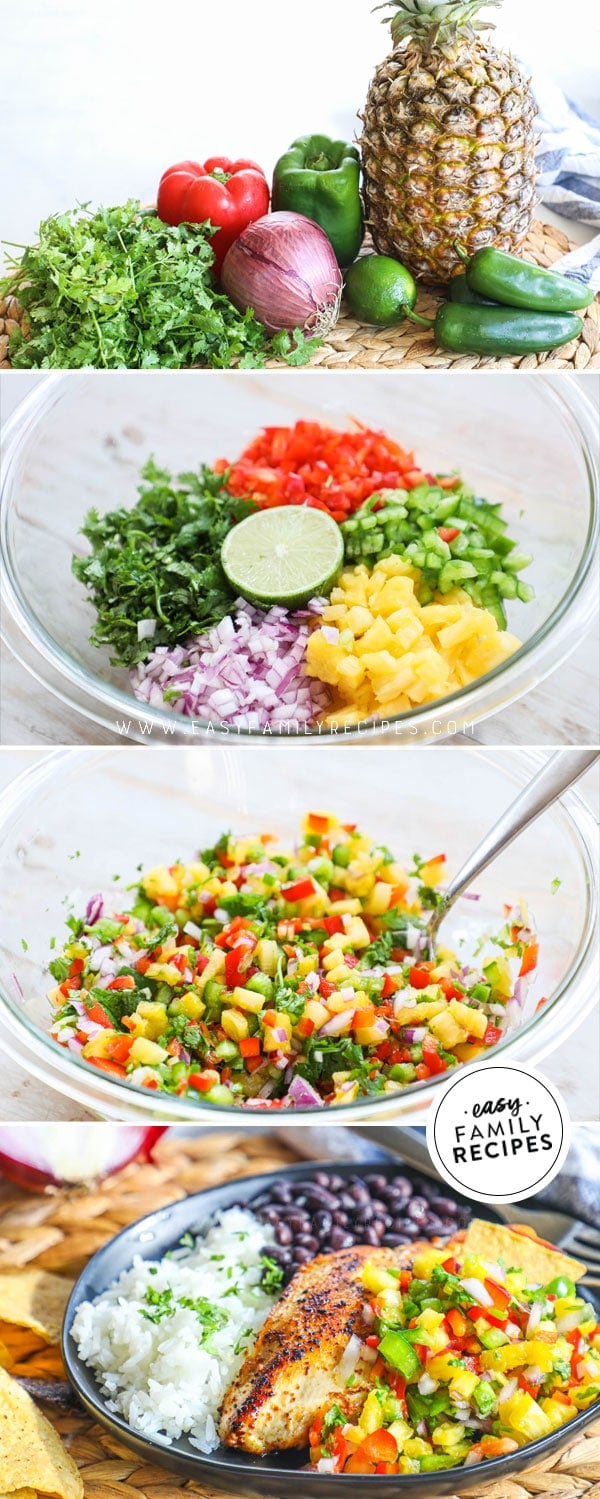 Recipe Tips
Fresh is best– This recipe is best when using fresh ingredients. If at all possible, use fresh pineapple, fresh lime juice, fresh cilantro etc!

Pick the perfect pineapple – Since pineapple is the star of the show, picking out a great one at the store and then waiting until it is perfectly ripe is key.

The most important factors for picking a pineapple are:

Weight- The pineapple should feel heavy for its size
Firmness- You want the pineapple to feel firm with a slight give
Smell- when smelling the base, you want a aromatic and tropical fragrance
Color- This is not as important. Pineapples can be yellow, green or brown when ripe.


Finely chop– As with all of salsa recipes, I recommend chopping as finely as you can. This will allow the flavors to combine more fully when you eat the salsa. This goes for the pineapple, to the peppers, and even the cilantro!

Let it sit– You can dig into the Pineapple Salsa right away, but it will be even better in 30 minutes when the flavors have had time to distribute a bit. If you aren't in a big rush, this is a great thing to do!
Recipe Short Cuts
If you need to make this recipe, but are extra short on time, here are a few ideas that can help make this recipe even faster!
Pre-chop ingredients– The ingredients for this salsa can be chopped up to 48 hours in advance. When ready to make the salsa, just drain any excess liquid and combine.
Make Ahead– The salsa can be made completely up to 24 hours in advance and stored in the fridge for peak freshness.
Freeze– See notes below for freezer instructions.
Recipe Variations
If you love this recipe as much as we do and want some quick ways to change it up for variety, these little tips will do the trick!
Grilled Pineapple Salsa– Making this salsa with GRILLED pineapple takes the flavor to a whole new level. If you have the time I highly recommend it. Lightly oil, then place pineapple slices on the grill over medium heat for 2-4 min per side. Then dice and continue with recipe as directed.
Pineapple Avocado Salsa– Make recipe as directed adding 1 diced avocado and 1 tsp vegetable oil to the mix.
Pineapple Black Bean Salsa– Make salsa as directed adding 1/2 cup of drained and rinsed black beans and 1/4 tsp cumin to the mixture.
Dietary Considerations
If you have special dietary needs, this recipe meets many and can be easily modified to comply with others.
As always, check all store bought ingredients for compliance on specific dietary needs. The notes below are a general guide.
Gluten free: This recipe is naturally gluten free.
Dairy free: Pineapple Salsa is naturally dairy free.
Nut free: This recipe is naturally nut free.
Egg free: This recipe is naturally egg free
Macros: The approximate macro calculation for this recipe is- P: 1g C: 6g F: 1g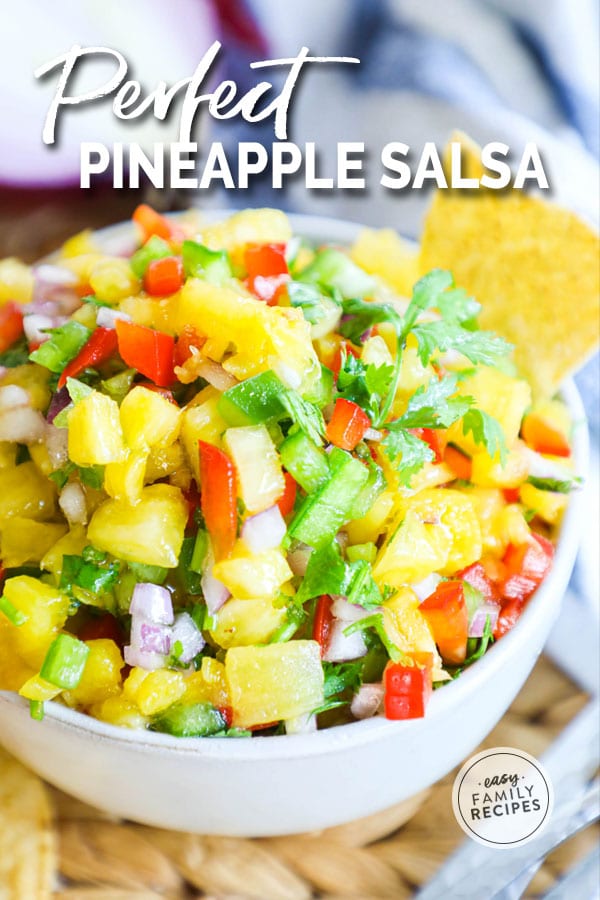 Freezer Instructions
Pineapple Salsa can be frozen with good results. Although there will be some change in texture after it is thawed. You will find that the peppers and onion have a softer texture (less crunch,) but the flavor is still great.
Finely dice the pineapple, bell pepper, jalapeño, and onion.
Combine with the salt and lime juice.
Place in a freezer bag or freezer friendly container and freeze.
When ready to serve, thaw and mix in freshly chopped cilantro.
Pineapple Jalapeño Salsa Leftovers
If you have leftovers after making Pineapple Jalapeno Salsa, then it is your lucky day! You can keep them in the fridge and use it for an easy healthy snack or to add flavor to another meal.
To save leftovers, place in an airtight container and store in the refrigerator for 3-4 days.
Leftover Recipes
Here are a few ways to repurpose those leftovers and give them a delicious makeover!
Hawaiian Salad– Add pork, chicken or fish to a bed of greens, spoon on black beans, pineapple salsa and green onions. Dress with a drizzle of olive oil and some fresh lime juice.
Grilled Chicken Wrap– On a large flat bread spread a thin layer of mayonnaise, then add grilled chicken, shredded cabbage, pineapple salsa. Add a drizzle of sriracha if you want more kick! Wrap and enjoy!
Pepper Nachos– Half mini peppers and remove the seeds and stems. Lay them out on a baking sheet and pile with cheese, black beans, and corn. You can add meat if desired (chicken, pork, steak, or fish all work well) then bake at 425˚F for 5-10 minutes or until the cheese is melted. Take them out and top with pineapple salsa.
More Easy Appetizer Recipes
If you enjoyed this recipe, I really hope you will take a moment to grab a few more easy recipes for another busy night!
You can check out all of my Easy Appetizer recipes here, or see a few of our readers favorite recipes below.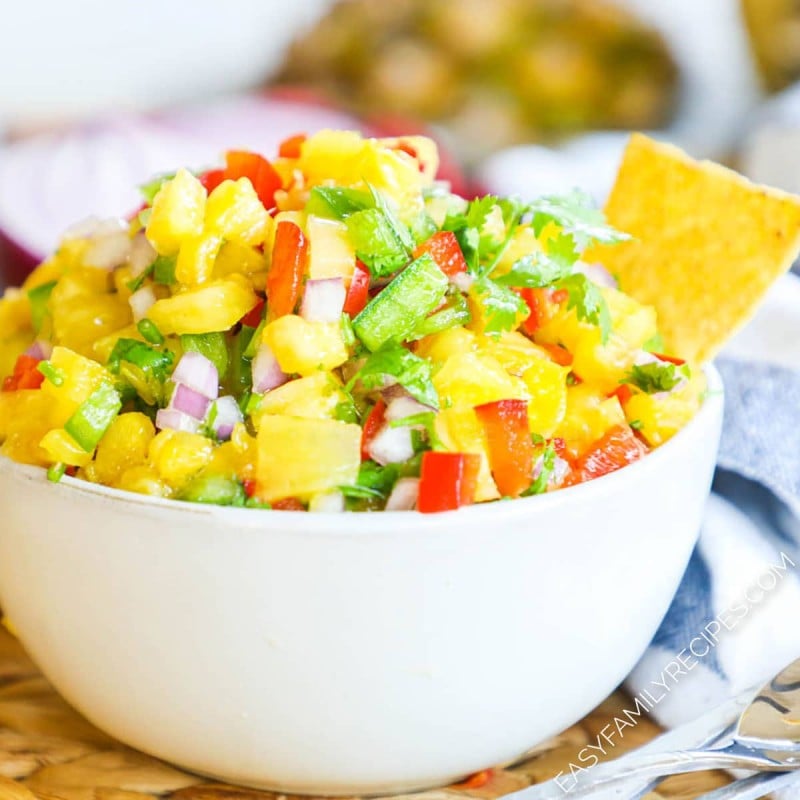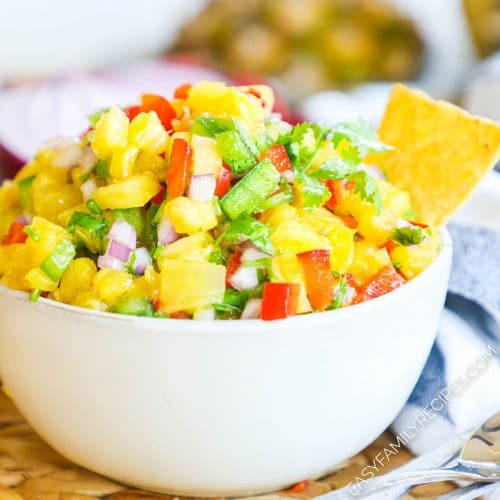 Pineapple Jalapeño Salsa
This Pineapple Jalapeño Salsa uses fresh ingredients for the perfect combination of sweet and savory with a little kick! It can be the perfect appetizer, or makes a great addition to a main dish.
Ingredients
1.5

cups

fresh pineapple

1/2

red bell pepper

1/2

green bell pepper

1

jalapeno pepper

,

ribs and seeds removed (optional)

1/4

cup

red onion

1/4

cup

cilantro

1

tbsp

lime juice

1/8

tsp

salt
Instructions
Finely dice the pineapple, bell pepper, jalapeno, onion and cilantro. Note, you can leave the jalapeno out all together for no spice, or if you want more spice you can add an extra jalapeno pepper, or leave in the seeds and ribs for extra heat.

Mix all of the ingredients together in a medium bowl until combined.

Refrigerate for at least 30 minutes to let the flavors meld.
Recipe Notes
Leftovers can be stored in an airtight container in the refrigerator for 3-5 days.
Try serving with:
Grilled Chicken
Pork Chops
Pork Tenderloin
Salmon
Fish Tacos
BBQ Pork
Nutrition Information
Calories:
22
kcal
(1%)
,
Carbohydrates:
6
g
(2%)
,
Protein:
1
g
(2%)
,
Fat:
1
g
(2%)
,
Saturated Fat:
1
g
(6%)
,
Sodium:
38
mg
(2%)
,
Potassium:
70
mg
(2%)
,
Fiber:
1
g
(4%)
,
Sugar:
4
g
(4%)
,
Vitamin A:
331
IU
(7%)
,
Vitamin C:
33
mg
(40%)
,
Calcium:
4
mg
,
Iron:
1
mg
(6%)