This Lemon Vinaigrette Dressing is just the perfect amount of tangy and sweet. The fresh flavor of lemon shines though every bite, but the best part is that you won't believe how simple it is to make. This dressing goes well with everything from a simple side salad to dressing more hearty veggies like kale and brussel sprouts. With less than 10 ingredients, it is easy to whip up and perfect to keep in the fridge.
Homemade Lemon Vinaigrette Dressing Recipe
Admission: I love to cook, but I also love to eat out. A lot.
When you go out to eat, someone else does the work, makes the mess, hands you (hopefully delicious) food, and then cleans up the mess! It is awesome, and much needed for a break from the kitchen and the routine many times.
One of the other things I love about eating out is that it gives me the chance to try new things and flavors that I haven't experimented with as much myself. This recipe here was born from one of those moments!
I had a kale salad that was so good I might never forget it, and immediately needed to try to figure out how to recreate the dressing. I ordered an extra to take home, and spent the next day tasting the dressing and playing with recipes and in the end TOTALLY NAILED IT!
I am super excited to share the Lemon Vinaigrette Dressing recipe with you today because it made me love kale, and if a dressing can make you dream about kale, you know it has got to be really… REALLY good!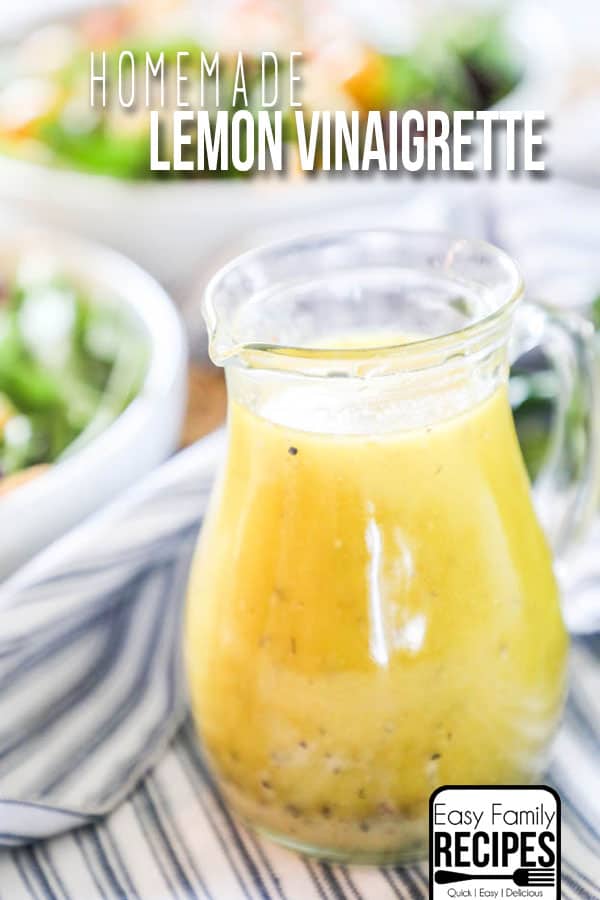 ---
How to Use Lemon Vinaigrette Dressing
This simple salad dressing can be used on salad and so much more! Here are a few of my favorite ways to use it:
As a Salad Dressing:
Kale Salad- This is the first way I had this dressing and it really is amazing. Toss kale pieces with lemon vinaigrette, fresh parmesan shavings and toasted almonds for a salad you won't forget!
Berry Salad- The sweetness of the berries paired with the tartness of the lemon is devine! Toss Spinach, arugula, your choice of fresh berries and walnuts with this lemon vinaigrette dressing and sprinkle with goat cheese.
California Salad- Toss Mixed greens with Lemon Vinaigrette then top with sliced avocado, dried apricot pieces, and sunflower seeds.
Greek Salad- Lemon flavor is traditional in greek cuisine, so adding this Lemon Vinaigrette to dress your greek salad works perfectly with the flavors! Toss romaine lettuce with tomatoes, thinly sliced red onion, kalamata olives, cucumber, and feta cheese then dress with the Lemon Vinaigrette.
Other ways to use Lemon Vinaigrette:
As a dip- If you are having guests, especially in the spring or summer, this Lemon Vinaigrette is perfect to serve as a fresh flavorful option with a plate of veggies or platter of crudites.
As a marinade- Marinade chicken in this dressing for 30 minutes to 2 hours and then grill to perfection.
Roasting vegetables- Toss vegetables in the Lemon Vinaigrette, then spread on a baking sheet and bake at 425˚F until they are just tender.
---
How to Make Lemon Vinaigrette Dressing
I am going to walk through a few tips and frequently asked questions on making this salad dressing below. Make sure you scroll to the bottom of the page to get the full recipe for this Lemon Vinaigrette Dressing.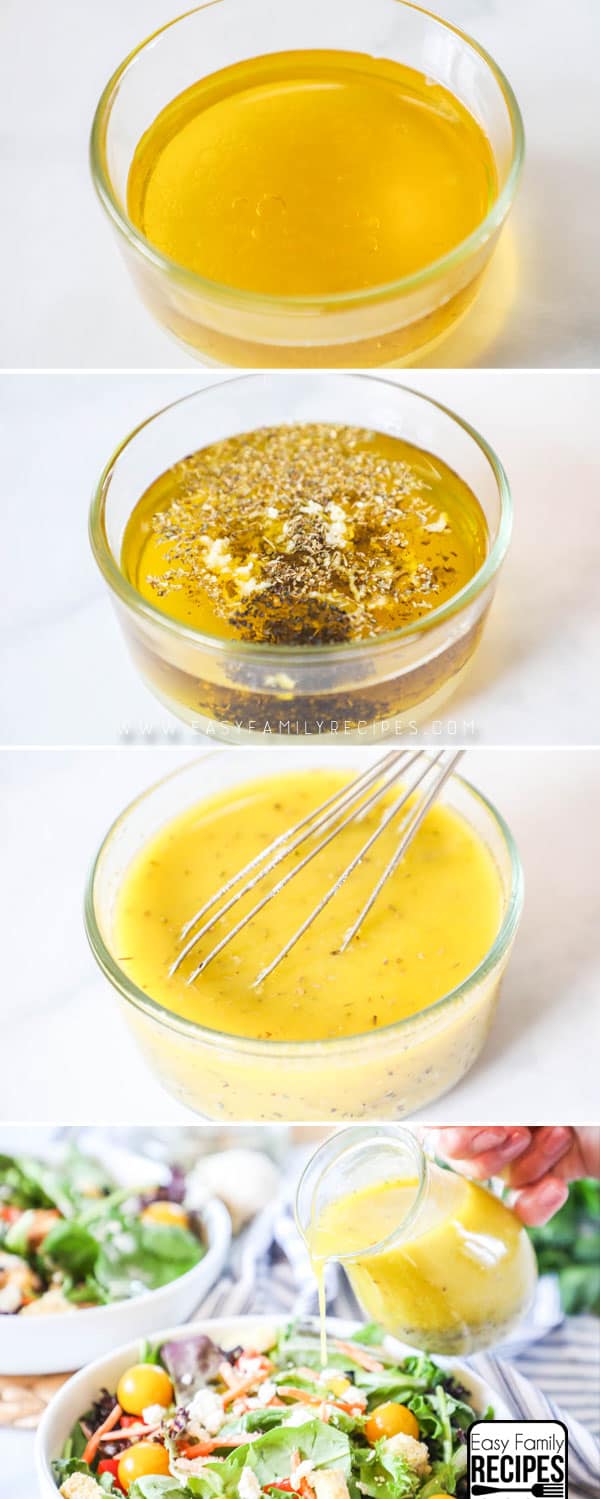 Q: Do I have to use olive oil to make this dressing? Can I substitute other oils like vegetable oil, canola oil etc?
A: Yes, I think olive oil is important to the flavor of the dressing so I recommend that is what you use. If you are in a pinch, you could try a different oil and it could work, but will probably have a different flavor than the recipe.
Q: Do I have to use sugar in this recipe?
A: I tried the dressing without the sugar and found it much too bitter. The sugar is an important ingredient in salad dressing since just a small amount helps to cut the acidity of the lemon and brings the salad dressing from bitter to wonderfully flavorful. If you are trying to avoid white sugar, you could try using a natural sweetener like honey, instead but you will need to mix carefully so that it completely dissolves in the dressing. Alternatively you may be able to use a sugar substitute. I haven't tried using artificial sweeteners in salad dressing, but I have done some research and think it may work, but since most are fairly concentrated and sweeter than sugar in their natural forms, you may need to reduce the amount you add.
Q: I don't have fresh lemons, can I use packaged lemon juice?
A: I would highly recommend against this. The packaged lemon juices have a different flavor and won't give you the same fresh and delicious lemon dressing.
Q: How long can I keep this salad dressing in the refrigerator?
A: You can store the Lemon Vinaigrette Dressing in the fridge for up to a week.
---
I hope that you get a chance to try this Lemon Vinaigrette Dressing (especially on the kale salad!) and that you love it as much as I do!
If you do get a chance to try it, I would love it if you let me know! You can leave me a comment below, or if you post a picture on Instagram, make sure to tag me @easyfamilyrecipes so that I can see what you are cooking up! It makes my day to see others enjoying the recipes that I share!
Oh and before you go!… If you need a regular rotation of recipe inspiration like me, make sure to sign up to get our emails! I send out my new favorites, the recipes my family has been devouring, and some of the best tried and true recipes. It is easy and free of course! You can click here to sign up.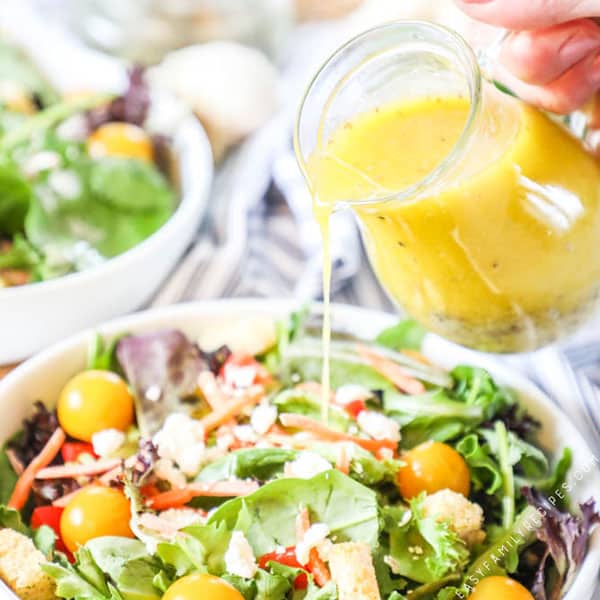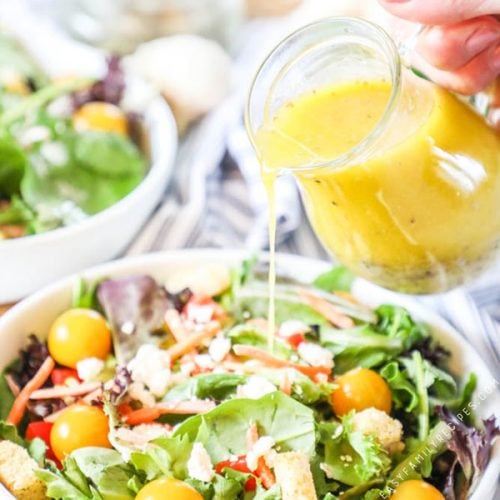 Lemon Vinaigrette Dressing
This Lemon Vinaigrette Dressing is filled with the fresh flavors of lemon and herbs and perfect to toss with a salad or use as a dip or marinade.
Ingredients
3/4

cup

olive oil

1/2

cup

fresh lemon juice

2

tbsp

white vinegar

1

tbsp

dijon mustard

2

cloves

garlic

,

pressed

2

tsp

white sugar

1

tsp

dried oregano

1/2

tsp

salt

1/4

tsp

pepper
Instructions
Combine all ingredients in a dressing container or mason jar.

Whisk well until the dressing is emulsified (combined well and not separating)

Store in an airtight container in the refrigerator until ready to use.  Whisk or shake well before each use. Enjoy!
Recipe Notes
Dietary Considerations:
This recipe is naturally gluten free and dairy free, please double check any ingredients used for compliance.
Nutrition facts provided based on my best estimation for the recipe and may not be accurate depending on what brands you use or modifications you make to the recipe.  I recommend using a nutrition calculator with the exact brands and measurements you use for the most accurate calculation.
©2018 Easy Family Recipes- Recipe found at: https://easyfamilyrecipes.com/perfect-lemon-vinaigrette-dressing/
For more great easy dinner inspiration, sign up for our emails here!
Nutrition Information
Serving:
1
Tbsp
,
Calories:
65
kcal
(3%)
,
Carbohydrates:
1
g
,
Protein:
0
g
,
Fat:
7
g
(11%)
,
Saturated Fat:
1
g
(6%)
,
Polyunsaturated Fat:
6
g
,
Monounsaturated Fat:
0
g
,
Trans Fat:
0
g
,
Cholesterol:
0
mg
,
Sodium:
49
mg
(2%)
,
Potassium:
0
mg
,
Fiber:
0
g
,
Sugar:
1
g
(1%)
,
Vitamin A:
0
IU
,
Vitamin C:
0
mg
,
Calcium:
0
mg
,
Iron:
0
mg