These Million Dollar Deviled Eggs live up to their rich name as the ultimate holiday appetizer! These easy deviled eggs are rich with flavor. They are loaded with crispy bacon and creamy yolks, enhanced with a touch of butter for an ultra creamy, irresistible flavor. Perfect for Easter, Christmas, or any potluck or gathering, these deviled eggs are sure to be a hit.
This post is sponsored by Challenge. All recipes, tips, and opinions are cooked up right here at Easy Family Recipes.
Deviled Eggs- The EASY Way!
Deviled Eggs are a family favorite around here. I have made tens of thousands of them over the years, and tried countless varieties and variation. There are few that can stand up to these Million Dollar Deviled Eggs.
Some call these secret ingredient deviled eggs, because they use Challenge Butter to make the filling so rich and velvety! Since we take that ultra creamy filling and top it with our classic Million Dollar ingredients, we level this recipe up even more! (More on this below!)
Inspired by our Million Dollar Dip (and Million Dollar Chicken!) the addition of bacon and chives take the classic deviled egg and add the perfect complimentary flavors.
Why I LOVE this recipe!
QUICK and EASY– When you have the ingredients ready, you can whip these up in as little as 5-10 minutes!
Extra Rich and Velvety– The Challenge butter takes the filling to the next level! Worthy of that Million Dollar name. Challenge is my go to and what I always keep on hand in my kitchen since the ingredients are simple, but the flavor is so robust!
All the flavor– The only thing better than deviled eggs, is deviled eggs with BACON! Am I right?!
Perfect for the holidays– These are great to use up Easter eggs, or as an appetizer for Thanksgiving or Christmas, or even just any old potluck you may need a dish for.
Recipe Notes
This Million Dollar Deviled Eggs recipe is as simple as promised! Just a few ingredients for a family friendly appetizer.
In this section I am going to go through a few tips and tricks I use when making this recipe to get the absolute best and most delicious results.
Make sure to scroll to the bottom for the FULL recipe card.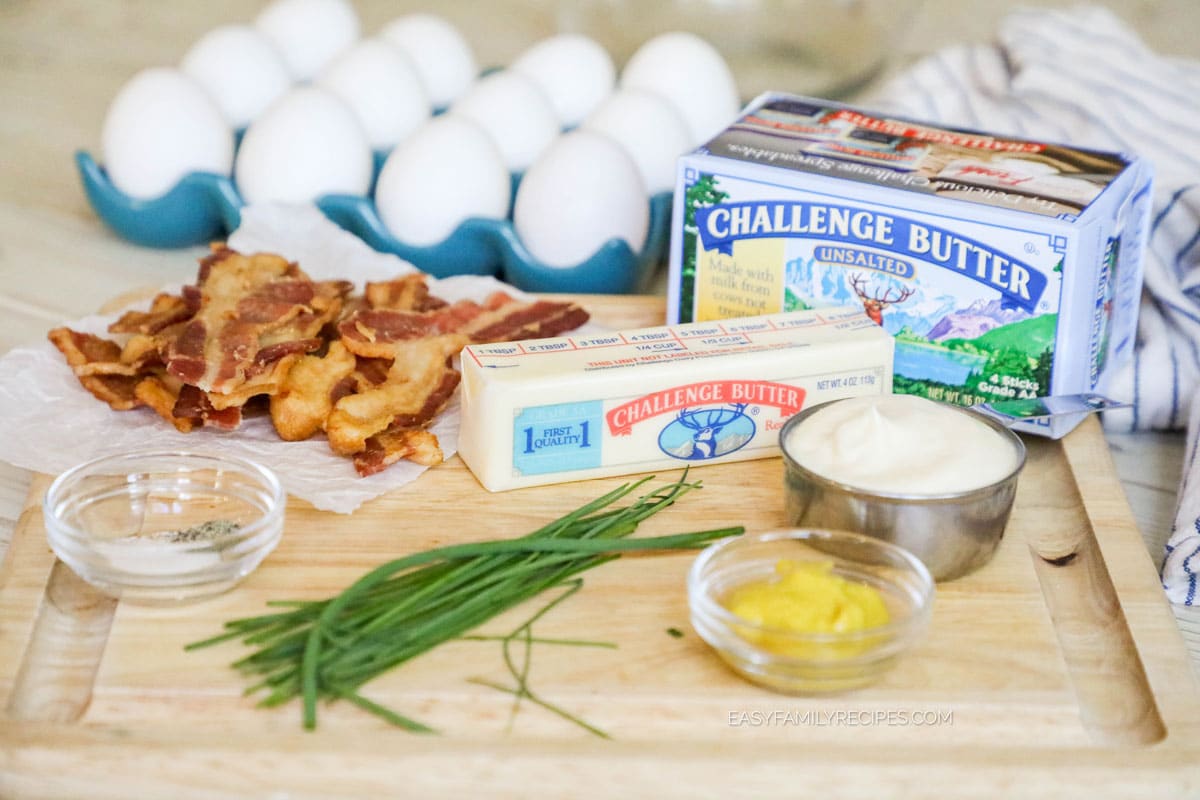 Ingredients + Substitutions
Hard boiled eggs– You can prepare the hard boiled eggs, any way you like! Popular methods for hard boiled eggs to make deviled eggs are boiling the eggs, using the pressure cooker, or baking the eggs in the oven. I like to use my pressure cooker to make the eggs because they always peel so easily.

Mayonnaise– Regular mayonnaise will provide the most neutral flavor for making deviled eggs. You can also use light mayo, or a substitute but it will alter the flavor.

Challenge Butter– This is the SECRET ingredient that makes the filling so velvety! You can use either salted or non-salted butter. Both work well, and you won't tell much flavor difference in the finished deviled eggs.

I always use Challenge Butter because it is made with simple ingredients and the best rich, buttery flavor. It's farmer-owned and churned fresh daily. I love both the flavor and the short simple ingredient list!

Yellow mustard– For an easy classic flavor use yellow mustard. For a bit more depth of flavor and tang, you can substitute dijon mustard instead.

Sweet pickle relish– This is optional and I didn't add it in the eggs photoed. The sweet relish will give you more of a southern twist to the deviled eggs, but it also makes it impossible to get the filling as smooth, so it is optional based on taste preference.

Salt and pepper

Crispy crumbled bacon– Using freshly crumbled crispy bacon is the cherry on top for these deviled eggs. For the best flavor use fresh crispy bacon. I love using this method for crispy bacon in the oven, but you can cook the bacon by whatever method you prefer.

Freshly chopped chives– The last little bit of flavor. Chives are the best fit size-wise for the eggs, but you can use green onions as a substitute if needed.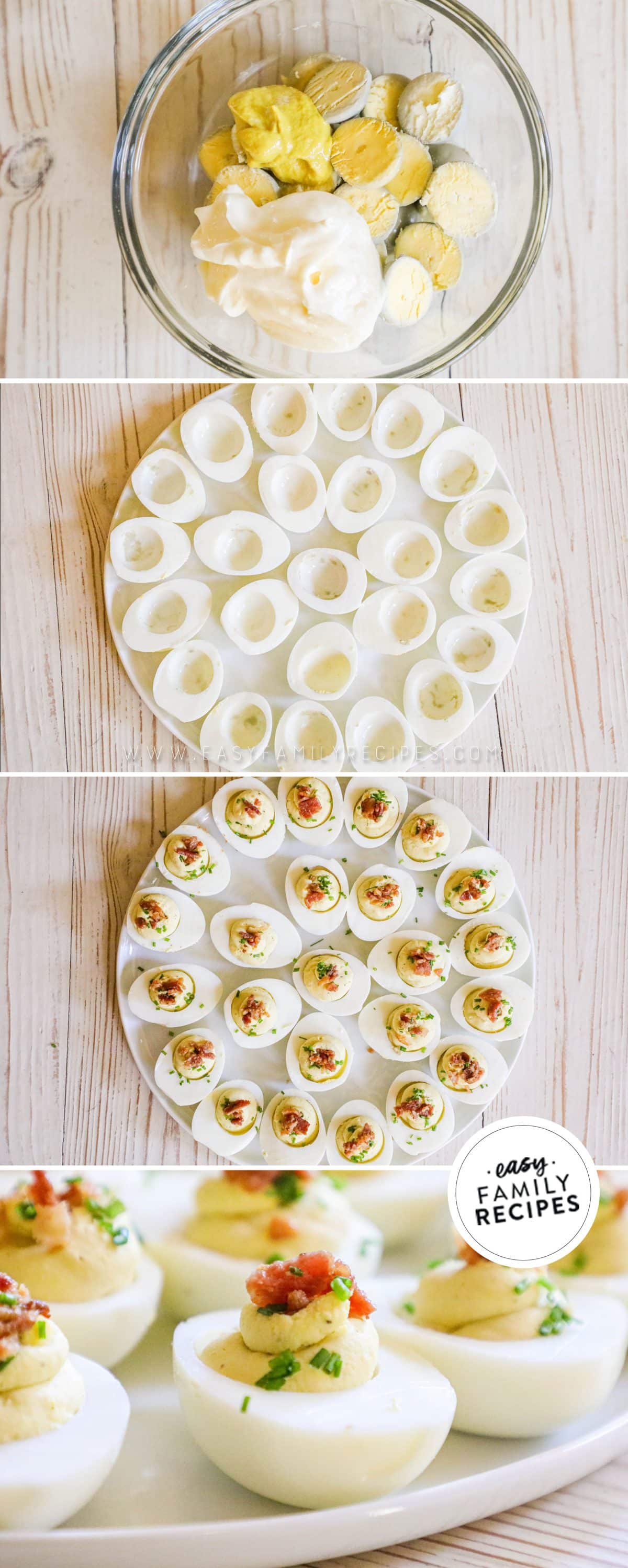 Recipe Tips
Secret Ingredient– Butter has long been the secret ingredient for getting the most velvety deviled egg filling. It does enhance the richness of the filling some, but mostly it helps to add to the smooth, velvety texture of the filling of the deviled eggs and help it hold it's shape and makes it worth of the name Million Dollar Deviled Eggs!

Top with Bacon– In the recipe for some deviled eggs with bacon you will find bacon mixed into the yolk mixture. I prefer to leave it out of the mixture, and just add it to the top of the eggs for two reasons:

It keeps the filling luxuriously smooth
It keeps the bacon crispy and at the ultimate point of flavor and texture


Chilling Tips– The hard boiled can be served immediately or chilled until you are ready to serve. If you choose to chill the eggs first, I recommend leaving the bacon separate and add it only just before serving to keep it at its crispiest.
Recipe Short Cuts
If you need to make this recipe, but are extra short on time, here are a few ideas that can help make this recipe even faster!
Make eggs ahead– hard boiled eggs can be kept for up to 7 days in the refrigerator, so they are easy to make in advance and have ready when you need them to make deviled eggs.

Make Filling ahead– You can mix up the yolk filling up to 48 hours in advance and fill the eggs once ready to serve.

Make Bacon ahead– I like to make big batches of bacon and then just reheat in the microwave, oven, or skillet quickly before I need to use it. I use the bacon in the oven method to make large quantities and then freeze the extra!
Recipe Variations
If you love this recipe as much as we do and want some quick ways to change it up for variety, these little tips will do the trick!
Cheddar Bacon Deviled Eggs– Make the deviled eggs as directed adding 1/2 cup of finely shredded cheddar cheese into the yolk mixture. Top with bacon, chives and a little extra sprinkle of cheddar cheese.

Spicy Deviled Eggs– Make deviled eggs as directed, adding 1 tablespoon of hot sauce to the egg mixture. Top the eggs with bacon, chives, and your choice of freshly sliced jalapeno, or a tiny sprinkle of cayenne pepper.

Salmon Deviled Eggs– Make the million dollar deviled eggs as directed, except replace the bacon with thinly sliced salmon.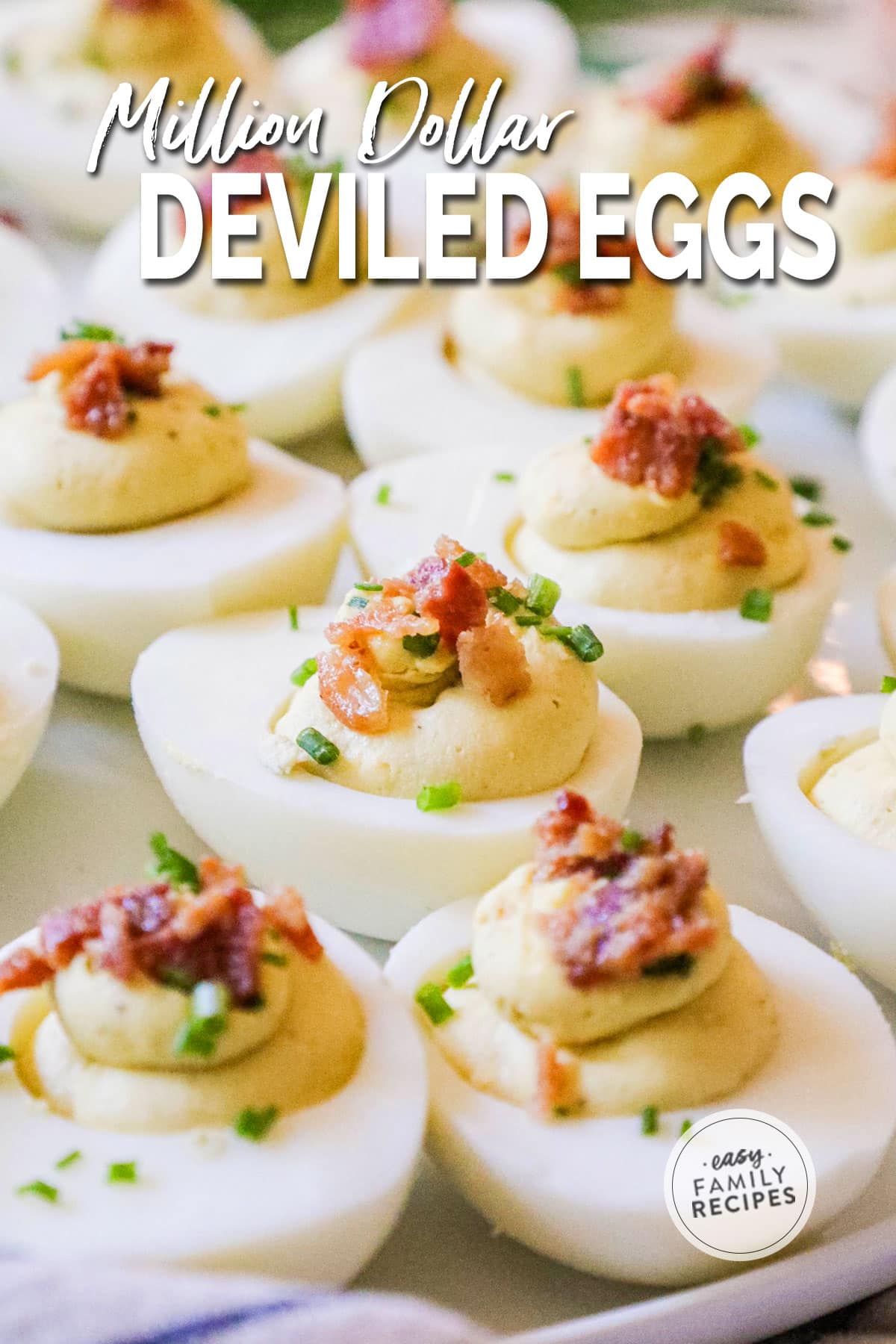 Million Dollar Deviled Eggs Leftovers
If you have leftovers after making these deviled eggs with bacon, then they can be saved and make a great snack or addition to a light lunch.
To save leftovers, place in a covered container or tightly wrap with plastic wrap and store:
in the refrigerator for 3-4 days
If you have the option, I prefer to leave the bacon off the ones that I am storing in the refrigerator for later. If the bacon is already on them, it will still be save, but the bacon will not stay crispy.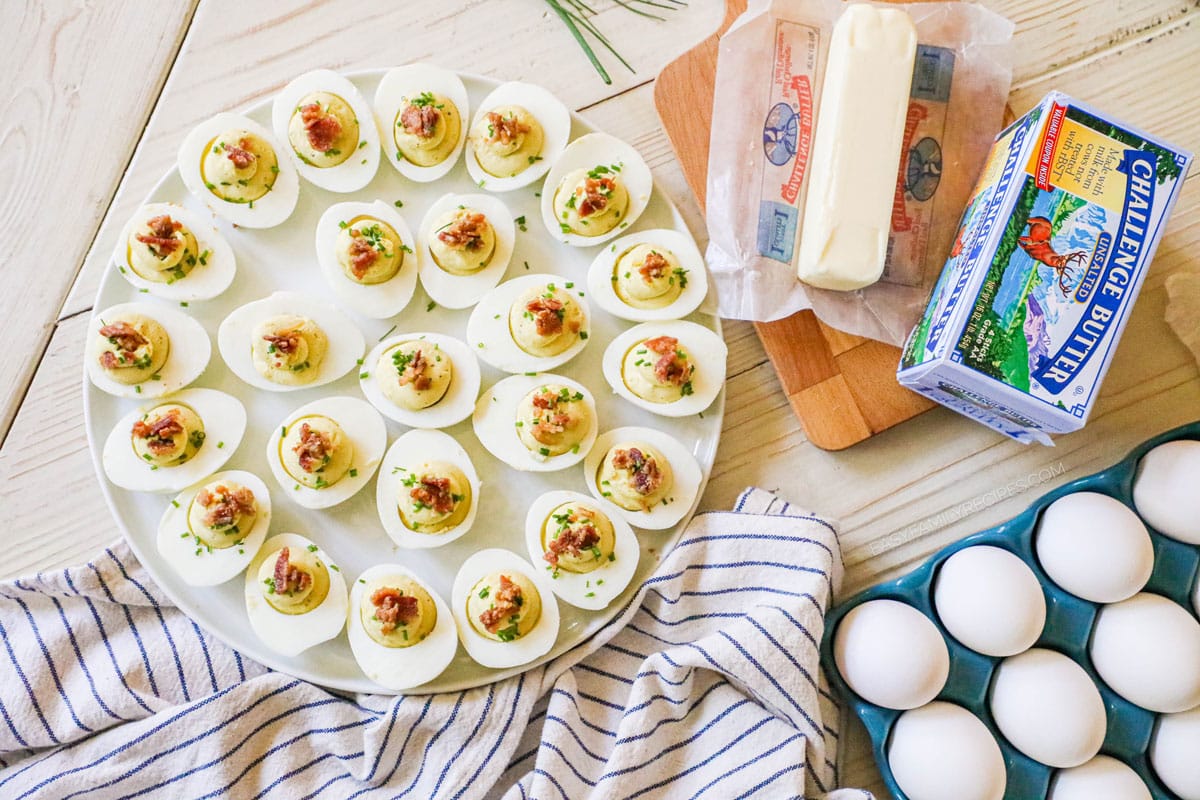 More Easy Appetizer Recipes
If you enjoyed this recipe, I really hope you will take a moment to grab a few more easy recipes for another busy night!
You can check out all of my ||||| recipes here, or see a few of our readers favorite recipes below.
And more MILLION Dollar recipes!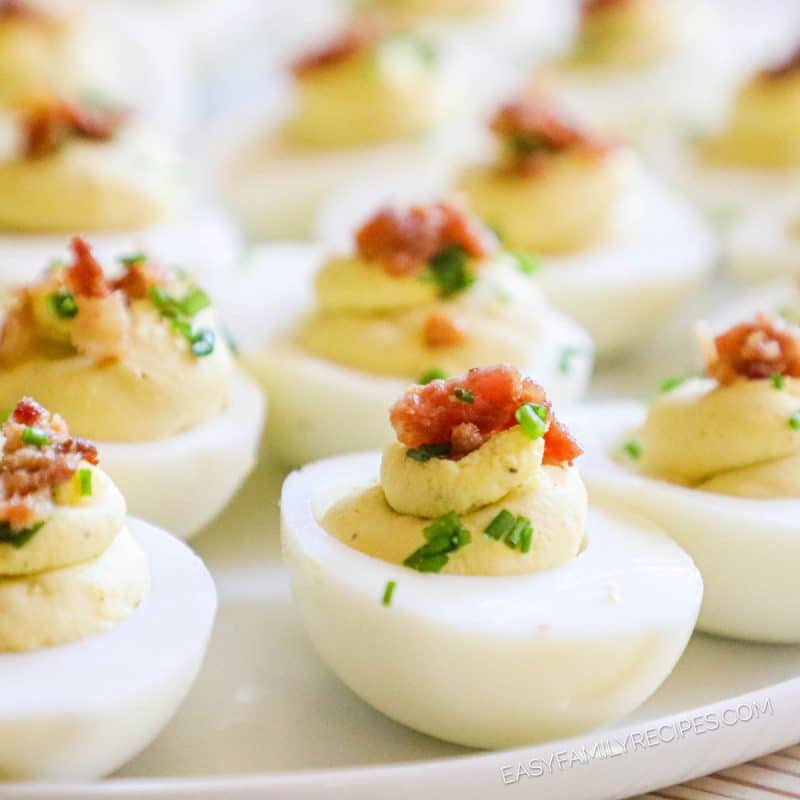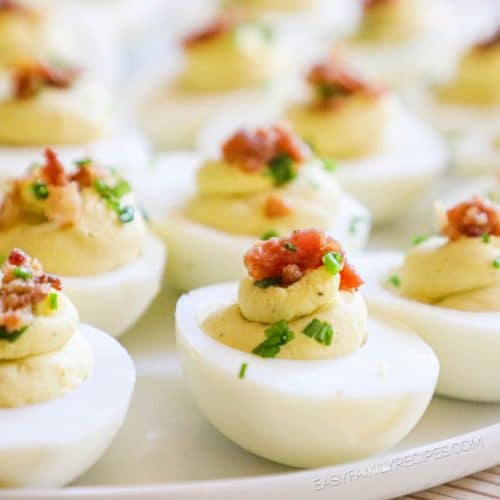 Million Dollar Deviled Eggs
These million dollar deviled eggs are the ultimate party appetizer. Made with crispy bacon and creamy yolks, and enhanced with a touch of butter, they offer a rich, indulgent taste. Plus, they are so easy to make, and require only a few ingredients. Whip up a batch in minutes, and watch as they disappear from the platter. Perfect for any gathering, these deviled eggs are the perfect bite-sized treat to serve for Easter, Christmas, Thanksgiving or any other occasion.
Ingredients
12

hard boiled eggs

⅓

cup

mayonnaise

,

or more to desired consistency

2

tablespoons

Challenge Butter

,

melted (salted or non-salted both work)

2

teaspoons

yellow mustard

2

tablespoons

sweet pickle relish

,

optional

1/4

teaspoon

salt

1/4

teaspoon

ground pepper

2

tablespoons

crispy crumbled bacon

,

(or bacon bits)

1

tablespoon

freshly chopped chives
Instructions
Peel boiled eggs and cut each in half lengthwise. Arrange the whites on a plate or platter cut side up.

Add the yolks to a medium bowl, and add mayonnaise, melted Challenge Butter, mustard, pickle relish (optional), salt, and pepper. Mix until combined. You can use a fork, or to get it extra smooth, use a hand mixer or hand blender.

Scoop or pipe the deviled egg mixture into each egg white, then top with crumbled bacon and chopped chives.

Eggs can be chilled for up to 6 hours, or served immediately.
Recipe Notes
How to make Hard Boiled Eggs:
Boiling Hard Boiled Eggs
Place eggs in a pot and add enough cold water to cover them by about 1 inch.
Place the pot on the stove over high heat and bring the water to a rolling boil.
Once the water is boiling, reduce the heat to low and let the eggs simmer for 10-12 minutes.
Carefully remove the eggs from the pot with a slotted spoon and transfer them to a bowl of ice water to cool. Let them cool for at least 5 minutes, then either peel, or dry and transfer to the refrigerator.
Pressure Cooker Hard Boiled Eggs
4-4-4 Method
Pour 1 cup of water into the pressure cooker and place a steamer basket or trivet in the bottom.
Add eggs to the steamer basket or trivet, making sure they are not touching the sides of the pot.
Close the lid and make sure the valve is set to "Sealing."
Select high pressure and set the timer for 4 minutes.
After the cooking time is up, let the pressure cooker naturally release pressure for 4 minutes, then use the quick release to release any remaining pressure.
Transfer the eggs to a bowl of ice water to cool for 4 minutes, then either peel, or dry and transfer to the refrigerator.
Baked Hard Boiled Eggs
Preheat the oven to 325°F.
Place eggs in a muffin tin or on a baking sheet lined with parchment paper.
Bake the eggs for 25-30 minutes.
Once done, transfer the eggs to a bowl of ice water to cool.
Let the eggs cool for at least 5 minutes, then either peel, or dry and transfer to the refrigerator.
Nutrition Information
Serving:
1
deviled egg
,
Calories:
72
kcal
(4%)
,
Carbohydrates:
1
g
,
Protein:
3
g
(6%)
,
Fat:
6
g
(9%)
,
Saturated Fat:
2
g
(13%)
,
Polyunsaturated Fat:
2
g
,
Monounsaturated Fat:
2
g
,
Trans Fat:
0.04
g
,
Cholesterol:
98
mg
(33%)
,
Sodium:
115
mg
(5%)
,
Potassium:
34
mg
(1%)
,
Fiber:
0.04
g
,
Sugar:
1
g
(1%)
,
Vitamin A:
182
IU
(4%)
,
Vitamin C:
0.1
mg
,
Calcium:
14
mg
(1%)
,
Iron:
0.3
mg
(2%)