Have leftover barbacoa beef? Then this recipe for barbacoa burritos is perfect for you! Perfectly juicy meat, tons of fun toppings, and easy to throw together makes this burritos one of my absolute favorites!
Barbacoa Burrito – The EASY Way!
Burritos are one of those meal that I can often be found serving or buying. They are portable, easy to make, and filled with so much flavor in every bite!
This particular recipe is designed to be used with leftover beef barbacoa, although if you don't have any, it is super easy to whip up a batch in your slow cooker, or pick some up pre-made at a store or restaurant.
Why I LOVE this recipe!
Quick & Easy – Leftover recipes are just the best. Using leftover beef barbacoa makes these burritos ready to eat in under 10 minutes with very minimal work!

Versatile – When making a burrito, they do not all need to be the same, I mean that's why Chipotle is as successful as it is. Because you can customize! The same is true for this recipe, add the beef to the tortilla and then everyone gets to add their own toppings. Kids want just bean, beef, and cheese? Make that! Grandparents want avocados and spice? Add a spicy green salsa and guacamole!

Make What You Need – With leftovers, you are sometimes limited to what you can make but that is also a good thing. This is because you can use leftovers to make a burrito just for yourself or for your four person family – make whatever you need! And, if you are making these burritos with fresh barbacoa, then make as much meat as you need and then some to have leftovers.

SO MUCH Flavor – Barbacoa is my favorite way to make beef because after throwing t all in the crock pot, you are left with this insanely flavorful meat that just melts in your mouth! The base of most barbacoa seasonings is usually Mexican chilies, cumin, lime, and onion – and all of those are flavorful heavy hitters that never disappoint.
What is Barbacoa?
But wait – what exactly is a barbacoa burrito?
Barbacoa is a method of cooking that involves slow roasting meat in many delicious traditional Mexican spices like chipotle, cumin, and lime juice. To make it a burrito, like a barbacoa burrito Chipotle style, we put the beef in a large tortilla packed with salsa, black beans, cilantro lime rice, sour cream, and whatever else sounds good to you!
What to Serve with Beef Burritos
Since this dish has the classic flavors of Mexican cuisine, it will pair well with many of your favorite Mexican inspired side dishes. There are both classic options and some healthy options to keep it light.
Side Dish Ideas
You can choose one or add a few sides to make a wholesome, well rounded dinner.
Recipe Notes
This barbacoa beef burrito recipe is as simple as promised! Just 15 minutes for a family friendly meal.
In this section I am going to go through a few tips and tricks I use when making this recipe to get the absolute best and most delicious results.
Make sure to scroll to the bottom for the FULL recipe card.
Ingredients + Substitutions
Burrito Fillings
Cilantro Lime Rice – I have included directions to make your own cilantro lime rice using jasmine rice (you can use any type of white rice), cilantro and lime juice. I also have another full post on making Cilantro lime rice where you can get more detailed information on making it if needed.
Beef Barbacoa – These burritos are perfect for using any leftover barbacoa you have. This could be from the recipe on my site, or leftover from the restaurant last night, or you could make a fresh batch of beef barbacoa to use!
Flour Tortillas – You will definitely need large, burrito size tortillas for this recipe in order to fit everything. But, you could use grain free ones, like those from Siete.
Toppings
Sour Cream
Cheese
Lettuce
Queso
Jalepenos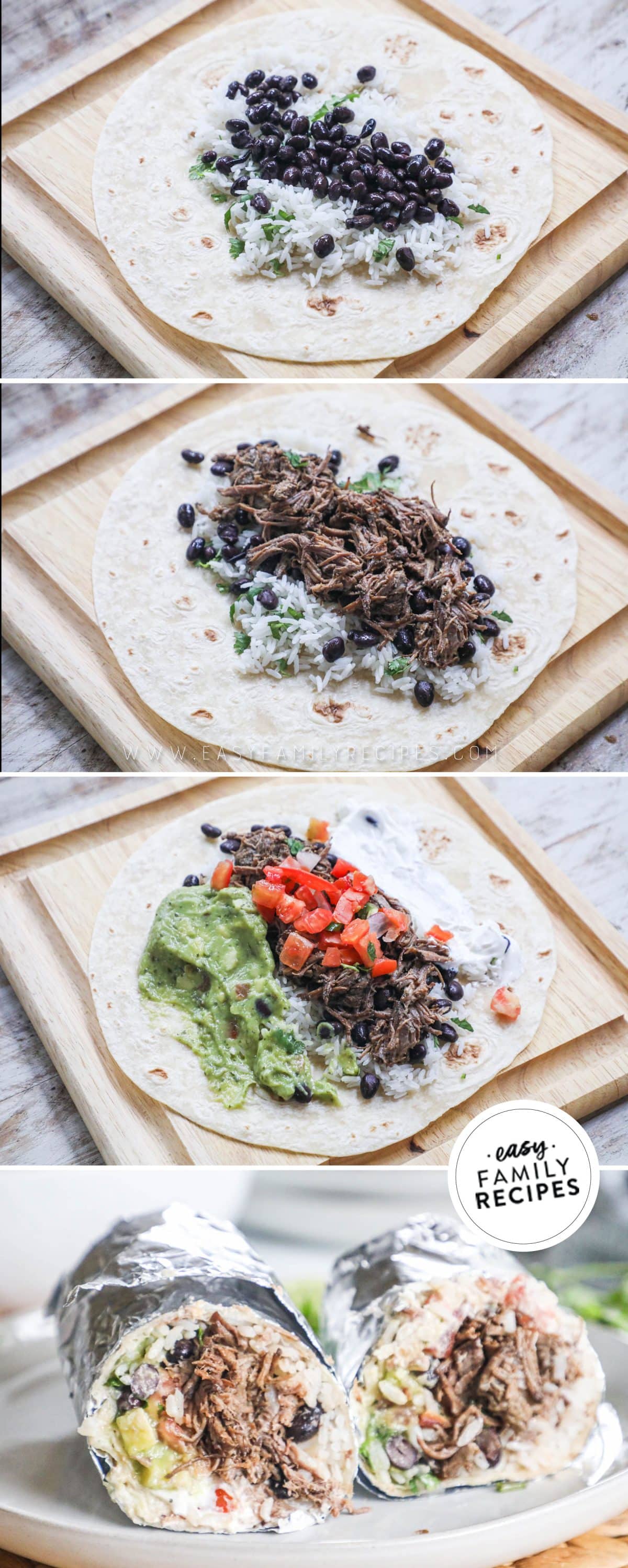 Recipe Tips
Warm the tortilla – This ensures that they are nice and flexible so they will not break when filling and rolling. They can be heated in the microwave or on a stove top on a skillet. If using grain free tortillas, this is especially important to do!

Roll like a pro – To roll a burrito correctly, there is a process. Place your fillings closer to one side of the tortilla (preferably the side closet to you), then fold over the opposite two sides while also folding over the edge of the tortilla nearest you, then tuck that long edge (the side that was just near you) under the fillings, wrapping it. Then quickly continue to roll forward until you have a burrito.

You can then wrap the burrito in foil if you want to make it restaurant style. This is great for helping it all stay together and especially helpful for little hands.

Mix it up – If you want to make sure the toppings get evenly distributed in every bite, you can toss them all together in a bowl before placing them in the burrito. This method was made popular by TikTok, but makes so much sense and gets rave reviews!

Customize– Having lots of filling options is always super fun for families and guests when making burritos. It is interactive and encourages conversation so I love to put out a wide array of filling options. And this doesn't have to be all homemade, it can be a trio of new salsas to try or a corn mixture from the deli to keep it simple.
Recipe Short Cuts
If you need to make this recipe, but are extra short on time, here are a few ideas that can help make this recipe even faster!
Prep the ingredients – Most of he work for this leftover recipe is from having to chop and prepare all the filling ingredients. You can chop, dice, and mince anything you want up to a couple of days before so you have a handful of fillings ready to go. You can also use pre-chopped veggies or canned beans and corn to speed up dinner also.

Use leftovers – This is probably a given, but the nature of leftover recipes is that you are using leftovers to get your meal on the table faster! So if you have leftover barbacoa, definitely use that!

Make salsa – You may think making salsa can be a bit time consuming, but with this easy blender salsa recipe it only takes minutes! I like to make a large batch of one salsa or a smaller batches of a few options to use throughout the week on things like these burritos, eggs, bowls, etc. Plus, with salsa the flavor only gets better with time in the fridge.
Recipe Variations
If you love this recipe as much as we do and want some quick ways to change it up for variety, these little tips will do the trick!
Barbacoa Bowl – To make this into a bowl, simply use a base of cilantro lime rice, top with beef and then any toppings you like! My favorites are avocados, Pico de Gallo, salsa, Greek yogurt, black beans and corn.

Barbacoa Breakfast Burrito – Another delicious way to use any leftovers! Make this burrito the same, but include some scrambled eggs that have been scrambled with a little salsa and pepper jack cheese. So good!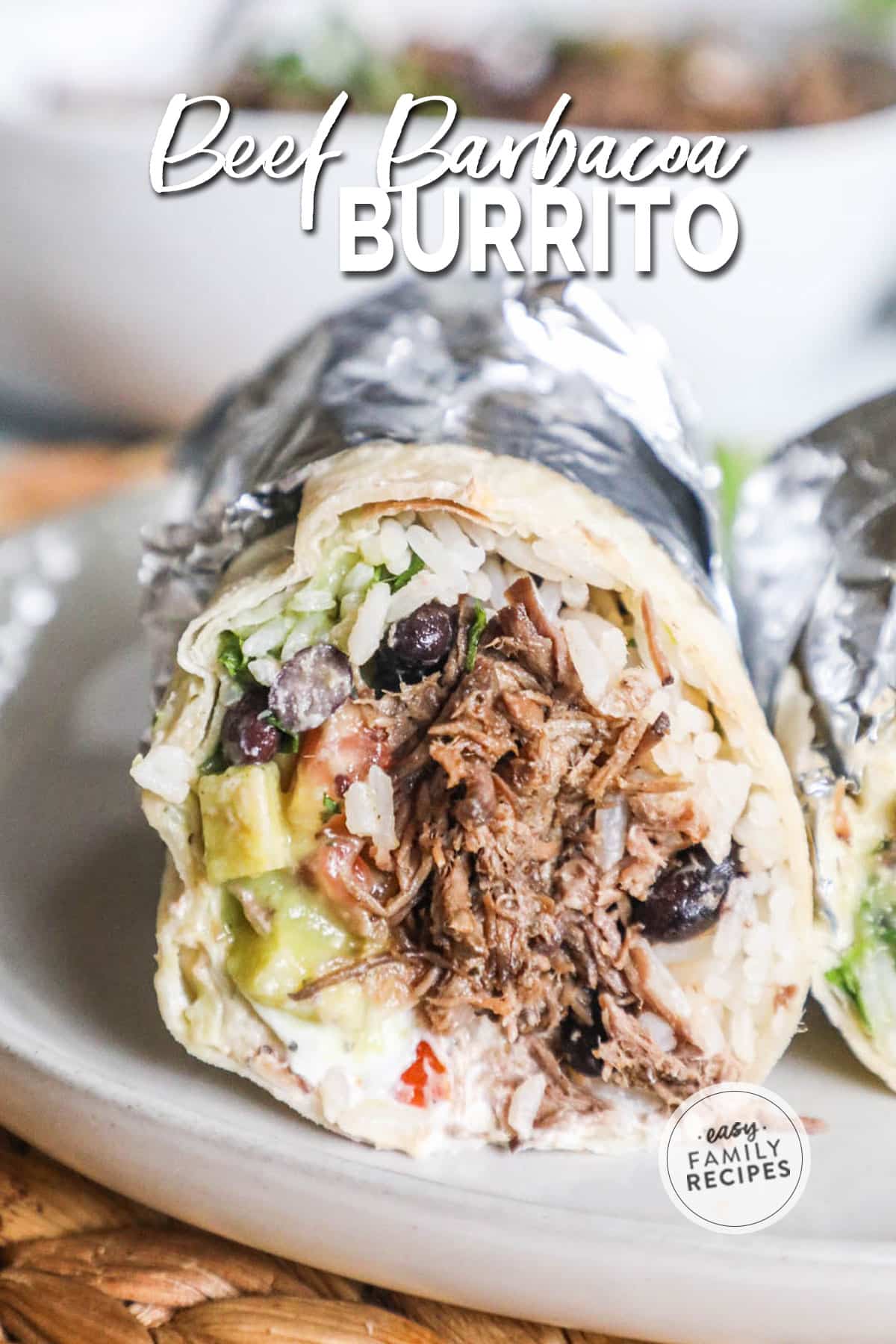 More Easy Leftover Recipes
If you enjoyed this recipe, I really hope you will take a moment to grab a few more easy recipes for another busy night!
You can check out all of my Easy Dinner recipes here, or see a few of our readers favorite recipes below.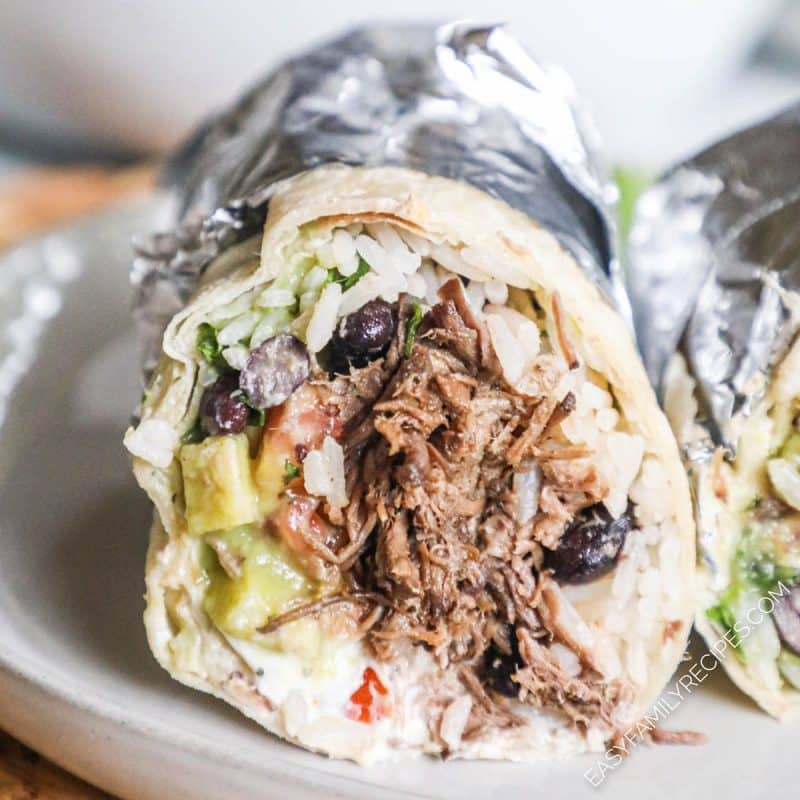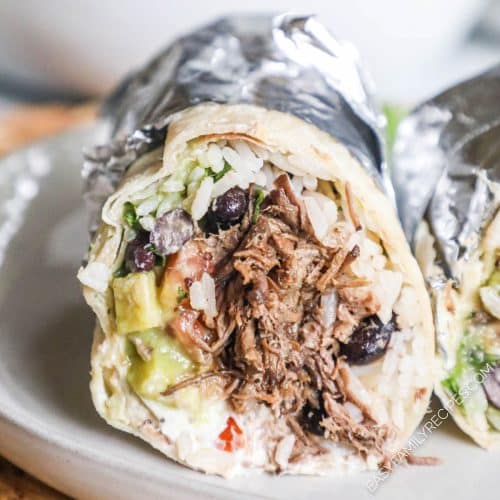 Barbacoa Burrito
These loaded burritos are full of rich, savory, beef barbacoa, rice, beans, and all the toppings! Quick to make and a family favorite- this recipe may just go on repeat on your dinner menu!
Ingredients
For the rice
1

cup

jasmine rice

1/4

cup

chopped cilantro

1

lime
For the burrito
16

ounces

beef barbacoa

4

large flour tortillas

,

(burrito sized)

1

cup

black beans,

1 can, drained and rinsed

1/4

cup

sour cream

1/4

cup

guacamole

1/2

cup

pico de gallo

1

cup

shredded cheese

1

cup

shredded romaine lettuce
Instructions
Prepare rice per package directions. Once done, mix in juice from one lime and chopped cilantro. Set aside.

While the rice is cooking, heat a skillet over medium heat. Add the beef barbacoa and cook for 3-5 minutes without stirring, then toss and cook 2-3 more minutes until barbacoa is heated through.

Wet a towel (or paper towel) to damp and wrap the tortillas. Microwave for 30-60 seconds or until they are soft and pliable. OR heat each one in a hot skillet for 30 seconds per side.

Lay each tortilla flat and layer on 1/4 of each ingredient on the tortilla- rice, beans, carnitas, sour cream, guacamole, pico de gallo, cheese, and romaine lettuce.

Once the toppings are in, fold over the two end edges and then roll the tortilla tightly and lay seam side down.

Cut in half or wrap in foil and serve.
Nutrition Information
Serving:
1
burrito
,
Calories:
679
kcal
(34%)
,
Carbohydrates:
71
g
(24%)
,
Protein:
38
g
(76%)
,
Fat:
27
g
(42%)
,
Saturated Fat:
12
g
(75%)
,
Polyunsaturated Fat:
3
g
,
Monounsaturated Fat:
11
g
,
Trans Fat:
1
g
,
Cholesterol:
109
mg
(36%)
,
Sodium:
698
mg
(30%)
,
Potassium:
786
mg
(22%)
,
Fiber:
7
g
(29%)
,
Sugar:
5
g
(6%)
,
Vitamin A:
1551
IU
(31%)
,
Vitamin C:
9
mg
(11%)
,
Calcium:
256
mg
(26%)
,
Iron:
5
mg
(28%)