Lemon Asparagus Chicken is the perfect light and wholesome chicken recipe!  This recipe is not only crazy delicious, but also surprisingly easy to make with only a handful of ingredients used to prep this dish for baking.  The chicken itself is tender, marinated in a lemon dressing and the asparagus bakes to the perfect texture right on top of the chicken in this simple one dish meal. The whole dish is topped off with parmesan cheese for just a touch of flavor and richness.  This easy one dish dinner is not only super tasty but also enjoys being gluten free and a low carb meal option.
Lemon Asparagus Chicken Recipe
There is something about lemon that always has me craving it right around the time that the winter weather starts to fade and the warm air covers your skin like a welcome sigh of relief.
I feel like we have had the longest winter ever this year. It wasn't the worst in terms of storms or snow, but the air couldn't seem to shake the chill off of it's edges and the clouds plagued the sky much more often than I like.
Finally through this week we have had warmth. It seems like yesterday was a high of 45 and today was 90. By seems like, I mean it actually was! I am by no means complaining, but I didn't really expect to have the heater on high one day and the A/C on high the next. New England weather is just crazy!
This weather though means these flavors came to life. This Lemon Asparagus Chicken recipe is the definition of the perfect spring weather meal. It begs to be served al fresco on the patio on a warm day with the crisp breeze that signals the change of the season.
Whether you are finding this recipe in spring or are looking at it in summer, fall or winter it really is so delicious that the taste far exceeds the season to eat it in.
Add that to the ease of the meal, all made in one dish with simple every-day kind of ingredients and you have the recipe for a winning meal.
To see more simple wholesome meal ideas, make sure to check out my Salsa Fresca Chicken and my favorite homemade Ranch Chicken Bites.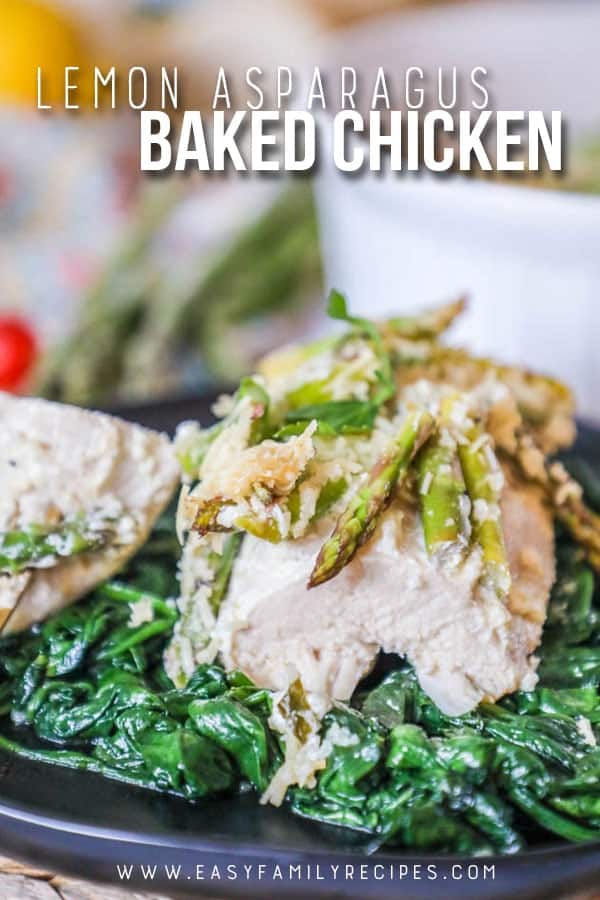 What to Serve with Lemon Asparagus Chicken
This Lemon Asparagus Chicken is a wholesome and delicious meal that also happens to be gluten free and low carb. Whether or not you are following a special diet, there are some great serving options to round out this meal for a filling dinner. I will list some of both my favorite traditional side ideas as well as some specific low carb sides.
Classic Side Dish Suggestions
Rice or grains- I love this option because there is usually a lot of the lemon sauce left in the bottom of the pan you can spoon over the rice when serving which makes it so flavorful and delicious!
Potatoes- My favorites are smashed potatoes or mashed potatoes
Garlic bread- You can never go wrong here!
Pasta- I especially like orzo with this meal!
Low Carb Side Suggestions
Cauliflower rice
Roasted vegetables
Zoodles
Sautéed spinach
Side Salad
How to Make Lemon Asparagus Chicken
This is a super simple recipe, however I am going to walk through it step by step here with my tips and tricks so that it can help to answer any more detailed questions that may come up while cooking. For your convenience there is also a FULL recipe card at the bottom of this post.
Lemon Asparagus Chicken Ingredients
2 lbs boneless, skinless chicken breast
1 lb thin asparagus stalks- You will want to use thin to medium asparagus so that it bakes through enough. I would worry that super thick asparagus may not get as tender as you want in the cook time needed for the chicken. Plus, thinner asparagus tends to be more flavorful than thick asparagus. You will want to prepare the asparagus by breaking off the bottom woody section.
1/2 cup freshly grated parmesan cheese- You can use shreds are flakes of cheese. You can also substitute romano, asiago or use a blend.
1/4 cup fresh lemon juice- Using fresh lemon juice is really important to the flavor of this dish. I would not recommend using bottled or imitation juice. 1/4 cup is equivalent to about the juice from one large lemon.
3 cloves fresh garlic, pressed- Again, fresh garlic is really important to the flavor here and I really recommend it!
1 tsp dijon mustard
1/4 tsp salt
1/4 tsp pepper
1 tbsp olive oil
1/2 cup sour cream- I use regular sour cream here, but you could also use light. Subbing plain greek yogurt would also work.
Garnish (optional)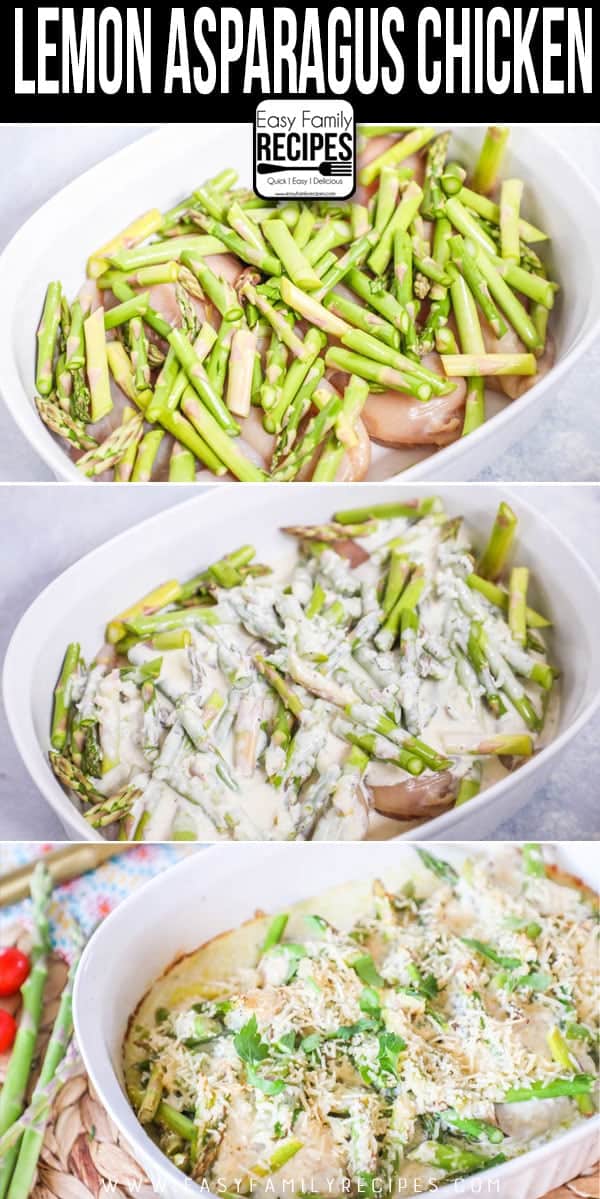 Lemon Asparagus Chicken FAQ's
This instructions for this Lemon Asparagus Chicken are fairly simple so I am doing this section in frequently asked questions form to answer those things that might be new or tricky for some. Let me know in the comments if there are any questions that I left unanswered so I can add them in here!
Q: How do I prepare asparagus?
A: Usually around the bottom 1/4 of the asparagus stalk will be slightly woody and not tender and easy to eat. You can generally snap this section off by bending the stalk and letting it break naturally.
Q: Can I substitute greek yogurt for sour cream?
A: Yes that should work just fine in this recipe.
Q: Do I bake this uncovered?
A: Yes. Because we want the chicken to bake and not to steam, we want it to cook uncovered as long as possible. In my oven I can bake it the entire time uncovered with a great result. If your oven cooks differently and you find the cheese topping becoming brown you can loosely cover the dish with foil so that it is protected from further browning but the steam can still escape.
Q: There seems to be a lot of liquid in the dish. Why does this happen?
A: The lemon sauce that this cooks in will be thin after cooking but adds a lot of flavor to the dish. You can serve the chicken and if you want spoon over extra juices. If not, you can just discard them. Some chicken will also produce more liquid when baked because many types of chicken are injected with a saline solution before they reach the store shelves which is released when baking. You can usually find this on the package if it is included in your chicken.
Q: What do I do with the leftover Lemon Asparagus Chicken?
A: Leftovers can be stored in an airtight container for 3-4 days in the refrigerator or in the freezer for up to a month.
I really hope that you and your family enjoy this recipe as much as we do, especially at this time of year!
If you do get a chance to try it, I would love it if you let me know! You can leave me a comment below, or if you post a picture on Instagram, make sure to tag me @easyfamilyrecipes so that I can see what you are cooking up! It makes my day to see others enjoying the recipes that I share!
Oh and before you go!… If you need a regular rotation of recipe inspiration like me, make sure to sign up to get our emails! I send out my new favorites, the recipes my family has been devouring, and some of the best tried and true recipes. It is easy and free of course! You can click here to sign up or on the button below.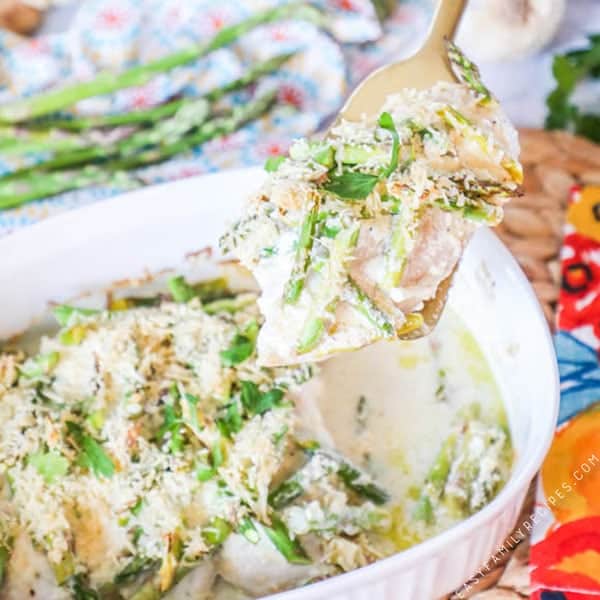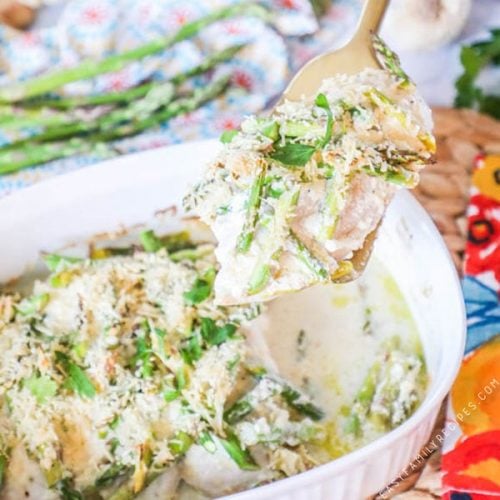 Lemon Asparagus Chicken
This Lemon Asparagus Chicken is deliciously filled with fresh flavors and so simple to make! The tender chicken and fresh asparagus is the perfect compliment to the tangy lemon dressing that marinates the dish. This wholesome dinner comes together in minutes and is not only delicious but also gluten free and low carb.
Ingredients
2

lbs

boneless

,

skinless chicken breast

1

lb

thin asparagus stalks

,

woody stem broken off

1/2

cup

freshly grated parmesan cheese

1/4

cup

fresh lemon juice

3

cloves

fresh garlic

,

pressed

1

tsp

dijon mustard

1/4

tsp

salt

1/4

tsp

pepper

1

tbsp

olive oil

1/2

cup

sour cream

Garnish

,

optional

Italian Parsley

,

chopped
Instructions
Preheat the oven to 375˚F.

In a small bowl whisk together the lemon juice, garlic, mustard, salt, pepper olive oil and sour cream.

Chop the asparagus into bite sized pieces. Place the chicken breasts flat in a single layer in a large casserole dish. Place the asparagus over the chicken.  Pour the lemon dressing over the whole dish. Top with parmesan cheese.

Bake uncovered for 40-50 minutes or until the chicken is cooked through (internal temperature of 165˚F).  If the cheese starts to become brown, loosely cover with foil for the remaining cook time.

Garnish with parsley if desired.  Enjoy!
Recipe Notes
You can cut the chicken in half, chunks, or use chicken tenderloins in lieu of full chicken breasts to make serving easier. Cooking time may be reduced.
Leftovers can be stored in an airtight container for 3-4 days in the refrigerator or in the freezer for up to a month.
Dietary Considerations:
This recipe is naturally gluten free, low carb, and friendly for low carb and keto diets.
Nutrition facts provided based on my best estimation for the recipe and may not be accurate depending on what brands you use or modifications you make to the recipe.  I recommend using a nutrition calculator with the exact brands and measurements you use for the most accurate calculation.
©2018 Easy Family Recipes- Recipe found at: https://www.easyfamilyrecipes.com/lemon-asparagus-chicken/
For more great easy dinner inspiration, sign up for our emails here!
Nutrition Information
Serving:
6
oz – 4 oz chicken 2 oz topping
,
Calories:
231
kcal
(12%)
,
Carbohydrates:
4
g
(1%)
,
Protein:
28
g
(56%)
,
Fat:
13
g
(20%)
,
Saturated Fat:
6
g
(38%)
,
Polyunsaturated Fat:
3
g
,
Monounsaturated Fat:
0
g
,
Trans Fat:
0
g
,
Cholesterol:
77
mg
(26%)
,
Sodium:
427
mg
(19%)
,
Potassium:
0
mg
,
Fiber:
1
g
(4%)
,
Sugar:
1
g
(1%)
,
Vitamin A:
0
IU
,
Vitamin C:
0
mg
,
Calcium:
0
mg
,
Iron:
0
mg