These Italian Stuffed Peppers are the perfect family meal.  They are wholesome and delicious and give you a whole meal in one dish.  These stuffed peppers leave out the grains and replace them with tons of veggies to keep the dish light, moist and delicious.  The Italian Stuffed peppers are such a crowd pleaser. Both kids and adults clean their plates and they are super wholesome so you can feel good about what you are eating. As a bonus these Italian Stuffed Peppers are gluten free and packed with veggies and lean ground turkey for a meal that is equally hearty, healthy, and delicious!
Italian Stuffed Pepper Recipe
I didn't grow up eating stuffed bell peppers, but as a mom these have become one of my favorite meals to make for my family.  There are a few things that make it an especially big win for us:
They are packed with veggies without the kids really knowing it!
You can make the meat mixture ahead of time if needed.
You can double the meat and use it for other meals later in the week or month!
You can prepare these and freeze them to cook another time when you need something quick.
Add all of these awesome things to the fact that this meal is just plain delicious and you have a meal that you come back to over and over again throughout the weeks, months and years! If you need more flexible family friendly recipes, try my Taco Zucchini boats or Italian Turkey Meatballs.  Make sure to save those for another day!
What to serve with Italian Stuffed Bell Peppers
These peppers are really hearty so you might not need anything else on your plate, but if you want a couple of options to round out the meal, here are some of my favorite things to serve stuffed peppers with.
Classic Serving Options
Rice, quinoa, or other grains
Pasta tossed with red sauce, or olive oil and garlic
Garlic toast – my kids fav!
Gluten Free and Low Carb Serving Ideas
Side salad with Italian dressing (This stuff is TO DIE FOR!)
Spaghetti squash or zoodles with red sauce or garlic and olive oil
Sautéed Spinach – My go-to side
You can pick one or a few to make a perfect meal.  If you have something you like to serve with stuffed peppers that I missed, please leave me a comment so I can try it out next time I make them!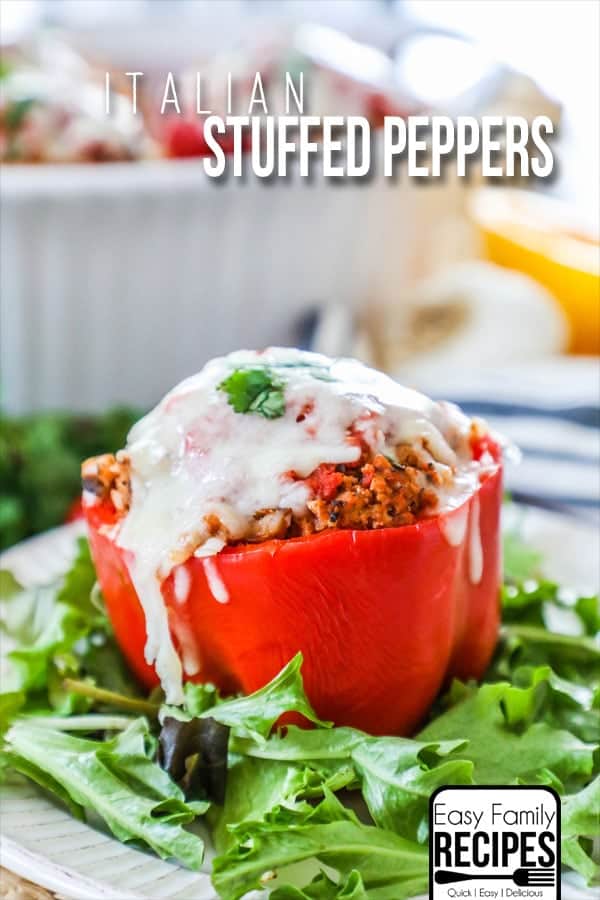 What is in a Stuffed Pepper?
Stuffed peppers can have many things inside them.  Most traditional stuffed peppers will be a combination of seasoned ground meat, vegetables, and sometimes rice. Different recipes call for both pre-cooked or uncooked meat. These stuffed peppers use a precooked ground turkey mixture made with extra veggies instead of rice to keep the dish light, wholesome, and lower carb, while still keeping the meat moist and incredibly flavorful. This recipe can also be altered for your taste preferences by including or omitting vegetables, grains or other seasonings.
How to Make Italian Stuffed Peppers
I am going to walk you through the recipe here step by step with my notes and tips for making this.  For the FULL, printable recipe card, make sure to head down to the bottom of this post.
Italian Stuffed Peppers Ingredients
4 sweet bell peppers– You can use any color peppers you like! I used red orange and yellow, but you can use one color or any combination of colores.
1 lb ground turkey- There are usually a couple of choices for how lean the turkey is. Any of them will work in this recipe. Since there are so many veggies it will keep the meat moist and flavorful even if you choose super lean meat.
1 cup onion, finely chopped- Make sure to finely chop all of the veggies so that they cooke evenly.
1 cup mushroom, finely chopped- If you don't like mushroom you can leave this out.  Add some extra cauliflower or celery to replace the volume if desired.
2 cups riced cauliflower (not cooked)- You can buy this premade in the freezer section or produce section in most larger grocery stores. You can also make it yourself.  This is how I prep and freeze cauliflower rice.
3 cloves garlic, pressed- Use fresh garlic!  It makes a big difference!
2 tsp Italian seasoning
24 oz marinara sauce- You can use your favorite brand.  Make sure to check the label if you are gluten free or low carb.
1 cup mozzarella cheese, shredded
1 cup chicken broth- I recommend chicken broth for a little extra flavor, but if you are in a pinch you can also use water here.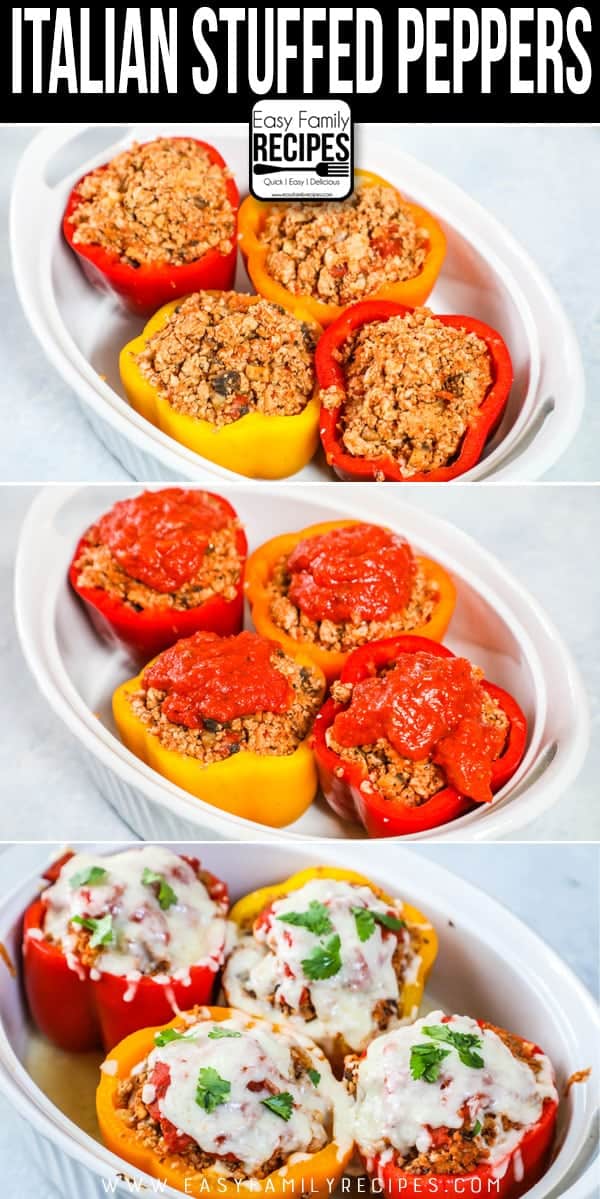 These stuffed peppers use a pre-cooked meat mixture. You can make some modifications if you prefer.  The cauliflower can be substituted for cooked rice stirred in at the end with the marinara if desired.  You can also add carrots, celery, zucchini or other vegetables into the meat mixture if you want additional veggies.
The chicken broth is used to help steam the peppers as they cook.  By covering the dish tightly with aluminum foil the moisture from the broth will evaporate into steam but stay in the dish to help the stuffed bell peppers cook evenly throughout with a really delicate texture and the meat mixture retain its moisture.
Can Italian Stuffed Peppers be Made Ahead and Frozen?
Yes! This is a great way to prepare meals when you will need one with little time to cook. These freezer meals also make a great gift for a new mom or someone that is having surgery since they can reheat it at their convenience to have a hot meal without all of the prep and mess.
Peppers will stay good in the freezer for up to 6 months.
There are two ways that you can prepare these Italian Stuffed Peppers for the freezer:
Partial Prep: Prepare the meat as directed in step two.  Cool and then freeze the meat and reserved marinara sauce.  When ready to cook, thaw the meat and sauce and use fresh peppers to continue at step three to finish.
Full prep: To prepare this meal fully in advance complete steps 2-4 and then place peppers in an airtight container and freeze.  When ready to cook, thaw peppers completely and then bake as directed.
How to Store Leftover Italian Stuffed Peppers
Once you make these peppers, you can store the leftovers in the refrigerator or freezer, if you have any leftovers that is! To keep the leftovers, place them in an airtight container and place in the:
Refrigerator for 3-4 days
Freezer for up to 6 months
I really hope that your family enjoys this recipe as much as ours does!
If you do get a chance to try it, I would love it if you let me know!  You can leave me a comment below, or if you post a picture on Instagram, make sure to tag me @easyfamilyrecipes so that I can see what you are cooking up! It makes my day to see others enjoying the recipes that I share!
Oh and before you go!… If you need a regular rotation of recipe inspiration like me, make sure to sign up to get our emails!  I send out my new favorites, the recipes my family has been devouring, and some of the best tried and true recipes.  It is easy and free of course!  You can click here to sign up or on the button below.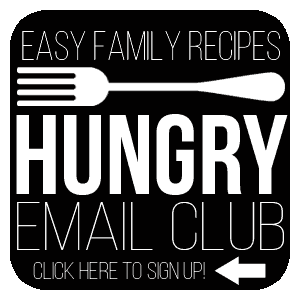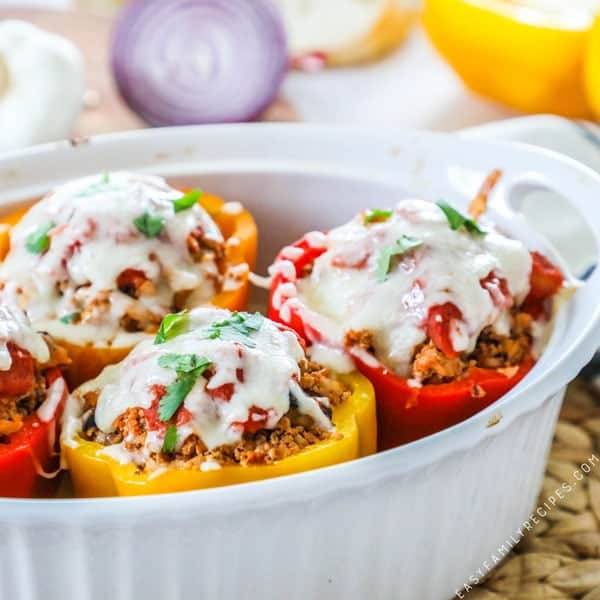 Italian Stuffed Peppers
These Italian Stuffed Peppers are wholesome, delicious and give you a whole meal in one dish. These stuffed peppers leave out the grains and replace them with tons of veggies to keep the dish light, moist and delicious. As a bonus these Italian Stuffed Peppers are gluten free and packed with veggies and lean ground turkey for a meal that is equally hearty, healthy, and delicious!
Ingredients
4

sweet bell peppers

1

lb

ground turkey

1

cup

onion

,

finely chopped

1

cup

mushroom

,

finely chopped

2

cups

riced cauliflower

,

not cooked

3

cloves

garlic

,

pressed

2

tsp

Italian seasoning

24

oz

marinara sauce

1

cup

mozzarella cheese

,

shredded

1

cup

chicken broth
Instructions
Preheat the oven to 350˚F.

Sautè the onion, mushroom, and cauliflower rice and garlic over medium heat until soft.  Add the ground turkey and Italian seasoning and and continue to cook, stirring and breaking up the meat until the meat is cooked. Add the marinara sauce, reserving 1 cup for the topping, and stir to combine.

Cut the tops off of the peppers and remove the seeds and membranes.  Place the peppers in a casserole dish, cut side up.  If the peppers won't stand trim the bottom slightly to create a flat surface.

Fill each pepper with 1/4 of the meat mixture and top with 1/4 cup sauce and 1/4 cup cheese.

Pour the chicken broth into the bottom of the dish and cover with aluminum foil. Bake for 40 minutes, then remove foil and continue to cook for 5 more minutes. 

To serve, remove from casserole dish, garnish with fresh parsley if desired, and enjoy!
Recipe Notes
Nutrition facts provided based on my best estimation for the recipe and may not be accurate depending on what brands you use or modifications you make to the recipe.  I recommend using a nutrition calculator with the exact brands and measurements you use for the most accurate calculation.
©2018 Easy Family Recipes- Recipe found at: https://www.easyfamilyrecipes.com/Italian-Stuffed-Peppers/
For more great easy dinner inspiration, sign up for our emails here!
Nutrition Information
Serving:
1
stuffed pepper
,
Calories:
361
kcal
(18%)
,
Carbohydrates:
23
g
(8%)
,
Protein:
33
g
(66%)
,
Fat:
16
g
(25%)
,
Saturated Fat:
6
g
(38%)
,
Polyunsaturated Fat:
2
g
,
Monounsaturated Fat:
0
g
,
Trans Fat:
0
g
,
Cholesterol:
102
mg
(34%)
,
Sodium:
287
mg
(12%)
,
Potassium:
0
mg
,
Fiber:
7
g
(29%)
,
Sugar:
6
g
(7%)
,
Vitamin A:
0
IU
,
Vitamin C:
0
mg
,
Calcium:
0
mg
,
Iron:
0
mg