The PERFECT Hashbrown Casserole is creamy, filled with cheese, super flavorful, and perfectly crispy on top. This Hashbrown Casserole recipe checks all of those boxes for a dish that will rival your favorite restaurant!
You can serve it for breakfast, or as a side dish with lunch or dinner, or be the hero and show up with this for a pot luck!
Cheesy Hashbrown Casserole
One of the simplest joys in life is a good comfort food! There are few I love more than Hashbrown Casserole! I grew up eating the Hashbrown Casserole from Cracker Barrel and it has always been my standard for this side dish.
There are a few things that make Cracker Barrel's hashbrown casserole extra good:
The perfect crispy top
Super cheesy and tender inside
Lots of rich flavor
Over the years I have made this casserole hundreds of times and experimented all different ways. The Hashbrown Casserole I am sharing with you today is my Restaurant Style go to recipe because it checks all of the boxes! It has lots of great cheesy flavor enveloping tender hashbrown potatoes, and most importantly it has the perfect crispy top that can be so hard to get just right!
What to Serve with Hashbrown Casserole
As I mentioned above, I love this Easy Hashbrown Casserole for both breakfast and dinner. It is also feeds a crowd, so it is perfect for the holidays, or taking to a brunch, office party, potluck or BBQ any time of year.
Here are a few of my favorite ways to serve it by meal.
Dinner Serving Ideas
These are a few of the main dishes that I think pair exceptionally well with a side of Hashbrown Casserole.
Chicken Tenders
Pork Chops
Burgers
Breakfast and Brunch Serving Ideas
Fill your plate with Hashbrown Casserole, as well as one from each of these categories and you will have a super filling, and delicious breakfast or brunch.
English Muffin Breakfast Casserole with Sausage – This is super hearty and would be a great add on to your hashbrown casserole.
Breakfast meats- this pairs perfectly with almost all breakfast meats!

Sausage patties or links
Bacon Strips
Ham
Chicken tenders – not so traditionally breakfast, but a Cracker Barrel favorite!

Fruits- sweeten it up with a little fruit on the side

Grapes
Berries- Strawberries, blue berries, raspberries etc
Melon- cantaloupe, honey dew melon

Breads

Southern Style Biscuits
English muffins
Toast
If you have other dishes you love to serve with Hashbrown Casserole, leave me a comment and let me know! I am always looking for new ideas to try!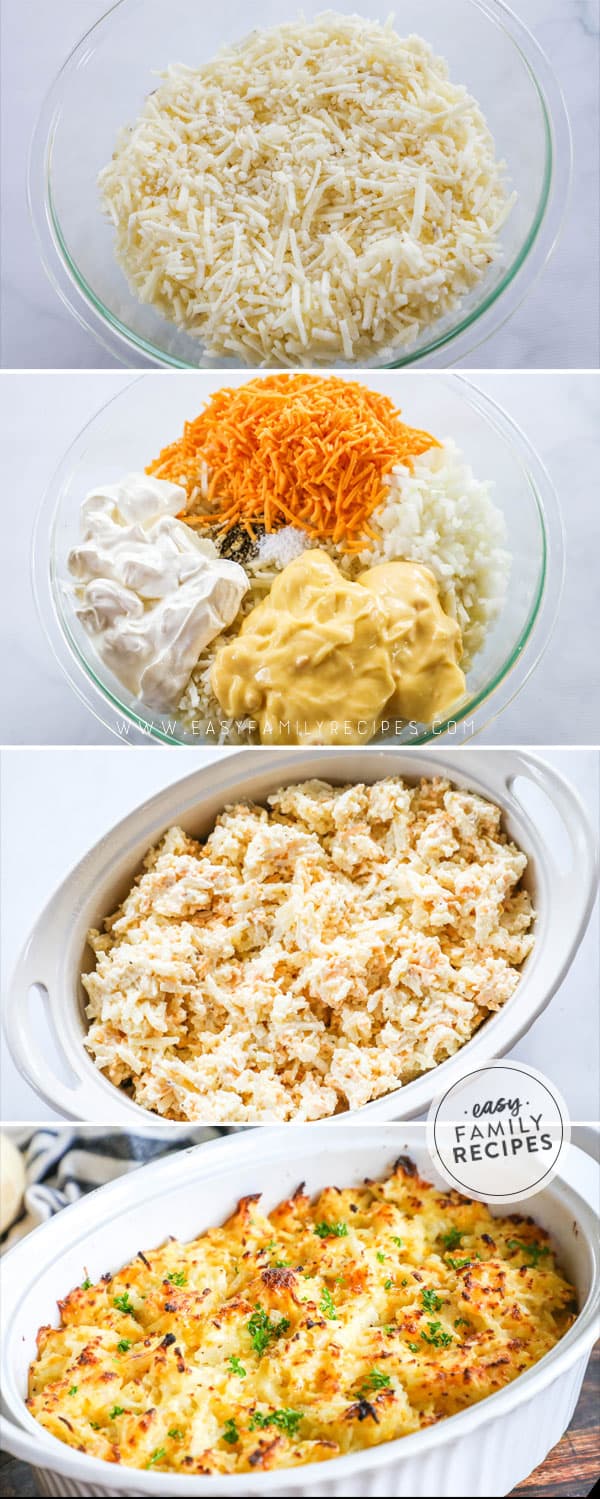 Tips on Making Hashbrown Casserole
This simple Hasbrown Casserole only takes a few ingredients and can be whipped up and in the oven in minutes. I am going to walk through some of my pointers for making this recipe to get the very best result here, but make sure to scroll down to the bottom for the full recipe card.
Combine the the melted butter, salt, pepper, soup, sour cream in a large bowl. Mix in the hashbrowns, onions, and cheese and stir until evenly combined.
A few good notes on this step:

You can make this with frozen or thawed hashbrowns. If you make it from frozen make sure you break up the hashbrowns well so that there are no clumps frozen together and everything can mix well. I do this by tossing the bag onto the ground a couple of times. You can also use a meat mallet or rolling pin to break them up inside the bag.
Since the hashbrowns are cold, the best way to mix everything together is to first combine the butter, salt, pepper, cream of chicken soup and sour cream together and mix well, then add the onion, hashbrowns and cheese and mix it all together. The reason why this is helpful is that if you pour the melted butter straight onto the cold hashbrowns it will harden again immediately and then will not combine into the dish as well.
I always use shredded hashbrowns in this recipe. This is the style that Cracker Barrel uses and most restaurants so I stick with it. With that said, you can use the cubed potatoes and still have a delicious casserole.

Grease 9×13 or large baking dish, then dollop the mixture in the dish evenly as possible. Do not spread in the dish or use the spoon to even out. You want the rough top so that it will get crispy and browned.

This method is part of what makes this recipe more like the restaurants. You want to just drop spoonfuls of the hashbrown mixture into the dish as evenly as possible. The rough edges on the top give lots of surface area to become nice and crispy. Resist the urge to smooth it out!
Also, in the past I have added an extra layer of cheese to the top, because I really love cheese! I don't recommend doing this if you want it restaurant-style because it won't allow the casserole to brown and crisp on the top in the same way. If you want the casserole even more cheesy, you can add an additional can of cheddar cheese soup to the hashbrown mixture.

Bake the casserole, then broil the casserole.

The first step heats everything though and cooks the casserole. You may be able to shorten the cook time a bit if you use thawed hash browns, but you can still leave it in the full 45 minutes.
Then, turn the oven to broil. If your oven doesn't have a broil setting, it is usually equivalent to about 500-525˚F. Make sure to watch carefully during this step so you don't burn the top of the casserole. Every oven cooks differently and at this high heat, I really recommend keeping an eye on it the entire time and removing the hashbrown casserole once it gets the perfect amount of color on top.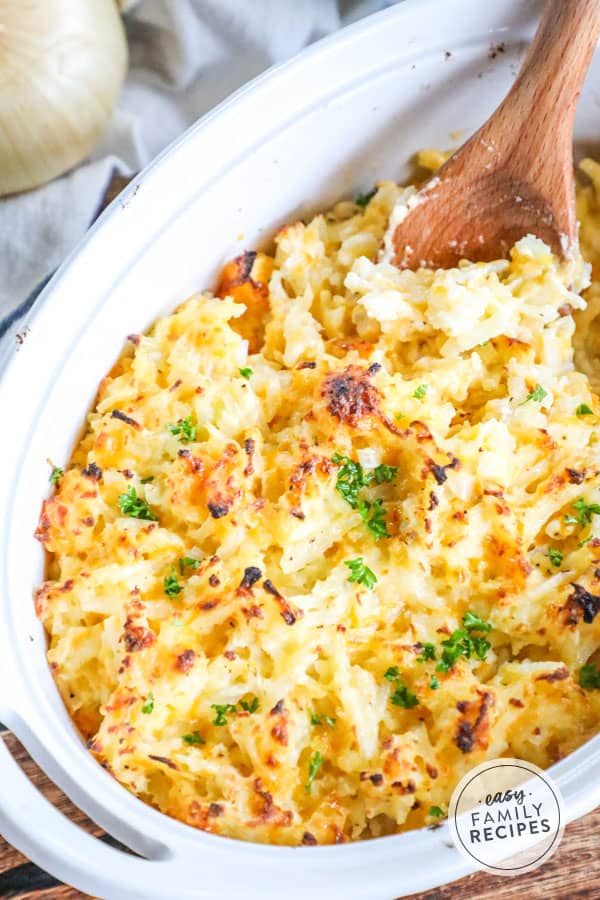 Hashbrown Casserole – FAQ's
Can I make the hashbrown casserole ahead of time?
Yes! This Hashbrown Casserole can easily be made ahead! Just mix everything together, grease your pan, dollop the mixture in and then cover and refrigerate overnight. When you are ready to bake, remove from the refrigerator, uncover, and continue at step 3.
Can I lighten up this recipe?
By nature, this really isn't a light recipe. I recommend making it as is and enjoying a small portion, however, if you want to make some modifications, you can use fat free or low fat cream of chicken soup and light sour cream. Both of these will still give you a good final result.
Can I use Cheddar Cheese instead of Colby?
I have tried both and prefer colby because it is less greasy when baked. That said, you can absolutely use cheddar cheese and still get a great result. I recommend sharp cheddar if you are making this substitution.
Can I make the Hashbrown Casserole vegetarian?
Although it will not give you quite the same taste, you can modify this recipe and use either cream of celery or cheddar cheese soup in place of the cream of chicken for a Vegetarian Hashbrown Casserole.
Is this recipe gluten free?
Most of the ingredients in this Hashbrown Casserole should be gluten free. The cream of chicken soup sometimes does contain gluten so if you are making the recipe gluten free make sure to use a cream of chicken soup that is gluten free, as well as, double checking packaging on the other ingredients.
Can I make this recipe even cheesier?
If you really love cheese, you can add an extra can of cheddar cheese soup to the mixture in step one. This is a delicious addition, but in my opinion less like the restaurant versions, which is why I don't include it in the main recipe here.
More Easy Recipes
If you enjoyed this recipe, I have many more recipes to ease the dinner burden for another night. Make sure and sign up for my e-mail here to get them regularly in your inbox.
Delicious Side Dishes
Easy Breakfast Casseroles
I would love for you to take a moment to leave a comment or review! Not only do I love hearing your experience with the recipe, but your positive comments and reviews help my website to grow!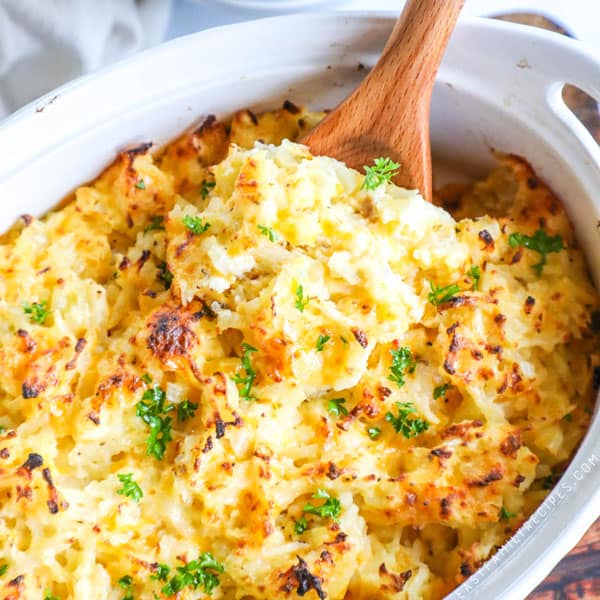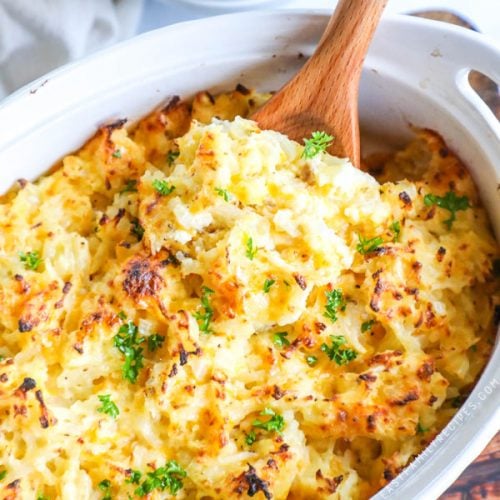 Hashbrown Casserole
This Hashbrown Casserole is just like the restaurants with a crispy top, and creamy, cheesy filling. Make it for breakfast or brunch or serve it as a side with lunch or dinner.
Ingredients
30

oz

frozen hash brown potatoes

,

shredded (1 bag)

1/4

cup

butter

,

melted

1/2

tsp

salt

1/2

tsp

ground pepper

1/2

cup

yellow onion

,

finely chopped

10.75

oz

condensed cream of chicken soup

,

(1 can)

1

cup

sour cream

2

cups

colby cheese

,

shredded
Instructions
Combine the the melted butter, salt, pepper, soup, sour cream in a large bowl. Mix in the hashbrowns, onions, and cheese and stir until evenly combined.

Grease 9×13 or large baking dish, then dollop the mixture in the dish evenly as possible. Do not spread in the dish or use the spoon to even out. You want the rough top so that it will get crispy and browned.

Bake the hashbrown casserole at 350˚F for 45 minutes. Then turn the oven to broil and cook for an additional 5-8 minutes or until the top is crispy and browned and the edges are bubbling.
Recipe Notes
To make ahead:
Assemble the casserole in the dish as directed, then refrigerate overnight. Bake as directed the next morning.
To save leftovers:
Place in an airtight container in the refrigerator for up to a week or freezer for up to a month.
To Make Gluten Free:
Most ingredients in this recipe are naturally gluten free. The Cream of Chicken soup sometimes contains gluten, so you will need to use a gluten free version. As always, check the label on each ingredient to ensure compliance.
Nutrition facts provided based on my best estimation for the recipe and may not be accurate depending on what brands you use or modifications you make to the recipe.  I recommend using a nutrition calculator with the exact brands and measurements you use for the most accurate calculation.
©2018 Easy Family Recipes- Recipe found at: https://www.easyfamilyrecipes.com/hashbrown-casserole/
For more great easy dinner inspiration,

sign up for our emails here!
Nutrition Information
Serving:
6
oz
,
Calories:
289
kcal
(14%)
,
Carbohydrates:
19
g
(6%)
,
Protein:
9
g
(18%)
,
Fat:
19
g
(29%)
,
Saturated Fat:
11
g
(69%)
,
Cholesterol:
51
mg
(17%)
,
Sodium:
567
mg
(25%)
,
Potassium:
334
mg
(10%)
,
Fiber:
1
g
(4%)
,
Sugar:
1
g
(1%)
,
Vitamin A:
605
IU
(12%)
,
Vitamin C:
7.8
mg
(9%)
,
Calcium:
222
mg
(22%)
,
Iron:
1.4
mg
(8%)