This Grilled Chicken Marinade is perfect for making tender juicy chicken on the grill. It is packed with flavor and super easy to make. This marinade works quick to give you deliciously flavored chicken breast in no time!
Best Grilled Chicken Marinade
I would say we like to grill at our house, but it is more like we LOVE to grill at our house. As soon as the weather is good enough, and sometimes even when it isn't we will be grilling.
Making grilled chicken is easy, mess free and wholesome, not to mention it makes meal prep and dinners for later in the week super easy! I mean grilling is pretty much a no-brainer!
This Grilled Chicken Marinade is absolutely the best when you want a simple, classic flavor chicken that comes off the grill perfectly tender and juicy!
What To Serve with Grilled Chicken
When we make grilled chicken with this marinade it is perfect for classic side dishes with simple flavors. We eat this with about a million different things, but I will share a few of our go to sides.
Side Dishes for Grilled Chicken
These are a few favorites to get you started, but if you have a favorite side you serve grilled chicken with, let us know in the comments so we can give it a try!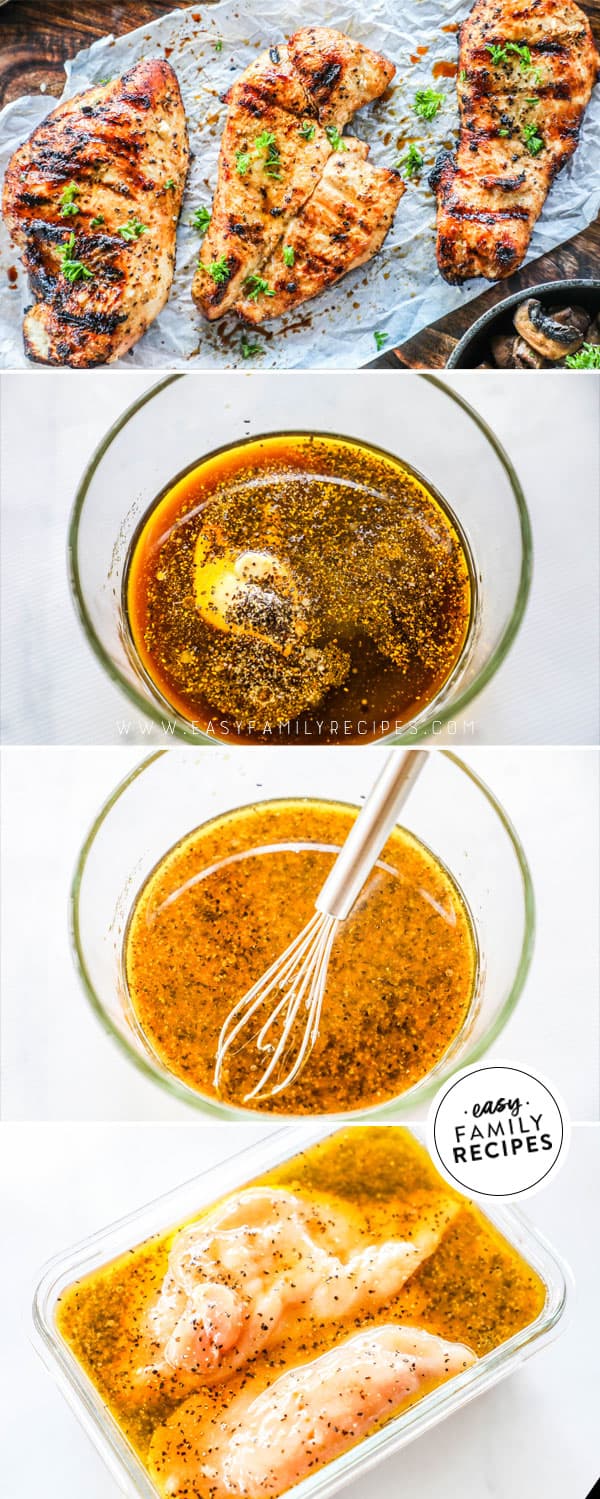 Tips for Grilling Chicken
To make the best grilled chicken, it all starts with the marinade, but once that is done, there are a few tips to make sure your chicken comes out just perfect!
Make sure and hop down to the bottom of the post to get the full recipe card for the Grilled Chicken Marinade.
Cut of Chicken
Almost any cut of chicken, even whole birds, can be cooked on the grill. The cut you choose will impact the cooking time on the grill.
Cuts with bones and skin will take longer to cook than their boneless counterparts.
When cooking chicken breasts, make sure they are a uniform thickness for the best results. If you have areas that are thicker, you can butterfly the chicken breast, or use a meat mallet to pound the chicken to a uniform thickness.
What Temperature to Cook Grilled Chicken
Make sure you have the grill at the right temperature and that it is preheated. For grilling chicken you will want medium heat so that the meat can have enough time to cook without burning or drying out the outside of the chicken.
Most grills have hot spots, so keep an eye on the chicken as it cooks. If you find that a piece is starting to get too brown, move it to a cooler spot on the grill to finish cooking.
How Long to Cook Chicken on the Grill
In this recipe we use chicken breasts which are cooked for 4-6 minutes per side. The thicker the chicken, the longer it will take to cook.
Cuts of meat that are thick or have bones will take additional time to cook completely.
The absolute best thing to do to ensure that you end up with perfectly tender and juicy chicken is to use a meat thermometer. Chicken should be cooked to an internal temperature of 165˚F.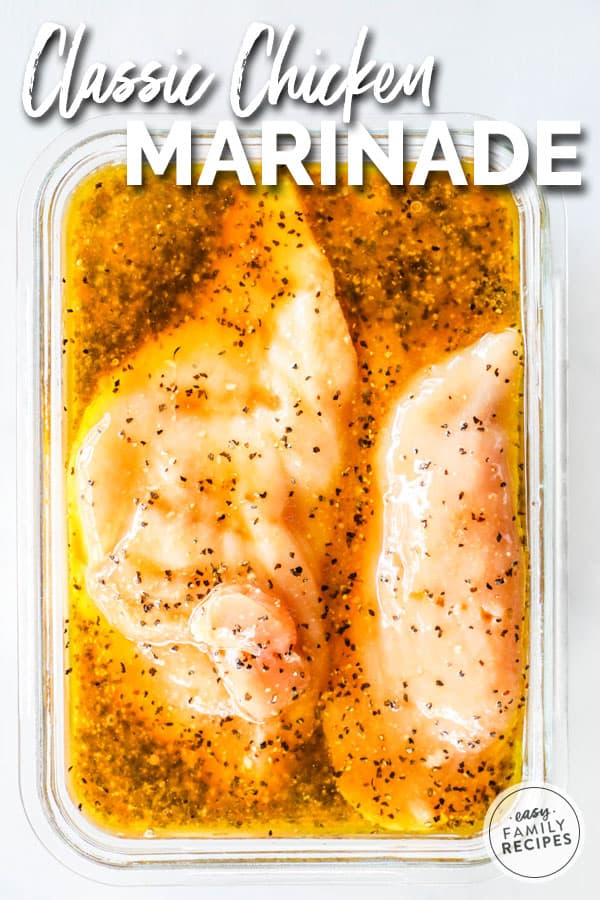 Easy Grilled Chicken Marinade FAQ's
Can I use other cuts of chicken with this Grilled Chicken Marinade?
Yes! This marinade works well with any cut of chicken including chicken thighs, chicken tenderloins, chicken wings, and both bone in and boneless chicken. However, the cooking time specified in the recipe is for chicken breast, and it will vary with different cuts of meat.
How Long to Marinate Grilled Chicken
When using our Grilled Chicken Marinade I recommend marinating the chicken a minimum of 30 minutes.
I think the ideal time to marinate chicken breast is 2 hours, however, you can leave the chicken in the marinade, up to overnight.
How do you prevent chicken from sticking to the grill?
Brushing the grates of the grill with oil or cooking spray should help with this. Also, make sure the grill is preheated before you add your chicken to start cooking.
Is this Grilled Chicken Marinade Gluten Free?
Since this marinade contains soy sauce it is not naturally gluten free. You can however use a gluten free soy sauce or substitute to make the recipe gluten free, or try our Apple Cider Vinegar Chicken Marinade which is naturally gluten free.
How do I keep leftover grilled chicken?
You can store any leftovers of your grilled chicken in a zip top bag or air tight container and place in the:
Refrigerator for 3-4 days
Freezer for up to a month
To reheat leftovers microwave in 30 sec increments, turning in between until it is heated through.
Recipe Ideas for Leftover Grilled Chicken
If you have leftovers, you are in luck because you have the base of a new delicious meal ready to go. Here are a few of my favorite meals to make with leftover grilled chicken.
Grilled Chicken Salad– Top greens with whatever veggies you have in the fridge, chopped grilled chicken, and a drizzle of dressing for an easy and healthy meal. Add cooked pasta or grains like quinoa or wild rice to make it even heartier!
Fettuccini Alfredo with Grilled Chicken– Cook pasta per package directions, then make a batch of this Easy Alfredo Sauce. Combine the pasta with the alfredo sauce and chicken for a 30 minute meal.
Grilled Chicken Caesar Wraps– Toss chopped romaine lettuce with sliced grilled chicken and caesar dressing. Spread the mixture on top of flat bread or a tortilla, sprinkle with parmesan cheese and roll up. For a little extra, add tomatoes, avocado, bacon, or mushrooms to the wrap.
Grilled Chicken Club Sandwich– Toast 3 slices of bread and spread the inside layers with mayo. Place sliced chicken on the bottom slice. Top with romaine lettuce, tomato, and bacon. Top with the second slice and repeat, topping with the final slice of bread. Cut in half and enjoy!
BBQ Chicken Pizza– Spread BBQ sauce over a premade pizza crust. Chop grilled chicken and spread evenly over the crust. Top with sharp cheddar cheese, thinly sliced onion and diced red bell pepper. Bake per package directions. When the pizza is done sprinkle with chopped cilantro.
More GREAT Grilled Chicken Recipes
If you enjoyed this Classic Grilled Chicken Marinade recipe, I hope you will try more of our recipes! Here are a few of our favorites to add to your list: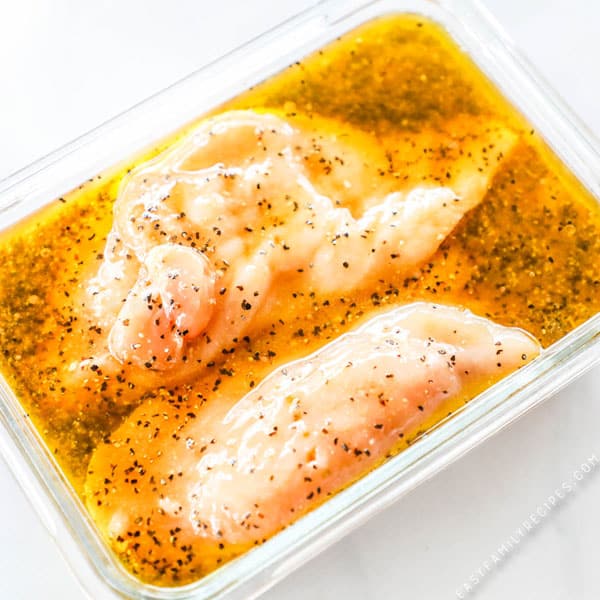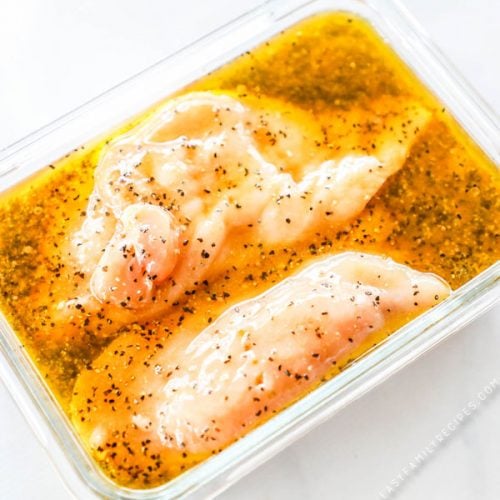 Grilled Chicken Marinade
This is the best Grilled Chicken Marinade! It is quick to throw together and make the most tender, juicy and flavorful grilled chicken. Use it on chicken breasts, chicken thighs, chicken tenderloins, and more!
Ingredients
2

lbs

chicken breast

,

boneless, skinless

1/4

cup

olive oil

,

extra virgin

1/4

cup

soy sauce

2

tbsp

orange juice

1

tbsp

liquid smoke

1

tbsp

dijon mustard

1

tsp

garlic powder

1

tsp

black pepper
Instructions
To make marinade, whisk together the olive oil, soy sauce, orange juice, liquid smoke, dijon mustard, garlic powder, and black pepper.

Poke chicken all over with a fork. Place the chicken in a dish or zip top bag and pour the marinade over the chicken to cover completely. Refrigerate for up to 4 hours, with a minimum of 30 minutes.

Heat the grill to medium heat and brush with oil to prevent sticking. Place chicken on the grill and cook for 4-6 minutes per side, depending on thickness. Cook to an internal temperature of 165˚F.

Once done, remove chicken from grill and allow to rest for 5 minutes. Then serve warm. Enjoy!
Nutrition Information
Calories:
132
kcal
(7%)
,
Carbohydrates:
1
g
,
Protein:
17
g
(34%)
,
Fat:
7
g
(11%)
,
Saturated Fat:
1
g
(6%)
,
Polyunsaturated Fat:
1
g
,
Monounsaturated Fat:
4
g
,
Trans Fat:
0.01
g
,
Cholesterol:
48
mg
(16%)
,
Sodium:
375
mg
(16%)
,
Potassium:
303
mg
(9%)
,
Fiber:
0.2
g
(1%)
,
Sugar:
0.3
g
,
Vitamin A:
30
IU
(1%)
,
Vitamin C:
2
mg
(2%)
,
Calcium:
7
mg
(1%)
,
Iron:
0.5
mg
(3%)