Garlic Chicken Bites have only 6 ingredients but are PACKED with flavor! You can have this healthy flavor-filled meal on the table in as little as 20 minutes from start to finish. If you love garlic, then you have to try this recipe! Garlic Chicken Bites are the perfect wholesome and filling dinner, or this crowd pleaser can be served as a heavy appetizer. Not only is this meal quick, easy, and delicious, but also is gluten free, dairy free, and high in protein!
Garlic Chicken Bites Recipe
When you need something quick and easy, but that doesn't sacrifice on flavor, this Garlic Chicken Bites recipe is perfect! It takes tender seasoned chunks of chicken breast and sautés them over high heat to get the perfect flavorful caramelization. They flavored with not one but TWO kinds of garlic. Both pressed garlic that gets flash cooked for a more intense flavor and sautéed garlic cloves that are slowly simmered to give you a creamy mild roasted garlic flavor. Combined, it is just heaven!
A couple of my favorite things about this recipe are that:
Since the chicken is cut into bite sized pieces they cook super quickly. So dinner can be on the table fast.
There are no fancy ingredients, and I pretty much have all of these on hand all the time.
It is fancy enough for company, but I can also throw it on my kid's plate and call it a chicken nugget!
It is flavorful and filling, but still light and wholesome.
How to Serve Garlic Chicken
Since the garlic flavor goes so well with pretty much anything, the options for serving this are pretty much endless! You can go light, go fancy, or keep it super simple. It is up to you!
To serve this Garlic Chicken as an appetizer, just make as directed and then place the skillet on the table with a cup of toothpicks. Guests can just use a pick to grab a bite of chicken and go! This is a great, less messy alternative to wings!
To serve as main dish, you can pair it with your favorite side dishes, or if you need some ideas, here are some of my favorites:
Classic Garlic Chicken Serving Ideas
Mashed Potatoes- I love these Instant Pot Mashed Potatoes
Wild rice
Garlic toast
Pasta- Try tossing pasta with some butter or olive oil , peas, and a little garlic powder salt and pepper.
Low Carb Sides for Garlic Chicken
Pair it with one, or pick a few for a big and hearty meal! Or if you have a favorite side dish you like to serve with garlic chicken that I missed, please leave me a note in the comments below!
How to Make Garlic Chicken
This recipe is super simple as promised. I will go through an overview of the Garlic Chicken recipe here and add some notes that might be helpful as you go through the recipe. Make sure to scroll to the bottom of the post for the FULL printable recipe card.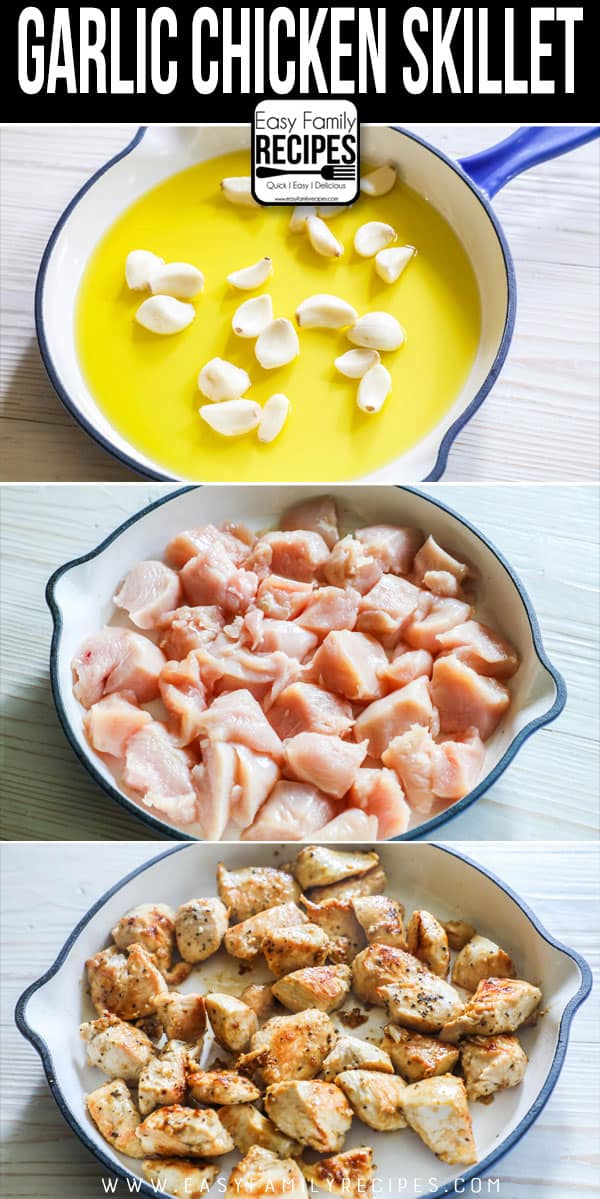 This recipe has two basic parts, first we slow cook the garlic cloves, then we flash cook the chicken. I like to start the garlic cloves, then prepare the chicken to cook while it is cooking, then swap them out when the garlic is done. That way you only have to use one pan and you minimize the time spent preparing the dish.
With that said, if you are in a super rush, you can skip the slow cooked garlic and just make the flash cooked chicken and still have a great meal. This will cut the time required and is probably one of the quickest meals you could get on the table.
This Garlic Chicken is going to sound like it uses an extreme amount of garlic. In reality this recipe does use a lot of garlic, but since it is all cooked, the flavor mellows significantly and it is not overwhelming. Trust me here!
To start, take 15 garlic cloves and place them in a skillet with 1/4 cup olive oil. Make sure that the oil covers the bottom of the pan. If it doesn't you can move to a smaller skillet, or add a little more oil until it does. Turn the burner to the lowest setting and let them cook. You don't need to pay a ton of attention to them, but try to stir or turn them about once every 5 minutes.
While those are cooking, cut the chicken breast into 1 inch pieces. Try to get them as close to the same size as possible so that they cook evenly. Season the chicken then press the remaining garlic cloves so that it is ready when you need it because things are about to happen fast!
The garlic cloves will be done when they are soft all the way through. They should be a light golden brown all over. Once done, remove the garlic cloves and pour the oil out of the pan, reserving it for use. This oil will be holding on to all that delicious garlic flavor so we will use it to cook our chicken and add even more flavor!
Place the pan back on the stove with 1 tablespoon of the garlic oil. Heat over high. Once the oil is hot, add the chicken in a single layer on the pan. If you can't fit it all in the pan, you can make a second batch, this chicken will taste better and cook more evenly if it is not piled or crowded into the pan.
Let the chicken cook 3-4 minutes on the first side and then turn it. Resist the urge to stir it, because you want the chicken to caramelize on the bottom to get the maximum amount of flavor!
Once the chicken has that nice golden brown crust, use tongs to turn it to the other side. When everything is turned, cook for 1 minute, then add the garlic and continue to cook for 1 more minute stirring continuously. The reason we add the garlic right at the end is that if you add in the beginning, the pan is way too hot to cook garlic for so long and it will burn. By just adding it right at the end, we can cook it perfectly and bring out it's best flavor.
The chicken should have cooked for a total of 6-8 minutes now and should be done (internal temp of 165˚F.) If they aren't quite done, you can continue to cook, for 1-2 more minutes, but my chicken is always done at this point.
Stir the garlic cloves, and chopped parsley in with the chicken and serve hot! You can serve it straight from the skillet, or plate it out for a meal.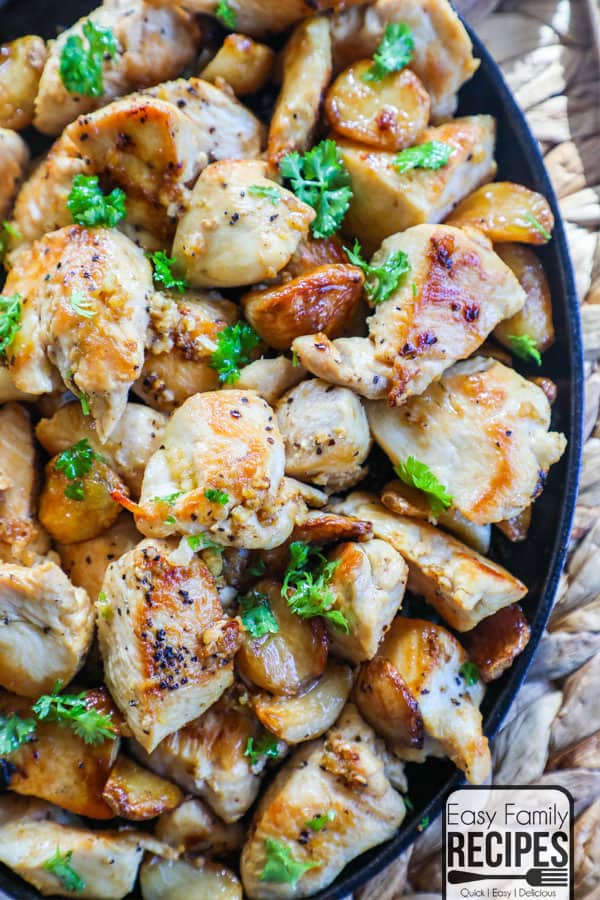 What to do with Garlic Chicken Leftovers
This chicken is so tasty, you might just wish you had leftovers! If you do end up with some chicken left at the end of the meal, you are in luck because there are some really delicious ways to use it up!
To save the chicken you can package in an airtight container and place in the:
refrigerator for 3-4 days
freezer for up to a month
To reheat, place in the microwave for 30 second increments until heated through, or heat in a skillet over medium heat, turning often until heated through.
Leftover Garlic Chicken Recipes
Here are a few ways that you can reuse this garlic chicken to make new meals throughout the week, or month if you freeze the chicken, to make dinner super easy and delicious.
Garlic Chicken Greek Salad– Top mixed greens or arugula with garlic chicken, add cucumber, tomato, olives, and feta cheese. Toss with greek vinaigrette and serve with pita bread or pita chips.
Garlic Chicken White Pizza– Spread a very thin layer olive oil over a ready made pizza crust. Press 3 cloves of garlic and spread them over the oil. Top with mozzarella and parmesan cheese, then dollop ricotta over the top. Chop garlic chicken into small pieces and sprinkle over the top. Bake as directed on crust. Garnish with parsley.
Garlic Chicken Quinoa– Mix prepared quinoa with chopped red pepper, thawed frozen sweet peas, finely chopped red onion, and garlic chicken. Toss with Italian dressing.
Garlic Chicken Baked Subs– Cut a loaf of french bread almost in half, butter each side and sprinkle lightly with garlic and salt. Place on a cookie sheet in oven butter side up and broil until it is golden brown around the edges. Remove the bread, add garlic chicken and top with mozzarella cheese. Bake at 400˚F until cheese is melted and chicken is heated through. Remove from oven and top with chopped romaine and tomato.
Other Easy Chicken Recipes
If you enjoyed this recipe, I hope you will take a moment to leave me a comment and review! Positive reviews not only make my day, but also really help support my website! Also, book mark a few of these other easy chicken recipes to make another night. They are all tried and true and loved by many!
I really do hope that you get a chance to try this recipe soon and that your family enjoys it as much as mine does!
If you do get a chance to try it, I would love it if you let me know! Not only does it make my day, but it also helps my website when you leave a review!
You can leave me a comment below, or if you post a picture on Instagram, make sure to tag me @easyfamilyrecipes so that I can see what you are cooking up! It makes my day to see others enjoying the recipes that I share!
Oh and before you go!… If you need a regular rotation of recipe inspiration like me, make sure to sign up to get our emails! I send out my new favorites, the recipes my family has been devouring, and some of the best tried and true recipes. It is easy and free of course! You can click here to sign up.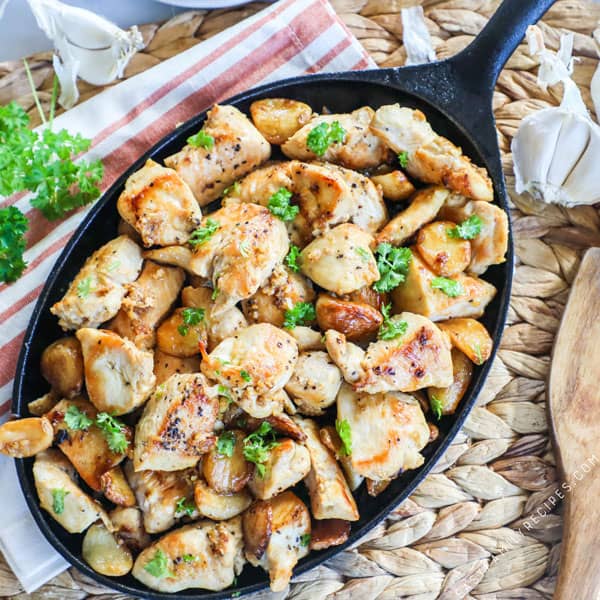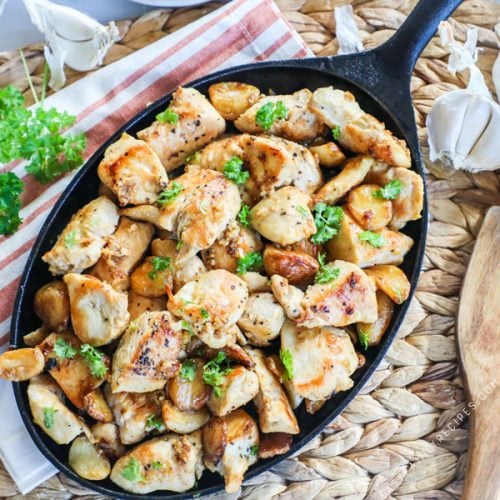 Garlic Chicken Bites
These Garlic Chicken Bites have only a few ingredients but pack in the flavor! Make them for a wholesome dinner, or serve them as a hearty appetizer.
Ingredients
2

lbs

chicken breast

,

boneless, skinless

1/4

cup

extra virgin olive oil

20

cloves

garlic

,

divided, 15 cloves and 5 cloves

1/2

tsp

salt

1/2

tsp

pepper

2

tbsp

parsley

,

chopped
Instructions
Pour the olive oil in a medium skillet and add about 15 garlic cloves. Cook over low heat for about 20 minutes, stirring about every 5 minutes.

While the garlic cooks, cut the chicken into 1 inch pieces, trimming any excess fat. Season evenly with salt and pepper. Press the remaining 5 cloves of garlic and set aside.

When the garlic is soft and golden brown remove it from the pan and drain and reserve the oil.

Add one tablespoon of the oil back into the pan over high heat. Once the oil is hot, place the chicken in the pan in a single layer (if the pan isn't big enough for all of it in a single layer, do a second batch) and let cook for 3-4 minutes. Flip the chicken over and let cook an additional minute, then stir in the pressed garlic (5 cloves) and cook while continuously stirring for 1-2 more minutes.

Remove the chicken from the pan, add garlic cloves back in, and toss with the parsley. Serve immediately.
Recipe Notes
Leftovers can be stored in an airtight container for 3-4 days in the refrigerator or in the freezer for up to a month.
Dietary Considerations:
This recipe is naturally gluten free, low carb, and friendly for low carb and keto diets. Please check all packages of products bought to ensure compliance.
Nutrition facts provided based on my best estimation for the recipe and may not be accurate depending on what brands you use or modifications you make to the recipe.  I recommend using a nutrition calculator with the exact brands and measurements you use for the most accurate calculation.
©2018 Easy Family Recipes- Recipe found at: https://www.easyfamilyrecipes.com/garlic-chicken-bites/
For more great easy dinner inspiration,

sign up for our emails here!
Nutrition Information
Calories:
313
kcal
(16%)
,
Carbohydrates:
5
g
(2%)
,
Protein:
49
g
(98%)
,
Fat:
9
g
(14%)
,
Saturated Fat:
1
g
(6%)
,
Cholesterol:
145
mg
(48%)
,
Sodium:
557
mg
(24%)
,
Potassium:
909
mg
(26%)
,
Fiber:
0
g
,
Sugar:
0
g
,
Vitamin A:
230
IU
(5%)
,
Vitamin C:
9.9
mg
(12%)
,
Calcium:
41
mg
(4%)
,
Iron:
1.2
mg
(7%)