These Garlic Butter Meatballs are filled with tender ground turkey, perfectly seasoned, and tossed with a rich garlic butter sauce. These are a must for any garlic lover, and even though they are loaded with flavor, they are quick and easy to make with as little as 10 minutes of prep.
This post is sponsored by Challenge. All recipes, tips, and opinions are cooked up right here at Easy Family Recipes.
Meatballs are a go-to in our home because they have that perfect combination of easy to make, filling, and family-friendly! I love that you can switch it up and make them in so many different flavors to suit whatever you may be craving.
These Garlic Butter Meatballs, rank among the best! They are made with ground turkey, but perfectly balanced to keep them ultra tender and moist. The garlic butter is both IN the meatball, and in the garlic butter sauce that they are tossed in for an explosion of flavor and an absolutely delicious skillet meal.
Why I LOVE this recipe!
Family Friendly – both the meatballs, and the flavor go over great with kids and adults.
Quick prep – These can go from the fridge to the skillet in as little as 10 minutes!
Basic Ingredients – Nothing fancy you have to hunt down here! Just everyday staples brought together in the most delicious way.
Flavor! – oh the flavor! Garlic and butter are a match made in heaven and these meatballs bring it to the pinnacle of perfection.
Goes with Everything! – There are so many serving options based on what you have on hand. Make sure to see the section below with all of my favorite pairings for this easy dinner recipe.
Recipe Notes
This turkey meatballs recipe is as simple as promised! Just a reason it is so easy—- for a family friendly meal.
In this section I am going to go through a few tips and tricks I use for how to make Garlic Butter Meatballs to get the absolute best and most delicious results.
Make sure to scroll to the bottom for the FULL recipe card.
Ingredients + Substitutions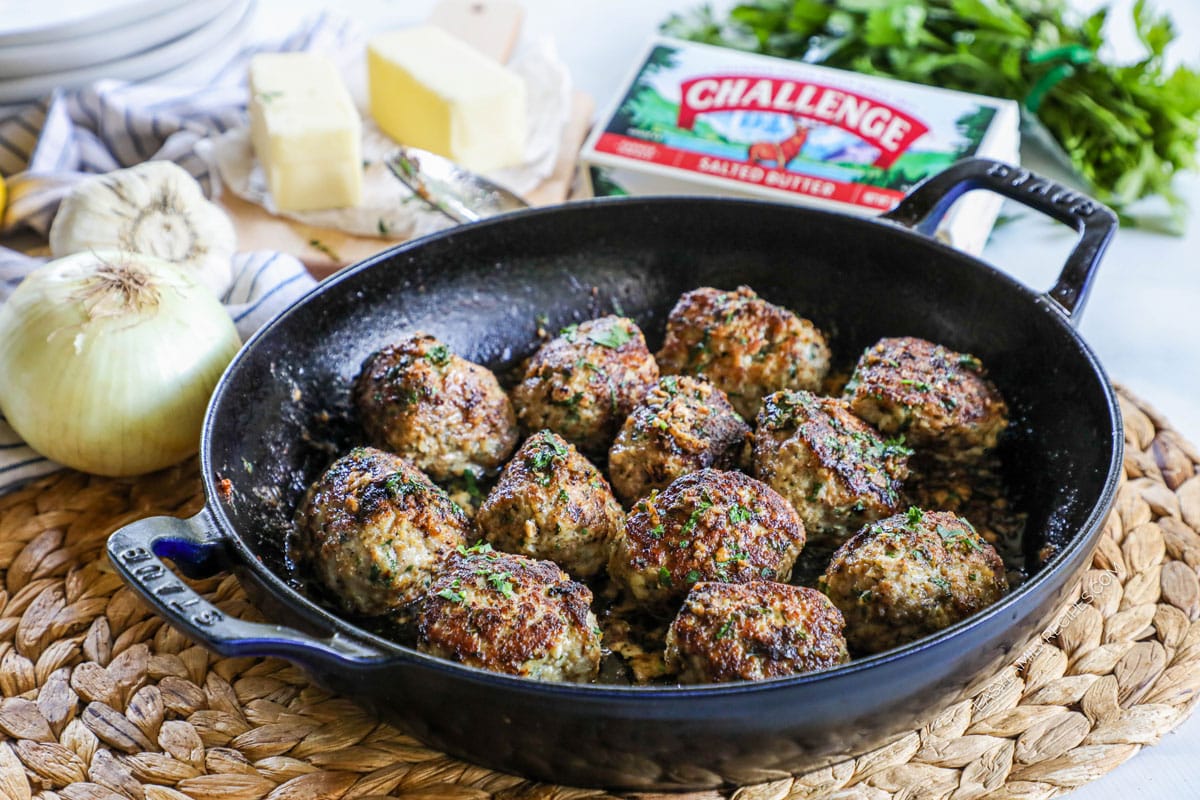 For the meatballs:
Ground turkey– I like to use 93% lean turkey in these, but you can get by with anything over 85% lean with good results.

Plain bread crumbs – You can substitute Italian seasoned bread crumbs if needed.

Onion– I use about 1/2 large onion to get the quantity needed. You can use white, yellow, sweet, vidalia, or even red with good results.

Parmesan cheese– you will want a nice quality grated parmesan

Challenge Salted Butter– You will use 1 stick total between the meatballs and the sauce. I love the flavor of their salted butter, but you can sub unsalted butter if it is what you keep on hand.

Challenge butter has been a staple in my kitchen for years. I choose Challenge because of the simple ingredients and always delicious flavor. For over 100 years they have been churning their butter from the freshest cream from their family-owned dairies.

Eggs

Seasonings– We use a handful of seasonings to amp up the flavor in the meatballs including, garlic, parsley, Italian seasoning, salt and black pepper. You can use a store bought Italian seasoning or a homemade Italian seasoning blend.

Olive oil
For the Garlic butter Sauce
Challenge Salted Butter- The sauce will utilize the remaining butter from the stick
Garlic- I recommend fresh garlic for the best flavor
Lemon juice- This should be the juice of about 1/2 of a lemon
Fresh parsley
Make sure to see the recipe card at the bottom of this post for the full quantities and ingredients list.
Recipe Variations
If you love this recipe as much as we do and want some quick ways to change it up for variety, these little tips will do the trick!
Garlic Butter Chicken Meatballs– Make this recipe as directed substituting ground chicken in place of ground turkey.

Garlic Butter Pasta with Meatballs– Make recipe as directed, except double all ingredients for the sauce. Cook 8-12 ounces of pasta as directed, and drain. Once meatballs are done cooking, remove and toss pasta with sauce, then nestle meatballs back on top.

Garlic Butter Beef Meatballs– Make this recipe as directed substituting ground beef in place of ground turkey, and reducing to 1 egg. You can also use a combination of ground beef and ground pork to form the meatballs.

Recipe Step by Step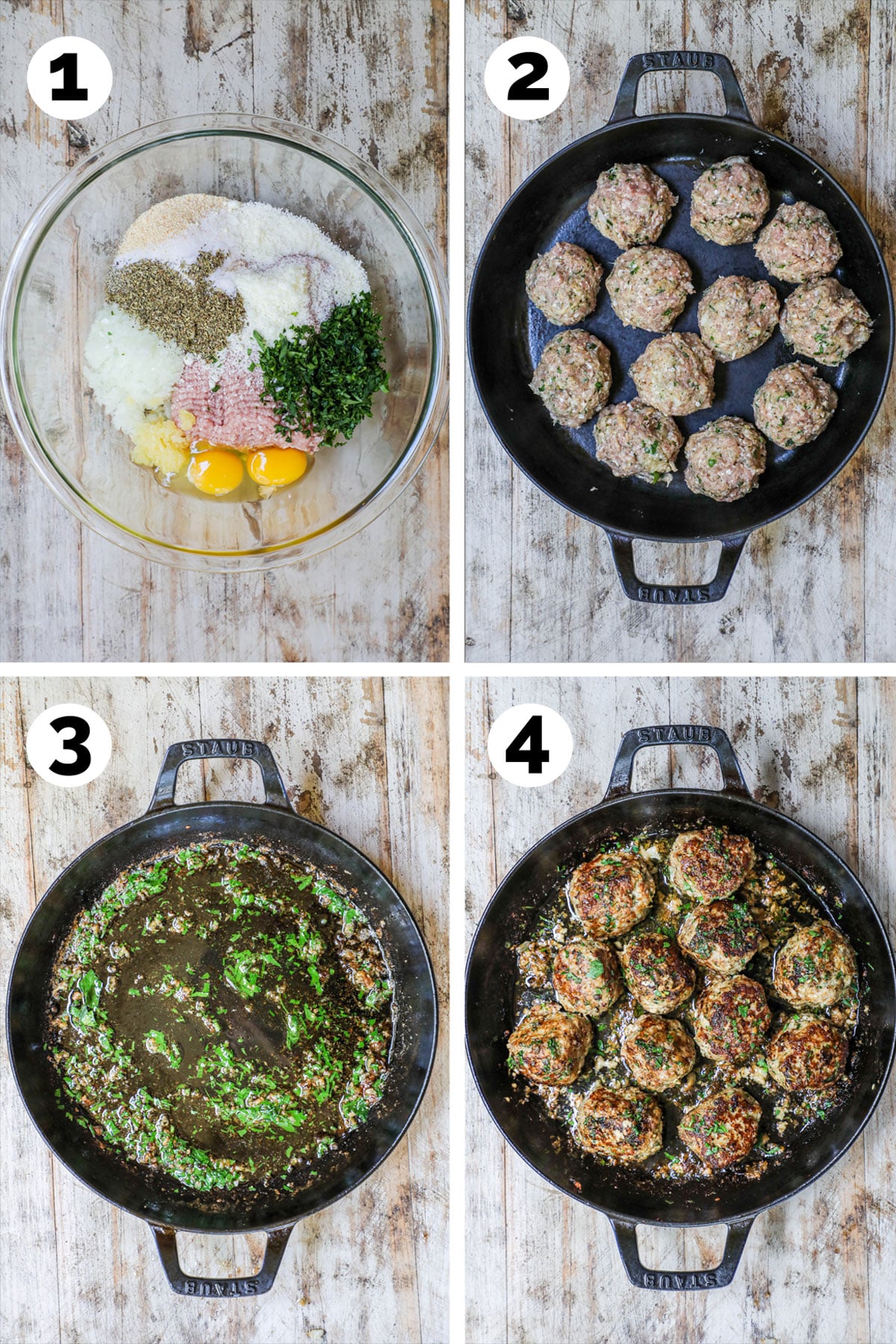 I am going to highlight a few key steps in the recipe here, but make sure to jump down to the recipe card for comprehensive instructions on how to make Garlic Butter Meatballs.
Step 1– Make garlic butter meatballs by combining the meatball ingredients in a large bowl and using your hands to work it until all of the ingredients are evenly combined.

Step 2– Form meatballs into 2 inch balls and brown on each side in a hot skillet. This will add flavor and texture to the dish.

Step 3– Remove meatballs from the skillet- they won't be done cooking yet, but will finish cooking in the sauce. Make garlic butter sauce for meatballs by deglazing the pan with lemon juice then let the butter melt and stir in the garlic and parsley.

Step 4– Add the turkey meatballs back into the pan and toss them in the sauce. Transfer the skillet to the oven to finish cooking. If your skillet is not oven safe, transfer the meatballs and sauce to a casserole dish and then place in the oven. It may take an extra 3-5 minutes of cooking time if transferred to a casserole dish.
Recipe Tips
Chop small – To get the best flavor try to chop the onion and parsley as fine as you can. This allows them to more fully incorporate into the flavor of the meatball. I like to use my mini chopper on both to get the dice really fine.

Don't overwork (or underwork) – I recommend using your hands to combine the mixture so you can work it just enough to have everything combined without having to overwork the meat mixture. The key is to make sure to distribute all of the ingredients evenly throughout, and once they are, stop working the ground turkey.

2 inch meatballs– the cooking time on the Garlic Butter Meatballs recipe is formatted for a 2 inch meatball. If you choose to make them bigger, or smaller, it will still be delicious, however the cooking time will change.

Brown it up – Browning the meatballs helps both to give the meatball some texture and flavor and to caramelize the flavors of the meat onto the pan so that they can incorporate into the sauce. While you don't have to go overboard here, I usually try to turn them about 3 times before I deglaze the pan.

Tip: Make sure you use a large skillet so there is breathing room for the meatballs. This will help them brown more easily. If you don't have a big enough skillet, you can brown them in batches.

Toss with Sauce – Once you make the sauce, toss the meatballs in the sauce so they are coated on all sides before transferring to the oven. This will allow the flavor to cook into the meatballs.
Recipe Short Cuts
If you need to make this recipe, but are extra short on time, here are a few ideas that can help make this recipe even faster!
Buy pre-chopped –If you want to save on prep work, you can often find pre-chopped onion and parsley in the produce section. Or you can prep it yourself and chop when you have more time up to 3 days in advance.

Premix the meatballs – The Garlic Butter Meatballs can be mixed up and formed up to 3 days in advance, then stored in the refrigerator until you are ready to cook them.

Freeze – These meatballs can also be prepared in advance and frozen with great results. See freezer section below for full instructions.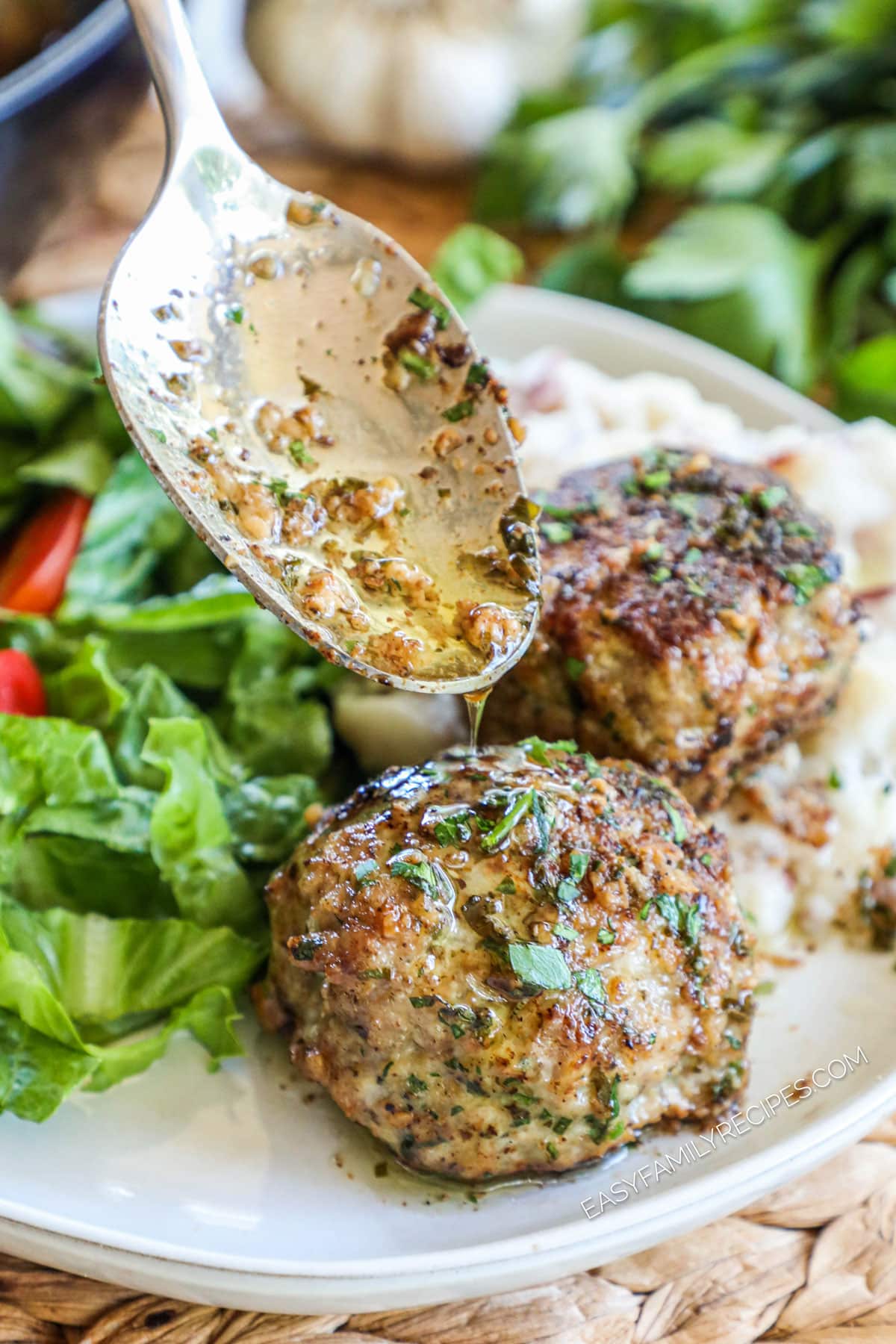 Freezer Meal Instructions
Making this Garlic Butter Meatballs recipe into a freezer meal is simple! Follow the steps below and you can store this recipe in the freezer for up to 6 months.
To freeze before cooking
Mix the meatball ingredients up and form into 2 inch meatballs.
Lay on a plate, or baking sheet and place in the freezer for about 30 minutes.
Transfer to a freezer bag or container and freeze.
Once ready to cook, thaw 24-48 hours in the refrigerator.
Continue with recipe as directed
How to Freeze Garlic Butter Meatballs After Cooking
Prepare recipe as directed.
Let cool to room temperature, then package in a freezer friendly container in meal sized portions.
Freeze.
Once ready to eat, reheat the Garlic Butter Meatballs in the microwave, oven, or a skillet over low heat.
What to Serve with Garlic Butter Meatballs
Since this protein based dinner has the delicious flavors of garlic, butter, and savory seasoning, it will pair well with many of your favorite Italian style side dishes.
Choose one or several of these side dishes to create a wholesome, well-rounded dinner. There are both classic options and some healthy options to keep it light.
Side Dish Ideas
Italian Side Salad – this restaurant style salad is quick and delicious
Pasta– Go with anything from penne, to spaghetti, to egg noodles. If you want to coat the pasta in the garlic butter sauce, I recommend you double the sauce when making the recipe.
Mashed Potatoes– These are my go to, and perfect for nestling in the meatballs and spooning over the garlic butter sauce
Roasted Vegetables– A great lighter pairing option
Brown Butter Broccoli– Best way to eat broccoli
Lemon Rice– This is such a flavorful way to eat this meal and goes perfectly with the meatballs. Plus the rice is just so, so good!
Zoodles– These Garlic Butter Meatballs pair with zucchini noodles perfectly
Garlic Butter Turkey Meatballs Leftovers
If you have leftovers after making this recipe, then it is your lucky day! They save and reheat well, and can make the start of another delicious dish.
To save leftovers, separate into meal sized portions and then place in an airtight container and store:
in the refrigerator for 3-4 days
in the freezer up to a month
Leftover Recipes
Here are a few ways to repurpose those leftovers and give them a delicious makeover!
Garlic Butter Meatball Subs– Use the Garlic Butter Meatballs to make these Italian meatball subs. You can even brush the sauce on the rolls before toasting to give it loads of extra flavor!
Spaghetti and Meatballs– Cook spaghetti per package directions. Reheat the meatballs with garlic butter sauce in a large pot. Add marinara sauce. Toss cooked spaghetti with meatballs and sauce. Serve topped with parmesan cheese.
Garlic Butter Meatball Pizza– On a prepared pizza crust, spread a thin layer of marinara sauce. Cover with Mozzarella cheese. Cut garlic butter meatballs into quarters and place them on top of the cheese. Optional: Add (any or all) sliced mushrooms, diced onion, spinach, or dollops of ricotta cheese. Bake as directed.
Meatball Pasta Bake– Cut the garlic butter meatballs into quarters and use them to make a half version of this Meatball Pasta Bake.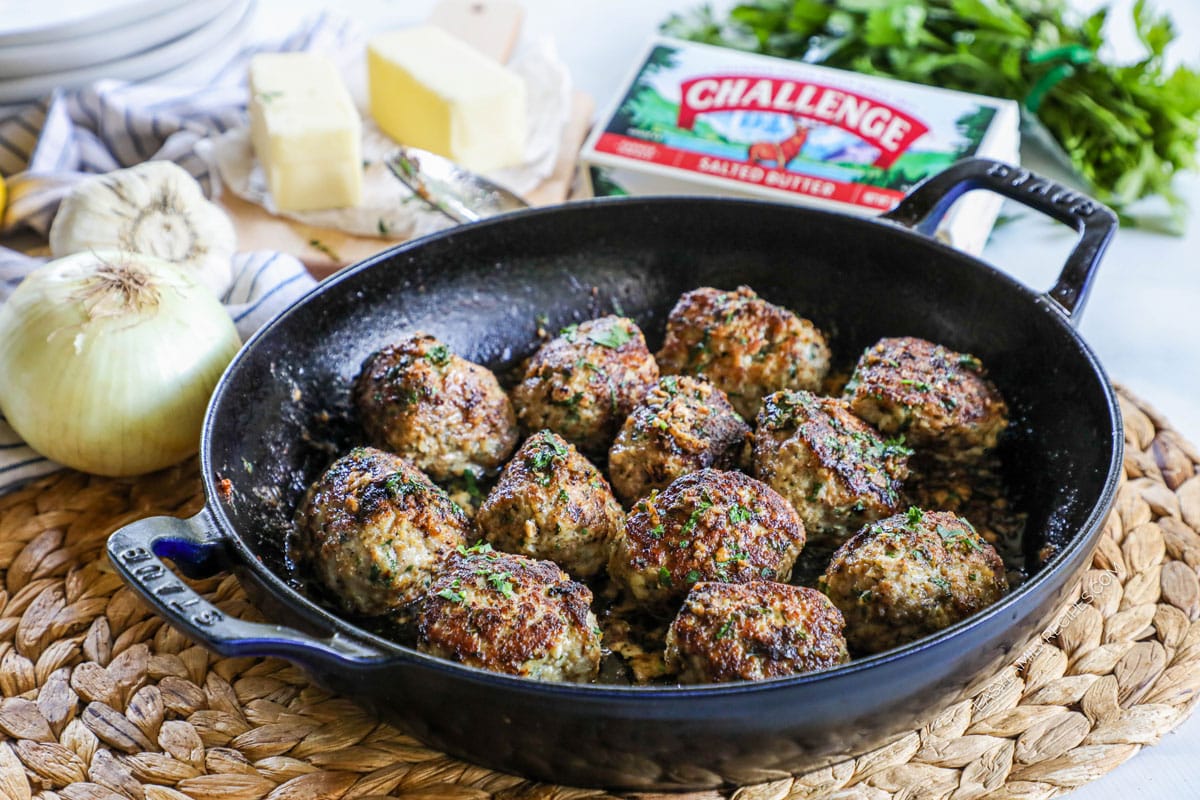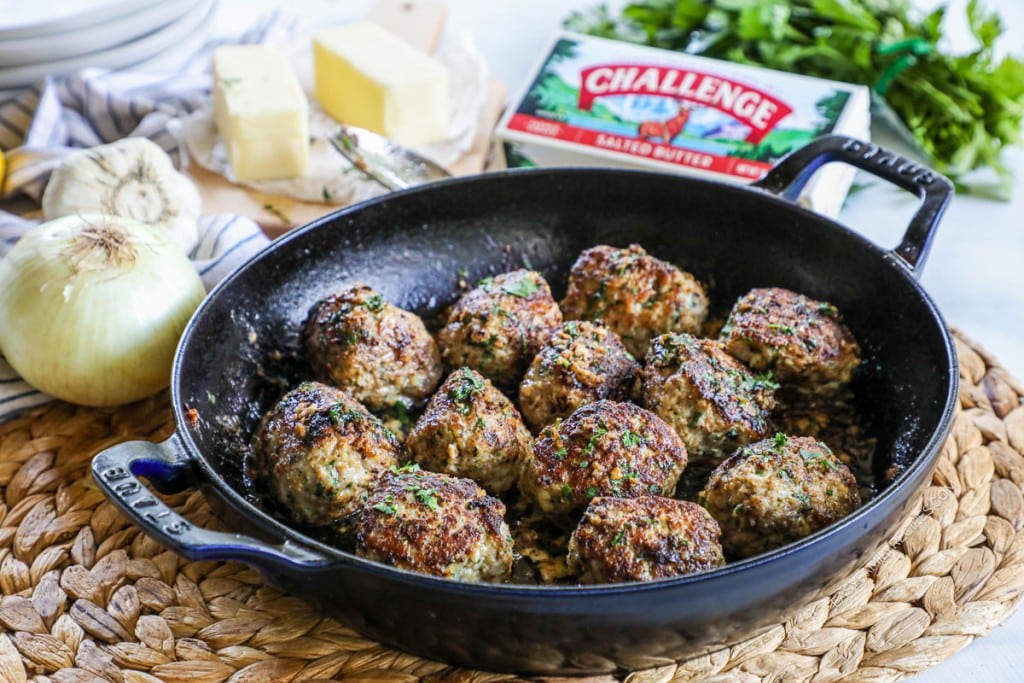 Recipe FAQ's
What's the secret of a tender meatball?
The balance of bringing in moisture (eggs, onion, butter) to bread crumbs will help keep the meatballs tender and moist. The bread crumbs distribute throughout the ground turkey and hold in the moisture as they cook.
Should I sear meatballs before cooking?
For the recipe, searing the meatballs is very important. It not only adds flavor and texture to the meatballs, but also helps the meat caramelize on the pan adding flavor to the garlic butter sauce.
Do meatballs get soft the longer you cook them?
Meatballs do not get softer the longer you cook them. Like any meat, a meatball can get dry and tough if over cooked in either a pan or the oven. I recommend you use a meat thermometer and cook ground turkey meatballs to 165˚F for perfectly tender, soft meatballs.
Is egg necessary in meatballs?
Egg is necessary in a ground turkey meatball. It not only serves as a binder for the meatballs, but also helps to keep them tender, adding in some fat since ground turkey is such a lean meat.
More EASY Ground Turkey Recipes
If you enjoyed this recipe, I really hope you will take a moment to grab a few more easy recipes for another busy night!
You can check out all of my easy Ground Turkey recipes here, or see a few of our readers favorite recipes below.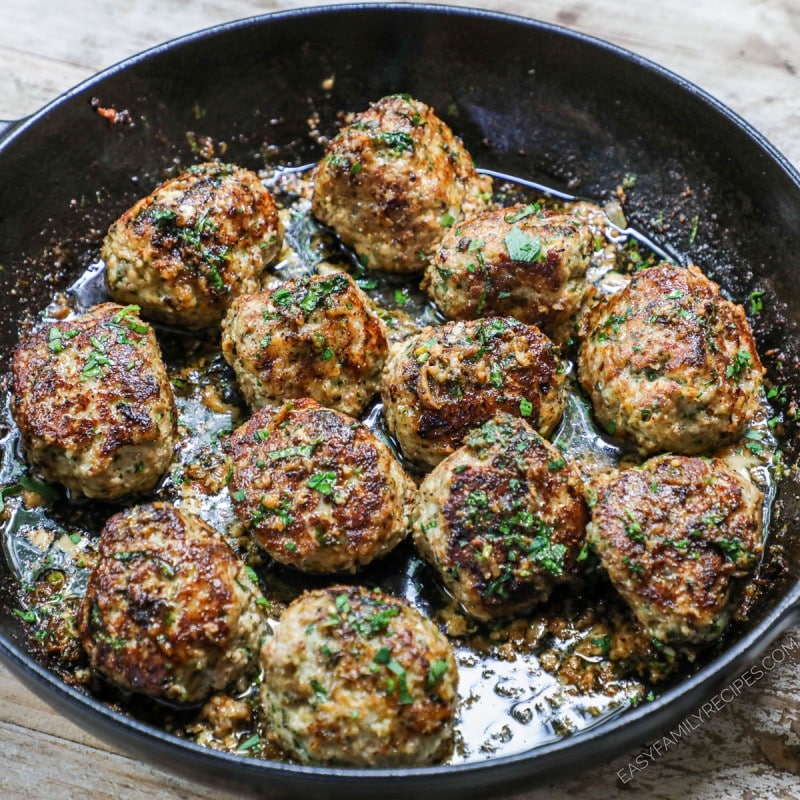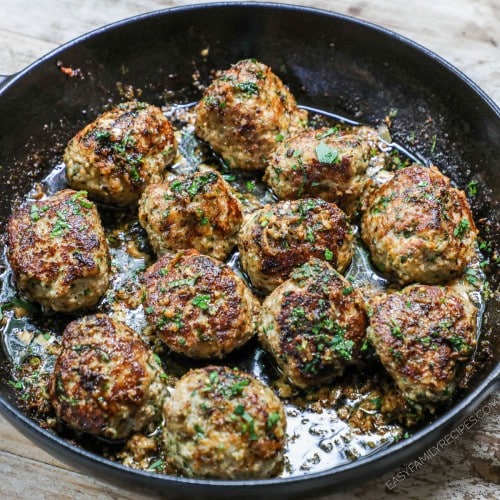 Garlic Butter Meatballs
These tender ground turkey meatballs are tossed in a rich garlicky butter sauce for a flavor-filled dinner you can make in minutes! They are perfect to serve with pasta, mashed potatoes, or roasted vegetables.
Ingredients
For the meatballs:
2

tablespoons

Challenge Salted Butter

,

melted

1.5

pounds

ground turkey

1/3

cup

plain bread crumbs

1/2

cup

finely diced onion

1/4

cup

fresh parsley chopped

1/4

cup

freshly grated parmesan cheese

2

eggs

1

clove

garlic

,

pressed

1

tablespoon

Italian seasoning

1

teaspoon

salt

½

teaspoon

ground pepper

1

tablespoons

olive oil
For the Garlic butter Sauce
6

tablespoons

Challenge Salted Butter

2

cloves

garlic

,

pressed

1

tablespoon

lemon juice

2

tablespoon

chopped fresh parsley
Instructions
In a large bowl, melt 2 tablespoons of butter. Then add ground turkey, bread crumbs, onion, parsley, parmesan, eggs, Italian seasoning, salt, and pepper. Use clean hands to work the mixture until all ingredients are evenly combined.

Form the ground turkey mixture into 2 inch meatballs

Heat the olive oil in a large oven-safe skillet over medium heat. Once hot, add the meatballs and turn to brown on each side for 1-2 minutes. I usually turn them 3-4 times. Remove from skillet and set aside.

Add the lemon juice the the skillet ad deglaze by scraping the bottom of the pan with a spoon or spatula. Add 6 tablespoons of butter and garlic and stir until melted, about 3-4 minutes. Stir in 2 tablespoons of parsley.

Place the meatballs back in the skillet and toss or turn to coat them with the garlic butter sauce. Then transfer the skillet to the oven and bake for 10-15 minutes or until the meatballs reach 165˚F.

If you don't have an oven-safe skillet, you can transfer the meatballs and garlic sauce to a casserole dish and finish cooking for 15-20 minutes.
Recipe Notes
Makes about 12 two inch meatballs
Substitutions: You can use ground chicken, ground pork, ground beef, or a combination in place of ground turkey
How to Store: Divide leftovers into meal sized portions and store in the
refrigerator for 3-4 days
freezer for up to a month
How to Reheat: Garlic Butter meatballs can be reheated in the microwave, oven, or on the stove top over low heat.
How to Freeze: This recipe can be frozen before or after cooking. See post for full freezing instructions.
Nutrition Information
Serving:
3
meatballs
,
Calories:
534
kcal
(27%)
,
Carbohydrates:
12
g
(4%)
,
Protein:
47
g
(94%)
,
Fat:
34
g
(52%)
,
Saturated Fat:
18
g
(113%)
,
Polyunsaturated Fat:
3
g
,
Monounsaturated Fat:
11
g
,
Trans Fat:
1
g
,
Cholesterol:
241
mg
(80%)
,
Sodium:
1060
mg
(46%)
,
Potassium:
661
mg
(19%)
,
Fiber:
2
g
(8%)
,
Sugar:
2
g
(2%)
,
Vitamin A:
1423
IU
(28%)
,
Vitamin C:
11
mg
(13%)
,
Calcium:
134
mg
(13%)
,
Iron:
3
mg
(17%)