This EASY Crustless Chicken Pot Pie is the quickest way to a super cozy and delicious weeknight dinner! Made in just one skillet with tender chicken breast, lots of veggies, a creamy broth, and topped with buttery bread crumbs, this has all the flavor of classic homemade chicken pot pie, but is so much easier!
Chicken Pot Pie – The EASY Way!
Chicken pot pie is one of those dishes that is universally loved! Kids, grown ups, and in-between, there is not many dinners that are so widely adored. This Crustless Chicken Pot Pie took me several tries to get perfect. Making a dish that had all the flavor of the classic, but is quick and easy enough to make any busy night.
FINALLY, I got it just right and let me tell you, my family will devour this in minutes flat!
What I LOVE about this recipe
Quick– This crustless chicken pot pie is a true 30 minute meal. Even with prep time you can have it on the table fast!
Easy– Making homemade chicken pot pie may seem intimidating, but there is nothing hard about this recipe. Just a few very simple steps to a fantastic dinner.
Cozy & Comforting– These flavors are basically synonymous with comfort! The savory herbs, the comforting sauce, lots of veggies. It is perfect for a cozy night in!
One Skillet– You only need one skillet to make this whole recipe! That makes for both a fast dinner recipe, and quick and easy clean up.
Wholesome– This Crustless Chicken Pot Pie gives you all the flavor of chicken pot pie, but keeps it light and wholesome with lots of veggies and no heavy pie crust.
What to Serve with Crustless Chicken Pot Pie
This dinner is has meat, veggies all cooked in a rich, delicious sauce so you can easily serve it up on its own and have a very filling and satisfying dinner. That said, I usually like to add a side or two just to round out the meal and help it stretch even farther.
Side Dish Ideas
Mashed Potatoes– This is perfect to serve the chicken pot pie right on top of!
Biscuits– Since this chicken pot pie recipe has no crust, serving it over biscuits is one of our favorites!
Rice or cauliflower rice– This is a great way to keep it light and wholesome. Serve over white or brown rice, or keep it extra light with cauliflower rice.
Side salad– My easy go-to. I like mixed greens with a sprinkle of mozzarella, tomatoes, and this homemade ranch dressing (SO GOOD!!)
Roasted Vegetables– This is quick and easy and can be done in the same amount of time as the chicken pot pie.
Garlic Bread– If you don't do potatoes or biscuits, add garlic bread to the side to help soak up all the delicious sauce.
You can choose one or add a few sides to make a wholesome, well rounded dinner.
Recipe Notes
This Crustless Chicken Pot Pie recipe is as simple as promised! Just one big skillet and a few everyday ingredients for a family friendly meal.
In this section I am going to go through a few tips and tricks I use when making this recipe to get the absolute best and most delicious results.
Make sure to scroll to the bottom for the FULL recipe card.
Ingredients + Substitutions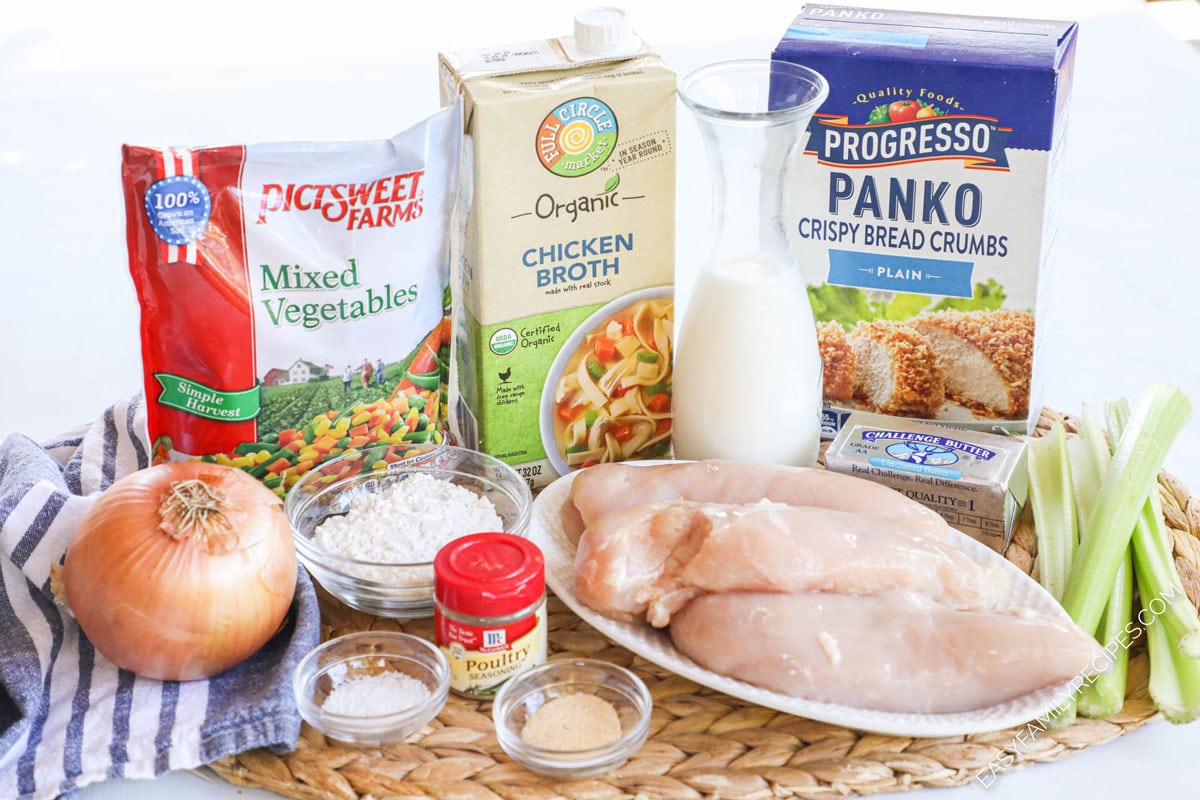 This ingredient list looks longer than our normal recipe here at Easy Family Recipes, but the ingredients are so simple that I promise it is not overwhelming!
For the chicken pot pie filling
Chicken breast– I perfer tender white meat chicken breast cut into small bite sized pieces in my chicken pot pie. You can also substitute chicken tenderloins, or boneless skinless chicken thighs if you prefer dark meat over white meat.

Onion– A medium onion works best. It should end up to be about 1 cup.

Mixed vegetables– Using frozen mixed veggies really help cut the prep time for this recipe. Depending on your preference, you can use mixed veggies which include carrots, peas, corn, and green beans, or you can substitute frozen peas and carrots. Both work wonderfully in this recipe and it is just a matter or preference or convenience.

Celery– I like to use fresh celery finely diced.

Butter- You can use salted or unsalted in this recipe. It will not change the flavor of the dish much, so I generally just use what I happen to have on hand.

Flour- You can use all purpose, or any gluten free substitution that is suitable for thickening sauces.

Spices– To get the best savory flavor, we use salt, garlic powder, poultry seasoning, and dried thyme in this recipe. You can play around with the quantities or add additional spices to suit your personal taste, but I find these pretty spot on for the perfect comforting chicken pot pie flavor.

Chicken broth– This helps to create the base. I always like to use high quality chicken broth to help give the crustless chicken pot pie the most flavor, but if you are in a pinch you can substitute chicken bullion or chicken base, mixed with water.

Heavy cream– My preference for this recipe is heavy cream. We don't use much, but even with a little, it adds richness and depth of flavor. You can substitute half and half or milk if needed, but you do lose some flavor in my opinion.
For the Topping
Panko– I love the crisp of panko and think the texture works really well with this recipe. Regular or Italian style bread crumbs can be substituted as well.

Butter- As above, salted or unsalted will work. I tend to prefer salted to add just a little extra flavor to the panko since we don't add extra salt.

Garlic powder– This pumps the flavor and can be adjusted to your personal taste.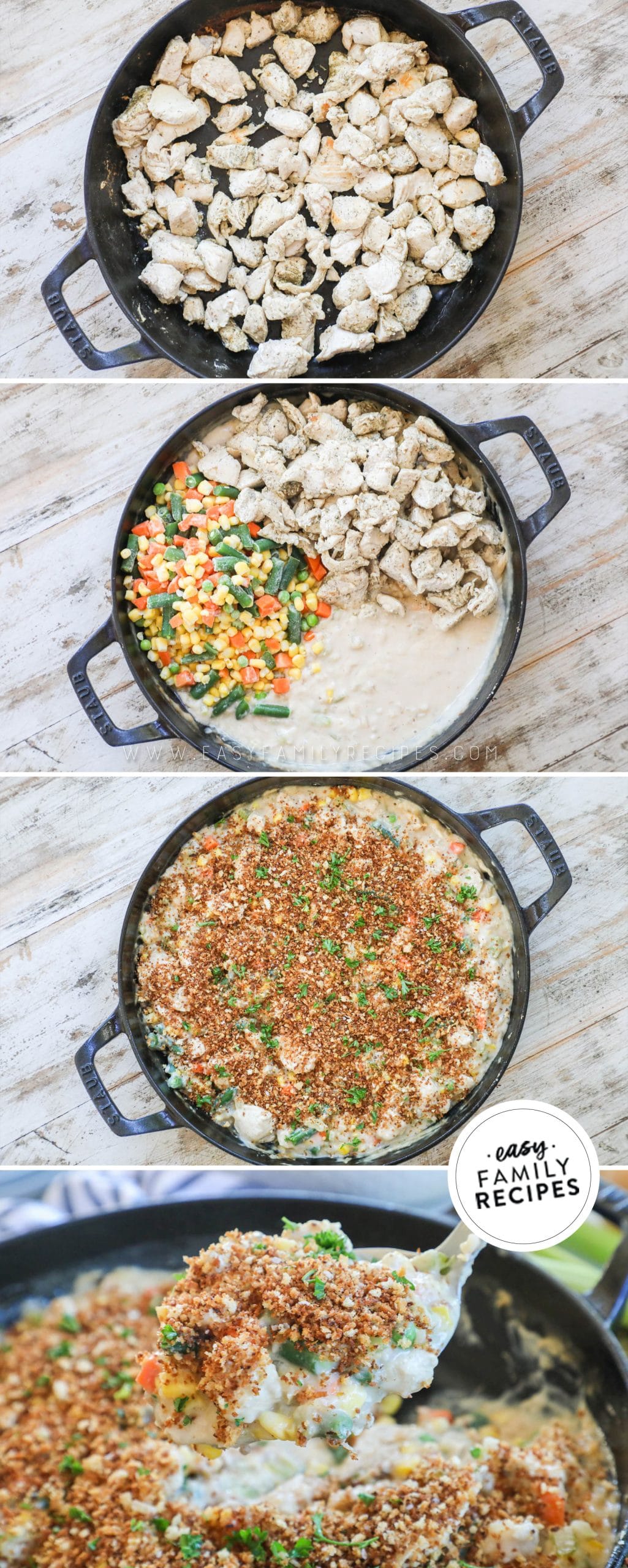 Recipe Tips
Dice small– Both the chicken, as well as the onions and celery! The chicken is cut into about 1/2 in pieces and I usually dice the onion and celery as small as I can easily. It probably ends up to be about 1/4 inch. The reason for this is that the smaller the food is cut, the more quickly it cooks. This is one of the things that helps the recipe be so fast!

One skillet– You can make the whole recipe in one skillet as long as you have a big one! I would advise a minimum of 12″. If you only have a smaller skillet, you can do it in batches or half the recipe if needed.

Adjust the thickness– The broth in this crustless chicken pot pie recipe is thickened but still loose enough to to drip or run. If you prefer a thicker filling in your pot pie, you can up the flour mixed in from 1/4 cup to 1/3 or up to 1/2 depending on how thick you want it.

We think using a 1/4 flour makes the perfect consistency of broth, but it is totally customizable depending on how you like your chicken pot pie.

Crumbs on top– You can top the crustless pot pie with the panko crumbs all together, which is how it is directed in the recipe. However, what I have started doing is just keeping them on the side and spooning them over each portion as it is served. That allows us to save any leftovers without the crumbs on top getting soggy! As an added bonus, it makes the meal a bit more flexible if anyone prefers the chicken pot pie without the topping.
Recipe Short Cuts
If you need to make this recipe, but are extra short on time, here are a few ideas that can help make this recipe even faster!
Pre-cut Chicken– The chicken can be cut days in advance, depending on the use by date on the packaging.

Pre Chop Veggies– the celery and onions can be chopped up to 3 days in advance to help prep the meal. You can also find precut onions and celery in the fresh produce section at many grocery stores.

Prepare as a freezer meal– Use the directions below to make this up to 6 months in advance as a freezer meal.
Recipe Variations
If you love this recipe as much as we do and want some quick ways to change it up for variety, these little tips will do the trick!
Chicken Pot Pie with Puff Pastry– Make recipe as directed in an oven safe skillet skipping the panko. Once the chicken pot pie filling is done, lay a sheet of puff pastry over top, and transfer to a 400˚ preheated oven. Bake 20-25 minutes or until the puff pastry is crisp, puffy, and golden brown.

Chicken Pot Pie with Biscuits– Make recipe as directed in an oven safe skillet skipping the panko. Once the chicken pot pie filling is done, tear canned biscuits into pieces and drop over top of the chicken pot pie filling. Transfer to a 400˚ preheated oven. Bake for 20-25 minutes or until biscuits are golden and cooked through.

Chicken Pot Pie with Pie Crust– Make recipe as directed skipping the panko. Once the chicken pot pie filling is done, transfer into a pre-made pie crust. Cover top with a second pie crust and seal the edges. Cut several slits in the top of the pie crust and bake as directed on package instructions.
Freezer Meal Instructions
Prepare the panko as directed in steps 1-2.
Set aside to cool. Then package in a freezer bag.
Prepare crustless chicken pot pie filling as directed in steps 1-6.
Allow to cool to room temperature and then package in freezer bag or freezer friendly container.
Freeze.
When ready to eat, heat a large skillet over medium. Toast the bread crumbs until toasty, then remove the crumbs and heat the chicken pot pie filling until hot throughout.
Top the chicken pot pie filling with the panko bread crumbs and serve.
Crustless Chicken Pot Leftovers
If you have leftovers after making this recipe, then it is your lucky day! They save and reheat well, and can make the start of another delicious dish.
If you think there is a good chance of having leftovers I recommend keeping the panko separate from the chicken pot pie filling and just spooning the crispy topping over the chicken pot pie as you serve. That way you can keep them separate as leftovers so the crumbs don't get soggy in the fridge.
To save leftovers, separate into meal sized portions and then place in an airtight container and store:
in the refrigerator for 3-4 days
in the freezer up to a month
More XXX Recipes
If you enjoyed this recipe, I really hope you will take a moment to grab a few more easy recipes for another busy night!
You can check out all of my Easy Dinner recipes here, or see a few of our readers favorite recipes below.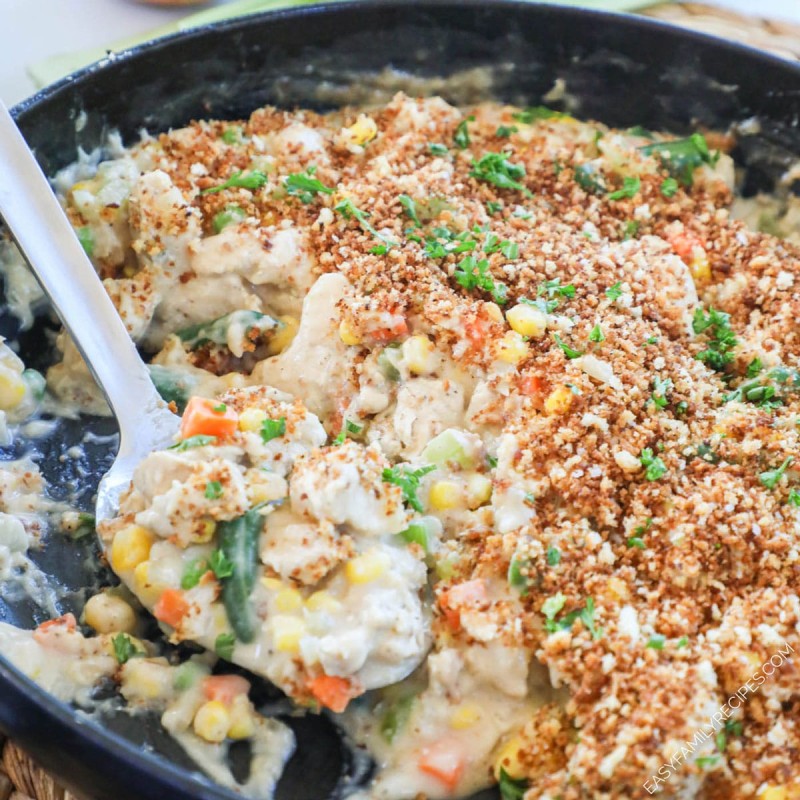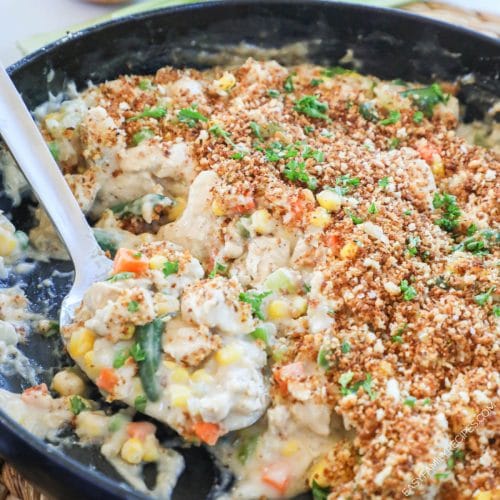 Crustless Chicken Pot Pie
This easy Crustless Chicken Pot Pie is quick to make, absolutely delicious and the perfect comfort food for a cozy night in. Serve it up in a bowl, or over mashed potatoes, biscuits, or just with a side salad. This is a dinner the whole family will love!
Ingredients
1.5

pounds

chicken breast

,

cubed, 1/2 inch pieces

1

onion

,

diced

12

ounces

mixed vegetables

,

frozen

1

cup

sliced celery

2

tbsp

butter

1/4

cup

flour

,

or more (see note)

2

tsp

salt

,

divided

1

tsp

garlic powder

1/2

tsp

poultry seasoning

1/4

tsp

dried thyme

2

cups

chicken broth

1/2

cup

heavy cream

,

or half and half
For the Topping
1

cup

Panko

2

tbsp

butter

1/2

tsp

garlic powder
Instructions
For the panko
Heat a large, heavy skillet over medium high heat. Add the butter and swirl it around the skillet so the entire bottom is coated.

Once butter is melted add the panko and garlic powder and cook, stirring regularly, for about 3-4 minutes or until the breadcrumbs become golden brown.

Remove from pan and set aside.
To prepare the chicken pot pie filling
Melt 1 tablespoon of butter in the skillet over medium high heat.

Season the cubed chicken breast with the poultry seasoning, garlic powder, and 1 tsp of salt. Add to the hot skillet and spread into a single layer. Cook about 2 minutes per side without stirring. Then remove from skillet.

Chicken may not be fully cooked, but will continue to cook when re-added to the chicken pot pie filling.

Reduce heat to medium. Add the last 1 tablespoon of butter into the skillet with the onion and celery.

Cook for 4-5 minutes stirring regularly until the onion and celery start to soften and become translucent.

Sprinkle the flour over the onion and celery and mix it in for about a minute until it becomes golden brown.

Stir in the chicken broth and mix until flour is dissolved. Slowly stir in the cream, then add the remaining 1 teaspoon salt and 1/4 teaspoon thyme.

Bring to a simmer.

Once it is simmering, reduce the heat to low. Then stir in the chicken and mixed vegetables and bring back to a simmer. Allow to simmer for about 5 minutes or until the broth has thickened and the chicken is fully cooked.

Then turn off the heat and sprinkle the panko bread crumbs over the top. Serve warm.
Recipe Notes
If you prefer a thicker broth, use 1/3-1/2 cup flour instead of 1/4 cup flour when making this recipe.
When you think you will have leftovers, I like to keep the panko bread crumbs separate from the chicken pot pie filling so that I can package the bread crumbs separately in the fridge. This allows you to keep them crispy for when you eat the leftovers!
Nutrition Information
Calories:
376
kcal
(19%)
,
Carbohydrates:
23
g
(8%)
,
Protein:
29
g
(58%)
,
Fat:
19
g
(29%)
,
Saturated Fat:
10
g
(63%)
,
Polyunsaturated Fat:
1
g
,
Monounsaturated Fat:
5
g
,
Trans Fat:
1
g
,
Cholesterol:
120
mg
(40%)
,
Sodium:
1382
mg
(60%)
,
Potassium:
726
mg
(21%)
,
Fiber:
4
g
(17%)
,
Sugar:
2
g
(2%)
,
Vitamin A:
3521
IU
(70%)
,
Vitamin C:
15
mg
(18%)
,
Calcium:
73
mg
(7%)
,
Iron:
2
mg
(11%)