These Crispy Toasted Tortellini are the perfect bite-sized, snackable, appetizer! These cheesy pasta bites are coated in delicious garlic herb crumbs and baked to perfection making them tender on inside, and crispy on the outside. Perfect for dipping in a variety of sauces, this easy appetizer is a big crowd pleaser!
This post is sponsored by Buitoni. All recipes, tips, and opinions are cooked up right here at Easy Family Recipes.
Toasted Tortellini – The EASY Way!
When you need an appetizer that is crazy delicious, super quick and easy to make, and can feed a hungry group, this Crispy Toasted Tortellini is exactly what you need!
Lately, the pasta chips trend has been taking the internet by storm. This toasted tortellini, is maybe it's distant, and even more delicious cousin.
It has that cravable crispy pasta on the edges, but retains it's soft cheesy center to balance the texture, and the crispy parmesan garlic crumb coating just rockets the flavor off the charts.
This recipe is perfect for any time you need a quick bite, but we especially love these served as a holiday appetizer. The warm hearty flavors of the tortellini, paired with the savory dipping sauces, make this perfect for snacking while you are cooking the main course or watching the big game. You can even garnish the dipping sauces to make it extra special for the holidays, more on that below!
What I love about this recipe:
Fast- This is one of the fastest hot appetizer recipes that I make and it is always a huge hit!

Few ingredients- You literally need just 6 everyday ingredients to make these. Nothing fancy required, but you still get allllllll the flavor!!

Semi-Homemade– The Buitoni 3-Cheese Tortellini are the key to making these so good and easy! They are not only an incredible delicious base to start with, but the refrigerated pasta makes the perfect base to coat in our flavorful crumb topping and bake to perfection for a crispy outside and tender inside. It is the next best thing to homemade pasta.

Bite-sized– These are perfectly bite sized for popping one in your mouth or adding a few to your plate. This makes it a great finger food and perfect for for a party or get-together.

REALLY tasty! I can't say this enough. The flavorful crispy coating outside and the tender inside is just the perfect tasty bite.
What to Serve with Crispy Toasted Tortellini
These are great for an appetizer, snack, or even part of a light lunch. My favorite way to serve them is with a variety of dipping sauces to give you a selection of fun flavors to pair it with. If you are serving for the holidays, you can even add some fun garnishes to make them more festive.
Dipping Ideas
The Buitoni sauces are SO delicious- I would say they taste almost homemade! The best part though, is that they make preparing this dish so quick and easy. They have great flavor and can be found in the refrigerated section of almost any local grocer.
You can also add some seasonal garnishes to make it holiday ready! I added a sprig of rosemary to the marinara sauce and a sprinkle of nutmeg to the alfredo sauce for a beautiful holiday-ready presentation with no extra prep.
Side Dish Ideas
Side Salad with Creamy Italian Dressing
Creamy Tomato Basil Soup
Sandwich – Try a BLT, club, or Turkey Bacon Avocado!
Recipe Notes
This Toasted Tortellini recipe is as simple as promised! Just a few ingredients for a hot filling appetizer.
In this section I am going to go through a few tips and tricks I use when making this recipe to get the absolute best and most delicious results.
Make sure to scroll to the bottom for the FULL recipe card.
Ingredients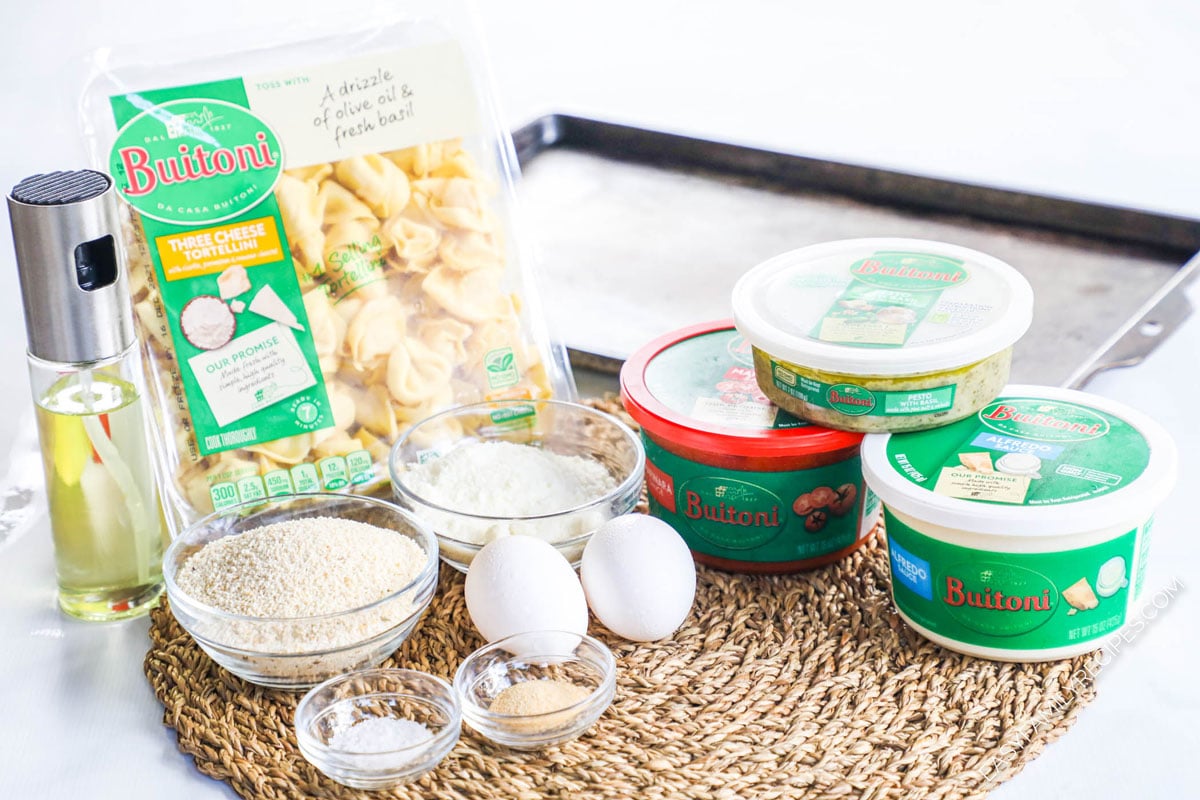 Buitoni 3 Cheese Tortellini– Refrigerated tortellini is important for this recipe. You will not get the same result using frozen or dried. I love the Buitoni 3 Cheese Tortellini because the tender semolina pasta rings filled are with three cheeses: fresh creamy ricotta, aged Parmesan and Romano. So good!

If you really like this recipe and want to get creative, try using other flavors of Buitoni tortellini for new flavor twits.

Eggs– This will be the binder that keeps your crumb coating on the tortellini

Italian seasoned bread crumbs- I like to use Italian seasoned crumbs for extra flavor. If you have plain bread crumbs, you can add 1 tsp of Italian seasoning to the plain breadcrumbs.

Grated parmesan cheese– This adds tons of rich flavor. Make sure to use grated parmesan, not shredded. This is the more powdery texture which will combine more fully with the breadcrumbs to coat the tortellini.

Spices– garlic powder and salt are added to the bread crumb mixture to make it extra flavorful.

Cooking spray– This will coat the pan before cooking to make sure that nothing sticks. Use your favorite non-stick spray, or grease your pan with cooking oil.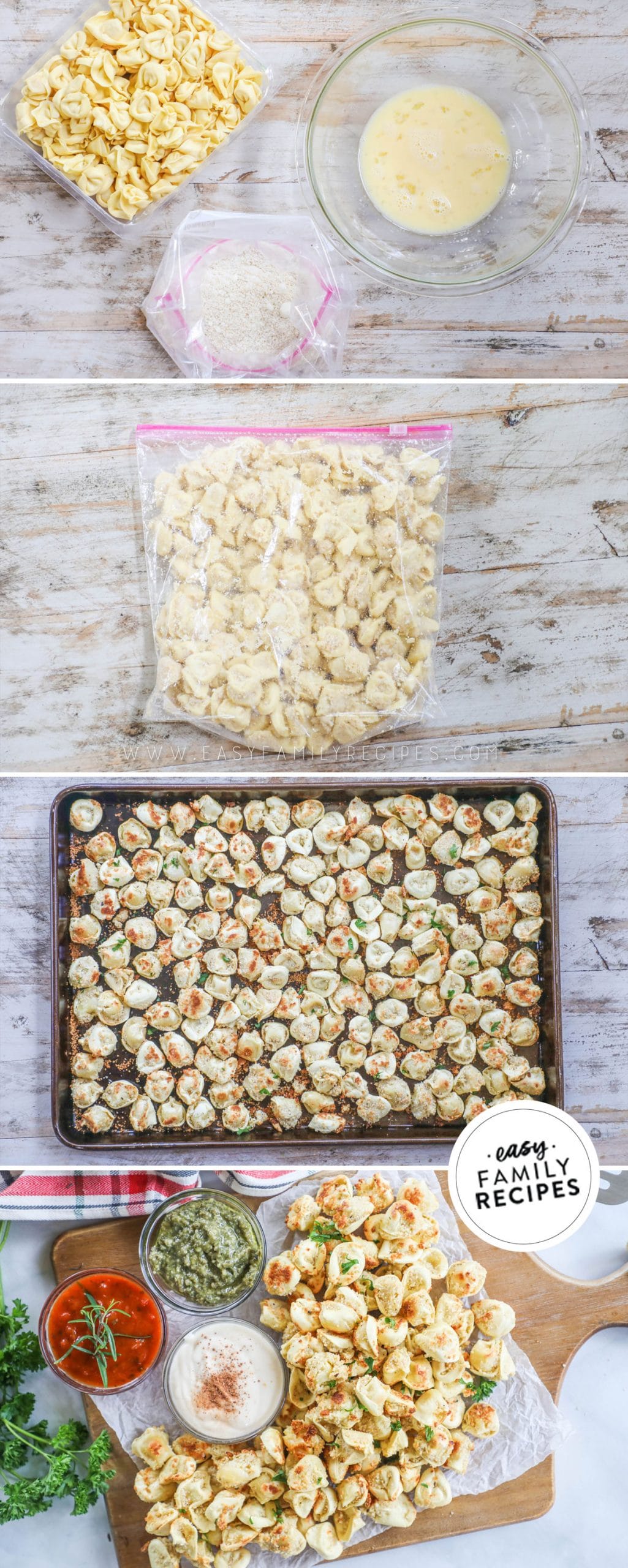 Recipe Tips
Refrigerated Tortellini– As mentioned above, using refrigerated tortellini is KEY to having this recipe turn out correctly! Since it is baked, you will need the dry pliable base of the pasta to get the perfectly crisp outside and the tender inside.

Coat with Egg– When preparing the egg coating, make sure that first, the egg is well combined. You will get the best results using a whisk or electric mixer to make sure they are completely combined.

Toss with bread crumbs– I recommend doing this in a zip top bag just because it makes the process really easy and the clean up is a cinch! That said, you can also toss them in a bowl, or any other way that makes it easy for you.

Bake– The high temperature is perfect for crisping the edges quickly. You will definitely want to toss them half way through as directed to avoid over cooking the bottoms and all of the edges get crisped.

SERVE IMMEDIATELY– These Toasted Tortellini are best enjoyed served straight from the oven when they are hot and fresh. They will be at the peak of their tastiness with the crispy outsides and soft cheesy insides.
Recipe Variations
If you love this recipe as much as we do and want some quick ways to change it up for variety, these little tips will do the trick!
Fried Crispy Toasted Tortellini – Prepare tortellini as directed. Pour about 2 in of oil in a heavy pot and heat over medium heat. Once hot (test by adding a few crumbs and seeing if they sizzle) add tortellini in a single layer. Fry about 1 minute on each side then remove and allow to drain on paper towels.

Air Fryer Crispy Toasted Tortellini– Prepare tortellini as directed. Preheat airfryer to 400˚F. Grease the air fryer basket or tray, then add tortellini in a single layer. Cook for Depending on the size of your air fryer, you will likely need to cook the tortellini in 3-4 batches.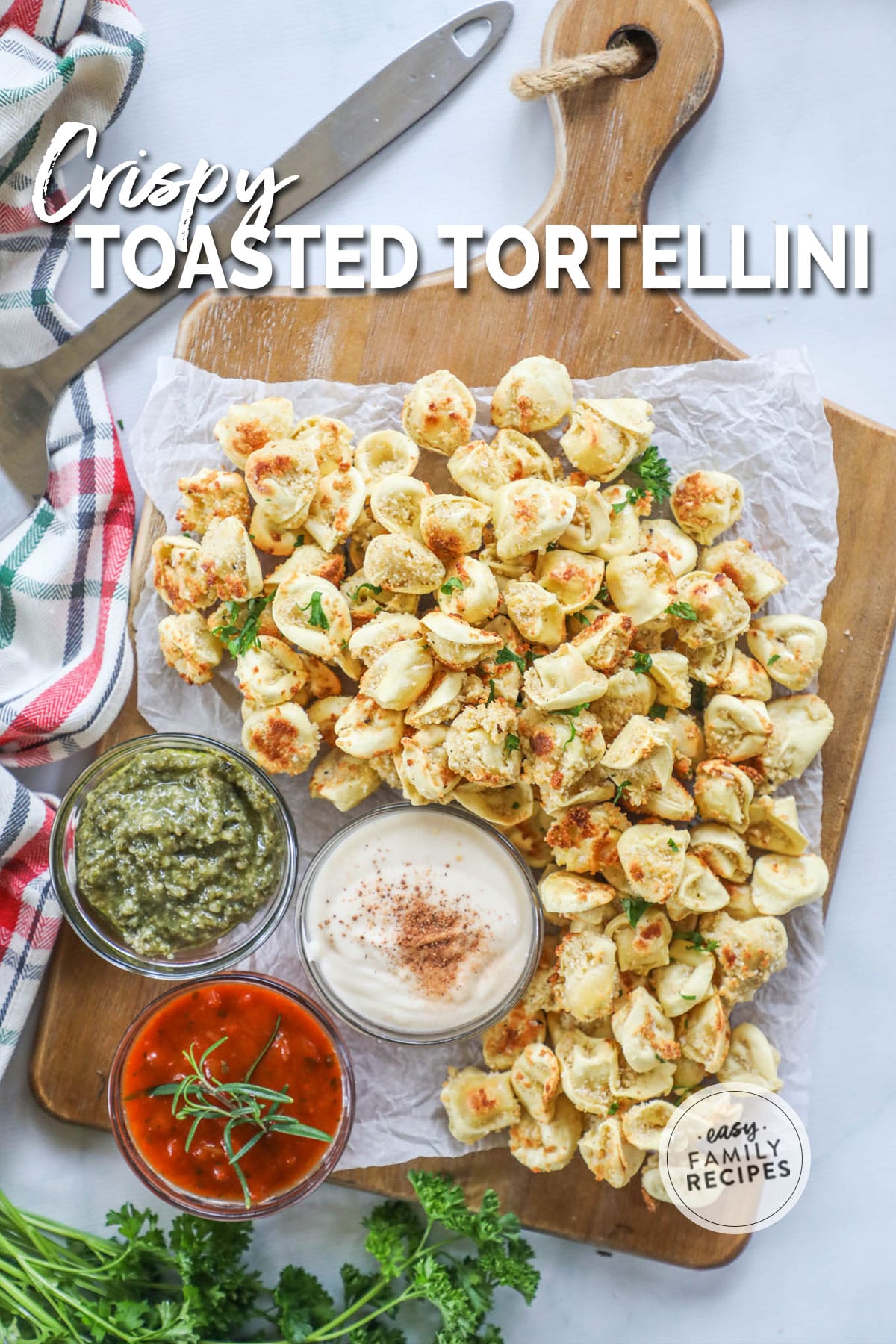 Crispy Tortellini Leftovers
If you have leftovers after making these toasted tortellini, you can save them for a snack or meal another time. They save and reheat well, and can make the start of another delicious dish.
To save leftovers, separate into meal sized portions and then place in an airtight container and store in the refrigerator for 3-4 days
To reheat, bake at 375˚F for 10-15 min or until heated through.
More Easy Appetizer Recipes
If you enjoyed this recipe, I really hope you will take a moment to grab a few more easy recipes for another busy night!
You can check out all of my ||||| recipes here, or see a few of our readers favorite recipes below.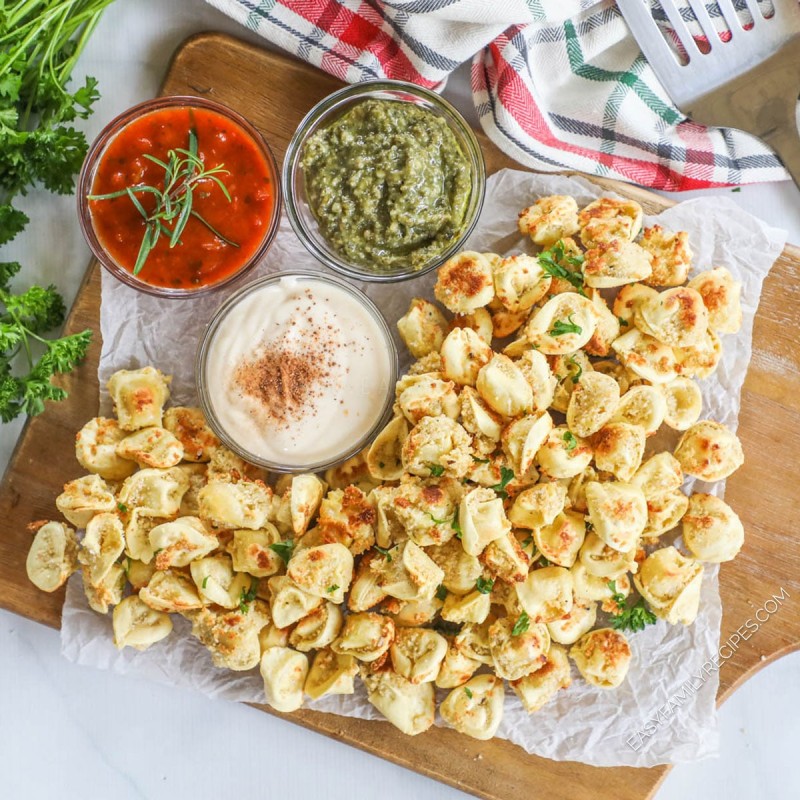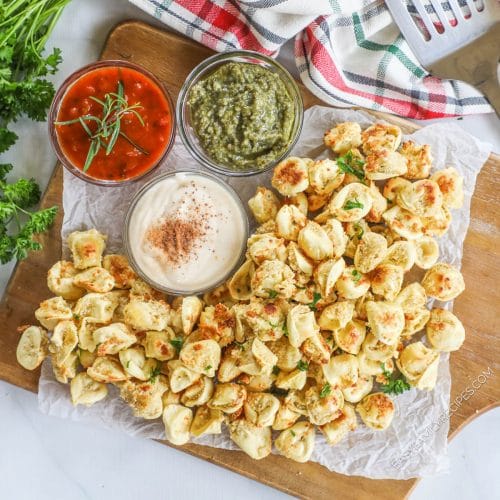 Toasted Tortellini
These Crispy Toasted Tortellini are the perfect bite-sized appetizer for a gathering! Made in minutes they are quick and easy, but packed full of flavor! Serve them with your choice of dipping sauces for a variety of flavor options.
Ingredients
20

ounce

Buitoni 3 Cheese Tortellini,

refrigerated

2

large eggs

¾

cup

Italian seasoned bread crumbs

½

cup

parmesan cheese

,

grated

1

teaspoon

garlic powder

½

teaspoon

salt

cooking spray
Dipping Sauces
Buitoni Marinara Sauce

Buitoni Pesto Sauce
Instructions
Beat the eggs in a large bowl. Then mix in the tortellini and toss until evenly coated in the egg mixture.

In a gallon sized zip top bag, combine the bread crumbs, parmesan cheese, garlic powder, and salt then mix to combine.

Add the tortellini to the bag and toss until all tortellini are coated with the bread crumb mixture.

Spray a large sheet pan with cooking spray. Spread the tortellini in a single layer on the sheet pan. Bake for 10 minutes, then flip, and bake an additional 8-10 minutes until the edges of the tortellini are toasted to a golden brown.

Heat each sauce per package instructions and place in a small dish next to the tortellini for dipping.

Serve the tortellini with dipping sauces immediately. Toasted Tortellini is best enjoyed fresh from the oven.
Nutrition Information
Calories:
244
kcal
(12%)
,
Carbohydrates:
31
g
(10%)
,
Protein:
13
g
(26%)
,
Fat:
7
g
(11%)
,
Saturated Fat:
3
g
(19%)
,
Polyunsaturated Fat:
1
g
,
Monounsaturated Fat:
1
g
,
Trans Fat:
1
g
,
Cholesterol:
58
mg
(19%)
,
Sodium:
575
mg
(25%)
,
Potassium:
41
mg
(1%)
,
Fiber:
3
g
(13%)
,
Sugar:
2
g
(2%)
,
Vitamin A:
104
IU
(2%)
,
Vitamin C:
1
mg
(1%)
,
Calcium:
161
mg
(16%)
,
Iron:
2
mg
(11%)