This Easy Skillet Lasagna is the perfect way to get all the delicious flavors of Lasagna on the table in just minutes. It is packed with sweet Italian sausage, ground beef, velvety tomato sauce, and creamy ricotta all perfectly complimenting each other as they bake together.  This dish is friendly for a variety of dietary needs since it is naturally low carb and gluten free, and can be served as is, or used to top pasta or potatoes to please everyone in the family.
Easy Skillet Lasagna
I grew up making lasagna with my mom. We made it the traditional way, taking hours to slowly simmer sauces, perfectly cook noodles, assemble layers upon layers of delicious flavors and bake hours until it has all melded together into one deep delicious pan of goodness!
There is really no competing with traditionally made lasagna, but when you don't have hours and hours to spend in the kitchen, you can still keep the spirit of traditional lasagna with this simple Cheesy Skillet Lasagna. It cooks quickly and is made all in one dish, so there is minimal time on both the prep and the clean up.
This Skillet Lasagna is designed to be thick and meaty, rather than saucy, so it stands on it's own and there is no need for extra sides if there is no time. You can enjoy it by itself just as well as you can pairing it with side dishes that compliment the flavors.
Now that is a weeknight winner!
How to Serve Skillet Lasagna
This dinner is great because, as I mentioned, you can serve it as is and it is quick, easy, and delicious. Or if you want a heartier, more well rounded meal, you can add some of these side dishes to round it out.
You can serve Skillet Lasagna as is for a low carb, gluten free meal, or pair it with pasta for a more traditional lasagna feel. And make sure to save the leftovers! I have lots of really tasty way to make them over for meals later in the week.
Traditional Side Dishes
Salad– This dish pairs exceptionally well with a side salad. Keep it simple with what you have in the fridge, or make it a little fancier with something homemade.

Side salad with Homemade Italian Dressing
Kale Salad with Lemon Vinaigrette
Caesar Salad

Starch– Pasta is a great traditional option, but there are a couple of other options that work just as well and may be quicker depending on what you have on hand.

Fettuccini noodles- I like these because they have that flat feel like lasagna noodles do, but you can absolutely use any pasta you have on hand.
Garlic Mashed Potatoes
Rice or risotto

Bread– Make sure to serve this with some bread to really soak up the sauce!

Garlic Bread
Crusty baguette
Bread sticks
Low Carb Side Options
Starch substitute

Spaghetti squash
Zoodles – try zucchini, carrot, or butternut squash
Roasted Cauliflower

Vegetables

Sautéed Spinach
Roasted Asparagus
Pan roasted squash
You can pair the skillet lasagna with one, or make it a bigger meal by preparing a few of these side dishes to go with it! If you have another dish you love to serve with lasagna, please leave me a comment below and let me know so I can try it next time we make this again.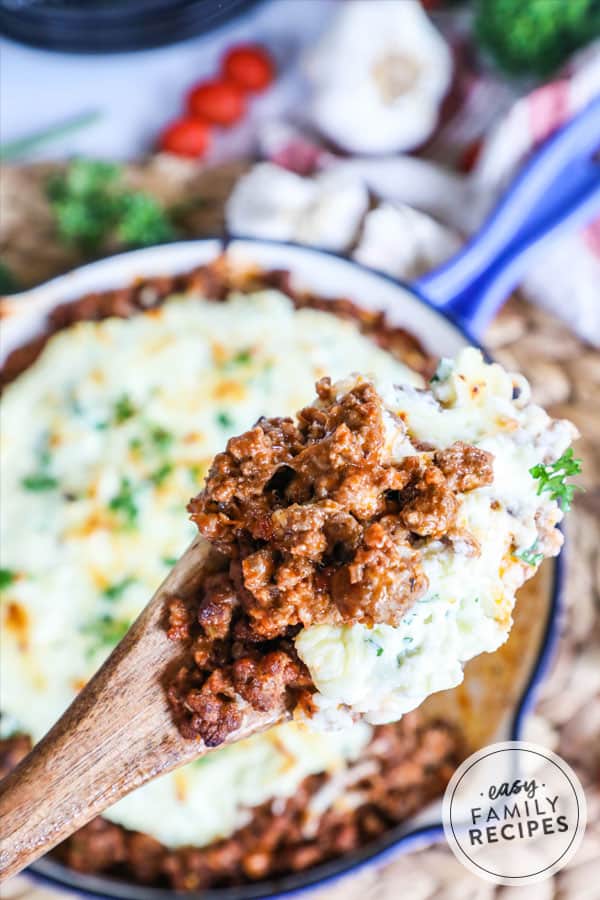 Tips and Tricks for Making Skillet Lasagna
This dish comes together super quickly and easily, but there are a few tips to help you get the most out of this recipe.
What kind of skillet to use
You can make this in most any kind of skillet such as a cast iron, enameled, or traditional tri-ply skillet. The only requirement is that it is able to be heated to 425˚F since it will be transferred to the oven. Pans with plastic handles will usually not be able to do this, but it they are metal or cast iron they should be able to without a problem.
What kind of meat do I use?
This recipe uses a combination of beef and sausage to emulate the flavors of traditional lasagna. I like to use lean ground beef, and prefer 93% lean. You can use other grades as well, but the more lean, the less grease will be released and the more meat contained. The Italian sausage comes packaged in 1 lb packages in most grocery stores. You should be able to buy just the meat without casings, but if you can only find it with the case, make sure to remove it before cooking.
What kind of cheese do I use?
We use a combination of ricotta and parmesan for the cheese layer in this recipe and mozzarella for the topping. I would say both the riccotta and parmesan, are pretty important to the integrity of the dish and can't be substituted. These are the cheeses that really bring together the lasagna flavors when combined with the meat mixture.
How long do I cook the Skillet Lasagna?
There are three separate cook times in this recipe. First, browning the meat. This should take about 5-8 minutes in a regular skillet. Next, we simmer the sauce. This can be quick since it will continue to fuse flavors as it is in the oven in the next step, and last, baking the skillet. This last step in making the Skillet Lasagna heats through the cheese and really seals the flavors together as a whole.
Traditional lasagna recipes have egg in the cheese mixture, since we skip that, and the meat mixture is already fully cooked, this step is still pretty quick in just bringing the flavors together in the dish.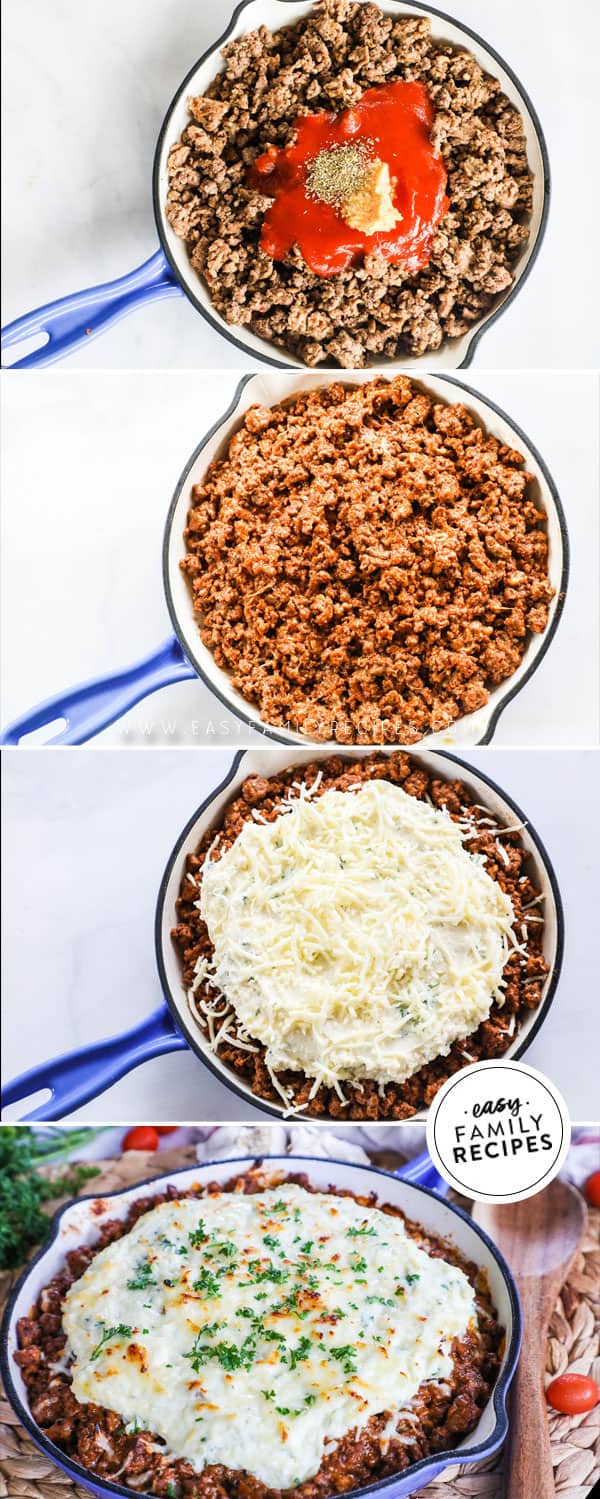 Frequently Asked Questions
Can I use ground turkey, or chicken instead of beef?
Yes, ground turkey or chicken can be substituted for beef, but will change the taste a little bit. I do not recommend subbing out the sweet italian sausage for another meat as it integral to the flavor of the dish.
What if I don't have tomato sauce on hand?
If you are in a pinch and find yourself without tomato sauce, you can use jarred marinara sauce instead of the tomato sauce and italian seasoning. I would add about 2 cups of sauce to the mixture.
Is this Gluten Free?
Yes, the foods used in this recipe are naturally gluten free. I always recommend double checking packaging of the exact product you use to avoid any sneaky gluten.
Can I cook noodles in the skillet with the sauce?
This recipe does not have enough liquid to cook the noodles in with the sauce. However, this Skillet Lasagna does go especially well on top of pasta that has been cooked separately.
Can I freeze this easy Skillet Lasagna?
Yes, this dish can be frozen. Because of the steps in cooking this dish, itt doesn't really work well to freeze the skillet lasagna before cooking, but it can be easily frozen after it is prepared.
To freeze:
Divide into meal sized portions and place in air tight containers.
Freeze
To reheat, microwave for 2 minutes, then at 30 second increments, stirring in between until heated through. To heat on the stovetop, place in a skillet, covered, on low heat, stirring regularly until heated through.
What to do with Leftover Skillet Lasagna
If you have any leftovers of this delicious dish, pack them up and save them for another meal later in the week or month.
Refrigerate for 3-4 days
Freeze for up to a month
Leftover Recipes for Skillet Lasagna
Lasagna Stuffed Shells– Make large pasta shells per package directions. Mix up the leftover Skillet Lasagna and scoop a spoonful into each shell. Arrange them in a baking dish. Cover the shells with marinara and and a sprinkle of mozzarella and parmesan cheese. Bake until heated through.
Lasagna Zucchini Boats– Slice small zucchini squash in half and hollow out the seeds. Sprinkle salt, pepper and garlic powder over the zucchini then fill each boat with Skillet Lasagna. Sprinkle extra cheese on top if desired. Bake for 35-45 minutes or until the zucchini is tender.
Lasagna Stuffed Peppers– Mix equal parts leftover Skillet Lasagna with prepared rice, or cauliflower rice. Stuff the mixture into a hollowed bell pepper and place in a deep baking dish. Top with marinara and a sprinkle of cheese. Add 1 cup broth (chicken, beef, or veggie) to the bottom of the dish, loosely cover with foil, and bake for 40-50 minutes or until the peppers are tender.
Lasagna Tortellini Bake– Prepare tortellini as directed to al dente. Mix with remaining Skillet Lasagna, additional sauce, and chopped fresh spinach. Place in a casserole dish and cover with a sprinkle of mozzarella. Bake at 350˚F until heated through.
Do you have more Easy Skillet Dinners?
Yes! Lots! All of these also come with how to store and reuse the leftovers as well!
I really hope that you and your family enjoy this recipe as much as we do!
If you do get a chance to try it, I would love it if you let me know! Not only does it make my day, but it also helps my website when you leave a review!
You can leave me a comment below, or if you post a picture on Instagram, make sure to tag me @easyfamilyrecipes so that I can see what you are cooking up! It makes my day to see others enjoying the recipes that I share!
Oh and before you go!… If you need a regular rotation of recipe inspiration like me, make sure to sign up to get our emails! I send out my new favorites, the recipes my family has been devouring, and some of the best tried and true recipes. It is easy and free of course! You can click here to sign up.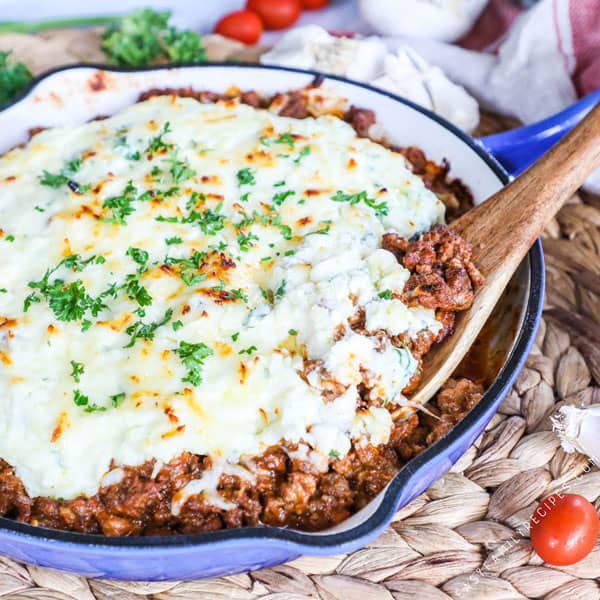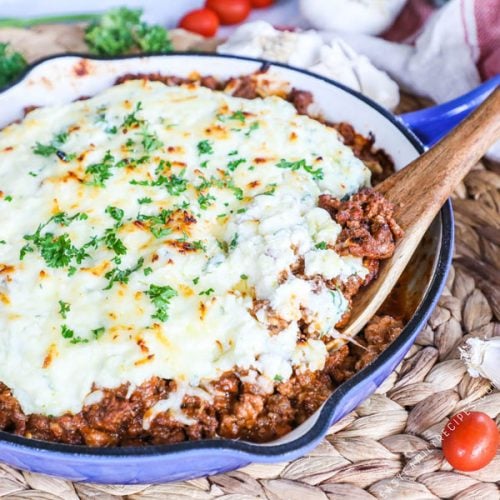 Cheesy Lasagna Skillet
This delicious Skillet Lasagna is a hearty, filling meal prepared in just one skillet for easy prep and clean up. Eat this in a bowl as is, or pair it with any of a number of sides for a wholesome meal.
Ingredients
1

lb

lean ground beef

1

lb

sweet Italian sausage

,

mild

15

oz

tomato sauce

,

(1 can)

2

tsp

Italian seasoning,

dried

3

cloves

garlic

,

pressed

1 1/4

cup

mozzarella cheese

,

grated

1/2

cup

parmesan cheese

,

freshly grated

15

oz

ricotta cheese

2

tbsp

parsely

,

fresh, finely chopped

1/4

tsp

salt

1/4

tsp

ground black pepper
Instructions
In a large skillet, brown the sausage and beef over medium heat, breaking up as you go.

Once the meat is no longer pink, drain the grease and return the meat to the skillet. Add the tomato sauce, Italian seasoning, and garlic and cook over medium heat, stirring regularly for 3-5 minutes. Stir in 1 cup mozzarella and 1/4 cup parmesan cheese, mixing until it is melted and combined. Then remove from heat.

To make the ricotta topping, combine the ricotta, parsley, 1/4 cup parmesan, salt and pepper in a separate bowl and mix until combined.

Smooth the meat mixture out and spread the ricotta over top in an even layer. Sprinkle with the remaining 1/4 cup mozzarella cheese. Transfer skillet to oven and bake uncovered at 425˚F for 10 minutes or until the cheese on top is melted and is heated through. Optional, turn the oven to broil for an additional 2-3 minutes to brown the cheese on top as pictured.

Remove from oven and garnish with parsley if desired. Serve over pasta or sautéed spinach. Enjoy!
Recipe Notes
Leftovers can be stored in an airtight container for 3-4 days in the refrigerator or in the freezer for up to a month.
Dietary Considerations:
This recipe is naturally gluten free, low carb, and friendly for low carb and keto diets.  Not all of the serving suggestions are low carb or gluten free. Please check all packages of products bought to ensure compliance.
Nutrition facts provided based on my best estimation for the recipe and may not be accurate depending on what brands you use or modifications you make to the recipe.  I recommend using a nutrition calculator with the exact brands and measurements you use for the most accurate calculation.
©2018 Easy Family Recipes- Recipe found at: https://www.easyfamilyrecipes.com/Cheesy-Skillet-Lasagna/
For more great easy dinner inspiration,

sign up for our emails here!
Nutrition Information
Serving:
8
oz
,
Calories:
459
kcal
(23%)
,
Carbohydrates:
6
g
(2%)
,
Protein:
33
g
(66%)
,
Fat:
33
g
(51%)
,
Saturated Fat:
15
g
(94%)
,
Cholesterol:
123
mg
(41%)
,
Sodium:
1058
mg
(46%)
,
Potassium:
605
mg
(17%)
,
Fiber:
0
g
,
Sugar:
2
g
(2%)
,
Vitamin A:
720
IU
(14%)
,
Vitamin C:
6.4
mg
(8%)
,
Calcium:
305
mg
(31%)
,
Iron:
3.1
mg
(17%)