This recipe for Mile High Biscuits creates the biggest, tallest, fluffiest, and most delicious buttermilk biscuits- all made from scratch. With only 6 basic ingredients our special method makes the best buttermilk biscuits you'll ever taste!
Flaky Mile High Biscuits – The EASY Way!
These Mile High Buttermilk Biscuits stand extra tall with just 6 common ingredients, combined with my cooking method of baking at a high temperature, so the outside crisp up to a golden brown, and the inside continue to rise until baked through. One of the other secrets to the best buttery flaky buttermilk biscuits is using extra cold butter and milk. These were inspired by Ruth's Diner Mile High Biscuits recipe which is known for its towering and tall homemade biscuits served fresh and warm with your order.
Serve these beautifully tall, soft on the inside, golden brown top biscuits with butter and jam or in another breakfast recipe such as casseroles and egg sandwiches. Make a double batch to freeze and have that fresh baked bread flavor whenever you need a quick breakfast on a busy morning!
Why I LOVE this recipe!
Quick and Easy! – Just under 25 minutes from start to finish using simple steps to get the best results.

Just 6 Ingredients. We're talking basic pantry ingredients that most bakers have on hand, plus unsalted butter, and buttermilk. I even have a quick tip on making buttermilk if you don't have any on hand!

The best texture. Soft, tender, flaky, buttery, fluffy. This biscuit recipe has it all!

Freezer-friendly. After baking and cooling, you can freeze this recipe to enjoy biscuits anytime. Just pull it from the freezer and bring it to room temperature before heating a few seconds in the microwave. They taste just as good as when you first baked them!

The height is out of this world! The mile high baking powder biscuits keep building height as they bake while crusting over on the tops.

Rich flavor. Because we use buttermilk and butter with a pinch of salt this recipe has a rich buttery and delicious flavor.

Good with everything! These are great with butter, honey, jam, or gravy. You can serve them up as a main dish, or a side. They are good with sweet or savory and a family favorite no matter whether it is breakfast, lunch or dinner!
What to Serve with Old Fashioned Buttermilk Biscuits
Since this dish has the classic flavors of southern buttermilk biscuits with a buttery finish, it will pair well with many of your favorite breakfast and southern-style dishes. There are both classic options and some healthy options to keep it light.
Main Dish Ideas
You can choose one or add a few sides to make a wholesome, well rounded dinner.
Breakfast Ideas
Recipe Notes
This easy buttermilk biscuit recipe is as simple as promised! Just 25 minutes for a family favorite.
In this section I am going to go through a few tips and tricks I use when making this recipe to get the absolute best and most delicious results.
Make sure to scroll to the bottom for the FULL recipe card.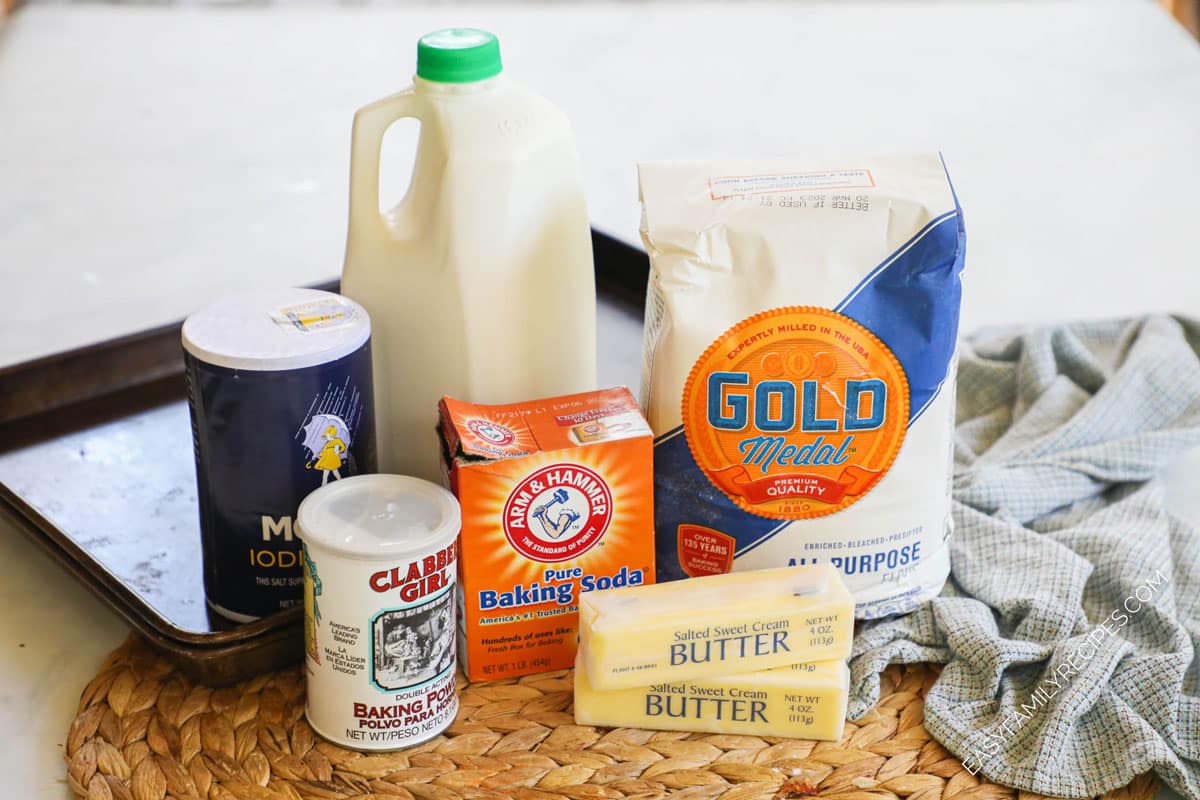 Ingredients + Substitutions
All-purpose flour – regular all-purpose flour is a basic ingredient most have on hand.

Baking powder – use aluminum-free baking powder to eliminate the possible bitter flavoring and make sure it is fresh so they rise as tall as possible.

Baking soda – this reacts to the acidity in buttermilk creating air bubbles in the dough for a tender, soft biscuit.

Butter – use frozen butter if possible. Chop the butter into small cubes and quickly incorporate it into the flour with two forks or a pastry cutter. The colder the butter, the better the bake because when it starts to melt inside the high-temperature oven, it creates pockets of steam that add height and distribute the steamy butter throughout the biscuits for a delicious butter bite.

Buttermilk – just like the butter, try to keep the buttermilk cold until ready to use. If it warms or isn't fridge-cold, it may melt the butter before reaching the oven and prevent that signature mile-high height. The acidity is key for activating the baking soda's bubby rising properties. If you want to make this recipe but don't have any buttermilk on hand, you can mix a tablespoon of white vinegar or lemon juice with a cup of cold milk and allow it to develop for about 5 minutes. This will give you the acidity and flavor you need. Though, you will miss out on the richness and thickness that buttermilk offers.

Salt – The flavor savor you don't want to skip as it enhances all the ingredient's taste.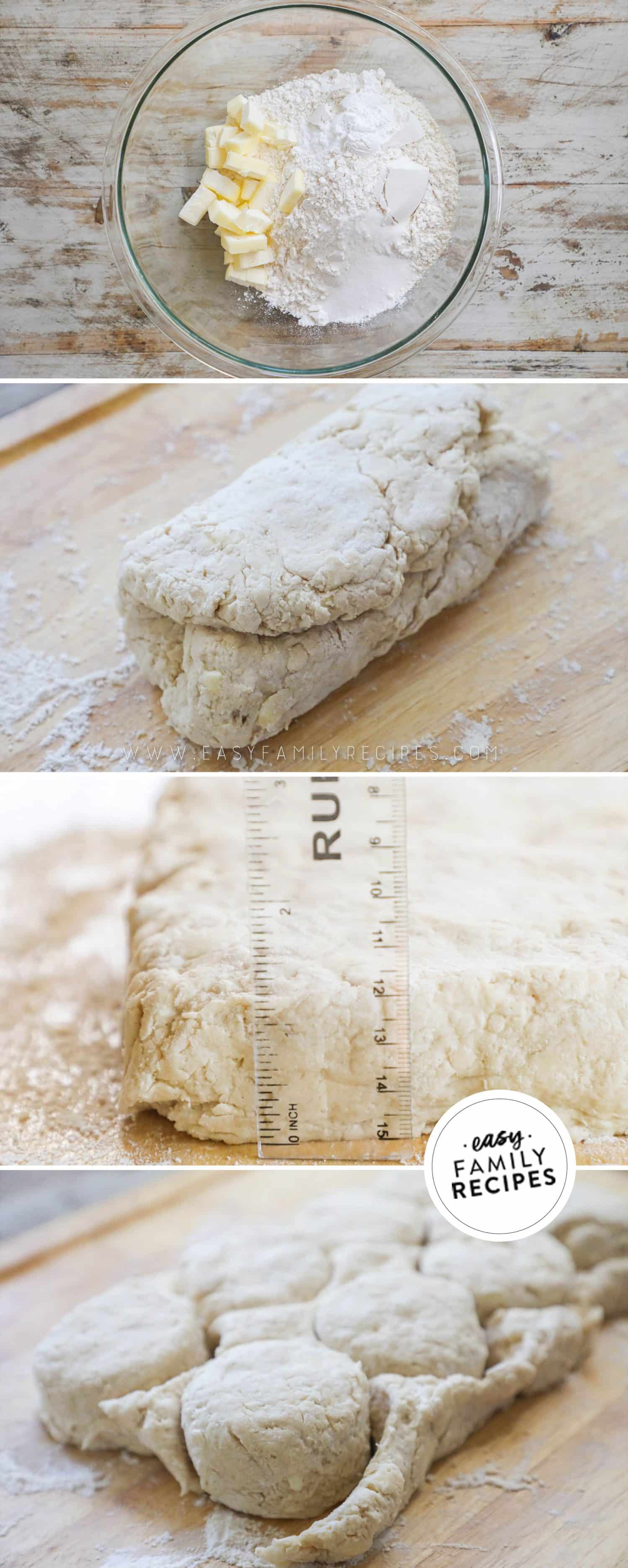 Recipe Tips
If you have ever wondered how to make buttermilk biscuits from scratch, it is easier than you may think! There are a few tips to our special method that make these the absolute BEST buttermilk biscuits and feel like they bake up to be worthy of the name Mile High Biscuits!
Use frozen butter. Not only is it easier to chop into small chunks, but it also does some magical work while baking, too! As mentioned above, the butter steams and creates little pockets in the dough while baking for tall and fluffy buttermilk biscuits.

Work quickly. Try not to use your hands while combing the ingredients as it may cause the butter to warm from the heat your hands produce. Start by mixing the dough with two forks or a wooden spoon before turning the dough out on a floured surface.

Fold in thirds. Start with a rectangle of biscuit dough and then fold in each side to the middle, overlapping to create a trifold that is also a rectangle shape. This folding method for making biscuits gives you those signature flaky layers. After patting down, you can start cutting out the pieces.

Cut them thick. You want the final dough to be about an inch to an inch and a half thick before cutting. I use a two-inch wide biscuit cutter but you could also use a glass or another ring to press into the dough and cut out your biscuits. The recipe time reflects this size biscuit, so if you cut them differently you may need to make adjustments.
Recipe Short Cuts
If you need to make this recipe, but are extra short on time, here are a few ideas that can help make this recipe even faster!
Put butter in the freezer ahead of time – I always keep a few sticks in the freezer for certain baking recipes. When you're craving some buttery flaky biscuits, you don't want to skip using ice-cold butter so save time by freezing butter ahead of time.

Make ahead biscuits – You can easily freeze biscuits after baking and pull them when ready to use. This is ideal for a quick on-the-go breakfast or a lazy weekend recipe with no fuss. Just heat and eat!

Make ahead biscuit dough – Yes, that's right, you can make your biscuit dough ahead of time and freeze the shaped biscuits. After you cut the dough, place them on a parchment-lined baking sheet and place the tray in the freezer for about 2 hours or until the dough pucks are completely frozen. Then, you can transfer them to a freezer bag.
Recipe Variations
If you love this recipe as much as we do and want some quick ways to change it up for variety, these little tips will do the trick!
Drop buttermilk biscuits – Instead of turning the biscuit out on a floured surface, skip this step and spoon a scoop of dough, and drop the biscuit onto a baking sheet with a spoon. You may want to add an extra tablespoon or two of buttermilk to make them a little less stiff and more easily spooned and dropped.

Buttermilk cheddar biscuits – This easy cheesy addition is easy to make and just requires adding a cup of shredded cheese when adding in the flour mixture. This way the dough isn't overmixed and the cheese will be evenly distributed throughout it. For an extra yummy treat, brush the tops with garlic butter when they come out of the oven.

Chive buttermilk biscuits – Mix in chives for a savory biscuit that goes great with dinner.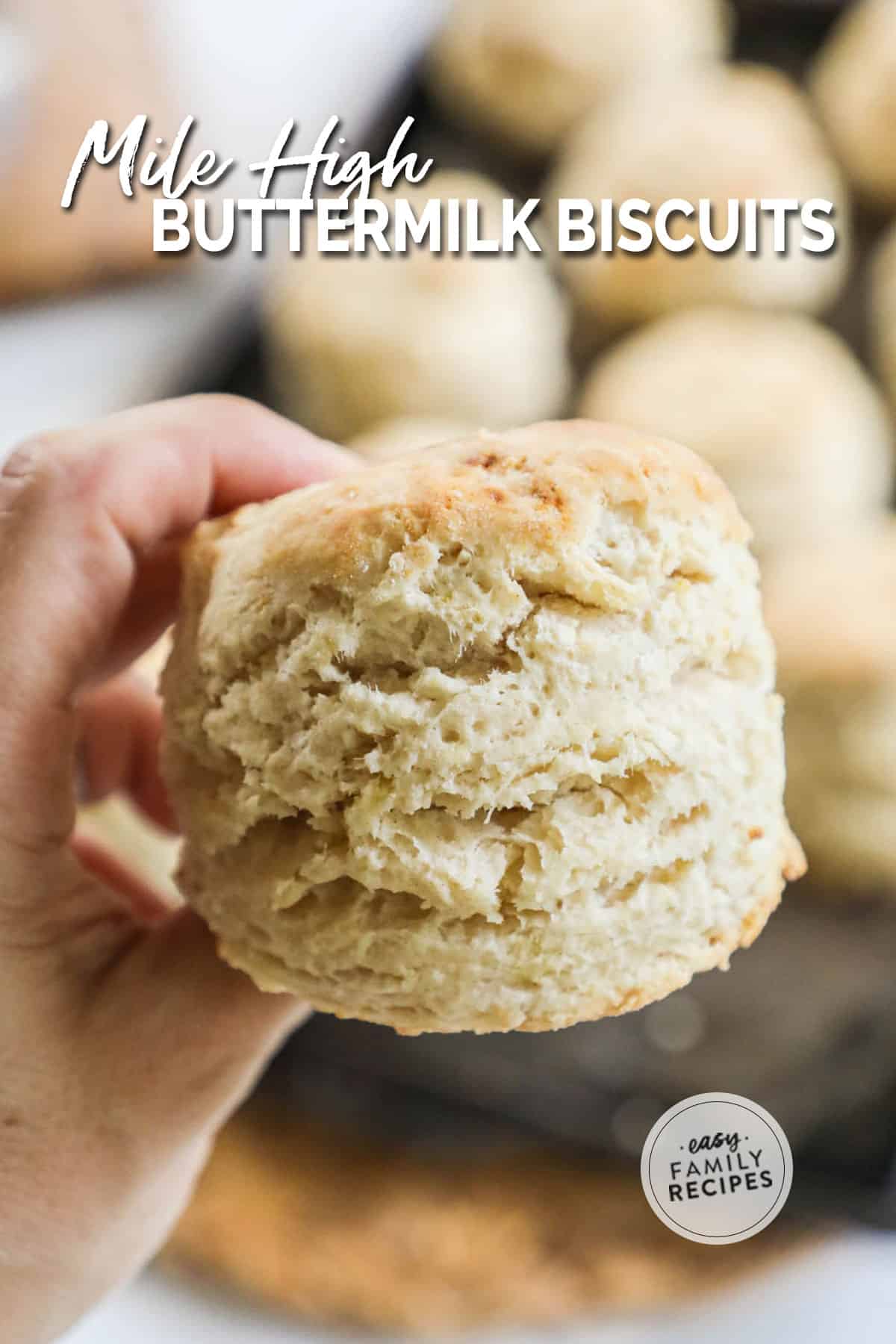 Freezer Instructions
Can you freeze buttermilk biscuits? Not only is the answer yes, but these buttermilk biscuits freeze beautifully before or after baking.
How to Freeze Buttermilk Biscuits before cooking
This method for freezing buttermilk biscuit dough is great when you want to have hot fresh biscuits on demand. You can easily take out just one or two (or more!) to cook whenever you want to have them.
After shaping the biscuit dough with a biscuit cutter or glass, place the rounds on a parchment line baking sheet so they are not touching. Place in the freezer for a few hours until completely frozen and transfer to a freezer-safe bag.
How to Freeze Buttermilk Biscuits after cooking
Freezing biscuits after baking is another method that works extremely well to preserve the freshness of the biscuit. Although the biscuit won't be hot, unless you reheat it, the biscuit maintains its freshness, its flakiness, and tenderness when stored properly in the freezer.
After baking, allow the biscuits to cool completely.
Place on a tray and into the freezer until completely frozen.
Transfer the frozen baked biscuits to a freezer-safe bag or container.
Mile High Biscuit Recipe Leftovers
If you have leftovers after making homemade buttermilk biscuits, then it is your lucky day! They save and reheat well, and can make the start of another delicious dish.
To save leftovers, separate into meal sized portions and then place in an airtight container and store:
on the counter for 2 days
in the refrigerator for 3-4 days
in the freezer for up to 2 months
Leftover Recipes
Here are a few ways to repurpose those leftovers and give them a delicious makeover!
Biscuit Croutons – Cut leftover biscuits into chunks and toss them together with oil and seasonings. Spread the croutons on a baking sheet in a single layer with space between them and bake at 375 degrees for about 15 minutes or until golden brown. Use immediately or allow to cool and store in an airtight container.

Biscuit Bread Pudding – This is such a great and delicious way to use leftover biscuits! Combine 2 cups of crumbled leftover biscuits with 4 cups of milk, 2 eggs, ¾ cups sugar, salt, cinnamon, and vanilla. Then, choose your add-ins such as raisins, berries, apples, or peaches. Mix it all together in a greased baking dish, sprinkle some extra sugar on top, and bake for about an hour in a preheated 350-degree oven.

Biscuit-Topped Chicken Casserole – Bake up this tasty casserole with creamy chicken filling and crumble biscuits on top instead of using crackers.

Biscuit Sandwiches – Enjoy biscuits the next day by making a big ole breakfast sandwich with eggs and your favorite breakfast meat. These are perfect for a grab-and-go option.

Crustless Chicken Pot Pie Over Biscuits – Cook up the filling for chicken pot pie without the crust and serve over biscuits.
More Bread Recipes
If you enjoyed this recipe, I really hope you will take a moment to grab a few more easy recipes for another busy night!
You can check out all of my bread recipes here, or see a few of our readers favorite recipes below.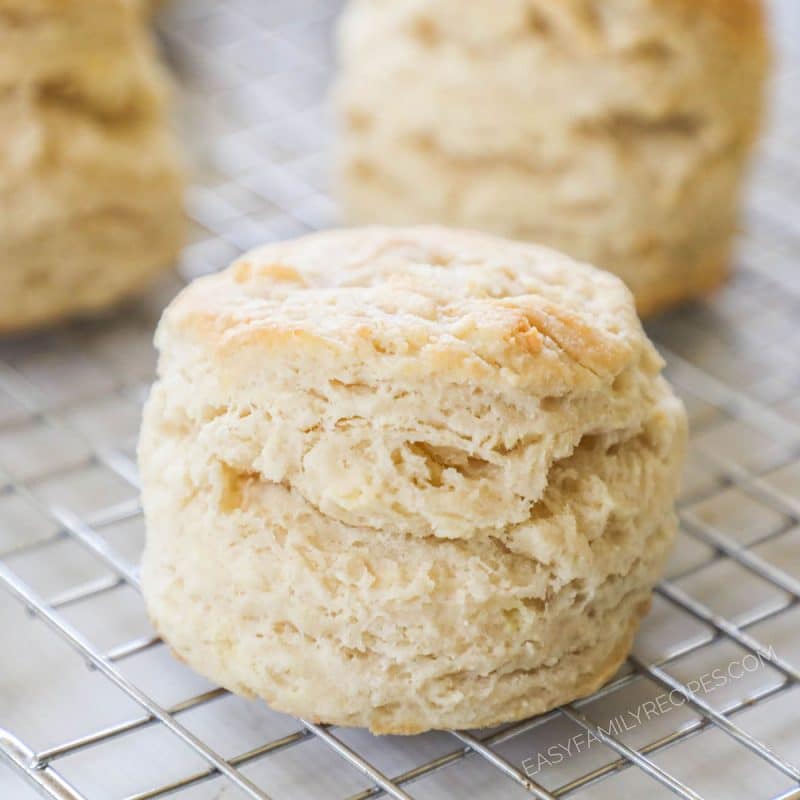 Mile High Biscuits
Mile High Buttermilk Biscuits stand extra tall with the best tender, flaky, and the most delicious texture. This easy biscuit recipe with golden brown tops and fluffy insides will be a family favorite for breakfast or dinner.
Ingredients
4

cups

all purpose flour

1¼

teaspoon

salt

4

teaspoons

baking powder

½

teaspoon

baking soda

10

tablespoons

butter

,

cold- frozen if possible

1¾

cups

buttermilk

,

cold
Instructions
In a large bowl, combine the flour, salt, baking powder, and baking soda.

Cut the butter into small cubes and add to the flour mixture. Use a pastry cutter ( or two knives) to cut the butter into the flour, continuing until it is the consistency of small peas.

Create a well in the flour mixture and pour the buttermilk in. Mix the dough with a spoon or fork, until it just holds together.

Turn the dough out on a floured surface and form into a rectangle. Fold 1/3 of side of the rectangle to the center to create 3 layers. Press firmly to reform to rectangle shape about 1-1½" tall. To create "mile high" biscuits, you need at least this thickness to the dough.

Use a 2½" biscuit cutter to cut 8 biscuits from the dough. Use the scraps to form 2-4 more biscuits with the cutter.

Bake for 15-18 minutes. Once they are cooked through and the tops are brown, remove them from the oven. Optionally you can brush the tops with additional melted butter, or just serve as it with honey or jam.
Nutrition Information
Calories:
258
kcal
(13%)
,
Carbohydrates:
34
g
(11%)
,
Protein:
6
g
(12%)
,
Fat:
11
g
(17%)
,
Saturated Fat:
7
g
(44%)
,
Polyunsaturated Fat:
1
g
,
Monounsaturated Fat:
3
g
,
Trans Fat:
0.4
g
,
Cholesterol:
29
mg
(10%)
,
Sodium:
542
mg
(24%)
,
Potassium:
95
mg
(3%)
,
Fiber:
1
g
(4%)
,
Sugar:
2
g
(2%)
,
Vitamin A:
349
IU
(7%)
,
Calcium:
128
mg
(13%)
,
Iron:
2
mg
(11%)