This Balsamic Vinaigrette recipe is the HOLY GRAIL of homemade salad dressings. It is a healthy dressing filled with the perfect ratio of tangy balsamic vinegar, a savory spice blend, garlic and smooth extra virgin olive oil. It is a refrigerator staple we keep on hand to top salads, marinate meats, and add unbelievable flavor to vegetables.
Balsamic Vinaigrette – The EASY Way!
I have to admit that for years of my life I thought the idea of making salad dressing from scratch sounded hard and intimidating.
Not only was I so wrong, but I was missing out on one of the easiest and most tasty thing I keep in my fridge these days.
This Balsamic Vinaigrette can be made in as little 5 MINUTES!
Yes, you heard me right. It is that easy.
Plus almost everything you need to make it is always on hand in my house, so I can whip it up without any preplanning or a trip to the store.
And for as easy as this recipe is, the flavor is absolutely INCREDIBLE.
It also gets even better as it sits in the fridge, so I try to make a batch big enough that I can keep it for a week or so, and look forward to eating it more each time.
Uses for Balsamic Vinaigrette Dressing
Balsamic Vinaigrette is one of the most versatile foods in my fridge. It can be eaten simply on a salad, or used to make roasted vegetables, marinate meat, season pasta, paired with cheese, and so many more.
I am going to share a few of my favorites, but there are so many more!
Salads that are good with Balsamic Vinaigrette
Side salad- I most often just throw together a side salad with what I have in the fridge. Romaine or mixed greens, carrots, cucumber and tomato. Add some parmesan if we have it and drizzle with balsamic vinaigrette.
Italian Chopped Salad- Make this with romaine, green pepper, tomatoes, cucumber, artichoke hearts, and provolone cheese slices.
Caprese Salad- A mixture of fresh tomatoes, mozzarella and fresh basil are perfectly complimented with this balsamic vinaigrette.
Other uses for Balsamic Vinaigrette
Chicken Marinade– Balsamic Vinaigrette makes THE BEST chicken marinade! Just add about 1/2 cup of dressing per pound of chicken for maximum flavor
Roasted Veggies– Vegetables like bell pepper, squash, cauliflower, and broccoli can be tossed with balsamic dressing and then baked on a sheet pan at 425˚F for 15-20 minutes for super flavorful and healthy side dish.
Pot Roast– Try this highly rated slow cooker pot roast! The secret ingredient is balsamic dressing!
Marinated Cheese– Try placing fresh mozzarella balls in balsamic vinaigrette, drizzling over burrata, or topping goat cheese with it.
Brussels Sprouts or Asparagus– Roast brussels sprouts or Asparagus and then toss in this vinaigrette.
Steak– Even steak can be marinated in balsamic vinaigrette. The vinegar will tenderize the meat while adding tons of flavor.
Bread Dip– Pour the balsamic dressing in a shallow dish and add extra olive oil as needed. Dip crusty bread in and eat!
Recipe Notes
This Healthy Balsamic Vinaigrette recipe is as simple as promised! Just a few everyday ingredients will give you such flavor filled results.
In this section I am going to go through a few tips and tricks I use when making this recipe to get the absolute best and most delicious results.
Make sure to scroll to the bottom for the FULL recipe card.
Ingredients
Balsamic vinegar
Olive oil extra virgin
Sugar
Garlic- Fresh garlic will give the best flavor
Oregano
Basil
Onion powder
Salt
Each of these plays a role in the magical flavor of this dressing, but I want to talk specially about the garlic.
This recipe works best with FRESH GARLIC. It has quite a bit of garlic in it, and using fresh gives the entire dressing that fresh made from scratch quality.
Don't be afraid of using so much raw garlic. Generally that would be a little scary, but the acidity of the vinegar will take the bite right out of the garlic leaving AMAZING flavor.
The dried herbs and onion powder raise the complexity of the flavor. If you have fresh herbs, those can be used as well, but you will need more to get the same amount of taste.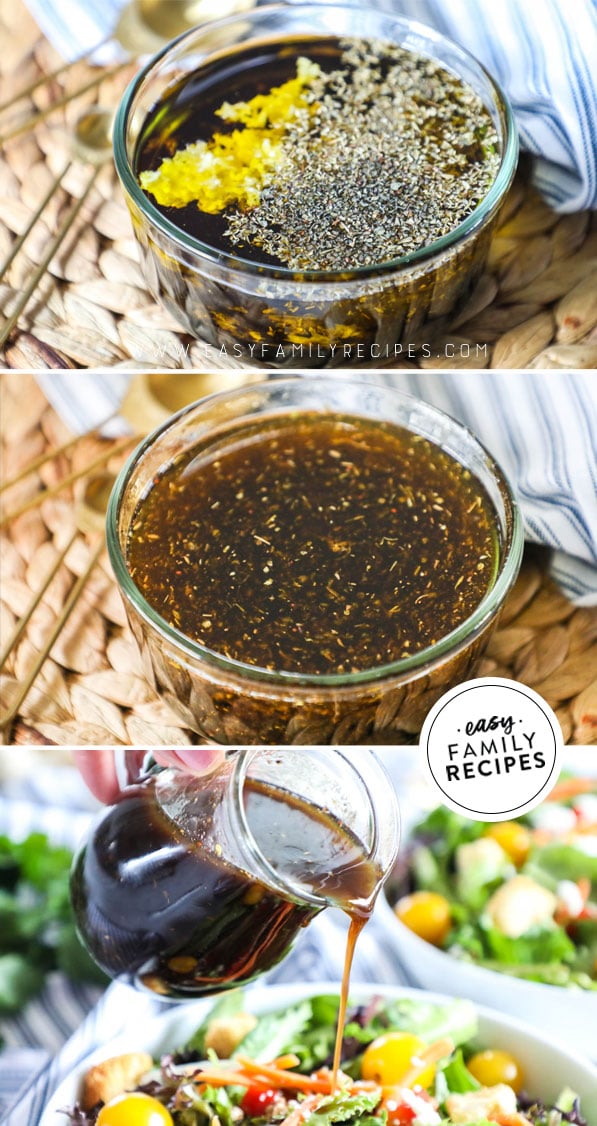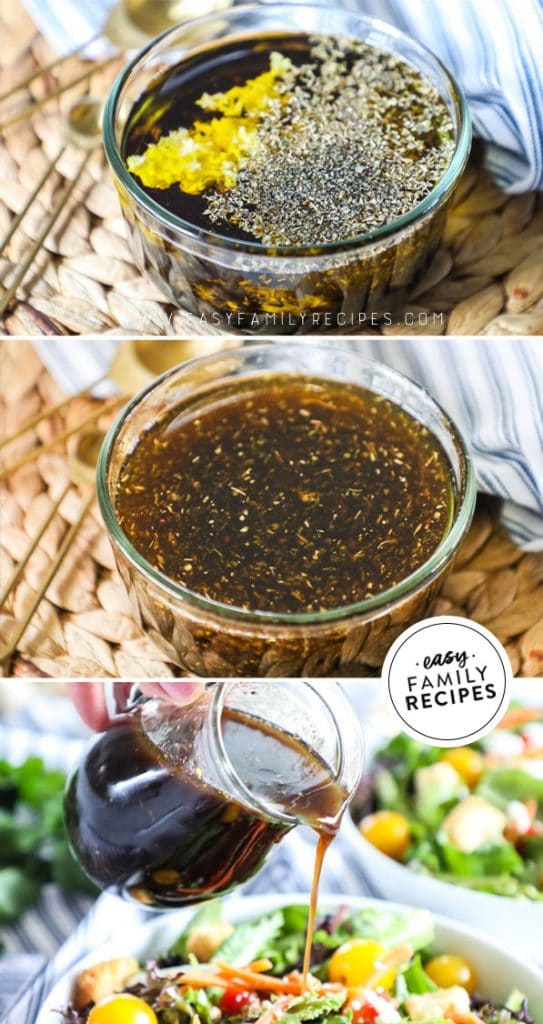 Recipe Tips
Let it sit– Although you can start using this dressing as soon as you finish making it, the longer it sits and marinates with the garlic and herbs the more fragrant and flavorful it will be. This dressing is the best after sitting overnight in the refrigerator.

Sugar is important– There is a small amount of sugar in the dressing. This sugar cuts the bite of the vinegar and really enhances the flavor. It is a must for bringing the dressing together.

Mix before serving– The dressing will emulsify when it is shaken vigorously so that it can be served. While sitting though, the olive oil and vinegar will seperate back to their natural states. It is important to shake (whisk, or mix) well before each time you stir.

Refrigerate– The Balsamic Vinaigrette should be stored in the refrigerator. This can lead to the olive oil hardening. If this happens, it will soften up and melt after just a few minutes at room temperature. It can help speed up the process if you stir it up.
Recipe Variations
This recipe is super versatile and can be transformed with just very small changes to new versions of Balsamic Vinaigrette!
Honey Balsamic Vinaigrette– Make the recipe as directed replacing the sugar with honey. You can add up to 1-2 tbsp extra honey based on how sweet you like the dressing. Honey is harder to dissolve than sugar, so make sure to whisk well so that it completely combines with the vinegar and oil.
Dijon Balsamic Vinaigrette– Make recipe as directed adding 1 tbsp dijon mustard to the mix. If you want it less tart, you can also add an extra 1/2 tbsp of sugar.
Creamy Balsamic Vinaigrette– Make the recipe as directed using 1/4 cup olive oil and 3/4 cup mayonnaise instead of 1 cup olive oil. This will give you a super creamy and delicious balsamic vinaigrette.
Healthy Balsamic Vinaigrette
Healthy has many definitions, but this Balsamic Vinaigrette meets most of them!
If you have special dietary needs, this recipe will be compliant or easily modified to meet many requirements.
As always, check all store bought ingredients for compliance on specific dietary needs. The notes below are a general guide.
Gluten free: This Balsamic Vinaigrette is naturally gluten free.
Dairy free: This Balsamic Vinaigrette is naturally dairy free.
Nut free: This recipe is naturally nut free
Egg free: This recipe is naturally egg free.
Vegetarian: This recipe is naturally Vegetarian.
Vegan: This recipe is naturally Vegan.
Low carb/Keto: This recipe is low carb at only 2g net carbs per serving.
Low Calorie- This dressing is low calorie at about 27 calories per serving.
Macros: The approximate macro calculation for this recipe is- P: 1g C: 3g F: 2g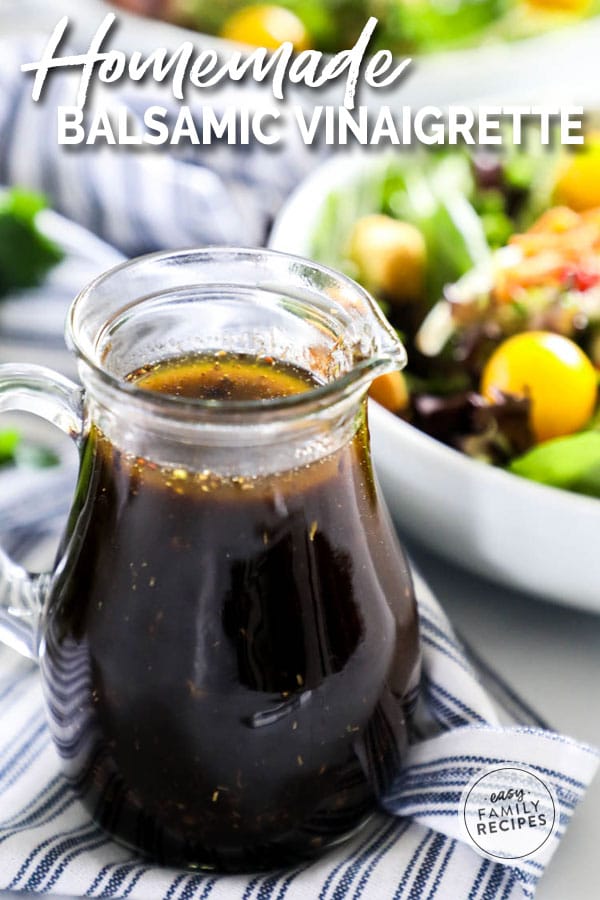 How to Store Homemade Balsamic Vinaigrette
Balsamic Vinaigrette should be stored in the refrigerator. It will generally stay good for up to two weeks. I have also had it last even longer!
When you are ready to serve, let the dressing sit out at room temp so that the oil can go back to its liquid form then mix well.
More Homemade Salad Dressing Recipes
If you enjoyed this recipe, I really hope you will take a moment to grab a few more easy recipes for another busy night!
You can check out all of my EASY recipes here, or see a few of our readers favorite Salad Dressings made from scratch below.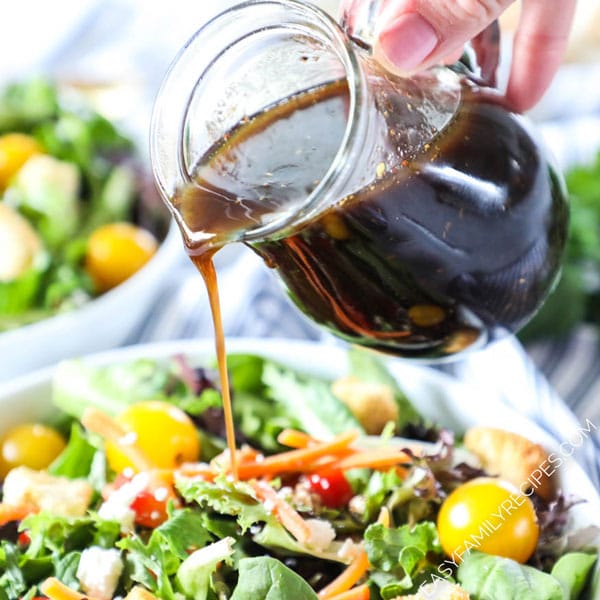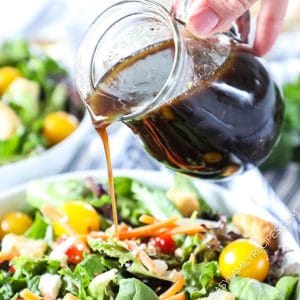 Healthy Balsamic Vinaigrette
This Balsamic Vinaigrette has a flavor so good it is almost magical! Whether you are using it to top a salad, marinate meat, roast vegetables, or cook a pot roast it will make your dish immeasurably more delicious!
Ingredients
1/2

cup

balsamic vinegar

1

cup

olive oil

extra virgin

1

Tbsp

sugar

(or honey)

4

cloves

fresh garlic

pressed

2

tsp

dried oregano

1

tsp

dried basil

1/2

tsp

onion powder

1/2

tsp

salt
Instructions
Combine all ingredients in a dressing container or mason jar.

Mix well until the dressing is emulsified (combined well and not separating).

Store in an airtight container in the refrigerator until ready to use. Whisk or shake well before each use. Enjoy!
Notes
Uses for this dressing:
Salad dressing
Marinade for chicken or steak
Pot roast
Drizzled over cheese
Bread dip
Nutrition
Serving:
2
tbsp
Calories:
27
kcal
Carbohydrates:
3
g
Protein:
1
g
Fat:
2
g
Saturated Fat:
1
g
Sodium:
85
mg
Potassium:
17
mg
Fiber:
1
g
Sugar:
2
g
Vitamin A:
5
IU
Vitamin C:
1
mg
Calcium:
9
mg
Iron:
1
mg