With tender Roast Beef deli meat, smokey provolone cheese, sweet Hawaiian rolls, tangy horseradish sauce and a rich buttery topping, these Baked Roast Beef Sliders are over the top delicious! They are perfect for a fast and easy dinner on a busy night, or a huge hit as a hearty party appetizer.
Roast Beef Sliders – The EASY Way!
Sandwiches are one of my love languages. While a boring sandwich is a waste, a good sandwich is pure bliss. These Baked Roast Beef Sliders fall into the latter!
They have the perfect combo of soft, sweet bread enveloping the savory meat and cheese combo. In my opinion, every really good sandwich has a sauce, and this one has two! A tangy horseradish sauce, and a rich buttery onion sauce that bathes the top and bakes in for extra flavor.
The Baked Roast Beef Sliders make an especially easy meal because they can be assembled in minutes and bake hands off.
What I LOVE about this recipe:
Appetizer or dinner! Because the sliders are small they make a great 3 bite appetizer to serve to a group, or you can serve a couple together as an entree for an easy dinner idea!
One pan– These all bake easily in one pan so you can minimize the clean up.
Lots of flavor! The sandwiches may be small but they are loaded with many layers of comforting flavors.
Scalable for family- Perfect for serving 1-2 for kids and 3-4 for adults.
Save and reheat well- These make great leftovers for lunches through the week.
What to Serve with Hot Sliders
These classic small sandwiches are perfect for a heavy appetizer or an entree. When served as an appetizer, they are hearty enough to stand alone, but can also be accompanied by complimentary appetizers if you are looking for a spread.
Appetizers Ideas
Side Dish Ideas
When serving these easy Roast Beef Sliders as a main dish, you can pair with any of these simple side dishes to create a filling meal.
Chips
Quick Green Beans – There are 5 flavor options in this recipe, but my favorite for the roast beef sliders Pan Roasted Green Beans with Bacon.
You can choose one or add a few sides to make a wholesome, well rounded dinner.
Recipe Notes
This recipe is as simple as promised! Just a few minutes of prep for a family friendly meal.
In this section I am going to go through a few tips and tricks I use when making the hot Roast Beef Sliders recipe to get the absolute best and most delicious results.
Make sure to scroll to the bottom for the FULL recipe card.
Ingredients + Substitutions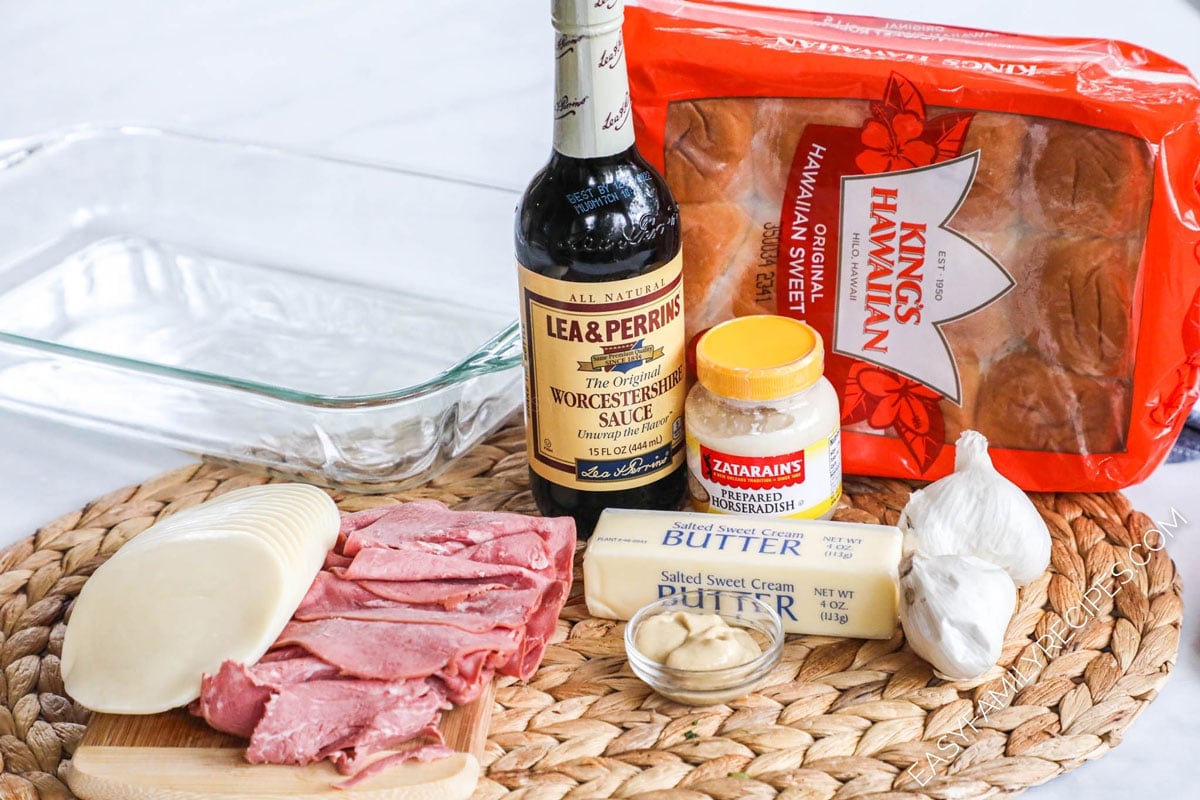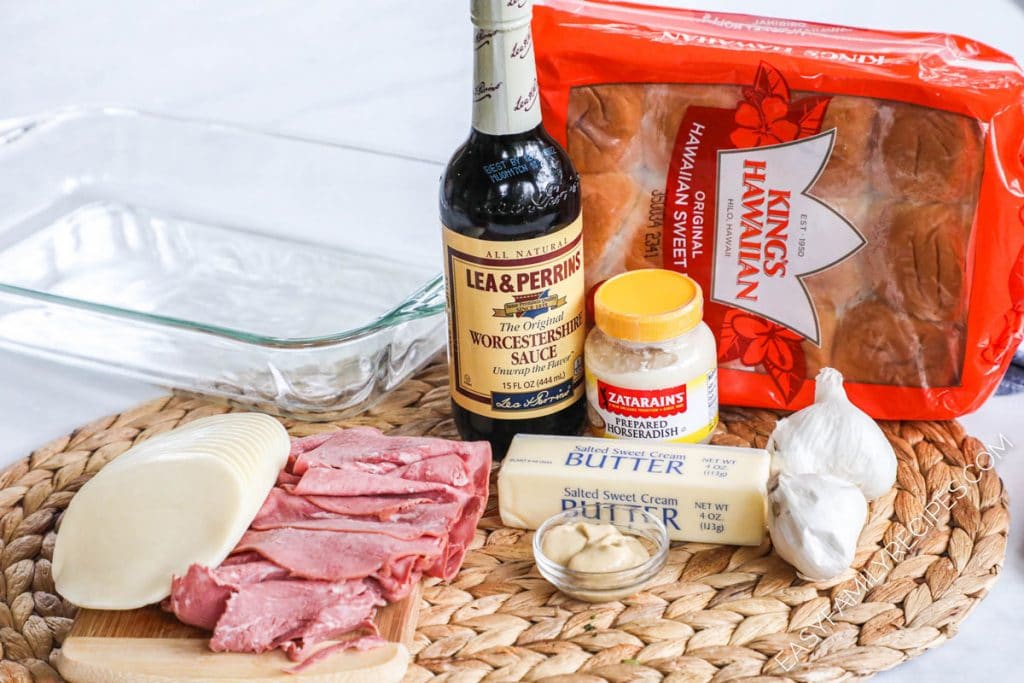 For the sandwiches
Kings Hawaiian rolls – I prefer these because they are SUPER SOFT and the sweetness of the bread really makes a great flavor profile. My favorite part is that two 12 packs of Hawaiian Rolls fit snugly in a 9×13 pan.

You can also use plain white dinner rolls, or wheat dinner rolls in this recipe if you prefer.

Roast beef deli meat- You can use freshly sliced roast beef from the deli counter or pre-sliced meat found in the refrigerated section. I prefer thinly sliced either way.

Provolone cheese sliced- Again, either freshly sliced from the deli counter or pre-sliced in the cheese section will work equally well. I have also made these with both smoked, and no smoke added varieties with good results. This will largely depend on your taste preference.

Prepared horseradish– You can find this in the condiment section. If you don't care for horseradish, you can omit it, or substitute dijon mustard.

Mayonnaise
For the Glaze
Butter– I use salted, but unsalted can also work

Garlic– You can use minced, crushed, or pressed garlic. It will work as long as it is in small pieces and not larger chunks.

Dried minced onion

Dijon mustard– Dijon is my preference for the sauce but in a pinch I have used both spicy mustard and yellow mustard with good results.

Worcestershire sauce– this adds a nice, savory flavor to the topping which pulls everything together.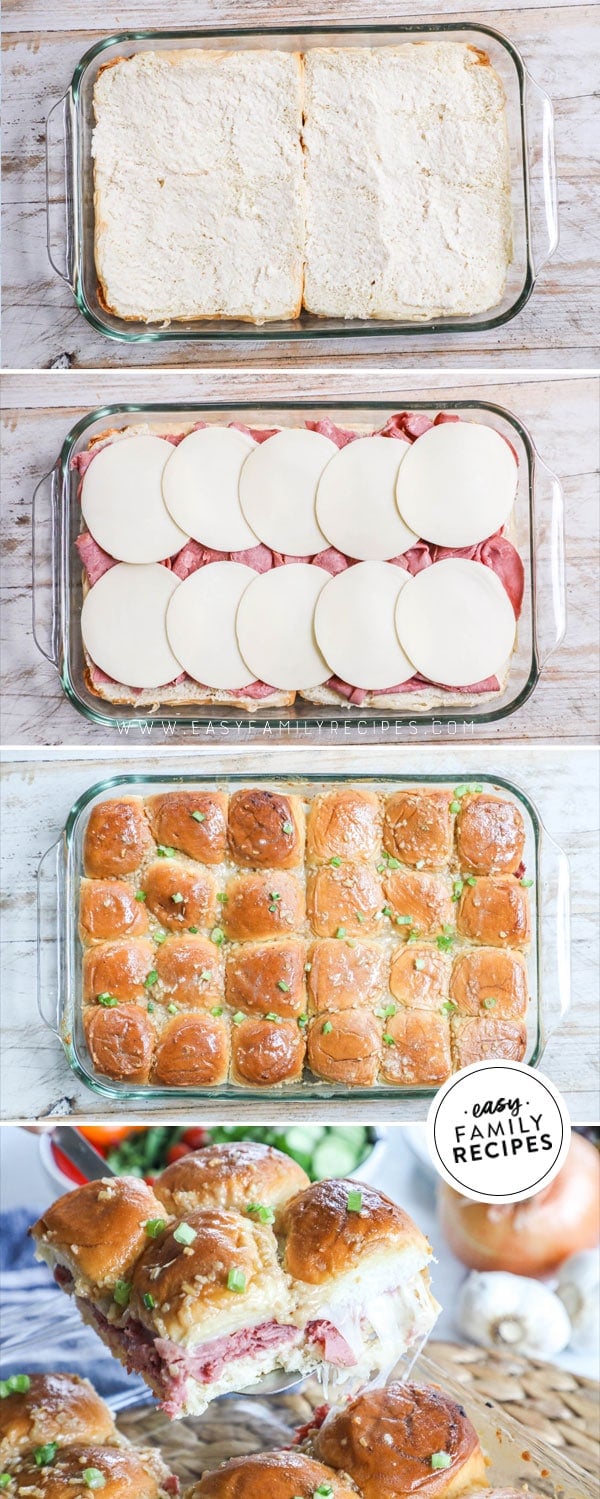 Recipe Tips
Cut- before and after! The easiest way to make these is to cut the rolls horizontally before breaking any of them apart. That way you can just make 1 cut for each package as opposed to 12 smaller cuts.

Then once all of the sandwiches are assembled, but before putting on the glaze, I like to run a knife along the lines to cut through the sandwiches.

This does 2 things, first it makes the Roast Beef Sliders easier to serve since you cut through any overlapping meat and cheese. Second, it allows the glaze to seep through the gaps of each sandwich, really infusing the flavor of the glaze to every slider.

Scale- This recipe makes 24 small slider sandwiches. If you prefer, you can cut the recipe in half to make 12 small slider sandwiches. You can use an 9×9 square baking dish for a half recipe.

Are these sliders spicy? The horseradish does add a small kick to the dish.

If you prefer the sliders to be more spicy, you can increase the horseradish in the spread.
If you want the sandwiches less spicy, you can reduce the horseradish in the spread.
If you want no spice, you can omit the horseradish and use mustard or just mayonnaise in the spread.
Recipe Short Cuts
If you need to make this recipe, but are extra short on time, here are a few ideas that can help make this recipe even faster!
Assemble beforehand– You can assemble the bread, meat and cheese, as well as cut the rolls, then tightly wrap in plastic wrap and refrigerate up to 24 hours in advance.
Mix the sauce beforehand– You can mix up the sauce up to 3 days in advance and keep it covered in the refrigerator. Once ready to use, microwave until melted and stir to combine.
Prepare as a freezer meal– This can help you have this ready up to 6 months in advance. Follow the instructions in the freezer meal section below.
Recipe Variations
If you love this recipe as much as we do and want some quick ways to change it up for variety, these little tips will do the trick!
Roast Beef and Cheddar Sliders– Make sliders as directed substituting cheddar cheese slices for provolone cheese. The sharper the cheddar cheese, the more cheddar flavor the sliders will have.
BBQ Roast Beef Sliders– In place of the horseradish and mayo spread for the sliders, use your favorite BBQ sauce. Make as directed using this sauce in place of the horseradish mayo blend.
French Onion Roast Beef Slider– Assemble sliders as directed. To make the glaze, combine the melted butter with 2 tbsp of Onion Soup Mix (Lipton 1/2 package). Bake as directed.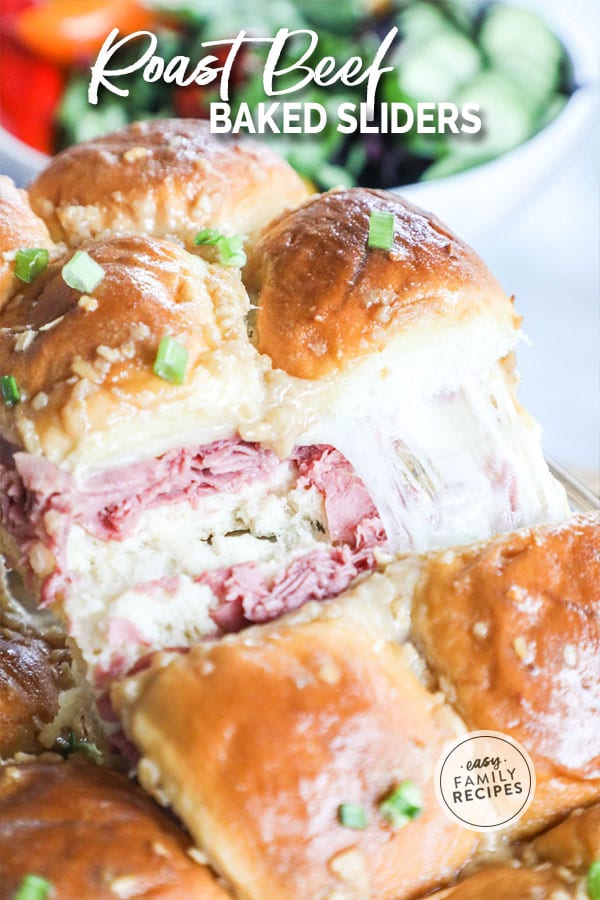 Freezer Meal Instructions
These Hot Roast Beef Sliders can be prepared as a freezer meal to make on another busy night, or give to a friend in need. Follow the instructions below for best practices on freezing.
Assemble the meat and cheese on the Hawaiian Rolls. Package in a freezer bag or freezer friendly container.
Prepare the butter mixture and store in a separate freezer friendly container.
When ready to make, thaw, then heat the butter mixture until melted and stir to combine. Then brush over the rolls.
Bake as directed.
For the best flavor, this meal can be frozen for up to 6 months.
Hot Roast Beef Sliders Leftovers
If you have leftovers after making these oven baked sliders then it is your lucky day! They save and reheat well, and can make the start of another delicious dish.
To save leftovers, separate into meal sized portions and then place in an airtight container and store:
in the refrigerator for 3-4 days
in the freezer up to a month
Reheat in the microwave or oven, one at a time or as a whole.
More Simple Dinner Recipes
If you enjoyed this recipe, I really hope you will take a moment to grab a few more easy recipes for another busy night!
You can check out all of my Easy Dinner recipes here, or see a few of our readers favorite recipes below.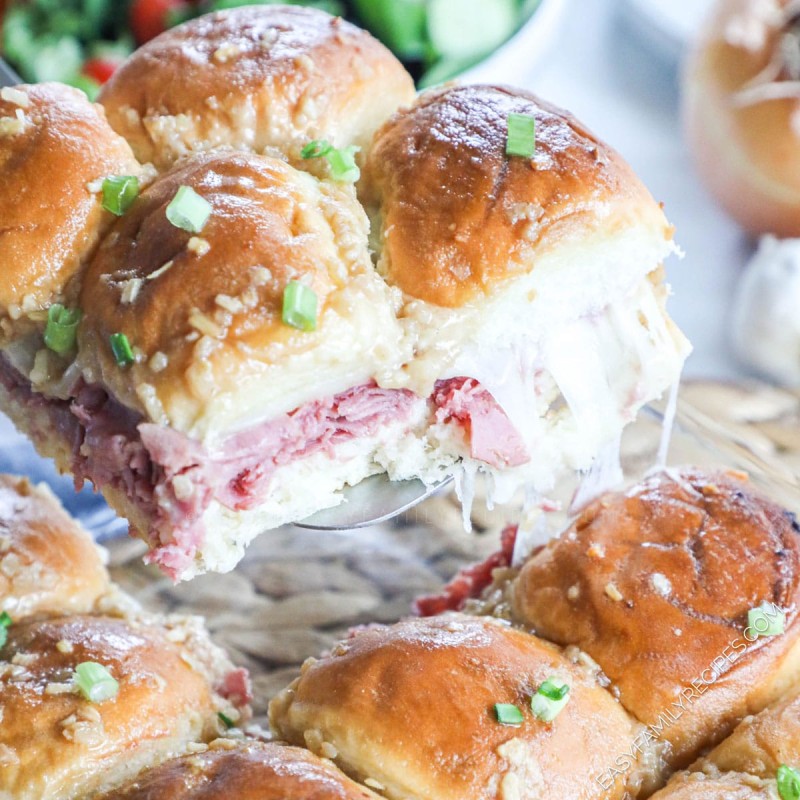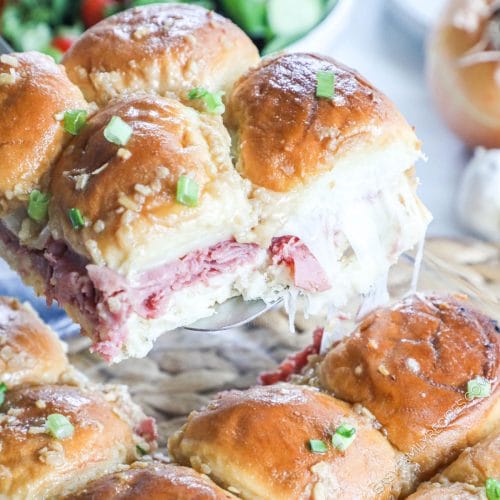 Hot Roast Beef Sliders
These oven baked Roast Beef and Cheese Sliders are amazingly delicious! They are the perfect sliders to serve a crowd, or can be a part of a filling dinner when paired with sides. Made with sweet Kings Hawaiian Rolls, tender roast beef, provolone cheese, and a kick from the horseradish, these are a crowd pleaser!
Ingredients
For the sandwiches
24

hawaiian rolls

,

(2 packages)

1

lb

roast beef

,

thinly sliced

8

oz

provolone cheese

,

sliced

1

tbsp

prepared horseradish

2

tbsp

mayonnaise
For the Glaze
1/4

cup

butter

,

melted

4

cloves

garlic

,

minced

1

tbsp

dried minced onion

1

tbsp

dijon mustard

1

tsp

Worcestershire sauce
Instructions
Preheat the oven to 350˚F. Mix the mayonnaise and horseradish together and set aside.

Remove the Hawaiian Rolls from the packaging. Cut each set of 12 horizontally in half so the tops and bottoms are separated.

Lay the bottoms in a 9×13 baking dish. Spread the horseradish mixture evenly over the rolls. Next lay the roast beef and then cheese evenly over the rolls. Put the tops back on the rolls and then use a knife to cut between each roll to separate the sandwiches. (This helps for serving.)

Next, in a small bowl, whisk together the melted butter, garlic, dried onion, mustard and Worcestershire sauce. Pour over the top of the rolls and use a pastry brush to evenly spread it out and work between each roll.

Bake for 20 minutes or until the sandwiches are heated through and the cheese is melted.
Nutrition Information
Serving:
2
sandwiches
,
Calories:
344
kcal
(17%)
,
Carbohydrates:
31
g
(10%)
,
Protein:
19
g
(38%)
,
Fat:
16
g
(25%)
,
Saturated Fat:
8
g
(50%)
,
Trans Fat:
1
g
,
Cholesterol:
65
mg
(22%)
,
Sodium:
976
mg
(42%)
,
Potassium:
153
mg
(4%)
,
Fiber:
1
g
(4%)
,
Sugar:
8
g
(9%)
,
Vitamin A:
287
IU
(6%)
,
Vitamin C:
18
mg
(22%)
,
Calcium:
255
mg
(26%)
,
Iron:
1
mg
(6%)