This Asparagus recipe is one of the EASIEST & TASTIEST ways to make this classic side dish. Our favorite way to cook asparagus is by roasting it in the oven. When you bake the asparagus it is tender and full of flavors. This is a nice quick option to serve with meals for a quick and wholesome side dish. Baked asparagus also serves as a  a low carb, gluten free, low calorie, keto and paleo option for special dietary needs.
Quick and Easy Asparagus
Asparagus is such a great side dish because the flavor goes well with almost anything. I have gotten to the point where I  serve it as a side almost once a week. Now even the kids are asking for it when we sit down to dinner. I really love how QUICK + EASY and DELICIOUS it is.
If you need more easy and delicious side dish ideas, make sure to check out my Sautéed Green Beans, Smashed Potatoes, Corn Casserole,  and sautéed spinach.
What to serve with Baked Asparagus
Roasted asparagus goes well with almost everything you put it with. It is really versatile and goes well with almost any dish. You can also put leftovers in the fridge and chop them up to add to salads, bowls or meal prep. It is good both warm and cold! Here are some of my go-to recipes to serve with Baked Asparagus:
Baked Chicken
Grilled Chicken
One of the bonuses too is that most all of these dishes are naturally low carb and gluten free and by serving with Baked Asparagus you add minimal calories, keep it gluten free and low carb, and add tons of nutrients for a really healthy and delicious meal!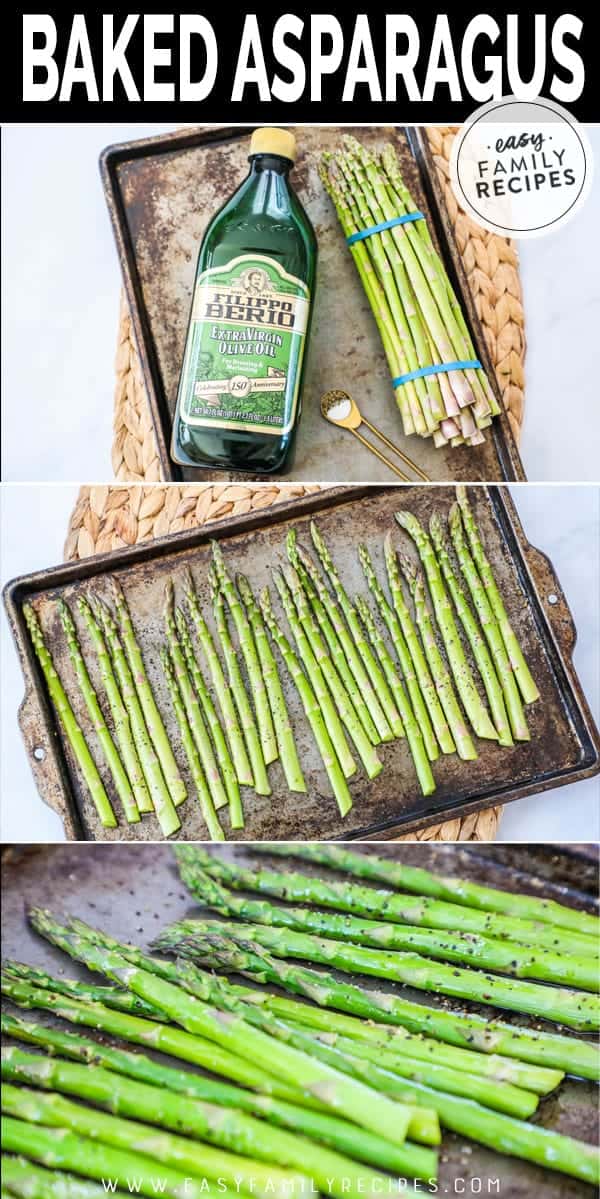 Tips and Tricks to Making Baked Asparagus
This is really a super simple side to through together for an easy weeknight meal.  I am going to run through an overview here and add some notes that might be helpful for you while making the dish. Make sure to get the FULL recipe at the bottom.
Wash the asparagus, and cut off the woody stalk on the end

Cut off the end that is slightly pink/tan
The end of the stalk has a woody texture you can use a knife or bend the asparagus until it breaks. It naturally snaps at the point where it starts to get tougher. This is usually about 2 inches or so.

Toss the asparagus with the olive oil, then place it on a baking sheet and sprinkle with salt and pepper.

I like to save dishes by just spreading it on the pan then drizzling the olive oil over it and rubbing it around with my fingers. This makes it really a one pan dish.
You can use more or less salt and pepper to taste but I find this just about right for our preferences.

Bake at 400˚F for 10-15 minutes. Time will depend on thickness of the stalks. You will want the color to be bright green and the asparagus to be tender and just slightly firm.

When you purchase asparagus you can get either thin or thick stalks, just aim to get ones that are fairly consistent in thickness across the bunch so that they can cook most evenly.
Lay them flat on a baking sheet. Try to make sure there is enough room for them to lay flat without stacking so that they will cook evenly. I also prefer to use pans with raised edges so that it prevents any excess oil from running off the pan.
Thin stalks will cook more quickly and thick stalks will take longer.

Remove from oven and top with one of the topping options if desired. Enjoy!

You should take them out of the oven when they are still bright green. They will start to lose the brightness and become mushy if they over cook.
One they are out of the oven you can eat it as is, or add a topping if you prefer.  Just drizzle the lemon juice or pesto over the top or sprinkle the parmesan on.
FAQ's for Baked Asparagus
How do I pick good asparagus at the store?
Here are some tips to make sure you get the best bunch when you are at the store:
Check the buds. This is the most flavorful part of the asparagus and should be firm and in good condition.
Smell it!  Asparagus that is starting to go bad will start to smell quickly. Make sure they smell nice and fresh.
The color will vary based on variety, but green is most common. There are also white and purple varieties. Just make sure it appears fresh and not faded.
Try to get consistent sizes of stalks. You can use thick or thin, but make sure that they are mostly the same size so you don't end up with some over cooked while others aren't done.
Should I buy thin or thick stalks of asparagus?
Both are good and each has it's own advantages!  My preference for baking asparagus in the oven is to use thin stalks because they cook more quickly, but either will work.
Thin asparagus- more tender with a delicate flavor and will cook more quickly
Thick asparagus- more robust flavor with a substantial texture and will take longer to cook
When is Asparagus in season?
Asparagus can be found in stores year round, however the first "in season" crops come from Mexico and usually arrive in January. The domestic crops will follow with Florida starting in February and continuing to move north through the spring.
Is this recipe gluten free?
Yes, just double check the packaging on any spices and oils you are using to verify they are gluten free as well.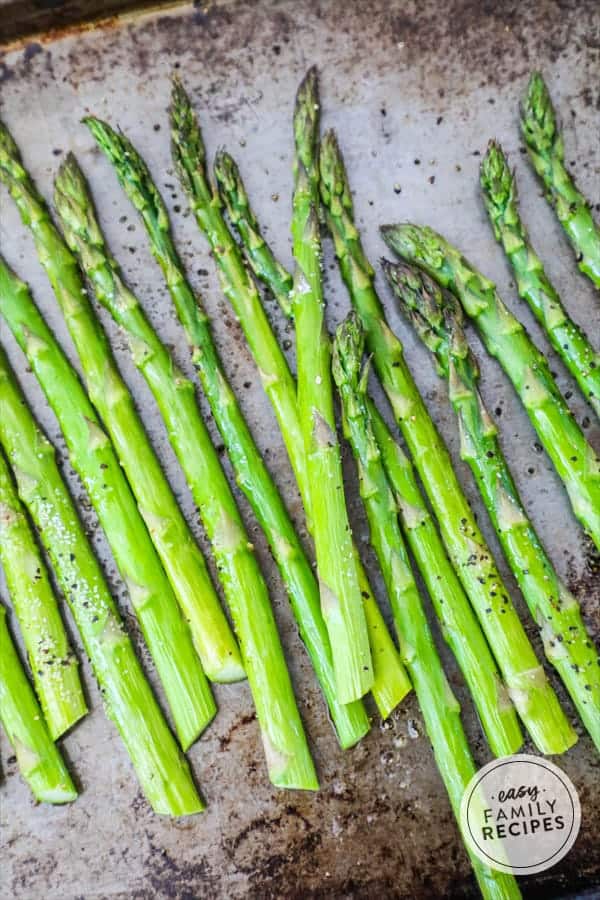 More Easy Recipes
If you enjoyed this recipe, I have many more to ease the dinner burden for another night. Make sure and sign up for my e-mail here to get them regularly in your inbox.
Also, I would love for you to take a moment to leave a comment or review! Not only do I love hearing your experience with the recipe, but your positive comments and reviews help my website to grow!
Easy Vegetable Sides
Hungry for more family-friendly recipes? Sign up for my free recipe club to get new family-friendly recipes in your inbox each week! Find me sharing daily meal-time inspiration on Pinterest, Instagram, and TikTok.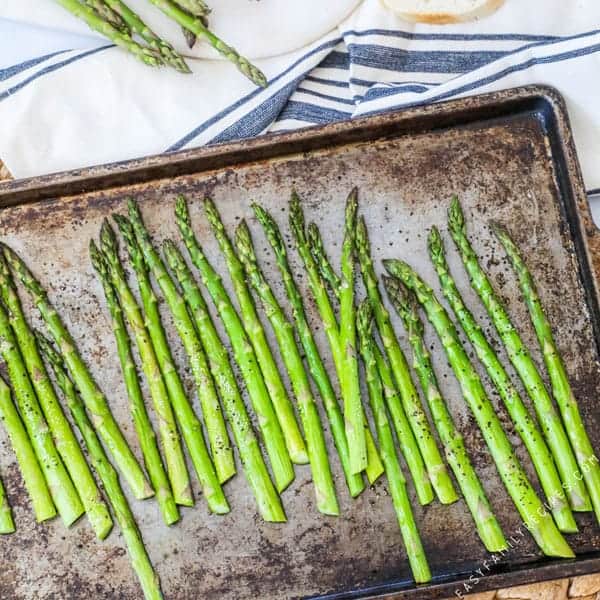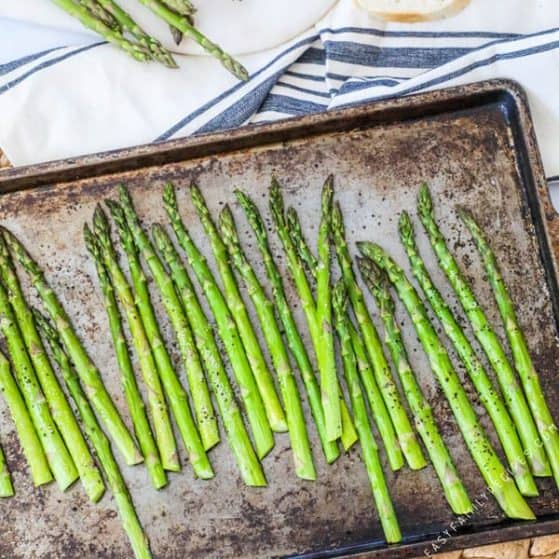 Baked Asparagus
This Baked Asparagus is a quick and delicious side dish for any meal. This asparagus is super EASY and loaded with flavors.
Prep Time: 5 minutes
Cook Time: 10 minutes
Total Time: 15 minutes
Serves:4 servings
Hover over "serves" value to reveal recipe scaler
Ingredients
1 lb asparagus
2 tbsp olive oil extra virgin
1/2 tsp salt
1/2 tsp black pepper
1 tbsp lemon juice optional
1 oz parmesan freshly grated, optional
2 tbsp pesto
Instructions
Chop the woody ends off of the asparagus. You can also bend the stalk and it will naturally break at the right point.


Toss the asparagus with the olive oil, then place it on a baking sheet and sprinkle with salt and pepper.


Bake at 400˚F for 10-15 minutes. Time will depend on thickness of the stalks. You will want the color to be bright green and the asparagus to be tender and just slightly firm.


Remove from oven and top with one of the topping options if desired. Enjoy!

Recipe Notes:
Dietary Considerations:
This recipe is naturally
Gluten free, low carb and dairy free
Please check all packages of products bought to ensure compliance.
I am not a nutritionist or dietitian. Nutrition facts provided based on my best estimation for the recipe and may not be accurate depending on what brands you use or modifications you make to the recipe.  I recommend using a nutrition calculator with the exact brands and measurements you use for the most accurate calculation.
©2019 Easy Family Recipes- Recipe found at: 
https://easyfamilyrecipes.com/baked-asparagus/
For more great easy dinner inspiration, sign up for our emails here!
Nutrition Information:
Calories: 85kcal (4%)Carbohydrates: 4g (1%)Protein: 2g (4%)Fat: 7g (11%)Saturated Fat: 1g (6%)Cholesterol: 0mgSodium: 293mg (13%)Potassium: 229mg (7%)Fiber: 2g (8%)Sugar: 2g (2%)Vitamin A: 855IU (17%)Vitamin C: 6.4mg (8%)Calcium: 27mg (3%)Iron: 2.4mg (13%)
(Nutrition information provided is an estimate and will vary based on cooking methods and brands of ingredients used.)