These are the ULTIMATE Chewy Chocolate Chip Cookies! This recipe is easy to make and uses only a few simple ingredients in just the right combination to get the PERFECT super chewy chocolate chip cookies. These cookies are thick, soft, and of course perfectly chewy. They have edges that are just crisp and a soft, tender center.  With the endless requests we get for this recipe, we think these are the World's Best Chocolate Chip Cookies, but give them a try and you can decide for yourself!
Chewy Chocolate Chip Cookie Recipe
This recipe is one that I perfected over many years (and hundreds of pounds of butter!) I think the PERFECT Chocolate Chip Cookie is
Chewy
Thick
Crisp on the edges
Soft on the inside
Full of flavor
If it doesn't meet those standards, then I will just pass! This chewy chocolate chip cookie recipe is all of those and more. Not only are the cookies super soft and chewy but the flavor is just out of this world.
The recipe doesn't use anything fancy to make this happen, just a few basic ingredients you probably already have in your pantry combined in just the right way to make true cookie magic happen.
How to Make Chewy Chocolate Chip Cookies from Scratch
I am going to walk through the basics on this recipe here and pass along a few notes that should help you make sure and get perfect soft and chewy chocolate chip cookies each and every time you make this recipe. Make sure and scroll down to the bottom for the FULL recipe card.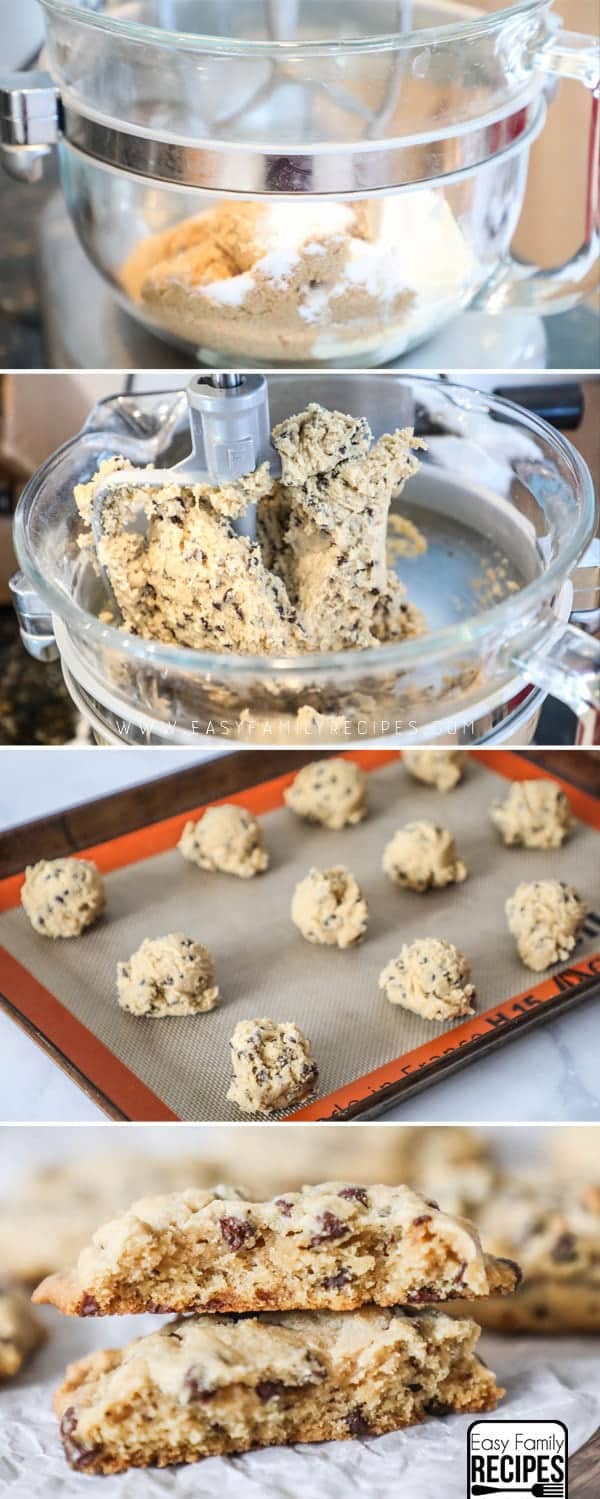 Chewy Chocolate Chip Cookies Ingredients
As I mentioned before, the beauty of these cookies are that the magic isn't in a secret or fancy ingredient, it is in combing simple ingredients in the perfect way. Here is what you need to gather for making soft and chewy chocolate chip cookies:
Butter
Dark brown sugar
White sugar
Eggs
Vanilla extract
All purpose flour
Cornstarch
Baking soda
Salt
Mini semi-sweet chocolate chips (10 oz)
First, use a mixer to cream the butter and sugars. Then continue by adding the vanilla and eggs and mixing to combine.
In a separate bowl, sift the dry ingredients together including the flour, cornstarch, baking soda and salt.
Next, add the dry ingredients into the butter mixture little by little, mixing between each addition until completely combined. The dough should be on the stiff side and not sticky or crumbly.
By hand, stir in the chocolate chips until they are evenly distributed throughout the dough.
Bake on a parchment lined cookie sheet until they the chocolate chip cookies are golden brown on the edges and the center is just set. Then let cool on the cookie sheet for 2 minutes and then transfer to a wire cooling rack to finish cooling.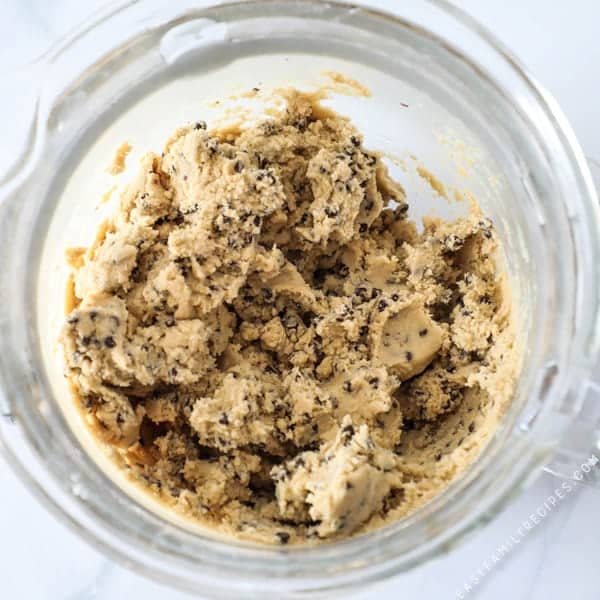 What Makes Cookies Soft and Chewy?
There are several factors that make cookies soft and chewy. It really boils down to how much moisture is retained in the cookies. The major factors that impact this are:
Ingredients- Using things like more brown sugar than white helps to add additional moisture and create the chewy texture.
Flour ratio- Cookies with a higher ratio of flour will bake thicker and allow the outside to get crispy while the volume of the cookie is inside staying soft. To balance the increased flour we use real butter and additional vanilla to pump up the flavor in these chewy chocolate chip cookies.
Cooking time and temperature- The time the cookies bake for is a huge factor since the longer they are in the oven the more moisture will bake out of the cookies.
How Long to Bake Chewy Chocolate Chip Cookies
Baking time for chocolate chip cookies is VERY important! The temperature and length of time you bake them is a huge component of whether you will get a crispy cookie, or a soft and chewy chocolate chip cookie.
This Chewy Chocolate Chip Cookie recipe bakes the cookies for 9-11 minutes. If you have larger cookies or cookies that have been chilled in the fridge or freezer you will need to increase the time. If you have smaller cookies the time may decrease.
Each oven will bake slightly differently due to size, heating element, power source, climate and features on the oven. The key on how long to bake chocolate chip cookies so that they are soft and chewy is to watch the cookies and remove them from the oven when the edges are golden brown and the center is just set, or loses it's sheen.
The cookies may appear not to be cooked quite enough when you take them out, but they will continue to bake while they cool so the result is a perfect chewy chocolate chip cookie.
If the cookies are baked too long, they will become hard and crunchy throughout.
Why Are My Cookies Flat?
If you are coveting a big, thick, chewy chocolate chip cookie only to wonder "Why do my chocolate chip cookies come out so flat?!" There are a couple main ways to keep chocolate chip cookies from spreading.
Use softened butter and mix well. When the butter is not mixed well or evenly into the flour it creates pockets of fat that will melt faster and make the cookies spread. Using an electric mixer and scraping the bottom and sides to ensure you are mixing well.
Not enough flour– If you don't have enough flour mixed into the fats in your recipe they will not be able to hold their shape as well. The dough in this chewy chocolate chip cookie recipe should be firm and not sticky. If the dough is sticky, you may need to add flour per the directions until it is not sticky. If the cookie dough is crumbly it is too dry.
Greased cookie sheets or poor quality cooking mats– To bake cookies, you should not need to grease your cookie sheets. If you grease them, it can make the cookies spread thin, especially on the edges. This can also happen with poor quality baking mats, especially silicone mats. I recommend using a well loved cookie sheet, using parchment paper, or a Silpat baking mat.
You can see in the image below that the chocolate chip cookie spread too thin around the edges instead of holding it's shape and baking nice, thick and chewy like the other cookies. This is because the butter wasn't mixed well into these cookies.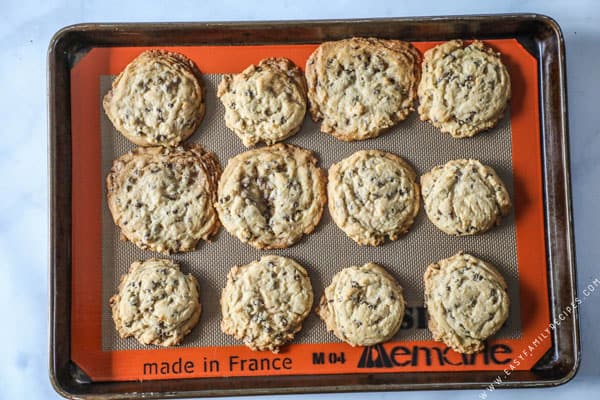 How Do you Keep Cookies Chewy?
The Chocolate Chip Cookies are super soft and chewy when they come out of the oven, but even after a couple of hours they can start to change and lose some of their freshness. There are a few great tricks to keeping cookies fresh. Here are the best tips on keeping your cookies chewy:
Freeze the cookies– You can freeze the cookies before or after baking. My favorite way to store my cookies is in the freezer. I will freeze cookies even if I am just serving them the next day. Freezing cookies will keep them just as soft and chewy as when they came out of the oven. See the next section on freezing cookies for the method to freeze them.
Store in with a slice of bread– My preferred method is freezing, but if you are shipping a package or have another reason you can't store the cookies in the freezer to keep them fresh, packing the cookies in an air tight container with a slice of bread can keep them soft and chewy. To do this place the cookies in the container and put the bread on a piece of parchment on top of the cookies or in an open plastic bag. Avoid the bread making direct contact with the cookies or else they can get soggy.
Can You Freeze Chocolate Chip Cookies?
Cookies freeze exceptionally well both before or after baking. This will allow you to have fresh tasting cookies on demand. By freezing the cookie the moisture doesn't escape which keeps the cookies as soft and chewy as they taste when they are out of the oven.
To freeze baked cookies:
Bake chewy chocolate chip cookies as directed. Allow the cookies to cool completely, then place in an airtight container or zip top bag and place in the freezer.
When you are ready to eat the cookies remove the desired amount from the freezer and either microwave 1-3 cookies for 30-45 seconds, or allow to sit on the counter for 5-10 minutes to come to room temperature.
To freeze cookie dough:
Make cookie dough as directed and shape into slightly flattened balls. Place the balls in a single layer in a zip top bag or other air tight container or use parchment between layers of them.
When ready to bake, remove the cookie dough from the freezer and place on a cookie sheet frozen. Bake as directed adding 2-3 minutes to the cooking time to bake from frozen.
Do you have more Soft and Chewy Cookie recipes?
Yes! So many more! If you love these Chewy Chocolate Chip Cookies, here are a few more you must be certain to try: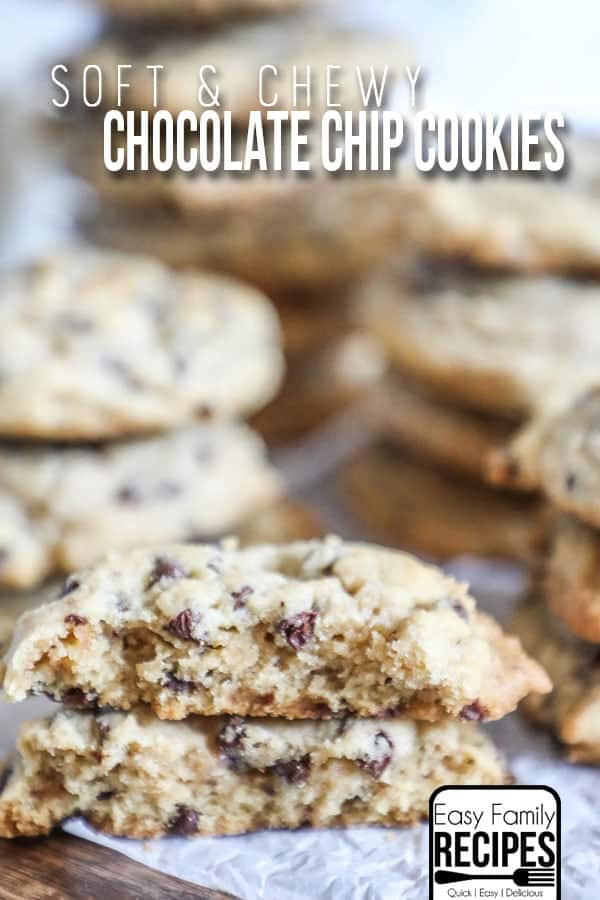 We have loved this recipe so much for so many years. I really hope that you get a chance to try it and find as much joy making and eating these with your family and friends as we do with ours.
If you do get a chance to try it, I would love it if you let me know! You can leave me a comment below, or if you post a picture on Instagram, make sure to tag me @easyfamilyrecipes so that I can see what you are cooking up! It makes my day to see others enjoying the recipes that I share!
Oh and before you go!… If you need a regular rotation of recipe inspiration like me, make sure to sign up to get our emails! I send out my new favorites, the recipes my family has been devouring, and some of the best tried and true recipes. It is easy and free of course! You can click here to sign up.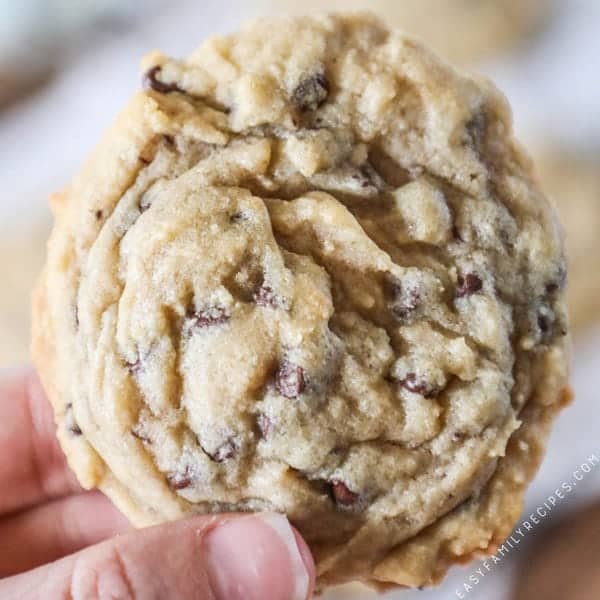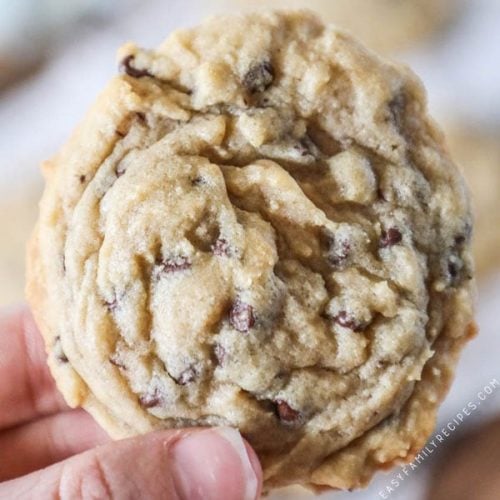 ULTIMATE Chewy Chocolate Chip Cookies
These are fail-proof soft, thick, and chewy chocolate chip cookies! This classic chocolate chip cookie recipe uses simple ingredients combined in just the right way for fail-proof cookies! They are perfect for the holidays or every day.
Ingredients
1 1/2

cups

unsalted butter

,

softened

1 1/2

cups

dark brown sugar

1/2

cup

white sugar

2

large eggs

4

tsp

vanilla extract

4

cups

all purpose flour

2

tbsp

cornstarch

2

tsp

baking soda

1

tsp

salt

1

bag mini semi-sweet chocolate chips

,

10 oz
Instructions
Cream the butter and sugars together. Add one egg at a time, mixing in between.  Then stir in vanilla to combine.

In a separate bowl, combine the dry ingredients. Mix the dry ingredients into the wet ingredients in thirds mixing between each addition until they are combined. An electric mixer with a paddle attachment makes this easiest!

Mix the chocolate chips in by hand until they are evenly distributed. Scoop heaping rounded tablespoonfuls onto an ungreased cookie sheet, evenly spaced, about 2″ apart.

Bake at 350˚F for 9-11 minutes or until the center of the cookie is just set. Let cool on cookie sheet for 2 minutes then transfer to a wire cooking rack.
Recipe Notes
Dough should not be sticky or crumbly.

If the dough is sticky, add in flour 1 tbsp at a time until it it is not sticky.
If the dough is crumbly, add in water 1 tsp at a time until it holds together and does not crumble.

This recipe is calculated for about 1.5-2 tablespoons of dough to make each cookie. You can make 18 extra large cookies by using 1/4 cup measure, or 6 dozen small cookies by using 1 tbsp of dough. Cooking time will vary based on size of cookie.
After baking, cookies can be stored in an airtight container or frozen
Nutrition facts provided based on my best estimation for the recipe and may not be accurate depending on what brands you use or modifications you make to the recipe.  I recommend using a nutrition calculator with the exact brands and measurements you use for the most accurate calculation.
©2018 Easy Family Recipes- Recipe found at: https://easyfamilyrecipes.com/ultimate-chewy-chocolate-chip-cookies/
For more great easy recipe inspiration, sign up for our emails here!
Nutrition Information
Serving:
1
cookie
,
Calories:
179
kcal
(9%)
,
Carbohydrates:
22
g
(7%)
,
Protein:
2
g
(4%)
,
Fat:
9
g
(14%)
,
Saturated Fat:
6
g
(38%)
,
Polyunsaturated Fat:
2
g
,
Monounsaturated Fat:
0
g
,
Trans Fat:
0
g
,
Cholesterol:
29
mg
(10%)
,
Sodium:
124
mg
(5%)
,
Potassium:
0
mg
,
Fiber:
0
g
,
Sugar:
13
g
(14%)
,
Vitamin A:
0
IU
,
Vitamin C:
0
mg
,
Calcium:
0
mg
,
Iron:
0
mg