With juicy steak, a smokey garlic sauce, and gooey cheese this Top Round Steak Sandwich with Mushrooms is a serious crowd pleaser! It is easy to make and only takes 15 minutes to prep making them perfect for serving to friends or for family dinner.
Steak and Mushroom Sandwich – The EASY Way!
A good sandwich is never over rated. There is just nothing like toasty bread, warm gooey cheese, and a delicious sauce! This steak and cheese sandwich checks all the boxes for a delicious, hearty, filling sandwich.
Ok, let me break it down because upon first glance you may think this recipe is a little long. But I promise it is just as simple and quick as all of my other recipes and just as delicious! First, there is the bread – we want toasty bread but you could even amp up the flavor by using garlic bread. Then there is the thinly sliced steak that gets to take a bath in a delicious marinade and finally, there is the steak sauce that uses 4 super common ingredients.
This sauce is what really takes these sandwiches to the next level. Every great sandwich has a great sauce! This sandwich is also great because you can make it with personal-sized sub rolls or with a large baguette to serve a crowd.
Why I LOVE this recipe!
Lots of flavor! The sandwiches may are loaded with many layers of comforting flavors from the marinade to the mushrooms, to the sauce.
Save and reheat well- These make great leftovers for lunches through the week.
Can use up leftovers – These sandwiches can be made with leftover steak (any kind) which is always a win in my book! Ya for leftover steak sandwiches!
What to Serve with Shaved Steak Sandwiches
Since this dish has the classic flavors of a good steak, it will pair well with many of your favorite classic side dishes. There are both classic options and some healthy options to keep it light.
Steak Sandwich Side Dish Ideas
You can choose one or add a few sides to make a wholesome, well-rounded dinner.
Recipe Notes
This steak sandwich recipe is as simple as promised! Just 15 minutes of prep for a family-friendly meal.
In this section I am going to go through a few tips and tricks I use when making this recipe to get the absolute best and most delicious results.
Make sure to scroll to the bottom for the FULL recipe card.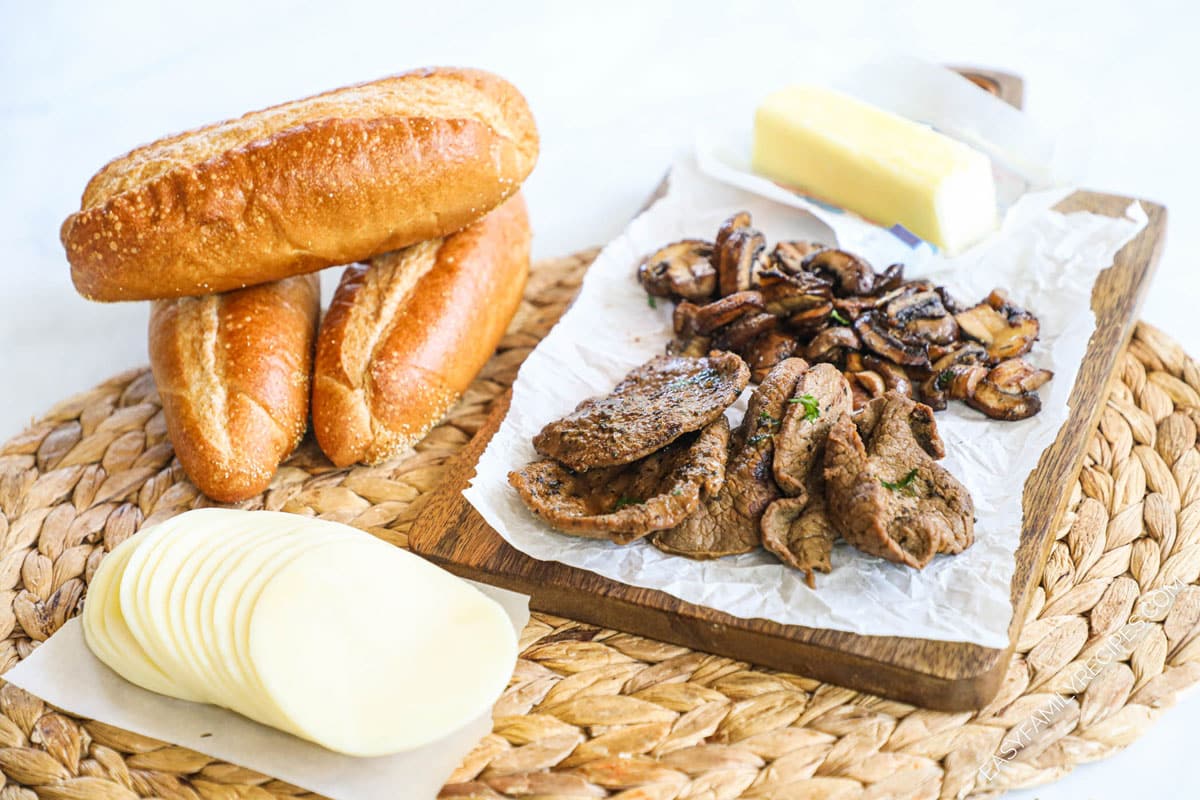 Ingredients + Substitutions
Steak and Marinade
Top Round Steak – You can use any type of thinly sliced steak you like but I chose top round for this recipe since it is a super affordable cut that is readily available in the meat section of almost any grocery store. You will usually already find it sliced and ready to purchase, but if you don't you can always ask the butcher to slice it for you.
Oil – Any type of oil will work but we need a little bit to get that great sear!
Mushrooms – Feel free to use brown or white mushrooms that are pre-sliced or whole and slice them thinly.
Soy sauce – If sodium is an issue for you, you can use low sodium soy sauce or coconut aminos.
Lemon Juice – Every marinade needs a little acid!
Worcester Sauce – No steak is complete without the classic and this steak is no different. This adds a nice, savory flavor to the topping which pulls everything together.
Hot Sauce – I prefer to add a little bit of heat with my favorite hot sauce, but you can certainly leave this out if you do not like any spice.
Spices – I use a combination of fresh basil, garlic powder, and black pepper.
Sandwich
Large Sub Rolls – I like to use these so everyone gets their own sandwich but you can certainly use smaller or one large roll and slice it up smaller. You could also use store-made garlic bread instead and leave out the butter and garlic salt I call for.
Butter – This is how we get that crispy bread. I use unsalted due to using garlic salt but you could use salted.
Garlic Salt – because FLAVOR! If you don't have this you can also do garlic powder and salt.
Provolone – Either freshly sliced from the deli counter or pre-sliced in the cheese section will work equally well. I have also made these with both smoked, and no smoke added varieties with good results. This will largely depend on your taste preference.
Sauce
Mayonnaise
Worcester Sauce
Smoked Paprika – Regular paprika can be used but smoked is a great way to enhance the natural smokiness of steak.
Garlic Powder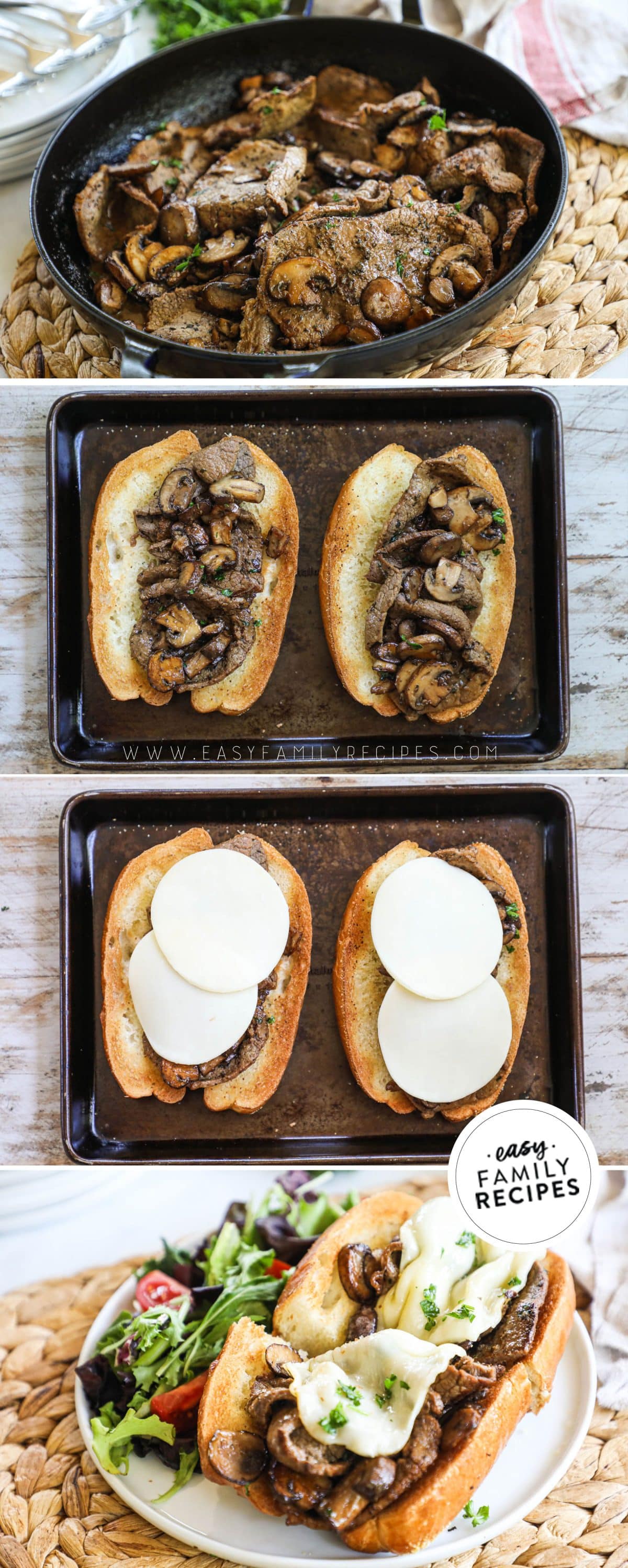 Recipe Tips
Thinly sliced steak– We use top round steak here because it is easy, affordable and yummy, BUT any steak should work for these sandwiches, THE KEY is that it is thinly sliced. The thinly sliced nature helps with a few things. First it is able to absorb lots of marinade amping up the flavor of the dish. It allows it to cook FAST to keep this recipe quick and easy for a busy night. Also, one of the reasons this steak is more affordable is that it isn't as tender as other cuts, but by using it thinly sliced we are able to make it just as tender as a fancier cut!

Give the steak space – When cooking the steak, make sure each piece has room to breathe in the pan. If they do not, the steak will end up steaming itself as the juices release instead of getting that caramelized exterior. You may have to cook in batches to make sure they have room in the pan.

Scale – This recipe makes 8 sandwiches, but you could easily make more or less depending on how much you want. Plus by serving on a large baguette, you will get many more small, bite-size, sandwiches that are great for serving to a crowd.

Serve with the juices – After the steak cooks, there will be delicious juices in the pan. This is great served poured over the sandwiches or on the side as a dip!
Recipe Short Cuts
If you need to make this recipe but are extra short on time, here are a few ideas that can help make this recipe even faster!
Use pre-sliced– To save time, use pre-sliced mushrooms, cheese, and steak to cut down on prep time.

Make the sauce and butter ahead of time– You can mix up the steak sauce and the garlic butter up to a week in advance. Simply store in the fridge in an air-tight container.

Use ready-made garlic bread– While the bread still needs to bake to a golden brown, it simplifies the recipe by allowing you to not make the garlic butter.

Marinade ahead of time – This steak sandwich marinade can be made and used on the steak for up to 24 hours prior to cooking. I do not recommend longer than 24 hours but you could definitely place the steak and marinade in a bag the night before you want to enjoy the sandwich.
Recipe Variations
If you love this recipe as much as we do and want some quick ways to change it up for variety, these little tips will do the trick!
Spicy Steak Sandwich– For a spicier take on this sandwich, try adding sliced jalapenos or using pepper jack cheese.

Caramelized Onion and Steak Sandwich– For this yummy sandwich, you can saute white or yellow onions in a pan with a little bit of oil and brown sugar. and use these instead of or in addition to the mushrooms.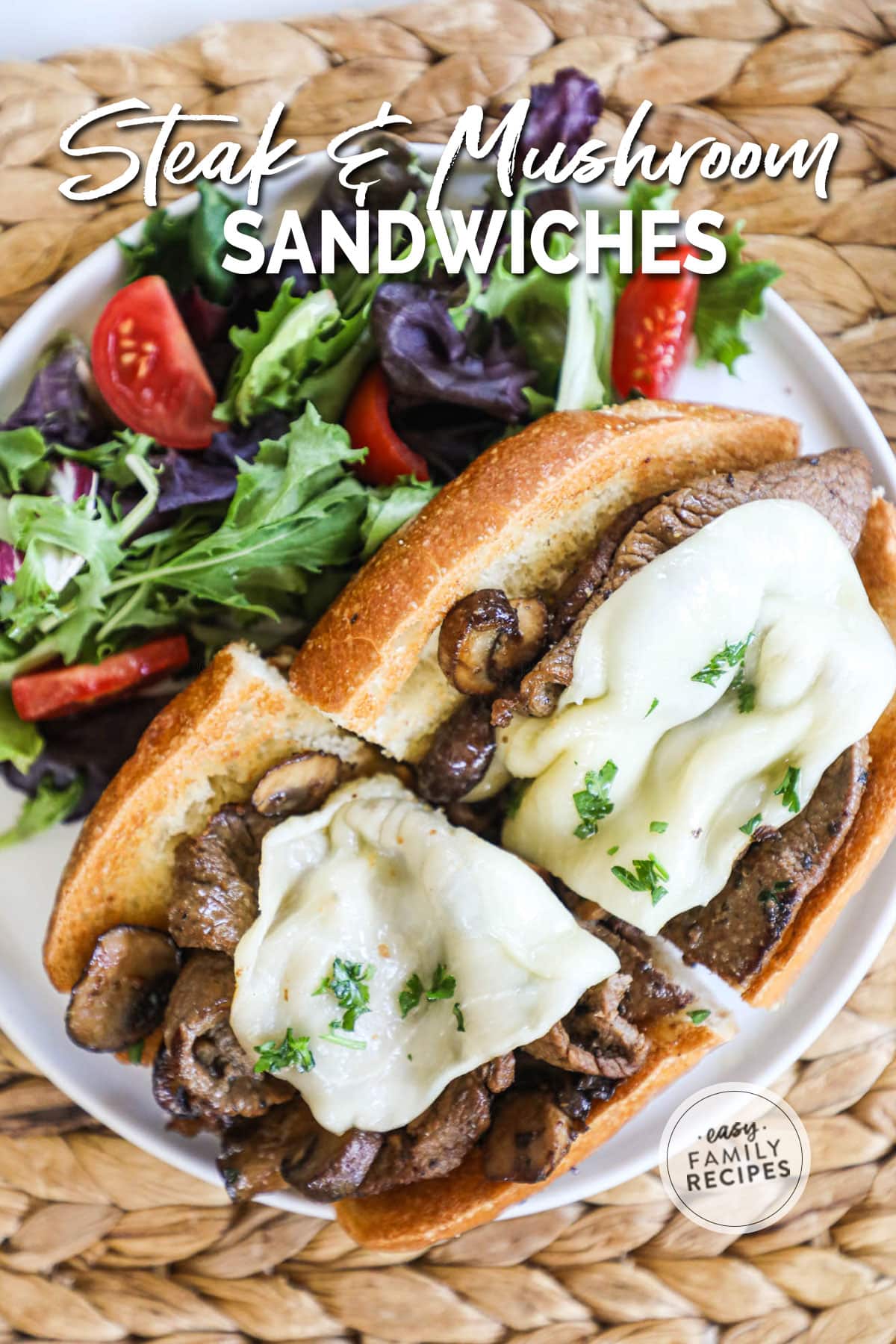 Steak Sandwich Leftovers
If you have leftovers after making this delicious sandwich, then it is your lucky day! They save and reheat well, and can make the start of another delicious dish.
To save leftovers, separate into meal-sized portions and then place in an airtight container and store:
in the refrigerator for 3-4 days
More Sandwich Recipes
If you enjoyed this recipe, I really hope you will take a moment to grab a few more easy recipes for another busy night!
You can check out all of my easy lunch recipes here, or see a few of our reader's favorite recipes below.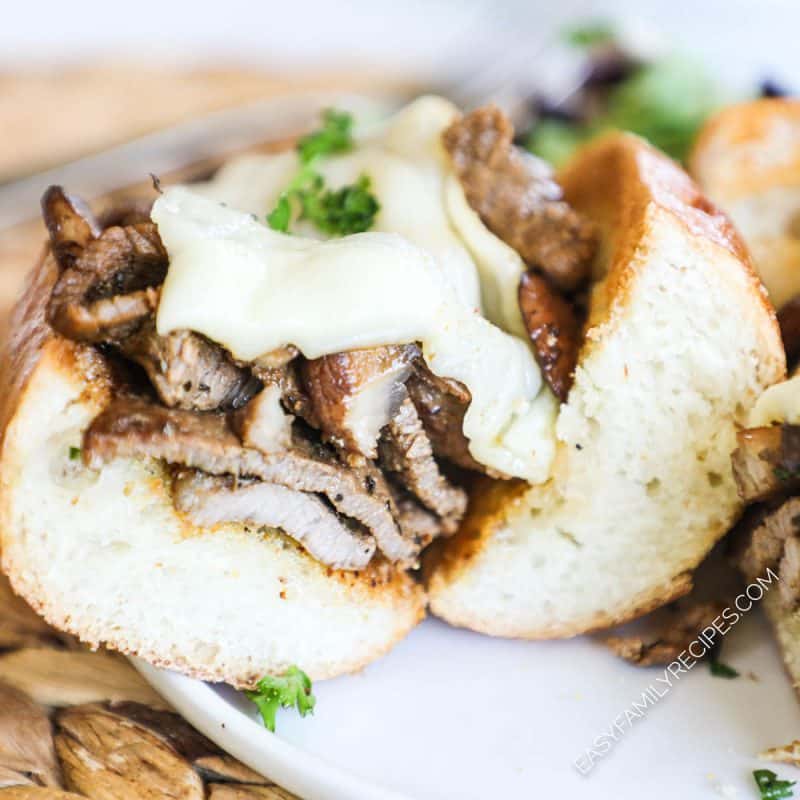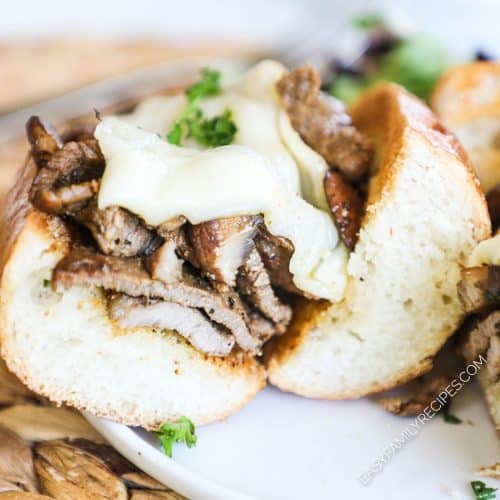 Top Round Steak Sandwich with Mushrooms
Enjoy this super delicious and flavor packed steak and mushroom sandwich with friends or on a weeknight with the kids!
Ingredients
2

pounds

top round steak

,

thinly sliced

1

tablespoon

oil

16

ounces

sliced mushrooms

,

brown or white
Top Round Steak Marinade
1/4

cup

soy sauce

1/4

cup

vegetable oil

2

tablespoons

lemon juice

2

tablespoons

worcestershire sauce

1

tablespoon

dried basil

2

teaspoons

garlic powder

1/2

teaspoon

black pepper

1

teaspoon

hot sauce

,

optional
For the sandwiches
4

large sub rolls

,

8-10" in length

4

tablespoons

butter

1/2

teaspoon

garlic salt

8

slices

provolone cheese
Steak Sandwich Sauce
2

tablespoons

mayonnaise

1

teaspoon

worcestershire sauce

1/2

teaspoon

smoked paprika

1/4

teaspoon

garlic powder
Instructions
To make the steak
Make the marinade by combining all of the ingredients in the marinade section in a zip top bag or container. Mix until well combined.

Add the top round steak and work it around until it is evenly coated in the marinade. Let it marinate in the refrigerator for 15-30 minutes.

Heat a large skillet with 1 tablespoon oil over medium high heat. Once hot add the steak into the pan. Don't stir or touch it for 2-3 minutes to get a nice sear on the first side. Then flip the sizzle steak pieces to finish cooking on the other side for an additional 2-3 minutes.

Try to avoid over crowding the pan. You can cook the steak in batches if the pan gets too full.

Once done, garnish with with freshly chopped parsley and serve warm. Pan juices can be spooned over the sizzle steak for additional flavor.
To make the steak sandwich sauce
Combine the mayo, worcestershire sauce, paprika and garlic powder until combined.
To make the sandwiches
Cut each sub roll in half. Butter both cut sides of the rolls and sprinkle evenly with garlic salt.

Bake for 5-7 minutes or until edges turn golden brown.

Remove from the oven and spread sauce on one side of the roll. Layer the top round steak and provolone cheese on top. Return to the oven for 8-10 minutes or until cheese is melted.

Serve with additional sauce from cooking the steak to spoon over the sandwiches. Enjoy!
Nutrition Information
Calories:
308
kcal
(15%)
,
Carbohydrates:
2
g
(1%)
,
Protein:
36
g
(72%)
,
Fat:
17
g
(26%)
,
Saturated Fat:
3
g
(19%)
,
Polyunsaturated Fat:
6
g
,
Monounsaturated Fat:
6
g
,
Trans Fat:
1
g
,
Cholesterol:
92
mg
(31%)
,
Sodium:
660
mg
(29%)
,
Potassium:
625
mg
(18%)
,
Fiber:
1
g
(4%)
,
Sugar:
1
g
(1%)
,
Vitamin A:
8
IU
,
Vitamin C:
2
mg
(2%)
,
Calcium:
52
mg
(5%)
,
Iron:
4
mg
(22%)