This Chopped Salad is bursting with fresh flavors and just takes minutes to make! Loaded with bright herbs, hearty cabbage, tomatoes, red pepper, green onion, crunchy almonds, and all tossed in a tangy pomegranate dressing, this salad will make your taste buds sing. It is wonderful served as a side salad for a bigger meal, or in a larger portion this chopped salad is hearty enough to serve on its own for a wholesome lunch or dinner.
I visited Israel as a guest of Vibe Israel and was hosted for meals and experiences throughout the country. All thoughts and recipes are cooked up right here at Easy Family Recipes.
Spring Salad Recipe – The EASY Way!
Some of the best and most popular recipes on this website have come from dishes I have been inspired by, and this chopped salad recipe was modeled after one of the BEST salads I have ever had!
On my recent trip to Israel, we spent a day in Nazareth where we toured the Old City (It is BREATHTAKING! Check out my Instagram Story Highlights to see it!) then headed to lunch at Luna Bistro. It was one of the best and most memorable meals of my life!
The star of the show for me was the Luna Salad. It was a chopped salad with fresh bright ingredients that produced unmatched flavor in every bite. For a salad to shine as the stand out of such an extraordinary meal really says something that this salad is what I just kept going back for.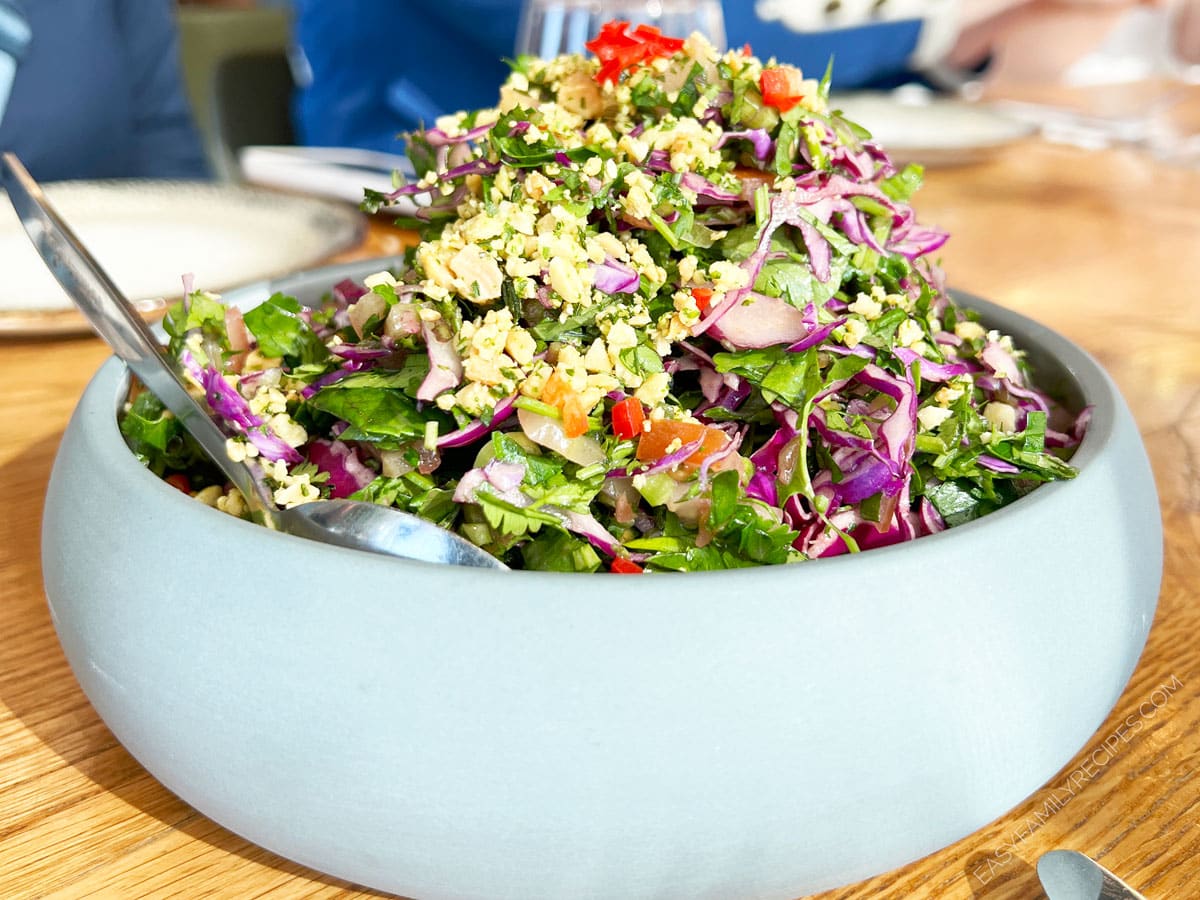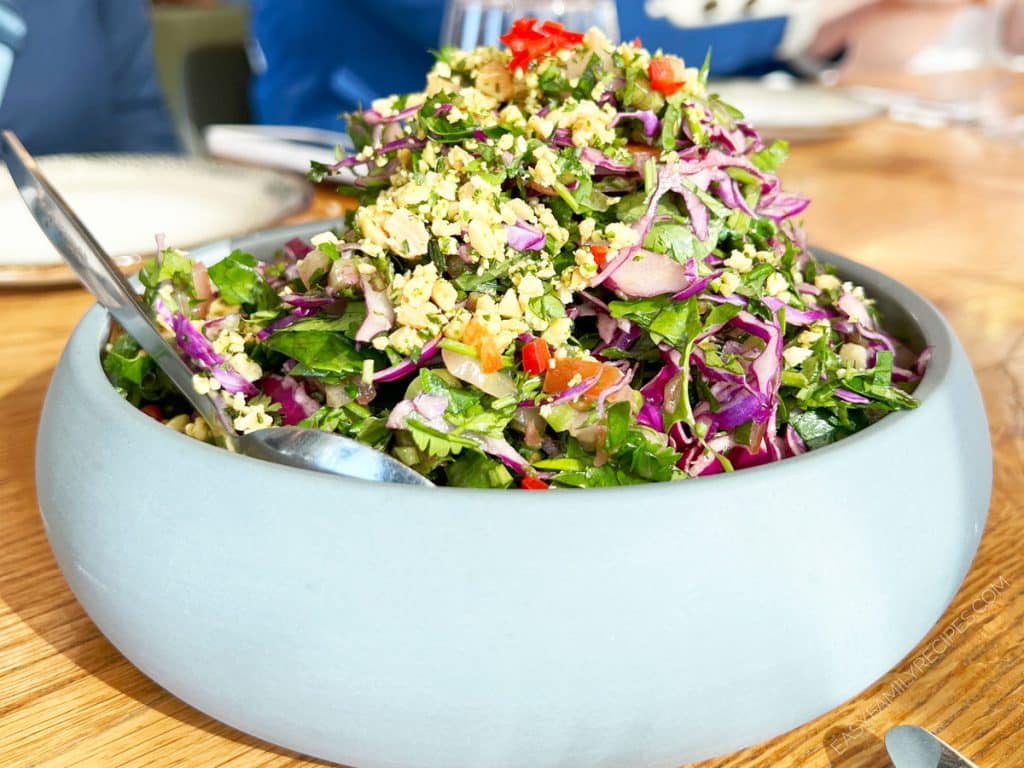 The chef and owner, Luna Zreik, came out and even showed us how to make some of her signature dishes. I asked her about the salad and she said it is called the Luna Salad "because its just the best!" I don't disagree at all.
Taking a bite of the Luna salad was like biting into spring. The explosion of fresh flavors, the slight crunch that reminds you of the change from winter to spring, and the tangy brightness of the pomegranate dressing cutting through the heartiness of salad to take you to the next level of flavor. There was no other name for my version, than the Spring Chopped Salad.
The best part of recreating a salad inspired by this at home was how simple it is to make. With about 10 minutes of chopping I was able to put together a recipe that captured the essence of flavors I loved from the Luna salad
About the food in Israel…
I have gotten a lot of questions from readers and friends about the food in Israel and how it compares to America. All I have to say is that we are missing out on life over here! We ate everything from street food to fine dining and every single meal was overwhelmingly flavorful and delicious.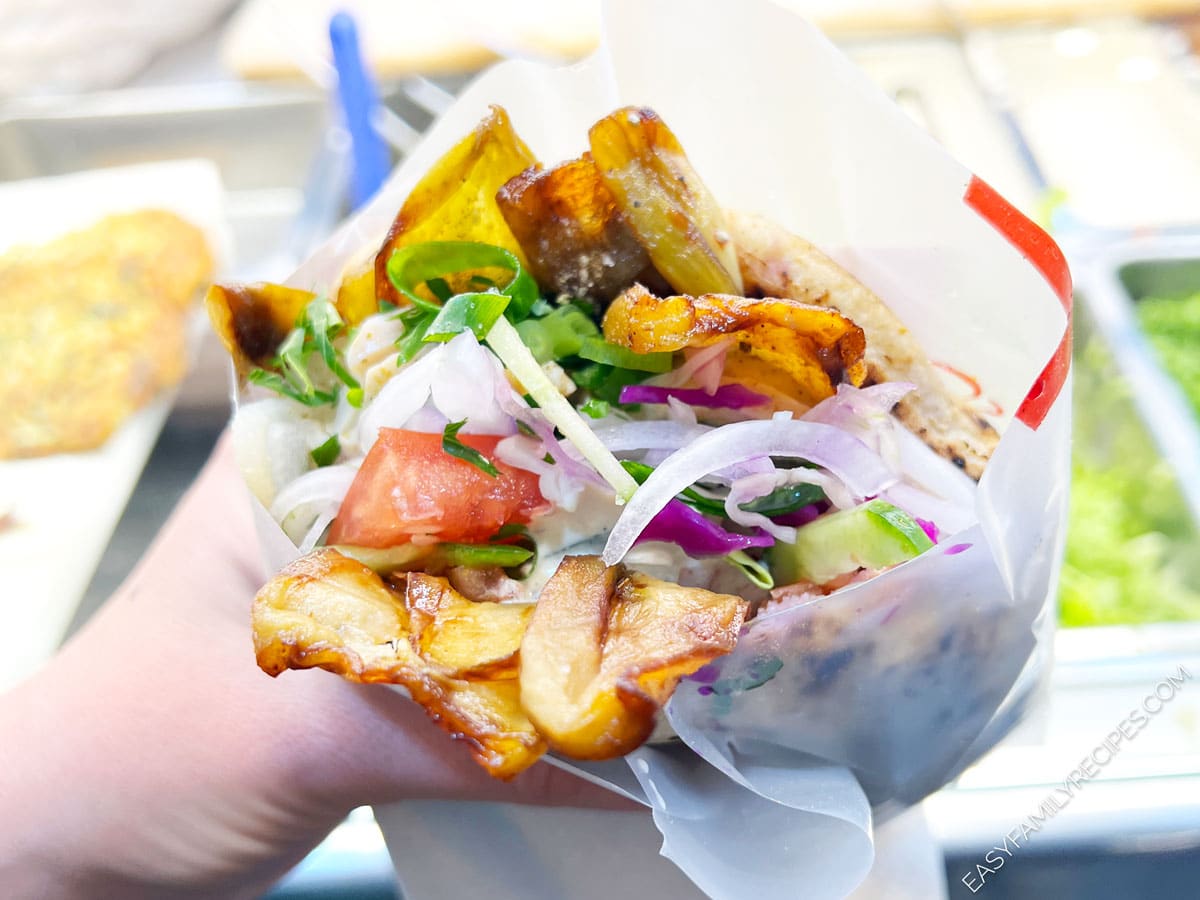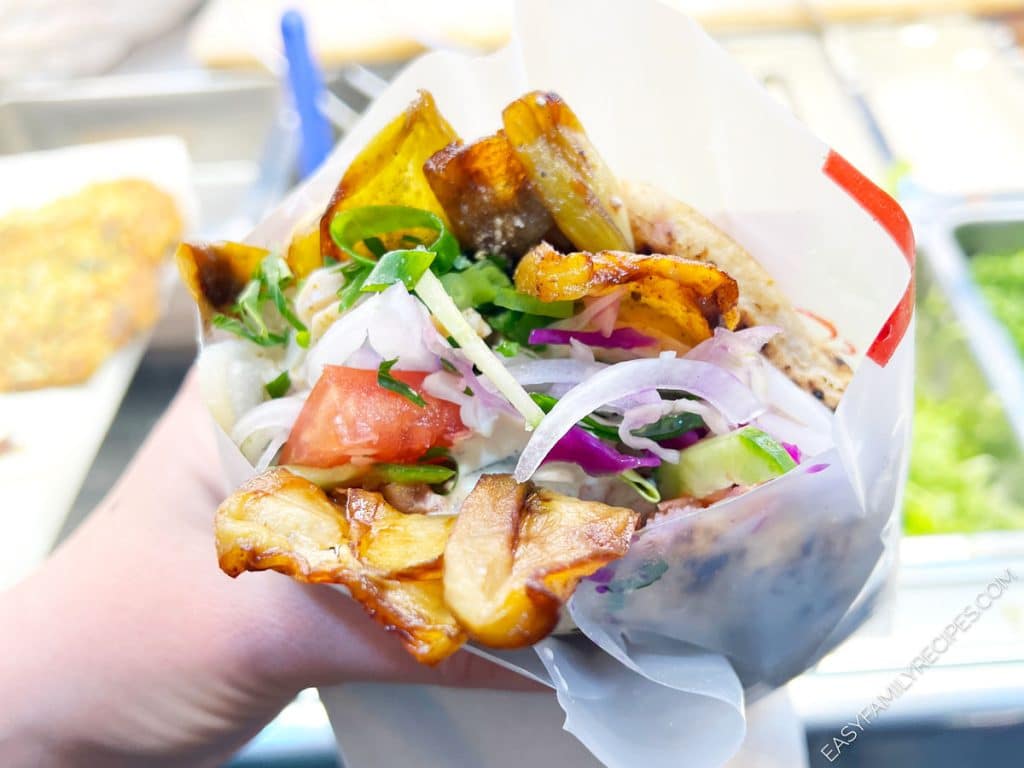 The conversation with the group of 8 food bloggers I was with kept coming back to how fresh everything was. It didn't matter if it was a pita from a hole in the wall, food from a local market, a touristy area, or one of the best rated restaurants in the city (Luna Bistro, Animar, Opa, etc), every dish had fresh produce, and even the breads were out of this world. One day we made lunch with a local lady in her home, and while sitting back full and happy after the incredible meal, I realized that the meal was completely vegan. The lunch was incredibly delicious, and I was so full and satisfied I never even felt like I missed out on meat or dairy. Now that is saying something for this cheese lover!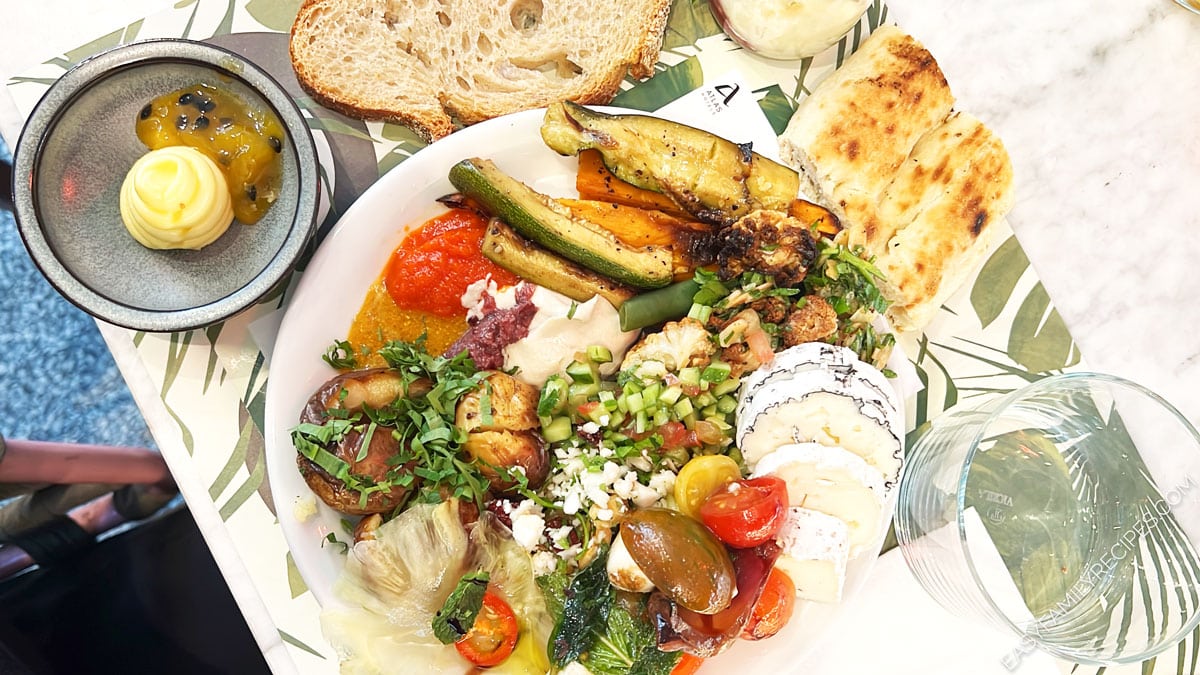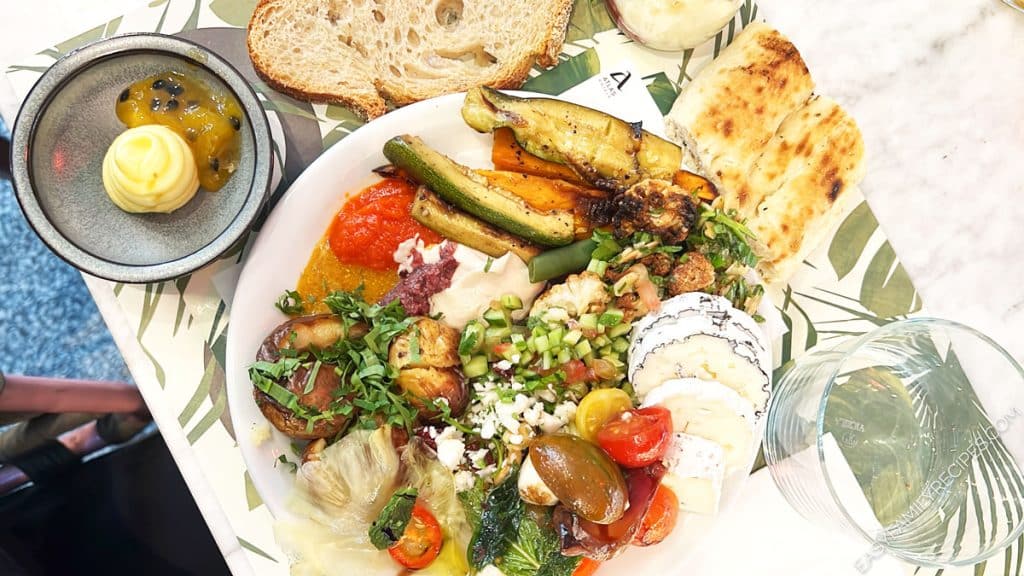 From the moment you wake to Israeli breakfast, to lunch, dinner, and the late night chocolate babka snack (try Lehamim Bakery!) every bite of food I had in this county was delightful, overwhelmingly wholesome, and satisfying.
It was truly a gift to visit Israel and see sights that were thousands of years old. Taste dishes that had been made with recipes passed down through generations and modern twists on those classics. If you have ever thought about visiting, do it! And if you haven't, you should think about it. It is clean, safe, beautiful and offers an abundance of some of the richest history in the world. There are few places you can have an experience like you can in Israel.
Why I LOVE this recipe!
The FRESHEST flavors – perfect for spring and summer weather
Something new – not the same boring salad
10-15 minutes and you're ready to go!
No cooking required
Can be saved- most salads don't hold up well beyond the first serving, but this one is great for keeping to munch on through the week.
What to Serve with Spring Chopped Salad
Since this dish has the bright and fresh flavors, it will pair well with many of your favorite main dishes, or can even be served as the main dish in a larger portion size. I'm sharing both classic ideas and some healthy options for pairing with this chopped salad.
This recipe will make about 4 side salad portions, or 2 main dish salad portions.
Main Dish Pairings
Side Dish Ideas
You can choose one or add a few sides to make a wholesome, well rounded dinner.
Recipe Notes
This Spring Chopped Salad recipe is as simple as promised! Just a little chopping for a family friendly meal.
In this section I am going to go through a few tips and tricks I use when making this Spring Chopped Salad to get the absolute best and most delicious results.
Make sure to scroll to the bottom for the FULL recipe card.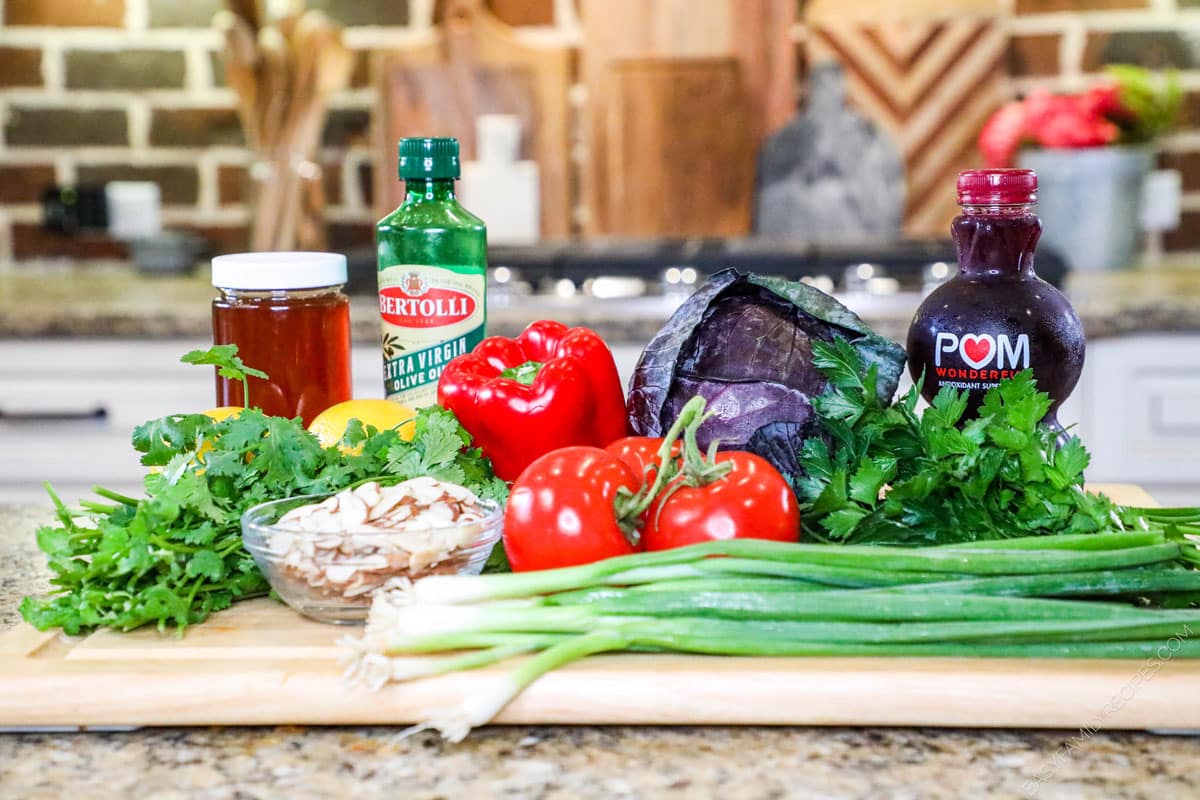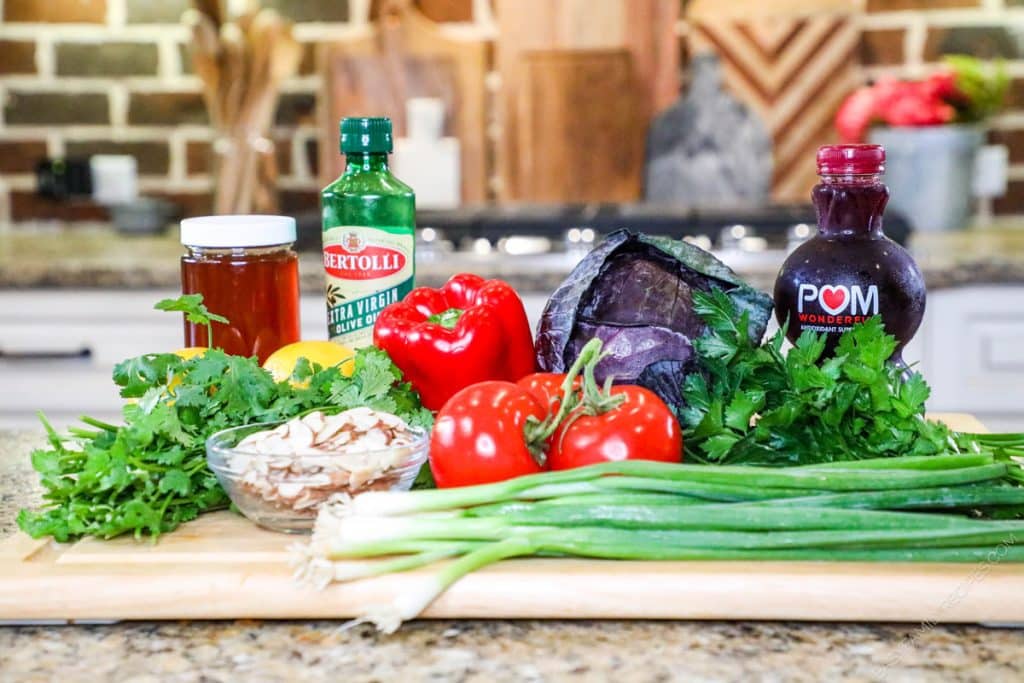 Ingredients + Substitutions
For the chopped salad
Red (purple) cabbage
Red bell pepper – you can sub yellow or orange. Even green would work but wouldn't be quite as sweet.
Flat leaf parsley– I prefer flat leaf, but curly will work as well but does have a different texture
Diced tomato– I used tomatoes on the vine, but anything from a beefsteak, to diced cherry tomatoes would work. Just make sure to remove the seeds and inner part to reduce the moisture in the salad overall.
Green onions
Almonds– You can use whole almonds, slivered or sliced. I started with sliced just so I could chop them more easily, but you can use any kind. A food processor or mini chopper would be a time saver here too!
For the Pomegranate Dressing
Pomegranate juice– You should be able to find this in the refrigerator section at the grocery store. I used Pom brand, but any brand of 100% pomegranate juice will work. Pomegranate molasses can be used too, but I have found it to not be readily available, so I created this dressing using a balance for the juice.
Lemon- fresh is best! Just one lemon is needed!
Olive oil– Or your favorite oil for dressing
Honey
Salt & pepper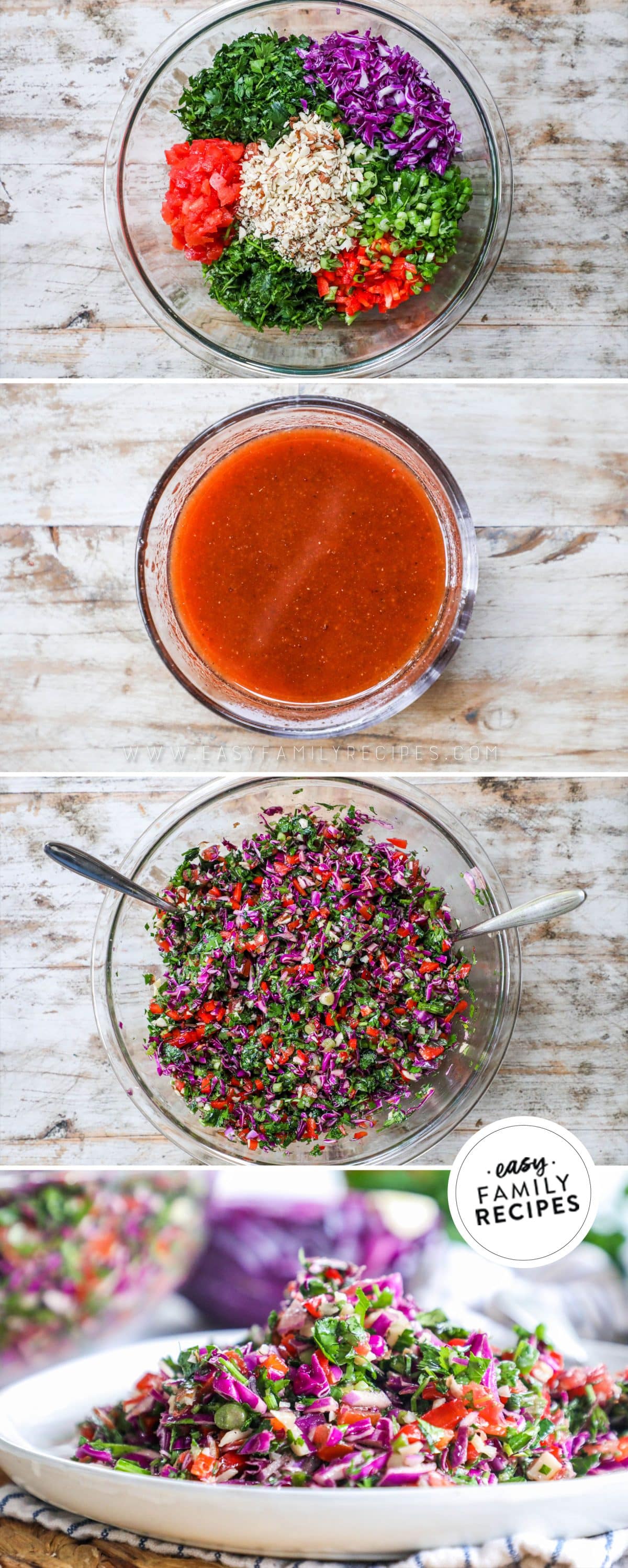 Recipe Tips
Finely dice– If you notice, the luna salad above is a little less chopped than my version. While I thought that salad was absolute perfection, since I am hand chopping ingredients, things like cabbage don't get as thin as they would using a mandolin or commercial grade equipment. Since the ingredients are hearty and require some chewing power, I find it a much more pleasant eating experience if you chop small. The added bonus is that the flavors meld together better in your mouth as well.

Deseed Tomatoes– Tomatoes are generally very juicy, and will release even more juices after being cut and marinated with dressing. This makes it very important to scoop the center seeded part out of the tomato before dicing it. It keeps the tomatoes from watering the salad down, it reduces the acidity, and makes it easier to cut!

Whisk away! Make sure to whisk the pomegranate dressing super well to get it nice and emulsified before adding it to the salad.

Let it sit – or not! This salad can be tossed with the dressing and eaten right away, or it can be saved in the fridge and eaten later, or even the next day. The flavors to continue to meld and since this salad is made from hearty vegetables they stand up to the dressing for up to 3 days!
Recipe Short Cuts
If you need to make this recipe, but are extra short on time, here are a few ideas that can help make this recipe even faster!
Dice ahead– The vegetables can be chopped 24-48 hours in advance.
Use pre-chopped veggies– If you don't want to do the chopping, many vegetables like tomatoes, peppers, and even cabbage can often be bought prechopped in your local grocer's produce section.
Use a food processor– This can be a huge time saver when you are chopping a lot of vegetables like this recipe!
Make ahead– Just make the salad ahead so it is ready to eat when you are!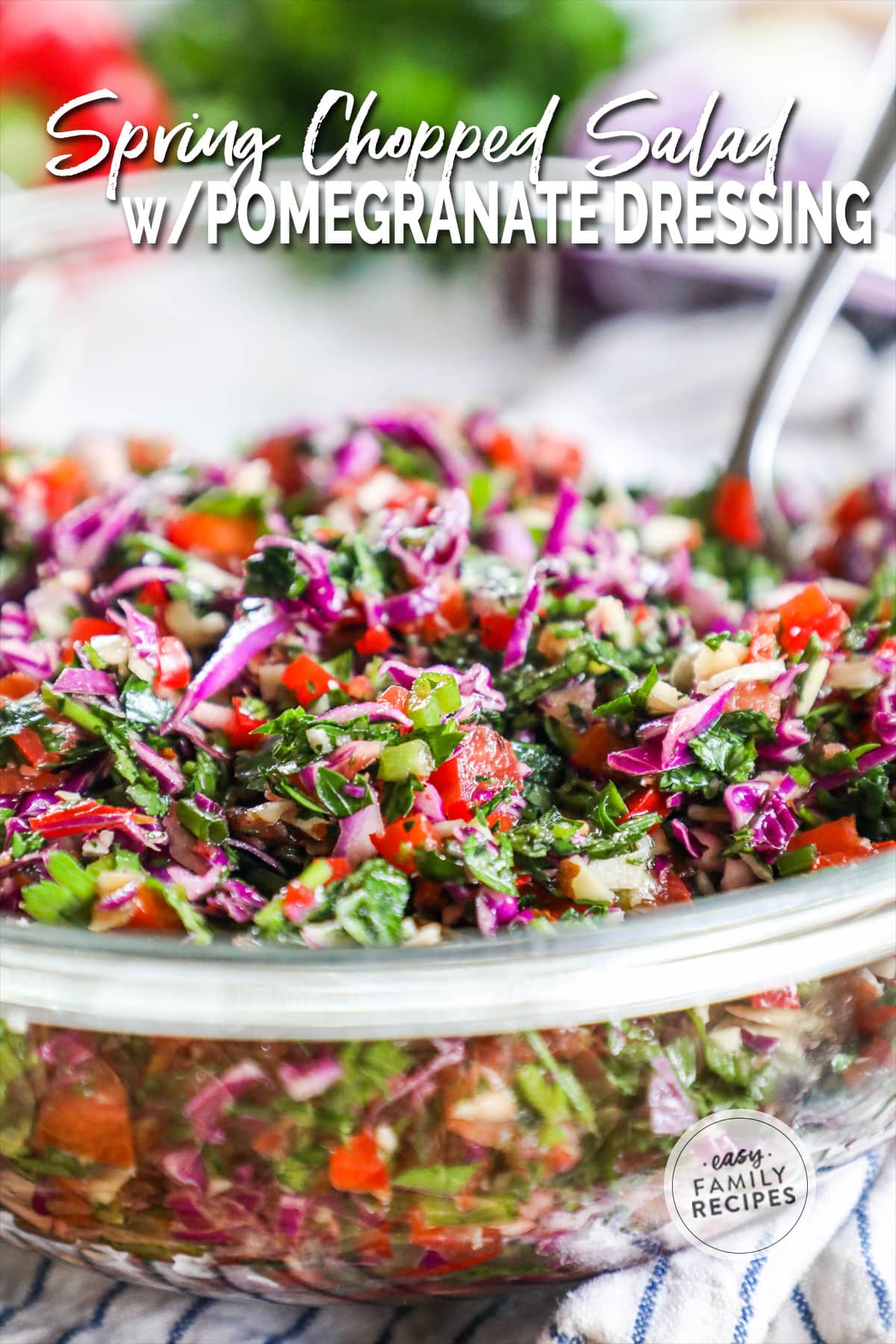 Spring Chopped Salad Leftovers
If you have leftovers after making our chopped salad, then it is your lucky day! They save well, and even work for meal prep.
To save leftovers, separate into meal sized portions and then place in an airtight container and store:
in the refrigerator for 3-4 days
More EASY Salad Recipes
If you enjoyed this recipe, I really hope you will take a moment to grab a few more easy recipes for another busy night!
You can check out all of my salad recipes here, or see a few of our readers favorite recipes below.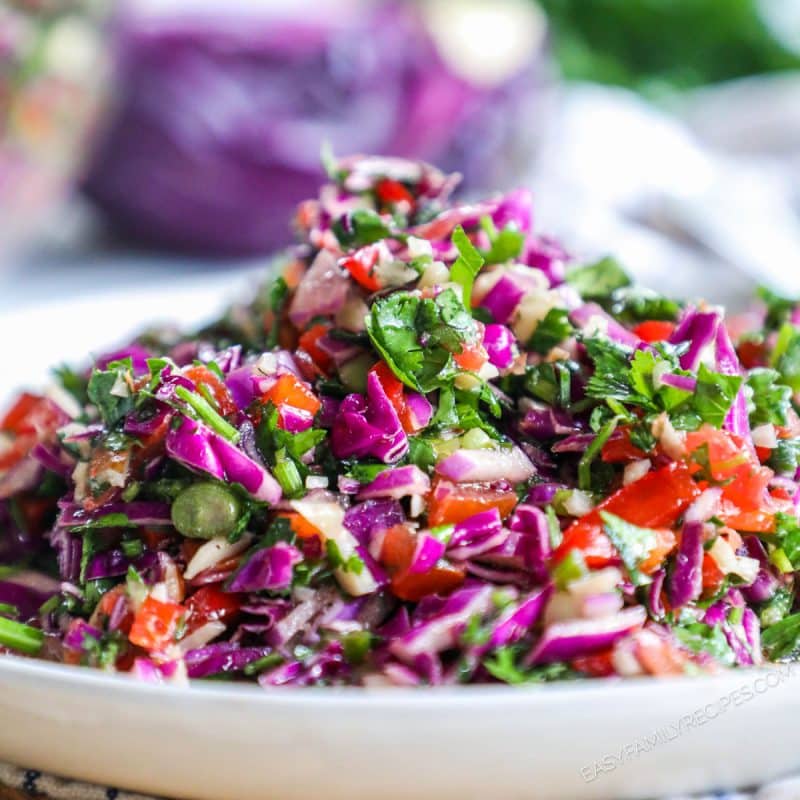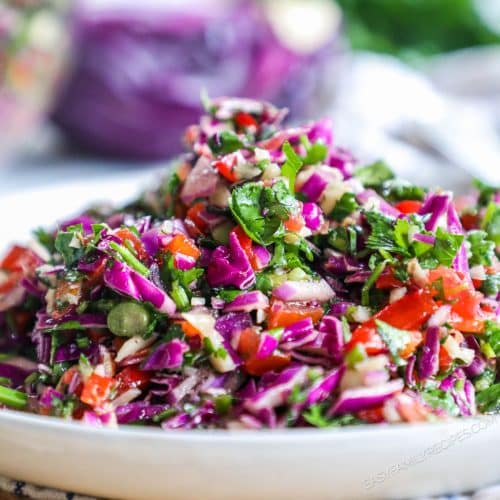 Spring Chopped Salad with Pomegranate Dressing
This chopped salad is full of fresh flavors that are perfect for spring weather! Make it as a side for a bigger meal, or serve a larger portion to eat this hearty salad as a meal on its own.
Ingredients
For the chopped salad
2

cups

shaved red cabbage

1

red bell pepper

,

finely minced

1.5

cups

chopped cilantro

1

cup

chopped flat leaf parsley

1

cup

finely diced tomato

1/2

cup

diced green onions

1/4

cup

chopped almonds
For the Pomegranate Dressing
2

tablespoons

pomegranate juice

1/2

lemon

,

juice of

2

tablespoons

olive oil

1

tablespoon

honey

1

teaspoon

salt

1/2

teaspoon

pepper
Instructions
Combine all salad ingredients except for almonds in a large bowl.

Whisk together all dressing ingredients until combined.

Toss the salad with the dressing, until evenly coated.

Sprinkle chopped almonds over the top of the salad and serve.
Recipe Notes
This salad is hearty and will save well. You can also make it in advance. 
To save the salad:
Leave almonds off salad for best results
Place in a container
Refrigerate for 1-3 days.
Once ready to serve, toss salad to redistribute dressing, sprinkle with almonds and eat.
Nutrition Information
Calories:
159
kcal
(8%)
,
Carbohydrates:
17
g
(6%)
,
Protein:
3
g
(6%)
,
Fat:
10
g
(15%)
,
Saturated Fat:
1
g
(6%)
,
Polyunsaturated Fat:
2
g
,
Monounsaturated Fat:
7
g
,
Sodium:
611
mg
(27%)
,
Potassium:
491
mg
(14%)
,
Fiber:
4
g
(17%)
,
Sugar:
10
g
(11%)
,
Vitamin A:
3536
IU
(71%)
,
Vitamin C:
100
mg
(121%)
,
Calcium:
81
mg
(8%)
,
Iron:
2
mg
(11%)