This fresh Spinach and Bacon Quiche is light and creamy with a flaky, buttery crust and served best for breakfast, lunch, and brunch. As an easy and versatile recipe, this savory quiche couples well with a light salad, fresh fruit, or sandwich and is an easy make-ahead dish.
Fresh Spinach and Bacon Quiche – The EASY Way!
Slicing into this thick, creamy quiche reveals the beautiful layers of egg custard nestled between ribbons of dark green spinach and crumbles of crispy bacon baked into a buttery, flaky crust. It's easy to achieve when using fresh spinach and layering with bacon, cheese, and egg custard in a prebaked pie crust to save time!
One of my favorite features about this quiche recipe is the creaminess of the egg custard. We use a special trick (which is super easy!) to make this happen.
What I love about this Recipe
Wholesome – This spinach bacon and cheese quiche packs quite a bit of protein from ingredients like eggs and bacon and can be a healthy start to your day. In fact, each egg adds about 6.5 grams of protein to the dish. 

Spinach has a long list of healthy benefits, too. It is an excellent source of vitamins and nutrients and is considered a superfood! Being thoughtful of recipes with casual health benefits hidden behind delicious flavor is a great trick to have up your sleeve.

Versatile – One of my favorite things about quiche in not only how versatile it is, but that you can serve it in many ways. This quiche with spinach and bacon can be served hot, cold, or room temperature and still have delicious flavor and texture each way. It is also easy to make substitutions to ingredients and customize to your palettes desire.

Meal Prep – Bake up a variety of your favorite quiches ahead of time with different ingredients and freeze in individual servings. You'll have a quick and easy meal ready to go when you are. *See full freezing instructions below.

Quick and Easy – The prep is super simple and there are only a few steps to baking up this quiche.
So, what is Quiche?
Quiche is an egg custard that is savory and usually filled with a large variety of ingredients all baked in a buttery pie crust. Quiche is well loved for breakfast and brunch, but also can make a great on the go lunch since it can be eaten hot or cold.
What to Serve with Quiche
Since this easy spinach and bacon quiche is such a versatile dish, it will pair well with many of your favorite side dishes. There are both classic options and some healthy options to keep it light.
Quiche Breakfast Sides
Fresh Fruit – a banana, sliced melon, grapes, or fruit medley 
Million Dollar Bacon– This is THE BEST side dish!
Yogurt – serve with fruit, granola, and a drizzle of honey
Toast – a slice of marble rye or wheat toast with jam
Quiche Lunch Sides
Salad – a light salad with fresh produce and a bright dressing pairs best with a slice of this savory quiche. This Strawberry Spinach Salad with Poppy Seed Dressing is a good option.
Soup – either hearty or light, soup is a great addition to make this a meal. One favorite is this Rotisserie Chicken Noodle Soup, hearty, flavorful, but still light enough to pair with quiche.
Sandwich or Wrap – Choose your favorite sandwich to serve alongside this quiche.
You can choose one or add a few sides to make a wholesome, well-rounded meal.
Brunch
This Spinach Quiche with Bacon and Cheese makes for a delightful dish to bring to a Brunch party for occasions like Mother's Day or Easter. Here are a few more dishes that could pair well on a Brunch table spread:
Recipe Notes
This Spinach Bacon Cheese Quiche recipe is as simple as promised! Just 1 hour for a family-friendly meal.
In this section I am going to go through a few tips and tricks I use when making this recipe to get the absolute most delicious results.
Make sure to scroll to the bottom for the FULL recipe card.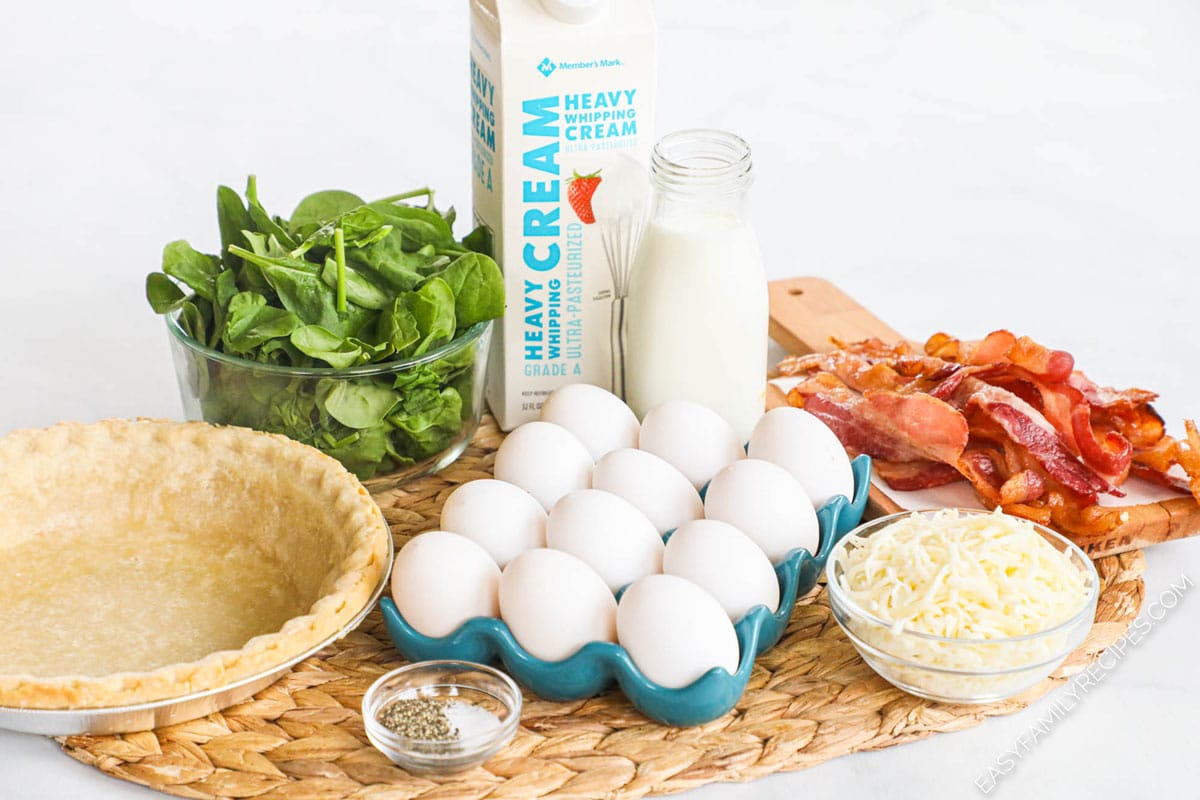 Ingredients + Substitutions
Deep dish pie shell – to save time, I use a store-bought pie shell or you can make your own. This is a tall quiche, so a deep dish shell works best. I generally use frozen pie crust that you will find in the store near the frozen pies. You can also make a homemade pie crust if you prefer.

Bacon – the bacon is cooked crispy and crumbled. You can also substitute bacon for turkey bacon or Canadian bacon in this quiche recipe.

Fresh Spinach – Using fresh spinach is the best in quiche. It gives you those beautiful ribbons of spinach and egg custard layered throughout the dish. You can't get that same beautiful effect with frozen spinach!

Swiss or Gruyere Cheese – The flavor is similar to either of these cheeses. Gruyere is very creamy, melts well, and will add to the texture of the egg mixture. Swiss also becomes oozy and melts well but can be oily, so use a good quality swiss. Gruyere is my number one pick, as it is a great melting cheese with a nutty flavor.

If you prefer something more mild or more kid-friendly, you can substitute mozzarella as well.

Large Eggs – 6 large eggs are used for this deep-dish quiche. Adding too many eggs can result in a dense, eggy quiche. While not using enough can cause the quiche not to settle. I have found that this amount is the perfect balance of egg to cream.

Heavy Cream – this adds an important texture to the egg custard. Creamy and rich, heavy cream really makes a difference in making a quiche that will have people ohhing, ahhhing, and asking for the recipe!

Milk – to lighten the heavy cream a bit, I use part milk in the mixture. You can use whatever variety of milk you keep on hand. Skim, whole, or 2% all work!

Salt and pepper– to taste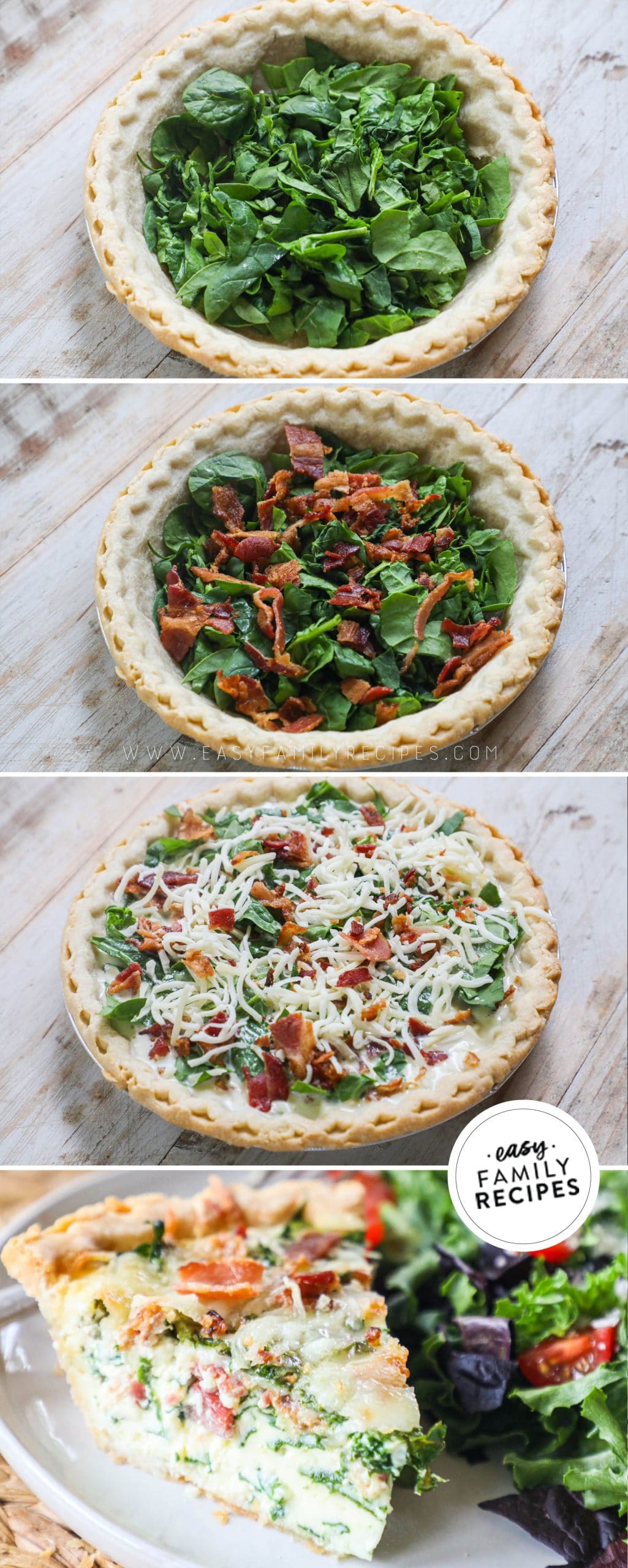 Recipe Tips
Blind Bake the crust – to ensure the crust doesn't become soggy, prebaking the crust. To do so, line the crust with parchment paper and weigh it down with pie weights. If you do not have pie weights, dry beans, rice, or coffee beans are a great substitute. This will also give you an even, crispy crust for the quiche to bake on. 

Use a hand mixer – for that extra special touch and texture, use a hand mixer to whip up the eggs and cream. This technique results in a soft, creamy custard and even bake on the quiche.

Show off those layers – layering each ingredient in the pie crust allows for a beautiful bake and evenly distributed toppings. The bacon towards the top of the quiche will stay crispy.

Crispy Bacon is the Best Bacon – When layering the Spinach Bacon quiche, keep most of the bacon right on the top. This will keep the bacon crispy while baking.

Use a cookie sheet – This easy step will save you from any spillage while baking. It also makes it much easier to transfer the baking dish from the oven to the counter.

Watch the temperature – We'd like to think our ovens are always running at the temp we set, but many things can affect this. Use an oven thermometer to check your temps.
Recipe Short Cuts
If you need to make this Spinach Bacon Quiche recipe but are extra short on time, here are a few ideas that can help make this recipe even faster!
Use store-bought pie crust and blind bake – prepare crust as instructed up to 2 days in advance, or 3 months when stored in the freezer.
Cook bacon ahead of time – drain bacon and store in a sealed container up to 3 days in advance. The bacon will crisp up as the top layer while baking.
Make ahead of time – prepare this dish for the freezer up to 3 months in advance. Reheat when ready. See directions for the freezer and reheating below.
Recipe Variations
If you love this recipe as much as we do and want some quick ways to change it up for variety, these little tips will do the trick!
Crustless Spinach Quiche– While having a crust for quiche is one way to add flavor and texture, this recipe is just as good crustless. An easy step to skip when baking this spinach and bacon quiche recipe is leaving out the crust.
 
Spinach Mushroom Bacon Quiche – Make this quiche recipe as instructed and add in 8 oz of sauteed (in bacon grease) or fresh mushrooms.

Crustless Spinach Bacon Quiche – This recipe is the same, but instead of a crust, spray a baking dish with non-stick cooking spray, or line it with parchment paper, and bake.

Bacon Tomato Spinach Quiche – For this quiche just add tomatoes to your layers. Sliced cherry tomatoes add a lovely appearance. 

Caramelized Onion Bacon Spinach Quiche recipe – Adding in caramelized onions adds a savory-sweet onion flavor that's so delicious with bacon. After cooking the bacon add a tablespoon of butter, sliced onions, and a little sugar. Cook over medium until onions are caramelized. Layer on top of spinach and follow the remaining instructions.
Cheese Variations for Bacon and Spinach Quiche
This easy bacon spinach and cheese quiche can take on new flavors by switching out the cheese.
Spinach Bacon Swiss Quiche – Swiss cheese is very mild with a lightly sweet and nut-like flavor.
Spinach Bacon and Feta Quiche – For a bolder cheese flavor, Feta is a great choice. It is tangy and intense with a salty flavor.
Spinach Bacon and Parmesan Quiche – Another salty cheese with a distinct flavor is Parmesan. It is a wonderful flavor combination with spinach.
Spinach Bacon Gruyere Quiche – For a super creamy quiche, Gruyere is number one as it is a great melting cheese with a nutty flavor.
Bacon Cheddar Spinach Quiche – Everything is better with cheddar, and this quiche is no different. Cheddar is creamy and tangy, but also another great melting cheese.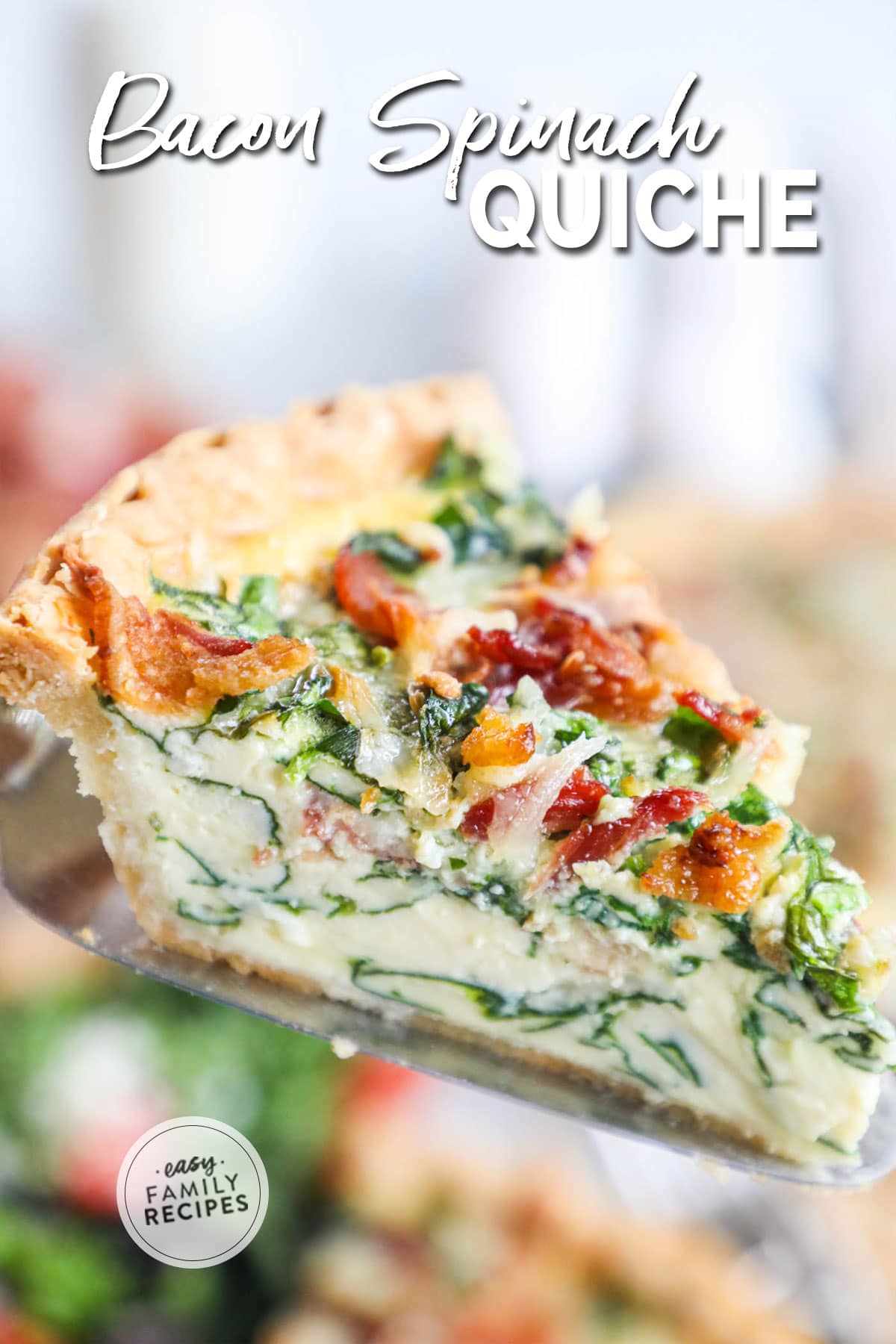 Freezer Meal Instructions
This Spinach Bacon Quiche recipe can be prepared as a freezer meal to make on another busy night or give to a friend in need.
Make the recipe as directed, baking until the center is almost set.
Allow to cool at room temperature.
Package in a zip top bag (most pie pans will slide into a gallon size bag) or other freezer friendly container.
FREEZE.
When ready to eat, thaw for 24-48 hours.
Bake at 350˚F for 15-20 minutes on middle or lower rack or until heated through.
For the best flavor, this meal can be frozen for up to 3 months.
Spinach Bacon and Cheese Quiche Leftovers
Have leftovers of this easy quiche recipe? Perfect! Take a few steps to save and reheat for later. Leftover quiche will make for another delicious meal tomorrow or maybe next month when frozen.
To save leftovers, separate into meal sized portions and then place in an airtight container and store:
in the refrigerator for 3-4 days
in the freezer up to a month
More Easy Breakfast Recipes
If you enjoyed this recipe, I really hope you will take a moment to grab a few more easy recipes for another busy night!
You can check out all of my Easy Breakfast Recipes here, or see a few of our readers favorite recipes below.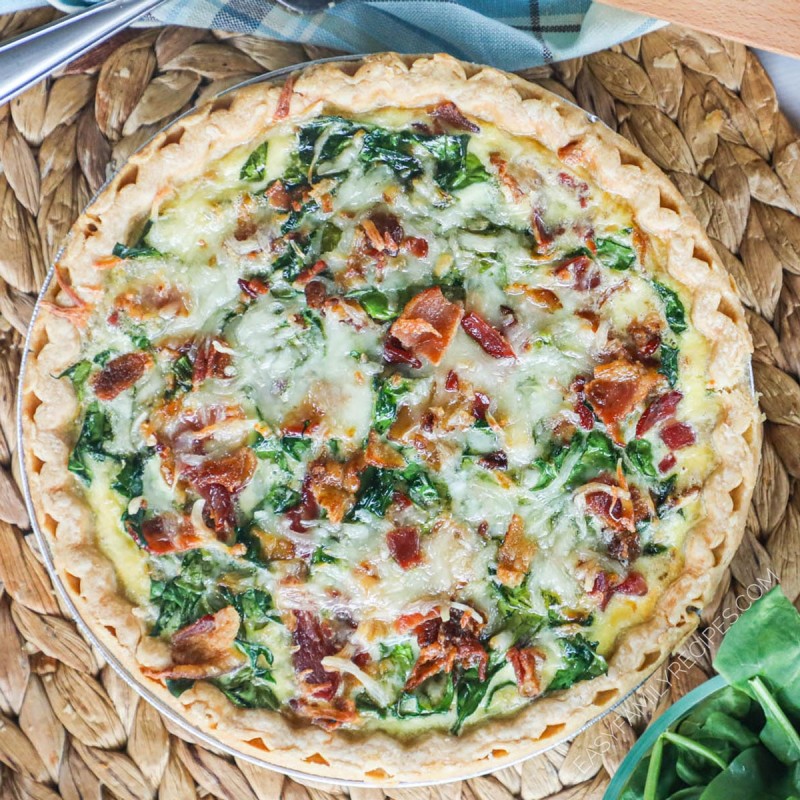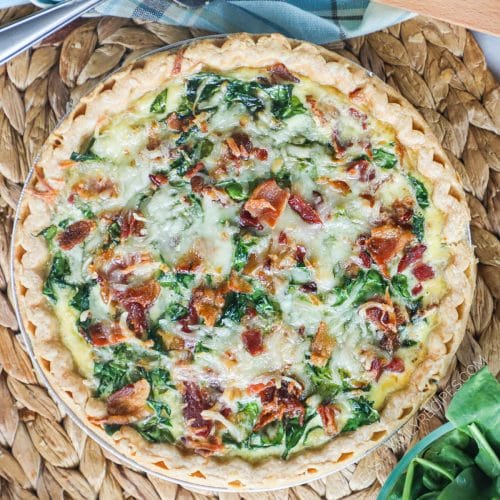 Spinach Bacon Quiche
This ULTRA CREAMY Quiche is packed with flavor from the layers of bacon, spinach and cheese. This is not only delicious, but beautiful and makes a great breakfast, brunch or lunch.
Ingredients
1

deep dish pie shell

,

(16 oz)

8

oz

bacon

,

cooked to crispy and crumbled

2

cups

fresh spinach

1/2

cup

Swiss or gruyere cheese

,

shredded

6

large eggs

1/2

cup

heavy cream

1/2

cup

milk

1/4

tsp

salt

1/4

tsp

ground black pepper
Instructions
Pre-bake the pie crust: Heat the oven to 400˚F. Place parchment in the crust and fill it with dried beans. Bake for 12-15 minutes or until golden brown. Remove from oven and allow to cool to room temperature.

Reduce oven temperature to 350˚F.

Note: do not poke holes in the crust. This can allow the egg to leak through if the holes do not completely close during baking. Weighting the crust with beans should prevent the crust from bubbling up and so the holes are not needed.

Make the custard: In a medium bowl, add the eggs, heavy cream, milk, salt and pepper. Beat with a hand mixer until completely combined.

Roughly chop the spinach, then place half of it in the bottom of the pie crust. Layer half of the bacon and half of the cheese on top of the spinach, then repeat with the remaining spinach, bacon, and cheese.

Pour the egg mixture over the quiche. Place the quiche on a baking sheet and bake for 45-55 minutes or until the center is just set.

Let sit for 20 minutes and serve warm to room temperature. Enjoy!
Nutrition Information
Serving:
1
slice
,
Calories:
512
kcal
(26%)
,
Carbohydrates:
21
g
(7%)
,
Protein:
16
g
(32%)
,
Fat:
40
g
(62%)
,
Saturated Fat:
16
g
(100%)
,
Trans Fat:
1
g
,
Cholesterol:
226
mg
(75%)
,
Sodium:
585
mg
(25%)
,
Potassium:
276
mg
(8%)
,
Fiber:
1
g
(4%)
,
Sugar:
1
g
(1%)
,
Vitamin A:
1576
IU
(32%)
,
Vitamin C:
3
mg
(4%)
,
Calcium:
152
mg
(15%)
,
Iron:
2
mg
(11%)