Cinnamon Roll Breakfast Casserole is the perfect combination of sweet cinnamon rolls and tender french toast. The flavors are married together expertly in an easy one dish breakfast casserole made super simple using Pillsbury cinnamon rolls!
Breakfast Casserole – Made Easy!
When it comes to breakfast casserole, I am a self-proclaimed connoisseur.
I love breakfast. I love casseroles (and have shared hundreds with you!) And combining them together, is a match made in heaven!
Most of the breakfast casseroles I have shared have been savory, but today's breakfast casserole is our go-to  sweet breakfast casserole.
It is equally perfect for a regular weekend breakfast, potluck, or brunch, as it is for a holiday celebration on Christmas or Easter morning. (See my overnight casserole instructions below!)
This Easy Cinnamon Roll Breakfast Casserole is the winner for a few reasons:
FAST– Goes from fridge to oven in as little as 10 minutes
ONE DISH – Means less prep and less clean up
EASY – Made with Pillsbury Cinnamon rolls so there are no complicated steps!
MAKE AHEAD– Can even be made the night before and baked in the morning!
Most importantly, on top of all of that, it is SO DELICIOUS!! So let's get started!
Cinnamon Roll Casserole – Expert Baking Tips
I am going to walk through a few notes to help you get the absolute best sweet Cinnamon Roll Breakfast Casserole.
\If you have questions as you bake, there is a good chance I will answer them here. If not, feel free to leave me a note down in the comments below.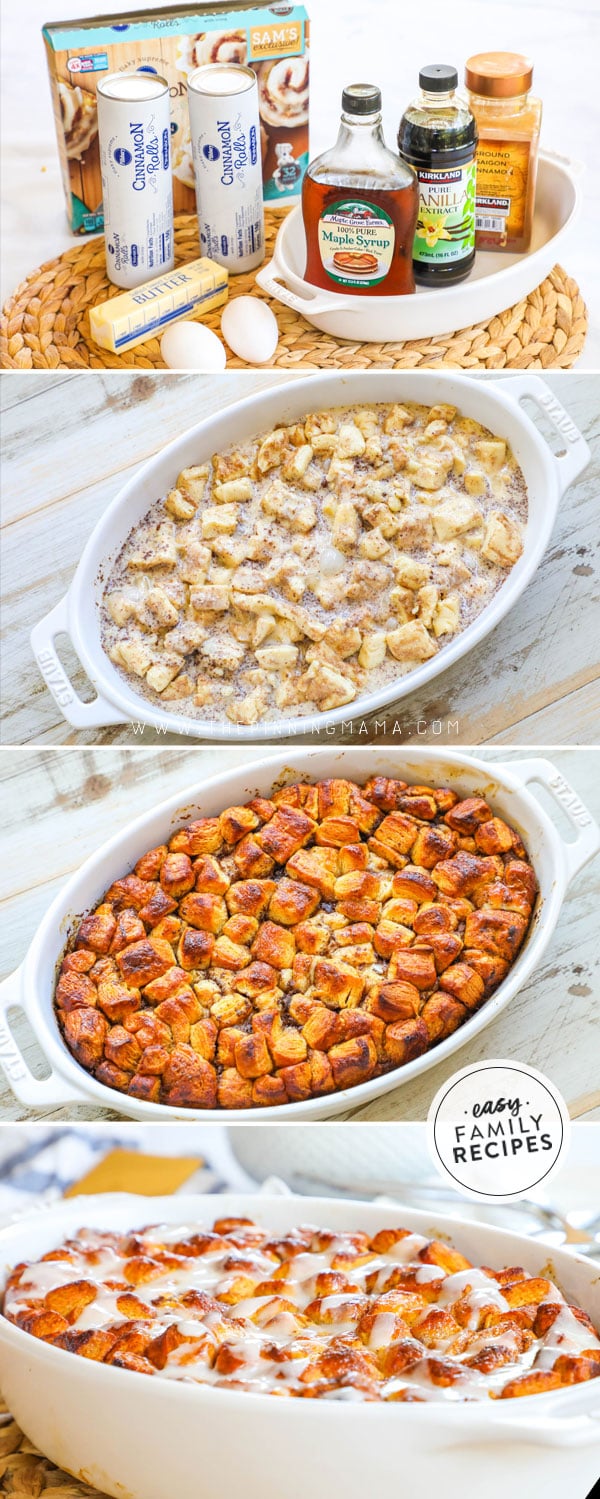 The Cinnamon Rolls
The building blocks of this casserole are the Pillsbury Cinnamon Rolls.  You can use almost any variety to make this casserole. 
I bought mine at Sam's Club in the 4 pack. These are the ones that unroll like a traditional cinnamon roll, however, you can use the regular "one piece" round rolls too. This casserole recipe would even work well with orange rolls if you like that flavor.
Substitutions
I get frequently asked about substitutions on this recipe.  I always recommend you make the recipe as written if possible, but if you are in a pinch, there are some adjustments you can make.
Heavy Cream- Half and half or milk can be substituted. This does reduce the richness of the casserole as well.
Maple Syrup- regular syrup  can be substituted.  I prefer real maple syrup because this gives the casserole a hint of that classic breakfast flavor.
Icing- If you don't like heavy icing, feel free to only use one of the two containers of frosting included with the cinnamon rolls. I regularly do this! You can offer the second container on the side in case anyone wants a little more sweet with their savory!
How long to Bake Cinnamon Roll Casserole
Baking this casserole to perfection is what makes it so delicious.  The eggs bake right into the cinnamon rolls giving it that french toast texture.
I advise to start with a 30-40 minute cook time. 
With each different oven and different size/shape of casserole dish, the cook time will vary.
When the casserole is done, the top will be a golden brown and the middle will spring back when lightly touched.
The center should not jiggle when you move the casserole dish. If it does, it is not quite done yet.
I bake my casserole uncovered. Again, with the differences in oven, dish shape/size, and climate, if your casserole starts to get too brown, you can loosely cover with foil for the remainder of the cook time.
One Dish Option
In the recipe below you use both a dish and a bowl. If you want to cut clean up a little, you can get this down to a one dish breakfast by first combining the eggs, cream, butter, cinnamon and vanilla, then stirring in the cinnamon rolls.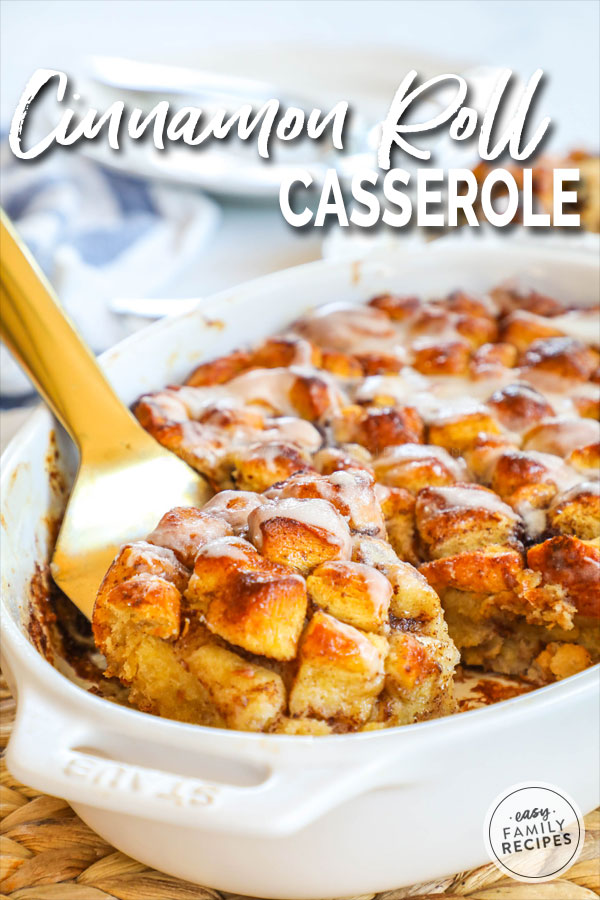 Overnight Breakfast Casserole Instructions
This Cinnamon Roll Breakfast Casserole can be beautifully made ahead of time as an overnight casserole.
To prepare this breakfast casserole ahead:
Prepare dish as directed up to baking.
Cover tightly with a lid, or cling wrap. Place the icing in a separate air tight container or zip top bag.
Refrigerate.
When ready to cook preheat the oven and bake as directed. You may need to add as much as 5-15 minutes to the cook time since you are cooking from a colder temperature.
What to serve with Cinnamon Roll Breakfast Casserole
Once this delicious morning dish is made, you can serve it right up warm and drizzled with icing.
If you want to stretch the dish to feed a crowd, or make it a little more special for a holiday breakfast there are a few sides that are perfect to serve it with.
Breakfast Side Dish Ideas
Fruit Salad or fresh fruit
Breakfast meats- bacon, sausage, or ham
Yogurt – Plain, or with fruit and granola
If you loved this recipe, I hope that you will try more of our DELICIOUS breakfast casseroles.
Hungry for more family-friendly recipes? Sign up for my free recipe club to get new family-friendly recipes in your inbox each week! Find me sharing daily meal-time inspiration on Pinterest, Instagram, and TikTok.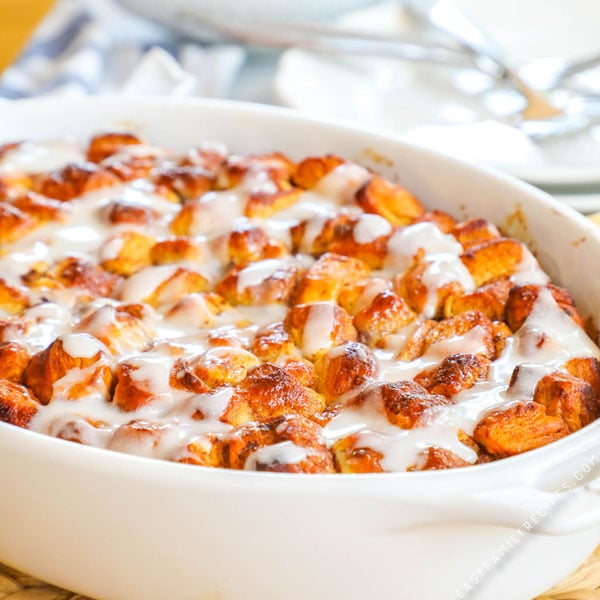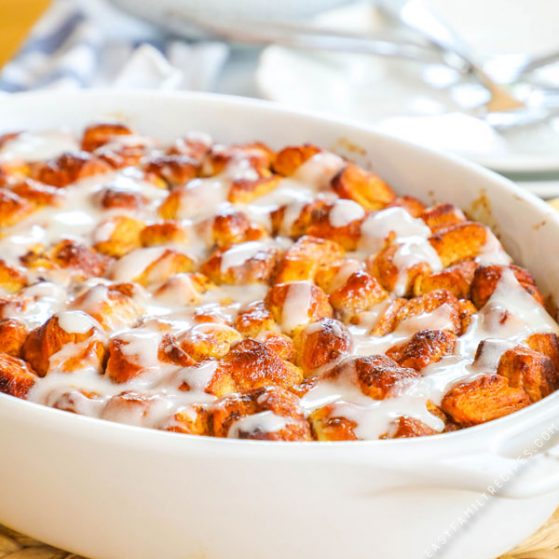 Cinnamon Roll Casserole
This Cinnamon Roll Breakfast Casserole is the perfect combination of sweet cinnamon rolls and savory french toast. Perfect for a weekend breakfast, brunch, a pot luck or a big holiday breakfast, this casserole feeds a crowd and is loved by all!
Prep Time: 10 minutes
Cook Time: 30 minutes
Total Time: 40 minutes
Serves:8 servings
Hover over "serves" value to reveal recipe scaler
Ingredients
2 Cans Pillsbury Cinnamon Rolls
3 eggs
1/2 cup heavy cream
2 tbsp butter melted
2 tbsp maple syrup
1 tsp vanilla
1 tsp cinnamon
Instructions
Preheat oven to 375˚F.

Chop each cinnamon roll into 6 pieces. Place all of the pieces in a 2 qt casserole dish. Set aside the icing container.

In a separate bowl, combine the eggs, cream, butter, syrup, vanilla and whisk until combined.

Pour the egg mixture over the cinnamon rolls and shake the dish slightly so that it settles evenly.

Bake for 30-40 minutes or until the casserole is done all the way through.

Remove from oven and let sit for 10 minutes. Then drizzle the icing over the top and serve warm. Enjoy!
Nutrition Information:
Calories: 117kcal (6%)Carbohydrates: 4g (1%)Protein: 2g (4%)Fat: 10g (15%)Saturated Fat: 6g (38%)Cholesterol: 89mg (30%)Sodium: 57mg (2%)Potassium: 45mg (1%)Fiber: 1g (4%)Sugar: 3g (3%)Vitamin A: 396IU (8%)Calcium: 28mg (3%)Iron: 1mg (6%)
(Nutrition information provided is an estimate and will vary based on cooking methods and brands of ingredients used.)