Slow Cooker Chipotle Chicken is packed with bold vibrant flavors, and takes just minutes to prep and get cooking. This easy Mexican inspired dinner pulls the smokey flavors of chipotle peppers in with the traditional Mexican spices and slow cooks it all to create super tender and juicy chicken smothered in a rich chili sauce.
Chipotle Chicken – The EASY Way!
Chipotle Chicken carries bold and complex flavors that can seem intimidating to make at home. The good news is that these flavors are amazing, but also really simple to create yourself with just minutes of prep and a crock pot!
There are a few things that make this dish really great:
It only takes minutes to prep
It can cook while you are at work or doing other tasks
The meat has TONS of flavor!
You can serve as is, or use it in many different dishes
Can be prepared as a freezer meal for those extra busy nights
Did I mention – SUPER HEALTHY!? This recipe qualifies for most diet plans being naturally low carb, paleo, and whole30 compliant!
I could keep going, but with just these high points, this recipe already has a lot going for it! Delicious, easy, and healthy for the dinner time win.
What are Chipotle Peppers?
If you aren't familiar with cooking with chipotle peppers, they have a wonderful smokey flavor that add dramatic flavor to any recipe.
Chipotle peppers are really nothing more than fully ripened jalapeno peppers that have been dried and smoked. Most frequently they can be bought canned in adobo sauce found in the hispanic food section of the grocery store.
Chipotle peppers are spicy, and how they are used or cooked in conjunction with if the entire pepper is used or if the seeds are removed will determine how spicy they make the recipe.
In this Chipotle Chicken recipe, because the seeds are removed, it is slow cooked, and combined with a large volume of other ingredients, it will maintain some heat, but not be overly spicy.
How to Serve Chipotle Chicken
As I have mentioned above, one of the great things about this recipe is that the flavor is so bold. Being so bold, you can serve the Chipotle Chicken as simply as straight from the slow cooker on top of a bed of rice or with another side dish.
It also makes a super flavorful start to Mexican favorites. I will list our favorite options for each below, but it is really hard to go wrong with this delicious meat.
Side Dishes
Rice- Try this Mexican Rice, it tastes just like the restaurant!
Beans- black, pinto, or refried
Sautéed ppeppers and onions
Cornbread
Green Chile Cheddar Mashed Potatoes
Mexican Dishes to Make with Chipotle Chicken
Tacos
Burritos – classic or smothered
Burrito bowls- layer rice, beans, chipotle chicken, salsa, guacamole, etc
Quesadillas
Enchiladas
Taquitos
Tostadas
Nachos
The list could keep going, but you get the picture! If you have a Mexican favorite, this Slow Cooker Chipotle Chicken can really elevate the flavor.
Recipe Tips
This Chipotle Chicken is as easy as promised. I am going to walk through some of my notes and tips on getting the absolute best results out of this recipe here.
Make sure to find the FULL recipe card at the bottom of this post. If you have additional questions that aren't addressed, feel free to leave them in the comments below.
Ingredients + Substitutions
Chicken breast– We like to use chicken breast in this recipe, but any boneless, skinless chicken can be substituted. Both chicken thighs and chicken tenderloins also work well with this recipe.
Onion– This will add to the flavor and help thicken the sauce as it is blended. I generally use a yellow onion, but you can use white or purple onions as well.
Tomato sauce
Chipotle peppers in adobo sauce– You can find these in the Mexican/hispanic food aisle of the grocery store. They are generally smaller cans.
Fresh garlic– I always think fresh is best, but you can substitute jarred minced garlic if needed.
Oregano
Cumin
Chili powder
Salt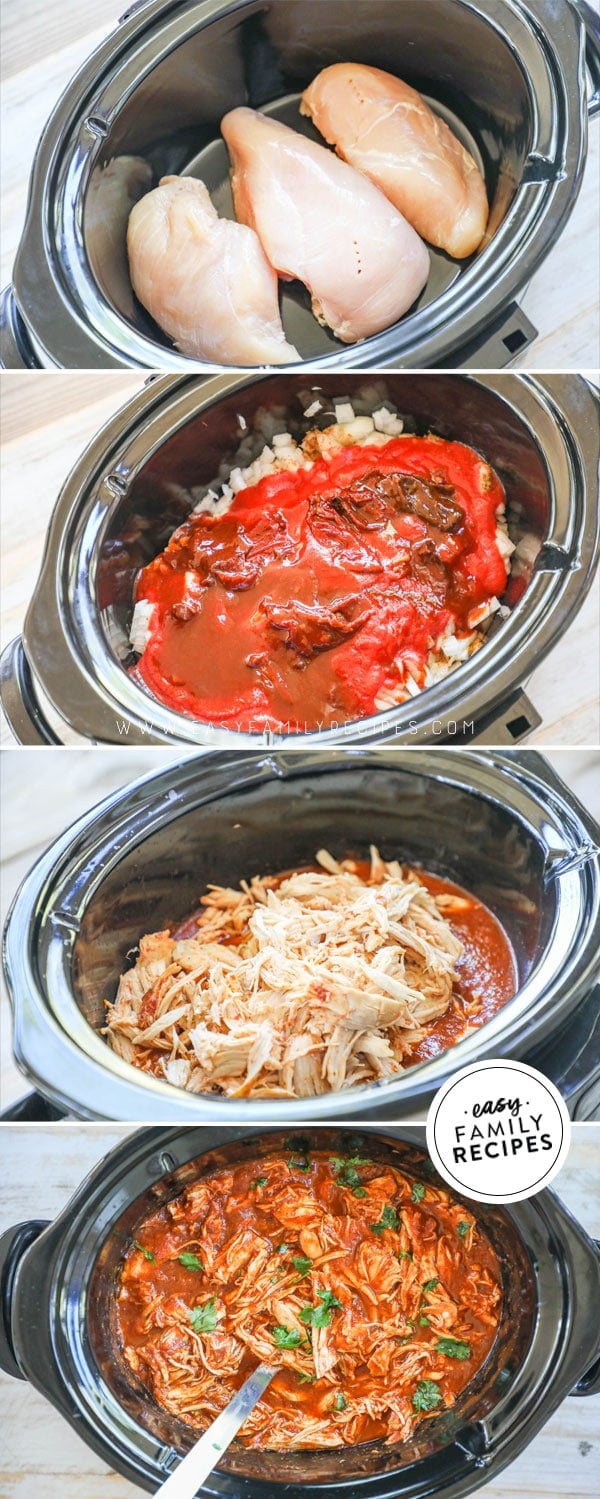 Dump + Cook + Blend+ Mix
Making the Chipotle Chicken comes down to 4 basic steps
Dump the ingredients in
Cook it slowly in your crock pot to develop the flavor
Blend the sauce and shred the chicken
Mix it all together!
Easy peasy! Here are a few tips to help you along the way…
Deseed the Chipotle Peppers
Chipotle peppers are spicy! To balance the heat of the spice with the flavor of the dish, I recommend removing the peppers from the can, splitting them open with a knife and scraping the seeds out before you add them. This will make the dish balanced with some heat, but not too much that it overwhelms the dish.
How long to cook the chicken in the crockpot
Chicken breast is a lean meat, so although you can cook it all day in a slow cooker without it burning, however, cooking too long can cause it to become more dry, tough or chewy.
Chicken breast needs to cook to a 165˚F internal temperature to be safe to eat. Cooking above that for longer periods of time will make it start to become less tender and juicy.
I recommend starting at low for 3-4 hours or high for 2-3 hours. Check it at the low end and leave it in for the full time if needed. Cook time can vary based on how thick the chicken is, how cold it is going in, and how your crock pot heats.
Blending + Shredding
I use a hand held immersion blender to make the sauce for the chicken. If you don't have one, they are only about $10-20 and you can get them at any superstore or on Amazon.
Just remove the chicken breast, then use it right in the slow cooker to purify the sauce. Alternately, you can transfer the sauce to a blender, but that is trickier because it is very hot, and messier, but will give you the same result.
After you make the sauce, shred the chicken with a fork. It should shred very easily after cooking. You can also use a hand mixer to shred it as well.
Stir the chicken back into the smooth sauce and stir to combine!
How to Make it More or Less Spicy
If you want to make the Chipotle Chicken more spicy, you can add the chipotle peppers in whole, without scraping and removing the seeds. To further increase the heat, you can add an additional portion of or whole can of chipotle peppers.
To reduce the spiciness of this recipe, you can add only a portion of the can of chipotle peppers. Add three quarters of the can, half or even just one quarter of the can depending on the level of heat you want. Also note that reducing the amount of chipotle peppers added will reduce the smokey bold flavor of the dish as well.
Recipe Variations
If you enjoy this Chipotle Chicken as much as we do, try some of these variations to switch it up for a fun new twist on this classic recipe, each still made in the slow cooker.
Creamy Chipotle Chicken– Make the recipe as directed. After blending the sauce and stirring the chicken back in, add 1 8 oz block of cream cheese. Close the lid and let it sit for about 5 minutes. Once you open it, it will be completely softened and ready to mix in smoothly.
Loaded Chipotle Chicken- Make the recipe as directed. After blending the sauce and stirring the chicken back in, add 1 can of black beans that have been drained and rinsed, 1 cup of sweet corn kernels, and 1/2 cup of crumbled crispy bacon. Stir in and let cook on low for an additional 20-30 minutes for the flavors to meld. Top with sharp cheddar cheese and chopped cilantro (optional.)
Honey Chipotle Chicken– Mix in 1/2 cup honey with the tomato sauce when adding to the crock pot before cooking. Continue the recipe as directed. Once done drizzle additional honey over the top of the shredded meat before serving.
Dietary Considerations
Chipotle Chicken is a wholesome meal option that can meet the requirements for many different diets and dietary needs.
Always check any store bought ingredients for compliance with your specific dietary needs.
Gluten Free- This recipe is naturally gluten free. Check the chipotle peppers and tomato sauce, but generally both are widely available as gluten free.
Dairy Free- This recipe is naturally dairy free.
Low Carb/ Keto- This recipe is naturally low carb and friendly for Keto diets with 6g net carbs per serving.
Nut free- This recipe is naturally nut free
Paleo- This recipe is compliant for the Paleo diet
Whole30- This recipe is compliant for whole30 diets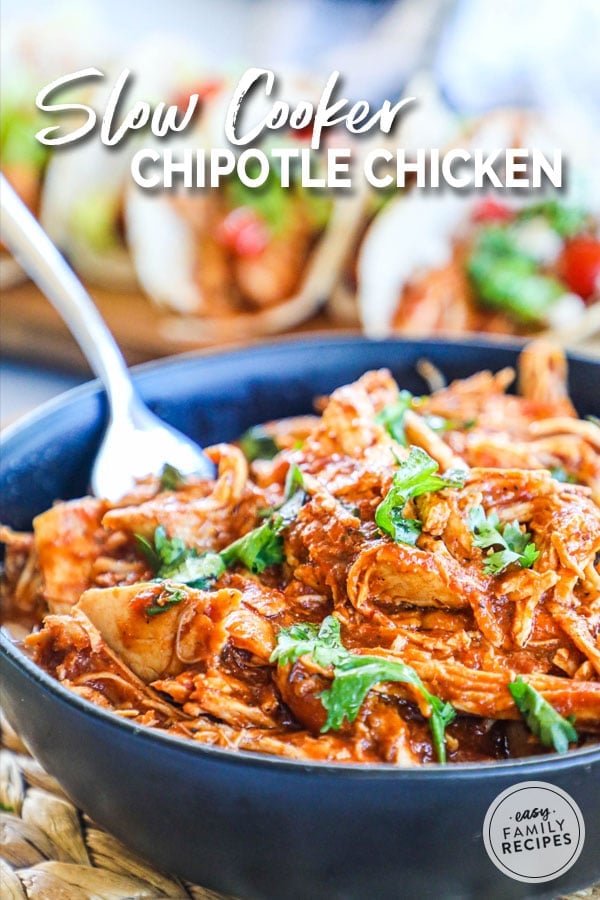 Freezer Meal Instructions
If you would like to prepare this recipe ahead of time as a freezer meal, it can be made and stored for up to 6 months in the freezer.
Lay the chicken in a zip top bag or freezer friendly container. Cover with diced onions, garlic, oregano. cumin, and chili powder.
Remove the chipotle peppers from the can. Split them open with a knife and scrape the seeds out. Then add the tomato sauce, chipotle peppers and remaining sauce in the chipotle peppers can to the bag.
Freeze.
When ready to cook, thaw in the refrigerator for 24-48 hours or until chicken is thawed.
Dump into the slow cooker and continue recipe as directed.
Meal Prep Ideas
This shredded Chipotle Chicken makes a great option for prepping meals for the week ahead of time. Here are a few ideas on what to pair with the chicken for great meal prep friendly meals.
Rice- white, brown, or Mexican rice make great pairings
Beans- Try pinto, black, or refried beans
Mexican Corn salad– Use this recipe but leave the avocado out until ready to eat.
Pico de gallo– This fresh salsa is easy and can be eaten on top of chicken, or with chips or plantains on the side.
Corn Casserole – this is a hit and tastes even better when reheated!
More Slow Cooker Recipes
If you enjoyed this recipe, make sure to check out more of our easy slow cooker recipes to bookmark for another night! We have tons they are just as easy and delicious as this one.
You can see all of our slow cooker recipes here, or a few of our reader favorites below.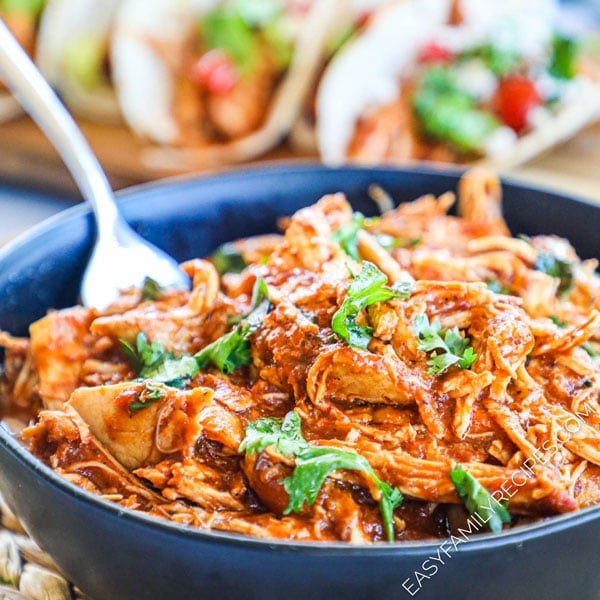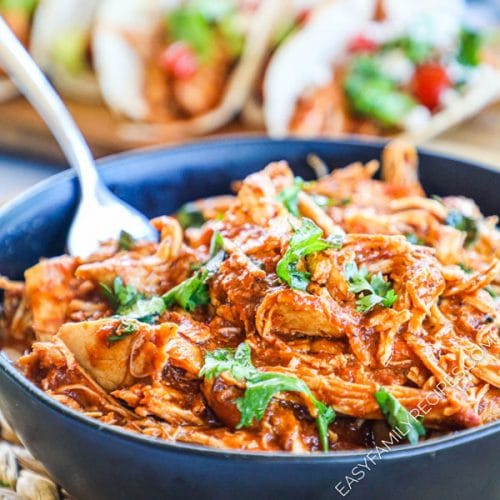 Slow Cooker Chipotle Chicken
Tender chicken breast is slow cooked in a rich chipotle chili sauce for to create a dish with bold flavors and a little kick of spice. This chicken can be served over rice and is perfect for making burrito bowls, tacos, enchiladas, nachos, or any of your Mexican favorites.
Ingredients
2

lbs

boneless skinless chicken breast

1

onion

,

diced

8

oz

tomato sauce

,

1 small can

7

oz

chipotle peppers in adobo sauce

,

1 can

3

cloves

garlic

,

pressed

1

tsp

dried oregano

1

tsp

ground cumin

1

tsp

chili powder

1

tsp

salt
Instructions
To prepare the meat:
Lay the chicken in the bottom of the slow cooker. Cover with diced onions, garlic, oregano. cumin, and chili powder.

Remove the chipotle peppers from the can. Split them open with a knife and scrape the seeds out. Then add the tomato sauce, chipotle peppers and remaining sauce in the chipotle peppers can to the slow cooker.

Cook on high for 2.5-3.5 hours.

Once done, remove the chicken from the crockpot. Optional: Use an immersion blender to blend the sauce until smooth.

Shred the chicken, and then stir it back into the sauce.

Garnish with cilantro and serve in tortillas, over rice or on top of greens. Enjoy!
Nutrition Information
Serving:
6
oz
,
Calories:
216
kcal
(11%)
,
Carbohydrates:
10
g
(3%)
,
Protein:
33
g
(66%)
,
Fat:
4
g
(6%)
,
Saturated Fat:
1
g
(6%)
,
Cholesterol:
97
mg
(32%)
,
Sodium:
1187
mg
(52%)
,
Potassium:
730
mg
(21%)
,
Fiber:
4
g
(17%)
,
Sugar:
5
g
(6%)
,
Vitamin A:
1962
IU
(39%)
,
Vitamin C:
6
mg
(7%)
,
Calcium:
28
mg
(3%)
,
Iron:
2
mg
(11%)