Homemade Buttermilk Cornbread is the best classic cornbread recipe!  It is simple make with a few pantry staples and makes the most tender, moist, perfect cornbread of all! The key is in the cooking method.  Read all about it below!
Buttermilk Cornbread Made in a Cast Iron Skillet
This isn't just any cornbread. It is THE cornbread that all other homemade cornbreads aspire to be! It is the cornbread just like Grandma used to make.
The texture is perfectly tender.
It isn't dry, but perfectly moist.
There is a perfect golden brown slightly crisp edges.
What is the secret to the recipe you ask?! The combo of simple and classic ingredients, cooked in a simple and classic way!
The buttermilk helps to keep the cornbread tender and moist, while the preheated cast iron skillet gives it that golden brown crust on the outside without having to overcook the inside.
The end result? PERFECTION.
How to Make Homemade Cornbread
The beautiful thing about this recipe is that it is EASY! Cornbread is simple to make and by knowing a few little tips, you will be thrilled that your cornbread comes out perfect every time.
This cornbread is homemade made from scratch. If you are looking for a quick and easy recipe using a mix, try my Mexican Cornbread recipe here.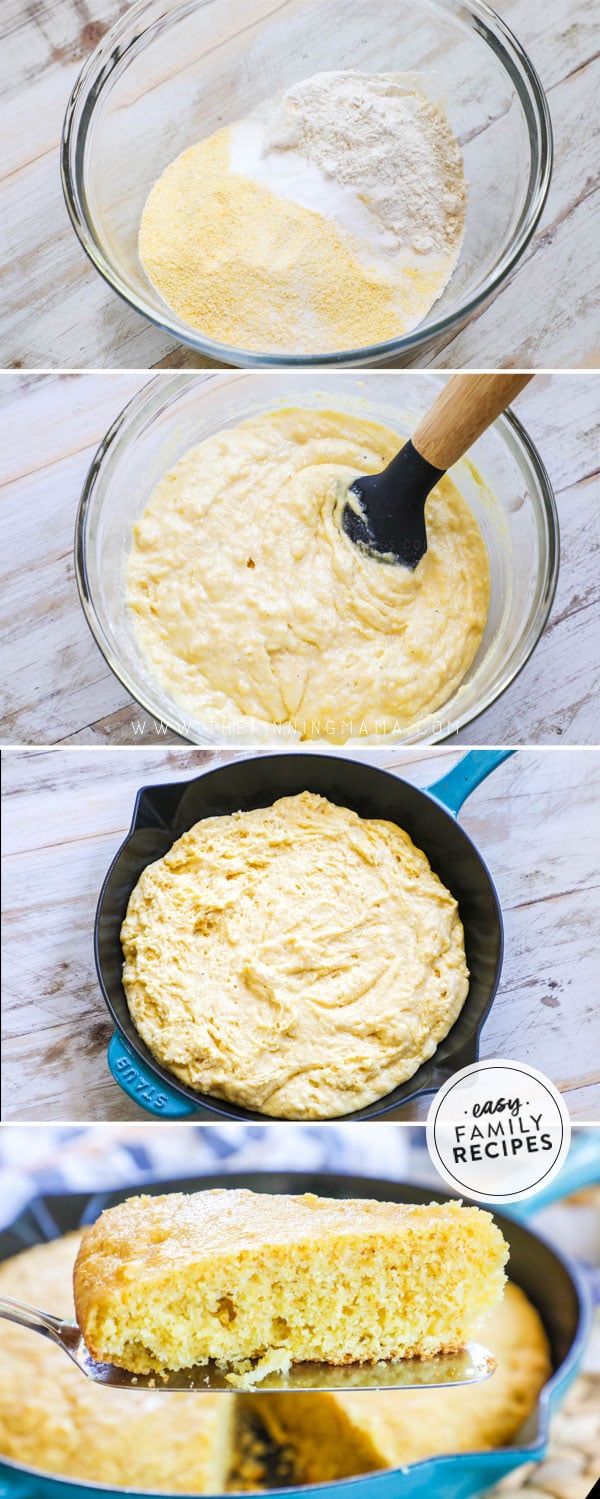 The Ingredients
As promised, this cornbread recipe is made with pantry staples. Nothing fancy!
Here is a low down on what the key ingredients are and why they are important for this recipe:
Cornmeal– Gives the cornbread it's signature flavor!
Flour– helps to balance the crumbly cornmeal to turn it into a bread
Sugar– just enough to make it a hint sweet, but not too sweet.
Butter– butter adds to the rich flavor of the cornbread.
Buttermilk– Gives the cornbread moisture and a tender texture.
Make sure to see the recipe card at the bottom of the post for the full list of ingredients!
Notes on Cornmeal
Cornmeal is a staple in many kitchens, but if you are new to it there are a couple of things to know.
Cornmeal is dried field corn that is ground ranging from fine to coarse. For cornbread we usually use a fine to medium grind.
You can also, find cornmeal in yellow and white, but for traditional cornbread, yellow is always the way to go!
Why Does Cornbread Fall Apart?
If you have made cornbread before that is so crumbly you basically need to eat it with a spoon, you might wonder what makes this happen, and why is this recipe any better?!
There are generally two main culprits when you experience crumbly cornbread, and they are often related!
Too little flour
Too little moisture
Since cornmeal doesn't have gluten (the component of flour that stretches and holds bread together) it will produce a crumbly bread. With the addition of flour, we are able to keep the delicious flavor, but balance it to produce more tender texture.
If you go and add more dry ingredients though, you have to balance it with ingredients that will hold the moisture in the recipe. We use buttermilk because it not only adds moisture, but the make up of buttermilk produces an extra soft texture in baked goods.
Cast Iron Skillet Cornbread
The other really important note on how you make this cornbread is in the cooking method!
Grease the cast iron skillet.
Pre-heat it with the oven.
Pour the batter in when it is hot! (be careful and always use an oven mitt!)
Cook to perfection!
Once you make the batter for the bread, you will pour it into the pre-heated cast iron skillet, and you will hear that delicious golden brown crisp crust start to form as it sizzles.
The preheating is KEY to getting those drool-worthy edges because it allows the edges to get extra crispy without having to over-cook the middle.
Cook the cornbread until a toothpick just comes out clean. Be careful not to over cook it because it will rob it of that coveted moisture which keeps it tender and delicious!
Substitutions
If you want to make cornbread but find yourself in a pinch, here are a few things you can substitute in the ingredient list:
Cornmeal– In a pinch, polenta can be substituted for cornmeal in the cornbread recipe. Polenta is basically more coarsely ground cornmeal, so it will work. You will end up with a bit more texture and crunch in the final product though.
Sugar– You can substitute honey for sugar if preferred
Buttermilk– If you don't have buttermilk on hand you can make a quick substitute. Use 1 tablespoon of lemon juice or white vinegar and enough milk to make a cup. Stir and let it sit for 5 minutes, then use as buttermilk in the recipe.
Cast Iron Skillet– If you don't have a cast iron skillet, you can use a metal or glass baking dish. You won't get quite the same crispy golden brown edges as with cast iron, but it will still be a delicious bread.
What Goes Well with Cornbread?
If you need a little inspiration for what to serve cornbread with, try a few of these classic ideas: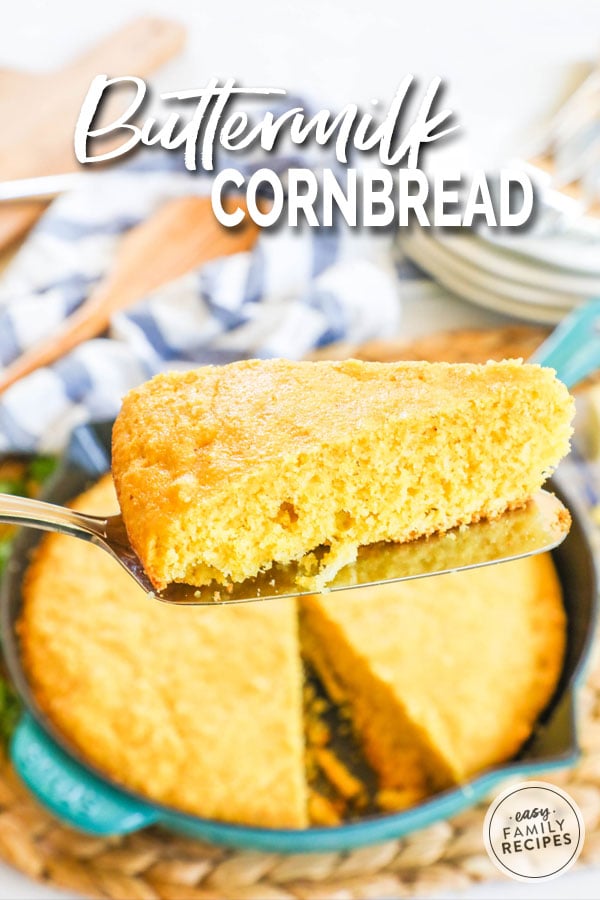 How to Save Leftover Cornbread
If you have any leftovers of this delicious homemade cornbread, you are lucky! You can save it to eat again the next day, or later in the week or month.
Wrap the bread tightly in plastic wrap, or place in an airtight container and store in the refrigerator for 2-3 days.
To Freeze Cornbread
Cornbread, like most breads, freezes very well. It will last up to a month in the freezer.
Let cornbread cool.
Slice into serving sized pieces.
Place in a freezer bag or airtight container,
Freeze.
When ready to eat, let thaw in the refrigerator or microwave.
How to reheat cornbread
Cornbread can taste almost as good as when it was fresh out of the oven when it is reheated. It can be warmed in a couple of ways:
In the microwave- microwave cornbread on a microwave safe plate for 10 second increments until heated through.
In the oven – wrap cornbread in foil and place in the oven at 350˚F for 10-15 minutes or until heated through.
More Easy Recipes
If you enjoyed this cornbread, I hope you will take a moment to browse our recipes for some more delicious dinner inspiration!
Or check out some of our favorites below: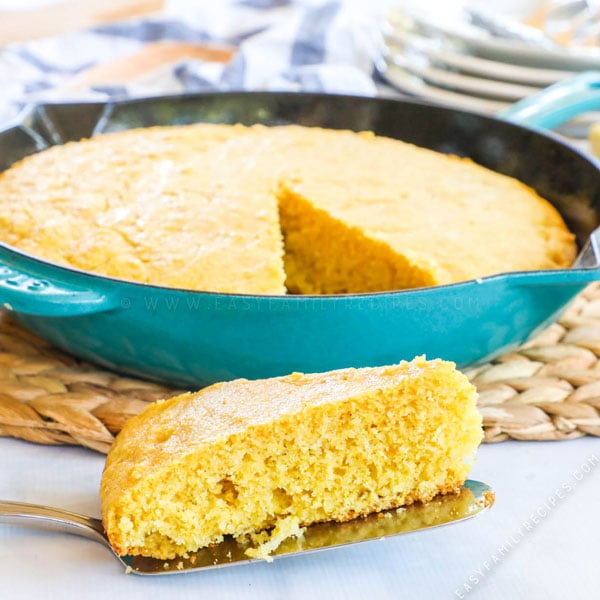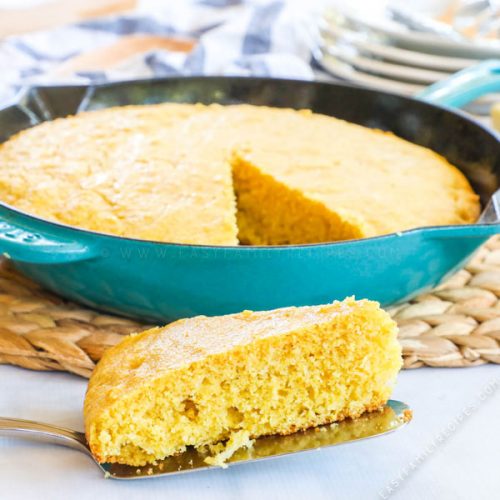 Homemade Buttermilk Cornbread Recipe
This Homemade Buttermilk Cornbread is just like Grandma used to make! It is moist, tender, and buttery soft! The way it cooks is the key to getting those perfect golden brown crisp edges!
Ingredients
1

cup

yellow cornmeal

1

cup

flour

,

all purpose

1

tsp

baking soda

1/2

tsp

salt

1/2

cup

butter

,

melted

1/2

cup

sugar

2

eggs

,

large

1

cup

buttermilk

2

tsp

vegetable oil
Instructions
Preheat the oven to 375˚F. Rub the inside of a 12" cast iron skillet with the vegetable oil and place in the oven while it heats.

Combine the cornmeal, flour, baking soda, and salt in a bowl and mix to combine.

In a separate bowl, whisk the butter, sugar, and eggs. Then add the buttermilk and whisk until smooth.

Add the wet ingredients into the dry ingredients and mix with a wooden spoon until just moistened.

Place the batter in the hot cast iron skillet and return to the oven to bake for 18-28 minutes, or until just set in the center.

Remove from the oven and serve warm with your choice of butter and honey. Enjoy!
Nutrition Information
Serving:
1
slice
,
Calories:
217
kcal
(11%)
,
Carbohydrates:
27
g
(9%)
,
Protein:
4
g
(8%)
,
Fat:
11
g
(17%)
,
Saturated Fat:
6
g
(38%)
,
Cholesterol:
50
mg
(17%)
,
Sodium:
302
mg
(13%)
,
Potassium:
91
mg
(3%)
,
Fiber:
2
g
(8%)
,
Sugar:
10
g
(11%)
,
Vitamin A:
310
IU
(6%)
,
Calcium:
31
mg
(3%)
,
Iron:
1
mg
(6%)