Guacamole Chicken is the perfect quick and easy dinner recipe. It is low carb, packed with lean protein, and family friendly! Juicy chicken and fresh, creamy guacamole make this baked chicken dish a flavorful and delicious meal that everyone loves!
Guacamole Chicken – The EASY Way!
My family loves Mexican flavors! Enchiladas, Pico de Gallo, and tacos are all commonly found at our house. And if not those, we are probably eating something with green chilies in it.
While this guacamole chicken doesn't have green chilies in it, it does have lots of classic Mexican flavors that my whole family loves. And because of that, it has become a staple at our house! It is creamy with fresh guacamole, cozy with melted cheese, and juicy with perfectly cooked chicken.
If your family doesn't like guacamole, you can serve the cheesy chicken first and then add the guacamole to who ever wants it on their chicken. So not only is this chicken and guacamole recipe adaptable to taste buds, but it is packed with protein and low carb making it a hearty and healthy meal that the whole family will love.
Why I LOVE this recipe!
Quick – This recipe is on the table in 25 minutes. 25 minutes! That is so fast and it is an entire dinner, not one that has lots of other components to make.
Adaptable – Everyone loves chicken and cheese so by baking those on their own and then adding fresh guacamole, everyone can choose if they want the guacamole or not. Because as much as I love guacamole and would like to say that my kids always did too, it took a while before they would eat guacamole. But they sure gobble up cheesy chicken!
Can serve a crowd or just a few – You can easily double, triple, or half this recipe to serve as many or as little folks as you need.
Great for meal prep – By storing the chicken and guacamole separately, this chicken and guac can be taken to work separately. This is ideal for reheating the chicken while keeping the guacamole cold and fresh. And because the guacamole has lime juice, it can stay fresh for 3 days without browning too much.
What to Serve with Baked Chicken with Guacamole
Since this dish has the classic flavors of Mexican inspired dishes, it will pair well with many of your favorite Mexican side dishes. There are both classic options and some healthy options to keep it light.
Side Dish Ideas
You can choose one or add a few sides to make a wholesome, well rounded dinner.
Recipe Notes
This chicken with guacamole recipe is as simple as promised! Just 25 minutes for a family friendly meal.
In this section I am going to go through a few tips and tricks I use when making this recipe to get the absolute best and most delicious results.
Make sure to scroll to the bottom for the FULL recipe card.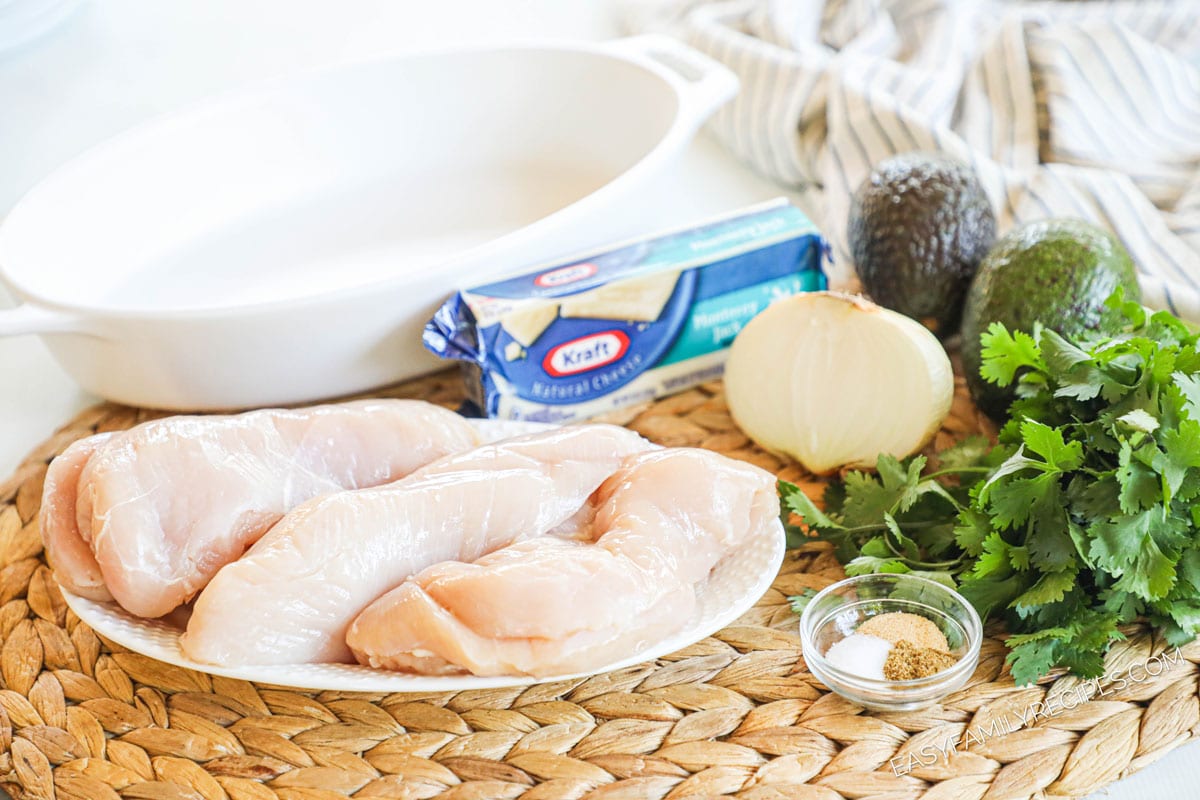 Ingredients + Substitutions
For the chicken
Chicken Breast – I like to use chicken breast to keep the dish lean and they are the easiest to find in store. I recommend cutting or pounding the chicken breast thin to ensure it cooks evenly for super tender chicken breast. You could also use chicken tenders.
Monterey Jack Cheese – Monterey jack is the perfect choice for this Mexican inspired dish, but any similar cheese would work too. This could be pepper jack, Mexican blend, cheddar, even mozzarella.
Spices – Cumin, salt, and garlic powder are used to season the chicken before baking.
For the guacamole
Avocado – I made this recipe using medium sized avocados, but if yours are smaller or larger, you can adjust how many you use depending on the size.

How to pick a good avocado: If you struggle to pick ripe avocados, always gently squeeze them before buying. If you plan to use them that day, the avocado should have a slight give when squeezed but should not be soft. You can always store the avocados in the fridge if they are ripe but you decide you are not ready to use them that day. If you want to use it in a couple days, it should not have any give but also should not be as hard as a rock.

Lime Juice – Every good guacamole needs the acidity of lime juice! Fresh is best but lime juice from a jar will work too.
Onion – White or yellow onion both work well in this recipe. I slightly favor white onions because they are slightly sweet.
Cilantro – Another guacamole staple! Cilantro adds the brightness that all great guacamole is known for.
Spices – We just need a little garlic powder and salt for this guacamole. Because who needs a lot of spices when you have such fresh and flavorful ingredients?!
Tomatoes – I use tomatoes to garnish the guacamole but you can definitely mix them in if you like or use store bought or homemade pico de gallo instead.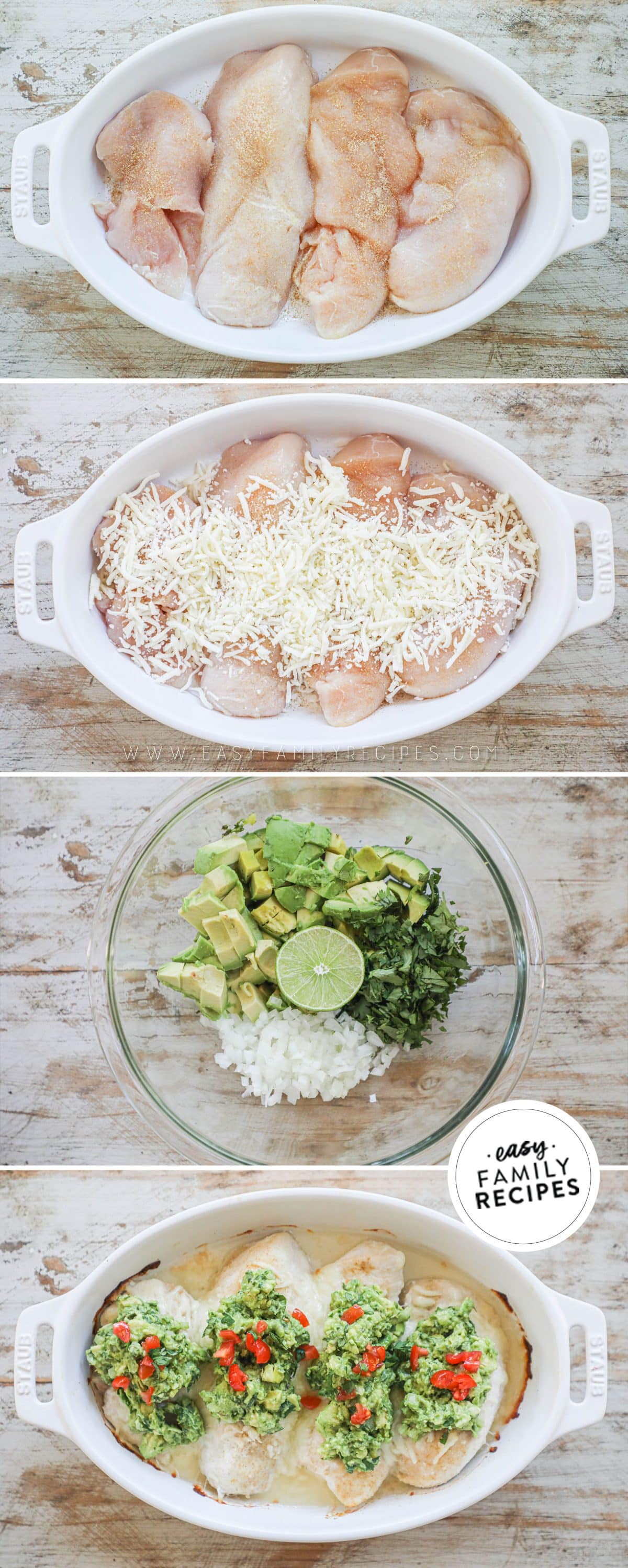 Recipe Tips
Use thin chicken breast- Using chicken breasts that are thin, or pounded or cut to be thin, will help this dish cook faster, bake more evenly, and remain more tender and juicy.

I almost always cut my chicken horizontally so that it is half the thickness with any of my baked chicken dishes. It just comes out better! I often end up with 6-8 pieces of chicken instead of 3-4 since I cut them which makes serving a family easier as well.

Use a big dish– You will want to use a dish large enough for the chicken to lay the chicken flat. If the chicken is not flat it takes longer to cook and you can end up with spots that aren't completely done, or spots that are over cooked.

Don't over cook! The number one tip I have for this chicken breast with guacamole recipe is to not over cook your chicken! Thinly slice the chicken and only cook it to 165 degrees. It will continue to cook even after you remove the pan from the oven.

Save the guac – By keeping the guacamole separate, you will ensure everyone gets to enjoy the chicken how they like. You can simply put a dollop on the chicken for those that want it.
Recipe Short Cuts
If you need to make this recipe, but are extra short on time, here are a few ideas that can help make this recipe even faster!
Use store bought Pico de Gallo – You can swap out the tomatoes, onions, and cilantro for store bought Pico de Gallo to speed up this chicken guacamole casserole!

Prep the chicken and guacamole – You can put the seasoned chicken and cheese in the pan and store in the fridge up to a day in advance as long as it is covered. You can also make the guacamole 3 days in advance as long as you keep it tightly covered so it is not exposed to the air.
Recipe Variations
If you love this recipe as much as we do and want some quick ways to change it up for variety, these little tips will do the trick!
Guacamole Salsa Chicken – Adding a little salsa to this recipe is another way to pack in the flavor with minimal steps. Simply pour in a can of salsa into the baking dish, top with cheese, and bake as directed. This will infuse the spices from the salsa into the chicken as it bakes.

Spicy Guacamole Chicken – Of course I had to include a spicy variation! To make this, add a sprinkle of cayenne pepper to the chicken before adding the cheese. Also, add half to a whole deseeded jalapeno, diced, to the guacamole.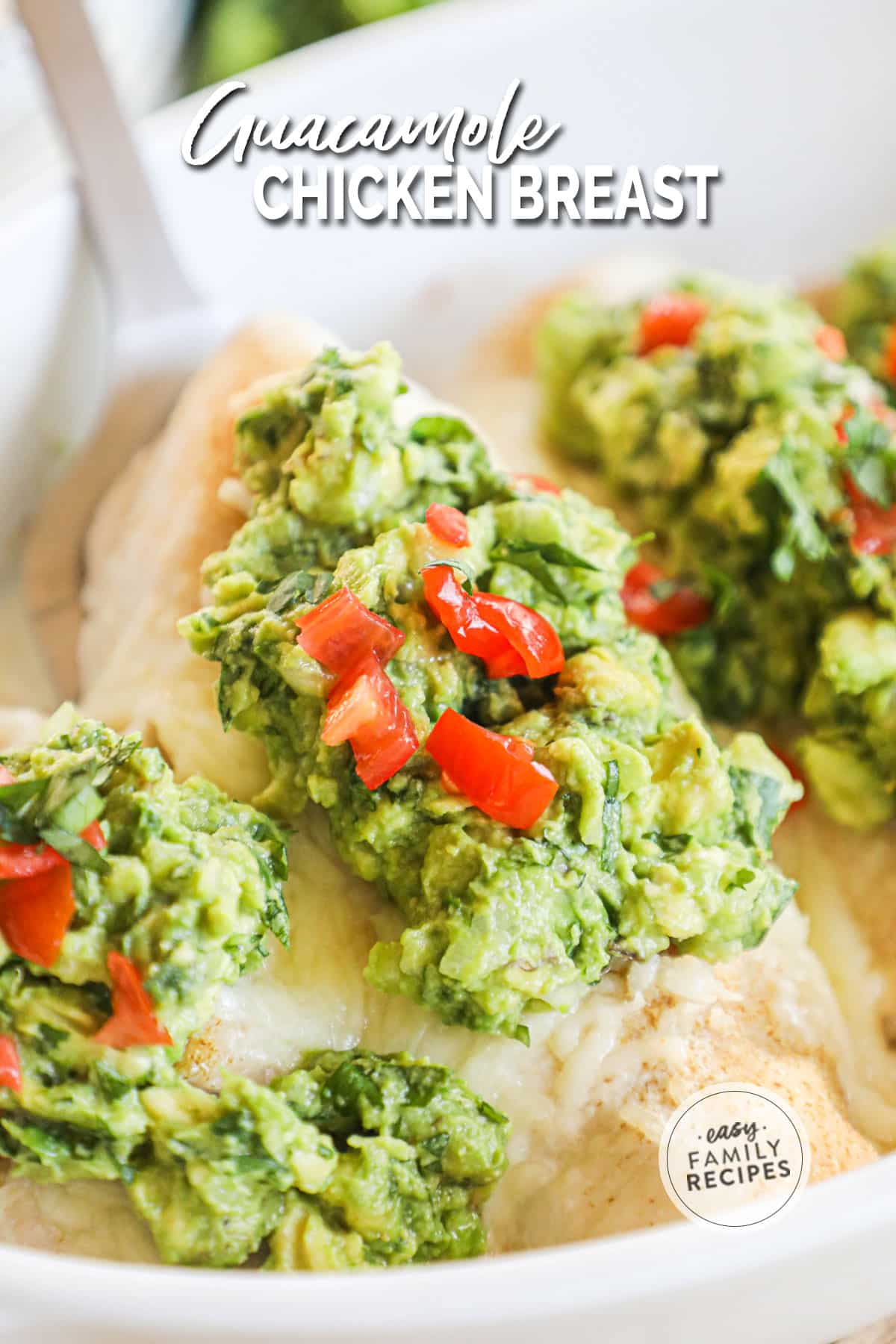 Freezer Meal Instructions
Making this guacamole chicken recipe into a freezer meal is simple! Follow the steps below and you can store this recipe in the freezer for up to 6 months.
Make the chicken and guacamole as directed, but keep them separate.
Allow the chicken to cool completely. While that cools, transfer the guacamole to a plastic bag and close tightly without, pressing any air out of it.
Store this in the freezer, laying flat. Be sure to write the date on the bag!
Once the chicken cools, store in an air tight container in the freezer.
When ready to enjoy, leave both in the fridge overnight the night before you want to enjoy. This should be adequate time for them both to thaw. then reheat the chicken in the oven for 5-10 minutes until heated through.
Chicken and Guacamole Leftovers
If you have leftovers after making guacamole chicken, then it is your lucky day! They save and reheat well, and can make the start of another delicious dish.
To save leftovers, separate into meal sized portions and then place in an airtight container and store:
in the refrigerator for 3-4 days
in the freezer up to a month
Leftover Recipes
Here are a few ways to repurpose those leftovers and give them a delicious makeover!
Chicken and Guacamole Sandwich – For this dish, place the chicken and guacamole in between two slices of toasted sourdough bread for the ultimate sandwich!
Chicken and Guacamole Tostadas – While this sounds fancy, it is so simple to make! Simply fry a corn tortilla, top with warmed chicken, fresh cheese, and cold guacamole.
Chicken and Guacamole Wrap – This is another super easy lunch. You can add the chicken and guac to a tortilla with a little more cheese and bell peppers. Roll it up and enjoy!
Chicken Guacamole Lettuce Wraps – Similar to the tortilla version, you can simply use lettuce as another vessel for the tasty chicken and guacamole. I also like to top them with a little salsa for extra flavor.
Chicken Guacamole Tacos – I turn everything into tacos. And why? Because they are delicious! Put the warmed chicken and cheese into a tortilla, top with guacamole, corn, and black beans for the perfect easy tacos.
More Easy Chicken Recipes
If you enjoyed this recipe, I really hope you will take a moment to grab a few more easy recipes for another busy night!
You can check out all of my dinner recipes here, or see a few of our readers favorite recipes below.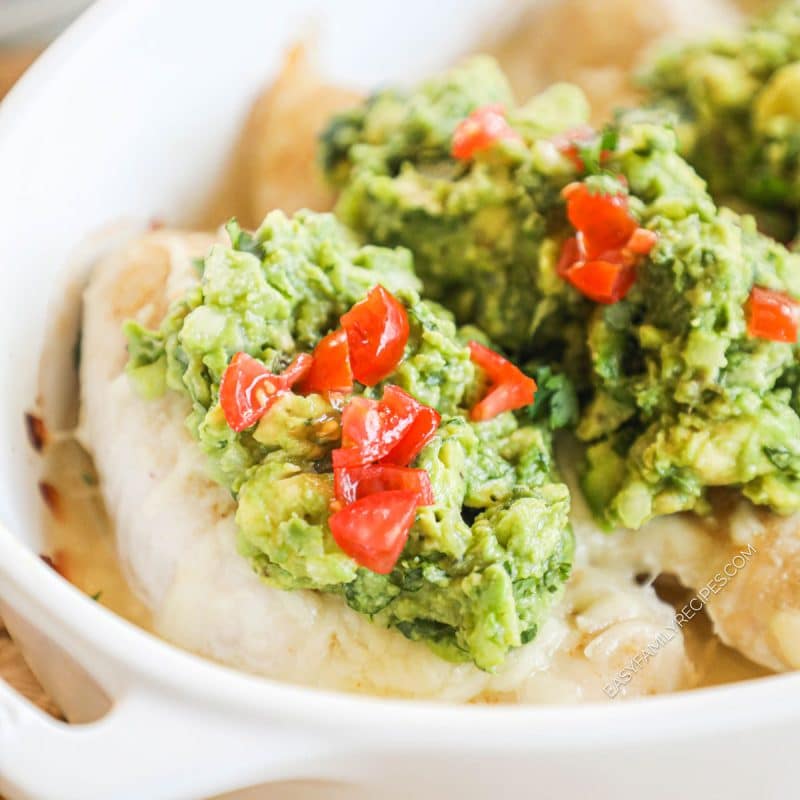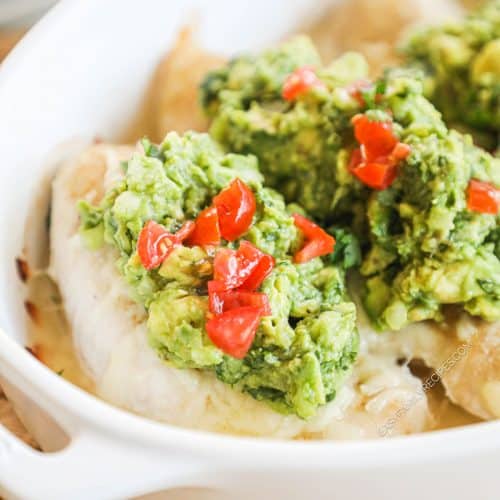 Guacamole Chicken Bake
This juicy and flavorful guacamole chicken is the perfect quick dinner. Packed with fresh ingredients and a lean protein, this healthy meal is sure to be a family favorite.
Ingredients
For the chicken
2

pounds

boneless skinless chicken breast

1

teaspoon

salt

1

garlic powder

1/2

teaspoon

cumin

6

ounces

Monterey Jack Cheese

,

grated
For the Guacamole topping
2

medium avocados

1/2

teaspoon

salt

1/2

teaspoon

garlic powder

1/2

lime

,

juice of

1/4

cup

diced onion

1/4

cup

chopped cilantro
Instructions
Preheat the oven to 400˚F.

Combine the salt, garlic powder and cumin and season the chicken on all sides. Lay flat in a large casserole dish. Top chicken with shredded monterey jack cheese.

Bake for 20-30 minutes or until the chicken is cooked through (165˚F internal temp.)

While the chicken is cooking, peel, deseed and dice the avocado and add it to a bowl. Add the salt, garlic powder and lime juice and stir to coat. Then stir in the cilantro and onion.

Once the chicken is done, top each chicken breast with a generous scoop of guacamole and garnish with diced tomato. Enjoy!
Recipe Notes
I like a slightly chunky guacamole for this recipe. If you prefer a smooth guacamole, you can mash the avocado before adding the seasonings in.
Nutrition Information
Calories:
588
kcal
(29%)
,
Carbohydrates:
11
g
(4%)
,
Protein:
61
g
(122%)
,
Fat:
34
g
(52%)
,
Saturated Fat:
12
g
(75%)
,
Polyunsaturated Fat:
3
g
,
Monounsaturated Fat:
15
g
,
Trans Fat:
0.03
g
,
Cholesterol:
183
mg
(61%)
,
Sodium:
1399
mg
(61%)
,
Potassium:
1401
mg
(40%)
,
Fiber:
7
g
(29%)
,
Sugar:
1
g
(1%)
,
Vitamin A:
617
IU
(12%)
,
Vitamin C:
16
mg
(19%)
,
Calcium:
350
mg
(35%)
,
Iron:
2
mg
(11%)