Teriyaki Chicken is the perfect combination of sweet and tangy in bite size portions. This recipe can be made in as little as 15 minutes using just a few pantry ingredients so it is great for busy nights. Plus, the familiar flavors always makes this dish a crowd favorite!
Teriyaki Chicken – The EASY Way!
If you have walked through a mall food court, chances are you have had a sample of teriyaki chicken! The tender, tangy, bite sized pieces of chicken are a staple at Asian restaurants, and one of my son's favorites! He has been begging me to make an at home version of the "mall teriyaki chicken" for years!
It has taken awhile for me to get this recipe where I feel like it is absolutely perfect, but we finally agreed, it is time to share!
The chicken bites are cooked quickly and incredibly tender and juicy. The teriyaki sauce has the perfect sweet and tangy Asian inspired flavor, and it thick enough to really coat the chicken creating that amazing glaze that my kids love so much about the mall teriyaki chicken
The BEST part for me is that this teriyaki chicken recipe is ready in 15 minutes (including prep and cooking!) and the sauce can be stored and used in so many ways! This dish can be served with rice, in a wrap, on a salad, with stir-fry veggies; the possibilities are endless!
Why I LOVE this recipe!
Quick & Simple – With only requiring 15 minutes of your time, this recipe is made for busy nights and busy people. Plus, as far as ingredients go – you just throw them together, cook down, and then enjoy so it really is super simple.

Flavor Packed – With big and bold flavors like sesame, garlic, and ginger, this teriyaki chicken is a real flavor bomb. This makes it great for adults and because it is sweet and tangy, it is great for kids too!

Multi-Use – This recipe makes small bite size bits of chicken, just like is served at the mall as a sample. This size is super versatile and can be used on rice, in a wrap, on a salad, with veggies, or just for snacking on.

Two Recipes in One –This recipes involves making a super delicious teriyaki sauce and then tossing chicken in it. But, you can make a double batch of the sauce and keep it for use on whatever you like. As a dip, as a marinade, tossed in a stir-fry, etc. So, basically you are making one meal but you get an extra sauce recipe as a bonus!
What Is Teriyaki Chicken?
Teriyaki chicken can be grilled, cooked, or marinated in a sweet and tangy sauce made with a soy sauce, usually garlic, and always some type of sweetener – typically honey or brown sugar. The sauce is generally not spicy, unless you add red pepper flakes or Sriracha to it. Teriyaki chicken can be served a whole chicken breast or thigh, sliced, or in small bite size pieces (how my family likes it best!).
What to Serve with Teriyaki Chicken
Since this dish has the classic Asian flavors, it will pair well with many of your favorite Asian side dishes. These chicken teriyaki sides include both classic options and some healthy options to keep it light.
Side Dish Ideas
Asian Cucumber Salad– This recipe is one of my all time FAVORITES!

Sautéed Green Beans – There is a reason green beans are almost always an option at Chinese or Japanese restaurants! Because the fresh flavor and crunch are the perfect compliment to sweet sauces (like teriyaki) and spicy dishes!

Spicy Sriracha Asian Coleslaw – Enjoy a complete Asian inspired dinner by pairing this spicy slaw with the sweet chicken. Plus, this way you can still have spice even if your kids do not like spice since they are separate

Sautéed Spinach – This is a quick and easy tender veggie that tastes great with this sticky and saucy chicken.

Rice or Grains – I love to serve teriyaki chicken on top of white sticky rice, but you can also use brown rice, quinoa, farro, or any other grain your family likes to soak up the sweet sauce.
You can choose one or add a few sides to make a wholesome, well rounded dinner.
Recipe Notes
This teriyaki chicken breast recipe is as simple as promised! Just 15 minutes for a family friendly meal.
In this section I am going to go through a few tips and tricks I use when making this recipe to get the absolute best and most delicious results.
Make sure to scroll to the bottom for the FULL recipe card.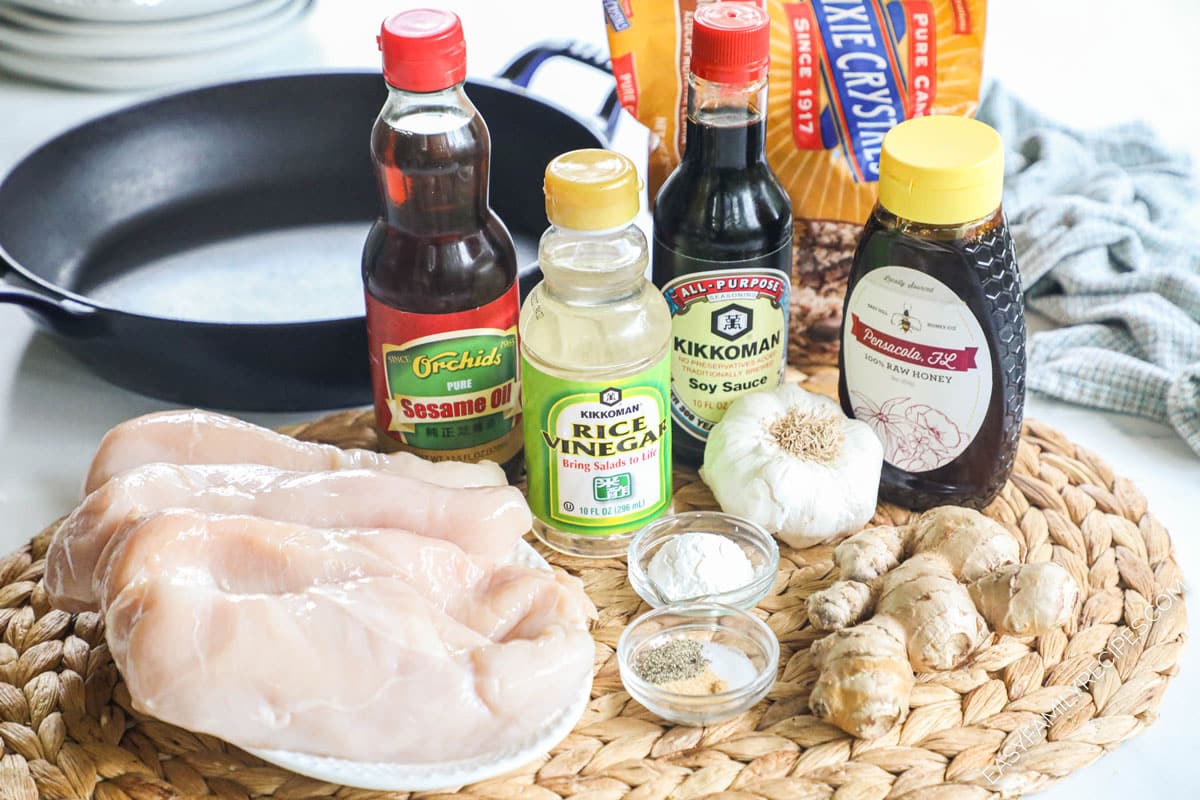 Ingredients + Substitutions
For the chicken:
Chicken – The mall teriyaki chicken is generally made with chicken thighs, but my kids prefer chicken breast. Either can be used with great results in this recipe, as long as you use boneless skinless cuts of meat.

Seasoning – A combination of garlic powder, black pepper, and salt make this chicken perfectly flavorful and ready to be drenched in teriyaki sauce!

Sesame Oil – This is a secret to perfect teriyaki chicken! The toasty and nutty Asian flavor is an absolute must for making this dish taste like take out.
For the teriyaki:
Soy Sauce – This is the base of many Asian inspired recipes, likely because it originated from Japan where it was quickly realized that the intense savory flavor was a great way to add a unique salty element to a dish. You can use regular soy sauce or reduced sodium for less salt.

Water – Water will be used in two parts for this sauce. Once to thin out the sauce initially and again to make a slurry with the cornstarch to help the sauce thicken properly.

Sweetener – I like to use brown sugar and honey for this sauce because the brown sugar adds to the nuttiness of the sesame oil while the honey help keeps it light. However, you can use one or the other – you do not have to use both.

Rice Vinegar – This adds acidity to the sauce to help break up the sweetness and richness of the other ingredients.

Garlic and Ginger – Fresh is always best! Powdered does not produce enough flavor for this sauce, but if absolutely necessary, you can use the refrigerated minced garlic and ginger.

Sesame Oil – What I said before – so so good and secret weapon to the perfect sauce!

Cornstarch – Cornstarch is the thickener for the sauce. It works by expanding and absorbing liquid when heated. I specifically tested this recipe many times to ensure that the amount of cornstarch added produced just enough thickness to coat the back of a spoon. However, if you like your sauce thicker than that you can definitely try adding a little more cornstarch.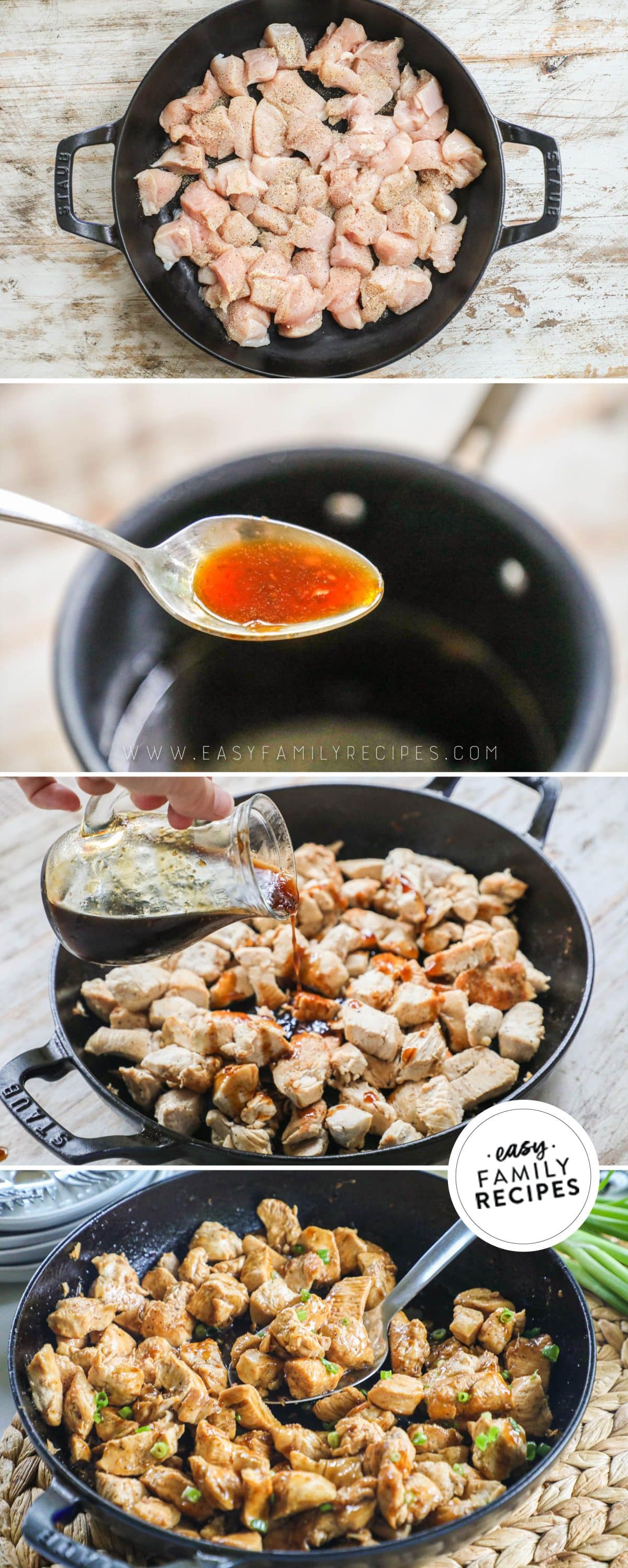 Recipe Tips
Keep it even – When cutting up the chicken, try to keep the pieces as similar in size as possible. If they are not the same size, they will all cook differently resulting in some pieces being dry because chicken must be cooked to 165 degrees at a minimum. This should be about 5-7 minutes if all your pieces are the same size.

Hot pan! For how to make chicken teriyaki perfect, make sure that your pan and oil is hot before adding the chicken. It should sizzle or applaud for you when you put the chicken in the pan. This is how you get a great crisp on the outside on the chicken.

Leave space – Use a large pan and leave space in between the pieces of chicken when cooking. This space allows air to circulate between the chicken to create that great sear on all sides. If the chicken is packed in together, the moisture will leave the chicken and end up steaming all the chicken making for a rather strange texture. If your pan is not big enough, you will need to cook the chicken in two batches.

The slurry is a must! Ok, let's talk about what a slurry is. A cornstarch slurry is when you mix cornstarch with cold water before adding it to a hot pan. This is to ensure the corn starch does not seize when it hits the hot pan or liquid. To ensure the slurry works, the cornstarch must be fully incorporated into the water and the consistency should be pourable but thick.

Make the sauce how YOU want – I am very particularly to the thickness of my teriyaki sauce and I like to think this recipe is perfect but if you have a different sauce preference – that's good too! To make your sauce thinner, either add less corn starch or don't boil as long. To make your sauce thicker, add more cornstarch or boil longer. And if you like a really smooth sauce (without chunks of garlic and ginger), you can strain those bits out after the sauce comes together.

Let it cool – With cornstarch, the teriyaki sauce will continue to thicken as it cool so I recommend giving it about 5 minutes to cool and fully set before tossing with the chicken. Otherwise, it may absorb into the chicken
Recipe Short Cuts
If you need to make this recipe, but are extra short on time, here are a few ideas that can help make this recipe even faster!
Make the sauce – Since this sauce can be kept for 7 days in the fridge, you can make it and store it up to a week and use it whenever you want to toss the chicken it in. This would cut the time down to however long it takes you to cut and cook the chicken!

Mix together ingredients – If you don't want to fully make the sauce, you can mix everything together in a jar except the cornstarch and cold water. Then, when ready to make the sauce, everything is already portioned out and you just have to pour it into a pan.
Recipe Variations
If you love this recipe as much as we do and want some quick ways to change it up for variety, these little tips will do the trick!
Baked Teriyaki Chicken Thighs – You can use chicken thighs marinated in the teriyaki sauce ingredients (minus the cornstarch slurry) and baked, Then after out of the oven, brush the thighs with the sticky and delicious fully prepared teriyaki sauce and serve.

Spicy Chicken Teriyaki – This is my favorite way to jazz up teriyaki sauce! Add 2 tablespoons of Sriracha to the teriyaki sauce mixture for a spicy take on this chicken teriyaki sauce recipe.

Teriyaki Chicken Noodles – Like Chow Mein noodles but homemade and even better! For this, you can make the chicken as this recipe says but also boil a pot of rice noodles, ramen, spaghetti, or bucatini pasta at the same time. When the sauce is done, toss the noodles and chicken all together in the sauce.

Teriyaki Chicken and Broccoli – There is nothing like a sweet sauce to entice little ones to eat broccoli! I like to roast broccoli in the oven and then toss it with the chicken and teriyaki sauce o everything tastes sweet and delicious!

Teriyaki Chicken Skewers – For this variation, I like to cut the chicken a little larger, into 1-2″ cubes and skewer onto oven or grill safe skewers. Then brush each side with teriyaki sauce and bake or grill. Cook for 3-4 minutes per side and then brush once more with teriyaki sauce after cooking for super saucy and delicious skewers.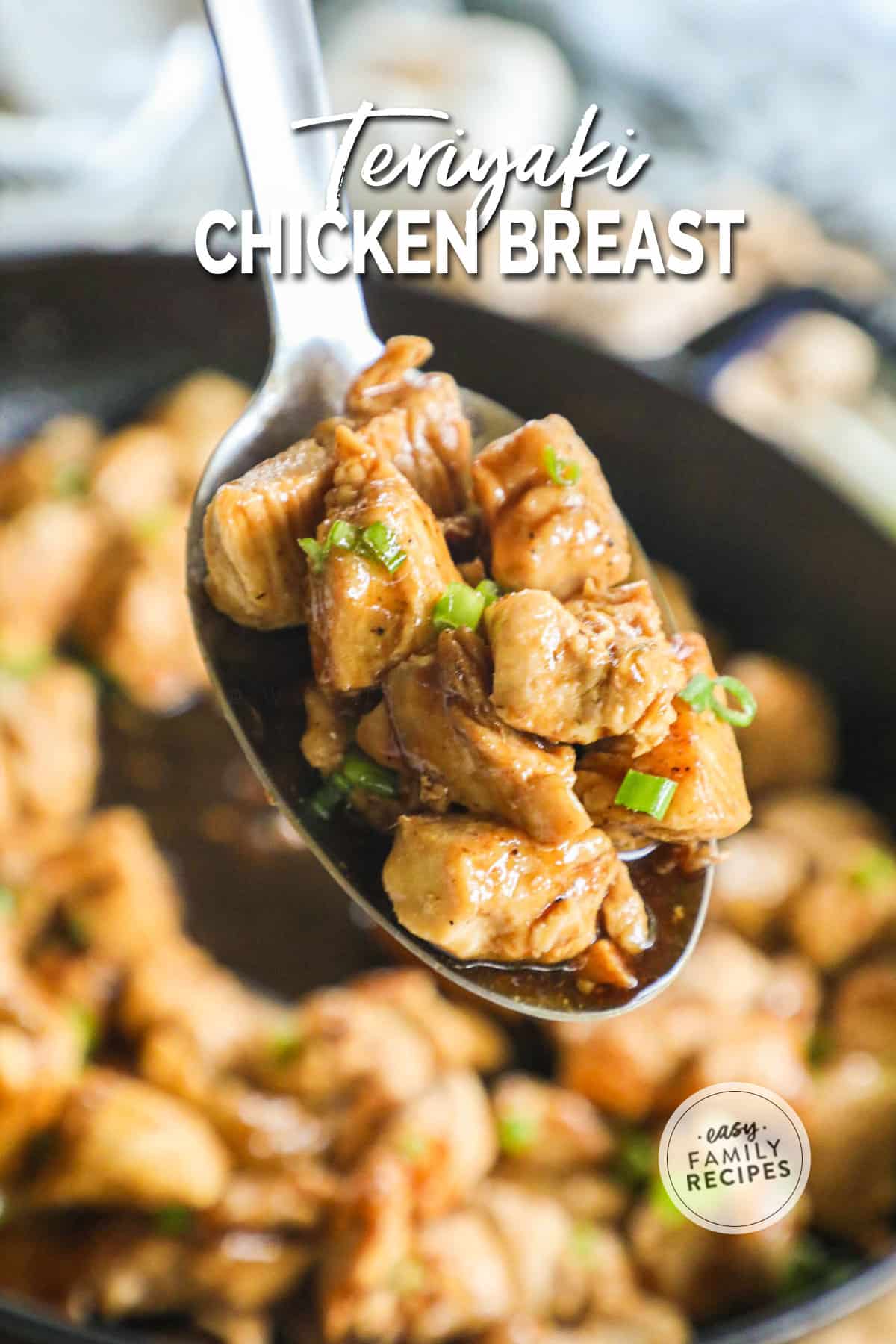 Freezer Meal Instructions
Making this homemade teriyaki chicken recipe into a freezer meal is simple! Follow the steps below and you can store this recipe in the freezer for up to 6 months.
Make the chicken as directed and the sauce as directed but don't combine!
Store the sauce in an airtight container and store the chicken in a plastic bag or air tight container.
These will keep for up to 6 months in the freezer. When ready to eat, let them each thaw in the fridge the night before.
Once thawed, add both to a hot pan and quickly stir to combine and toss together.
Enjoy!
Chicken Teriyaki Leftovers
If you have leftovers after making teriyaki chicken, then it is your lucky day! They save and reheat well, and can make the start of another delicious dish. Jut be sure to store the sauce and chicken separate.
To save leftovers, separate into meal sized portions and then place in an airtight container and store:
the chicken will keep in the refrigerator for 3-4 days and the sauce will keep for up to 7-10 days
in the freezer up to a month
Note that when storing this the meat does soak up the sauce, so if you want to keep that sticky consistency of the the teriyaki chicken, I recommend storing the sauce separately, or making extra to add when you reheat.
Leftover Recipes
Now that you have learned how to cook teriyaki chicken, here are a few ways to repurpose any leftovers (or just use it in general!) and give them a delicious makeover!
Teriyaki Chicken Bowl – For a bowl, you can use microwave or homemade rice, add some fresh or stir fry veggies and top with this teriyaki chicken and any extra sauce.

Teriyaki Chicken Wrap – To make a wrap, add all the same ingredients from the bowl into a tortilla and enjoy on the go!

Teriyaki Chicken Salad – For a low carb take on these leftovers, enjoy this chicken over a bed of greens, with fresh carrots, cucumbers, and red onions, and crispy cashews.
More Quick and Easy Chicken Recipes
If you enjoyed this recipe, I really hope you will take a moment to grab a few more easy recipes for another busy night!
You can check out all of my easy chicken recipes recipes here, or see a few of our readers favorite recipes below.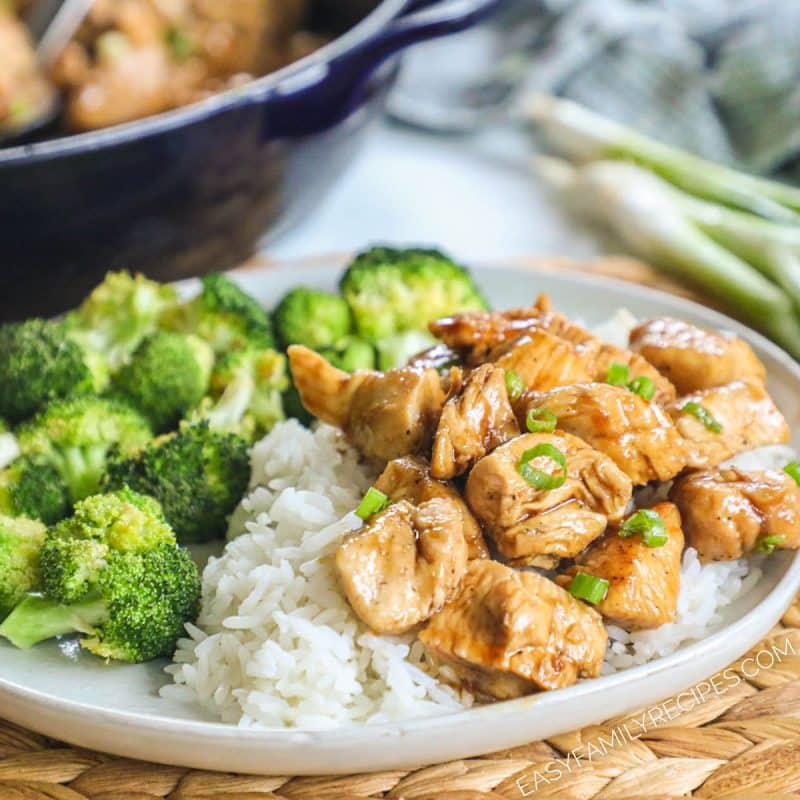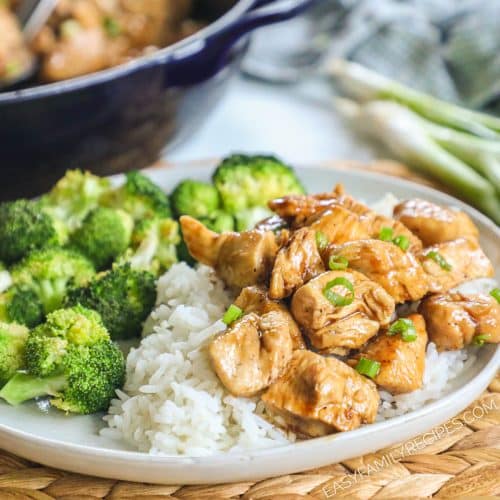 Easy Teriyaki Chicken Breast – Mall Teriyaki Chicken
Enjoy this super quick and easy teriyaki chicken that is packed with flavor on a busy weeknight. In only 15 minutes, you will have the perfect family friendly meal.
Ingredients
For the Chicken
2.5

pounds

boneless skinless chicken breast

,

or thighs

1

teaspoon

garlic powder

1

teaspoon

salt

1/2

teaspoon

black pepper

1

tablespoon

sesame oil
For the Teriyaki Glaze
1/2

cup

soy sauce

1/4

cup

water

1/4

cup

brown sugar

1/4

cup

honey

1

tablespoon

rice vinegar

2

teaspoons

minced garlic

1

teaspoon

minced fresh ginger

1

teaspoon

sesame oil

1

tablespoon

cornstarch

2

teaspoons

cold water
Garnish
finely chopped green onions
Instructions
To make the Teriyaki Glaze
In a small pot, add soy sauce, water, brown sugar, rice vinegar, honey, garlic, ginger, and sesame oil.

Combine cold water and cornstarch in a small bowl and mix until it forms a thin paste or slurry. Pour into the pot and stir to incorporate.

Bring to a rolling boil and cook for 1 minute, then reduce heat to low and continue to simmer 3-4 minutes to thicken the teriyaki sauce.

Remove the sauce from heat. The sauce will continue to thicken as it cools.
To make the chicken
Heat 1 tablespoon sesame oil in a large skillet over medium high heat.

Cut chicken into 1 inch chunks. Season with garlic powder, salt, and pepper.

Once skillet is hot, add chicken to the skillet. Let sit without stirring 3 minutes, then stir and continue to cook for 2-3 minutes until done (165˚F internal temp.)

Remove chicken from the skillet and toss with teriyaki sauce. Garnish with green onions. Serve immediately.
Recipe Notes
Optional: If you prefer a completely smooth teriyaki sauce, strain the sauce right after you remove from the heat to catch the bits of garlic and ginger. 
If you prefer thicker teriyaki sauce, you can either add more cornstarch in step 2, or simmer the sauce longer in step 3 until you have the desired consistency. Remember the teriyaki sauce does continue to thicken as it cools.
Store extra teriyaki sauce in the refrigerator for 7-10 days.
Nutrition Information
Serving:
1
tablespoon
,
Calories:
341
kcal
(17%)
,
Carbohydrates:
24
g
(8%)
,
Protein:
42
g
(84%)
,
Fat:
8
g
(12%)
,
Saturated Fat:
2
g
(13%)
,
Polyunsaturated Fat:
2
g
,
Monounsaturated Fat:
3
g
,
Trans Fat:
0.02
g
,
Cholesterol:
121
mg
(40%)
,
Sodium:
1691
mg
(74%)
,
Potassium:
774
mg
(22%)
,
Fiber:
0.3
g
(1%)
,
Sugar:
21
g
(23%)
,
Vitamin A:
58
IU
(1%)
,
Vitamin C:
3
mg
(4%)
,
Calcium:
25
mg
(3%)
,
Iron:
1
mg
(6%)