This Crock Pot Southwest Chicken is an easy dinner, that kids and adults both love!  Packed with lots of wholesome veggies, the slow cooker does the heavy lifting in cooking the perfectly seasoned chicken breast, for a hands off dinner that is ready when you are.
Delicious Crock Pot Chicken Recipe
When it comes to the slow cooker, things can get boring and old really quickly if you don't do it right!
This Southwest Chicken is the RIGHT way to do a crockpot meal!
There are a few things that makes this way better than your average slow cooker recipe:
A delicious seasoning blend keeps the chicken flavorful
It is packed with veggies
The chicken cooks the perfect amount of time so that it isn't dry and chewy
Not only is it delicious as is, but it makes a great base for meal prep, or other dinners throughout the week or month. (Make sure and see the leftover recipes below!)
Now if I am talking your language, keep reading as I walk you through how to get the absolute best results for this crock pot chicken breast recipe!
Note: If you are looking for a delicious Southwest Chicken recipe, but don't want to use the crock pot, see my Southwest Chicken Casserole recipe here!
How to Serve Southwest Chicken
Since this is a Crock-Pot recipe, the chicken will be super tender. You can serve the chicken breasts whole with the veggies topping it, or you can easily shred the chicken and mix it in with the toppings as an alternative.
Since the dish is packed with veggies, protein, grains, and legumes so it really can be an all in one meal- no extras needed.
Pile it in a bowl
Wrap it in tortillas
Serve it over rice, or cauliflower rice – Give a few topping options for a fun make your own "burrito bowl" dinner.
However, if you want to add a little something, stretch the meal, or serve a crowd, you can pair this dinner with a few dishes to top it or serve it with to round out the meal.
Topping Options:
Guacamole
Sour Cream
Salsa
Cheddar cheese
Diced green onions
Side Dish Options:
Street Corn Casserole
Green Chile Cheddar Mashed Potatoes
Mexican Rice
Mexican Corn Salad
Homemade Buttermilk Cornbread
You can pick one, or pick a few! If you have other serving ideas you love, leave me a note in the comments so I can try it out.
Tips for Making Southwest Chicken in the Crock Pot
This recipe is simple as promised, but since I get folks of all different experience levels in the kitchen visiting my blog, I like to include a lot of detailed tips and notes to help you get the ABSOLUTE BEST result from your meal.
Hopefully this will answer any questions that might arise as you are cooking. If not, feel free to leave me a note in the comment section below.
Scroll to the bottom of this post for the FULL printable recipe card.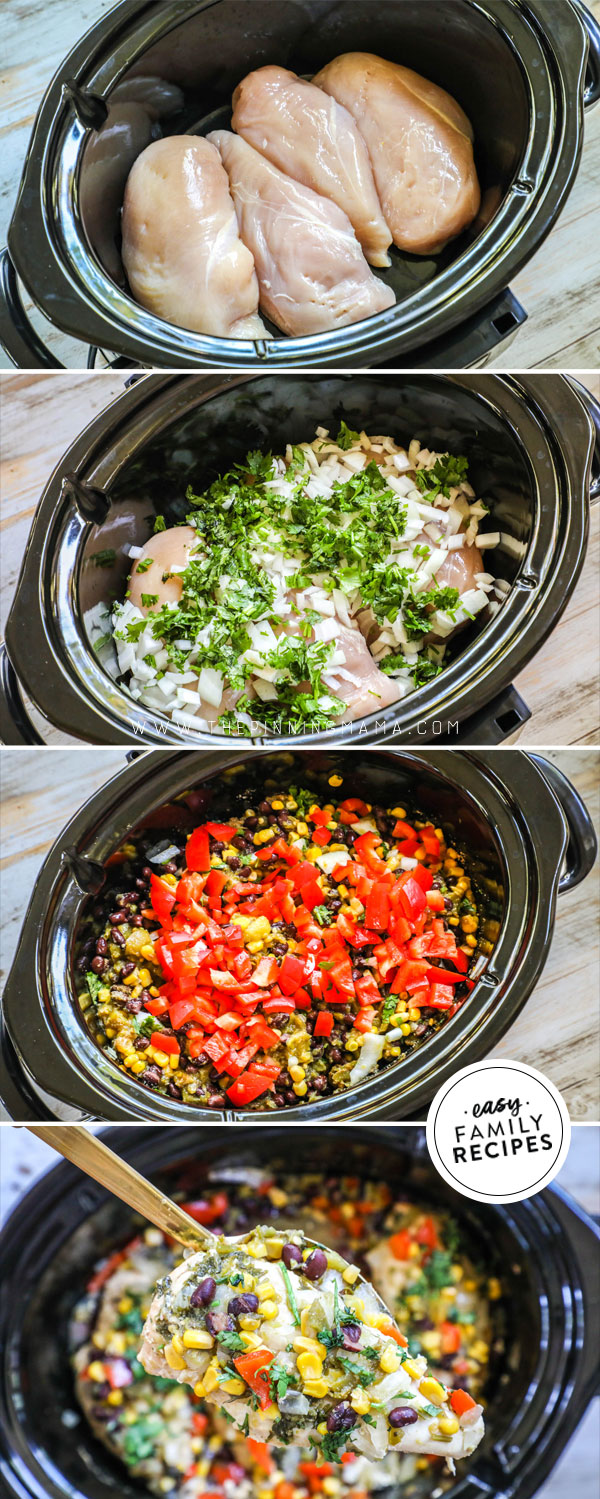 The Chicken
This recipe calls for boneless, skinless chicken breast. Chicken breast cooks well in the slow cooker and is a lean and healthy cut of meat.
If you prefer, you can use other cuts of boneless skinless chicken, such as chicken thighs or chicken tenderloins.
The Veggies
This dish is wholesome and packed with veggies, grains and beans! We load it up with:
black beans
corn
green chiles (these are mild)
onion
sweet red bell pepper
These flavors work extra well together and give the chicken that great southwest twist.
You can also play around with the toppings a bit to add or omit things to preference. For example, you could use pinto beans instead of black beans, leave out the onions if your kiddos won't eat them, or throw in some carrots if you have some that you need to use in the fridge. It can be flexible!
The Spices
To pull the Southwest flavor together, we use a simple blend of spices that flavors the dish perfectly.
For the mixture you just need 4 things!
Salt
Cumin
Garlic Powder
Fresh cilantro
The lime juice pulls it all together and it blends into the dish as it cooks.
How long to Cook the Chicken in the Crock Pot
Once the ingredients are in the crock pot, all that is left to do is cook it!
I recommend cooking the chicken for 2.5-3 hours on high. This will make your chicken nice and tender without over cooking it so it becomes dry and chewy.
If you need a longer window, you can use the low setting for 3.5-4 hours.
I like to avoid leaving the chicken in the slow cooker longer than that because since chicken breast is a lean cut, even though the crock pot prevents the dish from burning, it still be be over-cooked resulting in that familiar fall apart-dry-chewy texture.
What to do if there is a lot of liquid
Depending on the chicken you use, as well as the moisture content of the veggies, you could have some extra liquid in the crock pot after cooking.
If you find yourself with more than you want, you can either serve the chicken and veggies with a slotted spoon and discard extra liquid at the end, or drain the extra liquid from the pot after cooking but before serving. Careful if you choose this method because it is hot!
Additionally, if you choose to shred the chicken, you can drain the liquid, reserve about 1/2-1 cup and mix it back in with the shredded chicken to keep it moist.
Recipe Variations
If you want to change things up a bit, here are a few ideas to dress this meal up in a new way.
Creamy Southwest Chicken– Make the Southwest chicken as directed. At the end, drain any additional liquid that has accumulated, then shred the chicken. Add 4 oz (1/2 block) of cream cheese to the slow cooker. Let it sit for 5 minutes to soften then stir it in. Then stir in 1/2 cup of sour cream.
Ranch Southwest Chicken– Reduce the salt, cumin, and garlic powder to 1 tsp each. After placing the chicken in the slow cooker, season with 1 packet of dry ranch mix on step 2. Then continue with the recipe mixing the remaining seasonings into the veggies as directed in step 3. Cook as directed.
Cheesy Southwest Chicken– Cook recipe as directed. Once done, drain any additional liquid and shred the chicken. Add 8 oz (1 block) cream cheese to the mixture and 4 oz sharp cheddar cheese. Mix to combine. Sprinkle additional cheese on top if desired.
Southwest Chicken Recipe Short Cuts
This is a pretty fast recipe, however there is a little bit of prep involved. If you want to make this recipe even quicker, I have a few short cuts to share to get it cooking fast.
Pre-cut your veggies- You can dice the pepper, onion, and cilantro up to 48 hours in advance and store in the fridge -OR- buy pre-cut veggies at the store.
Bake instead! If you don't have hours to cook in a slow cooker you can use this Baked Southwest Chicken recipe and have it done in under an hour!
Prepare as a freezer meal – This allows you to have everything ready to go and just needs minutes to dump into the crock pot and set the timer. See full directions below.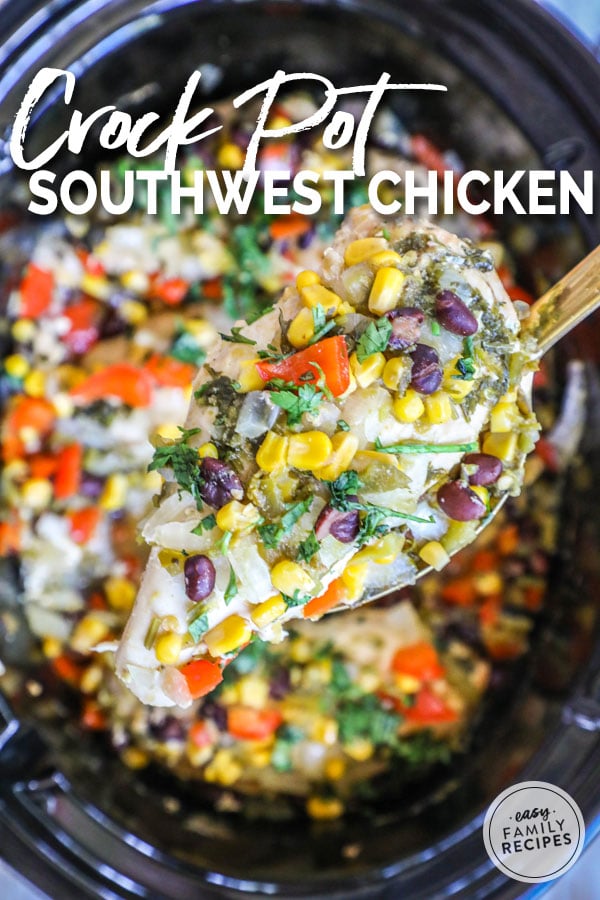 Southwest Chicken Freezer Meal Instructions
Most crock pot chicken breast recipes make great freezer meals, and this one is no exception! You can prepare this for freezing quickly, then keep this meal handy in the freezer for up to 3 months, when you need a meal without thinking.
Stir together the beans, corn, green chiles, onion, red bell pepper, cilantro, half of the spices, and lime juice until combined.
Place the mixture in a freezer bag, or air-tight container.
Lay the chicken on top and sprinkle the remaining spices directly on the chicken.
Freeze.
When ready to cook, thaw for 24-48 hours in the refrigerator.
Transfer to crock pot and cook as directed.
Southwest Chicken Leftover Recipes
If end up with extras and are wondering, "What do I do with leftover Southwest Chicken?"
You are in luck my friend!
There are several easy meals you can make using leftover Southwest Chicken that make your family feel like they are eating a completely fresh, new meal and save you tons of time in cooking!
Southwest Chicken Enchiladas– Take remaining southwest chicken and shred it and mix in with the veggies. Place a generous spoonful inside a tortilla and add a sprinkle of Mexican blend cheese. Roll up and place seam side down in a casserole dish. Cover with green enchilada sauce and more cheese. Bake at 350˚F for 25-35 minutes or until heated through.
Southwest Chicken Salad– Drain any excess liquid from the chicken and veggies and dice the chicken. On a bed of chopped romaine lettuce, add a scoop of the chicken and veggies. Add sliced avocado and halved cherry tomatoes. Drizzle with ranch dressing.
Southwest Chicken Tostadas– Drain any excess liquid from the chicken and veggies and dice the chicken. Lay tostada shells on a baking sheet. Spread refried beans on each shell. Pile Southwest Chicken and veggies onto each one and cover with shredded cheese. Bake at 350˚F until cheese is melted and the meat is heated through. Top with shredded lettuce, a spoonful of salsa, and sour cream.
Southwest Chicken Club Wrap– Mix 1 tbsp mayonnaise with 1/4 tsp chili powder. Spread on wrap bread or a large tortilla. Add shredded Southwest Chicken and veggies, cheddar cheese, crumbled bacon and shredded lettuce. Wrap up, cut in half and enjoy!
Give me more EASY CROCKPOT Recipes!
If you love to use your crock pot to save time making dinner, I hope you will grab some more of my easy and delicious recipes!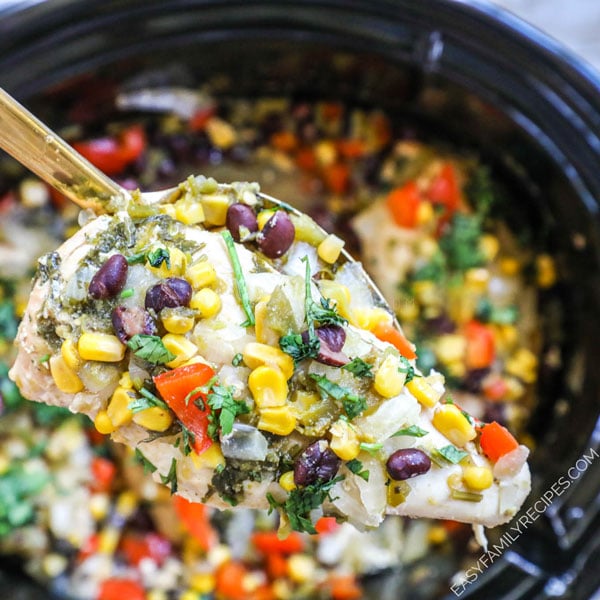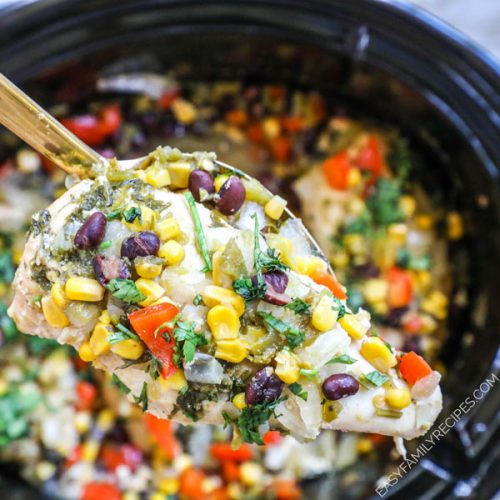 Crock Pot Southwest Chicken
This Southwest Chicken is made easy in the crockpot with tons of veggies for a wholesome dinner. Serve it over rice or in a bowl topped with guacamole and sour cream for a delicious meal.
Ingredients
3

lbs

chicken breast

,

boneless, skinless

15

oz

black beans,

(1 can) drained and rinsed

15.25

oz

whole kernel corn

,

(1 can) drained

9

oz

chopped green chiles

,

(2 cans)

1

sweet yellow onion

,

chopped

1

red bell pepper

,

chopped

1/4

cup

cilantro

,

chopped

2

tsp

salt

2

tsp

cumin

2

tsp

garlic powder

1

lime

,

juice of
Instructions
Mix the salt, cumin, and garlic powder together.

Place the chicken breast in the bottom of the slow cooker and sprinkle half the seasoning mixture on top.

Layer the beans, corn, green chiles, onion, red bell pepper, cilantro, remaining spices, and lime juice on top of the chicken and stir to combine.

Cook on high for 2.5-3 hours, or low for 3.5-4 hours or until the chicken reaches an internal temperature of 165˚F.

Serve as full chicken breasts with toppings, or shred chicken and mix with toppings. Pairs well with rice or tortillas. Enjoy!
Nutrition Information
Serving:
12
oz
,
Calories:
335
kcal
(17%)
,
Carbohydrates:
27
g
(9%)
,
Protein:
43
g
(86%)
,
Fat:
6
g
(9%)
,
Saturated Fat:
1
g
(6%)
,
Cholesterol:
109
mg
(36%)
,
Sodium:
999
mg
(43%)
,
Potassium:
1020
mg
(29%)
,
Fiber:
6
g
(25%)
,
Sugar:
3
g
(3%)
,
Vitamin A:
590
IU
(12%)
,
Vitamin C:
37.5
mg
(45%)
,
Calcium:
49
mg
(5%)
,
Iron:
2.8
mg
(16%)