This Creamy Italian Salad Dressing recipe is beyond delicious! Made with the perfect combination of Italian seasoning blend, vinager and lemon juice, and parmesan cheese for loads of flavor. While it makes any salad amazing, but also can be used as a dip or spread as well!
Salad Dressing – The EASY Way!
Bold statement: If you aren't making and using homemade salad dressings, then you are just missing out on life!
My friends might tell you I eat a lot of salad, some of them are even super surprised that my kids love salad too!
I will share my secret with you.
When you have creamy, luscious salad dressing literally dripping with flavor enveloping every bite, salad doesn't feel like a healthy excuse for a meal, it feels like an indulgence. That piece of lettuce you see is purely an excuse to get that delicious dressing to my mouth. My kiddos feel the same way!
The real kicker is that Homemade Salad Dressing IS SO EASY TO MAKE!
No lie.
You basically dump the seasonings in, mix with something acidic and an oil, and let the magic happen.
This Creamy Italian Dressing is no exception. It is super easy to make and the flavor will have you looking for excuses to eat salad (or dip veggies, or drizzle on a sandwich, but more on that below.) Try it once and you will see how much better homemade is than Olive Garden Italian Dressing, Pizza Hut Italian Dressing, and Ken's Creamy Italian dressing!
Uses for Creamy Italian Dressing
Italian dressing is one of the most classic and iconic of all salad dressings. This creamy version takes it up a notch. It will make a killer salad, but don't stop there. We use this dressing for so many dishes from appetizers, to main dish, to snacks.
I am going to share a few of my favorites, but the sky is the limit here. There are so many more ways to enjoy it!
Salads that are good with Creamy Italian Dressing
Side salad- I most often just throw together a side salad with what I have in the fridge. Romaine or mixed greens, carrots, cucumber and tomato. Add some parmesan if we have it and drizzle with Creamy Italian.
Italian Chopped Salad- Make this with romaine, green pepper, tomatoes, cucumber, artichoke hearts, and provolone cheese slices.
Pasta Salad– this rotini salad calls for this dressing!
Antipasto Salad– Like a charcuterie in a bowl! A mixture of cured meats, veggies, and cheeses are perfectly complimented with this Homemade Italian Dressing.
Tortellini Salad– Super quick and easy, and great for lunches!
Other uses for Creamy Italian Dressing
Chicken Marinade– Italian Dressing makes for a wonderful chicken marinade! The acidity of the dressing helps to make the meat extra tender. Just add about 1/2 cup of dressing per pound of chicken for maximum flavor
Roasted Veggies– Vegetables like bell pepper, squash, cauliflower, and broccoli can be tossed with balsamic dressing and then baked on a sheet pan at 425˚F for 15-20 minutes for super flavorful and healthy side dish.
Brussels Sprouts or Asparagus– Roast brussels sprouts or Asparagus and then drizzle the Creamy Italian dressing over it for a burst of flavor.
Sandwich Spread– Spread this dressing on the inside of each slice of bread and then continue to build your sandwich masterpiece.
Veggie Dip– The vegetables won't have a chance to compete on a veggie tray with Creamy Italian in the center for dipping.
Recipe Notes
This Creamy Italian Salad Dressing recipe is as simple as promised! Just a few everyday ingredients will give you such flavor filled results.
In this section I am going to go through a few tips and tricks I use when making this recipe to get the absolute best and most delicious results.
Make sure to scroll to the bottom for the FULL recipe card.
Ingredients
Mayonnaise– You can use light mayo if preferred
Italian Dressing Mix – I HIGHLY recommend making this homemade version. Not only does it make the dressing even more delicious, but it is simple to make and keeps for up to a year so you can always have it on hand. If you want to go with store bought, I recommend Goods Seasons Zesty Italian dressing mix.
White wine vinegar
Grated parmesan cheese– make sure to use the finely grated (like a powder) not the shredded. I recommend trying to get a quality brand from the refrigerated section for the best flavor.
Fresh lemon juice– Use FRESH lemon juice! This will make the entire dressing taste like it is made from scratch and fresh even though we are using dried seasonings.
Only 5 ingredients but each one is so important! The mayonnaise adds the creaminess, the Italian dressing mix seasons it, the lemon juice and vinegar add the acidity every good dressing needs, and the parmesan adds a richness to the depth of flavor.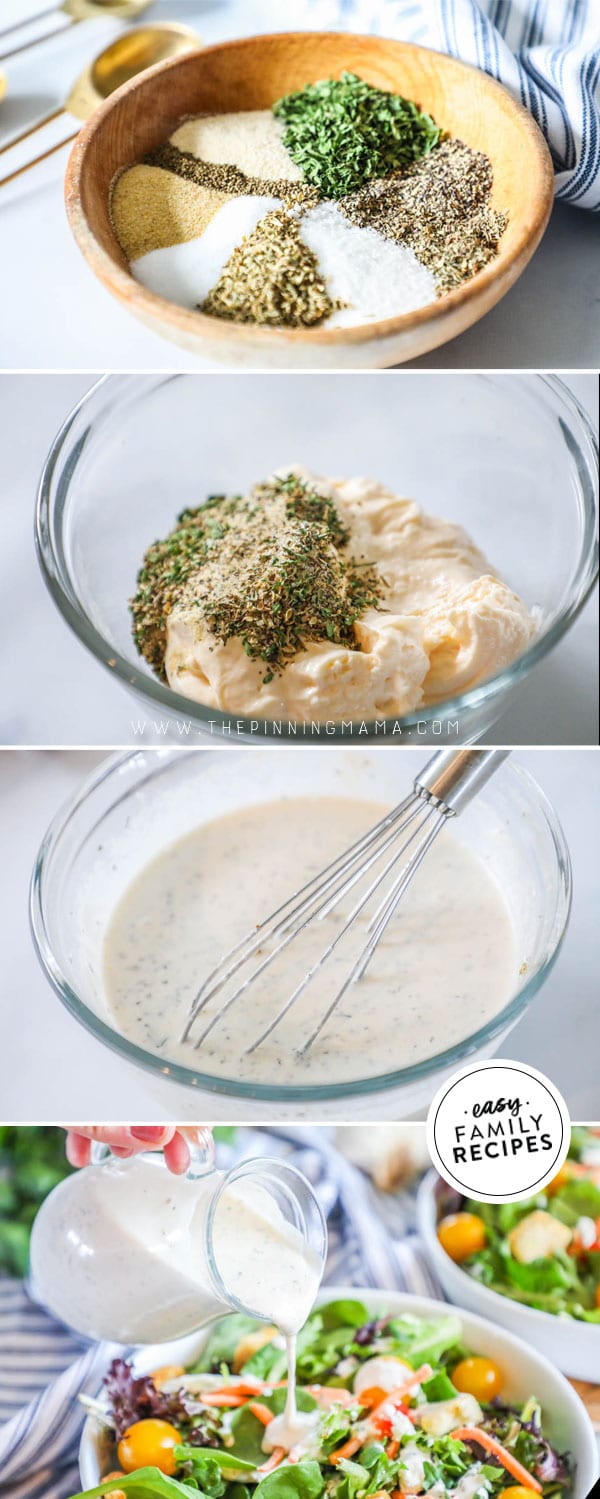 Recipe Tips
Two step mixing– I always recommend that you mix the seasonings and parmesan in with the mayonnaise first when making the Creamy Italian Dressing. Once they are combined then add in the liquids.

Whisk– When mixing the mayo mixture with the vinegar mixture, a whisk will make your life SO MUCH easier! It helps the thicker mayonnaise combine completely with the liquid without having lumps.

If you want less tang– This dressing is designed to have a tangy flavor provided by the vinegar and lemon juice. If you prefer less tanginess for a smoother flavor, you can add and additional 1-2 tsp of sugar to the seasonings which will cut the acidity.

Let it sit– Although you can start using this dressing as soon as you finish making it, the longer it sits and marinates with the seasonings and parmesan the more fragrant and flavorful it will be. This dressing is the best after sitting overnight in the refrigerator.

Mix before serving– Once you store this in the fridge, it could begin to separate. Even if you don't see this happening (it may not) I would still recommend giving the bottle a good shake or stir before serving in case anything has settled.
Dietary Considerations
If you have special dietary needs, this recipe can be compliant or easily modified to meet many requirements.
As always, check all store bought ingredients for compliance on specific dietary needs. The notes below are a general guide.
Gluten free: This Creamy Italian dressing is naturally gluten free

when using homemade Italian Dressing Mix

Nut free: This dressing recipe is naturally nut free
Egg free: This recipe can be made egg free by using vegan mayonnaise.
Vegetarian: This recipe is naturally Vegetarian.
Low carb/Keto: This recipe is low carb and keto friendly at only 1g net carbs per serving.
Macros: The approximate macro calculation for this recipe is- P: 1g C: 1g F: 12g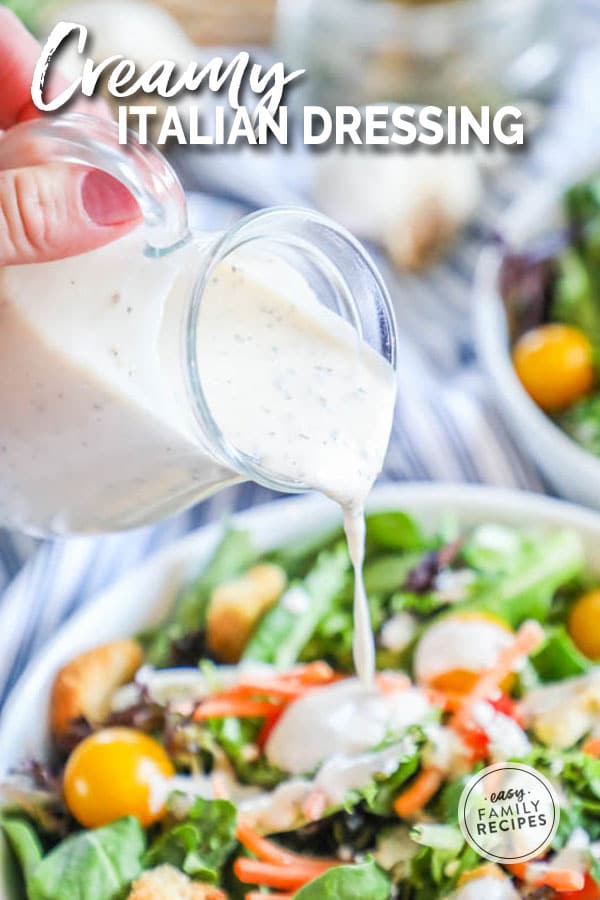 How to Store Homemade Creamy Italian Dressing
Creamy Italian Dressing should be stored in the refrigerator. It will generally stay good for up to two weeks. I have also had it last even longer!
When you are ready to serve, make sure to shake or mix well to redistribute all of the flavors evenly.
More Homemade Salad Dressing Recipes
If you enjoyed this recipe, I really hope you will take a moment to grab a few more easy recipes for another busy night!
You can check out all of my EASY salad recipes here, or see a few of our readers favorite Salad Dressings made from scratch below.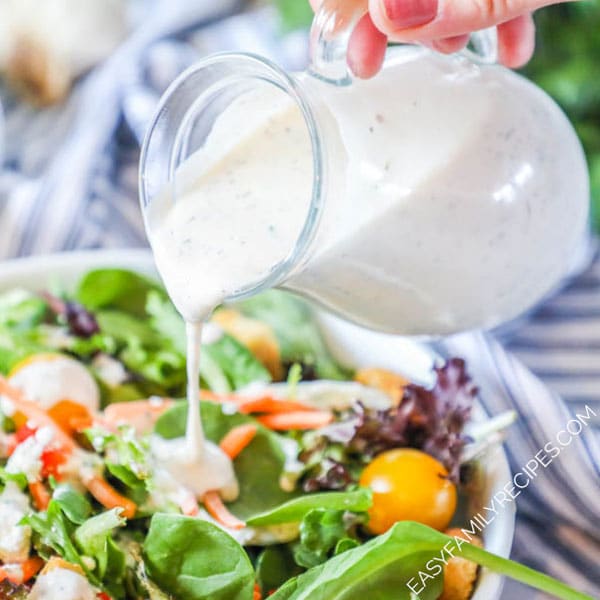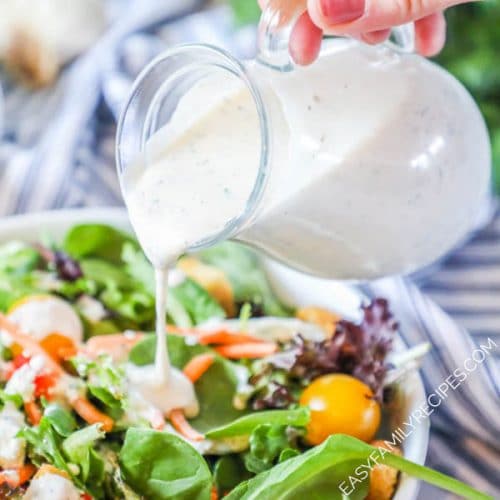 Italian Dressing
This Creamy Italian Dressing is the perfect way to finish a salad. The special blend of spices combined with the tangy lemon and creamy texture make an irresistible combination. Besides a salad dressing, try using this Creamy Italian for a dip, or spread for sandwiches.
Ingredients
1

cup

mayonnaise

2

tbsp

Italian Dressing Mix,

Homemade or Store bought

1/3

cup

white vinegar

1/4

cup

grated parmesan cheese

2

tbsp

lemon juice
Instructions
Mix the mayonnaise with the Italian dressing mix and parmesan cheese.

Whisk in the vinegar and lemon juice until smooth.

Store in an airtight container in the refrigerator until ready to use. Enjoy!
Recipe Notes
This dressing is designed to be a bit tangy from the vinegar and lemon juice. If you want it to be less tangy, you can mix in an additional 1-2 tsp of sugar to cut the acidity further and make it a little smoother.
Nutrition Information
Serving:
2
tbsp
,
Calories:
119
kcal
(6%)
,
Carbohydrates:
1
g
,
Protein:
1
g
(2%)
,
Fat:
12
g
(18%)
,
Saturated Fat:
2
g
(13%)
,
Cholesterol:
8
mg
(3%)
,
Sodium:
189
mg
(8%)
,
Potassium:
3
mg
,
Sugar:
1
g
(1%)
,
Vitamin A:
26
IU
(1%)
,
Vitamin C:
1
mg
(1%)
,
Calcium:
21
mg
(2%)
,
Iron:
1
mg
(6%)