This easy Chicken Cordon Bleu Casserole is the easiest and tastiest way to make the flavors of Chicken Cordon Bleu on a busy weeknight. With only a few simple ingredients you can have this prepped and in the oven in as little as 15 minutes. Tender chicken breast is layered with ham and a flavorful sauce, then topped with cheese and a crispy bread crumb topping for a subtle crunch. For as easy as this is to make, you won't believe how delicious it is!
What is the recipe for the perfect weeknight dinner? Well… if you ask me it goes something like:
Easy + Delicious + Something kids will eat without complaining = Dinner Winner
This Chicken Cordon Bleu Casserole recipe was born part out of inspiration and part out of necessity to get dinner on the table fast.
The great thing about this dinner is that it has the grown up flavors we know from chicken cordon bleu, all combined in one ridiculously easy to make, and super creamy and kid friendly casserole. Since it is made in one dish, not only do you get it in the oven fast, but you also have almost no clean up at the end.
Before we get too far in the recipe, I would love to mention two things… First, I want to invite you to join me in my Hungry Email Club.
If you need lots of easy dinner inspiration, like this recipe, sign up for my weekly email and get new ideas to your inbox each week. Click here to sign up or on the button below.
Second, if you need a list of ideas pronto, I have a whole list of easy chicken recipes to get you going fast here! Consider that your jump start!
What's in Chicken Cordon Bleu?
A traditional Chicken Cordon Bleu recipe has a few components:
Chicken Breast
Ham
Swiss Cheese
Dijon Sauce
Crispy Coating
This casserole is inspired by Chicken Cordon Bleu, but it is not a strictly classic recipe. I modified it to be something really family friendly and really quick and easy to make, so even though it isn't the most traditional recipe, it is absolutely delicious and has been a huge hit with both our family and our guests. I will tell you in the recipe where you can substitute ingredients to make a more traditional chicken cordon bleu casserole.
How to Make Chicken Cordon Bleu Casserole
Follow along here where I will talk all about how to make this chicken cordon bleu casserole in detail with all of my note, tips and tricks for the recipe. If you are just looking for a quick version, scroll to the bottom for the recipe card.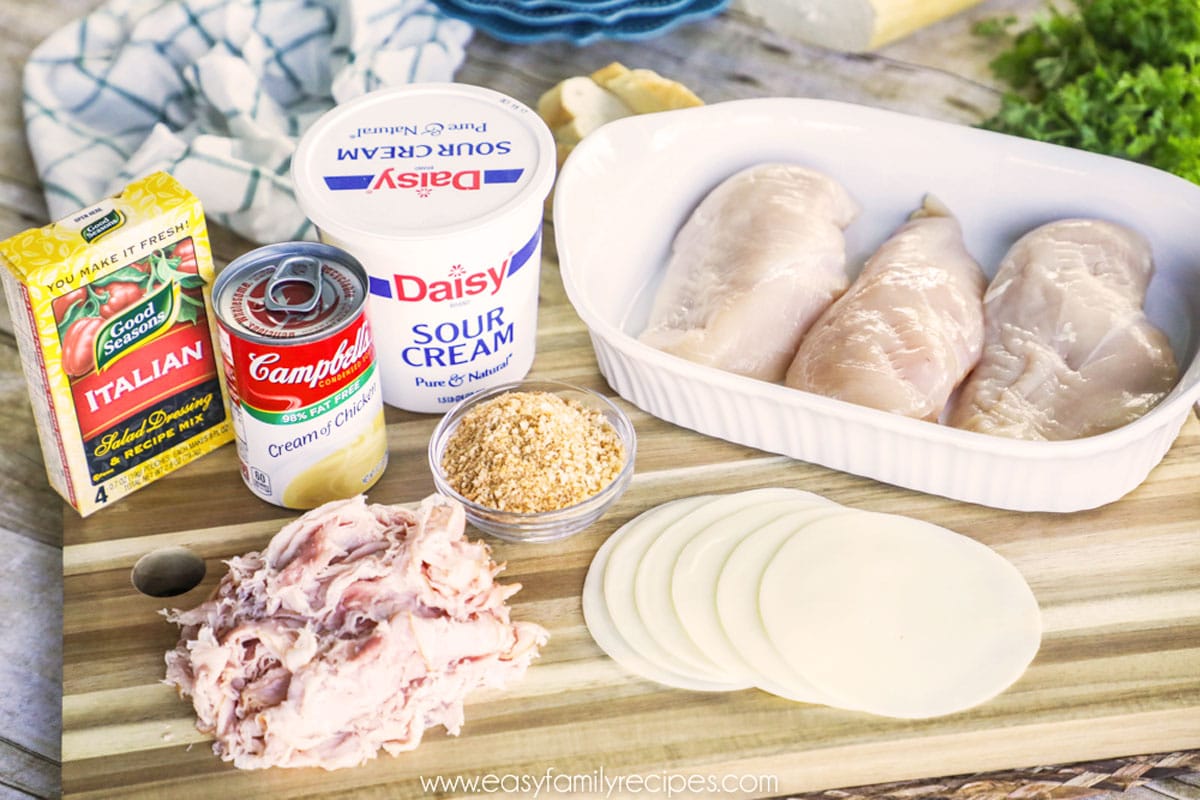 Chicken Cordon Bleu Casserole Ingredients
Boneless, skinless, chicken breasts– This will be about 1.5 pounds. If your chicken breasts are small you might can use 4. If your chicken breasts are extra large, you might want to butterfly them before putting them in the casserole dish so that they cook more quickly.

Shaved ham- If you have a favorite brand, you can use it! I am pretty picky about my meats so I used Boar's Head Black Forest Ham. Make sure to use a ham that has great flavor so that it keeps the dish super flavorful. This is also a great recipe to use leftover ham. We love to make it from extras of our honey glazed ham!

Cream of chicken soup- I used Campbell's 98% fat free cream of chicken soup. You can also use the regular version.

Italian dressing mix- This isn't the most traditional way to make chicken cordon bleu sauce, but it makes the dish incredibly delicious without much effort so it is a huge win for me! You can use store bought or my homemade Italian Dressing Mix here!

Sour cream- You can use regular or light sour cream.

Dijon mustard- This helps add to the traditional flavor of chicken cordon bleu

Provolone cheese- Classic Chicken Cordon Bleu recipes always use swiss cheese. If you like swiss cheese, feel free to substitute it here. My kids don't really like swiss cheese, so to make it a bit more kid friendly I went with provolone in my recipe which is mild and compliments the flavors well.

Panko bread crumbs- I used unseasoned, but Italian style would work well too.

Salt & pepper
Step by Step Instructions for Chicken Cordon Bleu Casserole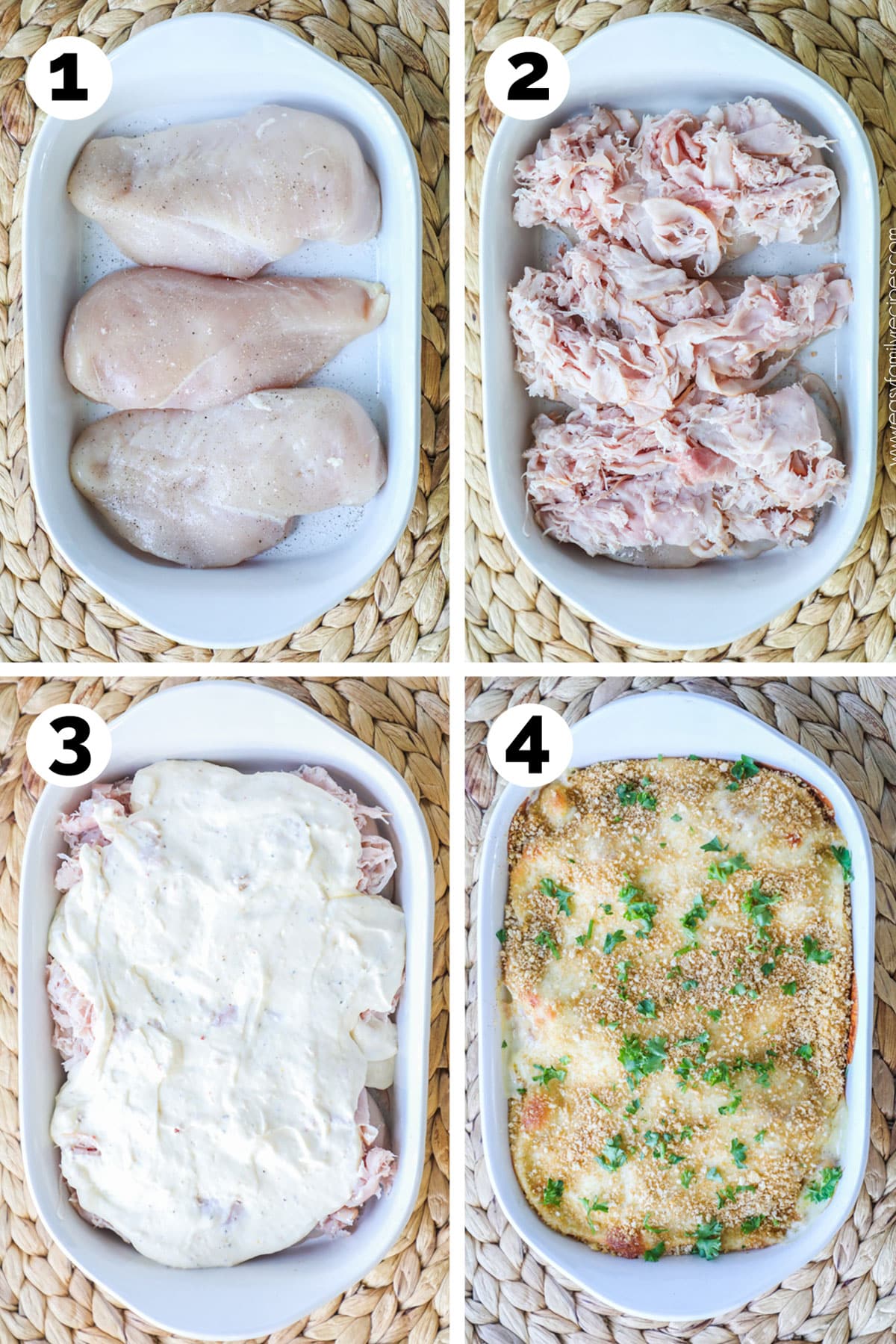 Lay chicken breasts in the casserole dish. Season with salt and pepper if desired.
Cover chicken breast with ham.
Combine soup, sour cream, dijon and seasonings and layer the dijon sauce over the ham.
Create the top layer with cheese and bread crumbs and bake.
Make sure to see the recipe card at the bottom of this post for full instructions on how to make Chicken Cordon Bleu Casserole.
Recipe Tips
Use thin chicken breasts– This will help the casserole cook more quickly and evenly. You can pound them out, butterfly them, or just buy thin style chicken breast. You can also cut it in chunks, which can be great for serving kids.

Scale– You can easily double or half this recipe if you need to feed more or less people. The double recipe works in a 9×13 inch casserole dish, and a half recipe can generally fit in a 9×9 in dish.

Don't over cook– The key to keeping the chicken breast tender and juicy is to make sure not to over cook it. You want to bake the chicken casserole until the chicken just reaches 165˚F, then remove and let it rest. This will help you get the most tender, juicy and delicious chicken! The time this takes can vary depending on many things so I like to use a meat thermometer to get it perfect.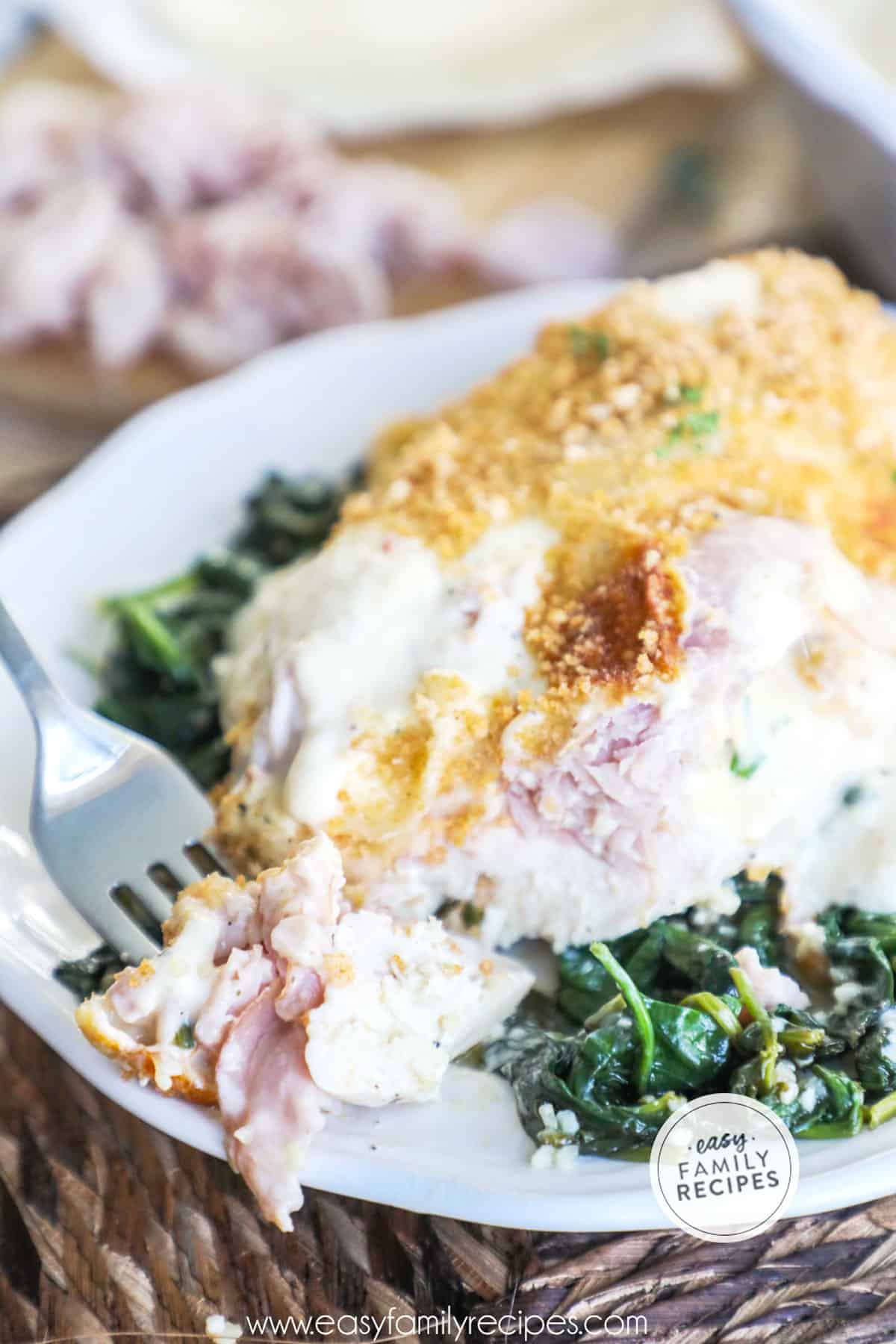 ❄️ Freezer Meal Instructions
Chicken Cordon Bleu Casserole can be easily prepared as a freezer meal to make on another busy night, or give to a friend in need.
Layer the chicken, ham, and dijon sauce in a casserole dish. Cover with cheese.
Cover the casserole dish with foil and plastic wrap, or place in a freezer friendly container.
Once ready to cook, thaw for 36-48 hours in the refrigerator.
Add the bread crumbs, and cook as directed.
For the best flavor, this meal can be frozen for up to 6 months.
How to Serve Chicken Cordon Bleu Casserole
Once you have this super easy Chicken Cordon Blue Casserole in the oven, you will have a few minutes to whip up a side to serve with it. Here are a few of my serving ideas:
Rice– Serve on a bed of your favorite rice. I used long grain wild rice the last time I made it!
Potatoes– You can serve the chicken cordon bleu casserole right on a bed of mashed potatoes which is really yummy with the sauce, or with a side of smashed potatoes.
Pasta– Serve with a side of pasta or right on top of your favorite kind.
Garlic bread– Serve with a big piece of crusty garlic bread. It is perfect for soaking up all of that flavorful sauce!
Low Carb Chicken Cordon Bleu Serving Options
➕ More Easy Casserole Recipes
If you enjoyed this recipe, I really hope you will take a moment to grab a few more easy recipes for another busy night!
You can check out all of my EASY casserole recipes here, or see a few of our readers favorite recipes below.
I genuinely hope that you enjoy this recipe as much as our family does. If you get a chance to make it, I would love for you to leave me a note in the comments. It makes my day to see that others are using my recipes to help get dinner on the table for their families. Or even better, snap a pic and tag me on Instagram @easyfamilyrecipes. It is so fun to see your creations!
Don't forget… to get more easy recipes like this each week, sign up for my Hungry Email Club! I'd love to have you join me!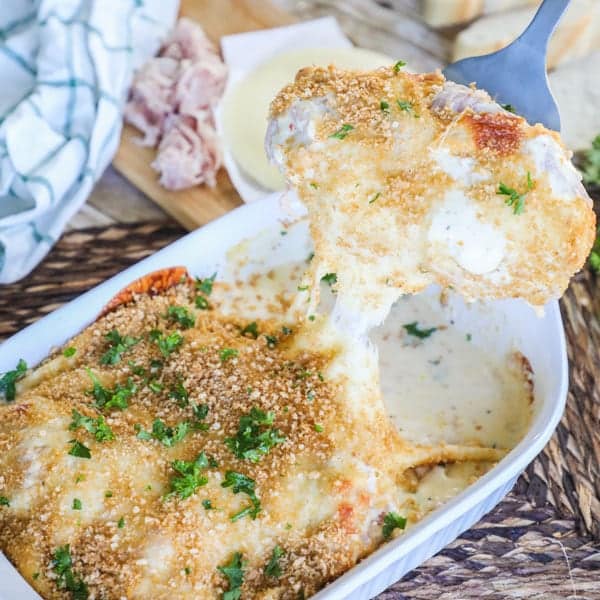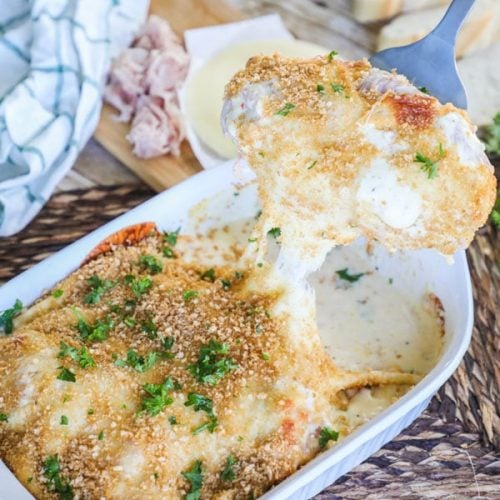 Chicken Cordon Bleu Casserole
This family friendly Chicken Cordon Bleu Casserole has everything you love about chicken cordon blue in a much quicker and easier dinner recipe. You can have this from fridge to oven in as little as 15 minutes and it is still packed with flavor!
Ingredients
3

chicken breasts

,

about 1.5 lbs

1/4

lb

shaved ham

2

cans cream of chicken soup

1

package Italian dressing mix

1

cup

Sour cream

1

tbsp

dijon mustard

6

slices

provolone cheese

1/2

cup

panko bread crumbs

Salt & pepper
Instructions
Preheat the oven to 375˚F.

In a medium bowl, mix the cream of chicken soup, sour cream, italian dressing mix, and dijon mustard until combined.

Lay the chicken breasts flat in the bottom of a large casserole dish. Divide the ham equally to the number of chicken breasts you have and lay it on top of each one. Then spread the soup mixture over the top of the entire casserole dish.

Lay the provolone cheese out evenly on top of the soup mixture.  Last, top the entire thing with the panko bread crumbs.

Bake on the middle rack of the oven for 40-50 minutes or until the chicken is cooked through to an internal temperature of 165˚F.

Serve hot and enjoy!
Recipe Notes
To freeze this to make another night, prepare the dish through step 3 and then freeze.  When you are ready to cook, dethaw the dish and pick up on step 4 topping with cheese and bread crumbs and bake.
©2017 Easy Family Recipes- This recipe can be found at: https://www.easyfamilyrecipes.com/chicken-cordon-bleu-casserole/
Nutrition Information
Serving:
4
oz chicken breast with toppings
,
Calories:
408
kcal
(20%)
,
Carbohydrates:
16
g
(5%)
,
Protein:
40
g
(80%)
,
Fat:
20
g
(31%)
,
Saturated Fat:
11
g
(69%)
,
Polyunsaturated Fat:
7
g
,
Monounsaturated Fat:
0
g
,
Trans Fat:
0
g
,
Cholesterol:
125
mg
(42%)
,
Sodium:
1622
mg
(71%)
,
Potassium:
0
mg
,
Fiber:
0
g
,
Sugar:
4
g
(4%)
,
Vitamin A:
0
IU
,
Vitamin C:
0
mg
,
Calcium:
0
mg
,
Iron:
0
mg