This Easy Stuffed Cheeseburger Meatloaf is the ultimate family friendly meal. Classic burger flavors and gooey cheddar cheese make a meal that kids and adults are happy to eat, and it only takes 10 minutes of easy prep to get into the oven. Using simple ingredients you probably already have on hand, you can create a delicious dinner go-to that will always be a hit.
Stuffed Cheeseburger Meatloaf – The EASY Way!
When you want a great, simple dinner on the table, classics like meatloaf are always a safe bet. But sometimes it's fun to change it up too! The great news is that recipes like this super easy, stuffed cheeseburger meatloaf are fun, incredibly tasty, and still SO simple to make! I developed it intentionally to mimic those yummy cheeseburger flavors we all love, right down to the gooey cheese, while keeping it as straightforward as possible for even the busiest home cook.
The result is a juicy, cheesy, ketchup glazed meatloaf that you can serve any way your family likes. Add traditional meatloaf sides, or top it with burger fixings and a bun, either way it's easy to love. In just 10 minutes, with 8 super easy ingredients, you can have it baking away in the oven while you're freed to go do something else!
Why I LOVE this recipe!
Gooey, Cheesy Burger Flavor – You'll get the melted cheese, savory seasoned beef, and ketchup flavors we all love in a traditional cheeseburger.
Simple Ingredients – The 8 ingredients it takes to make this could not be easier! They're grocery staples, making this easy to whip up whenever you like.
Easy to Prep

– It will only take you 10 quick minutes to get your cheeseburger meatloaf baking in the oven.

Hands off Cooking – It won't require any attention while it bakes, leaving you 50 minutes to prep sides, fold laundry, or actually relax!
What to Serve with Cheeseburger Meatloaf
Since this dish has the classic flavors of beef burgers, it will pair well with many of your favorite traditional side dishes. There are both classic options and some healthy options to keep it light.
Side Dish Ideas
You can choose one or add a few sides to make a wholesome, well rounded dinner.
Recipe Notes
This stuffed cheeseburger meatloaf recipe is as simple as promised! Just 10 minutes of prep for a family friendly meal.
In this section I am going to go through a few tips and tricks I use when making this recipe to get the absolute best and most delicious results.
Make sure to scroll to the bottom for the FULL recipe card.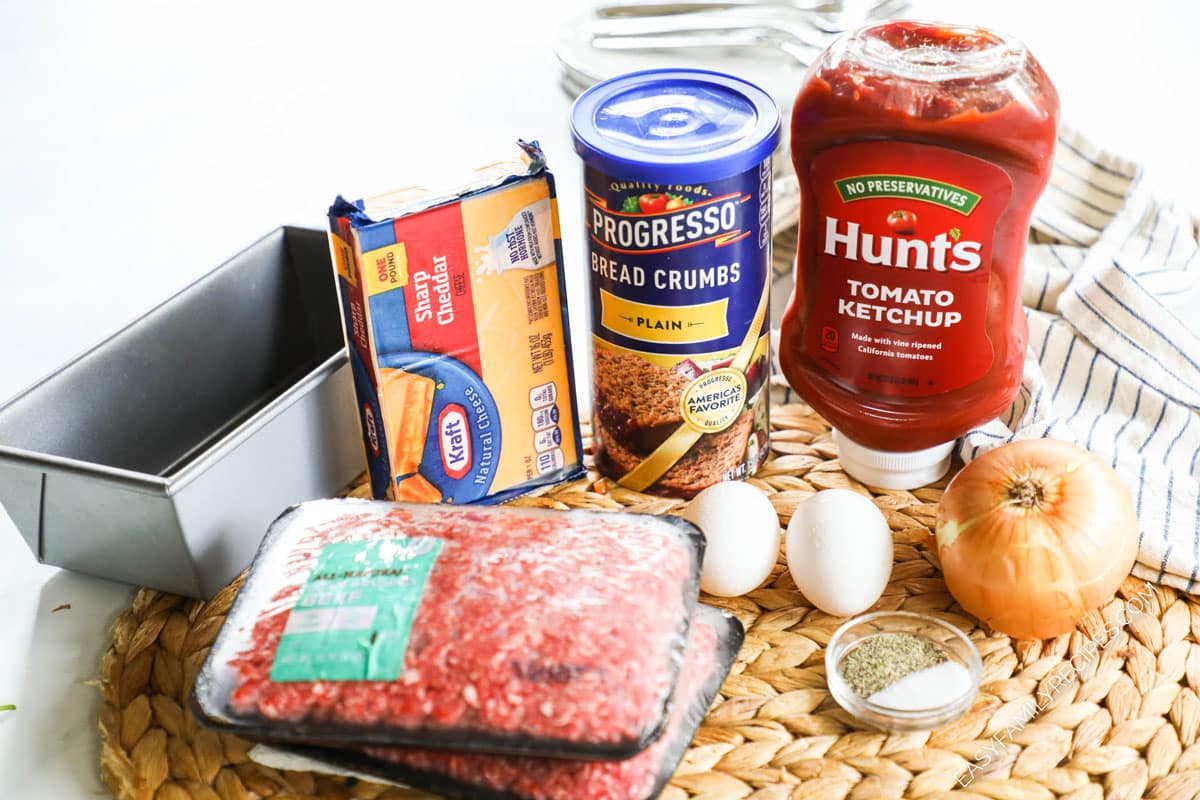 Ingredients + Substitutions
Ground beef – I highly recommend using the leanest ground beef you can for this recipe. While it will technically work with any kind, ground beef that's high in fat will produce a lot of grease while it bakes. Since this is cooked in a loaf pan, the fat has nowhere to go and you can end up with a greasy final dish.
Breadcrumbs – To keep the flavors classic I recommend an unseasoned breadcrumb, however you can use an Italian seasoned crumb in as pinch as well with good results.
Onion – I used yellow, but any onion you would like on a cheeseburger, like white or red, would also work.
Cheddar cheese – I recommend a block of cheddar cheese for this recipe. Grated can be used, but using a block let's you slice it and stuff it into the meatloaf much easier. Cheddar has a texture and flavor we preferred, and we didn't have to unwrap tons of single slices of American, but if you'd like to use American cheese for the fast food burger flavor, you can use that or almost any other flavor of cheese you prefer.
Eggs
Salt and pepper
Ketchup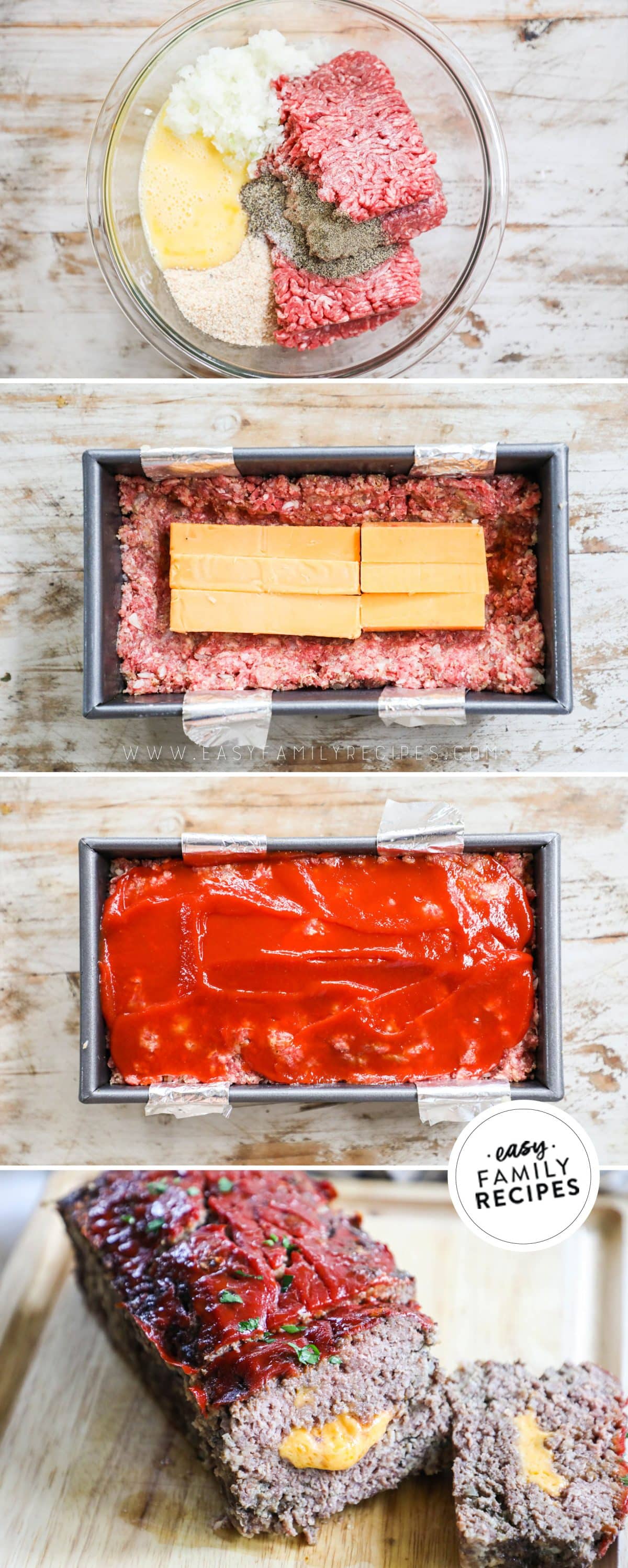 Recipe Tips
Make the onion as fine as you can – I call for minced in the recipe and I really do mean a fine mince. The smaller you can get the onion the better it will distribute. It also adds moisture and flavor throughout the beef. You can even grate it to get it really fine.

Mix with your hands – It's a little messy but I recommend mixing the meatloaf with your hands instead of a spoon or fork. It's much easier to get everything well blended and evenly incorporated that way, which will make sure that every bite is equally delicious.

Seal it firmly – Before you top it with ketchup you'll want to press down on all the edges of the meatloaf firmly. That will help the meat seal and keep all that cheese in the middle where we want it.

No need to cover – I recommend you bake this uncovered. The ketchup helps seal in moisture and adding a cover can make the bake time even longer. It won't hurt your meatloaf to be covered, but you might have to cook it for a few extra minutes.

Bake until completely done – The proper temperature for a cooked beef meatloaf is 160°F. Use a meat thermometer to check at the end of the recommended bake time. They're easy to find and inexpensive at many grocery stores, or you can get one online.

Let it sit – Once out of the oven, give the cheeseburger meatloaf 10-20 minutes to sit before serving. It lets the juices redistribute through the meat and lets the cheese just enough to not be liquid. Don't worry, it won't be cold, and the cheese will be gooey!
Recipe Short Cuts
If you need to make this recipe, but are extra short on time, here are a few ideas that can help make this recipe even faster!
Prep ahead– This is a great recipe to make ahead of time. You can get it completely prepped and then cover it and store it in the fridge for up to a day. Then you can simply slide it into the oven to get dinner cooking.

Make it into muffins– You can reduce the bake time by portioning the meat into a cupcake tin instead of a loaf pan. Place a cube of cheese in the middle of each and seal with more meat, then glaze each individual meatloaf. Start checking for doneness at about 20-25 minutes.
Recipe Variations
If you love this recipe as much as we do and want some quick ways to change it up for variety, these little tips will do the trick!
Bacon Cheeseburger Meatloaf– Make the recipe exactly as written but add 1/2 cup of chopped, cooked bacon to the middle of the meatloaf when you add the cheese.

Turkey Cheeseburger Meatloaf– Swap ground turkey for the ground beef but otherwise follow the recipe as directed.

Cheeseburger Meatloaf Muffins– Fill the bottom half of muffin cups with the ground beef mixture. Add a cube of cheddar cheese to the middle, then top with 2 tablespoons of the ground beef mixture. Press gently to seal and repeat until all the beef is used. Brush ketchup on top of each mini meatloaf and bake in a preheated oven for 20-25 minutes, or until the internal temperature is 160°F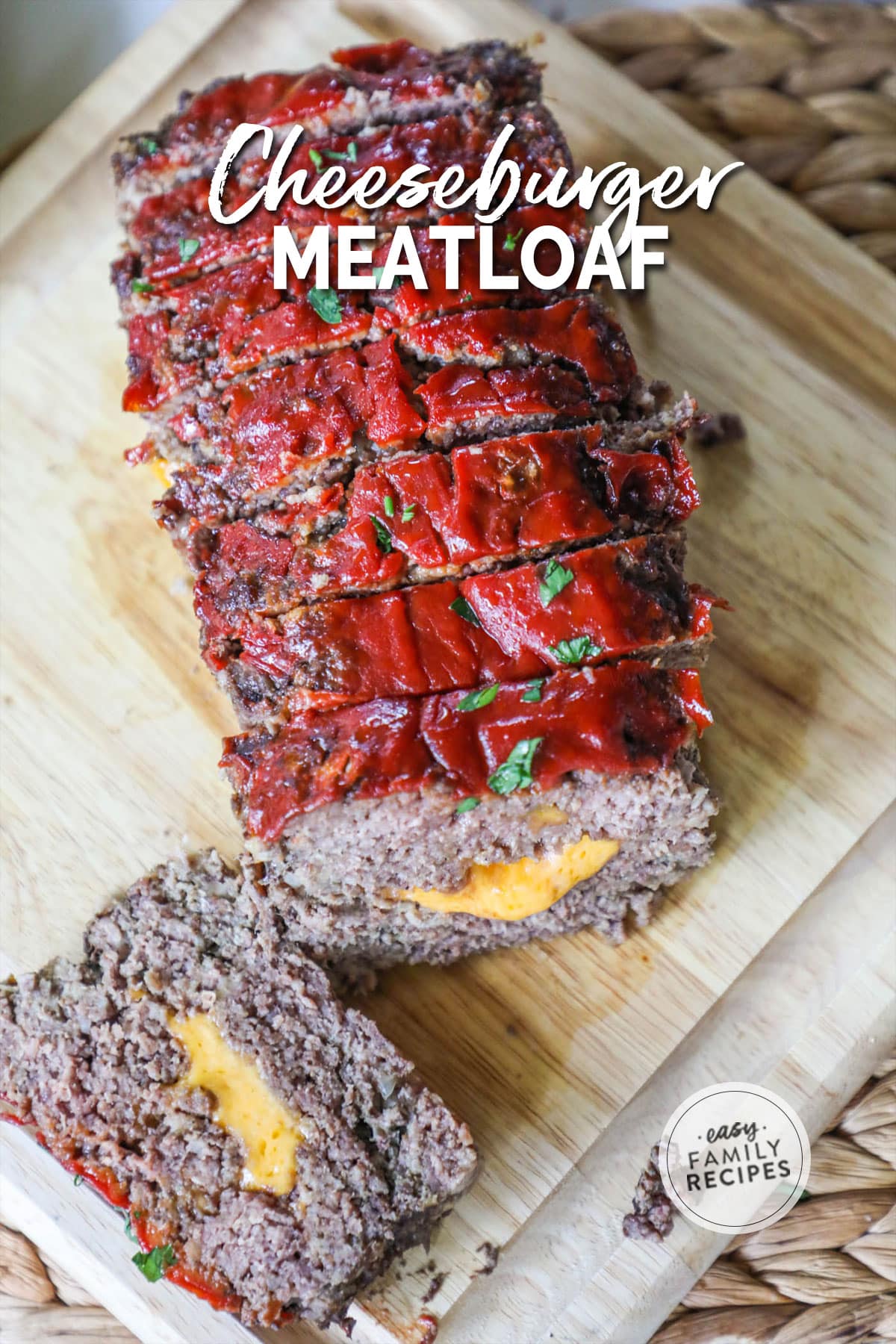 Freezer Meal Instructions
Making this easy cheeseburger meatloaf recipe into a freezer meal is simple! Follow the steps below and you can store this recipe in the freezer for up to 6 months.
Completely assemble the meatloaf except for the glaze and place in a freezer safe loaf pan.
Freeze.
When ready to bake, thaw in the meatloaf in the fridge for 24-48 hours.
Add glaze and bake according to the recipe instructions.
Cheeseburger Meatloaf Leftovers
If you have leftovers after making stuffed cheeseburger meatloaf, then it is your lucky day! They save and reheat well, and can make the start of another delicious dish.
To save leftovers, separate into meal sized portions and then place in an airtight container and store:
in the refrigerator for 3-4 days
in the freezer up to a month
Leftover Recipes
Here are a few ways to repurpose those leftovers and give them a delicious makeover!
Meatloaf Sandwich– Lightly toast thick sliced bread and spread it with mayonnaise, mustard, and ketchup if desired. Slice the meatloaf and gently reheat before laying it between the bread. Add any desired toppings such as lettuce, tomato, pickles, or onions and serve.
Cheeseburger Meatloaf Stuffed Peppers– Chop up the leftover meatloaf. For every cup combine it with 1 cup of cooked rice and 1 cup of barbecue sauce. Slice peppers in half and scoop out the seeds and ribs. Fill with the meatloaf rice mixture and sprinkle 1/2 cup of shredded cheddar cheese over the top. Cover and bake in a 350°F oven for 15-20 minutes, then remove the cover and bake until the cheese is melted.
Cheeseburger Rice Casserole– Use my Bacon Cheeseburger Rice Casserole as inspiration. Simply chop the leftover meatloaf and place it in a wide saute pan over medium heat. Add 1/2 cup of barbeque sauce, 1/2 tablespoon of mustard, a pinch of black pepper and 1 cup of instant rice. Pour 1 cup of beef broth on top and sprinkle with 1/2 cup of grated cheddar cheese. Cover and cook for 5-7 minutes, or until the rice is done.
More EASY Ground Beef Recipes
If you enjoyed this recipe, I really hope you will take a moment to grab a few more easy recipes for another busy night!
You can check out all of my easy dinner recipes here, or see a few of our readers favorite recipes below.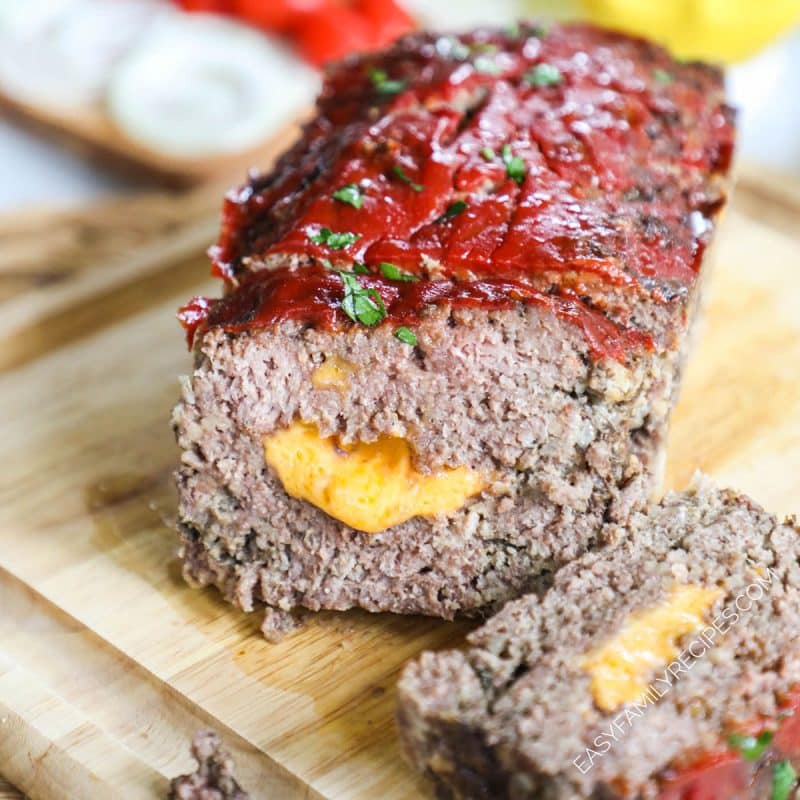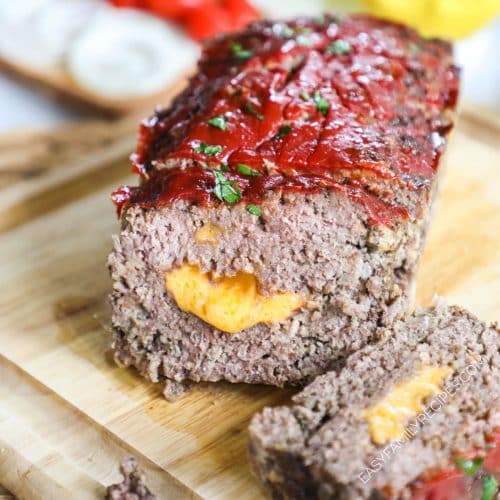 Cheeseburger Meatloaf
This cheddar cheese stuffed meatloaf uses simple seasonings, onion, and a simple ketchup glaze to recreate classic burger flavors in an easy, family friendly dinner recipe.
Ingredients
2

pounds

lean ground beef

¾

cup

plain bread crumbs

½

cup

onion

,

minced

2

eggs

,

beaten

2

teaspoons

salt

1 ½

teaspoons

ground black pepper

6

ounces

Cheddar cheese

,

cut into strips

1/4

cup

ketchup
Instructions
In a large bowl, add the ground beef, bread crumbs, onion, eggs, salt and pepper. Combine well with a fork or use your hands if you have trouble getting everything completely incorporated.

Press half of the meatloaf in a 4.5×8.5" loaf pan.

Place the strips of cheese over the meatloaf leaving about 1/2" space on each side.

Press the rest of the meatloaf mixture down tightly and spread the ketchup over the top.

Bake for 50-60 minutes or until done (160˚F internal temp.)

Let stand for 10 minutes, then slice in 8, one inch slices. Serve with your choice of ketchup, mustard, and burger toppings.
Recipe Notes
To help lift the meatloaf from the pan, fold aluminum foil into 2 long strips. Place one at the front and one at the back of the pan along the bottom of the pan, and up the sides folding over the top edge.
Once the meatloaf is done, run a knife along the sides of the pan, then use the strips to gently pull the meatloaf up and out of the pan. 
Nutrition Information
Calories:
310
kcal
(16%)
,
Carbohydrates:
11
g
(4%)
,
Protein:
32
g
(64%)
,
Fat:
15
g
(23%)
,
Saturated Fat:
7
g
(44%)
,
Polyunsaturated Fat:
1
g
,
Monounsaturated Fat:
5
g
,
Trans Fat:
0.4
g
,
Cholesterol:
132
mg
(44%)
,
Sodium:
954
mg
(41%)
,
Potassium:
485
mg
(14%)
,
Fiber:
1
g
(4%)
,
Sugar:
3
g
(3%)
,
Vitamin A:
313
IU
(6%)
,
Vitamin C:
1
mg
(1%)
,
Calcium:
191
mg
(19%)
,
Iron:
4
mg
(22%)