Tex Mex Cheese Enchiladas are a quick and easy meal that knocks it out of the park with taste and ease. It's all about the distinctive flavor of the delicious red enchilada sauce, chili gravy, and gooey melted cheese on this baked dish. Today, I'm thrilled to share a recipe that brings the goodness of traditional cheese enchiladas to your weeknight dinner table, and it's as easy as can be!
Cheesy Tex Mex Enchiladas- The EASY Way!
This authentic cheese enchilada recipe is a family favorite with simple instructions and few ingredients. Being born and raised in Texas, I am sharing how I grew up making them.
These have a perfect balance of spices and flavor; you can customize it to please any crowd, and it is a great freezer meal option to enjoy later.
If you are looking for other options, you can take a look at my popular Beef Enchiladas, Chicken Spinach Enchiladas, or Carnitas Enchiladas here.
Why I LOVE this recipe!
Quick and easy – These cheese and onion enchiladas are perfect for those busy nights when you need a quick and easy meal. Simply pan-fry the corn tortillas, fill them, roll them, and bake with sauce and cheese.
Comforting family dinner – This easy cheese enchiladas recipe is a classic and comforting dish many families enjoy. The warm, gooey cheese and flavorful sauce make it satisfying and perfect for sharing.
Simple ingredients – You likely already have most of the necessary spices in your pantry and only need a handful of additional ingredients to prepare these delicious cheesy enchiladas.
Delicious homemade red enchilada sauce – Making enchilada sauce is easy and satisfying, yielding a smooth texture and rich flavor.
What to Serve with Cheese Enchiladas
Since this dish has the classic flavors of Tex-Mex cuisine, it will pair well with many of your favorite Mexican-style side dishes. There are both classic options and some healthy options to keep it light.
Side Dish Ideas
You can choose one or add a few sides to make a wholesome, well rounded dinner.
Recipe Notes
This is the BEST cheese enchiladas recipe and is as simple as promised! Just 30 minutes for a family friendly meal.
In this section I am going to go through a few tips and tricks I use for how to make Cheese Enchiladas Tex-Mex style to get the absolute best and most delicious results.
Make sure to scroll to the bottom for the FULL recipe card.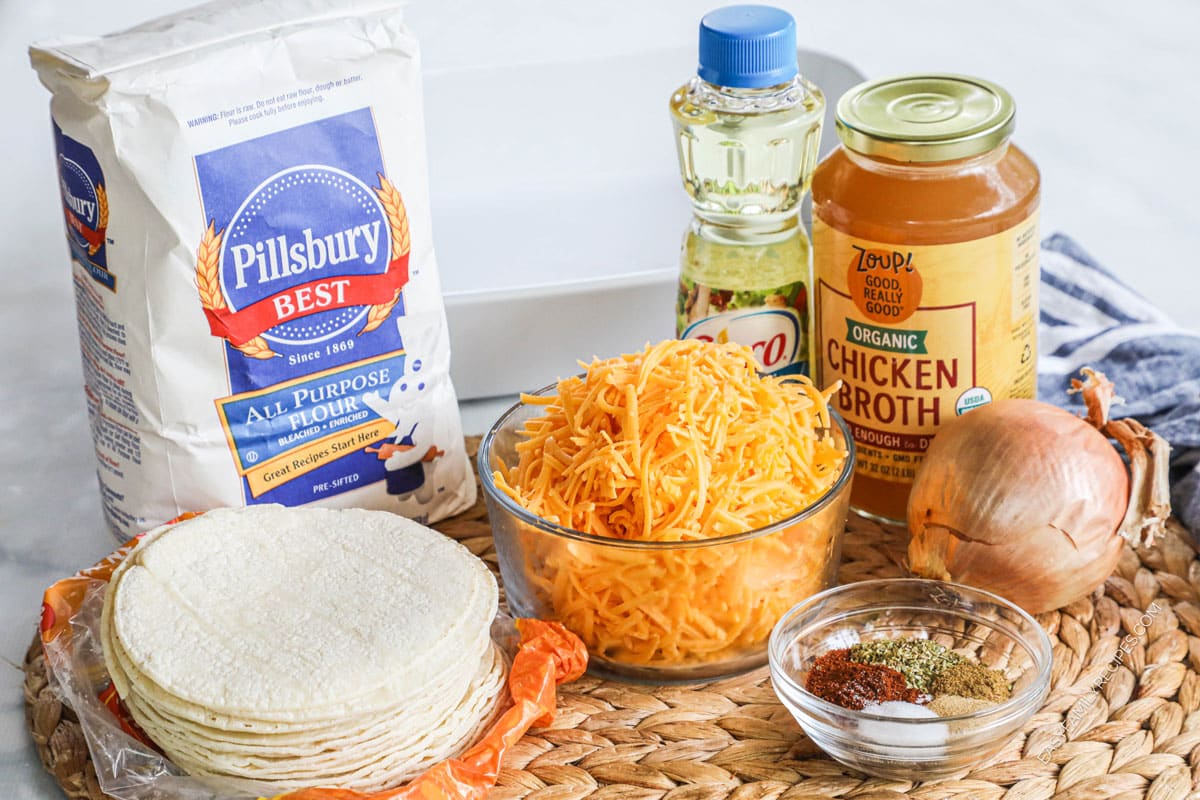 Ingredients + Substitutions
Seasonings (Chili Powder, Cumin, Garlic Powder, Oregano, Salt): This combination of seasonings forms the flavor base of the enchilada sauce, providing a complex and savory profile that's quintessential to Tex-Mex cuisine.
Flour: Flour is used to create a roux in the enchilada sauce. It thickens the sauce, giving it a smooth, consistent texture. Substitution: Cornstarch or arrowroot powder can be used as a gluten-free substitute for thickening.
Chicken Broth: Chicken broth forms the liquid base of the enchilada sauce, infusing it with a savory and meaty depth of flavor. Substitution: Vegetable broth or beef broth can be used as alternatives, depending on your dietary preferences.
Oil: Oil is used to create the roux in the enchilada sauce, providing a rich, silky texture. It also helps to cook the spices and flour, releasing their flavors. Substitution: Butter or margarine can be used instead of oil for a slightly different taste.
Corn Tortillas: Corn tortillas are traditional for enchiladas, offering an authentic taste and texture. They become tender when baked, absorbing the sauce's flavors. Substitution: Flour tortillas can be used as a substitute, but they will provide a different texture and taste.
Cheese– I love cheddar cheese, since it is was I grew up eating in Texas, however, you can use monterey jack, colby jack, white American cheese, or Mexican blend cheese with great results.
Onion: Onions add a sweet and savory dimension to the enchilada filling. However, if you have picky eaters or allergies, you can omit them without significantly affecting the overall dish.
Garnish: Fresh cilantro and chopped onions. You could also top with scallions, avocado slices, pico de gallo, guacamole, or sour cream.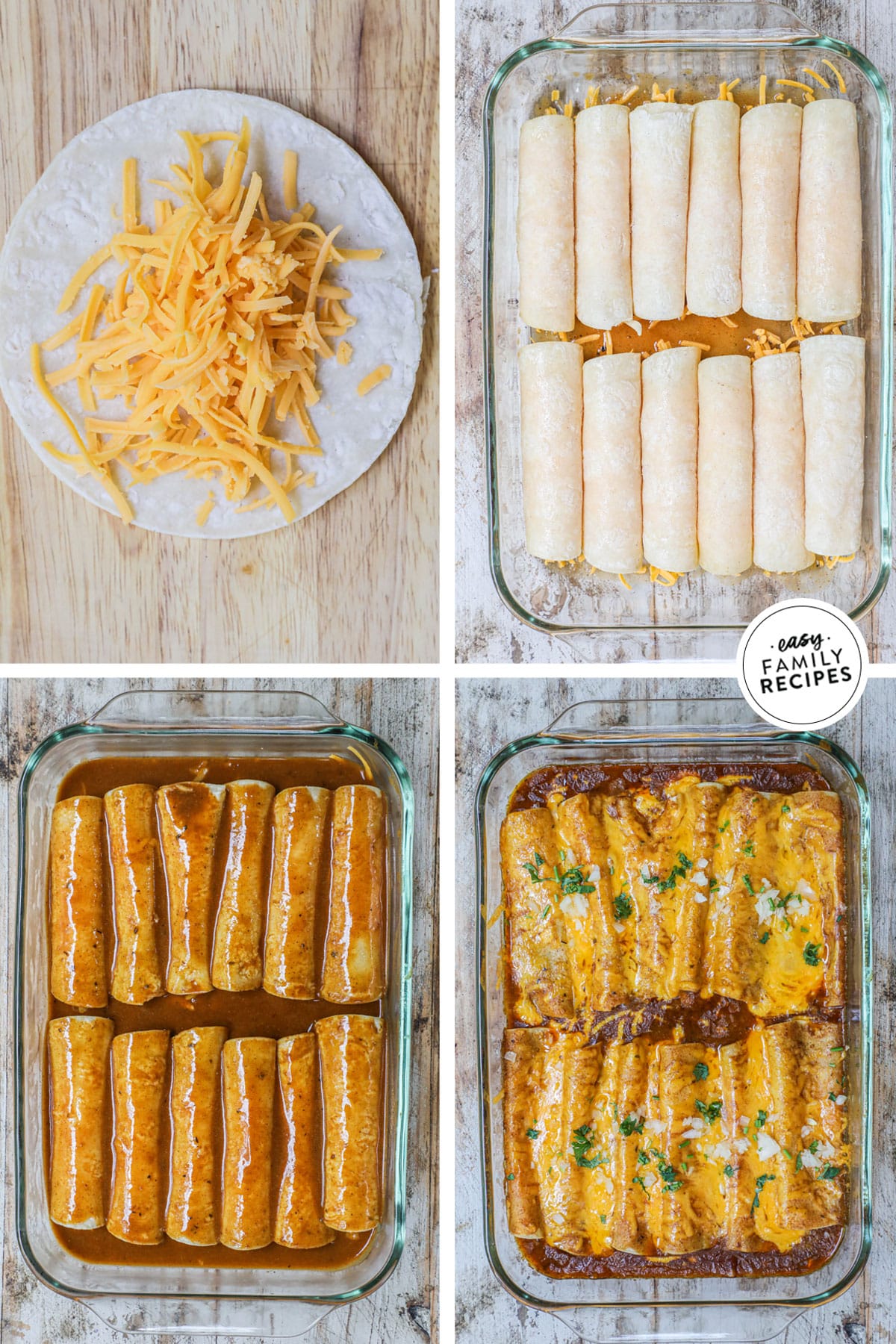 Recipe Step by Step
Find full instructions in the recipe card at the bottom of this post.
Step 1: Frying the Tortillas Heat a small frying pan with a tablespoon of cooking oil until it's hot, then quickly dip each corn tortilla in the hot oil, flip it, and set it aside. Repeat this process for all 12 tortillas. It's a fast step, taking less than 5 minutes, but it adds a fantastic flavor.
Step 2: Rolling Them Up with Cheese. Take each tortilla and fill it with cheddar cheese and diced onion, if you like. Roll up each tortilla tightly, placing them seam-side down.
Step 3: Make the Sauce and Covering the Rolled Cheese-Stuffed Tortillas. To prepare the red enchilada sauce, make a roux. Combine oil, flour, and Tex-Mex seasoning in a pan and cook until it turns nutty and golden brown. Then, while whisking constantly, add chicken broth until the mixture is smooth. Let it simmer and continue whisking for about 5-10 minutes until the sauce thickens. You'll know it's ready when it coats a spoon. Coat the bottom of a baking pan with about ¼ cup of this sauce.
Step 4: Baking Preheat your oven, and then bake the enchiladas until the cheese is all melted and the edges start to bubble. This usually takes a bit of time, so be patient.
Recipe Tips
Use minimal oil – Add a small amount to the pan before frying each tortilla to conserve oil and prevent sogginess.
Stretch the recipe – Although this enchilada recipe is built to make 12 with the sauce in equal proportion, you can make a few extra shells if you stretch it a bit.
Meaty filling – Add cooked and seasoned ground beef or shredded chicken to the filling for a heartier option.
Picky eaters – Skip diced onions inside the enchiladas; you can always sprinkle them on top for those who enjoy them.
Recipe Short Cuts
If you need to make this recipe, but are extra short on time, here are a few ideas that can help make this recipe even faster!
Use canned enchilada sauce – You can save time by using store-bought red enchilada sauce instead of making your own. This is a great option when you're in a hurry and want to simplify the cooking process. The dish will still be delicious and just as easy to make.
Use flour tortillas – To save time and skip the oil-frying step, use flour tortillas—they have a slightly different flavor but are equally delicious.
Recipe Variations
If you love this recipe as much as we do and want some quick ways to change it up for variety, these little tips will do the trick!
Bean and Cheese enchiladas – This recipe combines beans and cheese for satisfying Tex-Mex enchiladas with added protein. Roll them up, cover them with enchilada sauce, and bake until deliciously gooey.
Chile Cheese Enchiladas – Swap out the red sauce for a rich, spicy green chile sauce that adds a unique twist to the classic recipe.
Spinach and Cheese Enchiladas – Saute spinach and onions before adding to the corn tortillas with the shredded cheese. You can use the red or green sauce.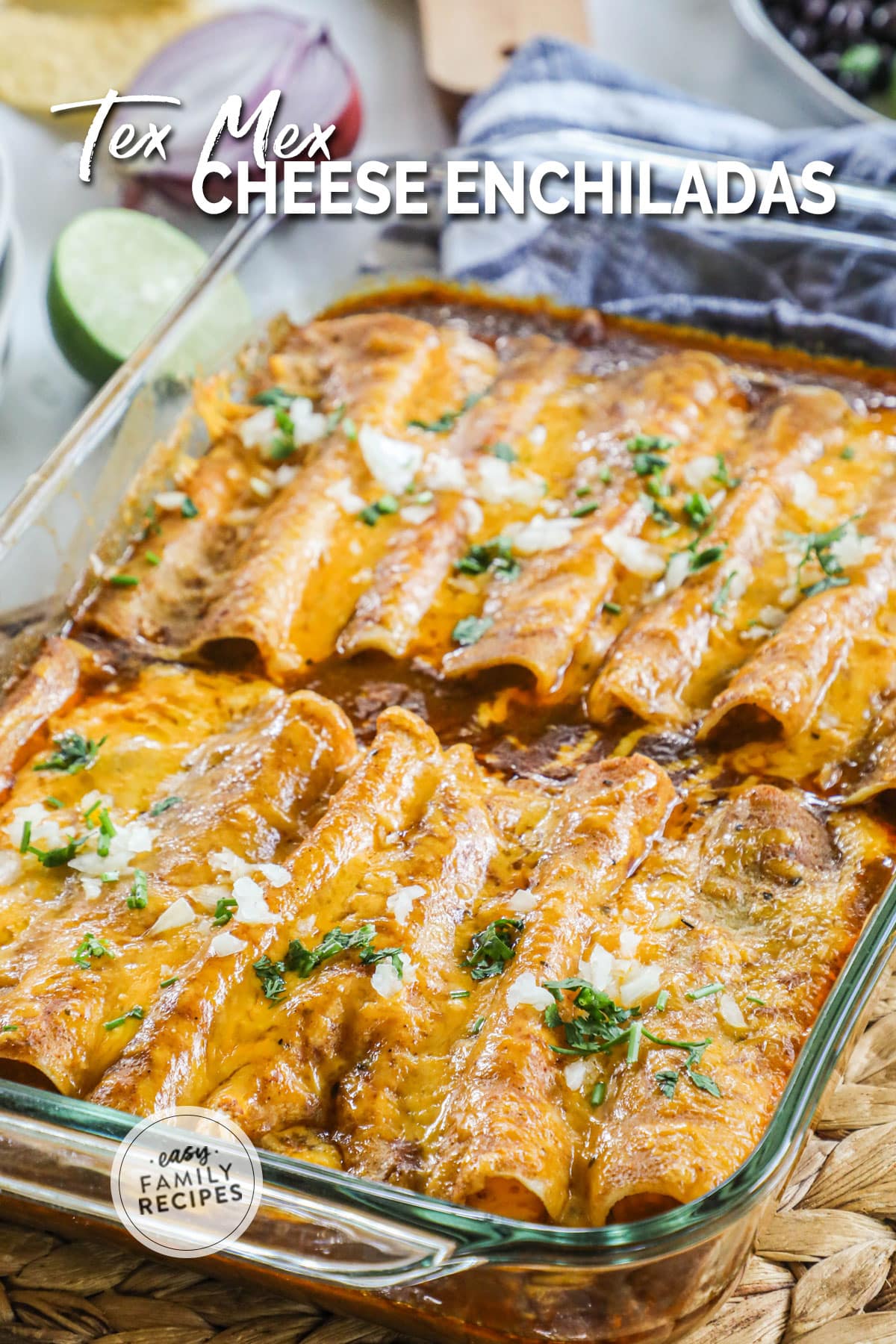 Freezer Meal Instructions
Making this traditional cheese enchilada recipe recipe into a freezer meal is simple! Follow the steps below and you can store this recipe in the freezer for up to 6 months.
Follow the recipe and assemble your enchiladas in a baking dish. An aluminum pan works great here because you can store it in the freezer and toss it when done.
Cover the pan with plastic wrap, then foil, and store in the freezer.
When ready to bake, remove from the freezer and remove the plastic wrap. Cover with foil and bake for an additional 15 minutes from the original recipe, about 35-40 minutes total. Remove the foil within the last few minutes to allow the cheese to brown.
Tex Mex Enchiladas Leftovers
If you have leftovers after making red cheese enchiladas, then it is your lucky day! They save and reheat well, and can make the start of another delicious dish.
To save leftovers, separate into meal sized portions and then place in an airtight container and store:
in the refrigerator for 3-4 days
in the freezer up to a month
More Tex Mex Recipes
If you enjoyed this recipe, I really hope you will take a moment to grab a few more easy recipes for another busy night!
You can check out all of my dinner recipes here, or see a few of our readers favorite recipes below.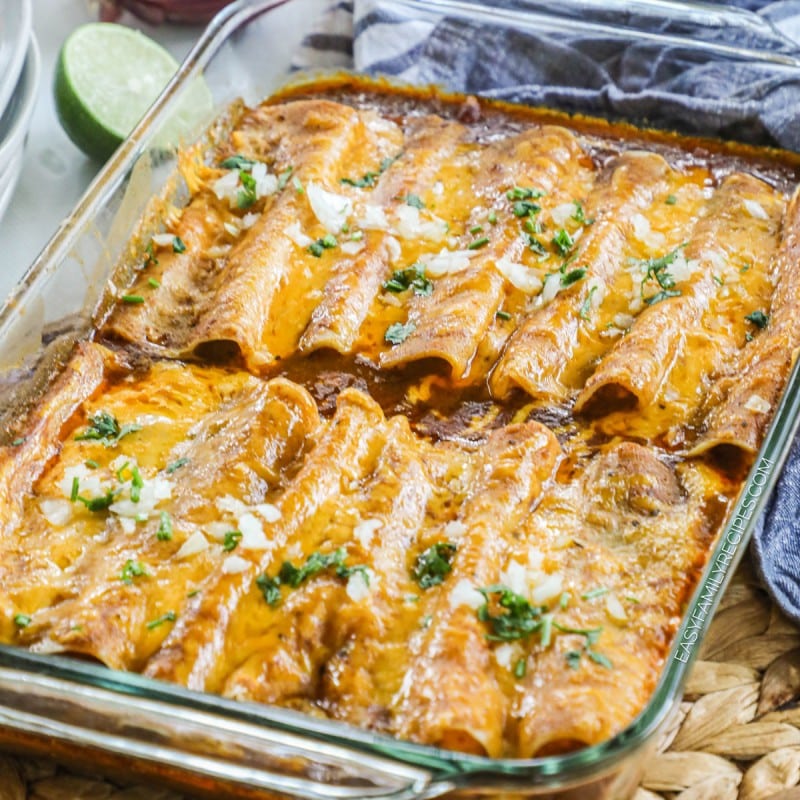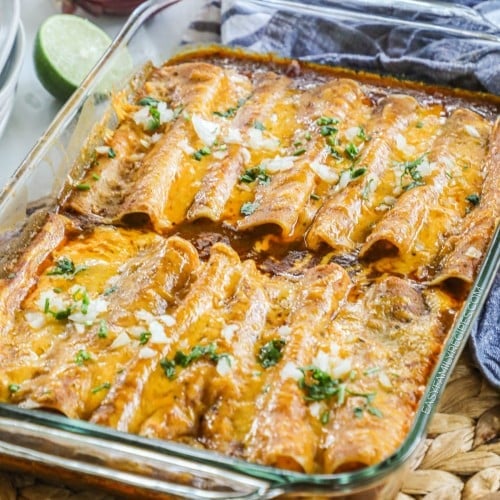 Tex-Mex Cheese Enchiladas
These Tex Mex Cheese Enchiladas are a quick and delicious meal filled with melted cheese and covered in tangy homemade red enchilada sauce. Pair with traditional sides for a perfect weeknight meal.
Ingredients
Red Enchilada Sauce (Chili Gravy)
1/4

cup

cooking oil

,

vegetable or canola

1/4

cup

all purpose flour

3

tablespoons

chili powder

2

teaspoons

cumin

2

teaspoons

garlic powder

1

teaspoon

oregano

1/2

teaspoon

salt

3

cups

chicken broth
Enchiladas:
12

corn tortillas

3

tablespoons

cooking oil

,

vegetable or canola

24

ounces

shredded sharp cheddar cheese

1

yellow onion

,

diced
Garnish (optional)
freshly chopped cilantro

finely diced onion
Instructions
To make the red enchilada sauce:
In a large skillet, combine 1/4 cup cooking oil, flour, chili powder, cumin, garlic powder, oregano, and salt and cook over medium heat, stirring regularly.

Add the chicken broth slowly, whisking constantly to combine. Continue to add until all the chicken broth is whisked in and the mixture is smooth. Bring to a simmer then reduce heat to low and simmer for 5-10 minutes or until the enchilada sauce has thickened enough to coat the back of a spoon. Remove from heat.
To make the cheese enchiladas:
Preheat the oven to 350˚F.

Place 1/4 cup of enchilada sauce in a large casserole dish and tilt it until it is evenly spread over the bottom. I used a 9×13" casserole dish.

In a small skillet, heat 1 tablespoon of oil over medium heat. Once hot, place each tortilla in one by one flipping quickly to coat each side with the hot oil. Add additional oil as needed and repeat until all tortillas are flash cooked.

Once the tortillas are done, take a tortilla, place 2-3 tablespoons of cheese in it and about 1 teaspoon diced onions (optional), then roll it tightly and place seam side down in the casserole dish. Repeat until all enchiladas are rolled. You should reserve about 1 cup of cheese for topping.

Cover with the remaining sauce and then sprinkle with the remaining shredded cheese over the top.

Bake for 20-25 minutes or until the cheese is melted and the edges start to bubble. Remove from oven and garnish with your choice of freshly chopped cilantro or onion.
Recipe Notes
Time Saving options:
Skip the homemade enchilada sauce and use a large can of store bought red enchilada sauce
Use flour tortillas instead of corn tortillas. If using flour tortillas, you do not need to prepare them by cooking in oil. You can skip right to rolling them up.
How to Store: Store covered in the fridge for up to 3-4 days.
How to Freeze: Assemble the enchiladas in a baking dish. Skip the baking step and cover the dish to store in the freezer.
When ready to bake, add an additional 15 minutes to the bake time, removing the foil towards the end to brown.
How to Reheat: To reheat leftovers, bake in a preheated oven covered with foil for 10-15 minutes or until heated through.
How to Scale: This recipe make 12 enchiladas. It can easily be halved or doubled to make a different size recipe. Adjust the baking dish if needed. 
Nutrition Information
Serving:
2
enchiladas
,
Calories:
772
kcal
(39%)
,
Carbohydrates:
35
g
(12%)
,
Protein:
32
g
(64%)
,
Fat:
57
g
(88%)
,
Saturated Fat:
23
g
(144%)
,
Polyunsaturated Fat:
7
g
,
Monounsaturated Fat:
19
g
,
Trans Fat:
0.1
g
,
Cholesterol:
116
mg
(39%)
,
Sodium:
1463
mg
(64%)
,
Potassium:
344
mg
(10%)
,
Fiber:
5
g
(21%)
,
Sugar:
2
g
(2%)
,
Vitamin A:
2340
IU
(47%)
,
Vitamin C:
1
mg
(1%)
,
Calcium:
879
mg
(88%)
,
Iron:
2
mg
(11%)