This Brown Butter Broccoli recipe is simply irresistible! Tender-crisp broccoli tossed in warm seasoned butter sauce will make the vegetable the most requested dish at the table. You'll love how quick and easy this side dish comes together. It is sure to be a family favorite and a great weeknight go-to recipe. Serve with basically any main dish and switch up the seasoning to match. This buttered broccoli is ready in under 15 minutes for a tasty dinner side recipe.
Brown Butter Broccoli – The EASY Way!
This is the BEST broccoli recipe! It has so many layers of flavor, you would never guess it is made simply with just brown butter and a few seasonings.
Broccoli is a staple veggie that can be picked up fresh or kept on hand at all times frozen and this simple broccoli recipe can be made with either to make it easy to prepare with what you have on hand. Throw in the fact that the flavors of this broccoli side dish go with almost any main dish you make and you have a dinner winner!
Why I LOVE this Butter Broccoli Side Dish!
Easy! – Only 5 simple ingredients and easy steps.

Quick – You'll have a delicious side dish ready in just 15 minutes!

The BEST texture – Steam the broccoli until it is just tender and still has a crisp bite.

Amazing flavor – Browning butter elevates the flavors to something truly special. It is rich and takes on a nutty flavor and compliments the freshly steamed tender-crisp broccoli for a delicious bite.

Easy to scale recipe – It's easy to double this recipe for a larger crowd, or you can even half the recipe without issue.

Extremely versatile – Broccoli pairs so well with many recipes like chicken, fish, and pasta dishes.

Great for leftover recipes – Use in a wrap, tossed with creamy pasta, or as an addition to meal prep. You'll love how many ways you can enjoy this broccoli recipe.
What to Serve with Browned Butter Broccoli
Since this dish has the classic flavors of toasty brown butter and earthy broccoli, it will pair well with many of your favorite classic main dishes. There are both classic options and some healthy options to keep it light.
Main Dish Ideas
Choose a main and a few sides to make a wholesome, well rounded dinner.
Recipe Notes
This butter sauce broccoli recipe is as simple as promised! Just 15 minutes to make this side part of a family friendly meal.
In this section I am going to go through a few tips and tricks I use when making this recipe to get the absolute best and most delicious results.
Make sure to scroll to the bottom for the FULL recipe card.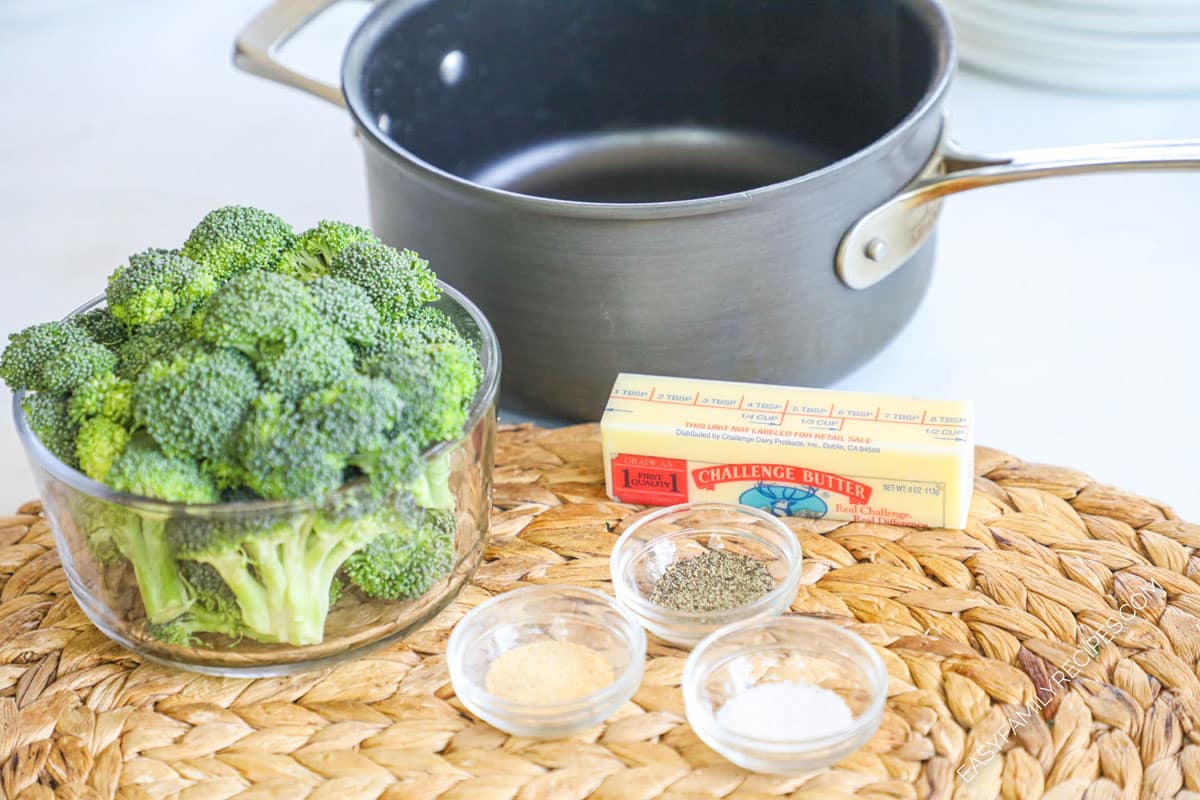 Ingredients + Substitutions
Broccoli florets – Fresh broccoli is the best but you can also use frozen broccoli instead. *See notes about using frozen broccoli below.

Butter – You can't have a brown butter sauce without it. Use a stick of regular or unsalted butter. This cooks down quickly to a caramelized butter that is rich and toasty in flavor.

Seasonings: This recipe calls for garlic powder, salt, and pepper. Switch up the seasonings to match your main dish for a super versatile recipe that can pair with chicken, fish, pork, or beef. There are so many flavor possibilities!
Steps to make Broccoli with Brown Butter
Making this brown butter broccoli recipe really is as easy as 1…2…3!
Steam the broccoli. Heat a saucepan filled with a small amount of water and place a steamer basket on top. Add the broccoli florets, cover, and reduce heat and steam until bright green and fork tender.

Remove the basket from the steam and uncover it to dry.

Brown the butter. In a small saucepan over medium heat, add the butter and stir often until it's golden brown and foamy. The butter will go through 3 stages, first it melts, then it becomes foamy, then the milk solids from the butter get that great golden brown hue and nutty aroma. This is when you can remove the butter from the heat and then stir in the seasonings.

Combine. Toss the broccoli into the seasoned brown butter sauce and garnish with fresh grated Parmesan, if desired.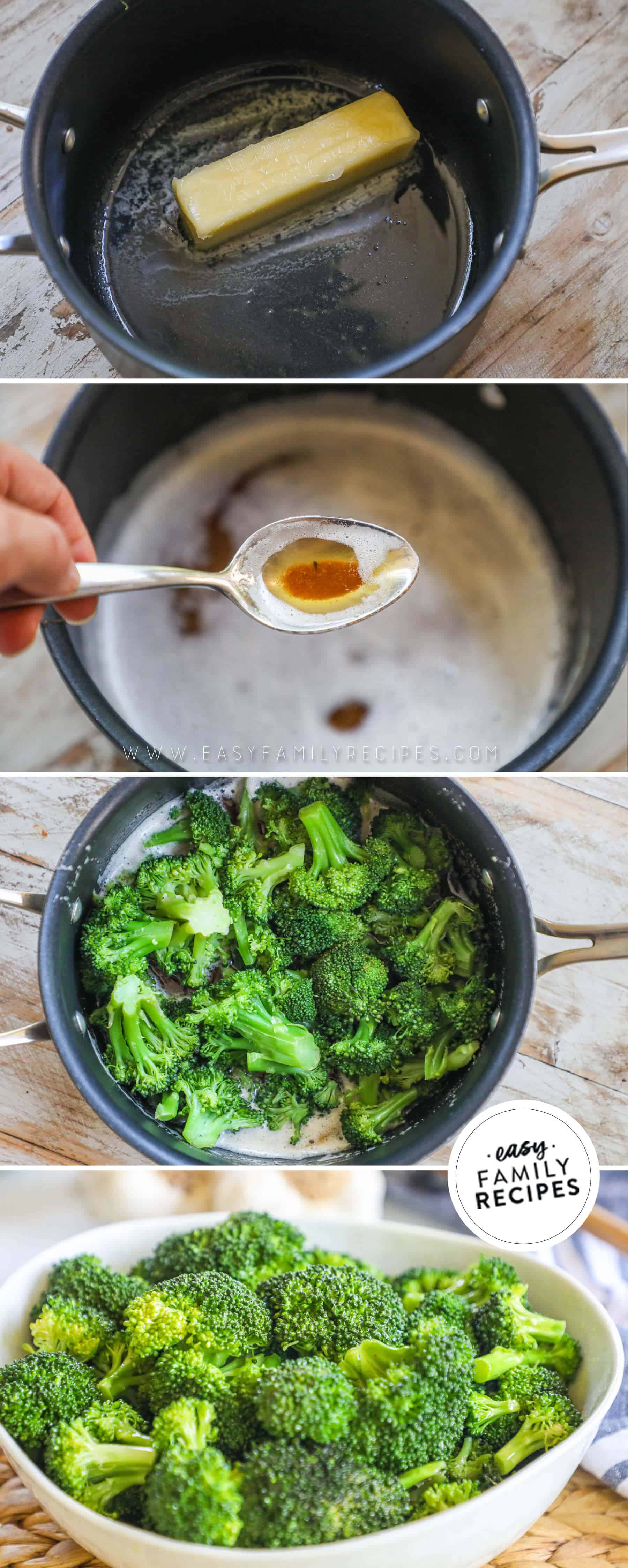 Recipe Tips
Steam broccoli properly – When you add the steamer basket or colander over the water, you'll want to make sure that the broccoli isn't submerged in water, but also that the boiling water isn't splashing too much into it. This will give you the best texture for your broccoli.

Cut the broccoli florets into even-sized pieces – To evenly cook and to prevent any small pieces from becoming mush, cut the florets into similar-sized pieces. This allows them to all cook at the same rate.

Use frozen broccoli instead of fresh – If you prefer, use frozen broccoli and follow the directions. This may be microwaved or steamed.

Remove excess water, especially from frozen – When steaming fresh broccoli, remove from the heat and allow it to air dry. The water should evaporate without any additional drying needed. But for frozen broccoli, there will be a lot of excess water that will need to be strained, and then lay it on a towel to remove any extra water.

What can I add to broccoli to make it taste better? Some people think broccoli tastes really earthy, this recipe works with that flavor to envelope it in the richness of the brown butter and enhance the flavor with garlic and salt. A splash of lemon juice helps elevate the flavor and reduce the bitterness of broccoli, too.

What can I use to season broccoli? Season broccoli with some of your favorite other flavors. Try:
How do you brown butter without burning it? The key to browning butter is to stir it frequently so it cooks evenly. Then while it's cooking watch the colors change from a light yellow to a golden brown, all the way to a toasty brown. Once you see foam, the process has started and you'll want to remove it from the heat when it is golden brown to avoid it burning. The residue heat will get you to the toasty brown butter state.
Recipe Short Cuts
If you need to make this recipe but are extra short on time, here are a few ideas that can help make this recipe even faster!
Use precut or frozen broccoli – See recipe tips above on using frozen broccoli. This will save you at least 5 minutes of prepping.

Make a large batch of brown butter – Get ahead of the game by making a couple of batches of brown butter ahead of time. Once the broccoli is steamed it's quick and easy to add the pre-browned butter on top and the steam will melt it into all the nooks and crannies of the florets. You'll have brown butter ready to go for any recipe you desire.

Make ahead of time – This is already such a quick recipe but you can make this up a day or two ahead of the planned meal so you can easily warm it up for serving with dinner.
Recipe Variations
If you love this recipe as much as we do and want some quick ways to change it up for variety, these little tips will do the trick!
Lemon Butter Broccoli – Right before serving squeeze fresh lemon juice over the dish for a bright, zesty pop of flavor.
Brown Butter and Mizithra Cheese Broccoli– This is a classic recipe that is known mainly from the Spaghetti Factory restaurant. It uses aged mizithra cheese which is a hard salt-dried grating cheese much like Parmesan, which you can substitute if needed.
Brown Butter Pecan Broccoli – A worthy addition, toasting up pecans matches the toasty flavor notes of the brown butter and adds a crunch to the broccoli butter recipe.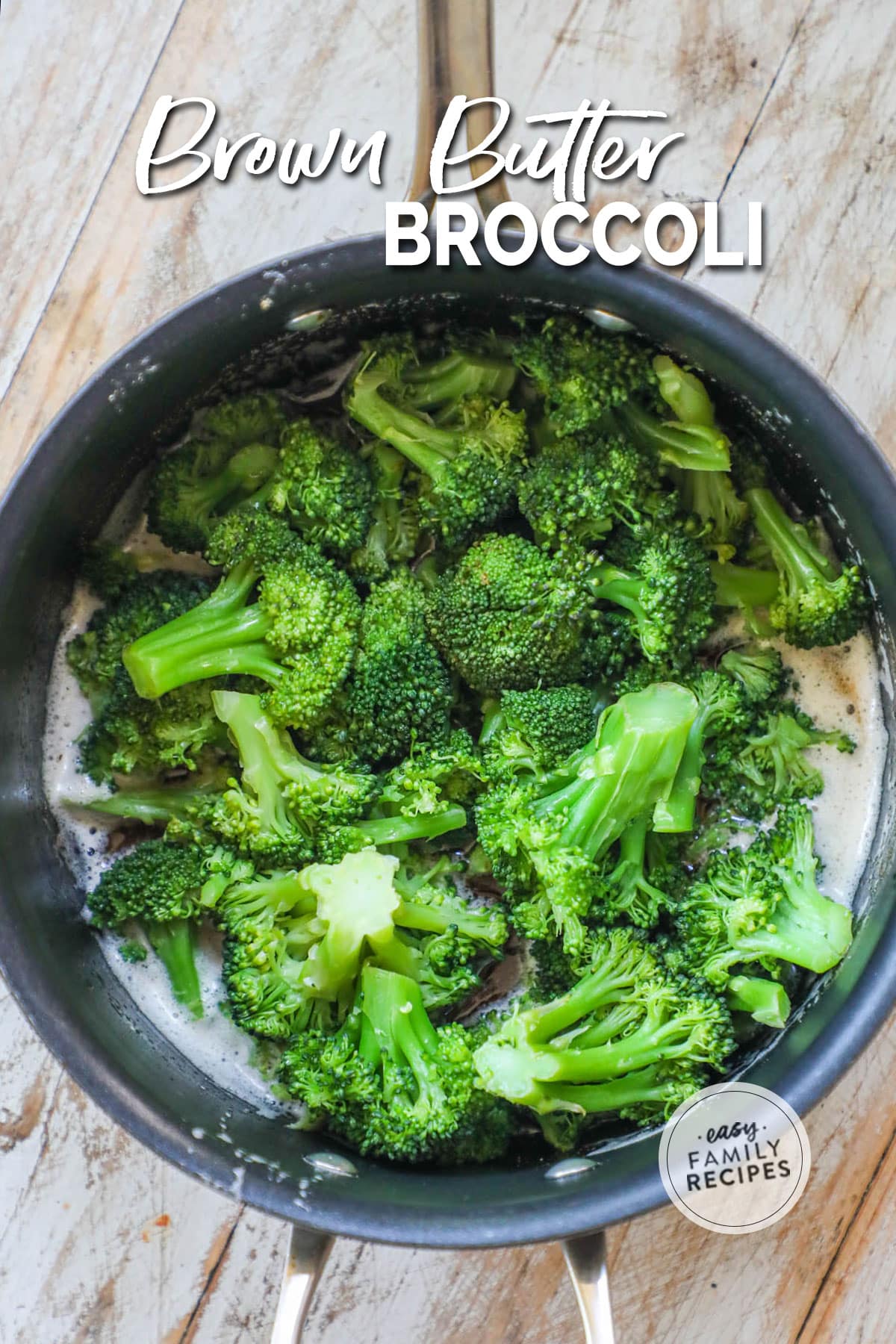 Butter Sauce Broccoli Leftovers
If you have leftovers after making Broccoli in Brown Butter, then it is your lucky day! They save and reheat well, and can make the start of another delicious dish.
To save leftovers, separate into meal sized portions and then place in an airtight container and store:
in the refrigerator for 3-4 days
in the freezer up to a month
Leftover Recipes
Here are a few ways to repurpose those leftovers and give them a delicious makeover!
Brown Butter Broccoli Pasta – Toss the buttered broccoli into a sauce made with add in a splash of lemon, toasted pinenuts, 1/2 a cup of chicken broth, and a1/4 a cup of cream. Then, toss in cooked pasta for an easy pasta dish. Serve with shake and bake chicken.
Grilled Chicken and Broccoli Wrap– Add sliced grilled chicken and the broccoli to a large tortilla wrap with cheese or sour cream. Roll it up and pan-grill the wrap for a crispy outside and warm inside.
Chicken Broccoli Crepes – Use leftover brown butter broccoli with chunks of cooked chicken and sautee it quickly with fresh spinach and roasted potatoes. Fill the crepes and top with hollandaise sauce.
More Vegetable Side Dish Recipes
If you enjoyed this recipe, I really hope you will take a moment to grab a few more easy recipes for another busy night!
You can check out all of my ||||| recipes here, or see a few of our readers favorite recipes below.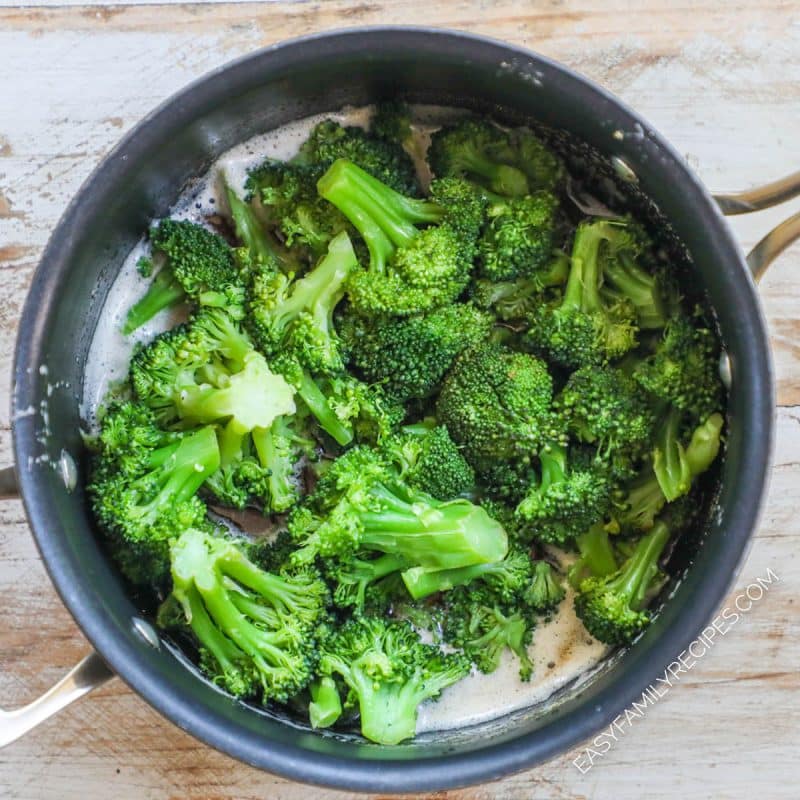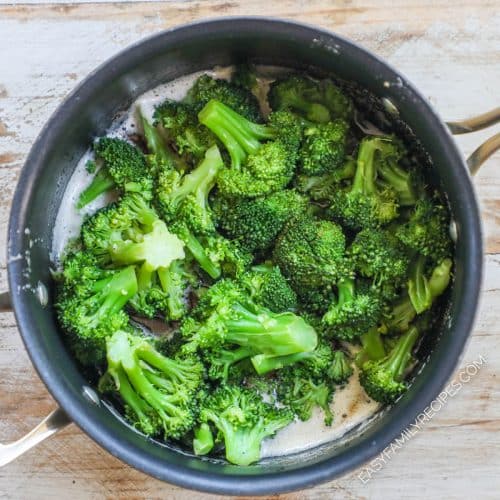 Brown Butter Broccoli
This is the BEST broccoli recipe! Tender steamed broccoli is enveloped in nutty brown butter and seasoned with garlic and salt for many layers of flavor in this super quick and easy side dish.
Ingredients
16

ounces

broccoli florets

1/4

cup

butter

1/2

teaspoon

salt

1/2

teaspoon

pepper

1/2

teaspoon

garlic powder
Instructions
Fill a sauce pan with about 1 inch of water and bring to a boil.

Place broccoli in a steamer basket inside the pan, cover and reduce heat to low. Steam for 4-6 minutes or until bright and fork tender. Remove the steamer basket from the pot and let dry in open space.

Try to avoid over cooking so that it does not become mushy.

To make the brown butter sauce, heat the butter in a small sauce pan over medium heat stirring regularly. The butter will go through 3 phases:

1. The butter melts.

2. The butter becomes foamy.

3. Golden brown bits begin to form on the bottom.

Once the golden brown bits begin to form, remove the butter from the heat and stir in the salt, pepper, and garlic powder.

Toss the broccoli with the browned butter and then garnish with fresh parmesan if desired. Enjoy!
Recipe Notes
Optional:
Try other seasonings or flavors on the broccoli such as:
onion powder
lemon juice
white pepper
Italian seasonings
pre-made seasoning mixes
Nutrition Information
Calories:
142
kcal
(7%)
,
Carbohydrates:
8
g
(3%)
,
Protein:
3
g
(6%)
,
Fat:
12
g
(18%)
,
Saturated Fat:
7
g
(44%)
,
Polyunsaturated Fat:
1
g
,
Monounsaturated Fat:
3
g
,
Trans Fat:
1
g
,
Cholesterol:
31
mg
(10%)
,
Sodium:
420
mg
(18%)
,
Potassium:
370
mg
(11%)
,
Fiber:
3
g
(13%)
,
Sugar:
2
g
(2%)
,
Vitamin A:
1062
IU
(21%)
,
Vitamin C:
101
mg
(122%)
,
Calcium:
58
mg
(6%)
,
Iron:
1
mg
(6%)