This Baked Panko Crusted Chicken is too DELICIOUS to be so EASY to make! Tender chicken breast is coated with a smokey panko bread crumb mixture and baked to crispy perfection, then finished with a spicy honey drizzle.
This special method makes the chicken the coveted combination of tender and juicy on the inside and perfectly crispy on the outside!
Crispy Panko Chicken – The EASY Way!
It really doesn't get much easier than this Panko Breaded Chicken! With less than 10 minutes of prep and about 15 minutes of bake time, you have a main dish with tender juicy chicken crusted in a smokey perfectly crisp panko topping. Then to make it pure perfection a little honey drizzle to finish it off.
We use a few little tricks to keep the cook time super fast, the chicken amazingly tender, and the panko bread crumbs nice and crisp!
It isn't every day you get such a delicious combo in such a simple to make package!
Recipe Notes
This Panko Crusted Chicken Breast recipe is as simple as promised! Just a handful of everyday pantry ingredients for a family friendly meal.
In this section I am going to go through a few tips and tricks I use when making this recipe to get the absolute best and most delicious results.
Make sure to scroll to the bottom for the FULL recipe card.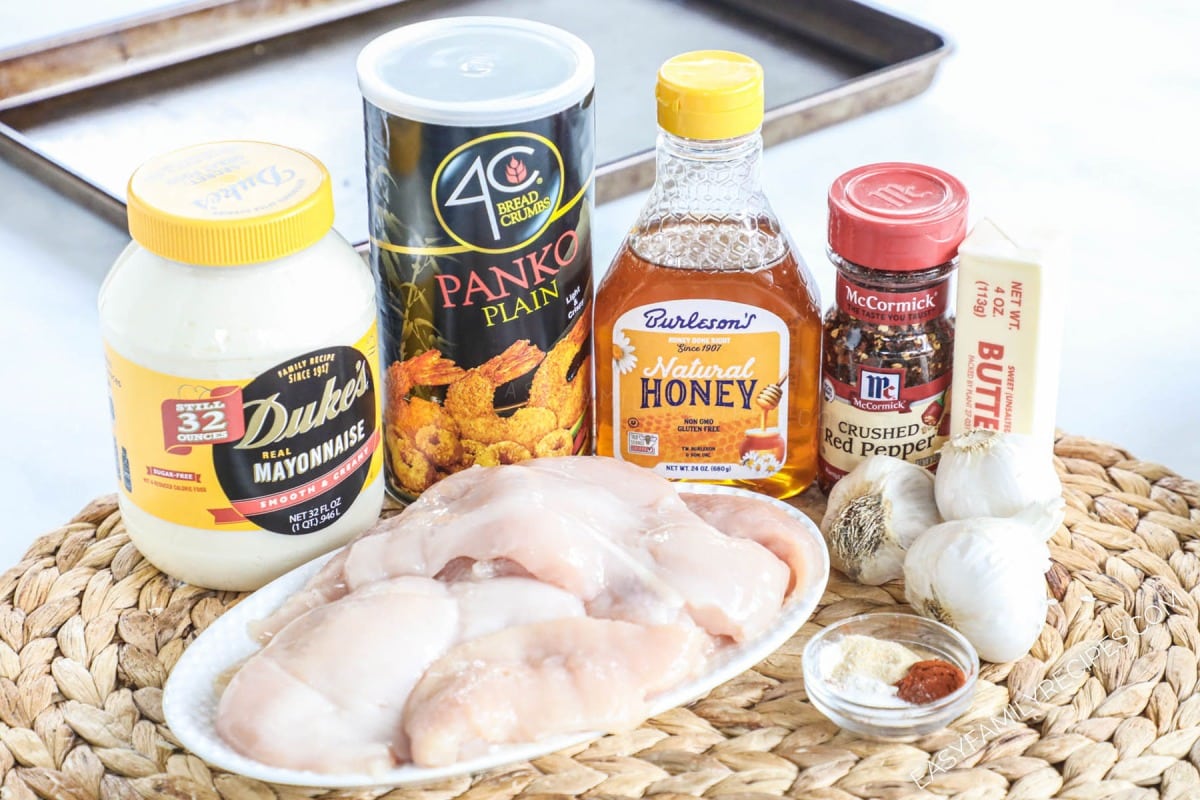 Ingredients + Substitutions
For the chicken
Chicken breast cutlets – It is EXTREMELY important to this recipe that the chicken breast pieces are thin. If you are using cutlets this will be about 6 thin chicken breast pieces.

Chicken can be cut already prepared into cutlets, or you can easily make them into cutlets yourself. See below for how to make chicken cutlets.

Salt and pepper– the panko will provide most of the flavor, but this just adds a little seasoning to the chicken itself.

Mayonnaise– you really only need a little, but it is important that it is real mayo, not fat free, or miracle whip. Mayonnaise is oil based, so it pulls double duty as it is cooked, keeping the chicken tender and juicy, and helping the panko to crisp and not get soggy.

If you can't eat mayonnaise, sour cream and greek yogurt can also be used in place of mayo, but will lend a slightly different flavor.
For the panko topping
Panko bread crumbs– Unseasoned panko bread crumbs are the base to the mixture. Regular bread crumbs are not a great substitute because panko are a much more coarse and super crispy texture. You can usually find these in the store either near the other bread crumbs or in the japanese section. You can also make homemade panko breadcrumbs if you prefer.

Butter- This allows the crumbs to keep that amazing crunch when baked, as well as adds lots of flavor!

Smoked paprika– The smokiness of the paprika absolutely makes the flavor! It gives it such a unique taste without being overwhelming. I really think this is exactly what makes this one of my husband's favorite dinners!

Other seasonings- Garlic powder, onion ppowder and salt make up the rest of the seasoning for the bread crumb mixture and together they create a little bit of flavor magic on your chicken.
For the Honey Drizzle
Honey– I use local honey, but any honey will do!

Red pepper flakes– This is absolutely optional, but it is really delicious! I do leave them off for my kids and just do a plain honey drizzle for them.
Recipe Step by Step
I am going to highlight a few key steps in the recipe here, but make sure to jump down to the recipe card for comprehensive instructions on how to make Panko Chicken with a Honey Drizzle.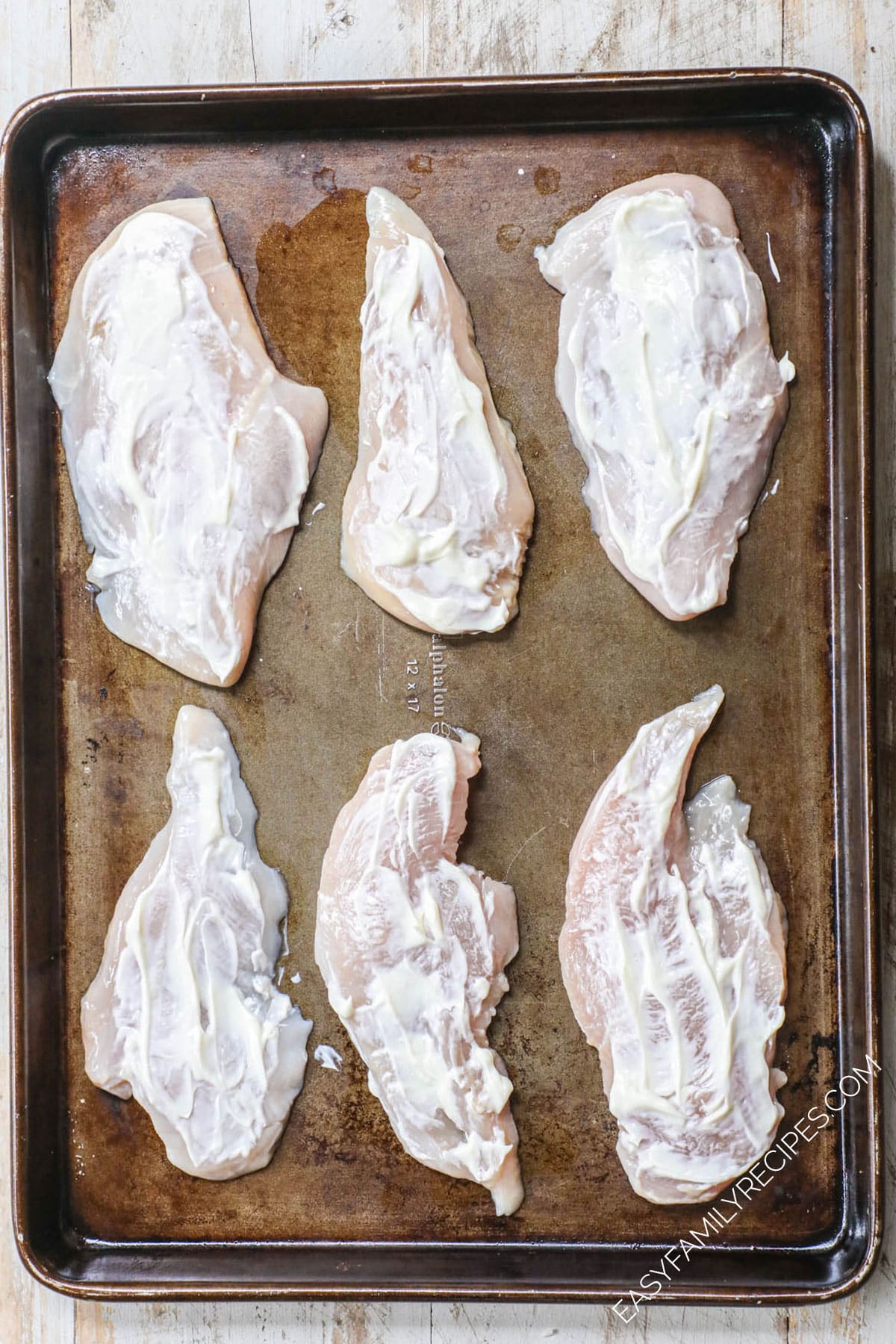 Spread a very thin coat of mayonnaise over the top of each chicken breast.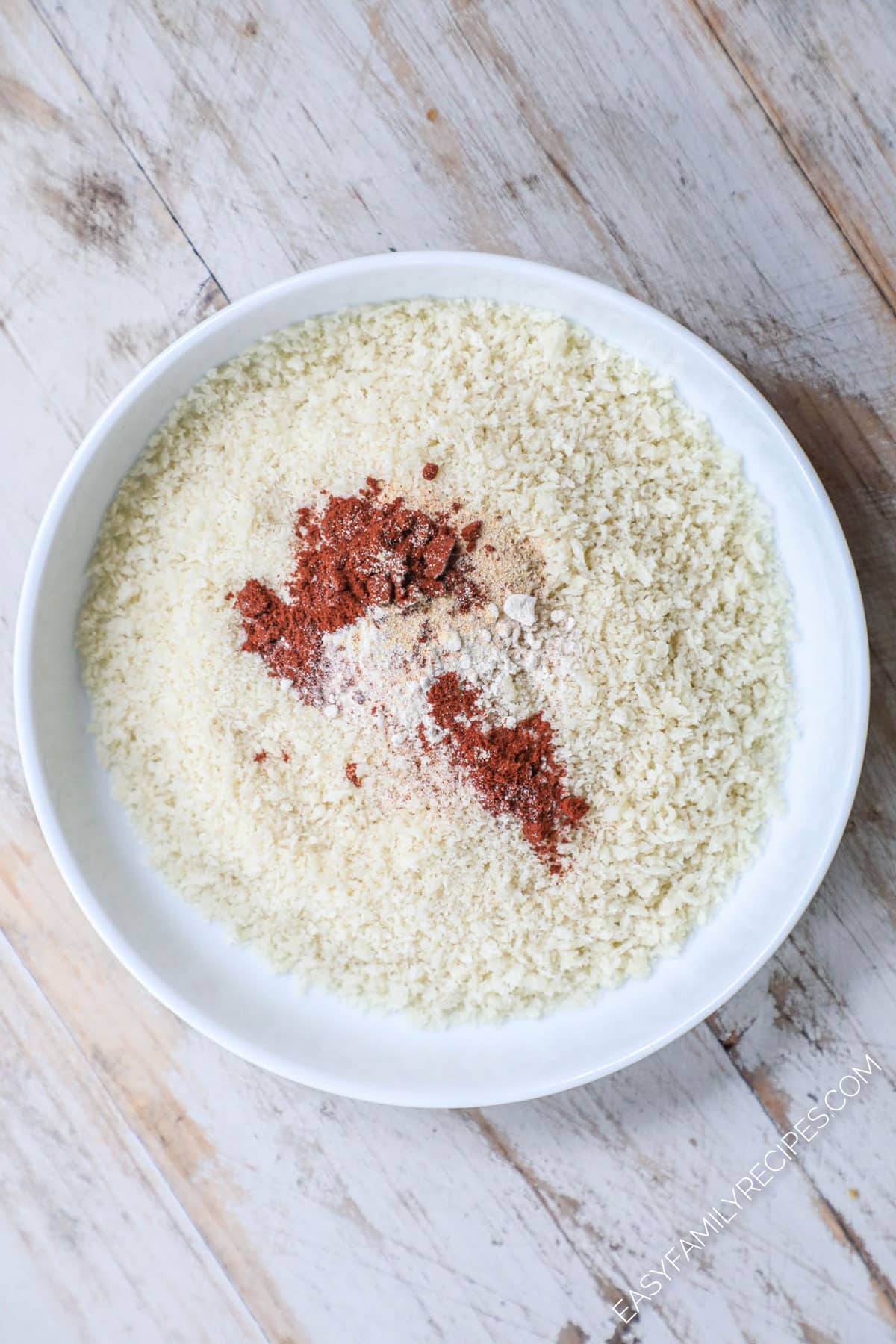 Prepare the Panko mixture by combining all of your seasonings. Pour the butter over the seasoned crumbs and mix until combined.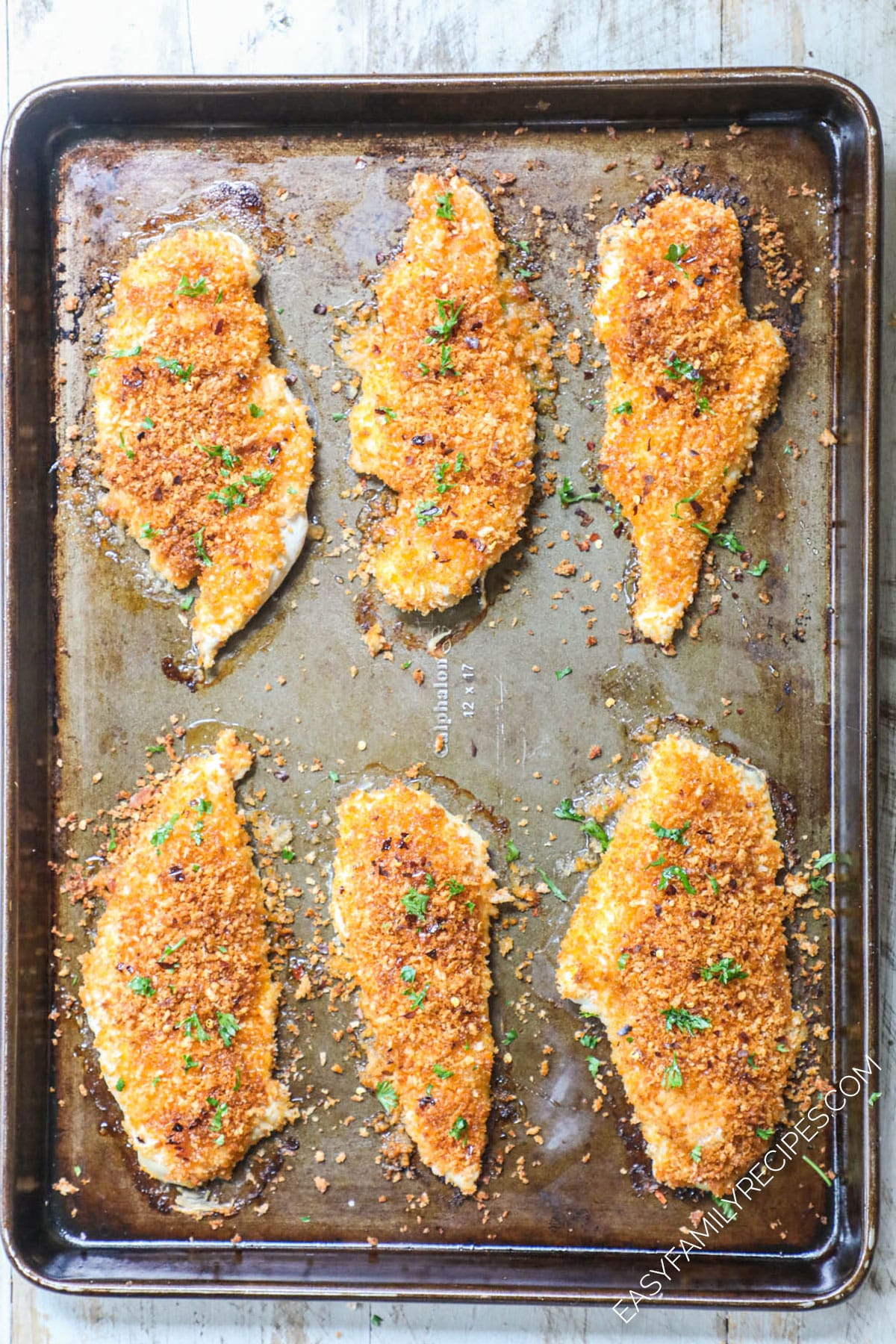 Turn each chicken breast mayo side down into the crumb mixture to coat the top, then return it to the baking sheet.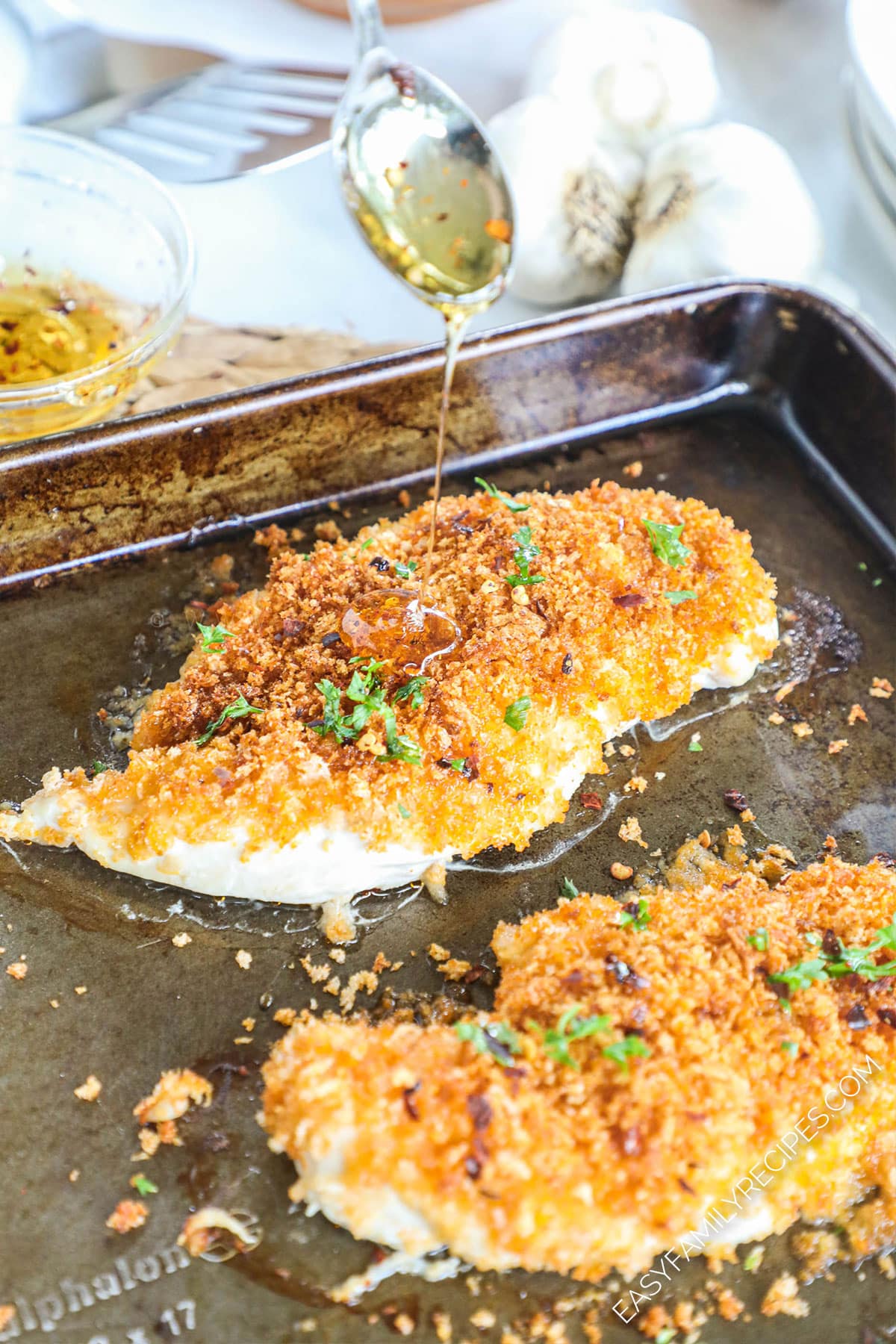 Bake at 425˚F for 10-15 minutes, until cooked through.
Recipe Tips for getting PERFECT Panko Chicken
Why thin chicken is a must panko breaded chicken– I mentioned above that using super thin chicken breast is VERY IMPORTANT to create a panko crusted chicken in the oven. The reason is two-fold. First, the thin, even size of the chicken helps it to cook quickly and evenly at the high heat needed to get the panko really crispy.

Second, the chicken needs to be thin so that it doesn't release too much moisture. If you have a big, thick chicken breast, it can contain a lot of moisture which can make the crumbs really soggy instead of them getting nice and crispy.

Go light on the mayo – The mayonnaise isn't meant to be a thick layer, but just enough to help the panko really stick to adhere to the chicken breast. It will melt as it cooks, tenderizing the meat and helping to crisp the crumb topping. If you make it too thick, the crumbs will become gummy instead of crispy.

Since it is so important, I will say it again — Coat the chicken with a SUPER THIN layer of mayo!

Only coat the top with crumbs– The moisture from the chicken breast baking will release at the bottom of the chicken breast. I only pile the crumbs on the top, to avoid the crumbs soaking up this moisture in a soggy mess. Trust me. You will get tons of delicious crispy panko crust with it just on the top!

Only use a large sheet pan, not a baking dish. This recipe is designed to cook on a large sheet pan where the chicken breasts can be spread apart. This helps them to cook quickly, but most importantly, it gives the moisture in the chicken plenty of space to cook off. If you make this recipe in a baking dish or crowd the chicken, there is no where for the moisture to go and it ends up getting soaked up by the crumbs in a soggy, very not tasty mess.

Don't over cook the chicken! This may seem like a "duh" moment, but since we are cooking the chicken breast much higher than is normally recommended, AND the chicken is super thin, you need to pay attention to when the chicken is done, and not over cook it. Getting the chicken perfectly baked means that it is perfectly tender and delicious. Over cooking the chicken will result in dry, tough and flavorless.

The best way not to over cook chicken is to use a meat thermometer. Chicken should be cooked to an internal temperature of 165˚F.

Optional: If you want, you can layer a metal oven safe cooling rack on top of the sheet pan and bake the panko crusted chicken on top of that so that as moisture cooks out, it will drip down and stay away from your chicken, keeping the panko topping extra crispy.
To make chicken cutlets
Making chicken cutlets from chicken breast is easy and only takes a few minutes. Just grab a pack of boneless, skinless chicken breast and get to work!
Cut each chicken breast horizontally into thin slices about 1/4-1/2 inch thick. You should be able to get 2-4 pieces per chicken breast.
Lay the chicken between sheets of plastic wrap
Beat each piece to an even 1/4 inch thickness with a meat mallet.
Recipe Short Cuts
If you need to make this recipe, but are extra short on time, here are a few ideas that can help make this recipe even faster!
Prepare the chicken cutlets in advance– You can prep the chicken breast into the appropriate size cutlets 1-3 days in advance of making the recipe so they are ready to go.
Prepare the crumb mixture in advance– The crumb mixture can also be made up to 24 hours in advance and stored in a zip top bag or other airtight container.
Recipe Variations
If you love this recipe as much as we do and want some quick ways to change it up for variety, these little tips will do the trick!
Parmesan Panko Chicken– Make recipe as directed using 1/2 cup panko bread crumbs and 1/2 cup grated parmesan cheese in place of 1 cup of panko. Continue as directed.
Lemon Panko Chicken– Make chicken as directed. Once the chicken comes out of the oven, squeeze fresh lemon juice over the top and garnish with fresh lemon slices.
Spicy Panko Chicken– Make as directed adding 1/4-1/2 tsp cayenne pepper into the bread crumb mixture. Continue as directed.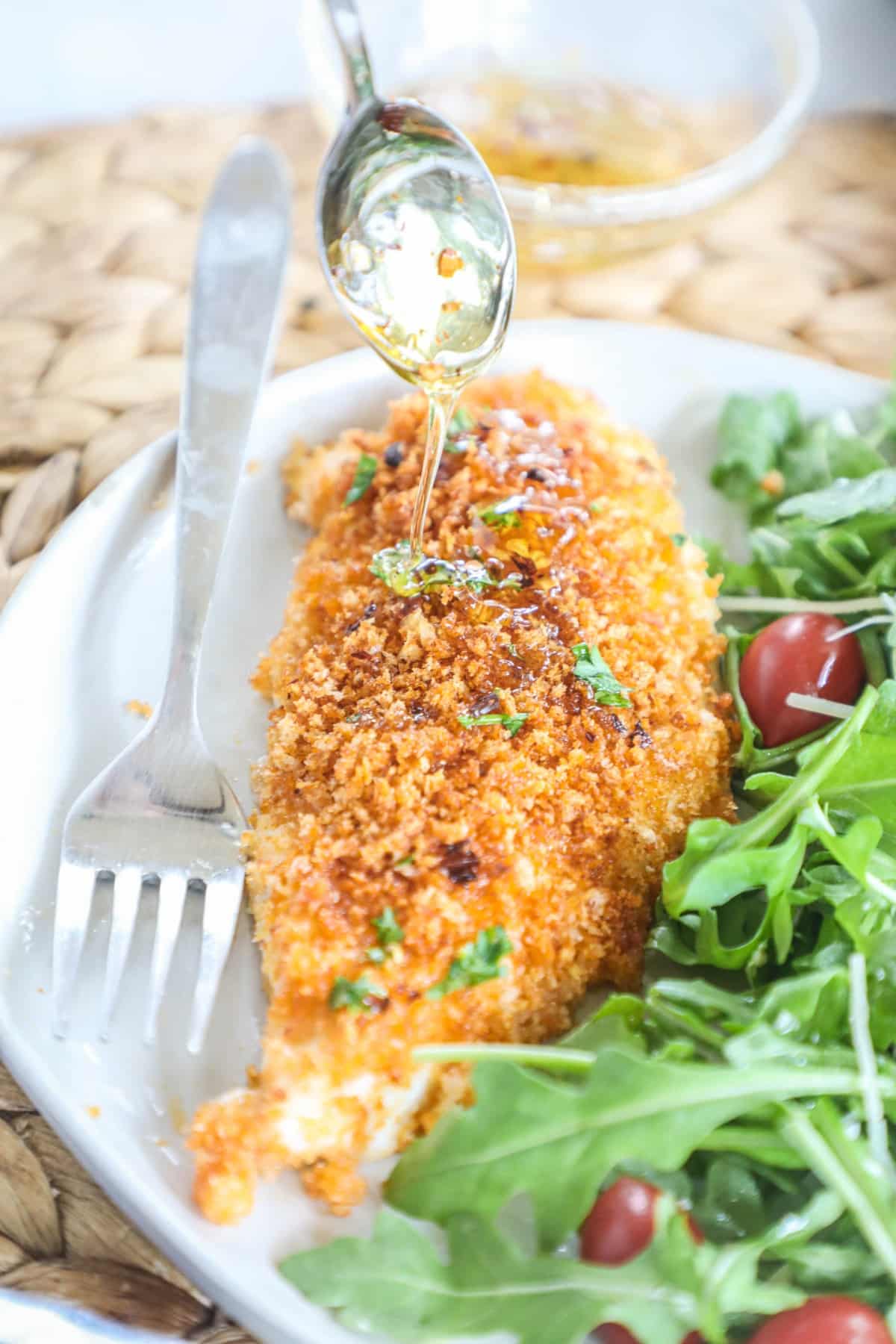 What to Serve with Panko Chicken
This dish is hearty and flavorful. You get the smokey flavor from the paprika, a touch of richness from the butter in each bit with the savory chicken. With this flavor, the dish goes well with many classic side dishes. There are both traditional options and some healthy options to keep it light.
Side Dish Ideas
You can choose one or add a few sides to bulk it up and make a wholesome, well rounded dinner.
Recipe FAQ's
How do you get Panko to stick to chicken?
We cover the chicken in a LIGHT a mayonaise and then press into the crumb mixture.
Do I have to use Panko?
Panko gives the best crunchy texture, but you can you bread crumbs as well.
Do I have to use a honey drizzle?
No, but I highly recommend it!
What if my chicken breasts aren't thin?
Simple! You can either ask your butcher at your local grocery store to VERY thinly cut your chicken breasts, or you can cut them yourself. I've detailed this above for you.
More Easy Chicken Recipes
If you enjoyed this recipe, I really hope you will take a moment to grab a few more easy recipes for another busy night!
You can check out all of my Chicken Dinner recipes here, or see a few of our readers favorite recipes below.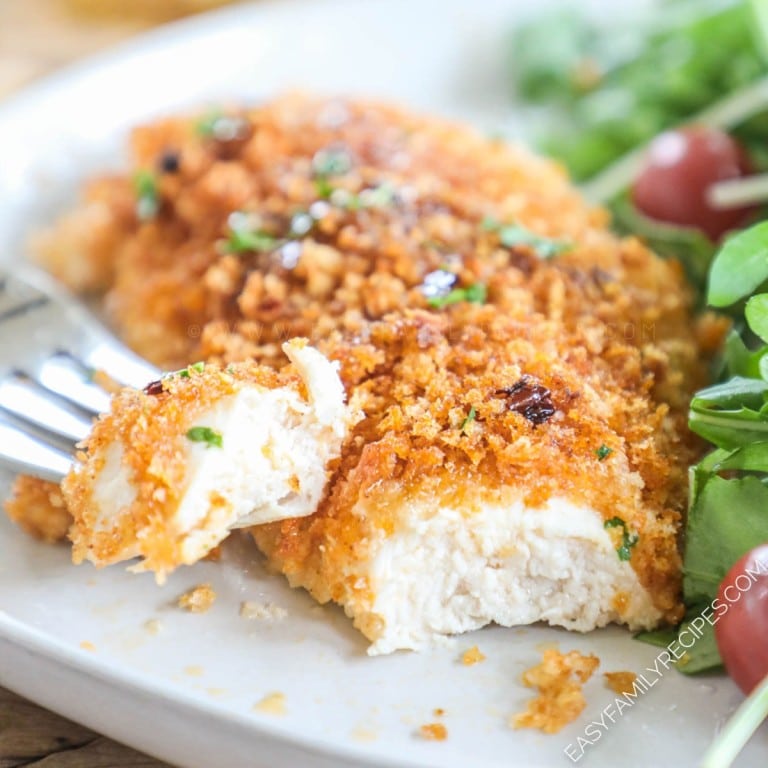 Baked Panko Crusted Chicken with Honey Drizzle
A family favorite, this recipe is as easy as it is delicious! Savory chicken is baked topped with a smokey flavorful panko coating until it is tender and juicy on the inside and perfectly crisp and flavor filled on the outside.
Ingredients
For the chicken
2

lbs

chicken breast cutlets

,

(about 6 thin chicken breast pieces)

salt and pepper

,

to taste

1

tbsp

mayonnaise
For the panko topping
3/4

cup

panko bread crumbs

,

unseasoned

1

tbsp

butter

,

melted

1/2

tsp

smoked paprika

1/2

tsp

salt

1/4

tsp

garlic powder

1/4

tsp

onion powder
For the Honey Drizzle
2

tbsp

honey

1/2

tsp

red pepper flakes

,

(optional)
Instructions
Prepare the panko mixture by combining the panko with the paprika, garlic powder, salt, and onion powder. Pour the butter over the seasoned crumbs and mix until combined. Set aside.

Season each side of the chicken with salt and pepper to taste. Then lay them flat on a large baking sheet and spread a very thin coat of mayonnaise over the top of each chicken breast.

Turn each chicken breast mayo side down into the crumb mixture to coat the top, then return it to the baking sheet. Spoon any remaining crumbs over the top of each chicken breast and pat to secure to the chicken.

Bake at 425˚F for 10-15 minutes, until cooked through to an internal temp of 165˚F. The time w vary based on the thickness of your chicken.

While the chicken cooks mix the honey with the red pepper flakes. Drizzle the honey over the chicken right before serving. Enjoy!
Recipe Notes
Optional cooking method: To help keep the panko chicken extra crispy, you can place the chicken on an oven safe rack (like a metal cooling rack) on top of a baking sheet (with sides). This allows the moisture that is released from the chicken to fall away from the chicken and be caught on the pan so that it doesn't make the chicken or crumbs soggy.
Substitutions:
Mayonnaise – If you can't eat mayonnaise, sour cream and greek yogurt can also be used in place of mayo, but will lend a slightly different flavor.
Red Pepper Flakes– This is absolutely optional, but it is really delicious!
How to Store:
To save leftovers, separate into meal sized portions and then place in an airtight container and store:
in the refrigerator for 3-4 days
in the freezer up to a month
How to Reheat: 
This can be reheated in the microwave in 30 second increments, or cover with tin foil and place into the oven to reheat.
Nutrition Information
Serving:
1
chicken cutlet
,
Calories:
284
kcal
(14%)
,
Carbohydrates:
14
g
(5%)
,
Protein:
34
g
(68%)
,
Fat:
10
g
(15%)
,
Saturated Fat:
3
g
(19%)
,
Cholesterol:
104
mg
(35%)
,
Sodium:
492
mg
(21%)
,
Potassium:
587
mg
(17%)
,
Fiber:
1
g
(4%)
,
Sugar:
7
g
(8%)
,
Vitamin A:
318
IU
(6%)
,
Vitamin C:
2
mg
(2%)
,
Calcium:
26
mg
(3%)
,
Iron:
1
mg
(6%)
How long to bake chicken breast
Baking time for chicken breast will vary based on the thickness of your chicken breast and the temperature you cook at. For this Panko Breaded Chicken recipe, we cook a thin chicken breast at a high temperature (425˚F) to keep the panko crispy, so we only need 10-15 minutes to fully cook the chicken.

Chicken is done at 165˚F internal temp. The best way to know when your chicken is done is to use a meat thermometer.
How do you keep chicken breast moist?
The easiest way to keep chicken breast moist when cooking is just to not over cook it! Make sure to only cook to 165˚F internal temp. If it cooks higher than this it will start to dry out and can get tough or chewy.

In our Panko Crusted Chicken recipe we also use a mayonnaise base to help lock moisture into the chicken breast.
How to make panko chicken crispy in the oven?
Chicken releases moisture as it cooks, so in order to keep panko chicken breast crispy when baking, you will need to do a few things:
1. Use thin chicken breasts so they can cook quickly
2. Cook at a high heat to keep the panko bread crumbs crispy
3. Cook the chicken breasts spread apart on a pan so the moisture doesn't accumulate, or cook on top of a cooling rack to keep the chicken out of the moisture.