These Baked Meatballs Parmesan are the ULTIMATE delicious and filling weeknight dinner. Kids and adults can both agree that this simple meal made with homemade meatballs, rich marinara sauce, and covered in two kinds of cheese is a recipe to add to the regular rotation!
Not only is it delicious, but as a bonus, this recipe is gluten free, low carb, and perfect for Keto diets.
Homemade Meatballs are Easier than you Think!
I love this Baked Meatballs Parmesan recipe for SO many reasons. Here are some things I really appreciate about this meal, and hopefully you will too!
Everyone loves it! You don't have to have a dinner time battle, because kids and adults can both appreciate this meal.

My son loves it so much he asked for leftovers 3 days in a row the last time we had it!

It's BOTH homemade and easy! These meatballs are made from scratch, but there is no need to fear, because this recipe is simplified so that the ingredients are mostly on hand items, and the prep is super quick so you can have it in the oven even on a busy weeknight.
It is completely versatile! This meal feels nice enough to feed company, but is fast enough to make even on a packed evening! Plus it feeds a crowd, so everyone will have plenty!
Perfect for special diets– These baked meatballs are gluten free, low carb, and friendly for the keto diet. If you are feeding some that have special dietary needs you are covered, and it is CRAZY delicious even if you aren't on a special diet!
Can be frozen or meal prepped– You can make this Meatball Parmesan Bake ahead of time and pop it in the freezer for a busy night, or make it and use it as a wholesome option to meal prep for the week ahead. See my directions below for the method on these!
I could keep going, but I think you get the picture! This classic meatball dish is a triple threat! Delicious + Fast + Wholesome!
How to Serve Baked Meatballs Parmesan
This dish has hearty meat, a delicious tomato based sauce, and of course the ooey gooey cheese. It can definitely stand on it's own as a balanced meal if you just want to serve it straight up on a plate.
There are several ideas for sides that go great with this meal as well if you want to round out your dinner table. Choose one, or bulk it up with a few!
Classic Side Dishes
Low Carb Side Dishes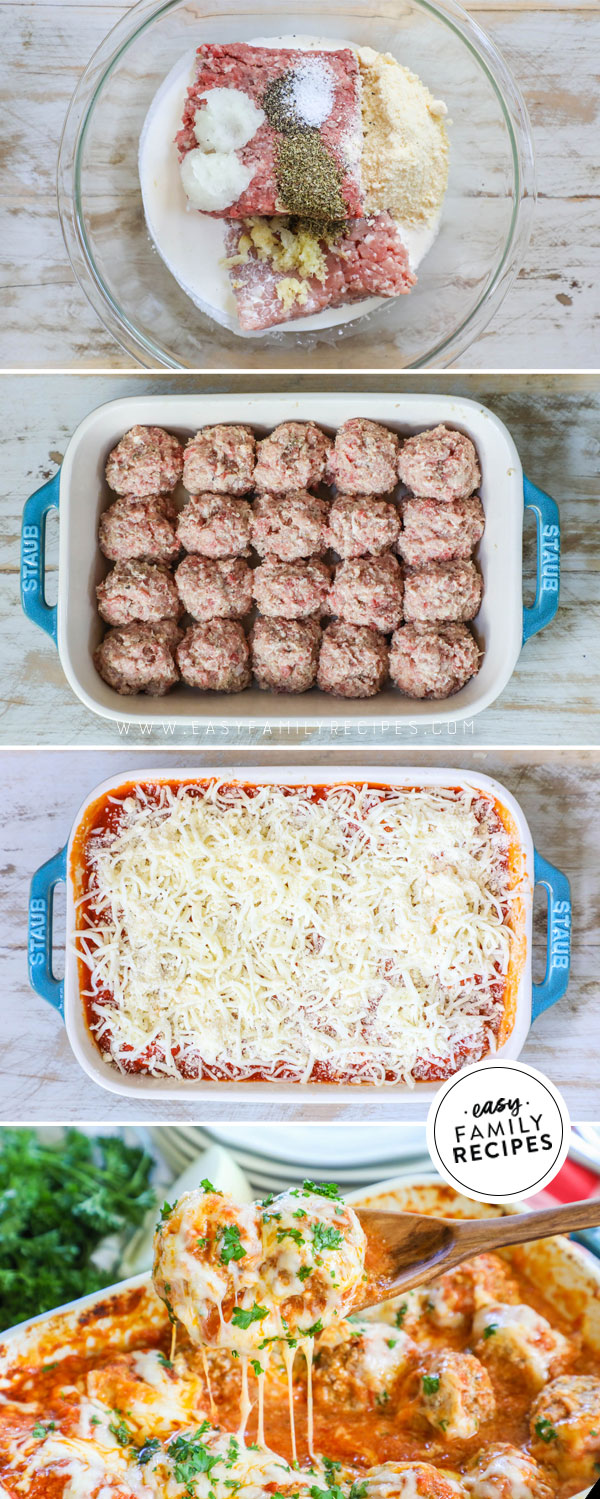 My Tips for the BEST Baked Meatballs
This meatball recipe is really quick and simple. There are many methods for making meatballs, but when you break it down, you need two crucial things:
Ground meat
A binder
The Meat
You can use a variety of things for these, but for this recipe we use a combination of beef and pork for flavor.
You can choose how lean you want the meat, but as a general rule of thumb, the more fat is in the meat, the more tender the meatball will come out.
If you want to experiment you can use any combination of ground meat to make meatballs including beef, pork, chicken, turkey, veal, etc. Just keep in mind, the more lean the meat in general, the the less tender the meatball.
The Binder
For the binder in these baked meatballs we use a combination of parmesan cheese, heavy cream and egg for the perfect combination of flavor, tenderness, and richness.
Why no breadcrumbs you ask?
This recipe is simplified for weeknight ease and friendly for multiple diets and, most importantly, STILL CRAZY DELICIOUS!
If you have a recipe you prefer with breadcrumbs, by all means, use it and continue with the instructions from there, but I'd encourage you to give this a try. It is super simple and you may love it even more!
The Perfect Tender Meatball
We talked above how the fat content of the meat is one crucial element to getting a perfectly tender meatball, but there are a couple other tricks as well.
Freshly ground meat– Don't buy the tubes of meat, instead, buy the freshly ground packages of meat in the store where you can still see the "strands" of meat. The prepackaged tubes tend to already be compressed which can turn your meatballs tough.
Use your hands– When it is time to mix the meatballs, it is time to get your hands dirty. Literally! Using your hands is the best way to mix the meatballs because it allows you to use feel to work the meat just until it is combined without overworking it.
Don't overcook it! I talk about this in many of my recipes, but the #1 enemy of tender meat is over cooking! Meatballs should be cooked to an internal temp of 160˚F to be perfectly done. If they cook too long, it can result in dry, tough meat.
Substitutions
I highly suggest making the recipe as directed, at least the first time you make it, because this is the way I think it tastes best!
That said, there are a few substitutions that can be made if needed.
Marinara sauce– I generally like Rao's Marinara sauce, but feel free to use your favorite brand. If you prefer not to use store bought, you can try this homemade marinara sauce recipe.
Heavy Cream– I like heavy cream in this recipe because it adds to the flavor and the fat content helps to keep the meatballs from drying out. If you want to lighten the recipe up, you can substitute half and half.
Ground Meat- As discussed above, we make our meatballs with a combination of beef and pork for flavor. If you have restrictions on the type of meat you can eat, you can use all beef, or a combination of ground veal, turkey, or chicken.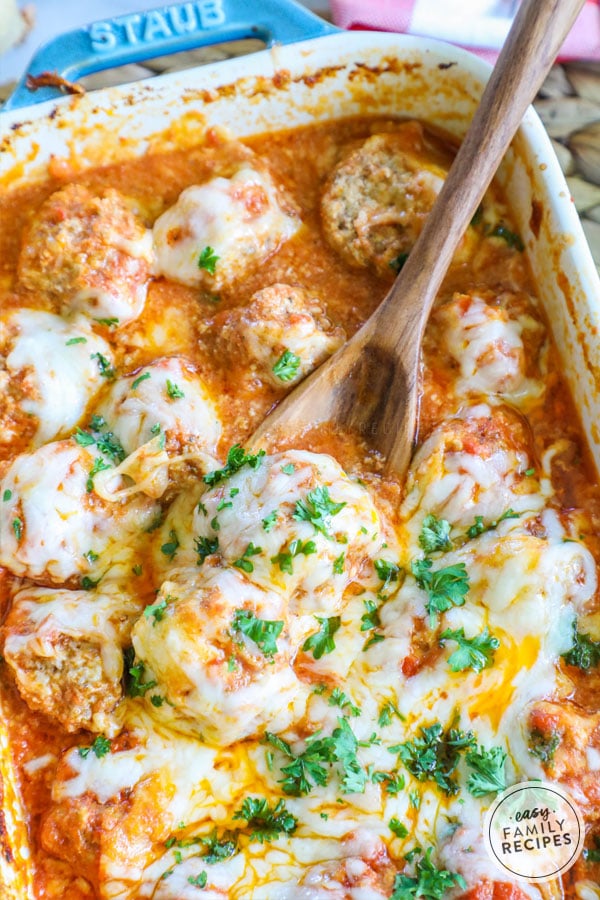 Freezer Meal Instructions
Freezing these Baked Meatballs Parmesan is an easy way to have a meal on hand for a busy night. There are two options for freezing depending on how you want to store it in the freezer.
Freezer Method 1
Prepare the meatballs as directed.
Store them flat in a zip top bag/bags.
Freeze.
When ready to prepare the Baked Meatballs Parmesan, thaw the frozen meatballs in the refrigerator until completely thawed.
Place the meatballs in the baking dish and continue at step 3.
Freezer Method 2
Prepare the dish as directed through covering the meatballs in marinara in a freezer friendly dish.
Store the casserole dish in the freezer. Preshredded cheese can be stored separately in the freezer, or used fresh when ready to prepare.
Once ready to bake, thaw in the refrigerator until completely thawed.
Cover with cheese combination in step 3 and continue as directed.
Meal Prep + Leftovers
These Baked Meatballs Parmesan make a delicious dinner, and are just as delicious reheated, so they are perfect for meal prep and leftover makeover meals.
To store the Baked Meatballs Parmesan:
Place in meal sized containers
Store in the fridge for 3-4 days.
Store in the freezer for up to a month.
Leftover Meal Ideas for Baked Meatballs Parmesan
Meatball subs– Cut open sub rolls and add butter and a sprinkle of garlic salt to each side. Place on broil for 2-4 minutes or until the butter is melted and the edges are golden brown. Add meatballs with sauce to the sub rolls and place back in the oven until heated through.
Meatball Pizza– Use your favorite pizze crust and spread with a thin layer of marinara sauce. Chop meatballs up and spread over the crust. Sprinkle mozzarella cheese over the top and add any toppings such as green pepper, onion, black olives or mushrooms that you want. Bake as directed on your pizza crust.
Meatball Zucchini Boats– Half and hollow out zucchini squash and place cut side up on a baking sheet. Sprinkle zucchini with garlic salt. Chop meatballs into quarters and place the quarters inside the hollowed out zucchini. cover with sauce and extra cheese if desired. Bake at 350 for about 20-25 minutes or until the zucchini is tender and the meatballs are heated through.
Need more dinners this Easy + Delicious?!
Here are a few other simple dishes that can be prepped quick and are sure to please the family!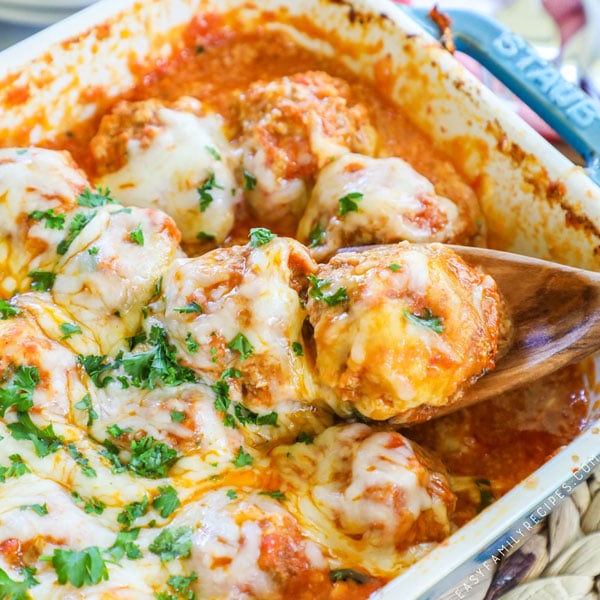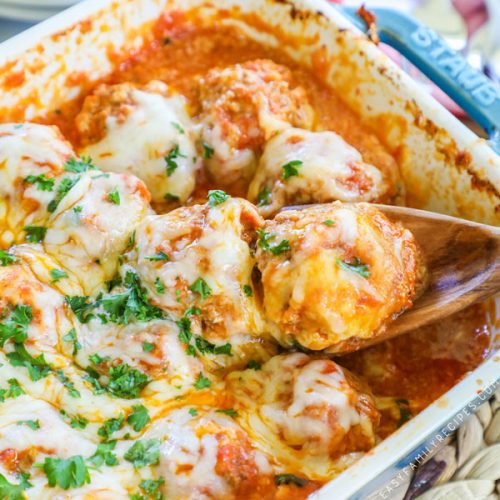 Meatball Parmesan Bake
Meatball Parmesan Bake is a quick, easy, and completely delicious dinner! This meal is loved by kids and adults alike and can be prepared and made quickly, or prepared ahead and frozen for another day.
Ingredients
1

lb

ground beef

1

lb

ground pork

1

cup

parmesan cheese

,

grated, divided

1/4

cup

heavy cream

1

egg

2

tbsp

onion

,

grated

6

cloves

garlic

,

pressed

1

tbsp

Italian seasoning,

dried

1/2

tsp

ground black pepper

1/2

tsp

salt

2

cups

marinara sauce

1

cup

mozzarella cheese

,

shredded
Garnish (optional)
2

tbsp

fresh parsley

,

chopped
Instructions
Combine the beef, pork, 3/4 cup parmesan, heavy cream, egg, onion, garlic, Italian seasoning, salt and pepper, and mix or work with your hands until completely incorporated.

Form Meatballs into 24 balls and place side by side in a 9×13 casserole dish.

Cover the meatballs with marinara sauce, then evenly spread the mozzarella and remaining parmesan cheese over the top. Bake uncovered at 350˚F for 35-45 minutes or until the meatballs are cooked through (160˚F internal temp.)

Remove the casserole dish from oven and let set for 5 minutes. Then serve hot. Enjoy!
Recipe Notes
Leftovers
Extras can be stored in an airtight container for
3-4 days in the refrigerator
In the freezer for up to a month
Dietary Considerations:
This recipe is naturally
Gluten free
Low carb
Friendly for low carb and keto diets
Please check all packages of products bought to ensure compliance.
©2019 Easy Family Recipes- Recipe found at: https://easyfamilyrecipes.com/baked-meatballs-parmesan/
Nutrition Information
Serving:
3
meatballs
,
Calories:
437
kcal
(22%)
,
Carbohydrates:
5
g
(2%)
,
Protein:
29
g
(58%)
,
Fat:
33
g
(51%)
,
Saturated Fat:
15
g
(94%)
,
Cholesterol:
131
mg
(44%)
,
Sodium:
835
mg
(36%)
,
Potassium:
563
mg
(16%)
,
Fiber:
1
g
(4%)
,
Sugar:
2
g
(2%)
,
Vitamin A:
595
IU
(12%)
,
Vitamin C:
5.6
mg
(7%)
,
Calcium:
257
mg
(26%)
,
Iron:
2.5
mg
(14%)