Japanese Spicy Mayo is the perfect sauce to drizzle over almost any Asian food. Adding just a bit can take the flavor of the dish to a whole new level! A little bit creamy and a little bit spicy, this sauce goes well with everything from sushi to crockpot asian chicken to rice bowls to sandwiches, salads and more!
Homemade Spicy Mayo
If you are a fan of sushi, or have eaten at any where from Japanese to Korean, you may have found yourself with a dish topped with a wonderfully creamy and perfectly spicy sauce.
This mayo based spicy sauce can be found in restaurants that serve cuisines from all over Asia, and is almost always found on at least a few sushi rolls on a menu.
Once you have it, it is hard to stop. This stuff is so addicting!
Making Japanese spicy mayo at home is super easy so you can get that same restaurant quality flavor on dishes you make at home.
With only 3 ingredients and less than 5 minutes, you can have the Spicy Mayo sauce ready to go!
What to Use Japanese Spicy Mayo on
Chances are if you are here, you already have a dish for this in mind. But, grab a few other ideas, because once you whip this up, you can make so many delicious meals to add it to!
Any sushi rolls
Eggs or breakfast hash
I think it really enhances the flavor of most dishes and just makes them extra delicious.
My favorite way to eat this sauce though is on a rice bowl. I like to pile up the meat (like the crockpot chicken or meatballs) on top of rice and shaved cabbage, then drizzle with the sauce for an extra kick of flavor.
Tips for Making Spicy Mayo
With only 3 ingredients and no cooking, it doesn't get much easier than this!
I have a few tips and notes to share with you to get the absolute best out of this recipe. Make sure to scroll to the bottom for the FULL recipe card!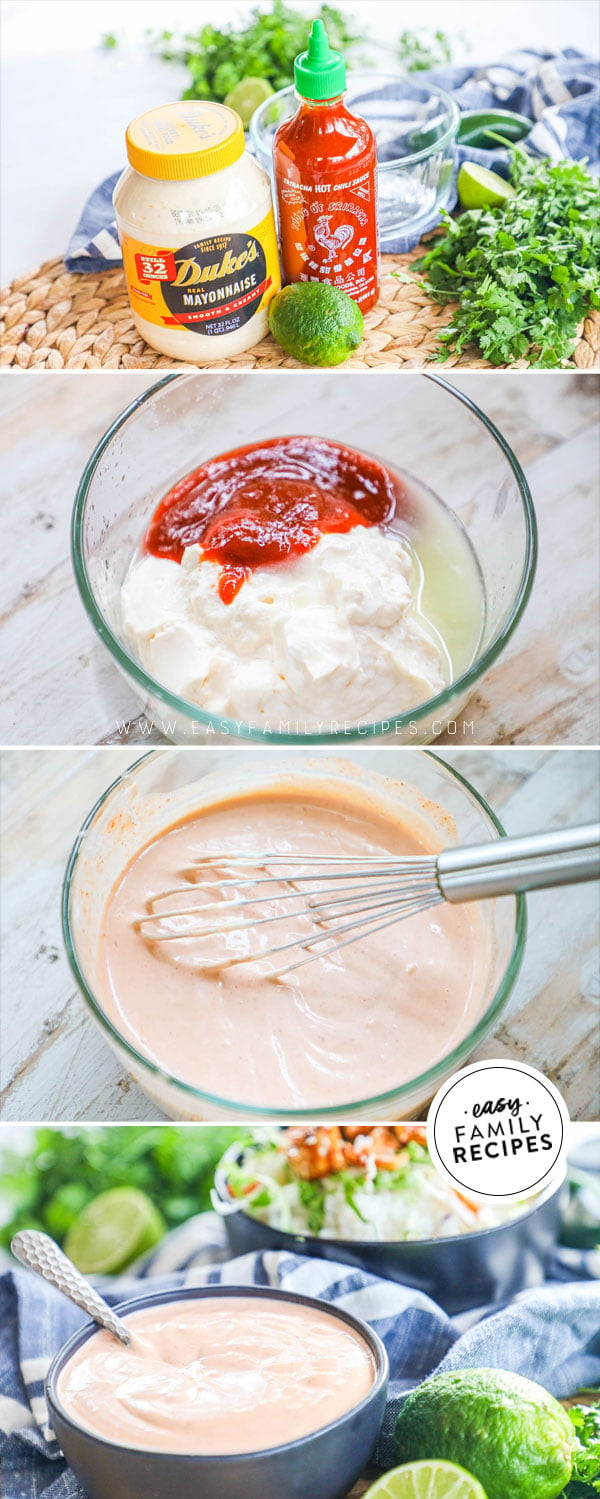 The Mayo
You can use your favorite variety of mayo for this recipe. The mayonnaise really picks up the flavor of the sriracha and lime and so the flavor is not impacted much by different varieties of mayonnaise.
I generally use Duke's, however, you can use avocado oil mayo, vegan mayo, or even homemade mayo. They all work in this recipe.
The Sriracha
Sriracha is a sauce made from red chili peppers, vinegar, sugar, garlic and salt. It has roughly the consistency of ketchup and is moderately spicy. It originated in Thailand, but now is served across many different
You can usually find it on the aisle of the grocery store with the hot sauce, or in the specialty Asian food section. There are several brands on the market, but the most common and popular is made by Huy Fong Foods and packaged in a clear bottle with a green top and picture of a rooster.
Can I make my Spicy Mayo more or less hot?
The sauce gets its heat from the sriracha sauce. In this recipe I recommend a ratio of mayo to sriracha at 4:1, or 4 times more mayo than sriracha. This will give you a sauce with some heat, but definitely not overwhelming.
If you want a more spicy sauce, you can use a 2:1 or even 1:1 ratio of sriracha.
If you want a less spicy sauce, you can back the ratio off to 8:1, or less. For example, in the recipe below that would be adding 2 tbsp of sriracha instead of 1/4 cup.
I highly recommend starting with the recipe as written. Then give it a taste and see what you think.
If you want it more spicy, add sriracha to the mixture by the tablespoon.
If you want the mayo sauce less spicy, add mayo to the mixture by the tablespoon.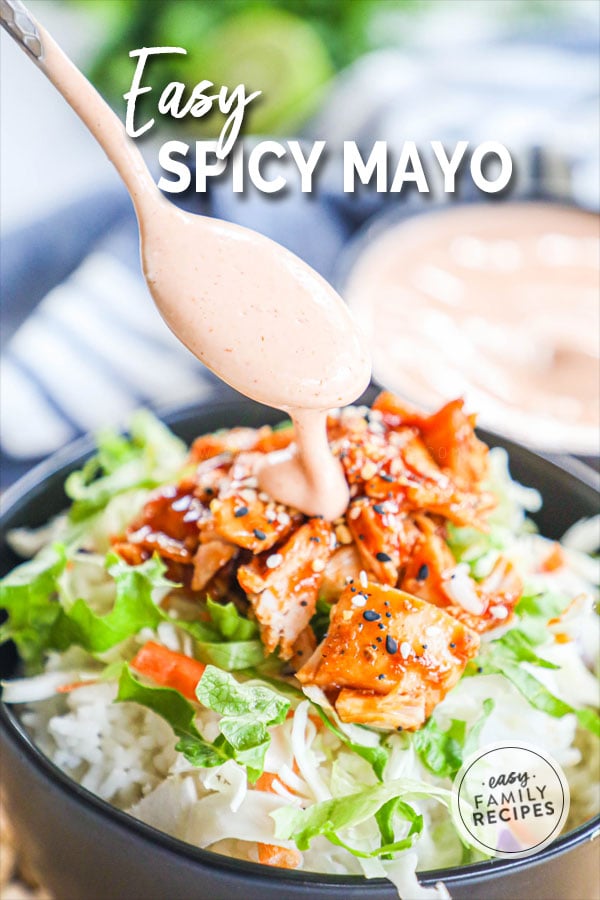 How long does it keep?
Once the sauce is made, you may have it sticking around for a few meals. You can store it in an airtight container in the refrigerator for up to 2 weeks.
Dietary Considerations
This recipe is naturally compliant for many dietary needs. See the notes below for specifics. Always check labels for anything store bought to ensure compliance.
Gluten Free- This recipes is naturally gluten free
Dairy Free- This recipe is naturally dairy free
Low Carb- This recipe has approx. 1g of carbohydrates per serving
Vegetarian- This recipe is naturally vegetarian friendly
Vegan- This recipe can be made vegan when vegan mayonnaise is used.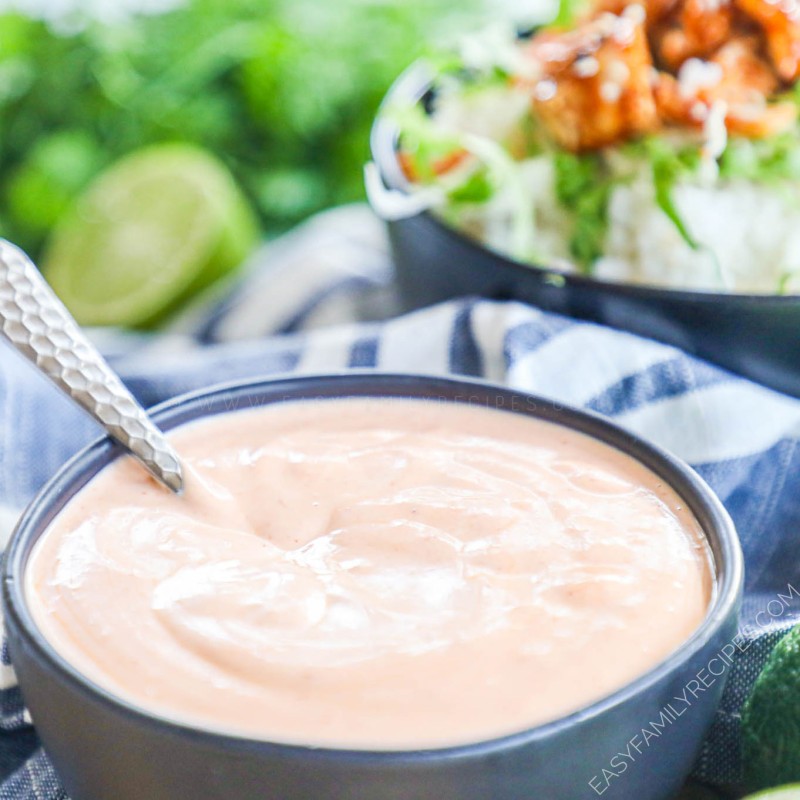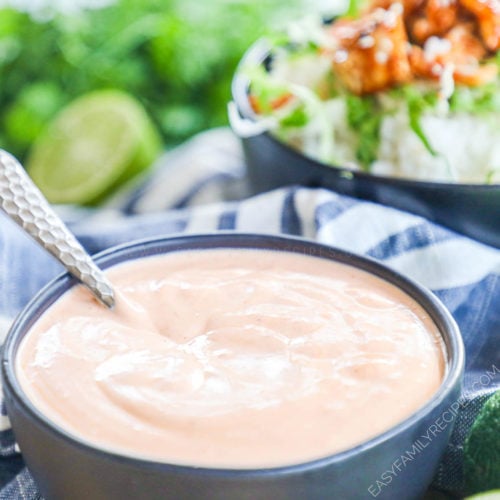 Japanese Spicy Mayo
This simple Spicy Mayo Sauce is made with only 3 ingredients. It is a wonderful addition to many dishes including sushi, Asian style chicken, rice bowls, eggs, salad, and sandwiches.
Ingredients
1

cup

mayonnaise

1/4

cup

sriracha

2

tbsp

lime juice

,

(about 1 lime)
Instructions
Add all ingredients to a bowl. Whisk until smooth.

Store in the refrigerator for up to 2 weeks.
Nutrition Information
Serving:
2
tbsp
,
Calories:
111
kcal
(6%)
,
Carbohydrates:
1
g
,
Protein:
1
g
(2%)
,
Fat:
14
g
(22%)
,
Saturated Fat:
2
g
(13%)
,
Cholesterol:
8
mg
(3%)
,
Sodium:
251
mg
(11%)
,
Potassium:
11
mg
,
Sugar:
1
g
(1%)
,
Vitamin A:
20
IU
,
Vitamin C:
4
mg
(5%)
,
Calcium:
1
mg
,
Iron:
1
mg
(6%)